TweakTown's Rating: 97%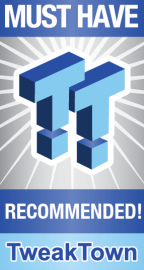 The Bottom Line
Fractal Design takes a robust SFX platform and equips it with a price that is hard to beat. Add ot this short flexible cables and this can be a SFF builders dream!
Introduction, Specifications, and Pricing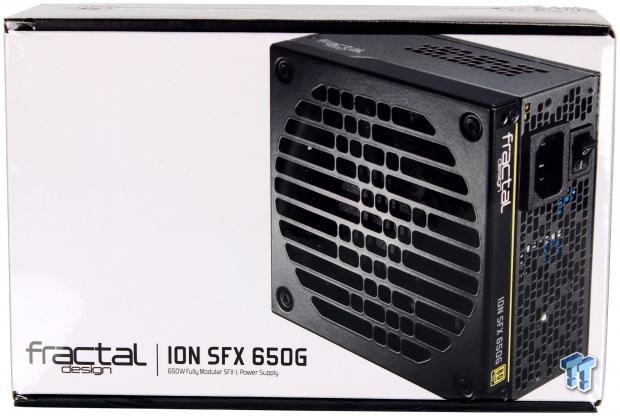 Fractal Design and one of their new ION series are one of the first power supplies we have reviewed. This is since we recently restarted PSU content. Today we have another new release in the SFX version of that same ION series. The Fractal ION + 850 we looked at previously impressed quite a bit, taking a draw of over 1000W from the wall and handling it under an extended duration workload on our real-world testbench. Now today we see if Fractal knocked out another good one or just another PSU.
SFX form factor PSUs are for the smaller form factor rigs. These include such cases as the TU150 we looked at before, the Streacom DA2, and things such as the Dan Case models. Fractal, of course, has its own SFX compatible chassis such as the Node 202 and others. These are made for those who live the SFF life or small form factor/slimline rigs. Being Gold rated at 650W, I have to assume that at the least, this can support a quite high-end platform with a beefy GPU or even pair of GPUs depending on the enclosures capabilities.
The key features Fractal lists for the new ION SFX 650G are as follows:
Fractal Design UltraFlex DC wires have game-changing flexibility for effortless cable routing and connectors that twist and bend to fit your installation

Large 120 mm fan with true long-life FDB bearings

80 PLUS® Gold Efficiency

Semi-passive Zero RPM mode allows for absolute silence in low load situations

Outstanding output quality with tight voltage regulation and extremely low noise and ripple

Fully modular design for reduced clutter and maximum ease of installation

Ultra-high strand count 0.08T wire gives cables fluid flexibility while maintaining a high current capacity

Specially formulated 80P PVC insulation offers just the right amount of rigidity for easy cable management

Premium Japanese 105°C capacitors provide enhanced reliability and durability

Full electrical protection suite includes Over Power Protection, Over Voltage Protection, Short Circuit Protection, Under Voltage Protection, Over Current Protection and Over Temperature Protection

Includes SFX-to-ATX mounting bracket

Extensive 10 year warranty
This is quite a robust feature set. Although I do need to mention that while a 10-year warranty is excellent, it is not necessarily a stand-out feature at this point. Many manufacturers now offer 10-year warranties on their PSU models. However, one feature I do want to call out is something I observed on the last ION series PSU. That is the flexibility of the PSU cables; they do bend quite smoothly and quickly, which is a significant plus. This is especially true with short wires and super-tight spaces typically associated with an SFF build. Also, the ability to shoehorn a full 120mm fan into an SFX supply is quite the feat and should mean quite a capable cooling for the small unit.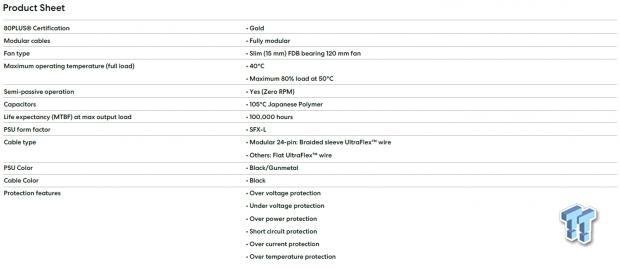 The PSU is, of course, labeled the ION SFX 650G, and the part number for this specific unit is FD-PSU-ION-SFX-650G-BK, which signifies the 650W model of the ION series in SFX form factor. The one thing is the color designation, which I did not see any mention of another color. I assume that all fractal parts have a color designation even if only offered in a single color. Being SFX/SFX-L, the ION SFX 650G measures at 125mm length, 125mm Width, and a height of 63.5mm.
The MSRP from Fractal for the ION SFX 650G is $109.99, and this is quite good. The SFX market is far less flooded than standard ATX supplies. Current pricing shows SFX units at places like NewEgg checking in at the 550W range for the same price. Whereas competing gold-rated SFX units in the 650 range can run between 10-20 dollars more expensive. This gives the ION a distinct advantage, as long as it survives our real-world stress and durability testing.
Shannon's Power Supply Test System Specifications
Packaging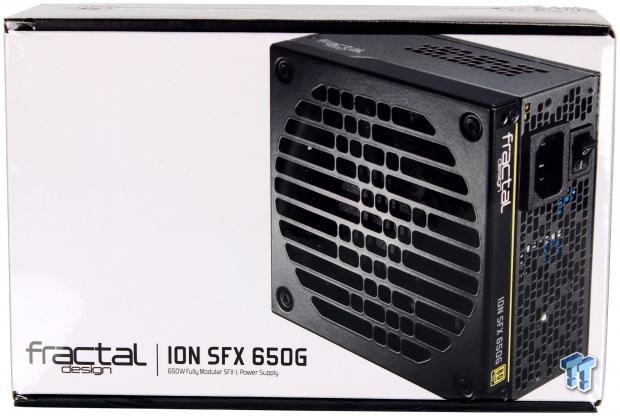 Fractal does a clean frontage for the ION SFX 650G as its clean and subdued. The package shows a full-color image of the ION SFX model along with the fan grille. The fractal name and brand are all that adorn the front with zero iconography or marketing fluff cluttering the package front.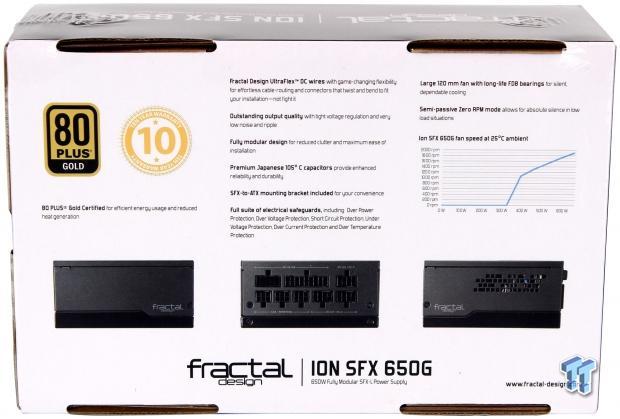 The rear shows the various other angles of the PSU with the modular interface front and center. There are also a few key features and the certifications and warranty info here. There is also a fan speed chart showing how the zero RPM fan works and when it should kick in.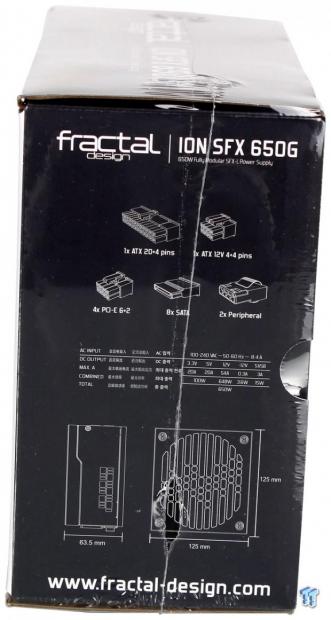 On this smaller side, we see a pictorial representation of the PSU dimensions along with the connectors. The total quantity of the pictured connector is also listed so you can easily see if the ION SFX has the connectors you need to connect your rig. With four PCIe 6+2 connectors, eight SATA, and two peripheral (PATA) connectors. I think you would be hard-pressed to build an SFF rig that this PSU would not have the connectors for. There is also a small output table here showing amperages for each rail and the total combined wattage.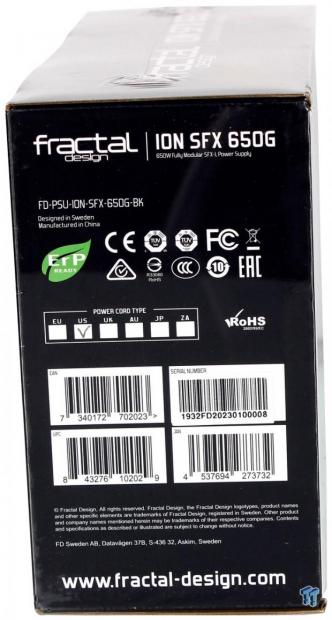 This small side of the package is where all of the inventory keeping and data is kept. This includes UPC, EAN, JAN, and serial number bar code labels. This is also where Fractal lists all of the safety certifications applicable to the PSU.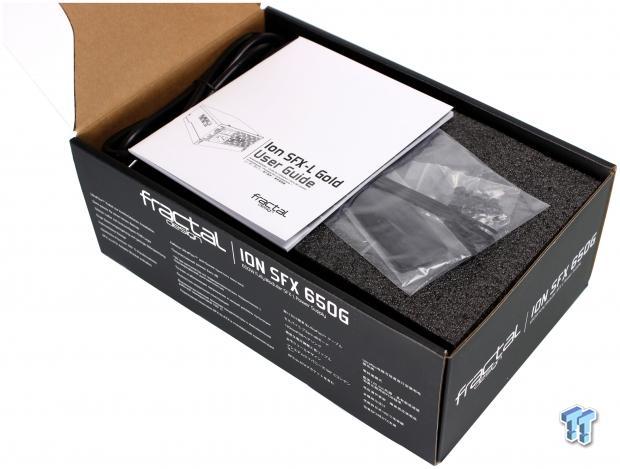 The ION SFX ships encapsulated in a polystyrene style soft foam shell, which helps protect the unit during transit. The PSU cables are in a separate section, which we see covered with the manual and accessory bag. This section is where the main AC input cable resides along with the modular cabling.
Hardware & Documentation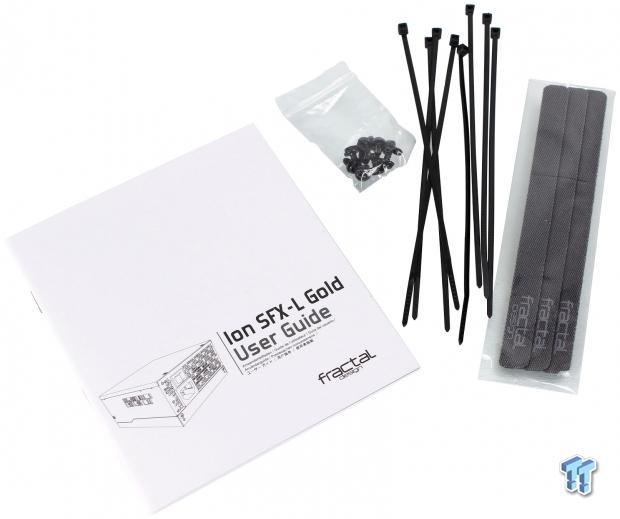 Here are the accessories which come with the ION SFX 650G:
Multi fold multi-lingual simple user guide

8x PSU mounting screws

8x Zip ties

3x Velcro cable management straps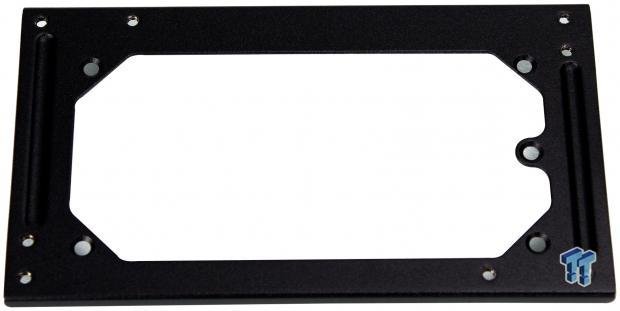 Another part in the accessory pack is the SFX to ATX adapter bracket. This is for using this tiny SFX PSU in a full-size ATX opening on your chassis. This may be the right choice depending upon your application. Keep in mind that the ION SFX PSU cables are quite short, so if your enclosure is larger, you are going to have to get creative with cabling.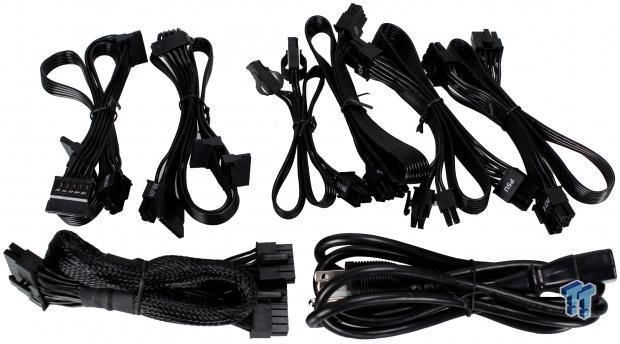 Here we have the modular cables which are included in the packaging with the ION SFX 650G:
main 24 pin ATX cable (350mm length)

4+4 pin EPS connector (400mm length)

2x GPU leads (2x 6+2 connectors per lead) (400mm + 100mm length)

2x SATA leads (4x SATA connectors per lead) (300mm + 200mm + 200mm + 100mm length)

Peripheral PATA lead (2x connectors per lead) (300mm + 100mm length)
As I mentioned previously, this is an abundance of connectivity, and I think this should far exceed the needs of most SFF builds.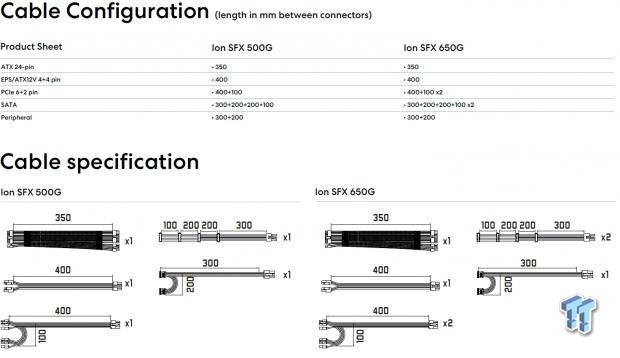 I figured it pertinent to include the chart from Fractal for cable inclusion with the PSU and its lengths. Do note there is a 500W version of the ION SFX as well, so the applicable data will be under the 650G heading.
ION SFX 650G Power Supply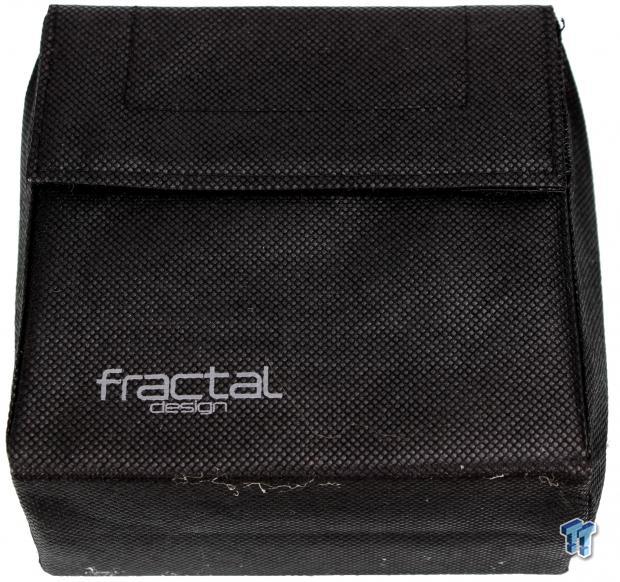 The ION SFX 650G arrives wrapped in a fabric bag to help further avoid abrasions to the painted surface during shipping.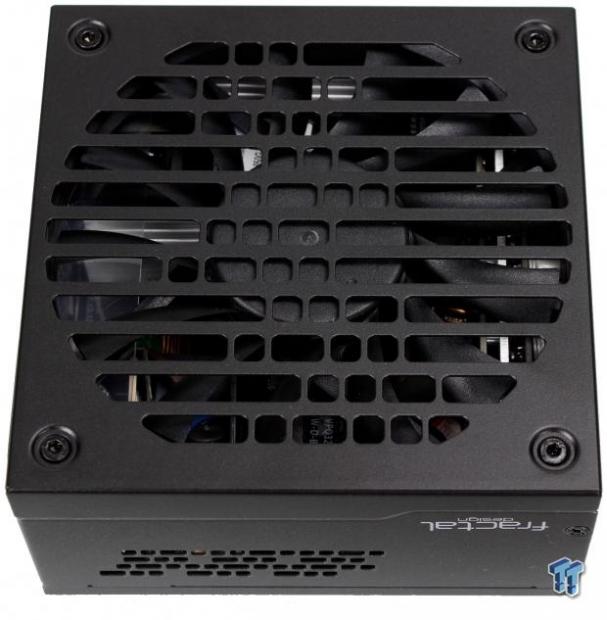 Here we see the fan inlet or bottom of the ION SFX 650G. The stylized fan grille for the PSU is just as it shows on the packaging and shrouds the massive 120mm fan ion the tiny SFX chassis.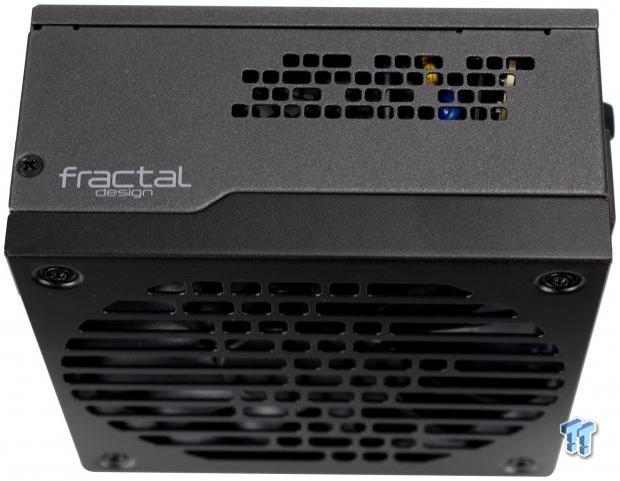 The side of the ION SFX 650G has a similar styling to the ION + 850 we tested previously. This side has extra ventilation to help the large fan push heat out of the case. Even if it means around the sides of it cannot effectively remove the warm air strictly out the rear. This is an excellent idea as it gives the ability to get heat out of the PSU any way possible so that under heavy loading environments, the PSU should stay cooler.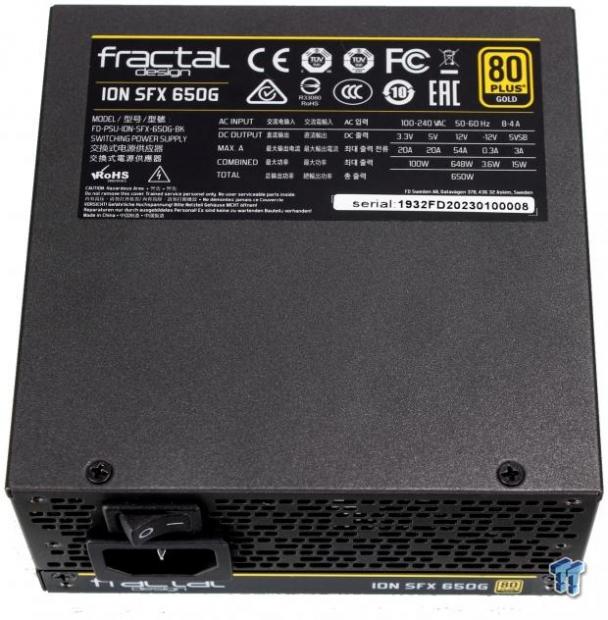 Here we have the spec label on the largest blank side of the PSU. This has a multilingual breakdown of the output amperages per rail. The PSU once again also has all of the certifications applicable to the ION SFX 650G PSU.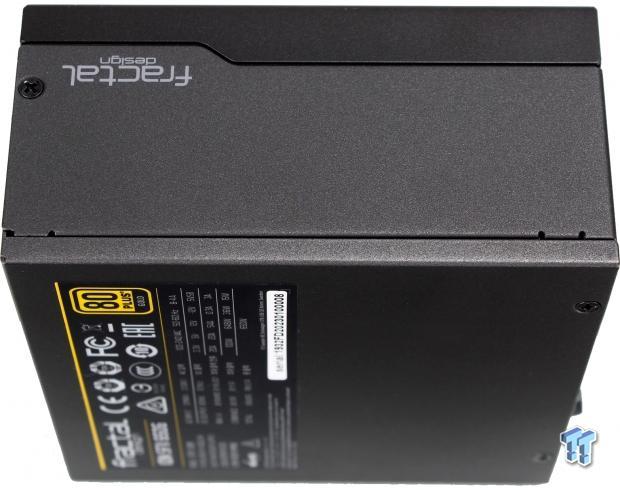 The other small side is similar to the opposing side, but sans the ventilation cutouts. This is likely to keep a clean, unbroken view for the side that, in many cases, will be showing if exposed in a rear entry PSU modeled chassis.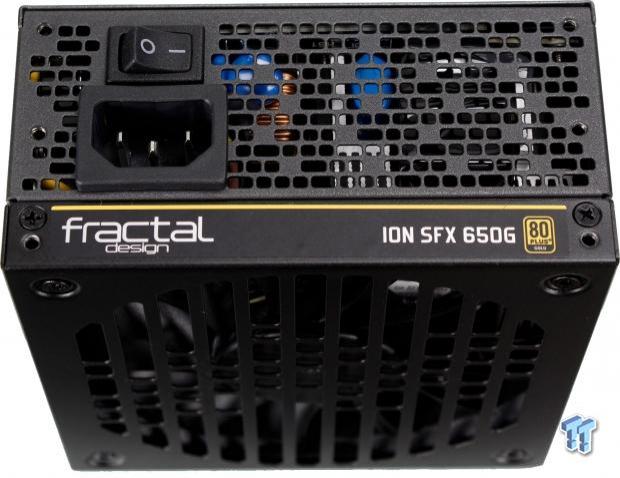 Here we have the input side for the AC cable. We have a main power toggle to shutoff primary input for the PSU. We also have the stylized venting grill here that matches the small portion on the side. The fan is so massive it blows right onto components and has a straight beeline out this grill.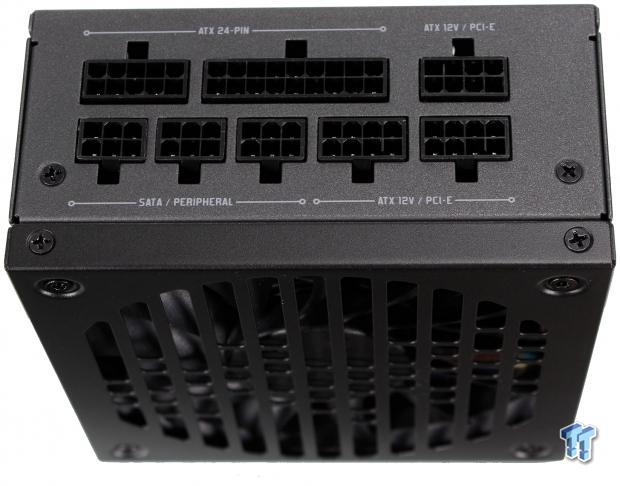 The output side/modular board we have all of the output connectors for the included modular cables. Each is clearly labeled and also keyed to help you avoid plugging an incorrect cable into a slot. This would, in most cases, cause irreparable damage to your components. Please double check your PSU labeling for modular cables and never mix wires from other PSU's as one wrong pin can mean disaster.
Real World Test System & Observations
Observations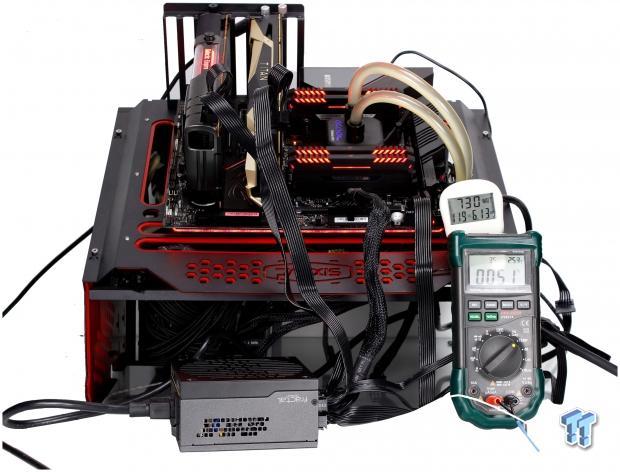 The SFX unit handles the 2990WX, which can pull 250W on its own along with the TITAN V, both pulling heavy render workloads. This attributed to around 530W of load with the cooling pumps and accessories.
Moving up to two cards by adding a TITAN Xp CE and we see the load eclipse the 700W input mark into 730-740W range depending on the thermal and power limit throttling of the GPUs. The fan on the ION SFX 650G throttled up a bit at this point, and I'm not necessarily surprised as we are pushing a significant amount of power through this unit. The baby ION unit was up to the task, though, as exhaust temperature shown here was after an almost two-hour burn-in with these settings under a constant render loading.
The thin 120mm fan was audible at this loading, but let's be honest, anyone running a load like this should be in the 1000W range to give some headroom for better efficiency. We are just happy to report that the ION SFX 650G pulled this off and not only as a burst but no instability or shutdowns for this.
Final Thoughts
When I first received the Fractal unit, I figured it would be a stout little unit for running a single card setup, which gets a little toasty. I am happy to report that the SFX unit stood up to the literal abuse and walked away with a win in this case. It never faltered during any of our testing or caused a single workload error. I want to take this moment to remind readers that if you plan to run a heavily loaded workstation rig, which will be pounded by a constant loading with multiple cards. Please get a more suitable PSU as I subject these units to this level of testing to see how stout they can be when pushed beyond what people should use them for.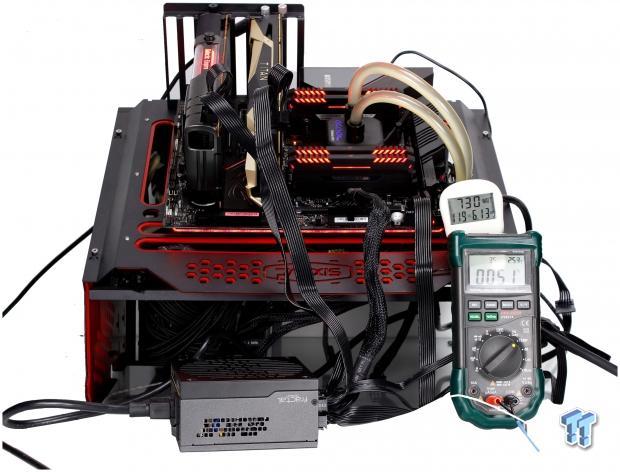 What did we like about the ION SFX 650G from Fractal Design? Well, let's start with the fact that the unit performed with beastly stability during a workload that, in my mind, I would have been ok with if it eventually thermally tripped. The ION SFX 650G ramped up and stood its ground, and in my mind, that's admirable. The flexible cables with the Fractal unit are a welcomed addition as SFF PC's need as much malleability as possible. The larger fan did an excellent job of keeping the unit running when I put it under the hammer of our test rig.
Now for things, I do not like, and I'm not sure there's going to be a lot here. The unit is 650W, so we have to temper our expectations accordingly. If I was to be very knit picky, I could mention that the cable set is short. And I did not see a longer cable kit available. The inclusion of the ATX adapter means some users may buy it to fit in, even an mATX tower. Where it may not have enough length to reach, but that's a minor thing as I have not confirmed this. This is all I could come up with at this time. The ION SFX 650G works as expected and goes beyond the level of loading all, but the most insane will put on it.
The price, at $109.99 it is a clear win for Fractal as this price range is where most 500W units reside.
Fractal took a robust design and priced it in such a way that SFF users would be hard-pressed not to pick it if they need the grunt this unit can supply.
Shannon's Power Supply Test System Specifications
| | |
| --- | --- |
| Performance | 97% |
| Quality | 98% |
| Features | 92% |
| Value | 99% |
| Overall | 97% |
The Bottom Line
Fractal Design takes a robust SFX platform and equips it with a price that is hard to beat. Add ot this short flexible cables and this can be a SFF builders dream!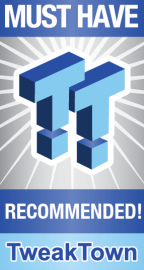 We openly invite the companies who provide us with review samples / who are mentioned or discussed to express their opinion. If any company representative wishes to respond, we will publish the response here. Please contact us if you wish to respond.