TweakTown's Rating: 88%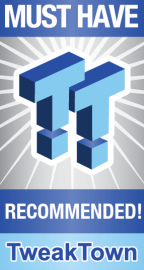 The Bottom Line
While the AX92U sacrifices little performance for its size, it makes up for it in range and fantastic backhaul between nodes.
Introduction
ASUS was strong out of the gate with Wi-Fi 6 solutions, in fact, it was one of two vendors, the second being Netgear, to release a full product lineup around the beginning of the year. Several other vendors have products on paper including TPLink and now that Computex has come and gone we expect 2H 2019 to ramp up as 802.11ax takes over where 802.11ac has left off.
ASUS has always been one of the first adopters of technology; the same was true with 802.11n and ac. That said the AX92U is a different beast as it is the first mesh Wi-Fi 6 platform we will look at. On the hardware side, the AX92U is a tri-band 802.11ax solution; it falls in the AX6000 class. This means we have 300Mbps for the 2.4GHz band, 866Mbps for the first 5GHz band and the second 5GHz band offers 4800MBps.
As with all ASUS launch solutions, this is a Broadcom platform using the BCM4352 operating at 1.8GHz over two cores. This is paired with 512MB of memory and 256 MB of flash. As for radios, we have the BCM4352 providing both 2.4 and 5GHz capabilities while a secondary BCM43684 offers 4x4 Wi-Fi 6. The switch used in this solution is the BCM4906, gigabit single WAN four LAN.
MSRP of the ASUS AX92U Mesh comes in at $399.99 with a three-year warranty.
ASUS AX92U Mesh
Packaging and a Closer Look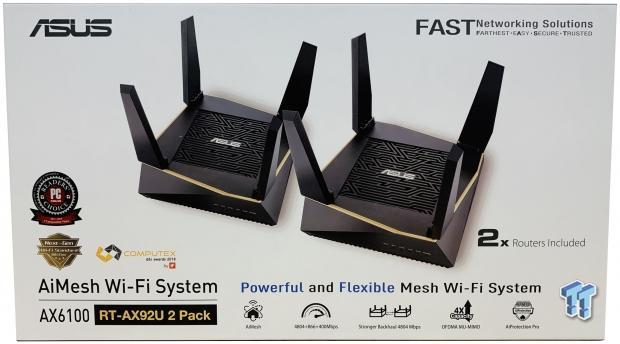 Packaging for the AX92U uses the gold and black colorway with a bit of white to keep it modern. On the front, we have both nodes pictured with only a slight amount of marketing below.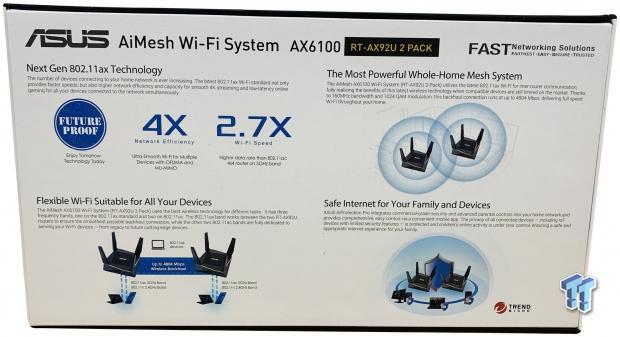 On the backside, we have more information about the system and its performance over past appliances along with a bit more marketing to convince you.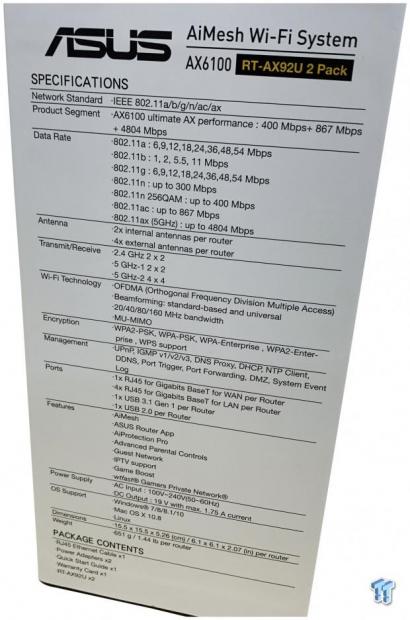 On the spine of the box, we have the full specification list.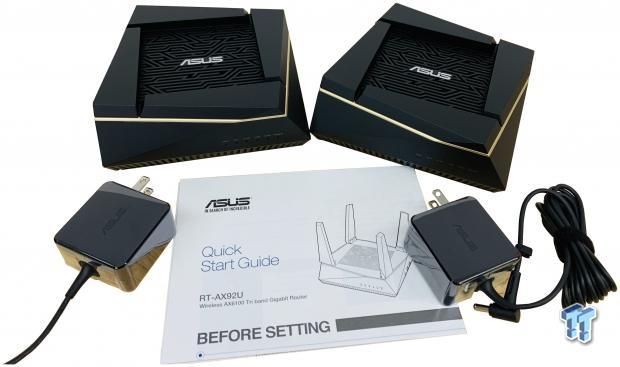 Unboxing the kit; we have two nodes both with power adapters and reading materials.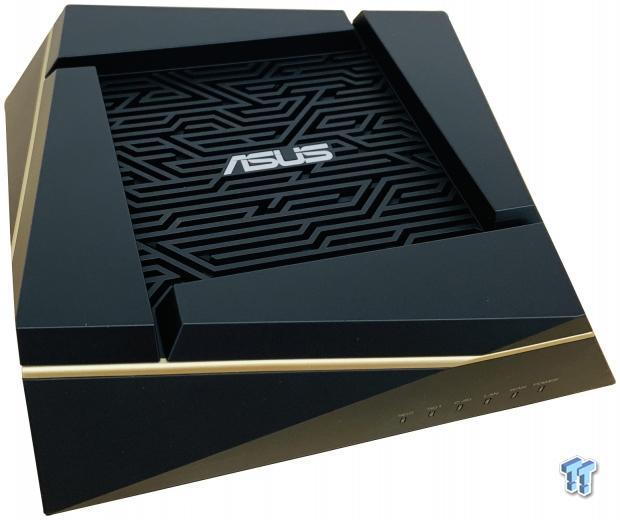 Looking at the AX92U, it's rather small in comparison to the last two ASUS platforms we reviewed though shares some of its design with the ROG Rapture. This is a 4 antenna design all four having the ability to lay flat, retained with a spring in each position.

On the front, we have LEDs to the right all white when lit that give notification for activity on each Wi-Fi band along with LAN, WAN, and power.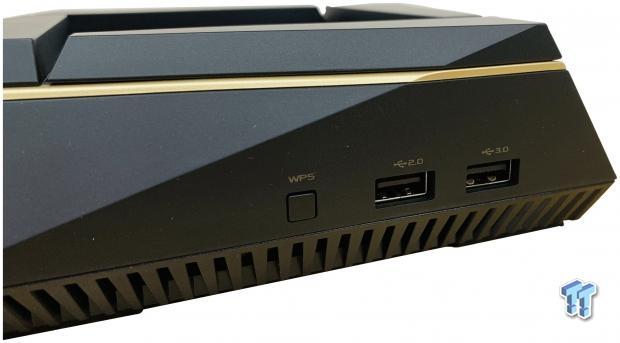 On the right side, we have a single USB 2.0 and USB 3.0 port along with quick access to the WPS button.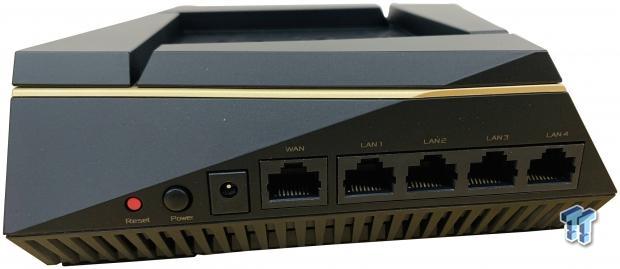 On the backside, we have reset, and power input followed by WAN half spaced from four LAN ports all gigabit.
Test System Setup and Web Management
Tyler's Test System Specifications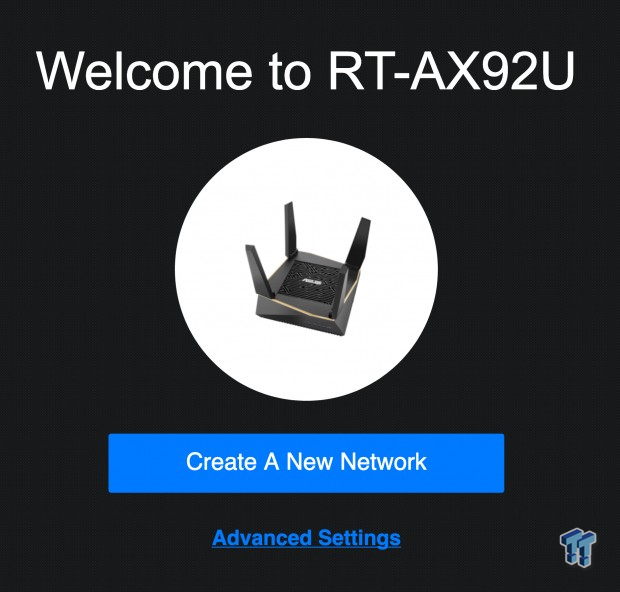 Setup begins as it has in all past ASUS solutions.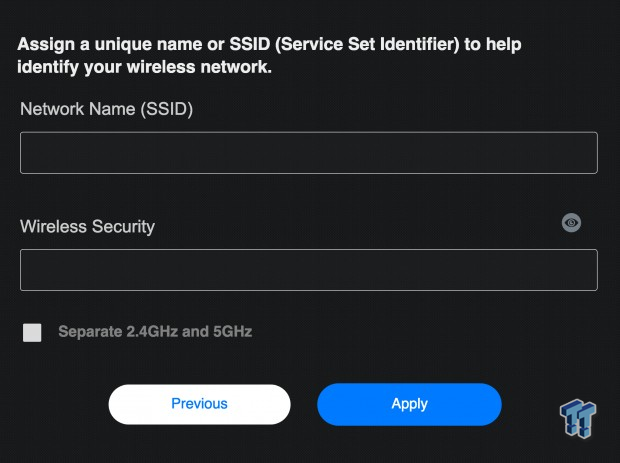 Moving through setup; we stop to setup SSID and password. Here you can also choose to separate the 2.4 and 5GHZ bands.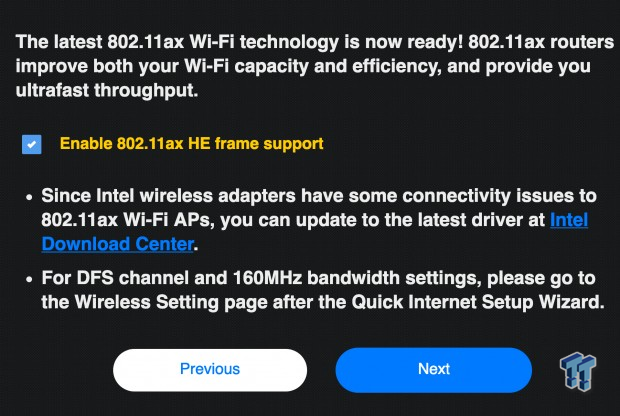 We then reach the 802.11ax HE frame support note, enable it if you have AX clients.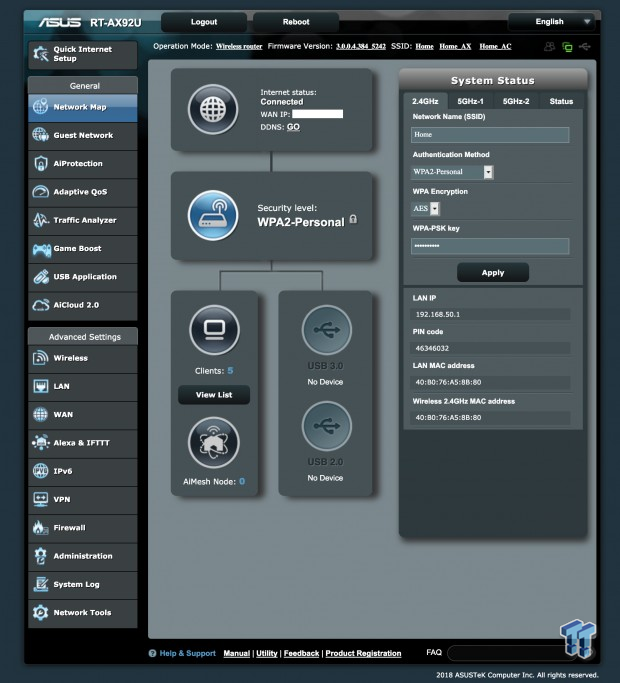 As you can see the AX92U shares its firmware platform with the AX88U we reviewed a few months back and for the most part all of the 802.11ac lineup. On the dashboard, we get a quick glance at connected devices at the bottom along with status for Wi-Fi.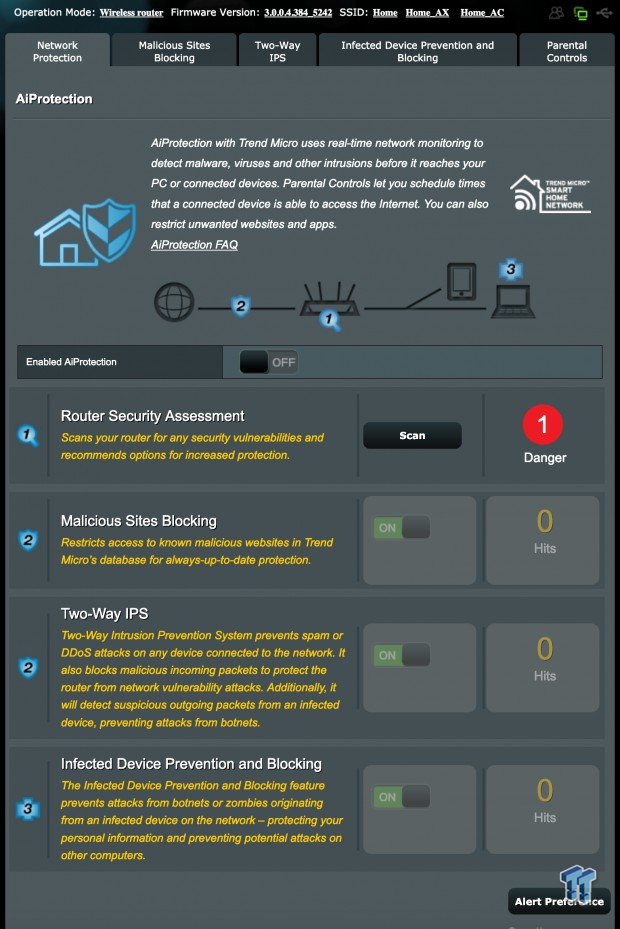 Moving down the side panel we stop at Ai Protection. This allows you to run a security assessment on your network and fix any issues. It also includes site blocking, IPS, and Infected Device Prevention along with Parental controls.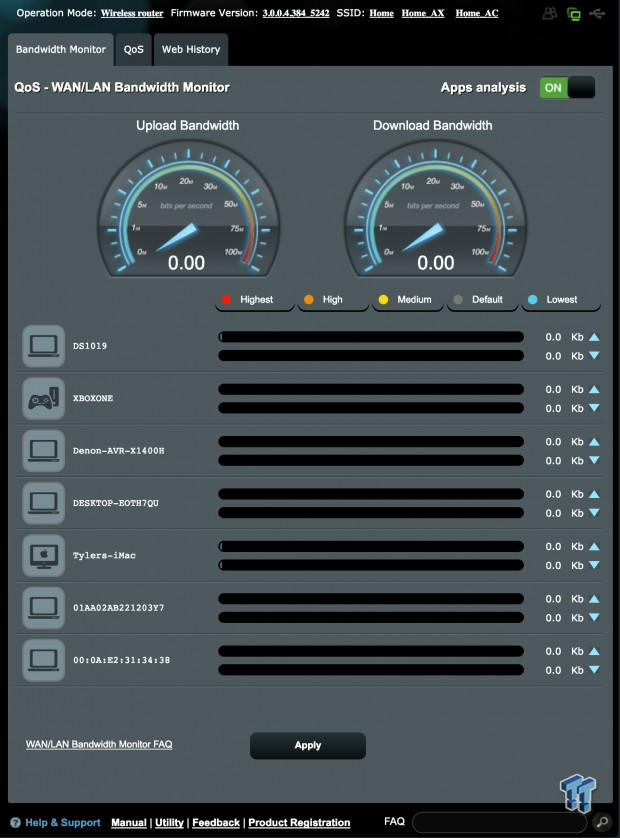 Moving into Adaptive QoS, we have a full device list along with traffic. From here you can categorize device based on priority.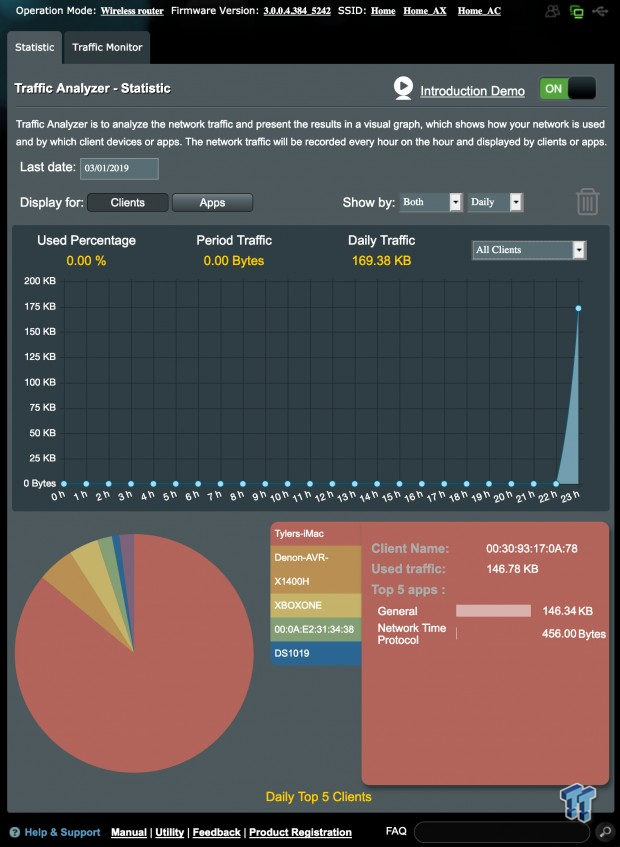 Traffic Analyzer offers a device list along with the top 5 apps for each device and the bandwidth used.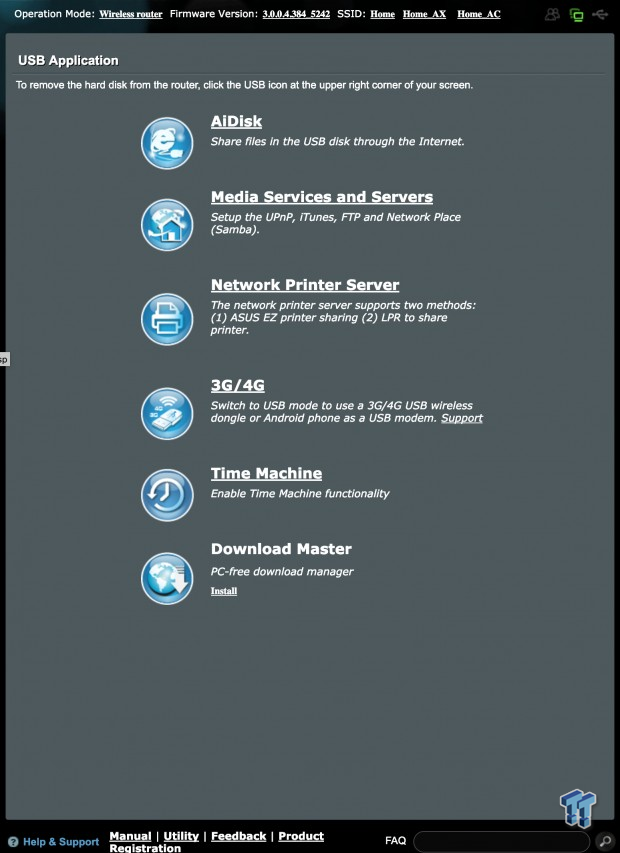 USB Application is a hub for all things that connect through USB, whether that be storage or 4G/5G dongles, printers, etc.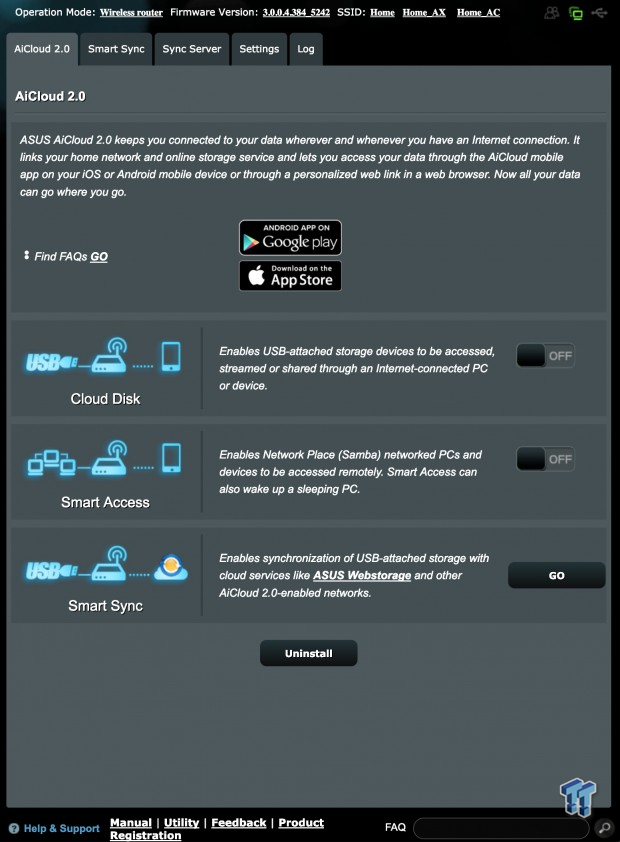 AiCloud gives access via the cloud to your connected USB storage solutions.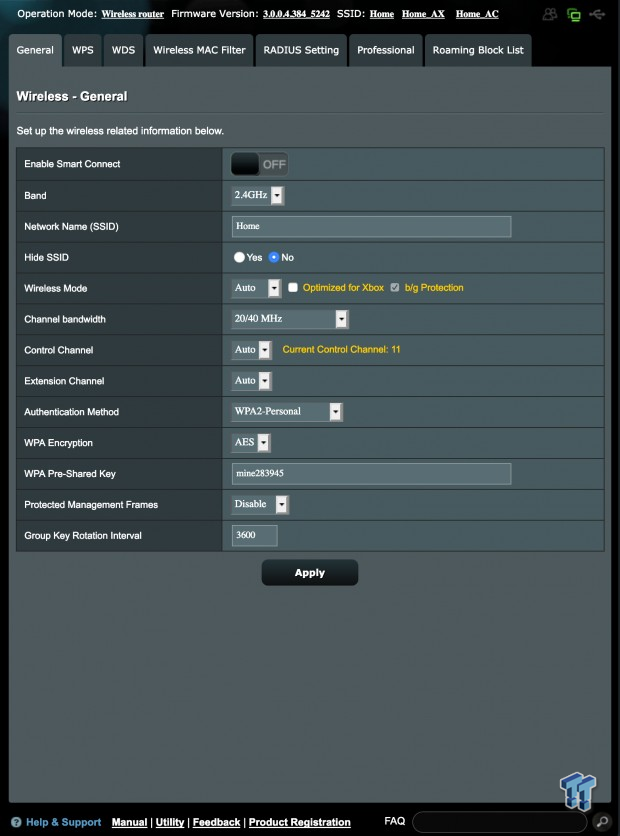 Getting back into the settings menu; we have Wi-Fi settings which include each band using the drop-down menu, SSID and password along with additional controls.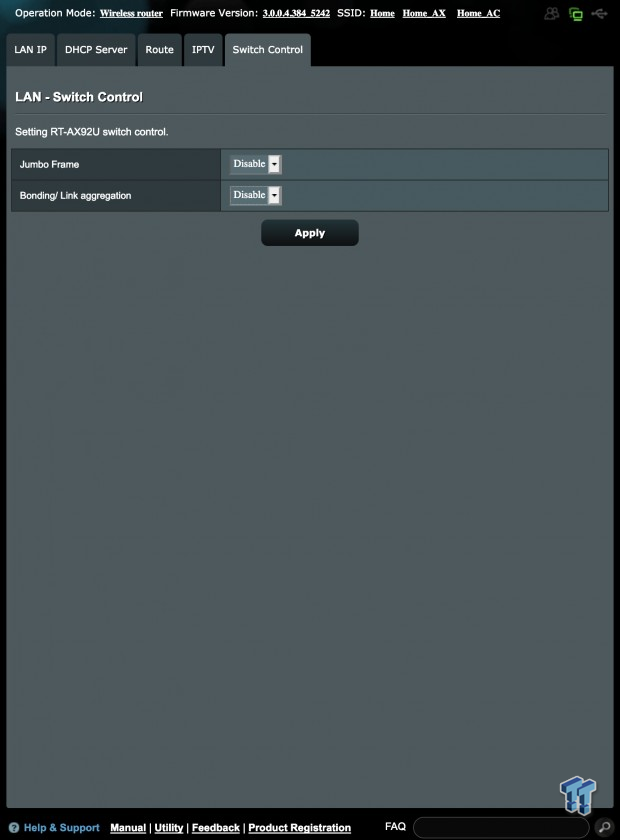 Sliding down to Switch Control, the AX92U can enable Link Agg on ports 1 and 2 here.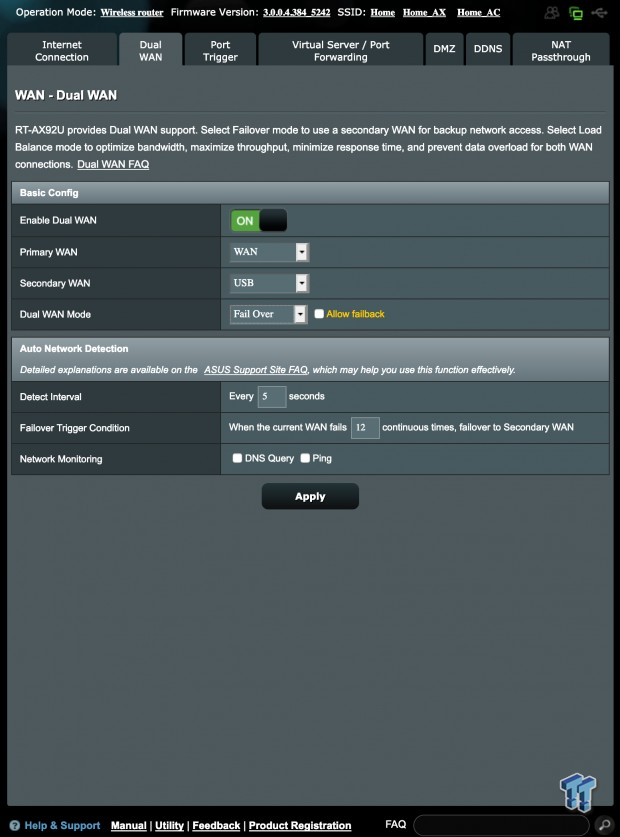 As with most ASUS solutions, the 92U supports WAN failover utilizing a USB dongle.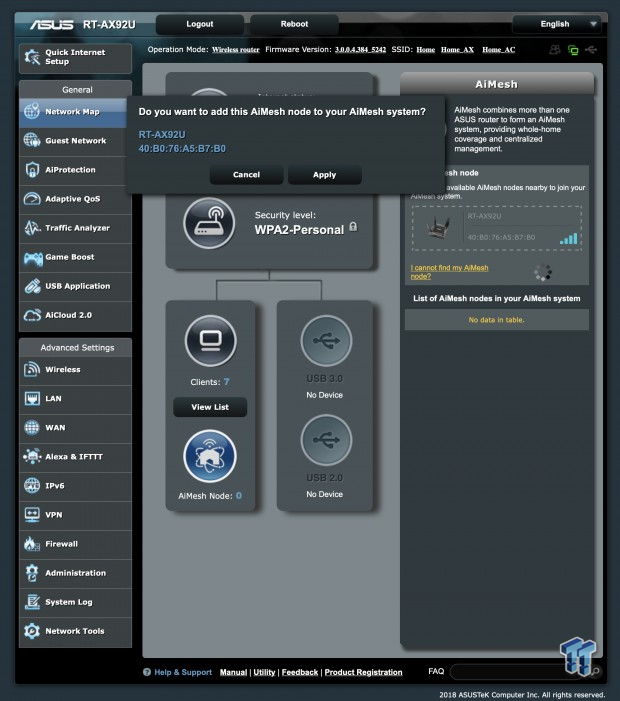 Last, once you setup the second node, you should see it on your dashboard screen asking you to connect to it.
Benchmarks – LAN and WLAN Throughput
LAN and WLAN Throughput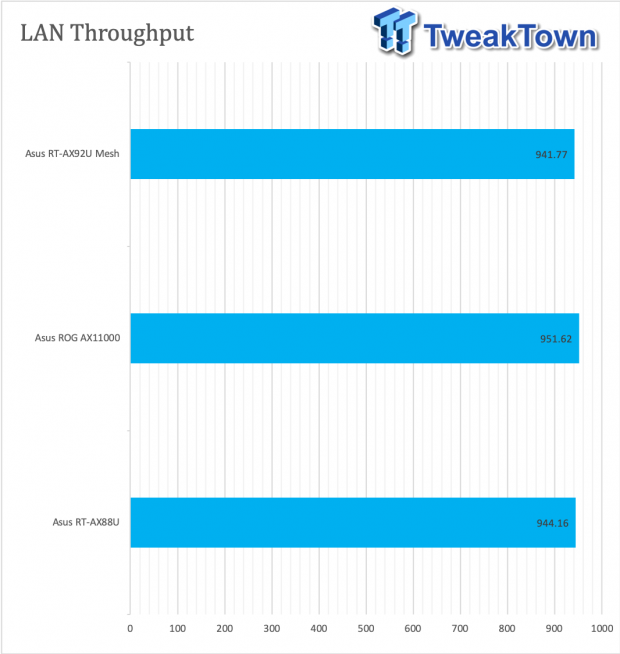 I was able to lineup all three Wi-Fi 6 solution we have tested to this point to get a decent comparison top to bottom. In LAN throughput, all three show the same capabilities 941-951MBps.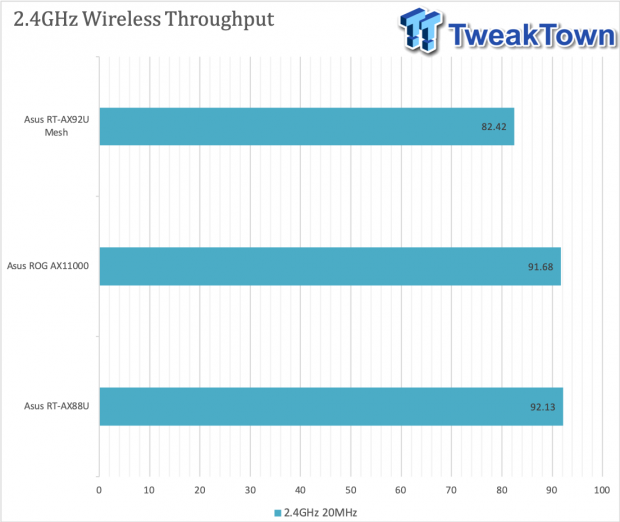 For 2.4GHz throughput, the AX92U offered the lowest performance at 82Mbps.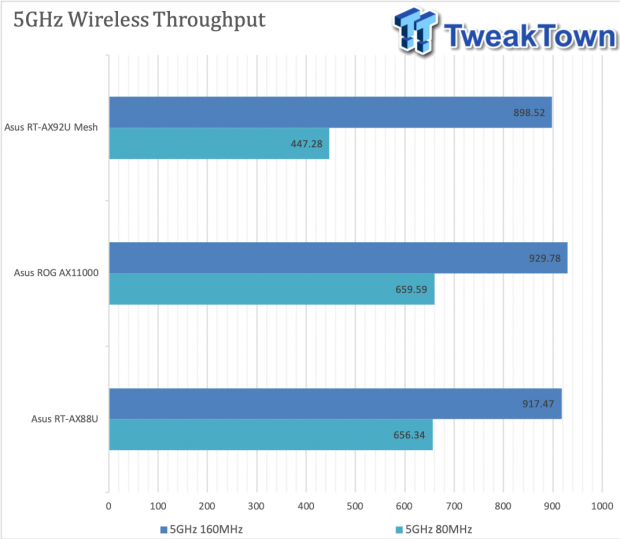 5GHz performance was tested with 80MHz and 160MHz; the AX92U bringing in 447Mbps @80MHz and 898Mbps @160MHz.
Throughput with Distance, Backhaul and a touch of Storage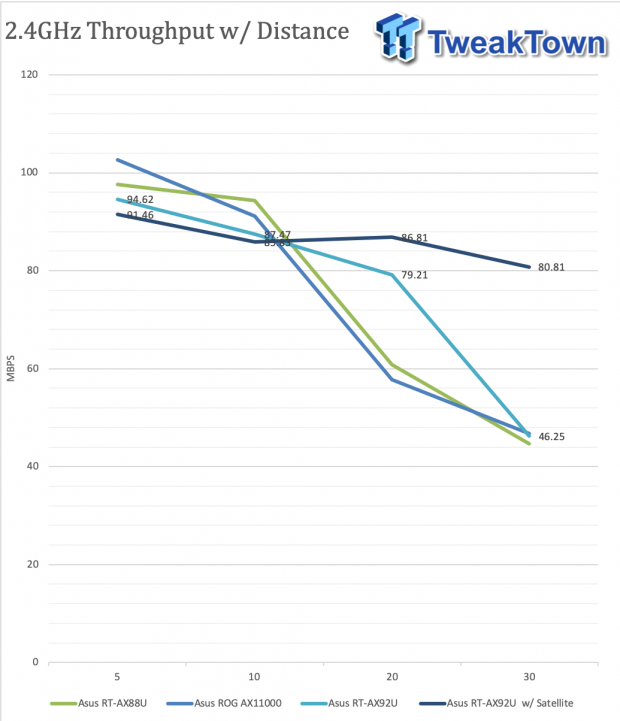 Above, we have throughput at distances of 5,10,20 and 30ft line of sight. For the AX92U, we tested with and without the second node. Starting with 2.4GHz we see 91Mbps for the 92U at 5Ft. This holds quite well in both scenarios out to 20Ft where we see the single node setup move to 79Mbps while the two node holds 86Mbps. At 30Ft this is even more discernable with the single node dropping to 46Mbps while the two node shows 80Mbps.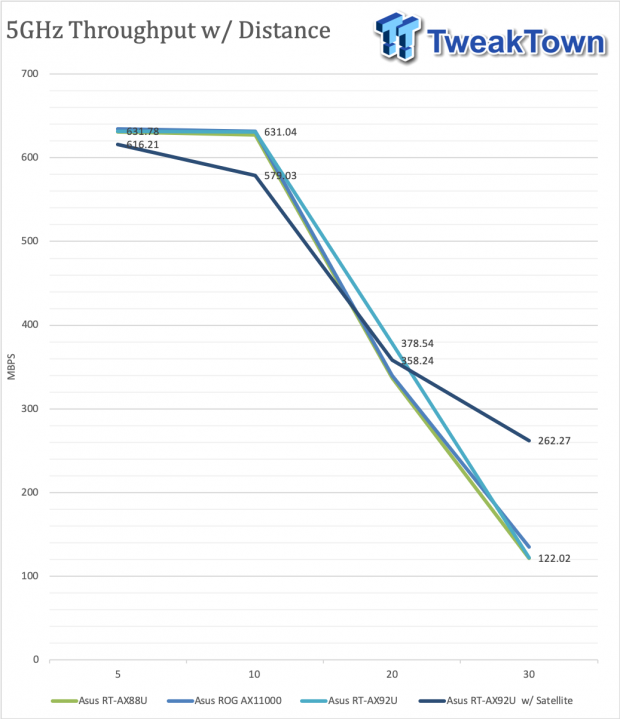 We have the same thing for the 5GHz band, both setups starting off quite well 616 for the dual node and 630Mbps for the single node. At 10Ft we see a drop in the dual node setup to 579Mbps while the single node holds 631Mbps and 20Ft we see both drop performance between 358 and 378Mbps. At 30Ft we see some separation as the dual node holds 262Mbps and the single node drops to 122MBps.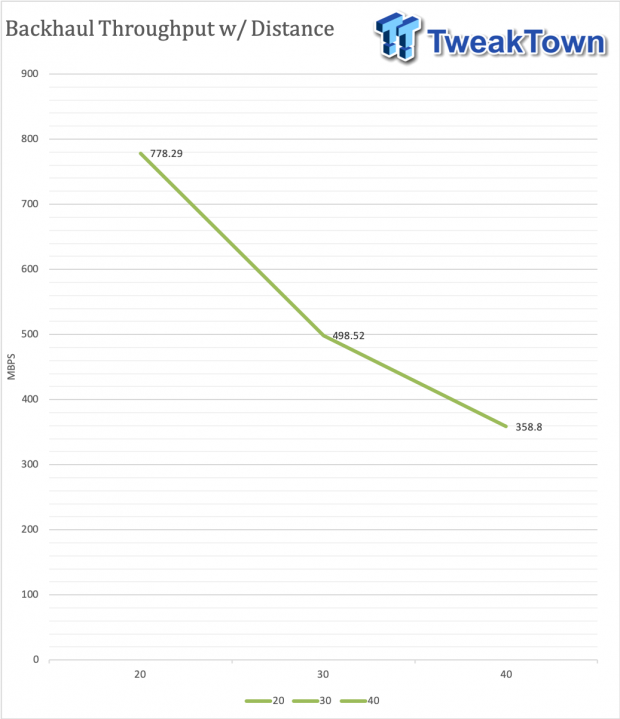 Above, we have the backhaul throughput of the ASUS AX92U at several distances. As you can see it is very strong at 20Ft holding 778Mbps while 30Ft drops to 498Mbps and 40Ft apart we see 358Mbps.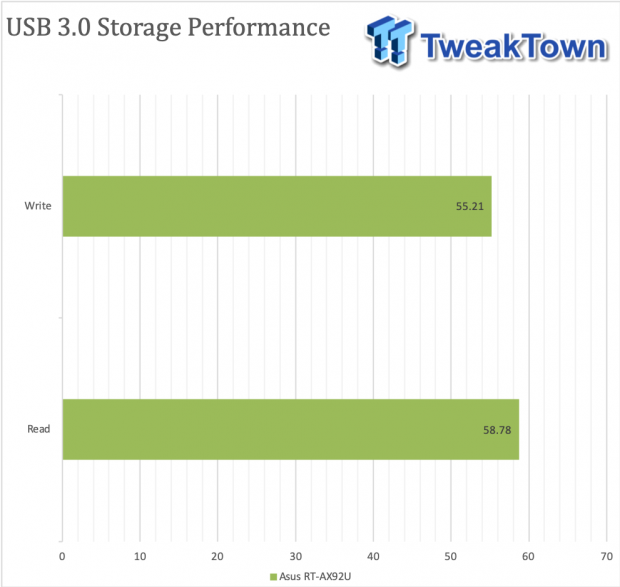 Finishing off testing, we ran through a few USB 3.0 storage benches with our SanDisk SSD. The AX92U was able to produce 58 MB/s read and 55 MB/s write.
Final Thoughts
I'll start by saying out of the three ASUS Wi-Fi 6 solutions we have had in the lab, the AX92U is by far my favorite not only for its compact size but its performance. Build quality is as expected for a router with the ASUS name attached although I would say be very careful with the antenna as they do seem quite fragile. The plastics have a great matte finish to them, and the gold accents really tie everything together.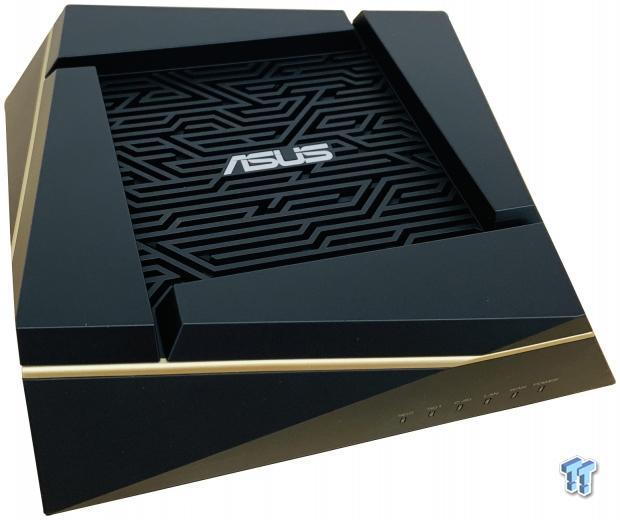 As for the UI, having worked with it from the end of 802.11n through 802.11ac, I will say it's getting boring and stale seeing the same interface for all routers. At this point, all the features are solid and stable, but we need light mode dark mode or a skinnable interface just to dress it up and make it fresh. As mentioned, features in the interface have come a long way, are quite stable at this point and really might be the most complete package next to DumaOS.
As for performance, we were able to get some great numbers out of the AX92U. Starting with LAN at 941Mbps, we followed that up with 5GHz performance reaching 447Mbps with 80MHz and 898Mbps at 160MHz. The performance wasn't quite as good as the standalone AX88U or the monster ROG unit but did show better range performance using two nodes.
As for pricing, ASUS has come out slightly aggressive with the AX92U at $399.99 putting it in the same range as the 2nd generation eero, Orbi Pro and Tri-Band Linksys Velop solutions while at the same time having the ability to easily double the performance over those units.
| | |
| --- | --- |
| Performance | 89% |
| Quality | 86% |
| Features | 90% |
| Value | 87% |
| Overall | 88% |
The Bottom Line
While the AX92U sacrifices little performance for its size, it makes up for it in range and fantastic backhaul between nodes.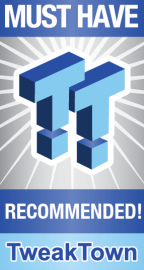 We openly invite the companies who provide us with review samples / who are mentioned or discussed to express their opinion. If any company representative wishes to respond, we will publish the response here. Please contact us if you wish to respond.