GeCube Radeon X1900XTX Graphics Card
Today we look at the GeCube X1900XTX and see what it can offer at stock and OC speeds and how it handles Oblivion.
Published Fri, May 5 2006 11:00 PM CDT
|
Updated Tue, Nov 3 2020 7:04 PM CST
Rating:

90%
Manufacturer: GeCube
Introduction
Back in 1990, a company by the name of Info-Tek was created. This company was devoted to contract manufacturing for motherboard and interface cards. GeCube is a brand name of this very same company and their main goal is to produce graphics boards and other peripheral devices.
Many of us have heard the name GeCube, but when I first heard of this name, it was generally associated with lower-end peripherals. Yes, graphics boards were a part of the name, but not usually the top of the heap models. The company was known more for low prices then high performance. My how things can change. Lately, GeCube is mentioned with all the big players when it comes to top notch graphics.
This brings us to the topic of today's article, the GeCube X1900XTX. As of this writing, this is the big boy on the block and we plan on putting it through its paces and then overclocking it to see how much extra power we can eke from this behemoth!
Specifications
The Spec Sheet
Yes, it is time for those pesky specifications again. While not everyone cares about this information, it is always best to have as much knowledge about a component as possible. That said, this is a quick rundown of the X1900 series product spec sheet.
Radeon X1900 Graphics Technology - SpecificationsFeatures
384 million transistors on 90nm fabrication process
48 pixel shader processors
8 vertex shader processors
256-bit 8-channel GDDR3 memory interface
Native PCI Express x16 bus interface
Ring Bus Memory Controller
512-bit internal ring bus for memory reads
Fully associative texture, color, and Z/stencil cache designs
Hierarchical Z-buffer with Early Z test
Lossless Z Compression (up to 48:1)
Fast Z-Buffer Clear
Optimized for performance at high display resolutions, including widescreen HDTV resolutions
Ultra-Threaded Shader Engine
Support for Microsoft DirectX 9.0 Shader Model 3.0 programmable vertex and pixel shaders in hardware
Full speed 128-bit floating point processing for all shader operations
Up to 512 simultaneous pixel threads
Dedicated branch execution units for high performance dynamic branching and flow control
Dedicated texture address units for improved efficiency
3Dc+ texture compression o High quality 4:1 compression for normal maps and two-channel data formats
High quality 2:1 compression for luminance maps and single-channel data formats
Complete feature set also supported in OpenGL 2.0
Advanced Image Quality Features
64-bit floating point HDR rendering supported throughout the pipeline
Includes support for blending and multi-sample anti-aliasing
32-bit integer HDR (10:10:10:2) format supported throughout the pipeline
Includes support for blending and multi-sample anti-aliasing
2x/4x/6x Anti-Aliasing modes
Multi-sample algorithm with gamma correction, programmable sparse sample patterns, and centroid sampling
New Adaptive Anti-Aliasing feature with Performance and Quality modes
Temporal Anti-Aliasing mode
Lossless Color Compression (up to 6:1) at all resolutions, including widescreen HDTV resolutions
2x/4x/8x/16x Anisotropic Filtering modes
Up to 128-tap texture filtering
Adaptive algorithm with Performance and Quality options
High resolution texture support (up to 4k x 4k)
Avivo Video and Display Platform
High performance programmable video processor
Accelerated MPEG-2, MPEG-4, DivX, WMV9, VC-1, and H.264 decoding and transcoding
DXVA support
De-blocking and noise reduction filtering
Motion compensation, IDCT, DCT and color space conversion
Vector adaptive per-pixel de-interlacing
3:2 pulldown (frame rate conversion)
Seamless integration of pixel shaders with video in real time
HDR tone mapping acceleration
Maps any input format to 10 bit per channel output
Flexible display support
Dual integrated dual-link DVI transmitters
DVI 1.0 compliant / HDMI interoperable and HDCP ready*
Dual integrated 10 bit per channel 400 MHz DACs
16 bit per channel floating point HDR and 10 bit per channel DVI output
Programmable piecewise linear gamma correction, color correction, and color space conversion (10 bits per color)
Complete, independent color controls and video overlays for each display
High quality pre- and post-scaling engines, with underscan support for all outputs
Content-adaptive de-flicker filtering for interlaced displays
Xilleon TV encoder for high quality analog output
YPrPb component output for direct drive of HDTV displays
Spatial/temporal dithering enables 10-bit color quality on 8-bit and 6-bit displays
Fast, glitch-free mode switching
VGA mode support on all outputs
Drive two displays simultaneously with independent resolutions and refresh rates
Compatible with ATI TV/Video encoder products, including Theater 550
In The Box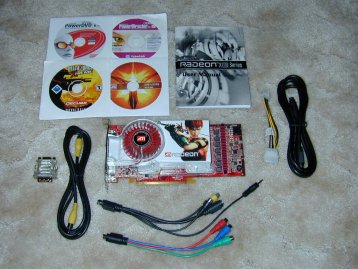 Once we get all the goodies out of the package, we end up with the video board, a small standardized manual, one DVI adapter, all the cabling necessary to make use of the features of the board, and a small software package that includes drivers, one game, and a couple of software utilities to help out with DVD playback and such. Nothing extravagant, but it contains everything you need to start getting the most out of this board.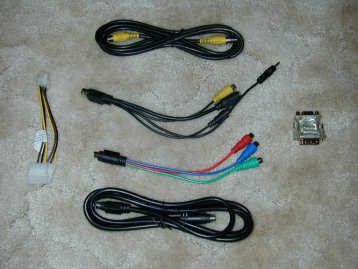 When it comes to the R580XT chipset used in the video board, there are a lot of native capabilities that come with it. This includes full VIVO functionality and the ability to communicate with nearly any sort of input device. The cabling that comes with this product allows you to make use of this function regardless whether the device requires RGB, S-Video or multi-function connections. Also pictured above is a PCI-E adapter for those who do not have a power supply that supports this newer requirement and a DVI adapter to allow the use of an analog CRT with this board. Given that this particular board has dual DVI ports and no 15-pin D-Sub, I was a little surprised that there was only a single DVI adapter. Of course, with LCD monitors becoming so popular, this likely won't be much of an issue for most.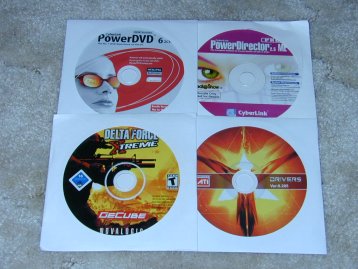 Besides drivers, the software package that comes with this board includes the game "Delta Force Xtreme", as well as two CyberLink products. These are PowerDVD v6 and PowerDirector. The first works in the place of Windows Media Player to handle your multimedia needs while the second title allows you to manipulate incoming media content to suit your needs. Both of these programs have been around for a while and are easy to use. Neither are required installations for the video board to have full functionality.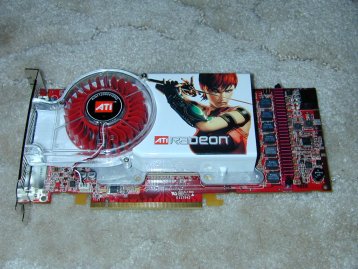 Moving on to the board itself, we see that the folks at GeCube stuck with the reference design on this product. Utilizing the ATI R580XT chipset, we get rock solid performance coupled with a full 512MB of GDDR3 memory. While some may think this is total overkill, keep in mind that some of the newer titles are being created to make use of this high volume of memory.
One thing to keep in mind when looking at this board (or any X1900 board I've seen so far) is the double PCI slot layout. That monster cooler attached to the front face carries a larger footprint and requires an extra slot. While most items built into modern motherboards are far better than they were in the past, if you are one of those that have several added peripherals, this might be a concern.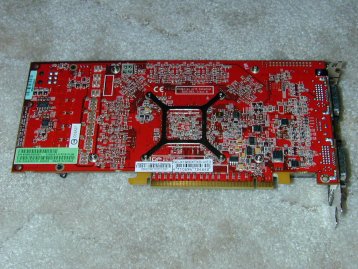 Moving around to the back of the board shows a very clean layout. As with the X1900XT board reviewed earlier, there are no added memory modules cluttering this side of the board. This is very helpful, particularly when it comes to trying to keep that high performance memory cool and running as quickly as possible.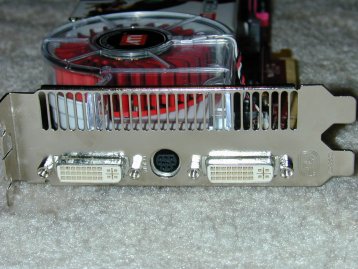 As briefly mentioned above, this board comes with only DVI ports as far as output is concerned. You can still make use of an analog CRT with the included adapter, but if you want a dual display, you will either need the second monitor as a digital or purchase another DVI adapter. Of course, it goes without saying that I highly recommend digital displays over analog since the output is crisper and clearer.
The center port, commonly referred to as an S-Video port, is a multi-function input connection that allows the board to accept video input. The cabling included with the retail package will give you a full range of choices so you won't be limited to the device used for getting this data to your system.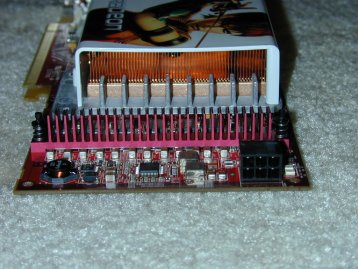 When you first lift this video board, one of the first things you'll note is the weight. This thing is downright heavy! The reasoning of this is simple; there is a good deal of copper used for the stock cooling. Just like with processors, the higher you run the speeds up the hotter it gets. Even shrinking the manufacturing size to a .90nm process, the heat produced is still very high. To combat this, ATI has added a massive cooling fan and a large copper heatsink. While the fan roars loudly into life at boot-up, it quickly slows back down to a bearable level after about 3-5 seconds. It isn't a silent cooling method, but the noise is not sp loud that it interferes with normal usage.
Benchmarks - Test System Setup and Methodology
Test System Setup and Methodology
When it comes to testing graphics cards, you have to take a look at what the board was designed to do. This usually falls into two categories; gaming or CAD. Since we're talking about a performance gaming card here, we'll be looking primarily at how it performs in both synthetic and real-world gaming tests.
To accommodate these goals, we're going to run a series of tests that consist of the following utilities and programs:
Futuremark 3DMark05
Futuremark 3DMark06
Quake 4
Far Cry
Half Life 2
The Elder Scrolls: Oblivion
All utilities and games have been patched to their most recent versions. Color depth for all tests will be conducted at 32-bit so we can see those true colors in all their glory. The test system will be running Windows XP Professional with DirectX 9.0c and SP2 installed as well as all critical updates in place. I am using the latest motherboard drivers as well as Catalyst 6.4.
Test System Setup
DFI LANParty UT nF4 Ultra-D Motherboard
AMD Athlon 64 FX-53 Processor (Supplied by
Newegg.com
)
2x 512MB Mushkin PC3500 "Redline" Memory (Supplied by
Mushkin
)
Thermaltake PurePower 600-watt PSU (Supplied by
Thermaltake
)
Hitachi SuperScan 21" CRT Monitor
Western Digital 80GB SATA Hard Drive
For the purposes of our results, I will include the little brother X1900XT from Sapphire as well as an older X850XT PE (in some of the benchmarking) for comparison. The X1800 series boards were pretty much considered the black sheep of the Radeon family and are not being included in our tests.
Now that we know
how
we're going to test these boards, lets get down to business and see how well the big kid on the block performs!
Benchmarks - 3DMark05
3DMark05Version and / or Patch Used:
v120
Developer Homepage:
http://www.futuremark.com
Product Homepage:
http://www.futuremark.com/products/3dmark05/
Buy It Here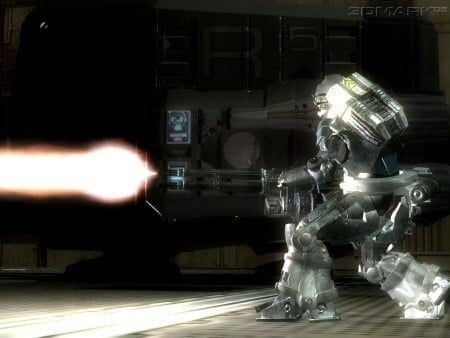 3DMark05 is now the second latest version in the popular 3DMark "Gamers Benchmark" series. It includes a complete set of DX9 benchmarks, which tests Shader Model 2.0 and higher.
For more information on the 3DMark05 benchmark, we recommend you read our preview
here
.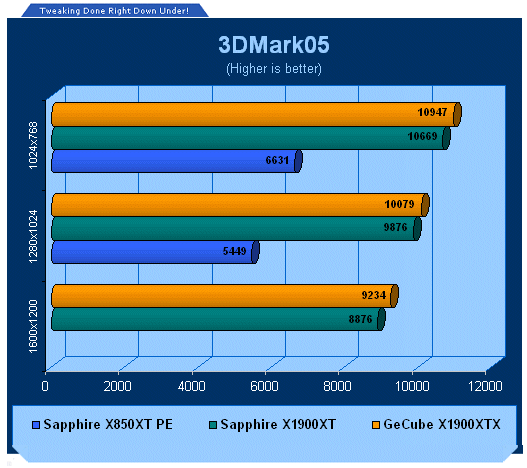 We begin our testing suite with a couple of synthetic benchmarking utilities. While not always indicative of true gaming performance, they allow us to run an identical set of tests on multiple cards and make an informed analysis of the results. As a side note, the X850 board was previously tested on an LCD monitor that did not support the 1600x1200 resolution, so this result is missing.
I had wondered how well the two X1900 series boards would fare against each other. While the XTX version is clocked just a little faster from the factory, both make use of the R580XT chipset. The results ended up being more impressive than I had thought they would. The XTX board is running upwards of 4% faster at the higher resolutions. Not bad considering they are very nearly the same board.
As far as AA/AF performance, at the default resolution of 1024x768 and a setting of 6xAA/16xAF, the score dropped to 9986. This isn't as drastic a drop in performance as some other boards are showing.
Benchmarks - 3DMark06
3DMark06Version and / or Patch Used:
v102
Developer Homepage:
http://www.futuremark.com
Product Homepage:
http://www.futuremark.com/products/3dmark06/
Buy It Here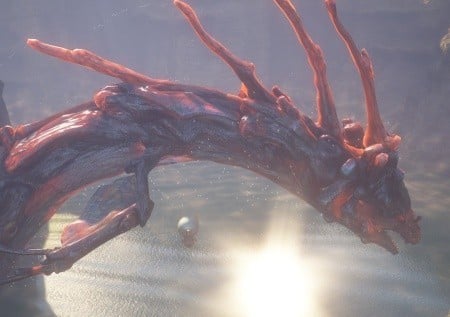 3DMark06 is the very latest version of the "Gamers Benchmark" from Futuremark. The newest version of 3DMark expands on the tests in 3DMark05 by adding graphical effects using Shader Model 3.0 and HDR (High Dynamic Range lighting), which will push, even the best DX9 graphics cards to the extremes.
3DMark06 also focuses on not just the GPU but the CPU using the AGEIA PhysX software physics library to effectively test single and Dual Core processors.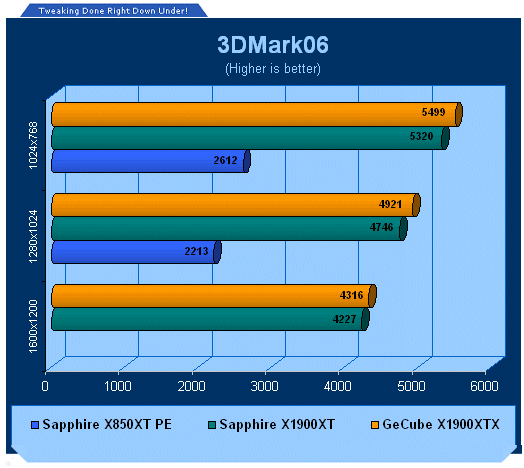 Our second synthetic benchmark is the newer version of the 3DMark series. One of the big advantages of this utility is the ability to test both SM3 and HDR lighting effects. Like the other synthetic testing, the X1900XTX shows an improvement of between 2-4% over the XT model, and a significant rise from the older X850 series board.
Benchmarks - Quake 4
Quake 4Version and / or Patch Used:
Default install
Timedemo or Level Used:
necro666.demo (
download here
)
Developer Homepage:
http://www.idsoftware.com
Product Homepage:
http://www.quake4game.com
Buy It Here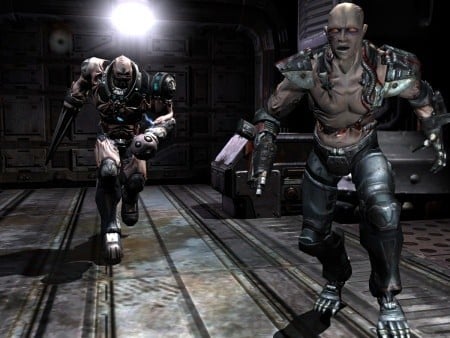 Quake 4 is one of the latest new games to be added to our benchmark suite. It is based off the popular Doom 3 engine and as a result uses many of the features seen in Doom. However, Quake 4 graphics are more intensive than Doom 3 and should put more strain on different parts of the system.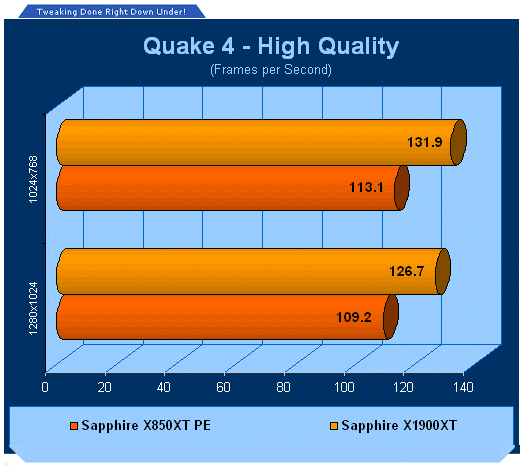 Moving into the gaming portion of our testing, we are starting off with Quake 4. During our test phase, all details of the game were maxed to put as much strain on the video board as possible. Since my first goal was to see just how many frames these boards could put out with maximum detail quality, I ended up getting an eyeful with the performance
and
quality that was put out.
The results above were more in line with what I was expecting when comparing two X1900 series boards. The results at both 1024 and 1280 resolutions were nearly the same, but the XTX board managed to put forth an extra 2% at the higher 1600 resolution.
When testing AA/AF performance, I chose the 1600x1200 resolution with the details still set to their maximum levels. The GeCube board still managed to put out 85.4FPS at 6xAA/16xAF, but this equates to a hefty 40% drop in frames. Still, given the in-game frame cap, it won't make a lot of difference in actual game play, and the eye candy was simply amazing.
Benchmarks - Far Cry
Far CryVersion and / or Patch Used:
v1.33
Timedemo or Level Used:
Default demo from Bench'em All
Developer Homepage:
http://www.crytek.com
Product Homepage:
http://www.farcrygame.com
Buy It Here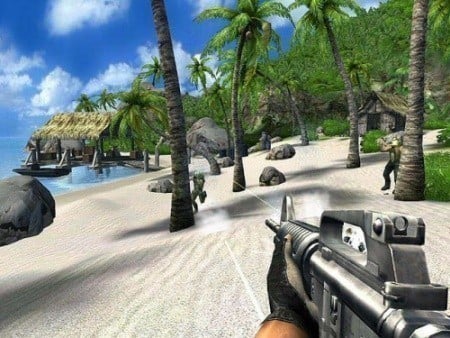 There is no denying that Far Cry is currently one of the most graphic intensive games on the market, utilizing PS2.0 technology (the latest versions support Shader Model 3.0 with DX9c) and offering an exceptional visual experience there is no denying that even some of the faster graphics cards struggle.
While Far Cry is a bit older title, I still make use of it because it has decent graphics and also uses the SM3 texturing. A quick look at the numbers above shows a 3% gain with the GeCube board, at least until we get to the higher 1600x1200 resolution. I can't explain why the big brother decided to own the XT board with a 12% increase in frames, but a second run of the same benchmark showed the same results. Not that I'm complaining mind you, I just can't put any reasoning behind the sudden massive increase.
Benchmarks - Half Life 2
Half Life 2Version and / or Patch Used:
Updated through STEAM
Timedemo or Level Used:
Default demo from Bench'em All
Developer Homepage:
http://www.valvesoftware.com
Product Homepage:
http://www.half-life2.com
Buy It Here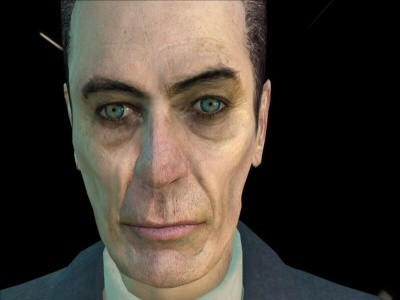 By taking the suspense, challenge and visceral charge of the original, and adding startling new realism and responsiveness, Half-Life 2 opens the door to a world where the player's presence affects everything around him, from the physical environment to the behaviors even the emotions of both friends and enemies.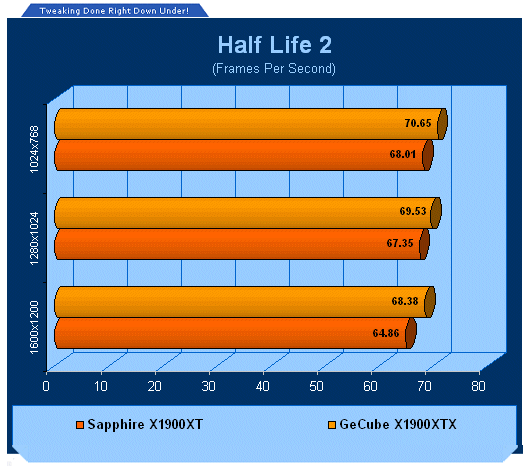 While I realize that this particular title is getting old, I still get requests for it because so many people are still playing. Just as the original game had a long-lived cult following, this game is enjoying the same treatment.
As far as the numbers go, there was just a bit more of a difference than between earlier tests. A quick check with the calculator shows an increase of between 3-5% for the XTX board from GeCube.
Benchmarks - TES: Oblivion
The Elder Scrolls: OblivionVersion and / or Patch Used:
Default install
Timedemo or Level Used:
N/A
Developer Homepage:
http://www.bethsoft.com/games/games_oblivion.html
Product Homepage:
http://www.elderscrolls.com/games/oblivion_overview.htm
Buy It Here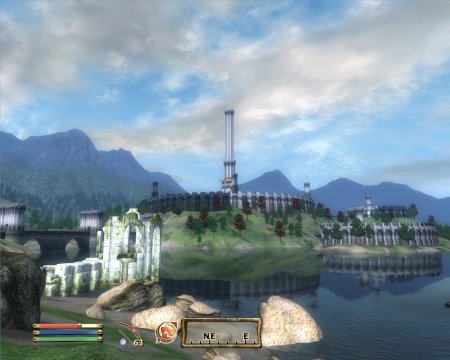 One of the latest games to hit the market, TES: Oblivion has been taking the world by storm. With minimum system requirements that are nearly unheard of and recommended system levels toward the top of the spectrum, this title is guaranteed to stress out any system. It makes use of large amounts of memory, fast processors, faster data bus streams as well as support for all of the latest graphics card enhancements. Whether testing for Shader Model v3 optimizations or HDR lighting effects, this benchmark will successfully test any of the new components and feature sets currently offered in new hardware.
At this time, there is no consistent method to get an identical test when benchmarking with TES: Oblivion. The reason for this is twofold; there is no current way to make a demo run that is replayable, and the game itself randomly generates terrain details on the fly. Testing was conducted using a saved game and performing the same actions for each board and resolution being tested. This does not provide a perfect method of testing performance, so these results are only being included to give an idea as to how well a tested product will handle this new power-hungry game. It should not be considered as a true and accurate result since there is room for error in the methodology used.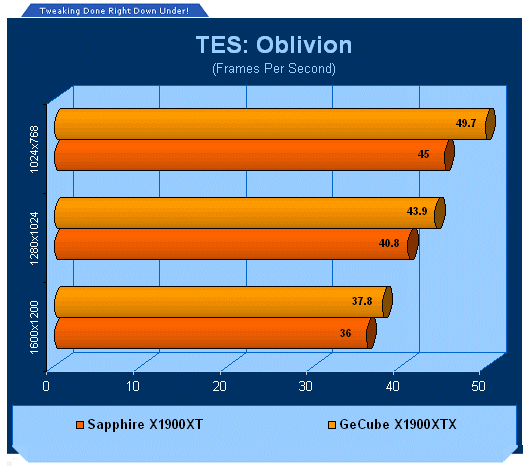 Well, here is the new kid on the block and all I can say is DAMN! Testing aside, if you haven't tried this game yet, you're missing a real treat. As mentioned above, however, I cannot give a lot of weight to this particular test just yet. The lack of any true demo capabilities and the random generation of terrain objects makes it an unreliable test on its own... BUT, it can still be used in a general way to see what type of performance we can expect when playing this particular title.
During testing, I once again set all detail levels to their maximum and turned on the HDR lighting effects. This causes about an 18% drop in frames, but the eye candy factor jumps way up the scale. Besides, since we're trying to stress out these boards as much as possible, I didn't figure it hurt to go for maximum details while testing.
Speaking of testing, our numbers show a performance increase of between 5-10% in favor of the GeCube X1900XTX board. Remember, I cannot validate these numbers, but I can say that I practiced my run-through many times before actually testing either board, so the runs are at least somewhat consistent.
Benchmarks - Overclocking Performance
Overclocking Performance
As with nearly all performance-oriented components, I wanted to see if the new kid on the block had any overclocking potential. Since the XTX model is currently the fastest product in the Radeon corral, I wasn't expecting a whole lot of headroom in my attempts. From the default settings of 650MHz core and 775MHz memory, I was able to overclock to 679/797. While not a huge increase, we're at the top level of performance anyway and I was still able to get some more frames out of the test suite. These two graphs will give you an idea what I mean: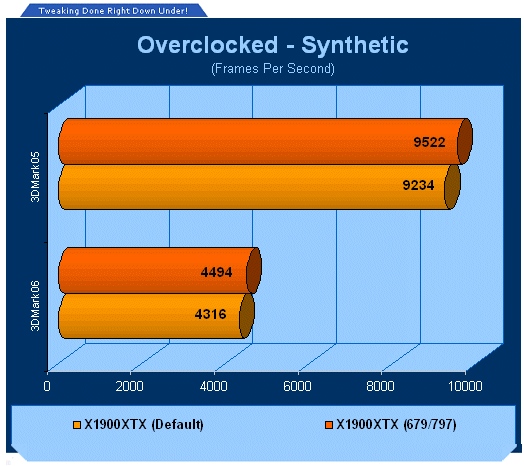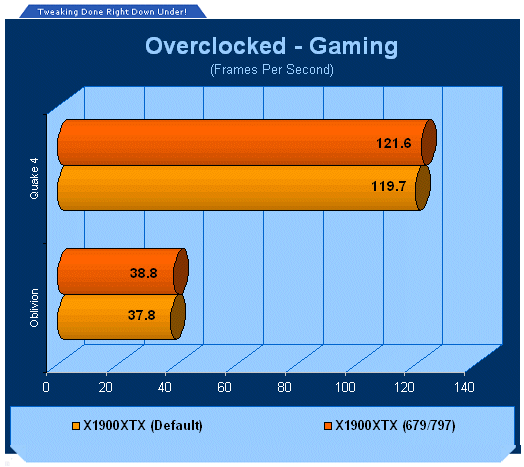 When testing the overclocked board, I used only the 1600x1200 resolution. This just made it simpler to keep everything clear since all the OC testing was completed at one resolution. As a rule, I was able to attain an extra 3-4% in all tests.
For those who have not seen my overclocking criteria before, I only accept a value if there are
NO
artifacts and glitches. If any sort of corruption shows up on screen, I disregard the speed and reduce it until I get the maximum speed with no discrepancies. In the case of the GeCube board tested, this was the stated 679/797MHz speed mentioned.
Final Thoughts
When all is said and done, it isn't too difficult to see why the Radeon X1900XTX is considered one of the best graphics adapters currently to grace the market. Add to this the brand name of GeCube, a company that is going out of its way to make a mark for itself in the enthusiast community, and you have the makings of an excellent product that is sure to please... at least if you can afford the entry fee.
At the time of this review, these boards are going for roughly $500US with the GeCube brand going in the approximate middle of the pack at $515. Of course, this isn't too big a hit at this time because this is the most current technology available. The high price tag is generally expected in this situation.
As far as performance is concerned, you can't be anything but impressed. Whether you're in the market for more frames or just better gaming quality, this thing has it all. Even with AA/AF cranked up or using the latest HDR effects in the newer game titles, the performance and eye candy are amazing.
Though not covered in this piece (sorry, I don't have any native HDTV signals accessible), this board also supports HDTV. This can be very good for those making use of satellite television or digital cable. Just something else to make the package even sweeter.
Bottom line... If you're considering moving to the top of the power curve and have the cash to spend, then I can heartily recommend this graphics board. The performance is exceptional and the features are second to none. While there isn't a huge amount of overclocking headroom, you still have some extra speed you can pull from this card. Simply put, it just works!
- Pros
Excellent performance
512MB onboard memory
SM3 and HDR support
Acceptable frame drop even with AA/AF
- Cons
Yes, it has a high price tag
Dual slot fan is loud at boot-up
- Latest Pricing
Rating - 9 out of 10 and TweakTown's "MUST HAVE" Best Performance Award!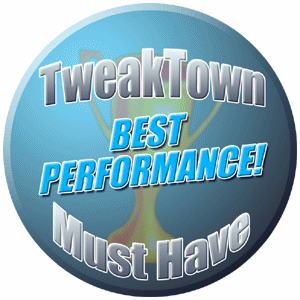 PRICING: You can find products similar to this one for sale below.

United States: Find other tech and computer products like this over at Amazon.com

United Kingdom: Find other tech and computer products like this over at Amazon.co.uk

Australia: Find other tech and computer products like this over at Amazon.com.au

Canada: Find other tech and computer products like this over at Amazon.ca

Deutschland: Finde andere Technik- und Computerprodukte wie dieses auf Amazon.de
We openly invite the companies who provide us with review samples / who are mentioned or discussed to express their opinion. If any company representative wishes to respond, we will publish the response here. Please contact us if you wish to respond.