HIS Radeon X1900 CrossFire Tested
Last month ATI launched their Radeon X1900 series to the world and today we check out CrossFire performance from HIS.
Published Sun, Feb 12 2006 11:00 PM CST
|
Updated Tue, Nov 3 2020 7:04 PM CST
Rating:

85%
Manufacturer: HIS
Introduction
There is no denying that the initial launch of ATI's dual graphics CrossFire solution was dismal, to say the least. There were no cards available, you were limited to certain resolutions, it was only available on the Radeon X850 graphics card which was no good because the X1800XT was already available and performance wasn't that impressive.
With the launch of the Radeon X1900XT and X1900XTX last month, CrossFire cards of this new Radeon series have already popped up at a few places but aren't in full swing as most people would like. Today thanks to our friends over at HIS in Hong Kong we have got ourselves an X1900 master card along with an X1900XTX as a slave card.
CrossFire hasn't changed since the X850XT, it still works in the same tedious manner - you need a master card and a slave card. nVidia's SLI on the other hands just needs two of the same cards yet they don't even have to be exactly the same which makes it overall a more appealing and simpler option, plus the fact that the nForce 4 SLI chipset is so mature, makes it an overall much more secure option.
Today we will have a look at what we all really want to know, how does the current readily available nVidia top dog (7800GTX) go against the new ATI bad boy when we put two of the graphics cards from each company together?
The Package
Both boxes for the X1900's are very similar. While both use the same images, the XTX has a pink tinge to it while the master card has a blue tinge. The front of the box also shows us our main specifications: 512MB DDR3, PCI Express, HDTV, 2x Dual Link DVI and VIVO on the XTX.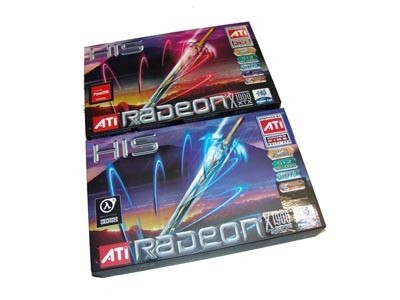 Turning the box over we can see they both are very similar as well, main features can be found along the bottom with extended specifications on both card taking up majority of the box. The master card shows us what is needed to run CrossFire.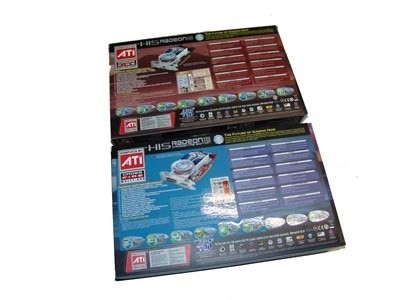 Paperwork wise there is a manual and a leaflet that gives you a warning on the kind of power supply needed for the X1900XT(X) by itself and in CrossFire.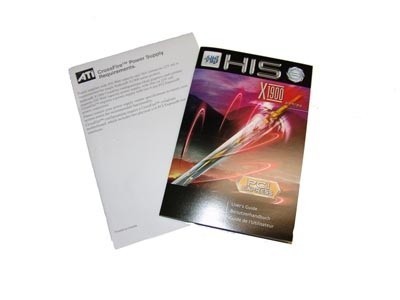 Included in the package are a bucket load of cables which include the VIVO cable, RCA cable, S Video cable, HDTV out cable and two DVI to VGA connectors.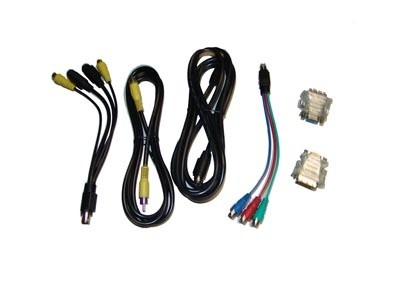 There are three CD's included in the package: the Driver CD, PowerDVD and a DVD which comes with a few handy applications and games.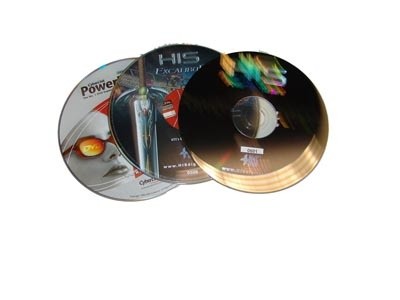 The master card comes with fewer cables and doesn't come with PowerDVD but this is a good idea since if you're buying the master card you shouldn't need all the extras which helps drop the price a tad.
The Card
The cards look identical from almost every angle; the top of the cards shows us the mammoth cooler which is the same as the X1800XT. While it is a very good cooler at full spin it is quite loud, which is a bit of a deterrent. Hopefully it isn't long before we see one of the famous IceQ versions of the X1900 series from HIS.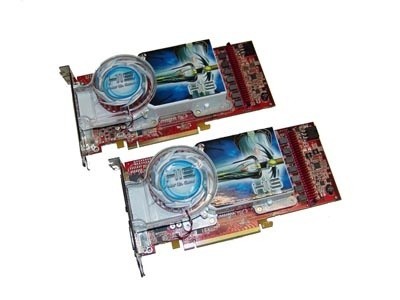 Moving to the right side of the card we have our normal PCI Express power connector. While this isn't out of the ordinary, every time we went to run a benchmark and found the system instantly shutting down, we became a bit worried.
The same PSU that could power two GeForce 7800GTX cards in SLI was unable to power X1900 CrossFire. A few phone calls and we found ourselves with a Zippy 700 watt power supply which has a massive 45 amp 12V rail. Anyone wanting to go CrossFire is really going to have to look into their power supply situation as a higher single amp rail is going to be more useful then multiple smaller amp rails. Every time we hit benchmark and the cards switched into 3D mode, the power supply would trip due to overloading.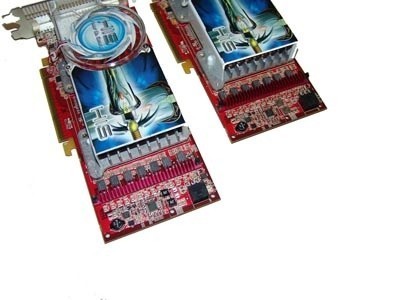 Turning the card over there isn't much else apart from the bracket that holds the heatsink to the card. While there is a huge amount of memory on each card (512MB), the current design has seen both nVidia and ATI be able to squeeze it all to the front of the card giving us a very boring back. The benefit of this though is that all the memory is being cooled by the large and effective cooler on the front.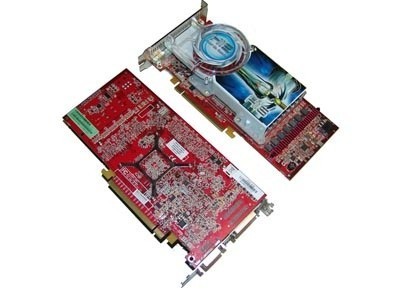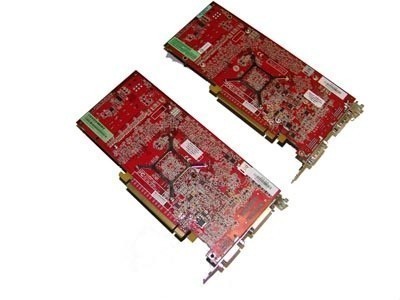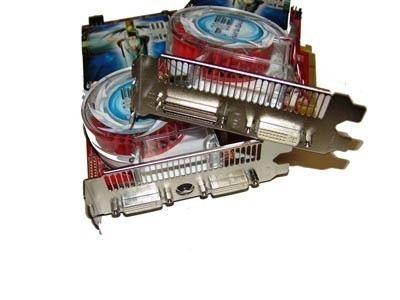 Installing the cable while a bit fidgety (thanks to the four screws) means that it is very secure and sturdy. The connector feels a lot better overall when compared to the previous CrossFire connector.
Benchmarks - Test System Setup and 3DMark03
Test System SetupProcessor(s):
AMD Athlon X2 3800+
Motherboard(s):
ASUS A8R-MVP (Supplied by
ASUS
)
Memory:
2 X 1GB Corsair PC3500LL PRO DDR (Supplied by
Corsair Micro
)
Hard Disk(s):
WD Raptor 74GB 10,000RPM SATA (Supplied by
Western Digital
)
Operating System:
Windows XP Professional SP2
Drivers:
Modified ATI Catalyst 5.13 and DX9c
We will have three sets of results today: the X1900XTX and CrossFire master card running together, the X1900XTX by itself and a pair of ASUS GeForce 7800GTX (256MB) TOP cards running in SLI to see just how it compares against the X1900XTX in CrossFire. We aren't being easy on the HIS cards today as the ASUS 7800GTX cards are the highest clocked 7800GTX 256MB cards available. The X1900 is going to have its work cut out for it today.
We have as usual included our AA and AF tests which has seen AF bumped up to 16X and also due to the high caliber of these cards all AA and AF tests are completed at 1600 x 1200 to stress the cards as much as possible.
Setup of CrossFire was an absolute breeze and the drivers included from HIS in the package were used. Since there are no official drivers currently at the time of testing (Catalyst 6.2 drivers are now out and officially support the X1900 series) out for the X1900 series of cards most manufactures have had to modify the Catalyst 5.13's which are now roughly six weeks old.
3DMark06 of course is also included with all our other benchmarks so let's not ramble on anymore and check out just how we went with our testing.
3DMark03Version and / or Patch Used:
Build 360
Developer Homepage:
http://www.futuremark.com
Product Homepage:
http://www.futuremark.com/products/3dmark03/
Buy It Here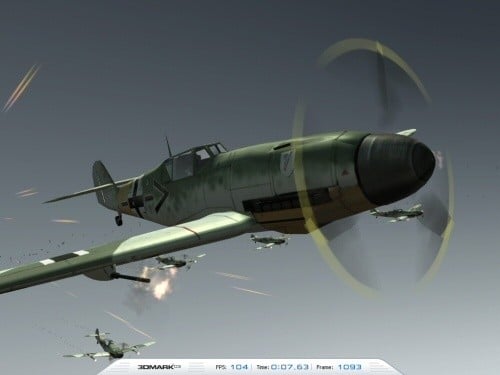 By combining full DX8 and partial DX9 support with completely new tests and graphics over the previous version, 3DMark03 continues the legacy of being the industry standard 3D benchmark.
Please Note: Due to recent events with the 3DMark03 series, we are adding results purely for those who are still in favor of 3DMark03. These results should not be taken too seriously and are only added for interest sakes.
At the lower resolution we can see that CrossFire edges out but at the higher resolution we can see it is on par with the 7800GTX SLI. We can also see the kind of performance increase from a single card setup is significant.
Benchmarks - 3DMark05
3DMark05Version and / or Patch Used:
Build 120
Developer Homepage:
http://www.futuremark.com
Product Homepage:
http://www.futuremark.com/products/3dmark05/
Buy It Here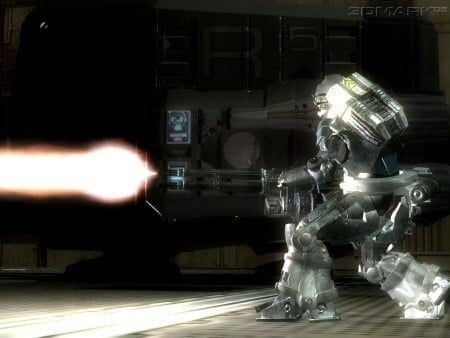 3DMark05 is the latest version in the popular 3DMark "Gamers Benchmark" series. It includes a complete set of DX9 benchmarks which tests Shader Model 2.0 and higher.
For more information on the 3DMark05 benchmark, we recommend you read our preview
here
.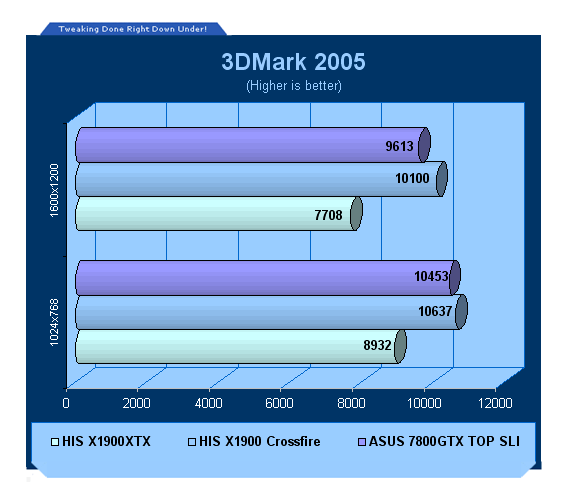 CrossFire shows that it is ahead of SLI in both resolutions here but the performance increase from a single X1900XTX isn't as major as our previous tests in 3DMark03.
Benchmarks - 3DMark06
3DMark06Version and / or Patch Used:
Build 102
Developer Homepage:
http://www.futuremark.com
Product Homepage:
http://www.futuremark.com/products/3dmark06/
Buy It Here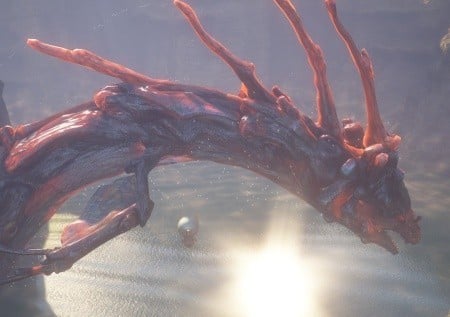 3DMark06 is the very latest version of the "Gamers Benchmark" from FutureMark. The newest version of 3DMark expands on the tests in 3DMark05 by adding graphical effects using Shader Model 3.0 and HDR (High Dynamic Range lighting) which will push even the best DX9 graphics cards to the extremes.
3DMark06 also focuses on not just the GPU but the CPU using the AGEIA PhysX software physics library to effectively test single and Dual Core processors.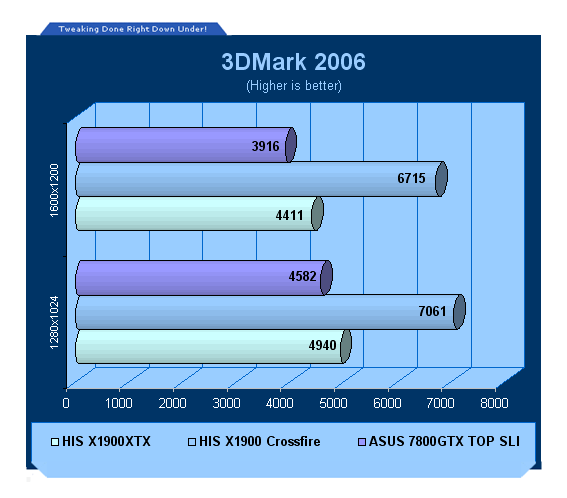 3DMark06 really favors the ATI offerings at the moment and we can see the X1900XTX in a single card solution can crush the SLI offerings from nVidia the score only blows out more when CrossFire comes into play.
Benchmarks - Far Cry
Far CryVersion and / or Patch Used:
1.3
Timedemo or Level Used:
PC Games Hardware Demo
Developer Homepage:
http://www.crytek.com
Product Homepage:
http://www.farcrygame.com
Buy It Here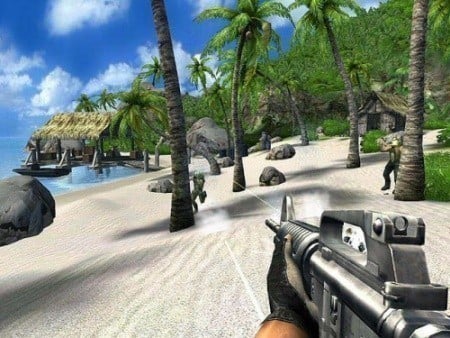 There is no denying that Far Cry is currently one of the most graphic intensive games on the market, utilizing PS2.0 technology (the latest versions support Shader Model 3.0 with DX9c) and offering an exceptional visual experience there is no denying that even some of the faster graphics cards struggle.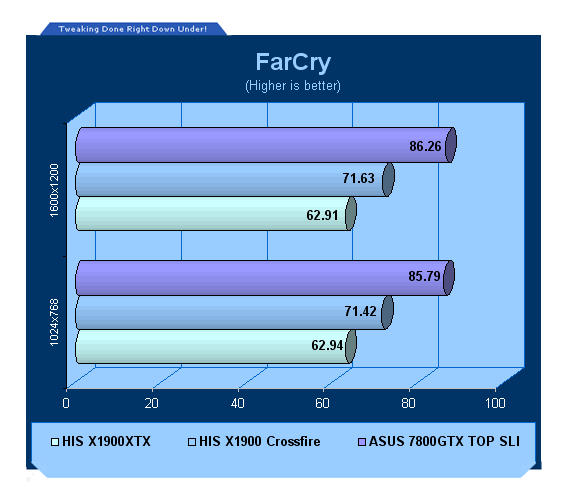 Far Cry is very CPU limited but it seems that the nVidia drivers are able to make better use of the X2 as opposed to the Catalyst.
Benchmarks - Half Life 2
Half Life 2Version and / or Patch Used:
Unpatched
Timedemo or Level Used:
Custom Time demo
Developer Homepage:
http://www.valvesoftware.com
Product Homepage:
http://www.half-life2.com
Buy It Here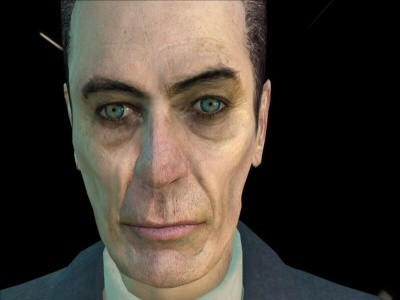 By taking the suspense, challenge and visceral charge of the original, and adding startling new realism and responsiveness, Half-Life 2 opens the door to a world where the player's presence affects everything around him, from the physical environment to the behaviors even the emotions of both friends and enemies.
We benchmark Half Life 2 with our own custom timedemos as to avoid possible driver optimizations using the "record demo_name" command and loading the timedemo with the "timedemo demo_name" command - For a full list of the commands,
click here
.
SLI and CrossFire don't offer huge performance increases over a single X1900XTX but there is an increase none the less and ATI's CrossFire solution comes out in front at both resolutions.
Benchmarks - Doom 3
Doom 3Version and / or Patch Used:
Unpatched
Timedemo or Level Used:
Custom Time demo
Developer Homepage:
http://www.idsoftware.com
Product Homepage:
http://www.doom3.com
Buy It Here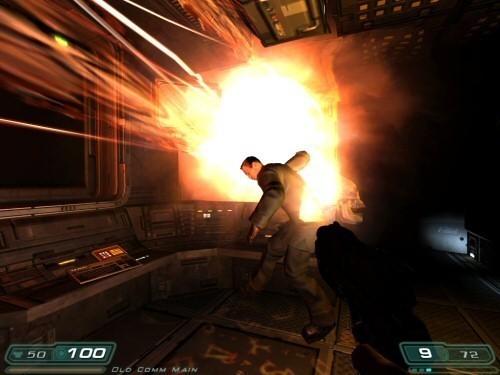 Doom 3 is the latest game to hit our test lab and is one of the most intensive games to dates. With our own custom time demo we are able to give a realistic rating on what kind of FPS you will be achieving.
For more information on benchmarking Doom 3 we recommend you check out our extensive article regarding it
here
.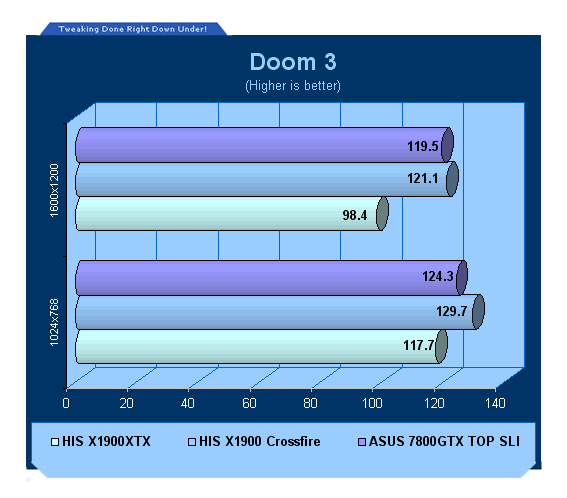 Doom 3 which has always been an "nVidia game" thanks to the OpenGL technology being used falls to the power of the HIS CrossFire system. While the lower resolution doesn't show much of a performance increase over a single card, when you move to the higher resolution we can see over 20% when moving from a single card.
Benchmarks - Quake 4
Quake 4Version and / or Patch Used:
Unpatched
Timedemo or Level Used:
Custom Timedemo
Developer Homepage:
http://www.idsoftware.com
Product Homepage:
http://www.quake4game.com
Buy It Here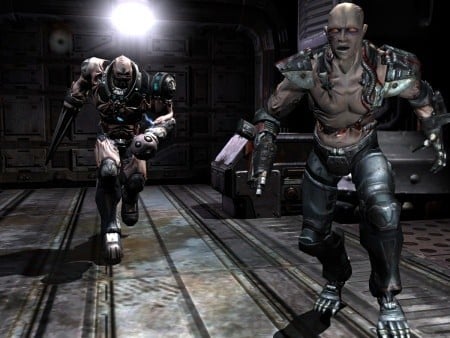 Quake 4 is one of the latest new games to be added to our benchmark suite. It is based off the popular Doom 3 engine and as a result uses many of the features seen in Doom. However, Quake 4 graphics are more intensive than Doom 3 and should put more strain on different parts of the system.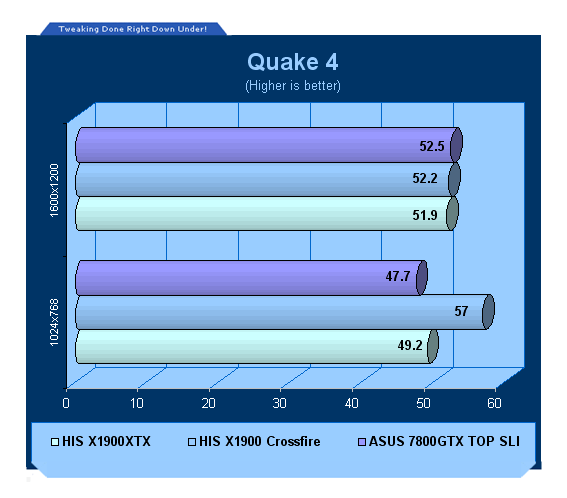 At the lower resolution the CrossFire system is clearly ahead of the single card setup and the 7800GTX SLI but when moving to the higher resolution all setups show an even score.
Benchmarks - F.E.A.R.
F.E.A.R.Version and / or Patch Used:
Unpatched
Timedemo or Level Used:
Custom Timedemo
Developer Homepage:
http://www.vugames.com
Product Homepage:
http://www.whatisfear.com/us/
Buy It Here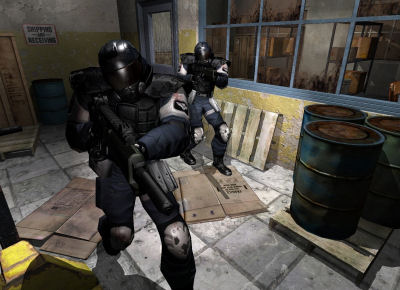 F.E.A.R. (First Encounter Assault Recon) is an intense combat experience with rich atmosphere and a deeply intense paranormal storyline presented entirely in first person. Be the hero in your own spine-tingling epic of action, tension, and terror...and discover the true meaning of F.E.A.R.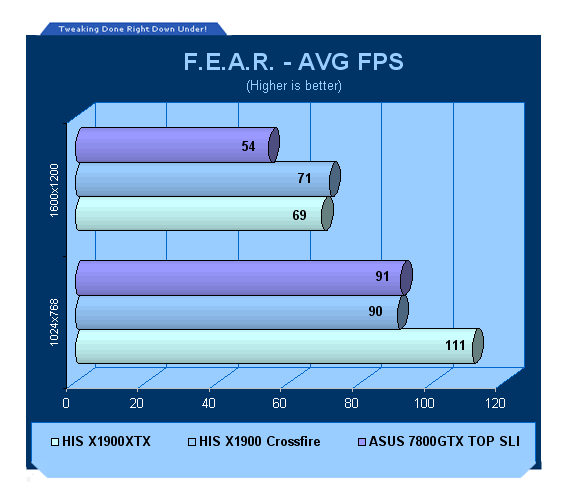 It would seem that F.E.A.R. performance for CrossFire is far from perfected. The single card solution beats it and SLI at the lower resolution and almost ties with CrossFire at the higher resolution.
Benchmarks - High Quality AA and AF
High Quality AA and AF
In our High Quality tests we bump the Antialiasing (AA) and Anisotropic Filtering (AF) up causing the card(s) to be put under more load.
This usually helps us remove the CPU limitation. In this article since we are using higher performance (and more expensive) systems, we have used 4 x AA and 16 x AF at a resolution of 1600 x 1200 to try and stress the graphics cards more.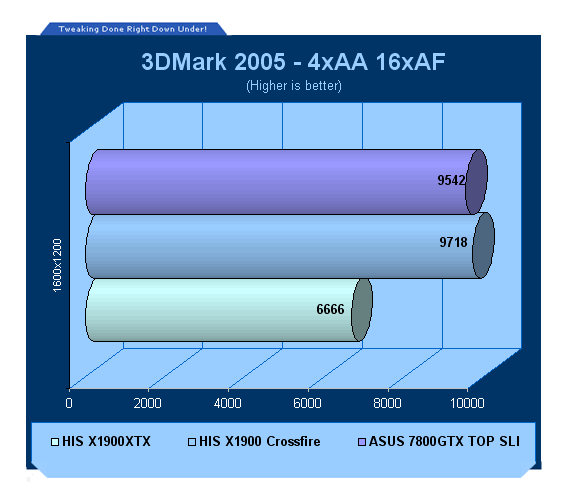 Like our non AA and AF tests the CrossFire solution again beats the 7800GTX SLI. We can also see the quite major increase between the single card solution and CrossFire where the non AA and AF shows the performance to be less.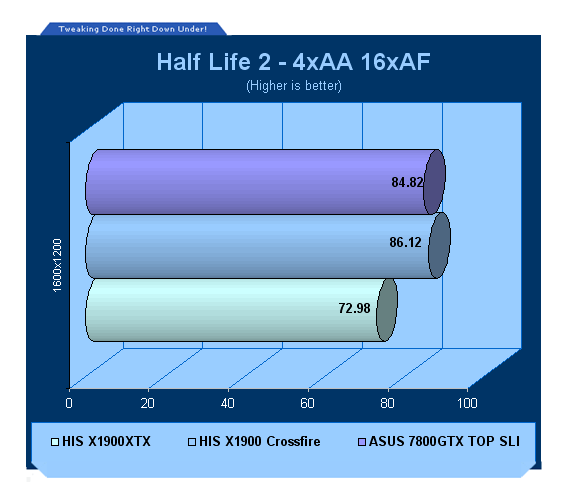 Half Life 2 shows both SLI and CrossFire very close to each other, there is roughly a 20% increase over the single card solution.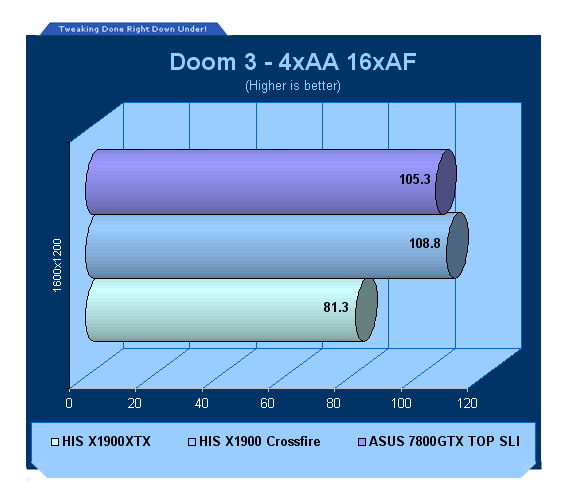 Again we find that the ATI CrossFire solution wins at Doom 3 and almost a 40% increase in performance when moving over to CrossFire when compared to the single X1900XTX.
Benchmarks - CPU Overclocking
CPU Overclocking
Even with the power of the AMD Athlon X2 and Intel Extreme Edition processors, we still find ourselves hitting a CPU limitation in a lot of our benchmarks. That is, the graphics cards have more performance to give but the processor is letting the team down.
By overclocking the processor we can see what kind of a performance increase we get. When something isn't CPU limited the performance increase isn't all that major but when we do have a CPU bottleneck, every MHz extra we can get can show us an excellent jump in performance.
The Athlon X2 3800+ was increased from 2GHz to 2.2GHz with a slight increase in the front side bus utilizing the stock X2 HSF.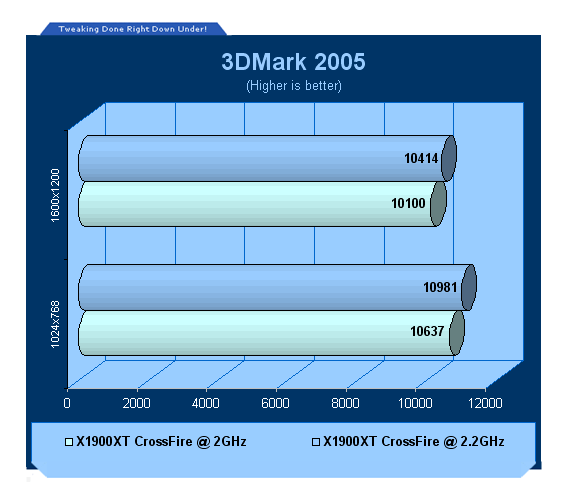 The small bump in processor speed gives us a small bump in performance at both resolutions, with more tweaking there is no doubt you could break some records.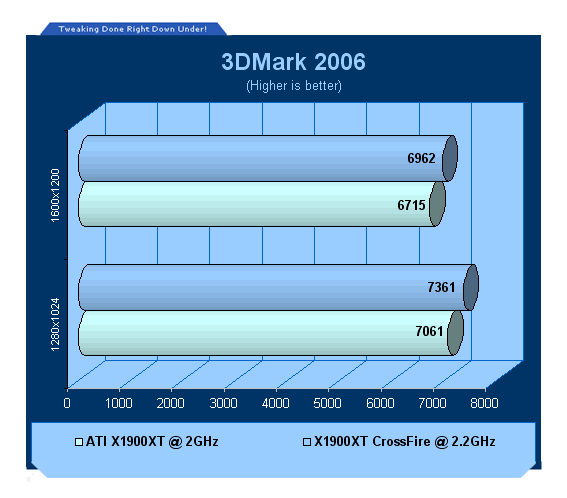 We don't see a huge jump in performance but we didn't give the processor a huge increase.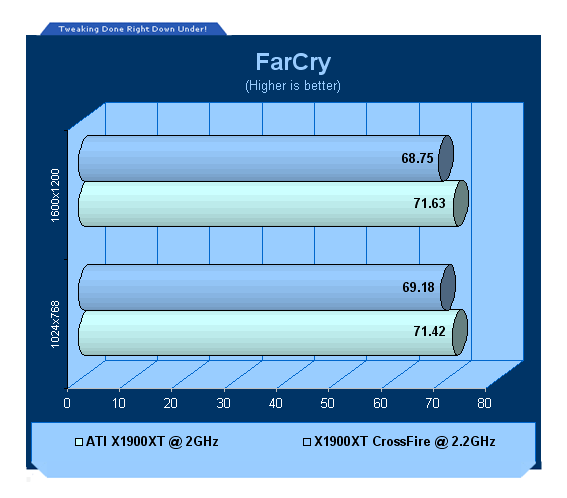 Far Cry is such a CPU limited game except for the first time we find that the results went slightly backwards when overclocking. We ran the test multiple times and rebooted and the results were consistent with the ones above.
Final Thoughts
ATI's CrossFire solution is now a lot more attractive offering thanks to the Radeon X1900 series being released. Performance is up and above the 7800GTX when in SLI quite often and the performance increase between a single XTX and CrossFire can be seen in most applications although some greater than others.
Both of the HIS cards come with a nice package and everything you need to start tearing up those frames in all the latest games. The overall package is great with the games and huge amount of cables to make use of all the features that are on offer from the cards.
While CrossFire isn't a bad technology, the master card idea is just extremely annoying. The external connector is also a bit of a pain but is bearable. Why ATI is unable to run a setup like nVidia is beyond us. The ability to simply just go out and purchase an X1900XTX would fix up confusion amongst people who don't understand the "master card" situation and just generally make it an easier technology to understand.
HIS have done an excellent job with the X1900XTX and master card and they are one of the only brands master cards that can be found down under in Australia at the moment.
- Pros
Excellent performance
Easy to setup
Nice package
X1900XTX availability
Official driver now (Catalyst 6.2)
- Cons
Master card availability
You might need to upgrade to a more powerful PSU
Rating - 8.5 out of 10 and TweakTown's "MUST HAVE" Best Performance Award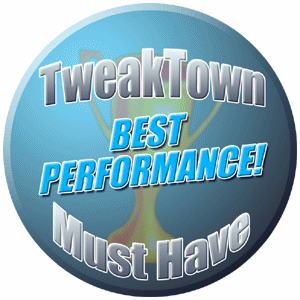 PRICING: You can find products similar to this one for sale below.

United States: Find other tech and computer products like this over at Amazon.com

United Kingdom: Find other tech and computer products like this over at Amazon.co.uk

Australia: Find other tech and computer products like this over at Amazon.com.au

Canada: Find other tech and computer products like this over at Amazon.ca

Deutschland: Finde andere Technik- und Computerprodukte wie dieses auf Amazon.de