Introduction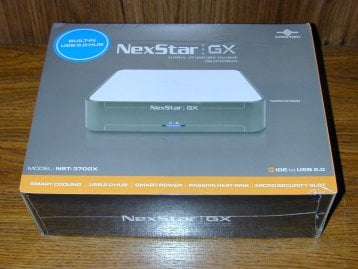 When it comes to looking for ways to get more storage, some folks just aren't comfortable with installing another hard drive inside the system. Alternatively, others have upgraded to the point where they have extra hard drives sitting around gathering dust instead of having a useful life.
Regardless of which category you may fall into, there has begun a demand for external storage that makes use of standard 3.5" hard disk drives. Vantec has answered the call for this market segment for quite a while and their enclosures have gone through several revisions. All of them have had a high level of quality and usefulness, so it isn't much of a surprise that they have come up with some more improvements and brought out their next level of external device, the NexStar GX.
So sit back for a few minutes as we take a little closer look at the latest iteration of the product line wearing the name "NexStar".
In The Box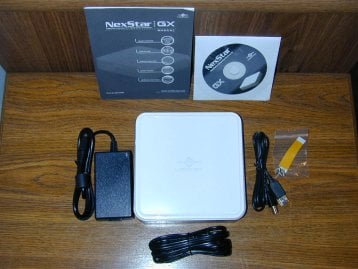 When you first crack open the plastic wrap that surrounds the retail box, you will be greeted by just what you would expect to see from this product. You get the external enclosure, mounting screws for the hard drive to be installed, all necessary cabling to get things running properly, a small manual, and a driver disk for those who may not have updated yet to WinME or higher.
Most of the items are pretty self-explanatory, so we won't go into too much detail over the accessories. That said, lets take a closer look at the enclosure itself.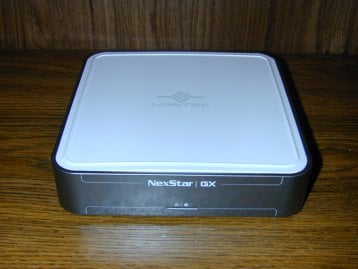 The external unit is made of plastic and doesn't have a whole lot of bells and whistles. It does have some features that we'll discuss in a bit, but the exterior design is very minimalistic. This leaves you with a component that won't draw the eye and look out of place.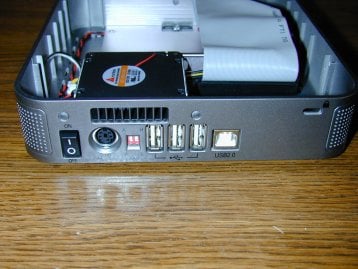 Turning the unit around shows us a little surprise; namely a 3-port USB hub! We've seen all sorts of added features on this type of device in the past, but the addition of something that actually has a useful value is a little unique. Also included in this area will be a power switch, a fan speed adjustment switch (for the active cooling fan seen inside), a power cable port and the USB port that is fed to the PC.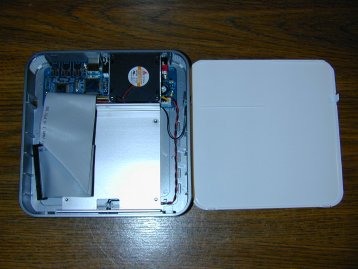 When you take the top off the enclosure unit, you see a neat layout that doesn't prove to be a hassle when it comes time to installing a drive. We have seen some issues in the past with layout designs, but they all look to have been addressed in a very satisfactory manner this time around. When it comes time to do the actual installation, you should have no difficulties at all.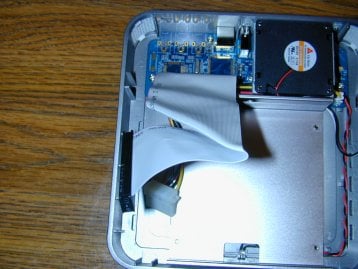 Since we're already inside the enclosure, lets take a look at another of those little features I had mentioned a bit ago.
While it may not seem much, the concept shows a company that is thinking of the end user. If you take a close look at the ribbon cable used inside the device, you'll see that it has been folded in a manner that will allow it to be placed on top of the mounted drive and never be in the way. Sure, this is something that you could do yourself with relative ease, but its nice to see that a manufacturer is taking the time to think like an enthusiast.
Now that we've taken a tour of the enclosure, lets go ahead and install that old faithful Seagate 40GB IDE drive that we've used in the past and see how things go from there.
Installation
Installation Notes
When it comes time to install a hard drive, there isn't much to take note of. You take out four screws to allow the removal of the hard drive frame, then install the hard drive. Connect the ribbon cable and the power connection inside the unit and then replace the drive frame into the enclosure. Put the four screws back in and you've finished up the main part of the job at hand. Snap the top cover back into place and you're finished.
Like I said, not too much to it.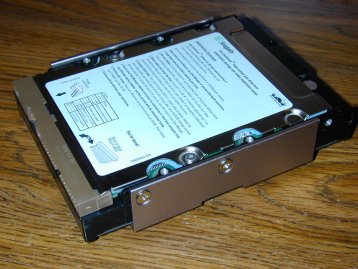 Above you'll see the removable frame I was talking about. The screws in the side (included with the unit) are set to allow industry standard drives to be easily mounted. As a side note, make sure the hard drive is set to be a Master drive.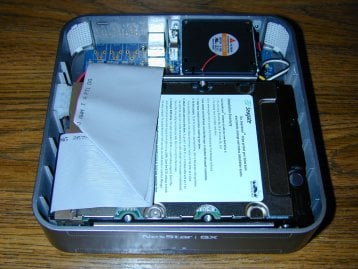 This is what you get after everything except the top cover is in place. Overall a very neat and orderly setup.
Testing
When it comes to testing out hard drive performance, one of the best utilities around is HD Tach. While synthetic in nature, it still does a fair job of monitoring drive transfer rates as well as access times and burst speeds. Once we've thrashed the drive a few times and taken an average of the results we'll resort to a bit more direct means of testing. I'll take the installation file for the Farcry demo and start moving it from the system to the drive and then back again. This particular file weighs in at a hefty 496MB so should give us a good reading of the performance of the external drive.
Before we delve any deeper, though, lets take a look at our test system:
EPoX 9NDA3+ Motherboard - nVidia nForce3 Ultra chipset (Supplied by
EPoX
)
Athlon FX-53 Processor (Supplied by
Newegg.com
)
Swiftech H2O-120 water cooling (Supplied by
Swiftech
)
Sapphire X850 XT PE (Supplied by
Sapphire
)
Western Digital 80GB 8MB SATA Hard Drive
HD Tach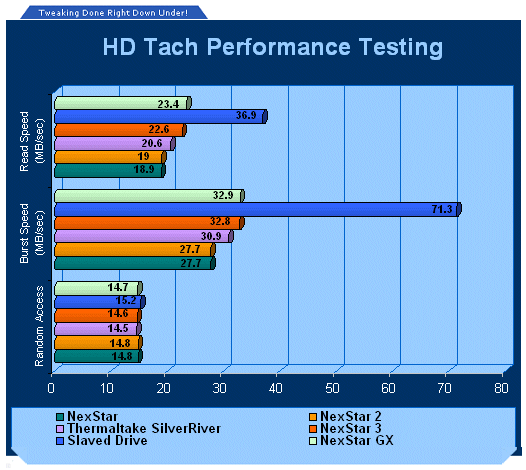 I add the results of the slaved drive in our charts so that you can see the overall performance of the component in its native habitat, then compare it with the results of several external hard drive enclosures that we've tested in the past. While this may give some the impression of a skewed result, I like to make sure that as much information as possible is included so we can get a true picture of the performance of our enclosure.
Looking at the numbers, we see that while the newest iteration of the NexStar doesn't change much from recent versions, it has still managed to increase performance a bit more than before. Add to this the USB hub and you've got a very useful device here.
Timed Data Transfers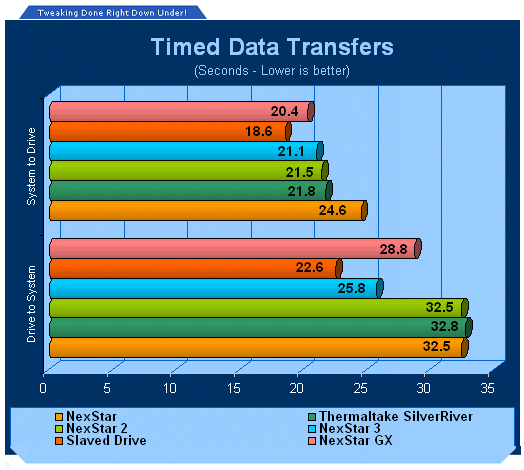 With our timed data transfer test we see a mixed result at the end. While the NexStar GX managed to put up an increase in performance while moving data from the system to itself, it slowed down a bit when going in the opposite direction. The overall results are still very satisfactory, though.
Final Thoughts
When it comes time to try to find a use for those spare hard drives that are just gathering dust, there are a few choices to consider. One of those choices is the Vantec NexStar GX external hard drive enclosure. With steady improvements over past versions and a very handy 3-port USB hub built into the unit, it has a lot of promise.
As far as transfer speeds go, it will easily allow you to use the external drive as either a backup drive, or even let you use it for a storage area for those movie rips you've been collecting. Playback directly from the NexStar GX proved to be flawless and there were no hiccups when moving the data from the external drive to the PC.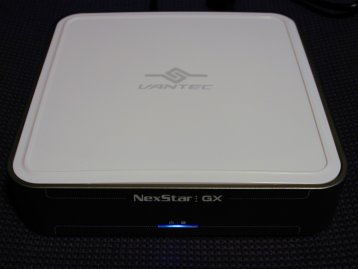 As with all previous versions of the NexStar series, the unit is truly plug n play. As long as your OS is WinME or higher, you simply plug in the USB cable and Windows will automatically assign the device a drive letter. From this point on, you simply access it like you would your normal hard drive. For those interested in using this device with large hard drives, the NexStar GX is currently certified to be used with 400GB drives.
As far as price goes, this product could be found online for about $47US, so it falls into the upper range for this product type. Of course, I was not able to find another external device with the same feature set, so it doesn't appear to be out of line for what you're getting.
Bottom line... If you've been thinking of getting an external hard drive enclosure and just haven't gotten around to it yet, then go ahead and put the Vantec NexStar GX on your list of prospective products. With solid performance, additional USB ports and quality that is at the upper end of the spectrum, you won't be disappointed with this device.
- Pros
Solid performance
3-port USB hub
Simple to use
Cable folding
- Cons
Little pricey
- Latest Pricing




Rating - 9 out of 10 and TweakTown's "MUST HAVE" Best Features Award!