TweakTown's Rating: 91%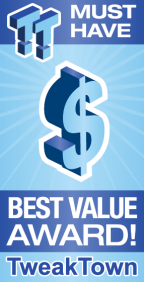 The Bottom Line
The GIGABYTE B450 AORUS PRO WIFI is a high-end looking motherboard with high-end features at a reasonable price.
Introduction, Specifications, and Pricing
Today we launch our first review of a GIGABYTE B450 chipset motherboard. You might have noticed that GIGABYTE's naming scheme has shifted more towards words rather than numbers. It is a new way to help differentiate these new motherboards from the older ones.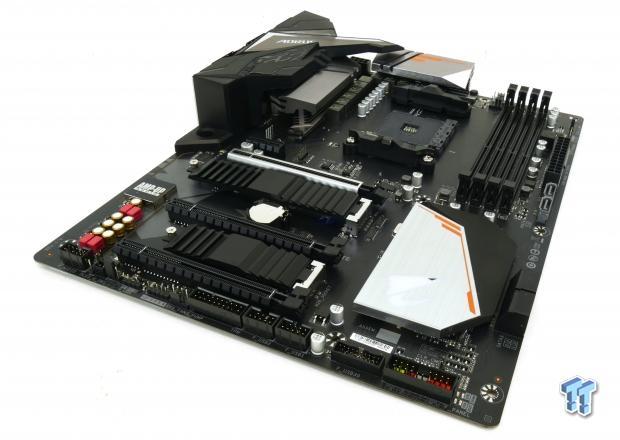 The new motherboards support newer boost features, and that is their main improvement over their B350 counterparts. The B450 Aous Pro WIFI is targeted towards budget users who want more bang for their buck but don't want to give up looks and features.
Specifications

The B450 Aorus Pro WIFI features dual M.2 slots, WIFI, Intel LAN, USB 3.1, and SATA6Gb/s.
Pricing
The B450 Aorus Pro WIFI costs $119.99
Packaging and B450 Aorus Pro WIFI Overview
Packaging and Overview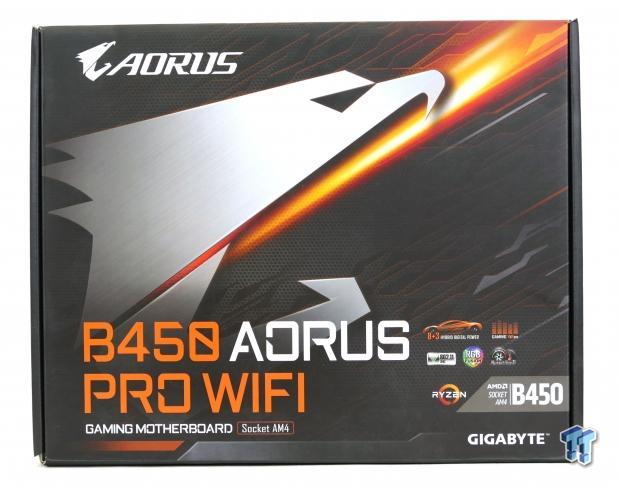 The box and motherboard are decent; you get the high-end Aorus branding and decent protection of the motherboard.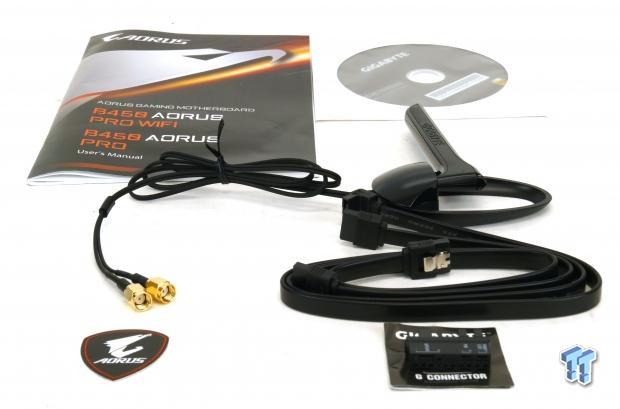 The accessory package includes two SATA6Gb/s, WIFI antenna, M.2 screws, case badge, G-Connector, driver DVD, and manuals.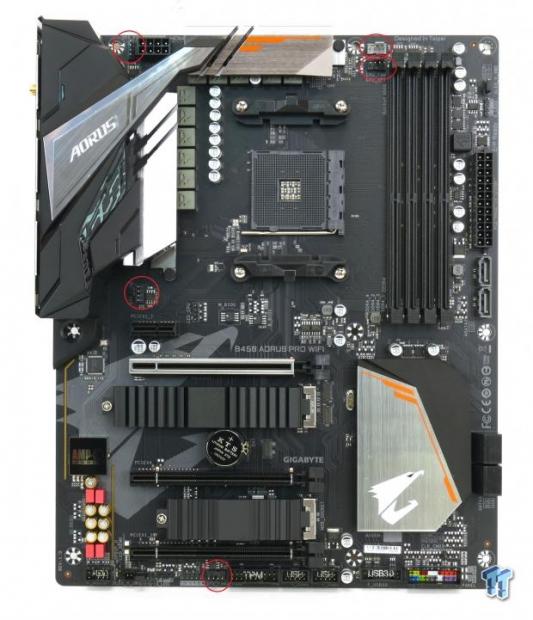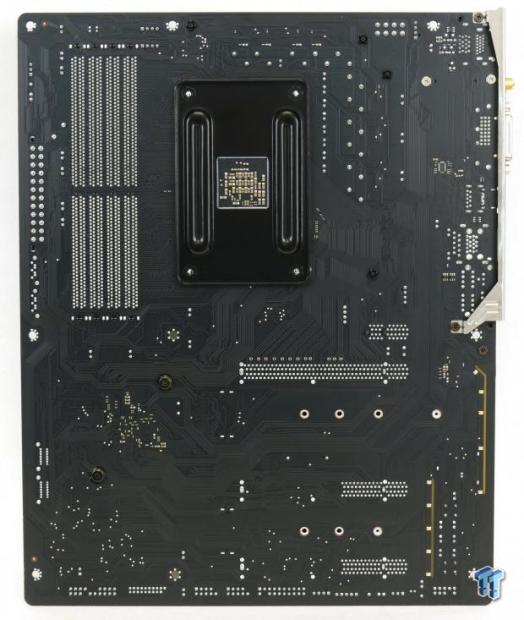 GIGABYTE put in five fan headers circled in red. All the headers are hybrid PWM/DC mode headers and offer up to 2A of current, which is pretty good. Fans can be controlled through the UEFI or through GIGABYTE's System Information Viewer program. The motherboard features interesting aesthetics that blend in the metal from the heat sinks with a plastic shield over the IO panel. There are hints of orange on the motherboard as well, and they match the default orange RGB LED color. The back of the motherboard is bare of any major components.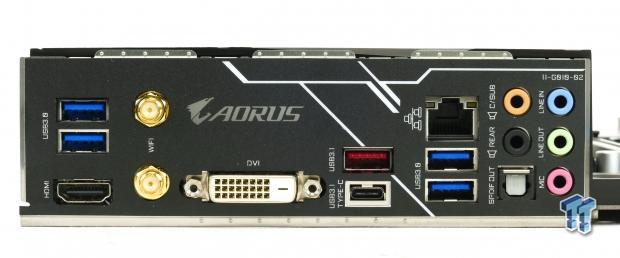 The rear IO panel features four USB 3.0 ports, USB 3.1 type-A, USB 3.1 type-C, WIFI antenna, DVI port, HDMI port, Gbit LAN, and 7.1 audio ports with S/PDIF out.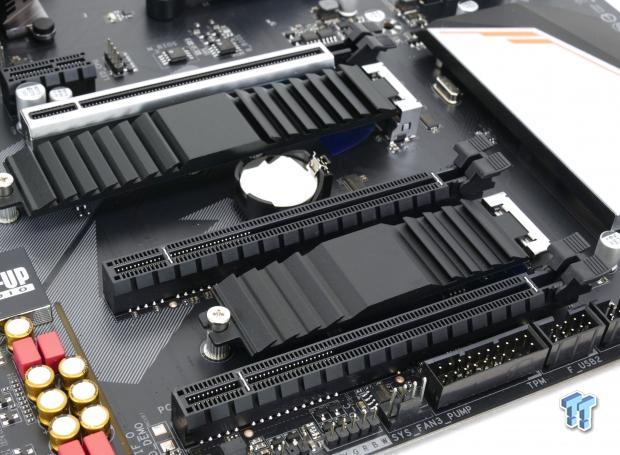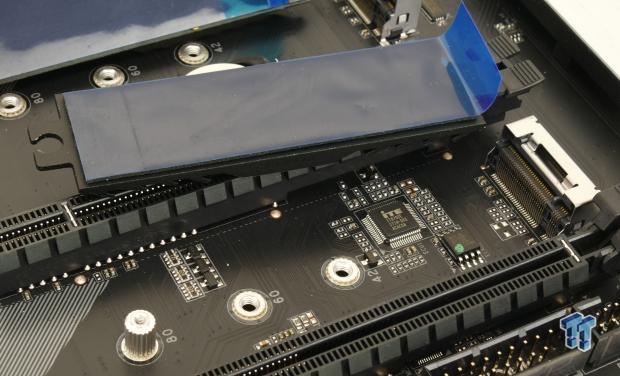 The PCI-E layout is simple because the chipset doesn't offer SLI support, so the top slot is wired x16 directly to the CPU. There are two x16 slots wired as x4 PCI-E 2.0 and x1 PCI-E 2.0, and they share bandwidth with each other and the top x1 slot. The bottom M.2 slot operates at x2 PCI-E 2.0 and shares its bandwidth with two of the SATA ports. It has a heat sink attached to it as well.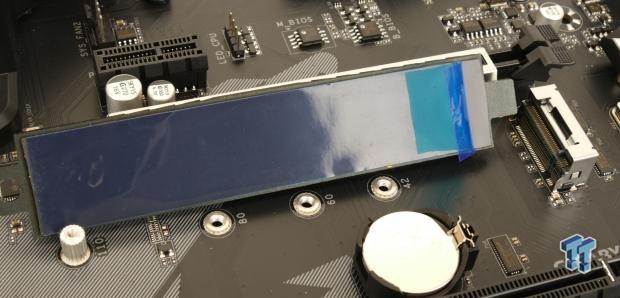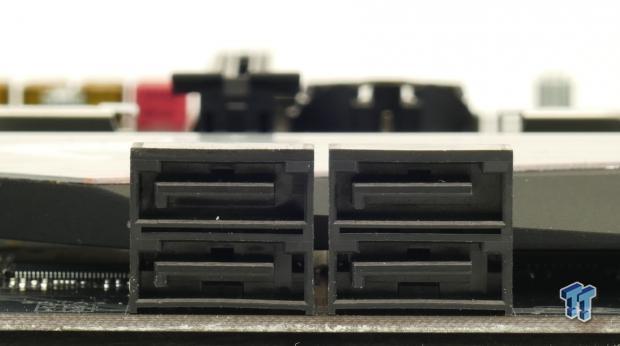 The top M.2 slot is wired x4 PCI-E 3.0 to the CPU and features a heat sink. There are also four SATA6Gb/s ports on the motherboard that are right-angled.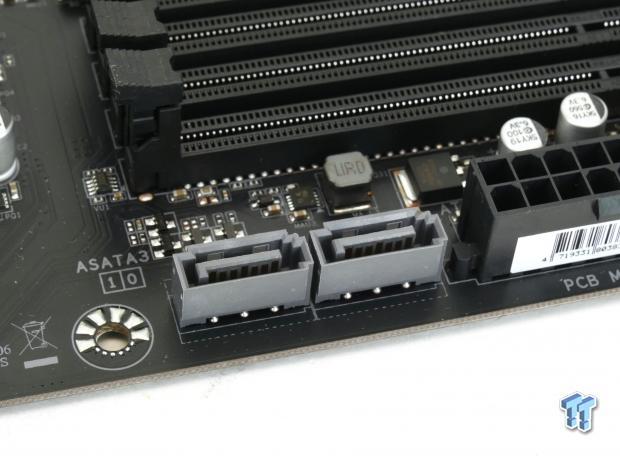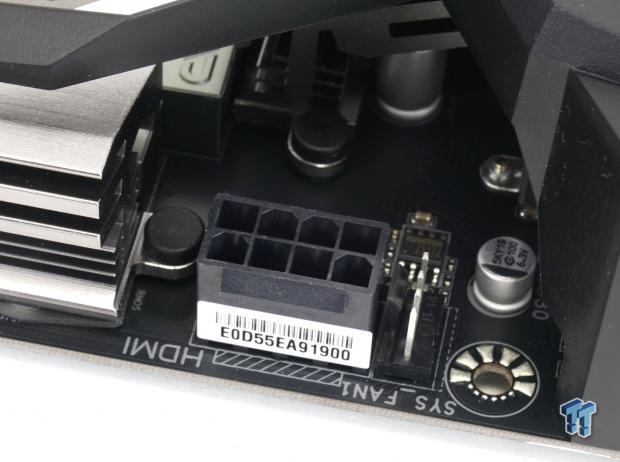 Two of the SATA6Gb/s ports are angled straight up under the 24-pin connector. We also find an 8-pin power connector in the top right corner of the motherboard.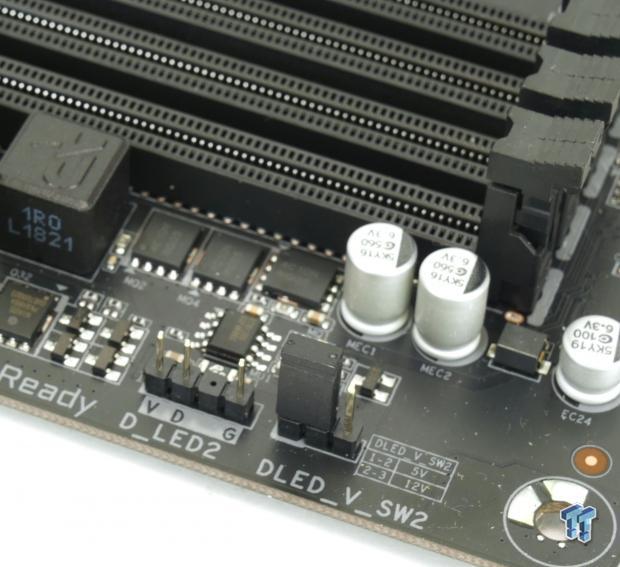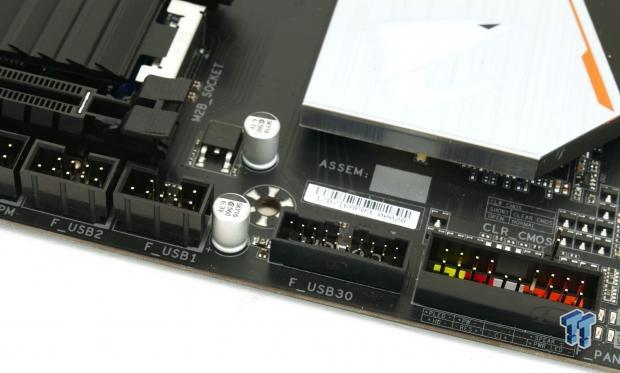 A digital (addressable) RGB LED header is located at the top right corner of the motherboard, and it has a 5v/12v selector header. The header also utilizes spacing that is more common among accessories. At the bottom right corner of the motherboard, we find front panel headers, a USB 3.0 internal header, and two USB 2.0 headers.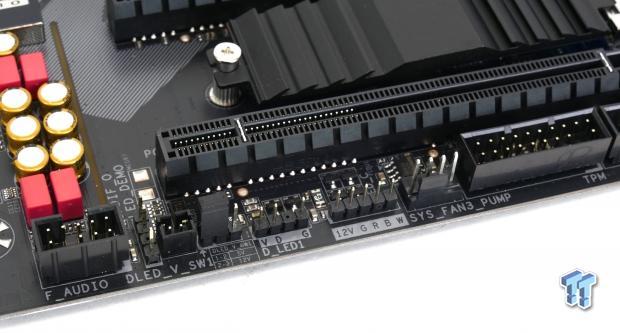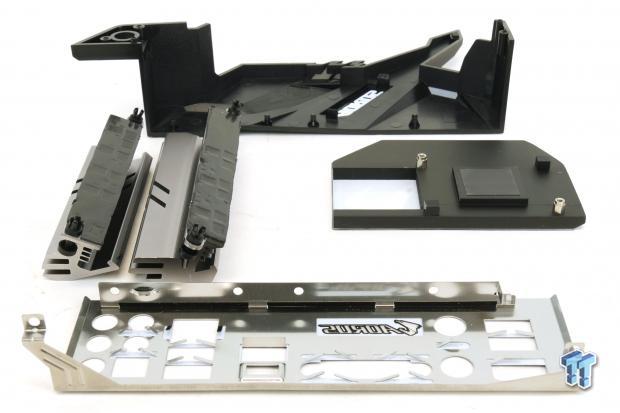 To the left of the TPM header, we find an RGBW header and another digital (addressable) RGB LED header. The heat sinks on the VRMs are not screwed into the motherboard but use push-pins. The heat sinks and shields are screwed into the motherboard.
GIGABYTE B450 Aorus Pro WIFI Circuit Analysis
Circuit Analysis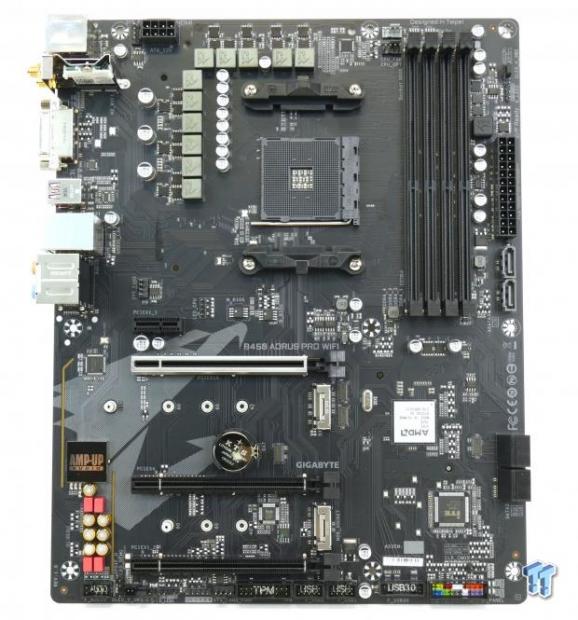 The B450 Aorus Pro WIFI shows us the goods with the heat sinks removed.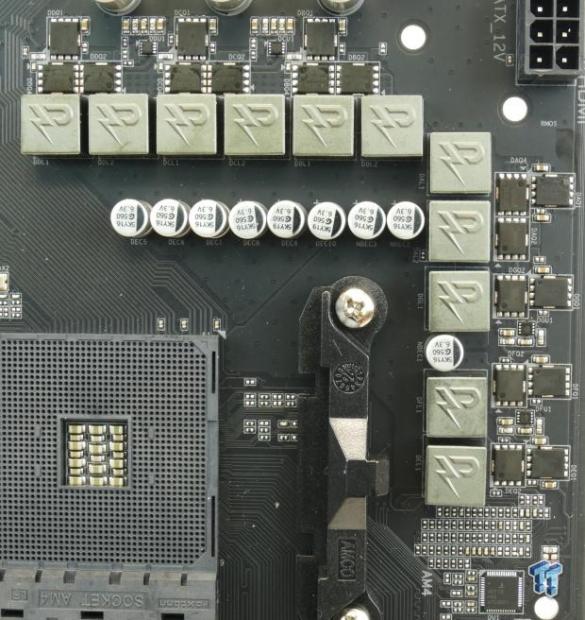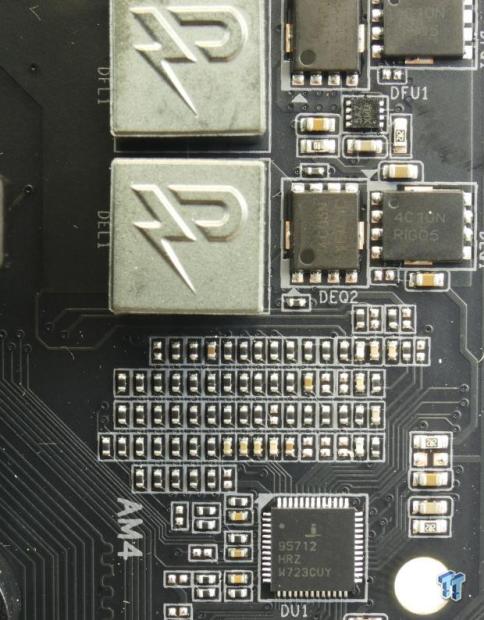 We see the VRM here is in an interesting configuration. The PWM controller, the Intersil ISL95712, is in 4+3 phase mode and features two integrated drivers for the main 4 phase rail and one on the 3 phase rail. Three Intersil ISL6625A drivers finish off the control segment of the VRM, and output to two low-side MOSFETs and one high-side MOSFET for the main CPU phases and one low-side and one high-side MOSFET for the SoC portion of the VRM.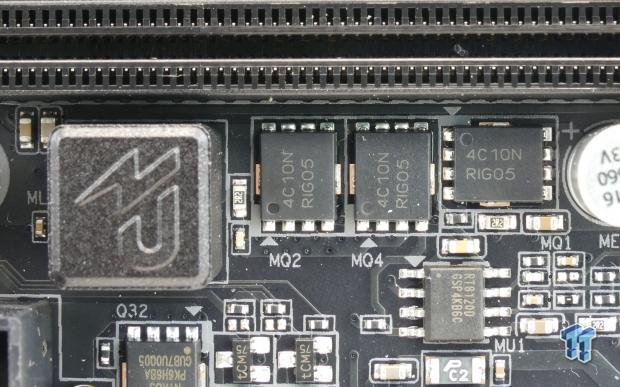 However, GIGABYTE went and added a second inductor per each phase, so while the VRM looks like an 8+3 phase VRM; it is more like an enhanced 4+3 phase VRM. Doubling the inductor count increases current capability and decreases thermals of the VRM. MOSFETs are the ON Semiconductor NTMFS4C06N as the low-side MOSFET and NTMFS4C10N as the high-side MOSFET.
The memory VRM is a single phase VRM controlled by a Richtek RT8120D single-phase PWM controller with an integrated driver, and there are two low-side MOSFETs and one high-side MOSFET.
GIGABYTE B450 Aorus Pro WIFI Circuit Analysis Continued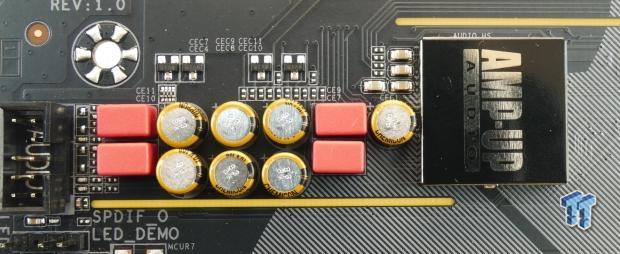 The audio section uses the Realtek ALC1220 with 115dB SNR, and GIGABYTE says this module has enhanced input SNR up to 110dB. We also find Nippon Chemicon audio capacitors and WIMA film capacitors as well as a physical PCB divide to enhance audio quality.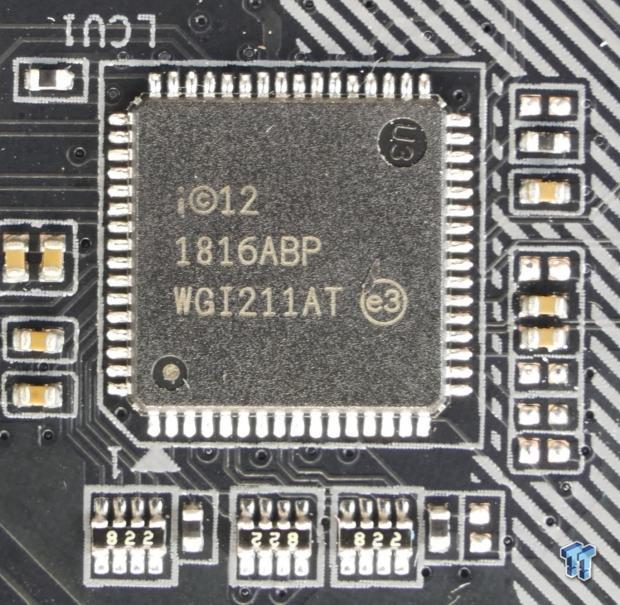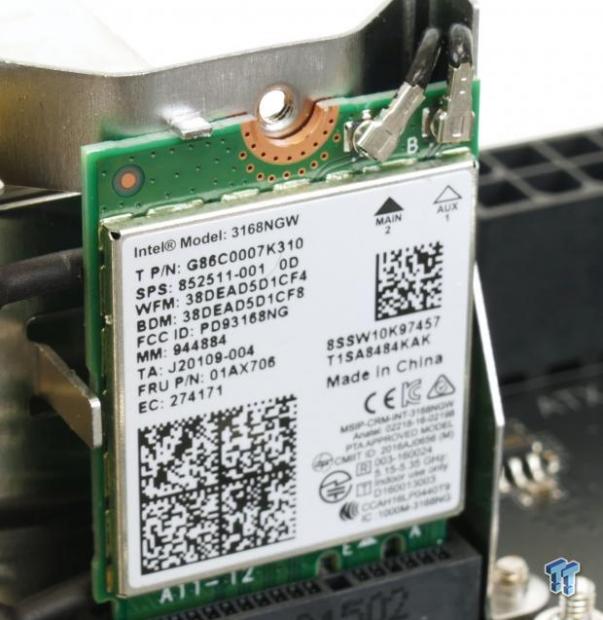 The Intel i211AT is used as the Gbit LAN controller, and the WIFI module is the Intel Wireless AC 3168NGW 1x1 433Mbps controller.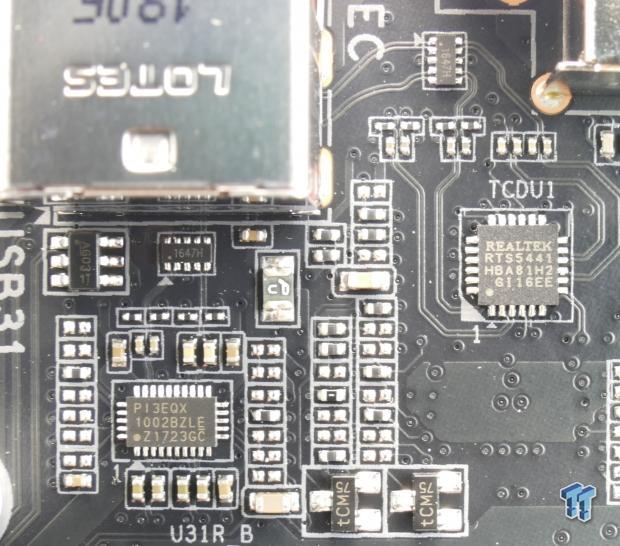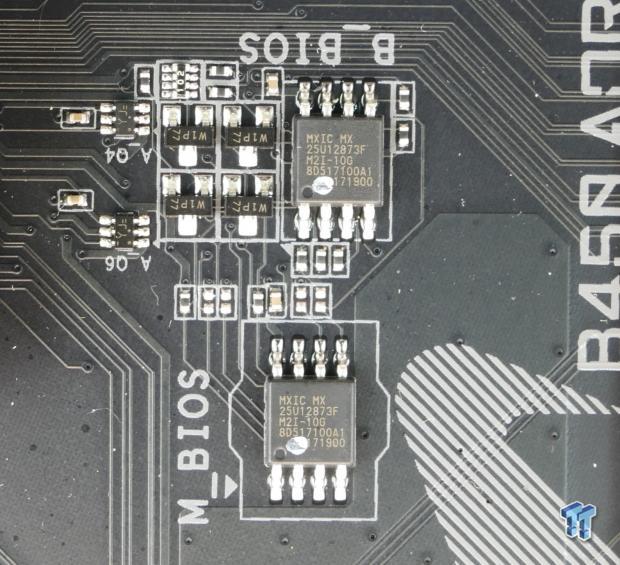 A Pericom PI3EQX USB 3.1 re-driver is used to enhance signaling from the chipset to the type-A USB 3.1 port. A Realtek RTS5441 is used as the type-C switch chip and power delivery controller, but we don't see a second re-driver, so perhaps the chip has some sort of special capability to enhance the signal. We find two 128Gbit/16MB BIOS ROMs on the motherboard, providing a secondary level of protection from bad BIOS flashes.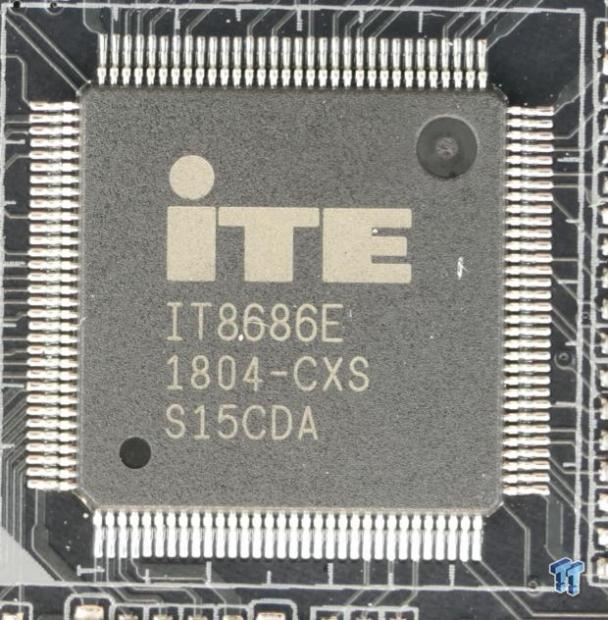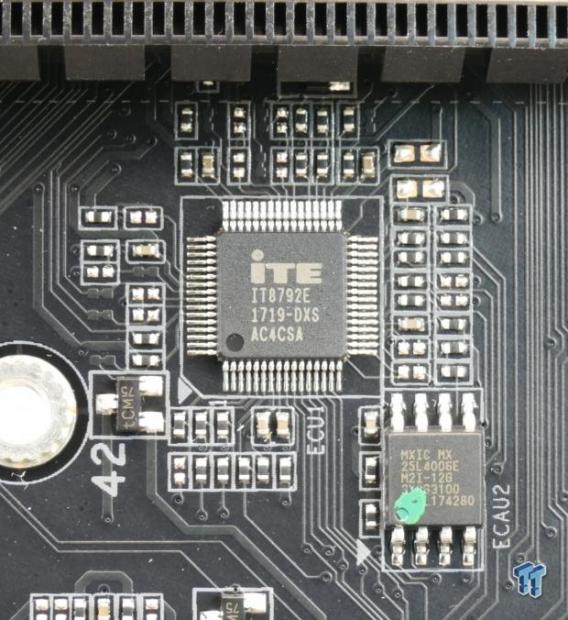 An ITE8686E SuperIO is used to provide fan control, monitoring, and basic system functionality. The ITE IT8792E is used to enhance fan control capabilities.
BIOS and Software
BIOS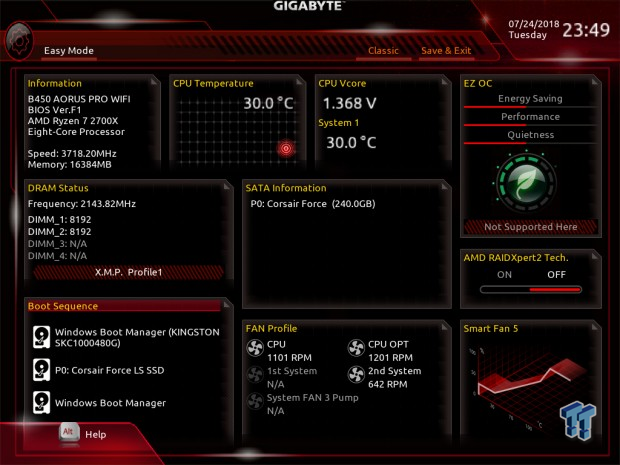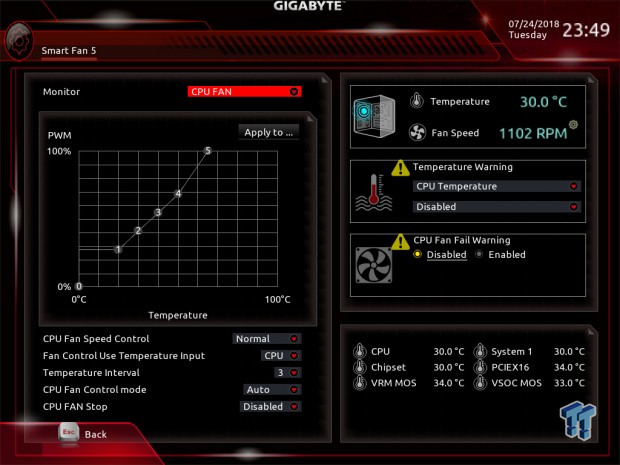 The UEFI on this motherboard has all the settings you will need to get the job done. However, while it doesn't offer the ability to type in a final VCore, you can set an offset. I set +0.15v, and that gave me my 1.35v VCore I was looking for. I was able to overclock my DRAM kit with XMP and set my CPU frequency to 4.2GHz on all cores, so it just takes a bit of tinkering to find the right fit. Fan control is full and present, and you even have some rudimentary RGB LED control.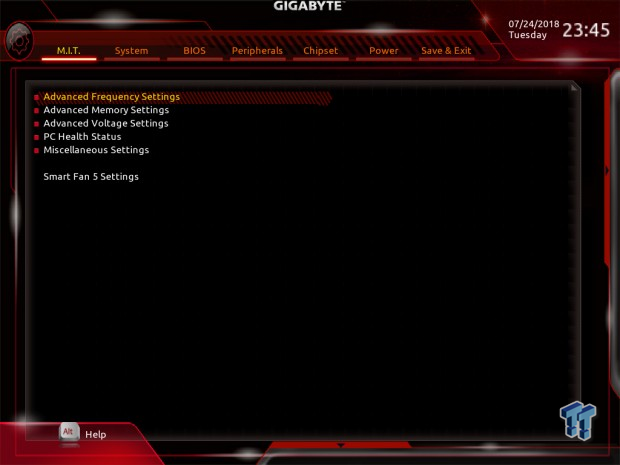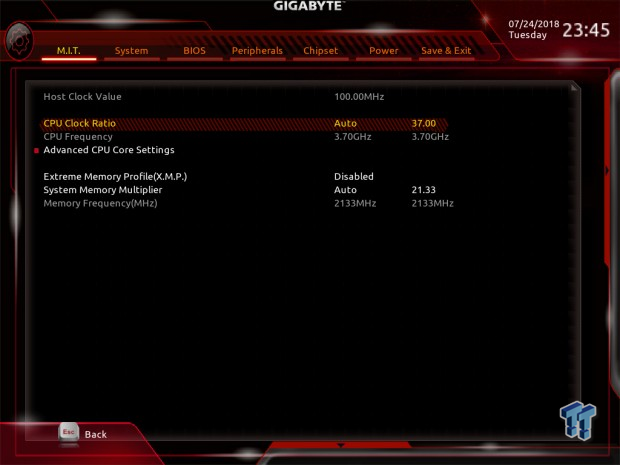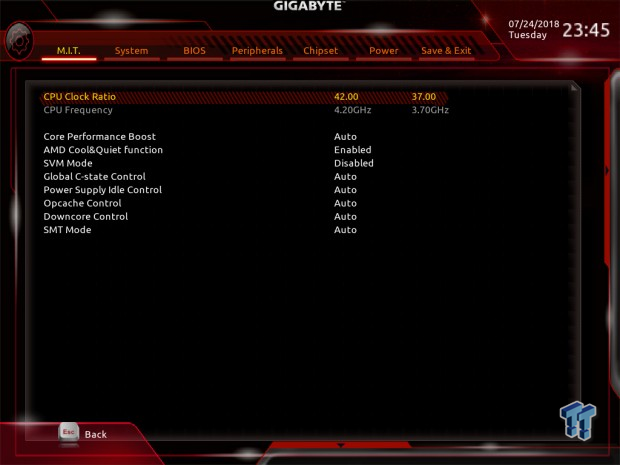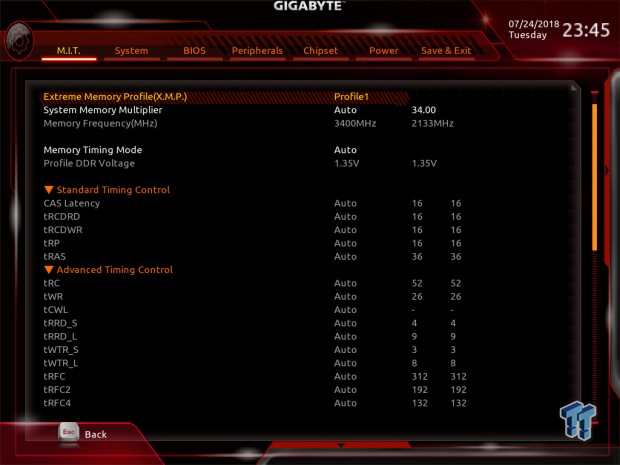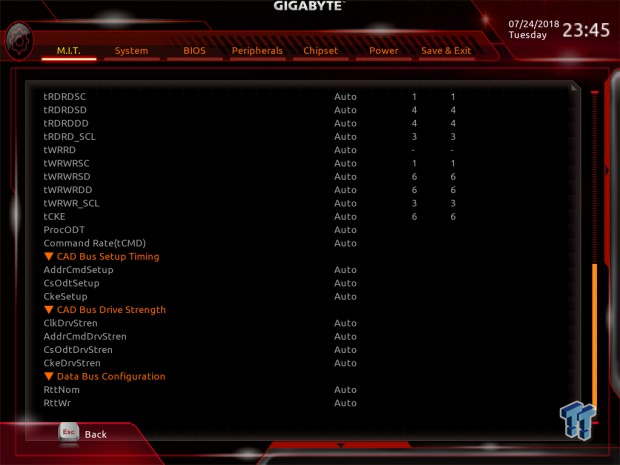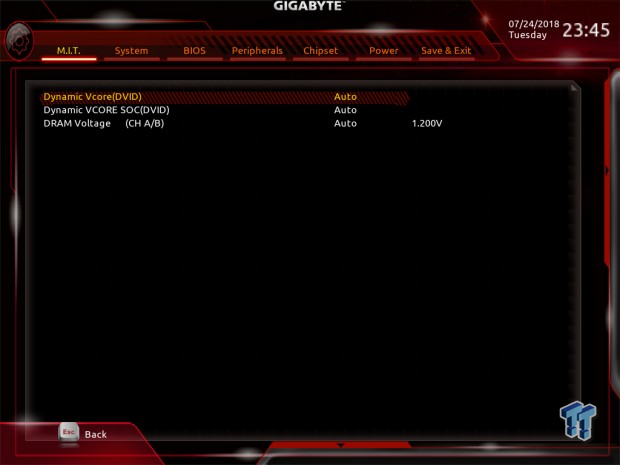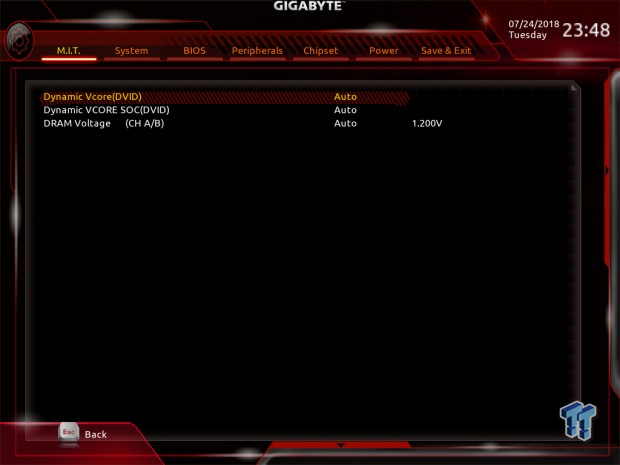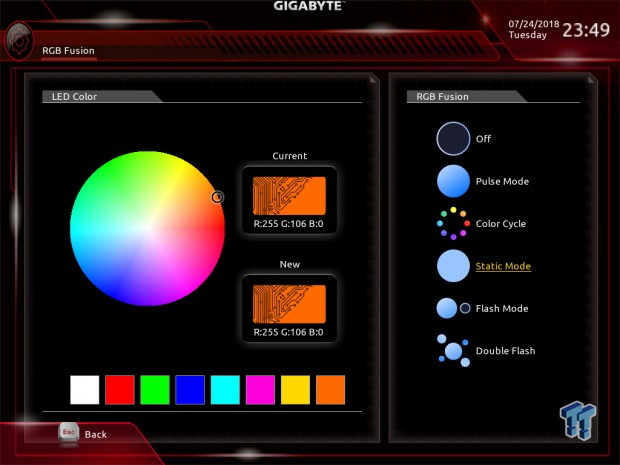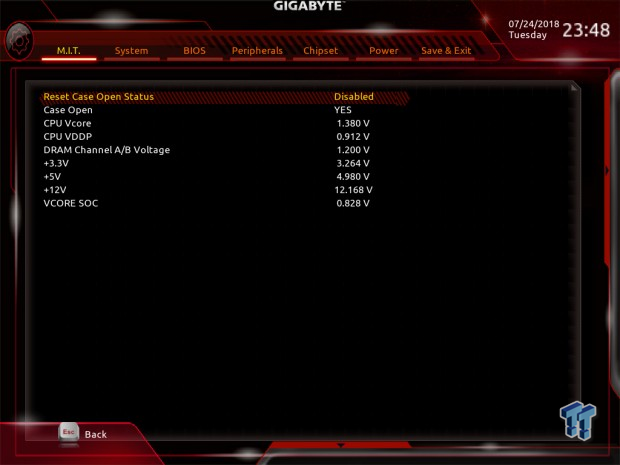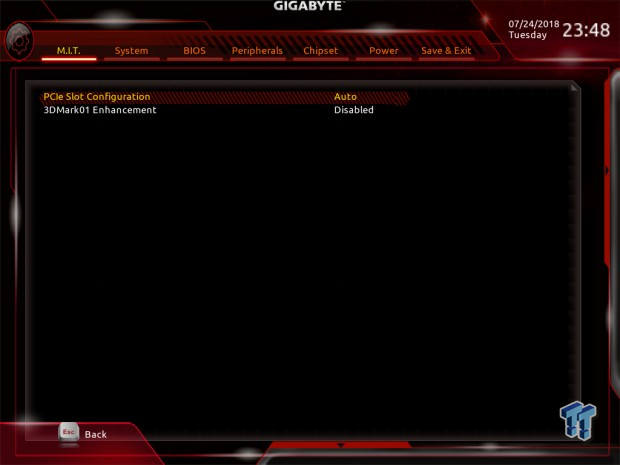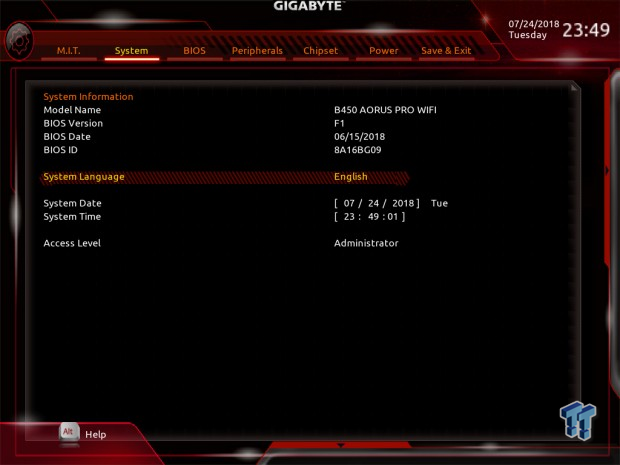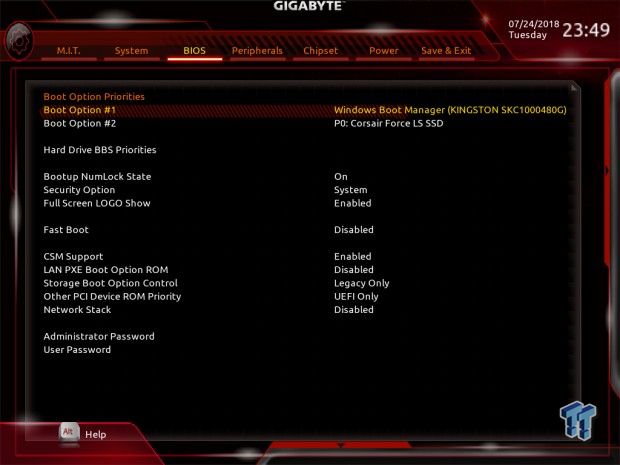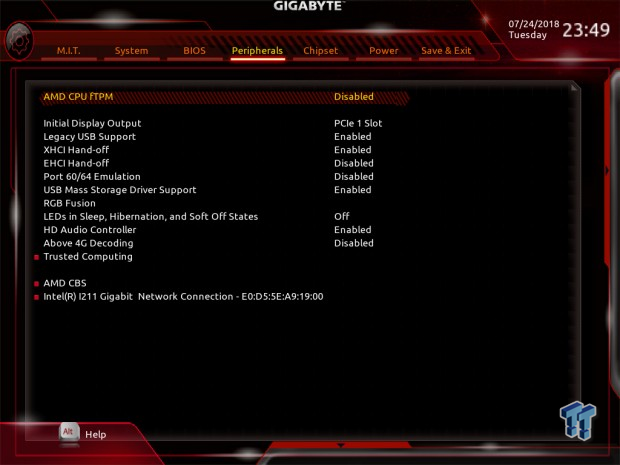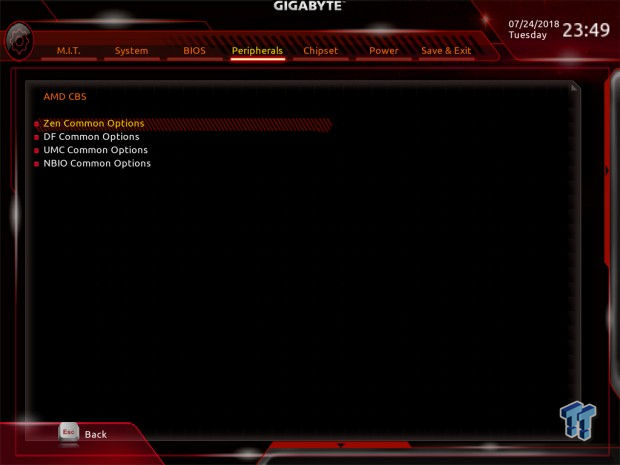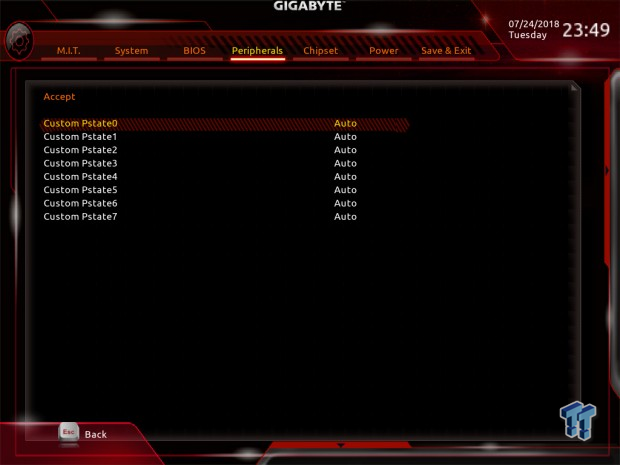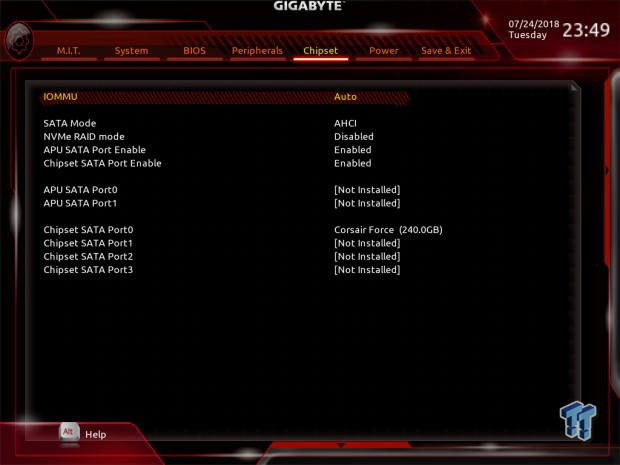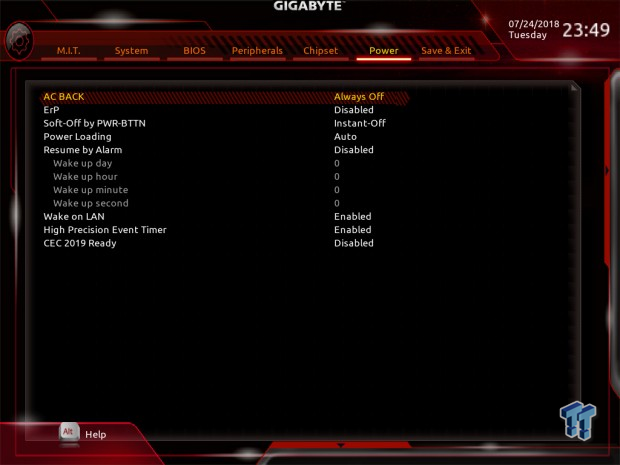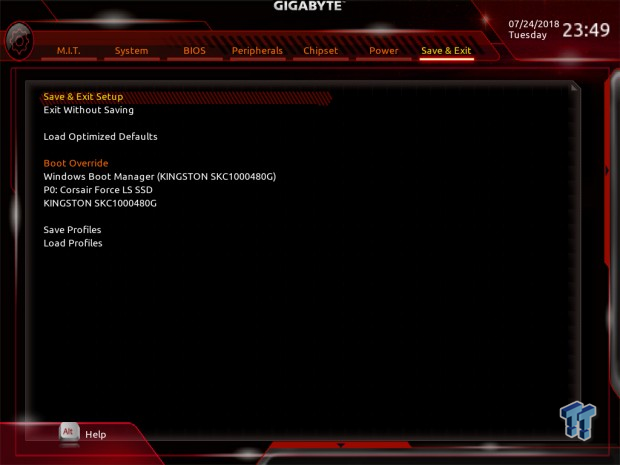 Software
AORUS offers a lot of software including 3D OSD, BIOS, AutoGreen, Cloud Station, EasyTune, Fast Boot, Game Boost, ON/OFF Charge, RGB Fusion, Smart Backup, Smart Keyboard, Smart TimeLock, Smart HUD, Smart Survey, System Information Viewer, USB Blocker, and V-Tuner.
Test System Setup
Steven's Motherboard Test System Specifications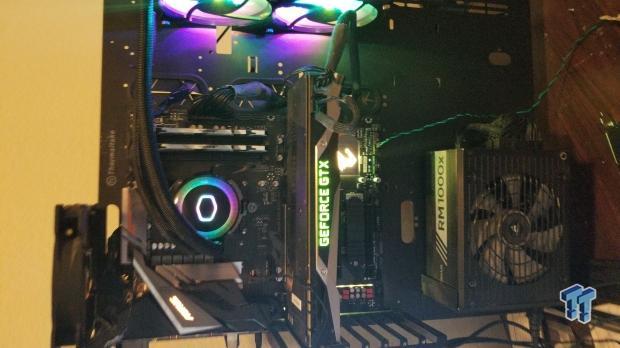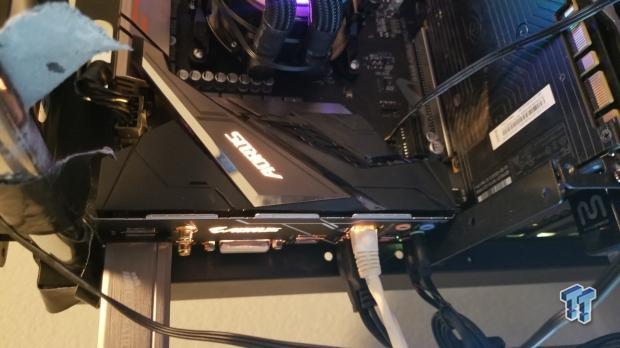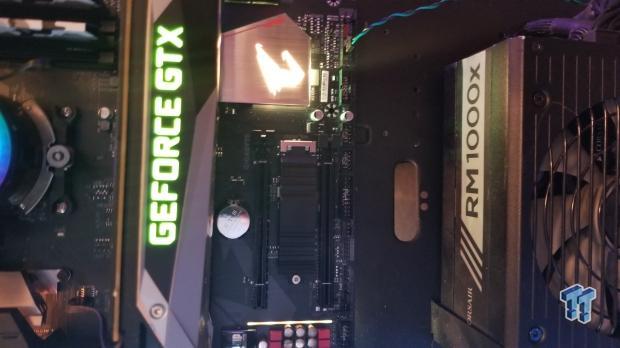 The motherboard's default RGB LED color is orange/gold, and it matches the accents on the motherboard to some extent. The motherboard doesn't light up like a Christmas tree like some of GIGABYTE's past models, but instead, it provides modest lighting effects.
Overclocking
Overclocking Results
CPU Overclocking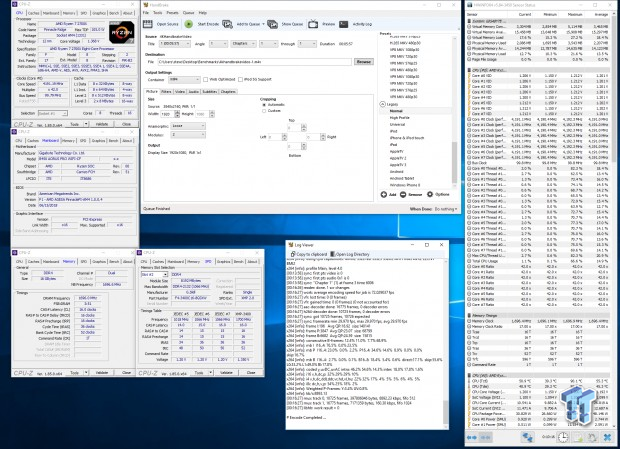 I enabled XMP in the BIOS, set x42 for the multiplier, and then tinkered with the VCore offset. I set +0.15v in the end, and I got 1.35v. Your offset might vary compared to mine, but overall, the only difference between this motherboards' settings and another motherboard would be setting VCore as a single number instead of an offset.
CPU, Memory, and System Benchmarks
CINEBENCH R15
wPrime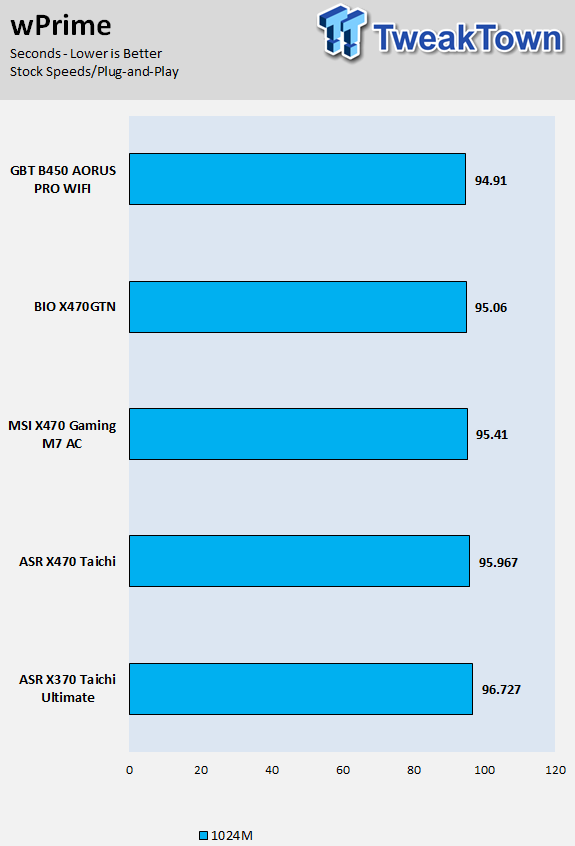 AIDA64 FPU
AIDA64 Memory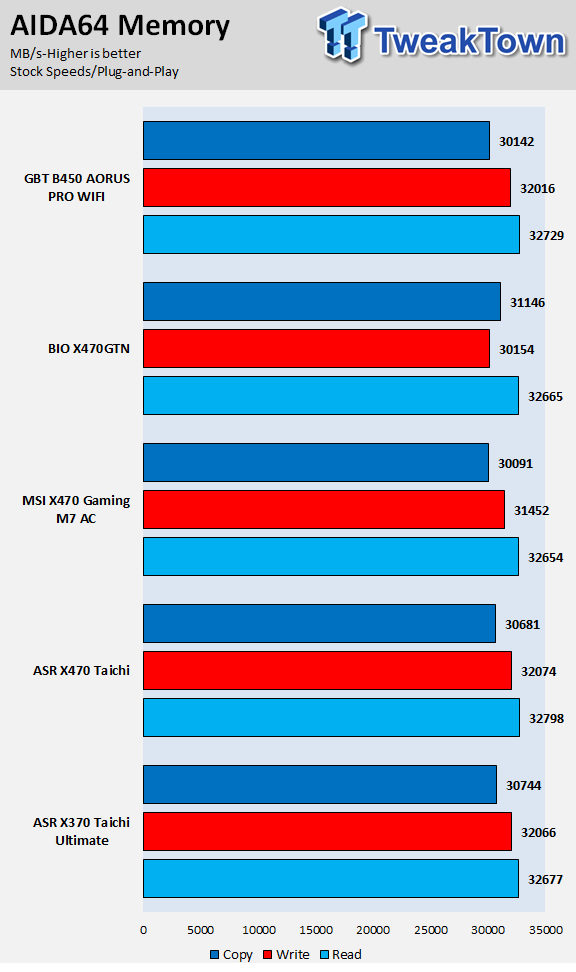 ScienceMark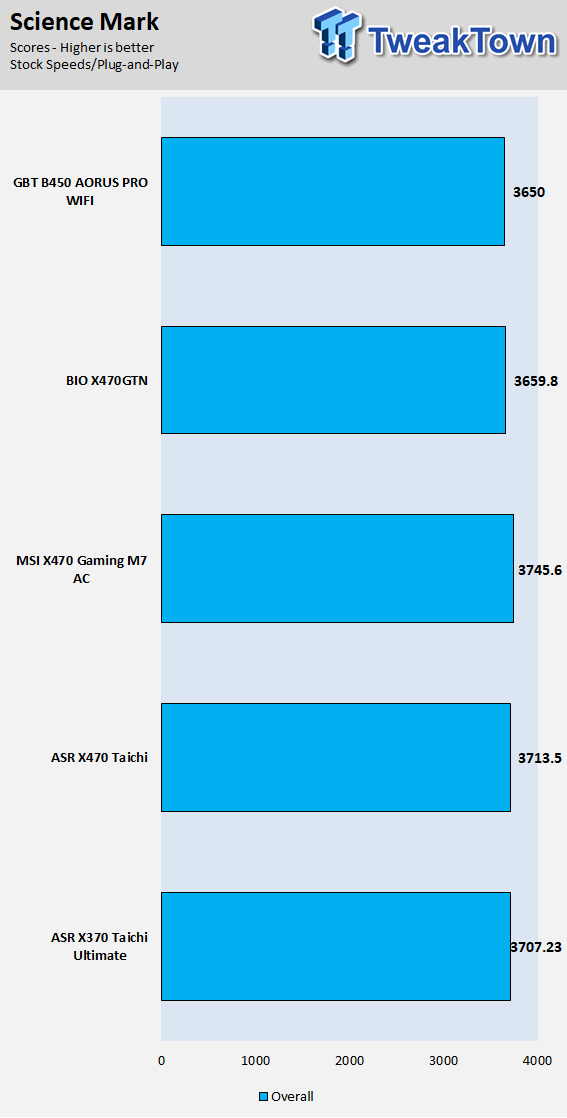 HandBrake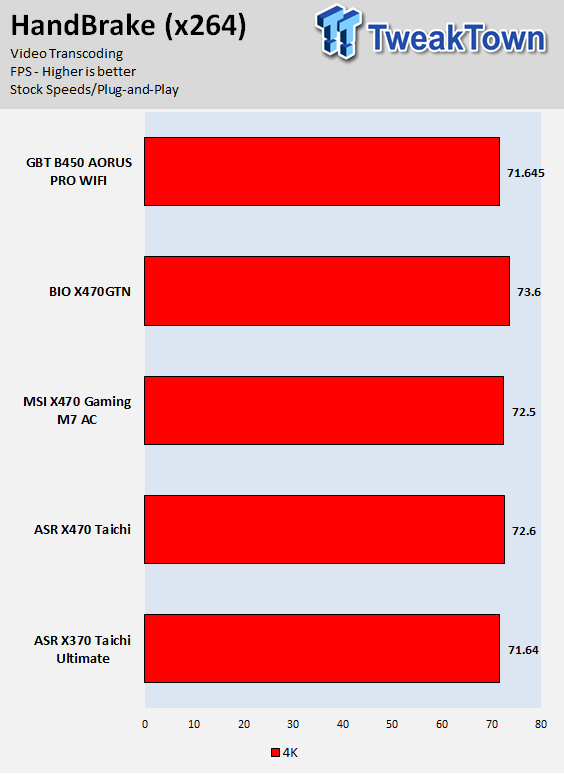 3DMark: Fire Strike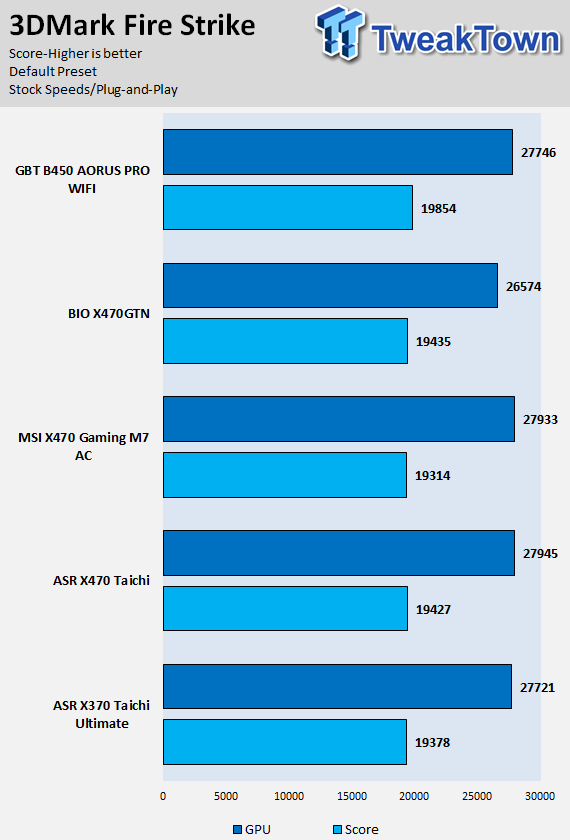 3DMark: Cloud Gate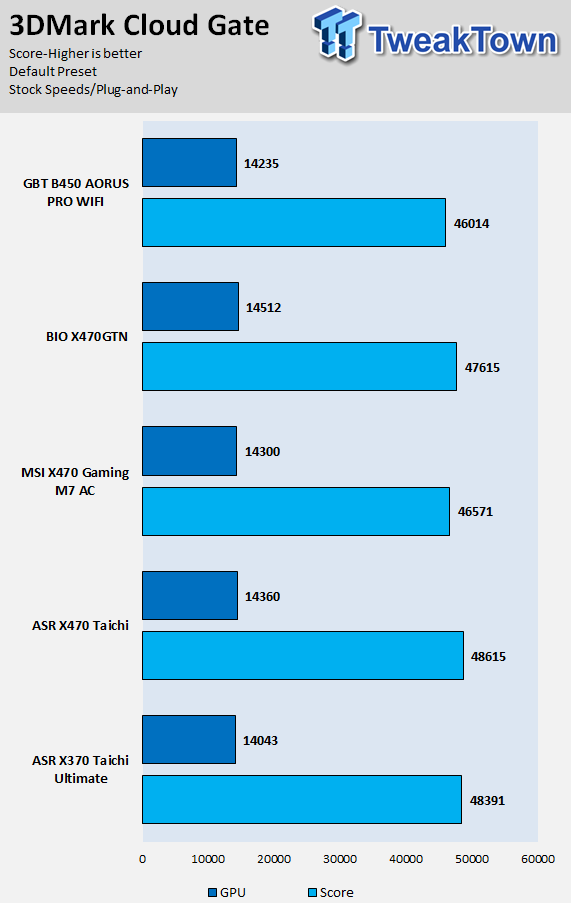 ResidentEvil 6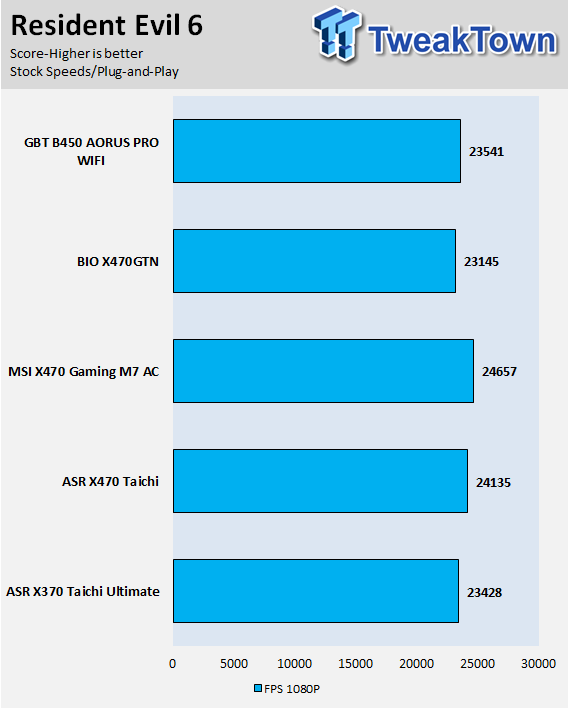 The B450 Aorus Pro WIFI's performance is average, but we didn't expect it to beat out X470 motherboards in the charts. It seems that overall performance is pretty much equal to the higher-end chipset, but that is to be expected.
System IO Benchmarks
CrystalDiskMark SATA6G: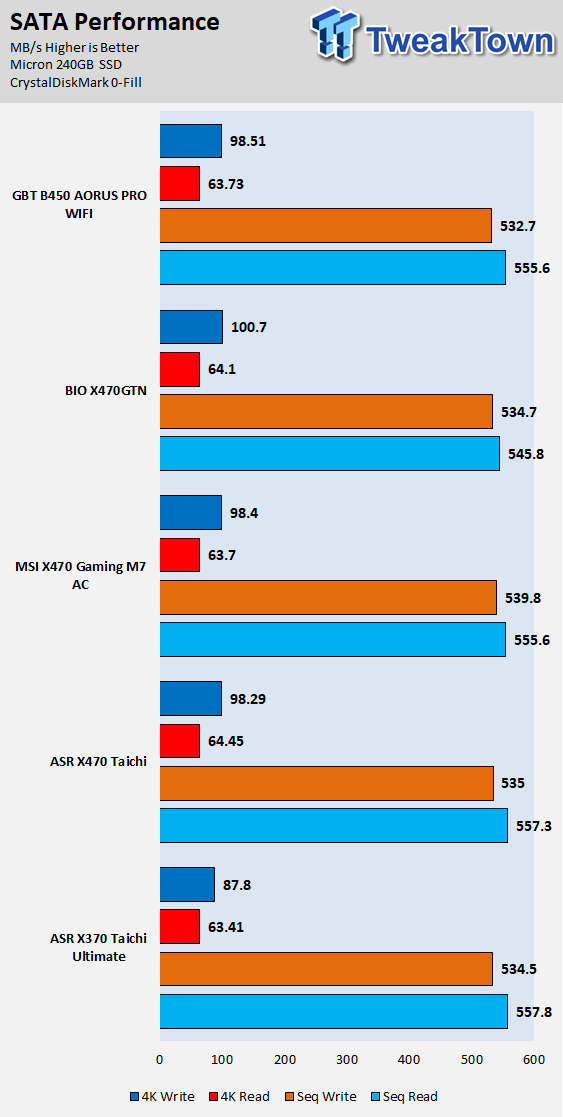 CrystalDiskMark M.2: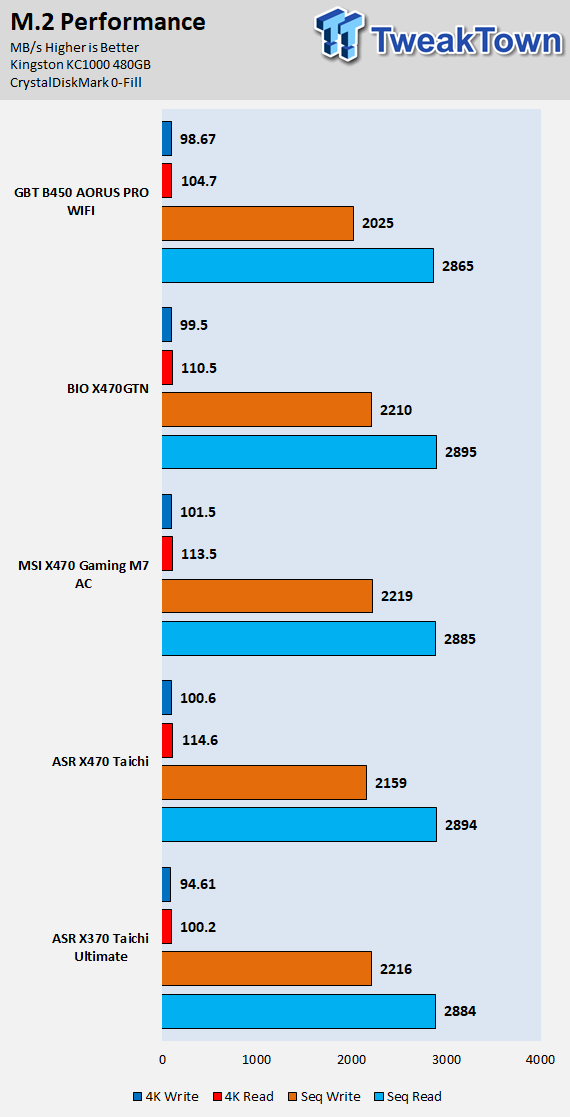 ixChariot Network Throughput: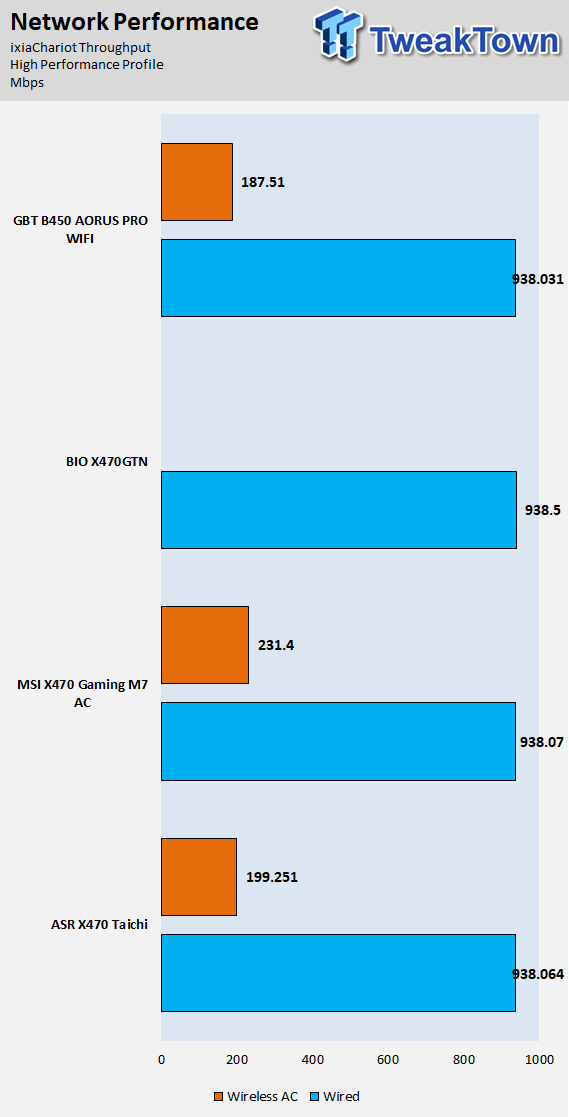 The B450 AORUS PRO WIFI's storage performance is strong, but its WIFI performance could be a bit better, but that is to be expected with a 1x1 controller.
Audio RMAA 5.5:
I disable all audio features, set the correct bitrates, and then test the audio with a loopback test.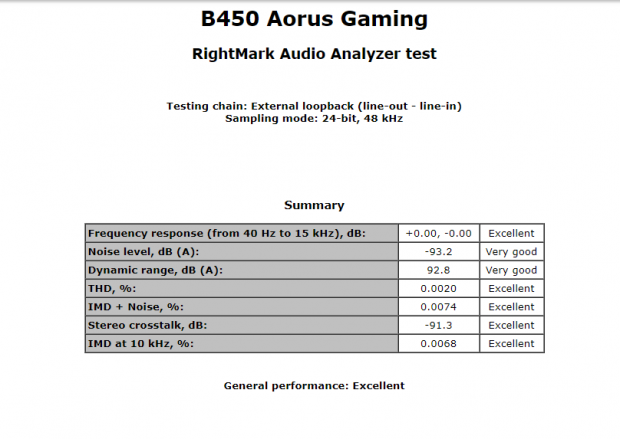 Sound Judgment by Ear: Excellent. GIGABYTE has done a great job with the audio design. There are five ratings for audio: 1. Problems, 2. Okay, 3. Acceptable, 4. Very good, 5. Excellent
Thermal Imaging and Power Consumption
System power is measured at the wall with an AC power meter.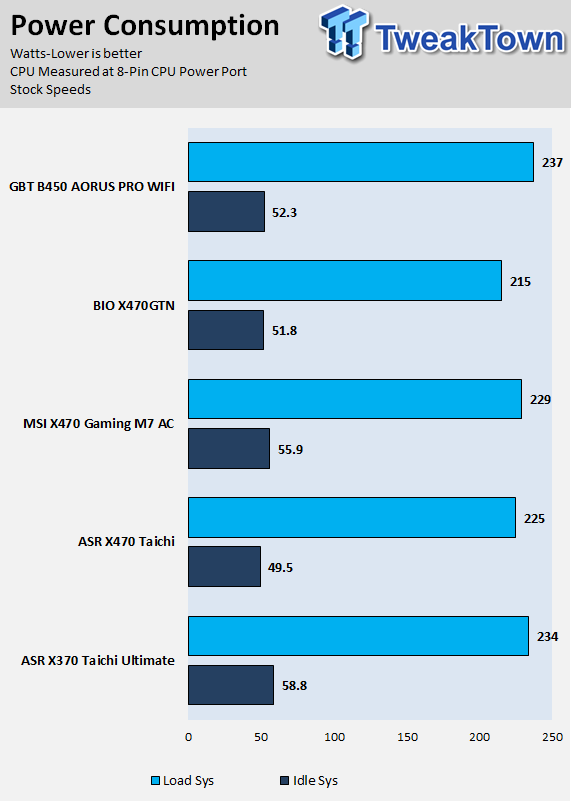 Note on Thermal Images: In the temperature section, we use our Seek Thermal imaging camera to capture the surface temperatures of major components on the board. I look at the VRM and then all other things that light up the screen. If there is something to worry about, then I will state it. Otherwise, I will just show the hotter running parts of the board for fun. Unless some component is over 80-90C, then there isn't anything to worry about.
All systems will act differently, so I will look for commonalities, such as how far from the VRM the heat spreads through the PCB and the difference in temperature between the front, side and back side of the PCB. Keep in mind, the majority of the heat from the VRM goes into the PCB as it's soldered on the copper heat sink. A larger difference in temperature between the back and front of the PCB points towards a more effective heat sink.
Thermal Testing at Stock Speeds:
The image on the left is always at idle, and the image on the right is at load. During ALL TESTS, fans above the VRM that cool the CPU cooler's (Corsair H110i) radiator are turned on to high (12v).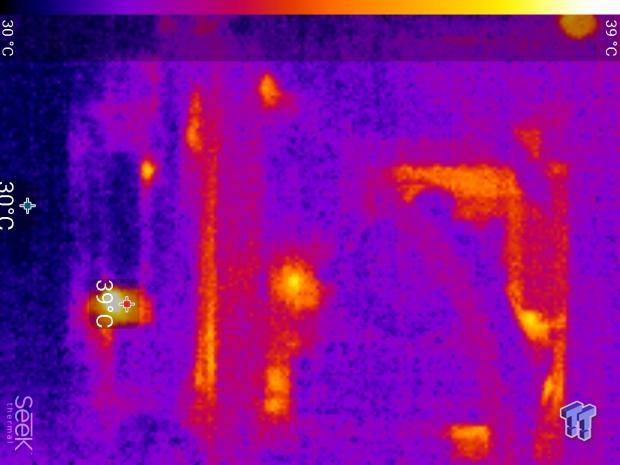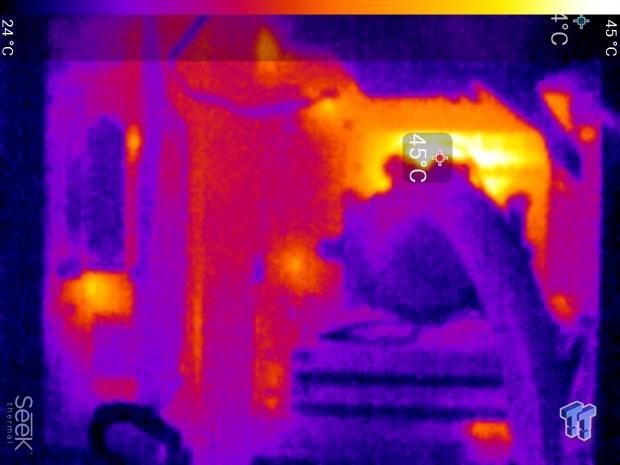 Full frontal.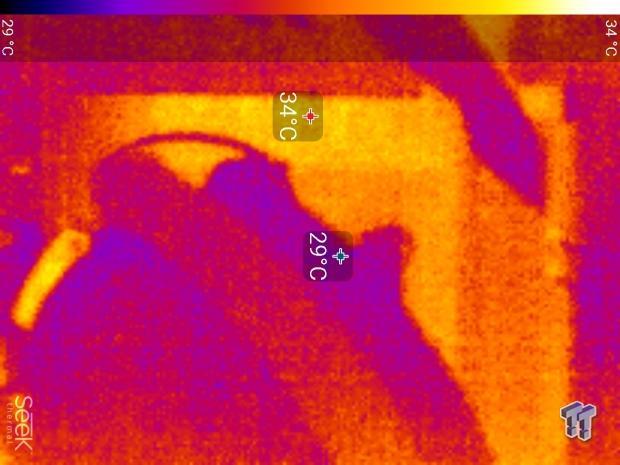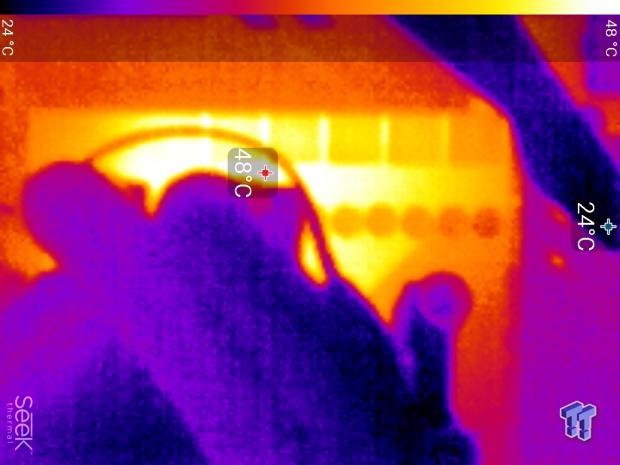 Up-close of the front of the VRM.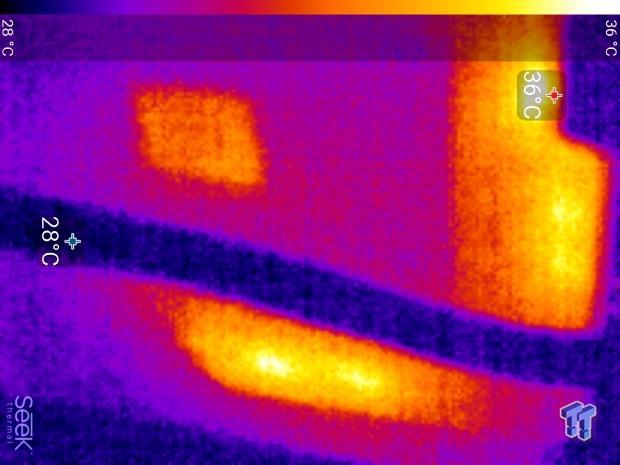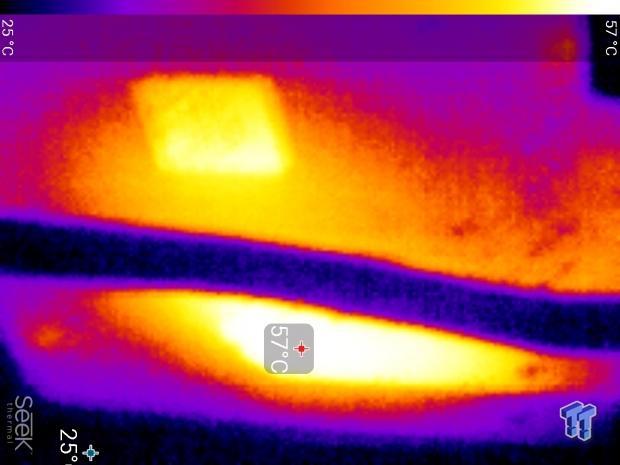 Up-close of the back of the VRM.
The B450 Aorus Pro WIFI has a basic VRM, and while it was able to overclock our CPU to 4.2GHz, we did have active cooling over it. We would recommend that you work towards cooling the VRM if you plan to overclock. Anything under 60C is great, 60-80C is acceptable, and anything above 80C is a bit worrisome (if at stock).
What's Hot, What's Not & Final Thoughts
What's Hot
Style: The motherboard has heat sinks over all its CPU VRMs, the chipset, and it has a stylish shield over the IO panel. The integrated IO panel is also a nice touch. The orange accents on the metal plating also add some sort of flair that many people might like. The default color of the LEDs is orange, and so their accents and the lights match, there is even a little-illuminated falcon on the rear IO panel as well. The motherboard also comes with RGBW, and digital RGB LED headers.
Dual BIOS: With two BIOS ROMs on the motherboard you have a redundant backup in case a BIOS flash goes awry. It will be a handy feature down the line when future CPUs will require a BIOS flash, as you will have an extra added layer of protection.
Audio and NIC: GIGABYTE kept the Intel NIC and audio HW at a very high level. No entry-level Realtek NIC or cut down Realtek audio solution. Instead, we find the i211AT Gbit NIC and Realtek ALC1220 audio codec with high-end capacitors at an entry-level price.
What's Not
WIFI is 1x1: You do get Wireless AC, but it's Intel's 1x1 Wireless AC controller that maxes out at 433Mbps, which is less than 867Mbps.
Final Thoughts
The GIGABYTE B450 Aorus Pro WIFI is priced at around $119, which is a fair price, and while you get bling, there are some things you don't get. The voltages have to be set at an offset so expect a slightly longer overclocking experience where you will need to tinker a bit more, and it's advised that you direct airflow towards the VRM if you are going to overclock. Overall, many people don't care about overclocking or just won't overclock, and for those people this motherboard is perfect.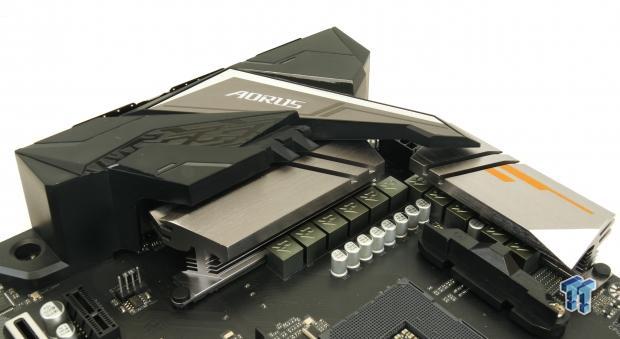 If you are looking for more overclocking capabilities, then you might want to buy one of those nice X470 motherboards, as they are better equipped. Feature-wise you get all the high-end features the platform has to offer, includes dual M.2 slots, WIFI, and USB 3.1. In the end, you get what you pay for, and in this case, you get a high-end looking motherboard for a very reasonable price.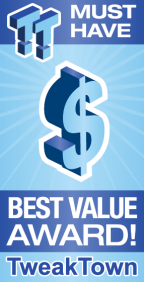 | | |
| --- | --- |
| Performance | 90% |
| Quality | 84% |
| Features | 93% |
| Value | 95% |
The Bottom Line: The GIGABYTE B450 AORUS PRO WIFI is a high-end looking motherboard with high-end features at a reasonable price.
PRICING: You can find products similar to this one for sale below.

United States: Find other tech and computer products like this over at Amazon.com

United Kingdom: Find other tech and computer products like this over at Amazon.co.uk

Australia: Find other tech and computer products like this over at Amazon.com.au

Canada: Find other tech and computer products like this over at Amazon.ca

Deutschland: Finde andere Technik- und Computerprodukte wie dieses auf Amazon.de
We openly invite the companies who provide us with review samples / who are mentioned or discussed to express their opinion. If any company representative wishes to respond, we will publish the response here. Please contact us if you wish to respond.