Introduction
How many AMD Athlon 64 users remember Socket 754? Probably about 70% of the AMD 64 crew wouldn't know of or fully remember Socket 754. It's ironic due to the fact this is where AMD Athlon 64 started and the new Socket 939 come as a result of Intel's overpowering DDR memory controller. Socket 754 was where AMD Athlon 64 launched the Clawhammer architecture using a 3200+ core with 1MB L2 cache. Unfortunately, AMD's short sightedness not to include a dual channel memory controller in the original designs pushed Socket 754 towards the backburner rather quickly.
While this did lead to faster AMD64 chips with Dual Channel DDR, it did leave a bit of a sour taste in the users who just brought their AMD64's and being left behind with little support for the architecture that was considered aging, only six months after its introduction.
Socket 754 has now made a comeback for AMD in the form of the budget line of Sempron processors. Sempron on the K8 architecture features the on-chip single channel memory controller supporting DDR-400 and beyond in the latest revision cores, SSE2 and now x86-64 and SSE3 in the latest Sempron CPU's nicknamed the Sempron64. Until now, motherboards for the Socket 754 have been very budget orientated with little features or ability to boost the overall system performance - that is until EPoX got its claws into the high-speed budget market.
Today we look at the first motherboard to support nVidia's SLI dual graphics technology on the Socket 754 platform, and hopefully not the last. So come and check out the EPoX 8NPA SLI and see what it has to provide for the forgotten socket.
Specifications
Specifications of the EPoX 8NPA SLICPU
Supports AMD Athlon 64 3000+ ~ 3700+ Socket 754
Supports AMD Sempron 2800+ ~ 3500+ Socket 754
Chipset
nVidia nForce 4 SLI
nForce4 SLI MCP
2000MT/s HyperTransport to CPU Internal Northbridge
System Memory
2 DDR SDRAM 186pin DIMM Sockets
Supports DDR-266/333/400Mhz
64bit Single Channel
Supports up to 2GB Total Memory (2x 1GB)
Bus Frequency
200Mhz Internal
2 GHz External
Hyper Transport Interconnect
Expansion Slots
2 PCI Express x16
2 PCI Express x1
2 PCI
Connectivity
2 Parallel ATA port supporting 4 IDE Drives
4 Serial ATA ports
1 Gigabit Ethernet Port
Expansion Ports
1 PS2 Keyboard Port
1 PS2 Mouse Port
8 USB 2.0 Ports
1 Serial Ports
1 Parallel Port
3 Stereo Audio Ports
1 SPDIF RCA Input
Package and Contents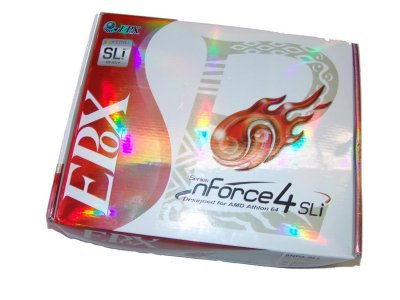 EPoX isn't known for any great visual styles like ASUS, MSI or Gigabyte. Simplicity is the order of things, especially in the low cost market. While this might be for low cost, it still has the advantage of moving into the higher performance market, simply because of its features. The 8NPA SLI is shipped in a white and red box. The front of which doesn't give you any idea of what the board supports, other than SLI.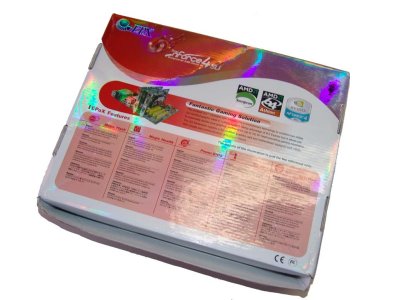 In order to gain any pre sales info on the board, you need to flip the box over. Here is where information on the boards features as well as what socket and architecture the board supports is located. There is only basic information, but enough to base a decision on if this board is what you are looking for.
Opening the box is where things start to take shape. On the top layer are all the accessories that the board comes with. The first layer of accessories are the USB PCI rider bracket, SATA power and data cables, IDE and FDD cables as well as the I/O shield.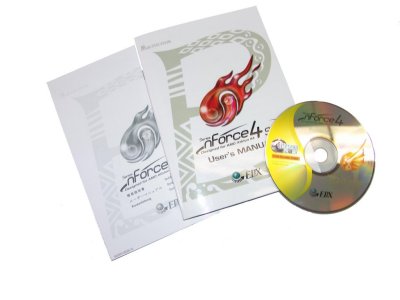 The next layer of goodies is two instruction manuals and the driver CD. The white and red coloured manual is information on setting up the board with all the information you will need in regards to component location, cable orientation and BIOS optimisation. The second manual explains a bit about the nForce 4 SLI chipset and a few of its basic features including SLI setup. The driver CD contains all of the drivers as well as some third party software that will get you up and running, though for best results, after all is installed, get onto the internet and download the latest drivers from nVidia for the nForce 4 chipset as well as the latest graphics driver for what brand and model card you have.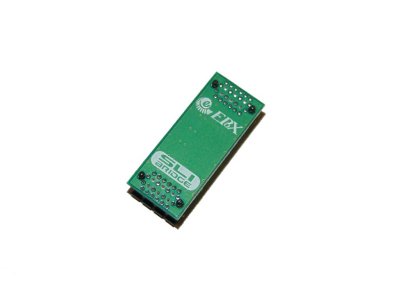 The last of the goodies is an SLI bridge connector. SLI is well known to most, but for the uninitiated. In order to link your graphics cards you need to have a board that is SLI certified (at the present time, only nForce based boards are SLI certified), two SLI certified PCI Express graphics cards with the SLI bridge fingers on them. This bridge goes between the fingers and allows the two cards to communicate off the PCI Express bus and increase 3D gaming performance.
The Motherboard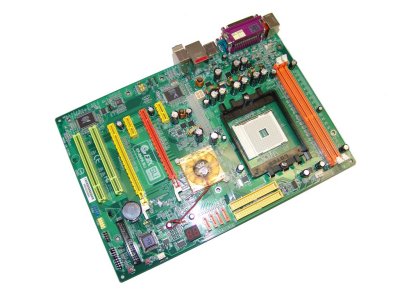 Now we start to look at the board and its features. The 8NPA SLI is based for the budget segment but still wanting to supply the advanced features and graphics support that nVidia SLI brings. In terms of placement of connectors, EPoX has gone budget here. The 24 pin ATX power connector and the 4 pin power connector are located in the same spots between the CPU retention module and the rear I/O ports. This causes some serious air flow issues, though AMD CPU's don't heat up anywhere near as much as Intel Pentium 4 CPU's, but still, something we would like to see changed.
The two IDE connectors and the four SATA ports are located on the right hand side of the board, keeping the ribbon IDE cables away from the CPU as much as possible. However the placement of the FDD connector could have been better, though very few PC's today still use FDD's.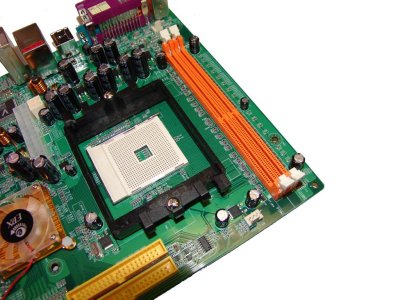 The layout around the CPU is extremely clean and allows for larger than average CPU heatsinks if you intent to overclock. The Socket 754 CPU only supports a single channel DDR memory controller and thus this is why we only have two DDR memory slots. These are placed at the top of the CPU, allowing the memory to be cooled by the power supply exhaust fan. EPoX uses a 3 phase voltage regulation system to supply clean power to the AMD CPU.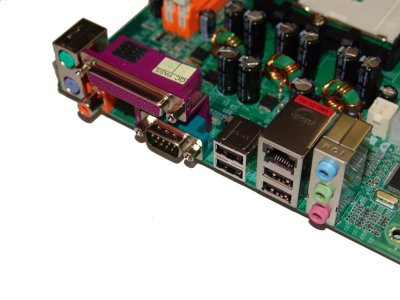 The rear I/O ports provide you will all the needed external expansion ports. On the back are two PS/2 ports for you keyboard and mouse, one RCA based SPDIF out port for digital audio output, one parallel port for legacy printers, one serial port, four USB 2.0 ports with the remaining six being onboard headers, one Gigabit LAN port and three audio ports.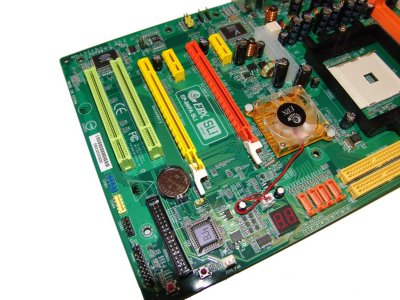 Now we get to the expansion ports. The 8NPA SLI has two PCI Express x16 ports to support SLI graphics. Along with this are two PCI Express x1 slots and three PCI legacy slots. Beside the expansion ports is the nVidia nForce4 SLI single chip chipset. To keep this veritable heat plant cool a small active cooling unit is put to use.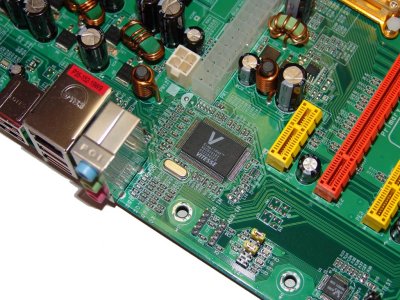 With the nForce 4 SLI chipset comes the built in nVidia Gigabit LAN controller. VITESSE PHY controller chip is used to interface the RJ-45 port with the onboard controller. Another great feature of the nVidia Gigabit LAN controller is the software firewall that is provided by nVidia to keep your PC much safer while on the Internet.
BIOS and Overclocking
Being a budget based board, we weren't holding any hopes for a great deal of overclocking options, however, we were greatly surprised to find that EPoX is supporting overclockers even on the Sempron level of the K8 architecture.
The standard blue AWARD BIOS 6.0 is used to power the basic functions of the board. Once in BIOS you are greeted with a very standard and familiar setup. EPoX places its overclocking features under the "Power BIOS Feature" menu. From here all the overclocking options can be selected to the user's desire.
First off there is no auto overclocking on the EPoX 8NPA SLI. This is something we would like to see EPoX introduce, as auto clocking as we like to call it is now starting to take off as a viable alternative to manually setting the overclock parameters.
First on the list is the CPU frequency. Contrary to popular belief, AMD K8 CPU's "DO" have a front side bus, this is what the CPU die uses to connect to the memory controller built onto the CPU die with. This frequency is a standard 200MHz across the board, from there, the LDT or Hypertransport multiplier is used in order to get the link speed from the CPU to the external Northbridge. On the EPoX board, you can change the internal FSB frequency from 200MHz up to a maximum of 450MHz in 1MHz increments. While the end speed is simply not possible with today's CPU's, it's nice to see a wide selection provided.
Next frequency adjustable setting is the PCIE clock. This gives you control of the PCI Express frequency. Settings range from 100MHz up to a max of 145MHz in 1MHz increments. For best stability, leave the PCIE clock at 100MHz, as PCI Express buses are extremely sensitive to speed changes, even 110MHz causes system crashes, a great feature to lock this EPoX has done.
Next is the CPU Ratio control. AMD allows you to change your multiplier from your CPU default to a lower setting. You can't go up (only Athlon FX can do this) but you can lower the multiplier in order to raise the FSB without increasing CPU clock to insane and impossible clock speeds.
Now we get to voltage settings, the all important part of the Overclocking setup.
CPU voltage can be adjusted from the CPU default up to a maximum of 0.025v above standard in 0.005v increments. Next comes the DIMM voltage, and EPoX has given a good range here. DIMM voltage ranges from 2.5v up to 3.2v in 0.1v increments. This is an extremely generous range. Finally is the chipset voltage which can be adjusted from 1.5v up to a max of 1.8v in 0.1v increments.
With all these settings using our AMD Sempron 64 3000+, we managed to clock the CPU to a maximum of 2.12Ghz with CPU voltage at max, memory voltage at 2.9v, LDT link speed at 3x. Overall this was a good clock from 1.8GHz to 2.1GHz; however, using a budget CPU does limit ones overclocking ability.
Benchmarks - Test System Setup and Sandra
Test System SetupProcessor
: AMD Sempron 64 3000+ (1.8GHz)
Memory
: 2x 512MB Corsair DDR-533
Hard Disk
: 2x Seagate 7200.9 RAID 0 (Supplied by
Seagate
)
Graphics Card
: 2x nVidia GeForce 6600GT in SLI
Operating System
: Microsoft Windows XP SP2
Drivers:
nVidia ForceWare 81.98 and DX9c
There is nothing to compare this motherboard to as it is a one of a kind setup. So for our testing in this review we are going to compare this system using a single GeForce 6600GT and two 6600GT in SLI.
The reason we choose this graphics card is that if you are going to buy an AMD Sempron processor, you aren't going to be able to really afford two 7800GTX cards.
We will attempt to update this review when we find out the SLI ability of the 7300 series cards, as these would be a great option in SLI for the budget gamer system.
SiSoft SandraVersion and / or Patch Used:
2005 SR3
Developer Homepage:
http://www.sisoftware.co.uk
Product Homepage:
http://sisoftware.jaggedonline.com/index.php?location=home&a=TTA&lang=en
Buy It Here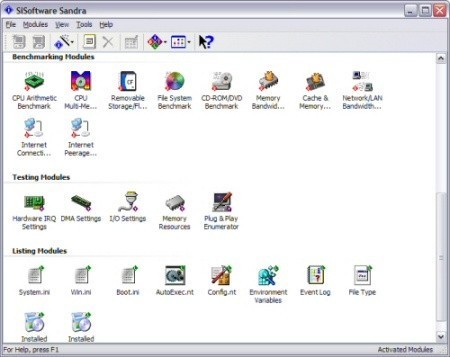 SiSoft Sandra (
S
ystem
AN
alyser,
D
iagnostic and
R
eporting
A
ssistant) is a synthetic Windows benchmark that features different tests used to evaluate different PC subsystems.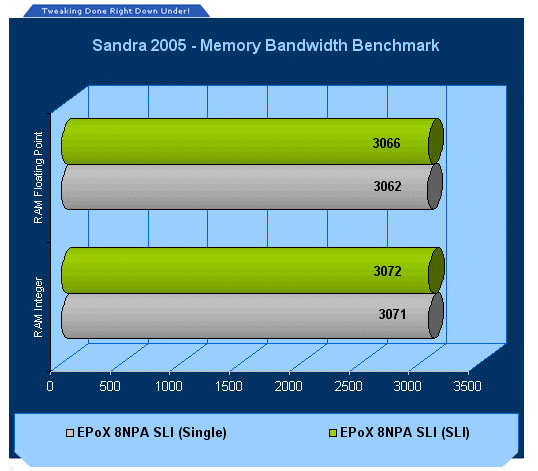 Memory bandwidth is right on for a single channel DDR AMD K8 based board. In SLI mode there is no reduction in memory bandwidth, so there is no penalty on the CPU using SLI.
Benchmarks - PCMark
PCMarkVersion and / or Patch Used:
1.1.0
Developer Homepage:
http://www.futuremark.com
Product Homepage:
http://www.futuremark.com/products/pcmark04/
Buy It Here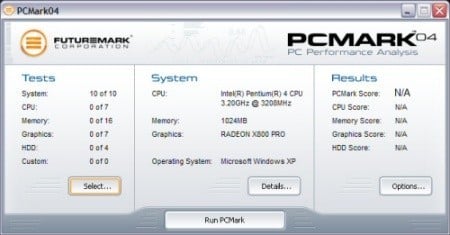 PCMark is a multipurpose benchmark, suited for benchmarking all kinds of PCs, from laptops to workstations, as well as across multiple Windows operating systems. This easy-to-use benchmark makes professional strength benchmarking software available even to novice users. PCMark consists of a series of tests that represent common tasks in home and office programs. PCMark also covers many additional areas outside the scope of other MadOnion.com benchmarks.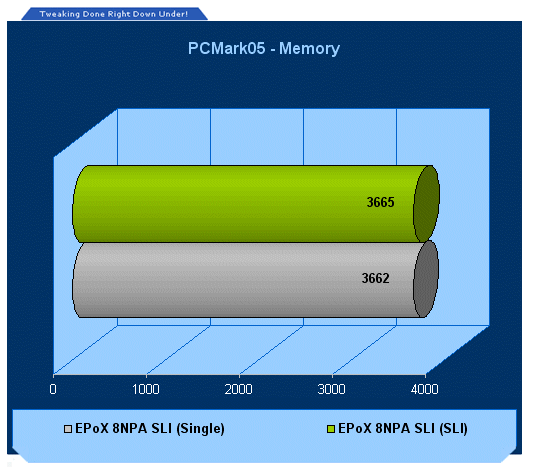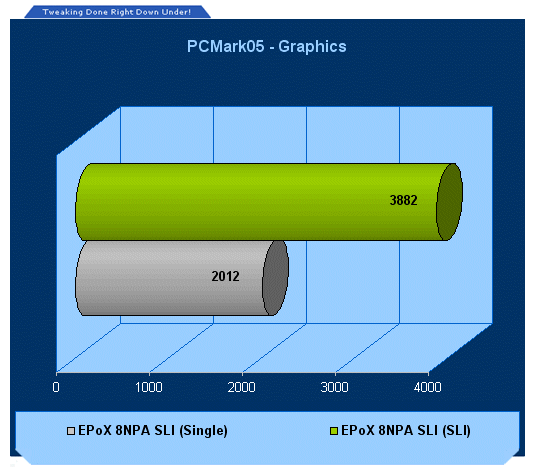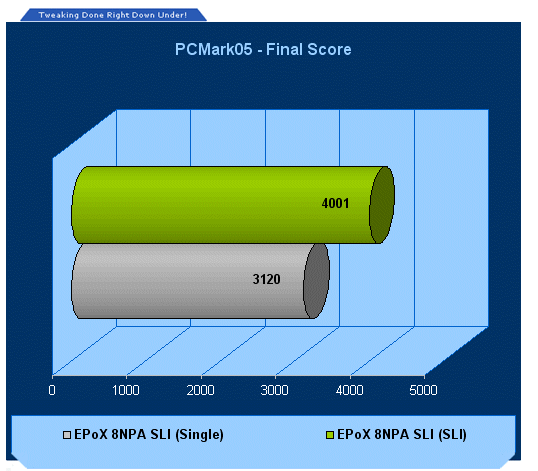 Here is where we start to see the advantage of SLI, especially in the graphics department.
Benchmarks - 3DMark Series
3DMark05Version and / or Patch Used:
Build 120
Developer Homepage:
http://www.futuremark.com
Product Homepage:
http://www.futuremark.com/products/3dmark05/
Buy It Here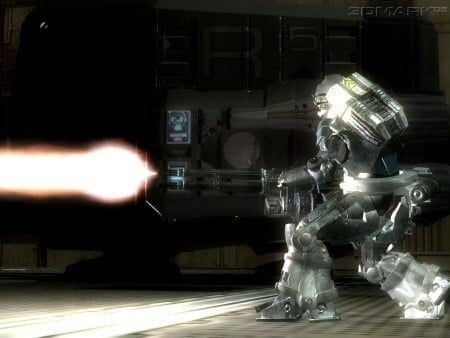 3DMark05 is now the second latest version in the popular 3DMark "Gamers Benchmark" series. It includes a complete set of DX9 benchmarks which tests Shader Model 2.0 and higher.
For more information on the 3DMark05 benchmark, we recommend you read our preview
here
.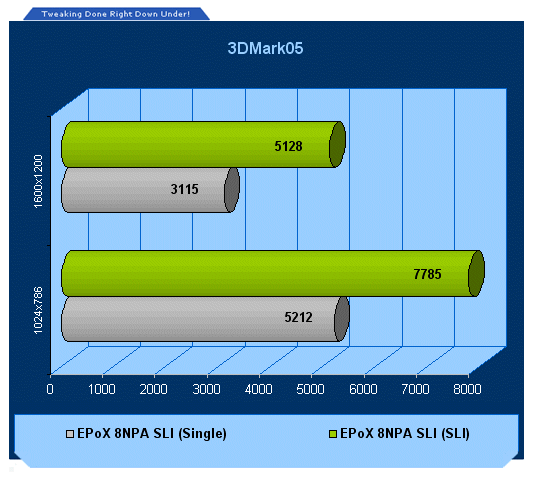 3DMark05 shows that the SLI configuration puts the board in a very comfortable position for a gamers rig.
3DMark06Version and / or Patch Used:
Build 110
Developer Homepage:
http://www.futuremark.com
Product Homepage:
http://www.futuremark.com/products/3dmark06/
Buy It Here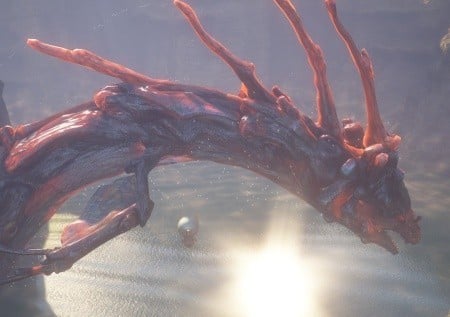 3DMark06 is the very latest version of the "Gamers Benchmark" from FutureMark. The newest version of 3DMark expands on the tests in 3DMark05 by adding graphical effects using Shader Model 3.0 and HDR (High Dynamic Range lighting) which will push even the best DX9 graphics cards to the extremes.
3DMark06 also focuses on not just the GPU but the CPU using the AGEIA PhysX software physics library to effectively test single and Dual Core processors.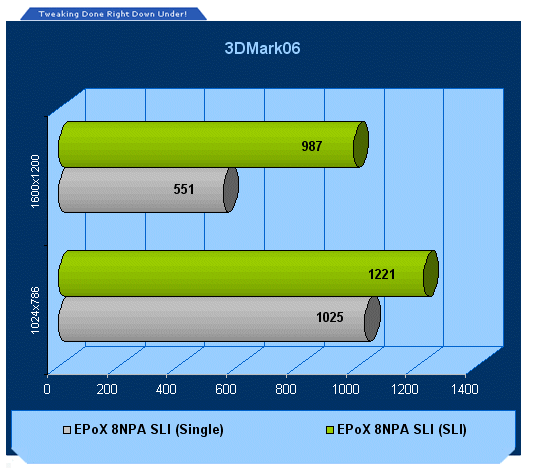 3DMark06 is even more intense on the graphics and CPU and this again aids the SLI setup.
Benchmarks - Doom 3
Doom 3Version and / or Patch Used:
Unpatched
Timedemo or Level Used:
Custom Timedemo
Developer Homepage:
http://www.idsoftware.com
Product Homepage:
http://www.doom3.com
Buy It Here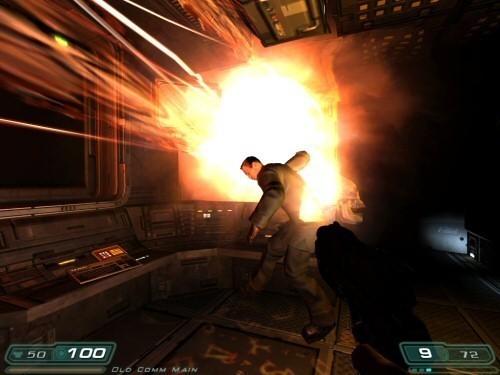 Doom 3 is the latest game to hit our test lab and is one of the most intensive games to dates. With our own custom time demo we are able to give a realistic rating on what kind of FPS you will be achieving.
For more information on benchmarking Doom 3 we recommend you check out our extensive article regarding it
here
.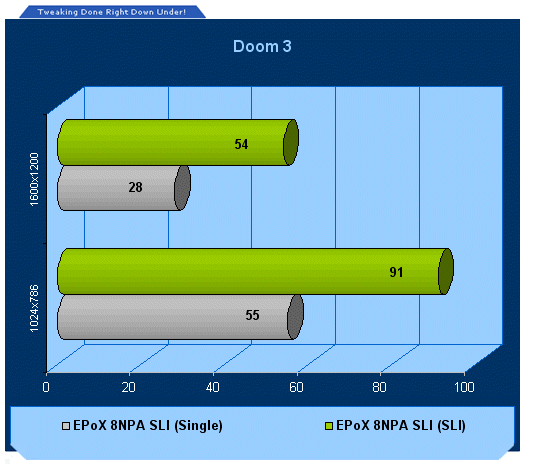 Doom 3 especially favours dual graphics setups, and puts the 8NPA in SLI at a sweet gaming spot.
Benchmarks - F.E.A.R.
F.E.A.R.Version and / or Patch Used:
Unpatched
Timedemo or Level Used:
Custom Timedemo
Developer Homepage:
http://www.vugames.com
Product Homepage:
http://www.whatisfear.com/us/
Buy It Here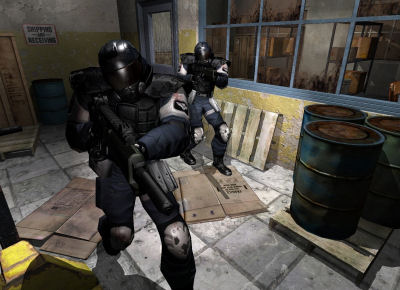 F.E.A.R. (First Encounter Assault Recon) is an intense combat experience with rich atmosphere and a deeply intense paranormal storyline presented entirely in first person. Be the hero in your own spine-tingling epic of action, tension, and terror...and discover the true meaning of F.E.A.R.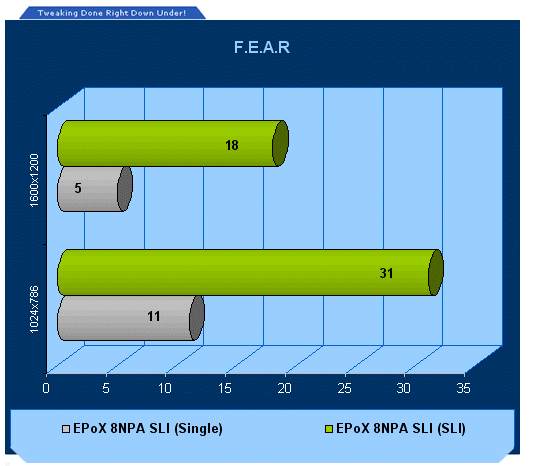 F.E.A.R. gives the SLI setup a good run for its money, but still shows that Sempron and SLI is a great cheap gamer's option.
Final Thoughts
It is no doubt that SLI is the gamers choice for ultra fast gaming with the ability to run AA and AF and still keep the frame rate above the jitter level that we are so used to on single graphics cards.
SLI though has meant that in the past you would be paying through the nose for it, but not any longer. We looked at a Socket 939 based Albatron motherboard that offered SLI for Athlon 64 on a reasonable budget, and today EPoX has gone that one step further and put SLI within reach of users of the Sempron based CPU's. It will be a great basis for a cheap platform which offers a pretty reasonable gaming system.
Sempron using the K8 architecture shows AMD has moved its budget line on to an architecture that doesn't penalise a CPU for having half the cache - sure you aren't going to get the same speed as a similarly clock CPU with more cache, but unlike the Intel offerings, you aren't likely to suffer as much of a performance hit. And now with SLI available for this CPU, it shows what can be done with some thought and ingenuity.
Overall the EPoX 8NPA SLI is lacking features like additional RAID controllers, twin Gigabit LAN and Firewire, but in all honesty, if you want all this and can afford it, a 3000+ AMD Athlon 64 processor based on the 939 package is more in your field of view but for budget SLI with the cheaper Sempron, you cannot go past the EPoX 8NPA SLI motherboard.
- Pros
Fast
Only SLI Socket 754 motherboard available
Supports all SLI based nVidia graphics cards
nVidia Gigabit LAN used unlike many other motherboards
SATA and PATA RAID bridging
- Cons
Placement of power connectors could have been done with more thought
FDD connector in a bad spot
SLI uses two x8 slots rather than two x16, but we can live with that
- Latest Pricing
Rating - 8.5 out of 10 and TweakTown's "MUST HAVE" Best Value Award