Introduction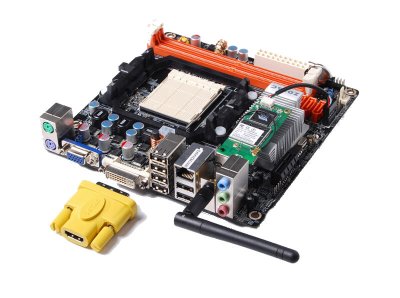 For something so small, Mini-ITX has become one of the biggest things in the PC industry in recent times. Because we once only saw the biggest boards out there with all these features packed in, we have to admire Mini-ITX for maturing this far and allowing all this freedom in a smaller, tighter package.
Mini-ITX first came to fame thanks to VIA and its EPIA range of boards; this was what made the Car-PC and low cost entertainment PC's possible. Eventually we were able to have a small PC in the lounge room without having it sound like a vacuum, or we could have a PC in the car without having to supply dual batteries to keep it running.
Now that we have seen VIA's take on it, others are starting to show interest in the platform as well. While Atom may be Intel's big Mini-ITX CPU, we still have to admire the desktop processors that take a stab at it.
Just recently we
took a look
at the ZOTAC offering supporting the Intel LGA775 CPU on a Mini-ITX base; today it's AMD's turn. We have been sent for approval the ZOTAC GeForce 8200-ITX Wi-Fi; not only will we put this board to the test to see just what it has on offer, we will also compare the 630i Wi-Fi ITX to this new rival to see which one gives the best overall performance.
The Box and What's Inside
Package and Contents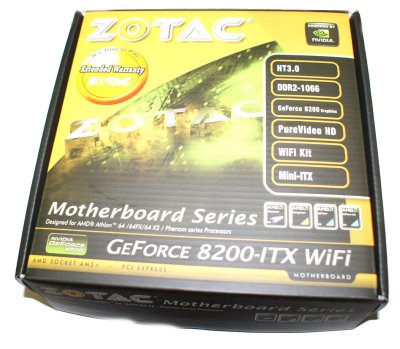 As always, if we are given a retail package, we like to have a look at what is packed in. Compared to the 630i-Wi-Fi ITX board we were given, ZOTAC has reduced the box size dramatically this time. The 630i came in a box size that would resemble a Micro-ATX motherboard, but the 8200 comes in the same size box we saw for Atom-ITX and EPIA boards. There was no information on the back of the box, so we saw no need to include it.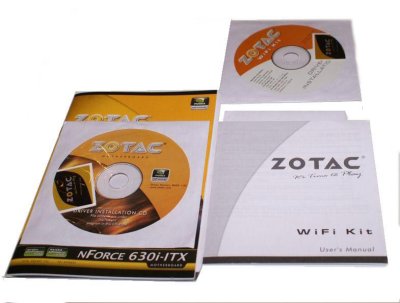 ZOTAC provides the same documentation bundle as the 630i, but with changes to suit the AMD board. The Driver CD comes piled with XP and Vista drivers for both 32 and 64-bit versions as well as some Linux drivers.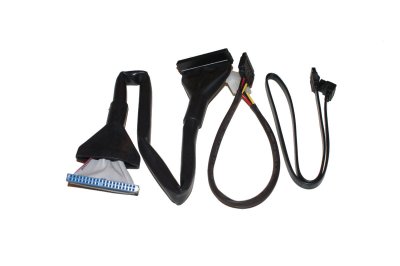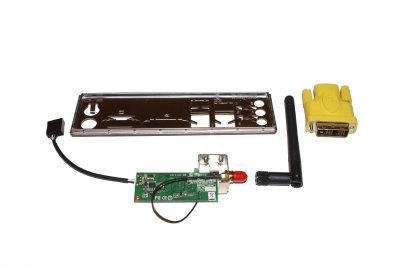 As far as the accessories are concerned, what was included in the 630i Wi-Fi ITX is standard in the 8200 Wi-Fi ITX as well. For a recap, you get one SATA data cable and one SATA power converter along with one IDE cable that supports two drives. A DVI-I to HDMI converter and USB Wireless module as well as the rear I/O shield and a 180 degree rotating stick antenna are also in the box.
The Motherboard
The Board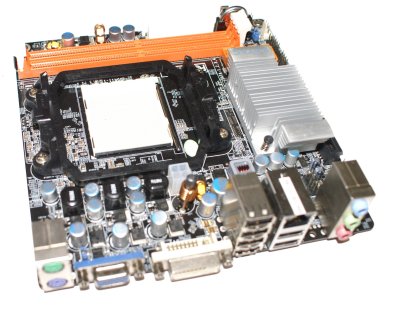 Being a Mini-ITX motherboard, there isn't a huge amount of room to play with. In fact, there is a mere 17x17cm and quite a lot of this is taken up by the CPU socket. Since the board is designed to use AM2+ CPU's, a lot of real estate is taken up by the CPU socket and the retention mechanism designed to hold the heatsink on the CPU. When comparing the 630i ITX and the 8200, the sockets and heatsink clearances are around the same; there is no disadvantage between the two here. Both boards have the same amount of left over PCB to add accessories.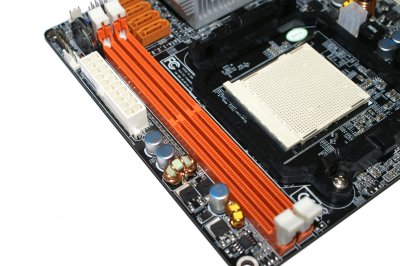 On the left hand edge of the board is where you will find the 24-pin ATX power connector, right behind the two orange DDR2 memory slots. The 4-pin power connector is on the right hand side of the board between the heatsink retention mechanism and in direct line with the DVI-I port.
One thing is very evident about this board before we even get into testing, the memory performance of this board is going to skyrocket compared to the 630i Wi-Fi ITX. Why do we know this with so much certainty? - First off, the 630i NVIDIA chip used on the Intel board is a single channel memory bus only; that's the old crappy 64-bit bus we used to deal with in the beginning of DDR memory. Since AMD has its memory controller on the CPU die, it's not limited to 64-bit and can go to 128-bit as long as there are two or more DDR2 slots. And as you could see above, this board comes up trumps with two DDR2 memory slots.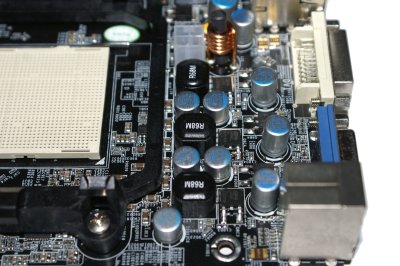 To feed the CPU with its power requirements, ZOTAC has gone for the tried and true 3 phase power regulation system, which is more than enough for stock operation of any K8 and K10 processor on the market today, including the new Phenom II processors.
Unfortunately, ZOTAC has elected to use Electrolyte capacitors and iron ferrite chokes over the solid state copper caps; a bit disappointing, but we can live with it for this board.
At the heart of the board is NVIDIA's GeForce 8200 single chipset. This incorporates an IGP into a single chip which houses a HT 3.0 link, SATA interface, PCI Express interface as well as all the other goodies we associate with NVIDIA chipsets.
The graphics technology integrated into the GeForce 8200 chipset is a 16 stream DX10 engine running at a 500MHz internal clock speed. Its principal memory for the GPU is UMA or SMA; however you want to word it. It sucks up to 256MB of system memory for the GPU. Unlike Intel's dynamic memory system which only uses 8MB when under 2D applications and then if needed will use a total of 256MB for 3D, NVIDIA assign the full amount to the GPU at boot up, so you lose whatever you set the GPU max memory at straight away. You can have 64, 128 or 256MB allocated to the GPU memory. Thanks to the dual channel memory of the AMD processor, there is more bandwidth to spare for the GPU compared to the Intel offering.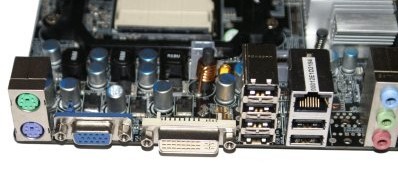 Turning our attention forward, we now take a look at the rear I/O ports. Really, there isn't a huge amount here; there are two video ports for DVI and D-Sub connectivity, but to be honest, a DVI and HDMI arrangement would have been nicer. While you can convert to HDMI from DVI, it's still a pain in the butt having this converter hanging off the back of a small Mini-ITX case.
The audio is the biggest disappointment. While the GeForce 8200 has built in HD Audio, it's limited to 5.1 sound using the three stereo ports at the back and there are no digital audio outputs, so bye bye to bit-streaming any of your DVD's or Blu-rays using S/PDIF. But with that said, ZOTAC has placed a 4-pin header on the board which can be used to connect a S/PDIF PCI bracket to, but that is still a nuisance as it means having to search around to try and buy one and they aren't very common these days. The other way around it is to use the supplied DVI and HDMI convertor and have both the audio and video sent down the one cable, but this requires you own a HDMI amplifier/receiver; something many people don't have.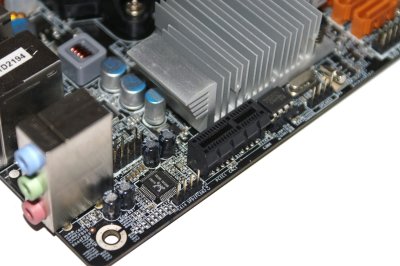 Last on the list are the expansion slots. Traditionally Mini-ITX boards have been limited to a single PCI slot. While this may have been ok in the past, PCI slots are dinosaurs and it's the same as having ISA slots on Pentium 4 motherboards; they are just out of place.
Thankfully ZOTAC engineers have some sense and include a single PCI-E x1 slot. We would have preferred to have seen a x16 slot since the GeForce 8200 does have provisions for a PCIe 2.0 x16 lane for graphics cards; this slot would allow for a discrete GPU or any other PCI-E device to be installed.
Test System Setup and Memory Performance
Test System
Processor
: AMD Phenom X4 9350e
Memory
: 2x 1GB DDR2-1186 Geil (Supplied by
Geil
)
Hard Disk
: 500GB Western Digital SE16 (Supplied by
Western Digital
)
Graphics Card
Integrated Graphics Processor
Cooling
: GIGABYTE 3D Galaxy II (Supplied by
GIGABYTE
)
Operating System
: Microsoft Windows Vista x64 SP1
Drivers
: NVIDIA ForceWare 180.24
In today's testing we will be comparing the GeForce 8200-ITX WiFi against the Intel 630i-ITX WiFi that we
previously reviewed
to see just what each unit has in its arsenal. Nothing has changed from the 630i-ITX WiFi setup, so we will get right into it.
EVEREST Ultimate EditionVersion and / or Patch Used:
2006
Developer Homepage:
http://www.lavalys.com
Product Homepage:
http://www.lavalys.com
Buy It Here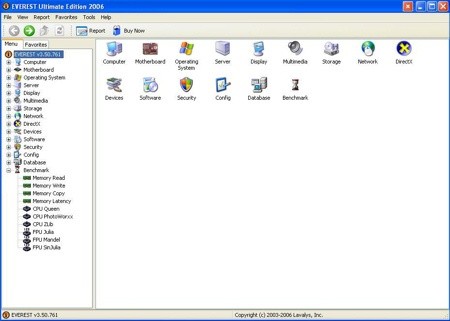 EVEREST Ultimate Edition is an industry leading system diagnostics and benchmarking solution for enthusiasts PC users, based on the award-winning EVEREST Technology. During system optimizations and tweaking it provides essential system and overclock information, advanced hardware monitoring and diagnostics capabilities to check the effects of the applied settings. CPU, FPU and memory benchmarks are available to measure the actual system performance and compare it to previous states or other systems.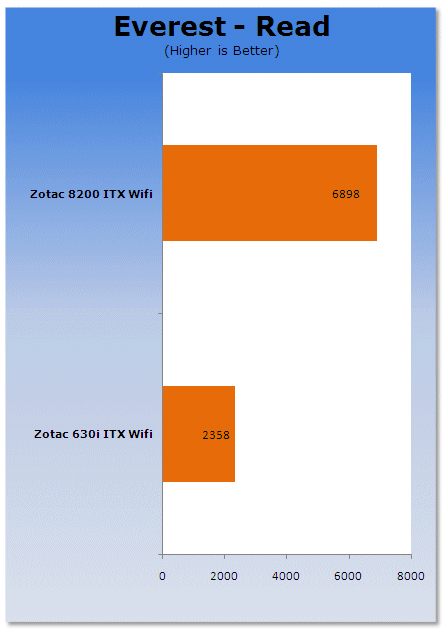 First off, it's our memory benchmark EVEREST. Here we can see the 8200 has a huge lead thanks to the difference in memory controllers. The Intel setup is at the mercy of the single channel DDR2 memory controller built into the GeForce 7050 that the 680i-ITX WiFi uses, where as the 8200-ITX WiFi uses the AMD Phenom's on-CPU memory controller which is running dual channel at 1066MHz; a much better option.
Benchmarks - PCMark Vantage
PCMark VantageVersion and / or Patch Used:
Unpatched
Developer Homepage:
http://www.futuremark.com
Product Homepage:
http://www.futuremark.com/benchmarks/pcmark-vantage//
Buy It Here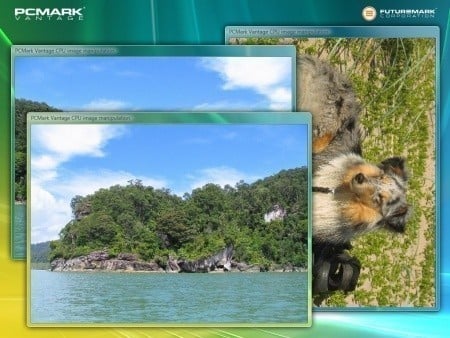 PCMark Vantage is the first objective hardware performance benchmark for PCs running 32 and 64 bit versions of Microsoft Windows Vista. PCMark Vantage is perfectly suited for benchmarking any type of Microsoft Windows Vista PC from multimedia home entertainment systems and laptops to dedicated workstations and high-end gaming rigs. Regardless of whether the benchmarker is an artist or an IT Professional, PCMark Vantage shows the user where their system soars or falls flat, and how to get the most performance possible out of their hardware. PCMark Vantage is easy enough for even the most casual enthusiast to use yet supports in-depth, professional industry grade testing.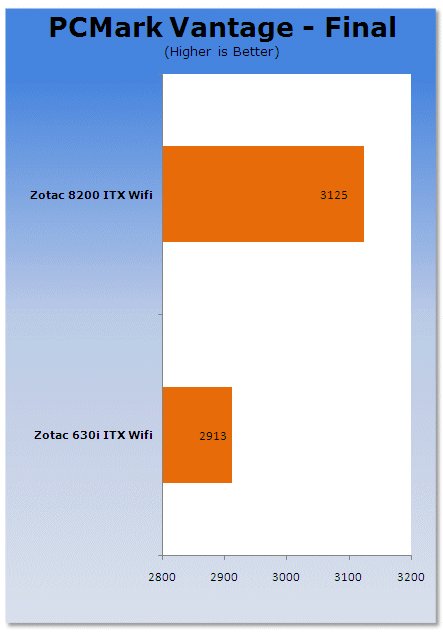 Moving into PCMark Vantage, we see that the AMD system despite having a lower CPU clock and performance profile is able to beat the Intel setup; this thanks to its dual channel memory controller which is needed for the system performance aspect of the tests.
Benchmarks - Media Playback
MPEG-2 Playback
For MPEG-2 playback tests, we ran The Matrix DVD, a personal favourite of mine on each system with hardware acceleration enabled to check for smoothness of playback as well as CPU usage during the test. The result was with 30 minutes of playback and the CPU utilization is the average.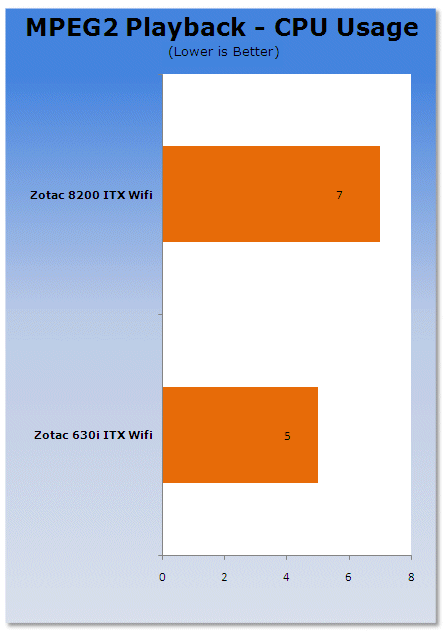 During MPEG-2 playback both systems stayed at the same CPU usage level. After the official results were in, we did a bit more testing with the AMD system and ran a few other applications in the background at the same time, such as Email, Firefox and MSN. The AMD CPU managed to keep its usage down below 10% during all of this; quite possibly due to the four cores sharing the load, where Intel only has two on its Core 2 Duo.
MPEG-4 Playback
Playback for MPEG-4 was again done with the Matrix, only encoded down to an MPEG-4 DivX 6.8 codec. 30 minutes was the time run. Smoothness of playback, audio sync and CPU usage are the keys here once again.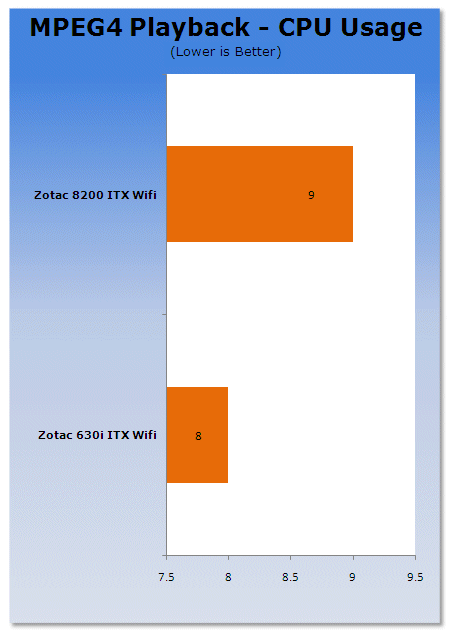 MPEG-4 playback was a little higher than MPEG-2 playback, but it didn't affect our system too much. We were still able to multi-task without slowing down the video or the system when loading Email and the like.
HD 720p Playback
This is the big one for the platforms. We downloaded a random 720p video to test out using Media Player 11. Again, quality of video playback, audio sync and CPU usage are the big things to focus on here.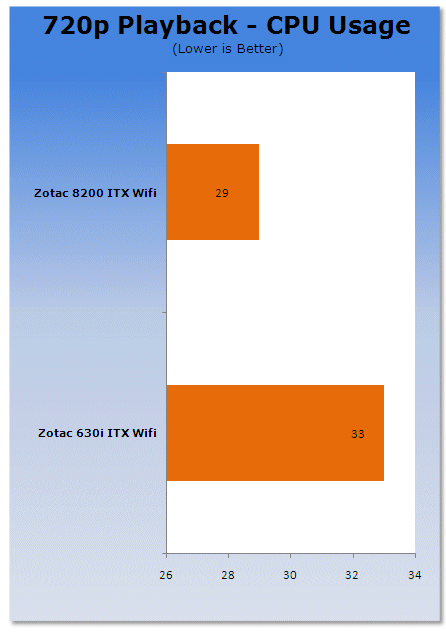 This is another test where AMD managed to beat out the Intel CPU. Thanks to all four cores working together, the CPU usage was lower on the AMD setup. This also could be thanks to dual channel memory when loading up so much data.
Benchmarks - Crysis
CrysisVersion and / or Patch Used:
1.1
Timedemo or Level Used:
Custom Timedemo
Developer Homepage:
http://www.crytek.com/
Product Homepage:
http://www.ea.com/crysis/
Buy It Here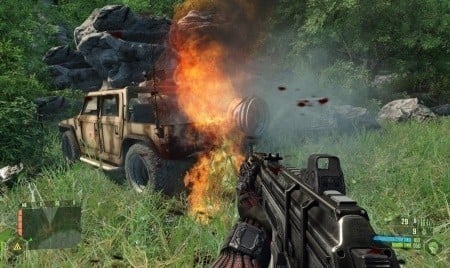 From the makers of Far Cry, Crysis offers FPS fans the best-looking, most highly-evolving gameplay, requiring the player to use adaptive tactics and total customization of weapons and armor to survive in dynamic, hostile environments including Zero-G.
Real time editing, bump mapping, dynamic lights, network system, integrated physics system, shaders, shadows and a dynamic music system are just some of the state of-the-art features the CryENGINE™ 2 offers. The CryENGINE™ 2 comes complete with all of its internal tools and also includes the CryENGINE™ 2 Sandbox world editing system.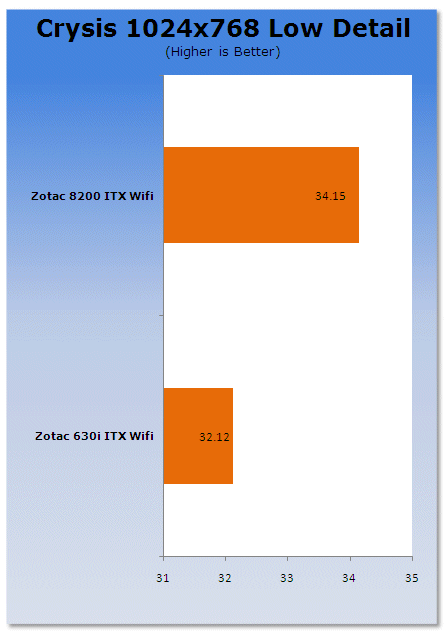 Crysis at its lowest detail possible and 1024x768 managed a couple extra FPS on the AMD system. But despite the four cores and dual channel memory controller, the IGP is the real limiting factor here.
Power Usage
Power Consumption
We are now able to find out what kind of power is being used by our test system and the associated graphics cards installed. Keep in mind; it tests the complete system (minus LCD monitor, which is plugged directly into an AC wall socket).
There are a few important notes to remember though; while our maximum power is taken in 3DMark06 at the same exact point, we have seen in particular tests the power being drawn as much as 10% more. We test at the exact same stage every time; therefore tests should be very consistent and accurate.
The other thing to remember is that our test system is bare minimum - only a 7,200RPM SATA-II single hard drive is used without CD-ROM or many cooling fans.
So while the system might draw 400 watts in our test system, placing it into your own PC with a number of other items, the draw is going to be higher.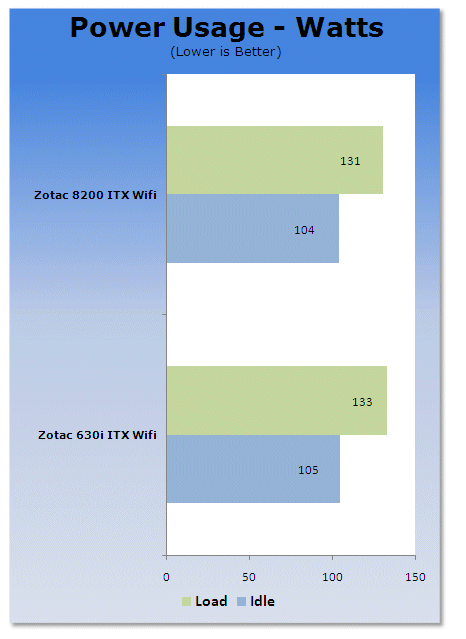 Power usage between the two systems is just about identical. This is not only good for AMD with its 65nm quad core CPU, but also good for Intel with higher clocks. If you're looking for the most power efficient HPTC setup, both of these boards are great.
Final Thoughts
ZOTAC has taken Mini-ITX and pushed it to the next level. VIA's original concept of a super small PC has really taken off and I will admit I am still in love with the EPIA series of boards. Not only are they small, but they are functional; now we see companies starting to really take Mini-ITX head on and push it the extra mile.
The GeForce 8200-ITX WiFi is an extremely impressive board, to say the least. First off, we'll go over its choice of processor. While Intel really does have the fastest CPU's on the market, they are still a bit higher than AMD in price as well. AMD may be lacking in the high performance market, but their CPUs are perfect for the HTPC and low cost applications and this is where this board is aimed. Thanks to the AM2+ socket, the board can accommodate any AMD K8 or K10 processor designed to use DDR2 memory. The NVIDIA GeForce 8200 chipset may not be the fastest or newest on the market, but its performance is still acceptable for a HTPC environment thanks to its support for HDMI.
The only thing we didn't like about this board was the lack of any dedicated digital audio output support out of the box. Sure, you could use the included DVI to HDMI adapter and a HDMI cable to transfer both video and audio through one cable, but a lot of people still don't have HDMI receivers and rely on either optical or coaxial S/PDIF. The board does have a 4-pin header for this ability, but you would need to purchase a PCI S/PDIF bracket seperately before you can make use of it.