Intel Core i7-8086K Coffee Lake Review
We think the 8086K is the best CPU for the Z370 platform and the best overclocking CPU we have seen from Intel.
Published Tue, Jul 10 2018 10:00 AM CDT
|
Updated Tue, Nov 3 2020 6:57 PM CST
Rating:

92%
Manufacturer: Intel
Introduction, Specifications, and Pricing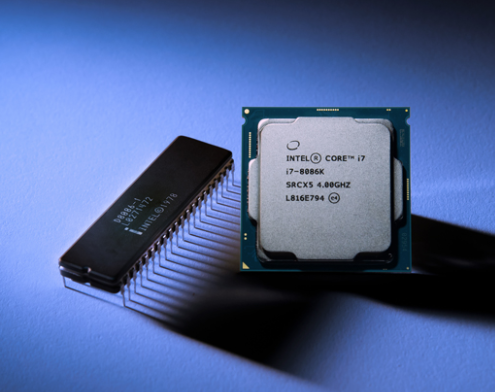 The i7-8086K was launched for the 40th Anniversary of the 8086 processor from Intel. It's a beefed up Coffee Lake CPU, and it's designed to fulfill the legacy of its predecessor. It's such a big deal that Intel gave away 8086 units out of a supposed 50K (Intel didn't confirm this number) for free around the world. Intel sent an ES sample our way for testing, and today we will go over the CPU and how it performs against the 8700K and other CPUs.
Specifications

If we compare the i7-8086Kto the 8700K, they are very similar, but the 8086K has a higher Max turbo of up to 5GHz, which is pretty high. Like the 8700K and 8700 the CPU has an all-core Turbo of 4.3GHz, so if you use all cores at the same time, you shouldn't expect any different results. The CPU has a 95W TDP, 12MB of SmartCache, and a base frequency of 4GHz. It supports up to 64GB of memory and is rated up to 2666MHz for official memory support.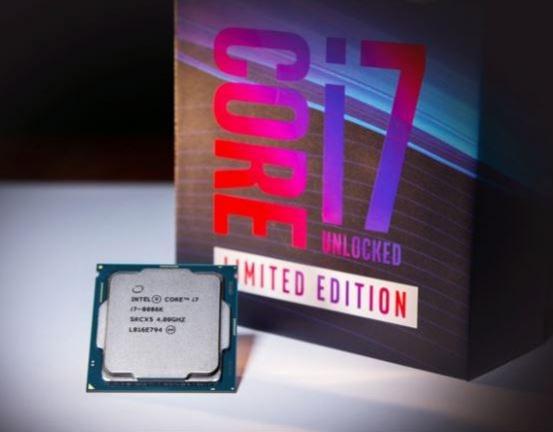 The CPU doesn't come with a cooler, so you will need to purchase one that can support up to or preferably over 95W. The CPU also has UHD 630 graphics.
Pricing
The Core i7-8086K is priced at $424.99.
The CPU and Test Setup
The CPU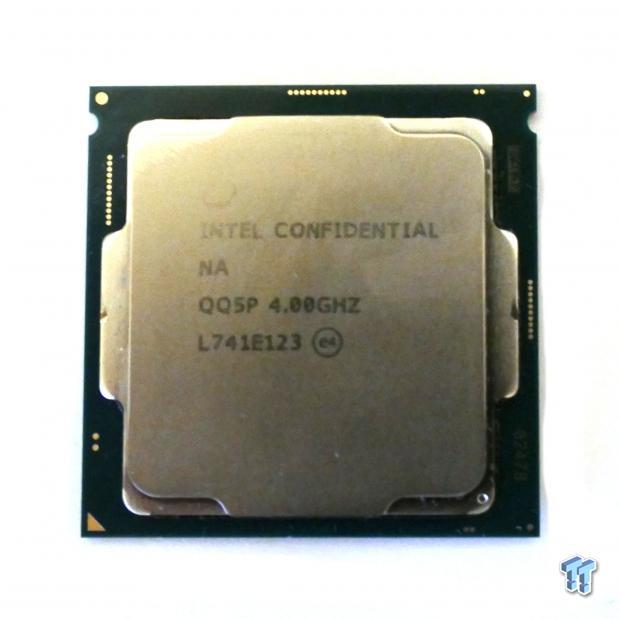 The top of the CPU is identical to that of the other Coffee Lake CPUs, and the integrated heat spreader is not soldered.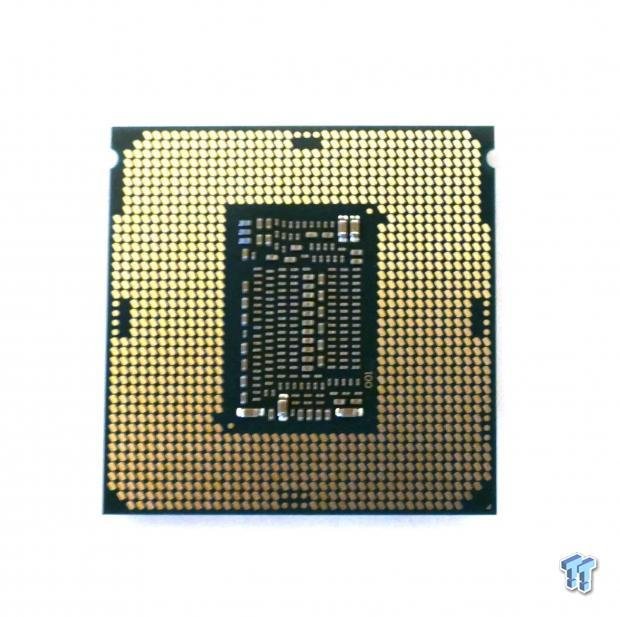 The bottom of the CPU is also identical to that of other Coffee Lake CPUs.
Test Setup
Out of the Box Performance: CINEBENCH, wPrime, and AIDA64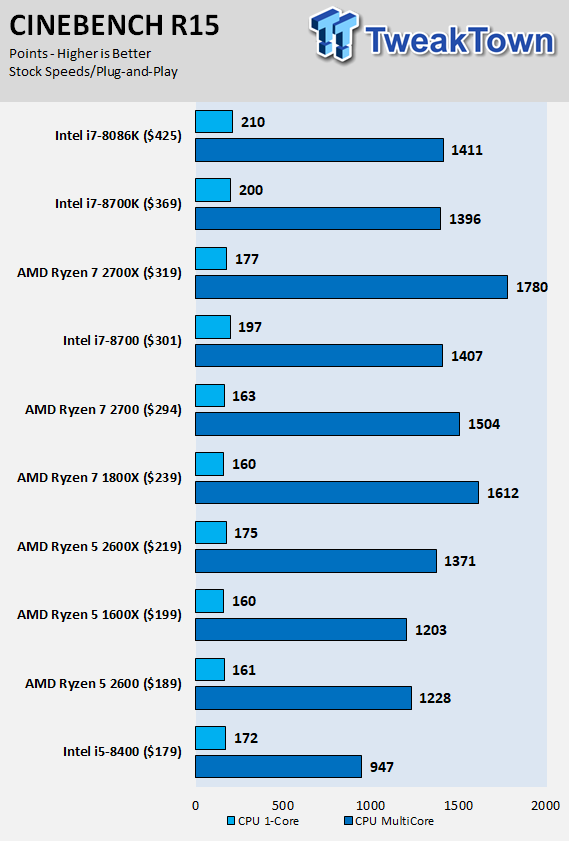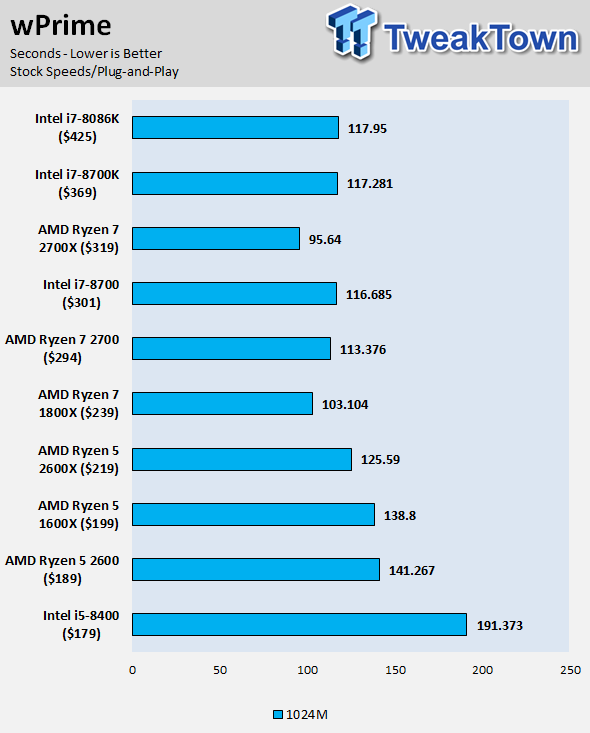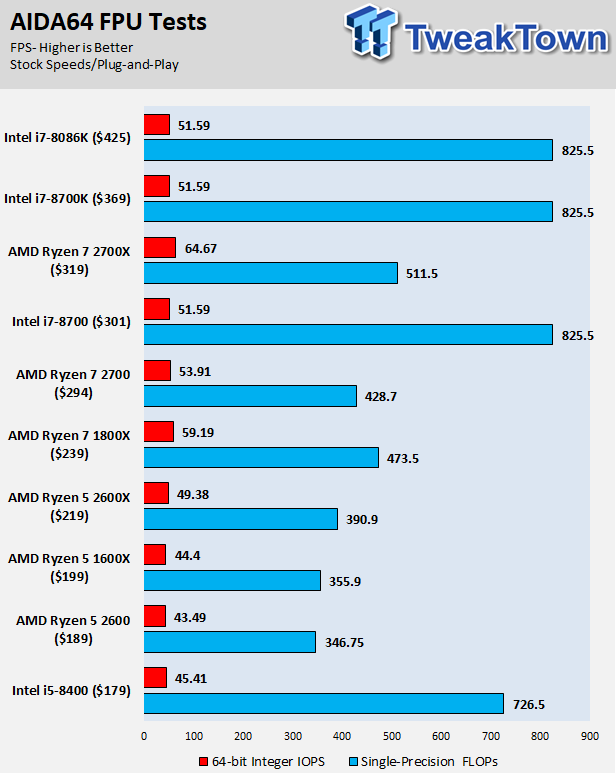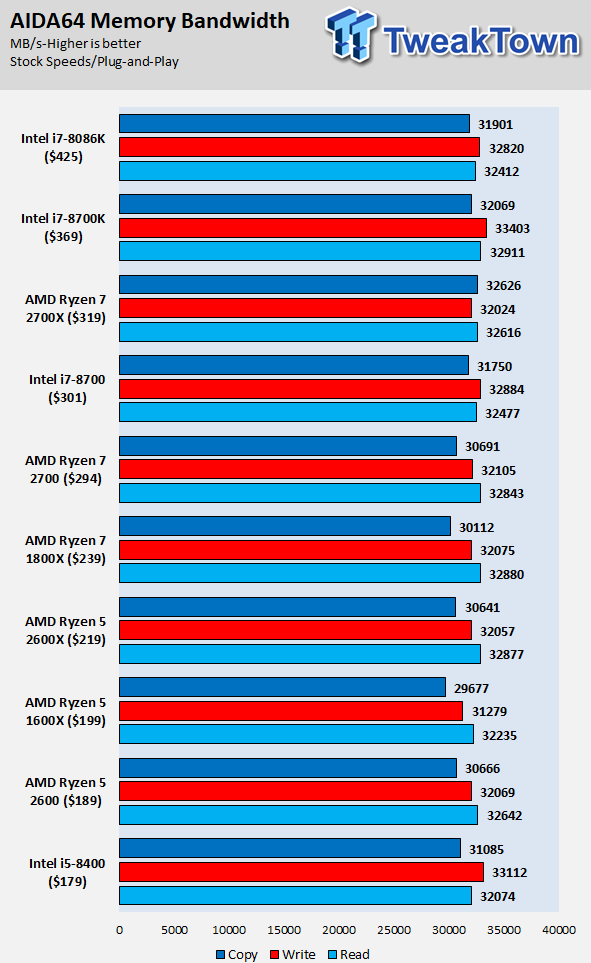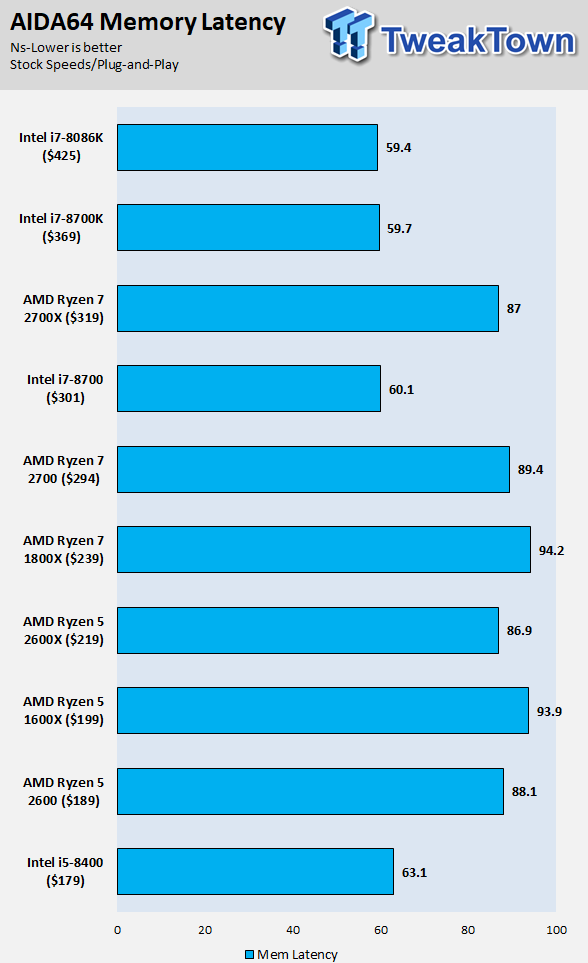 In CINEBENCH nT we see that the CPU performs very much like the 8700K and 8700 but in 1T the CPU does better, which is to be expected. We saw the same similar performance in wPrime and AIDA64 FPU tests. Memory latency and bandwidth is also eerily similar.
Out of the Box Performance: Handbrake, ScienceMark & More
Out of the Box Performance: Handbrake, SuperPI, and ScienceMark
HandBrake UHD Video Transcoder (x264)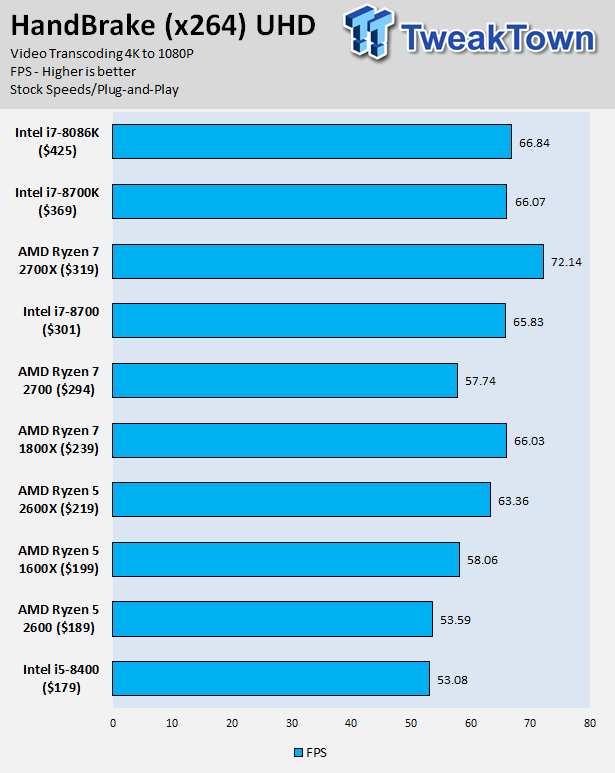 HandBrake HD Video Transcoder (x264)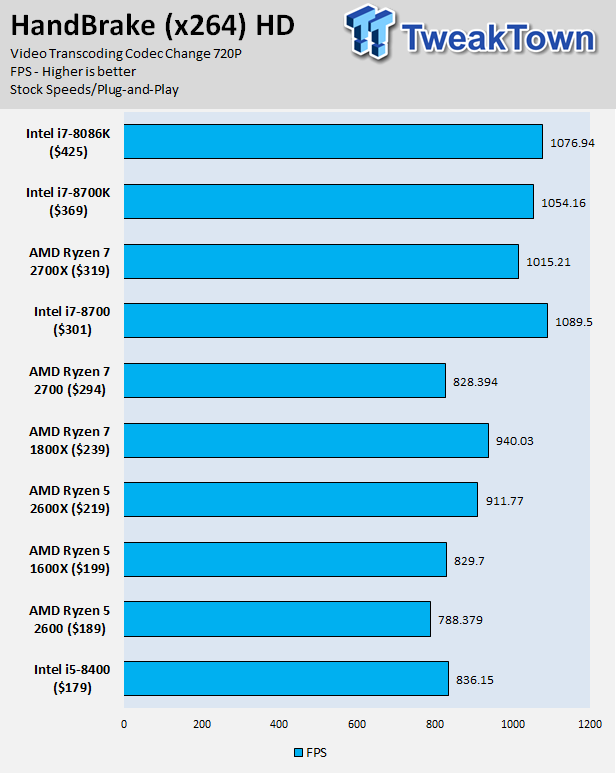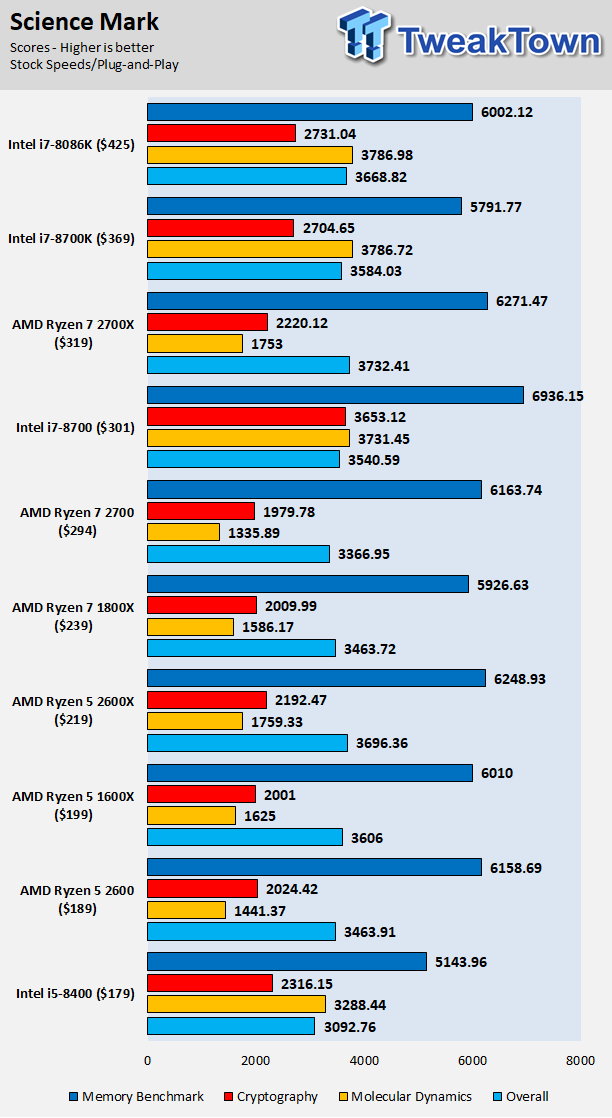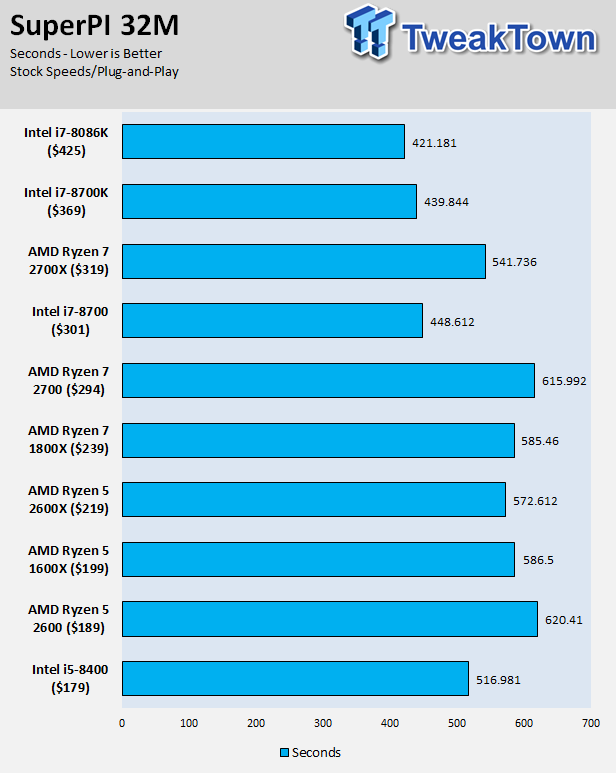 In Handbrake UHD and HD we see very similar performance since most of the cores are engaged, the best way to see the CPU's performance is to see a mixed test such as in games. We get slightly better performance compared to the 8700K in HD handbrake encoding. ScienceMark is a mixed workload of legacy tasks, and there we do see better performance due to core scaling. In SuperPI we see some of the best stock scores ever as a single core can go up to 5GHz, which is above and beyond anything else.
Synthetic Gaming Performance: UNIGINE and 3DMark
Out of the Box Synthetic Gaming Performance: UNIGINE and 3DMark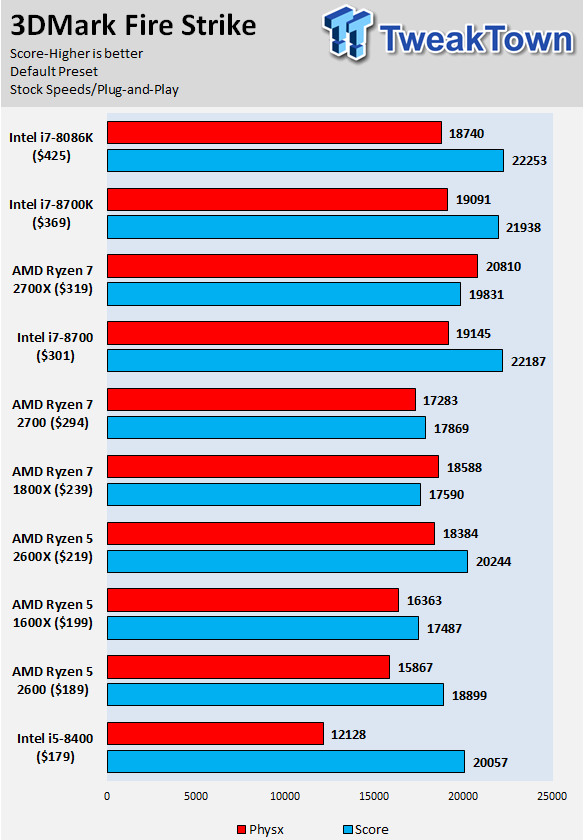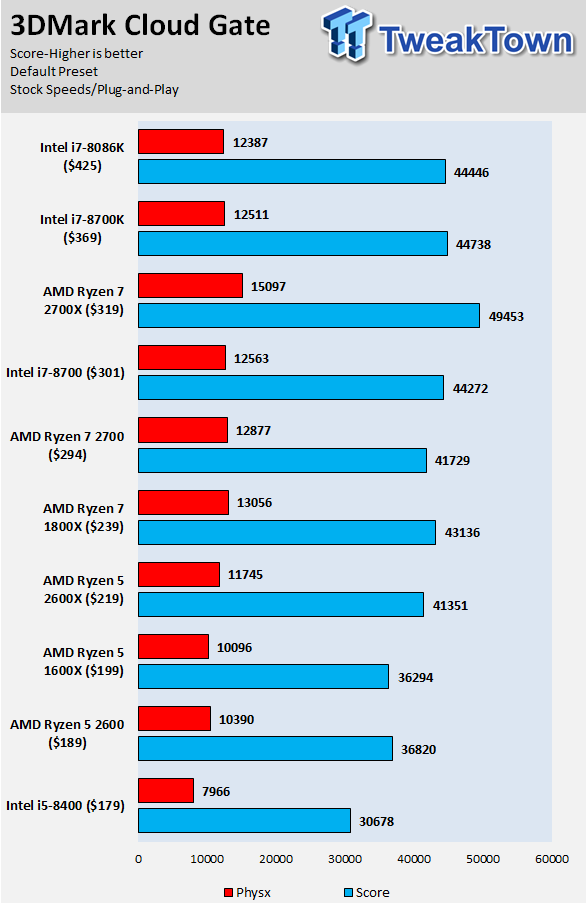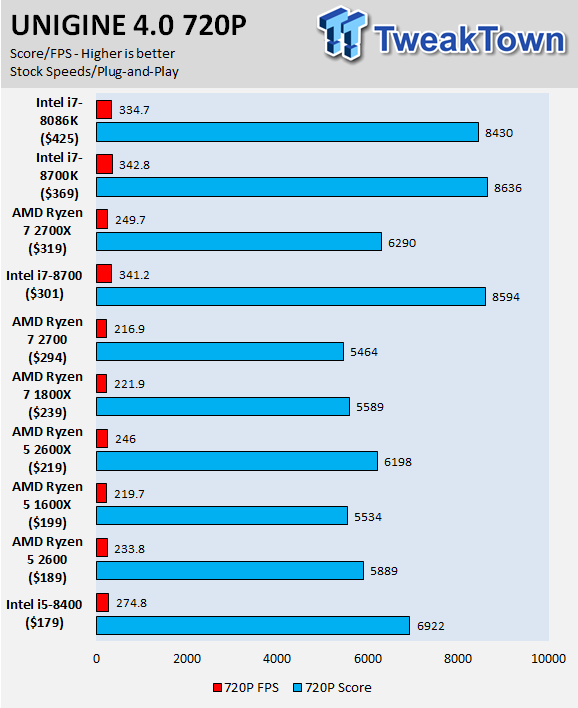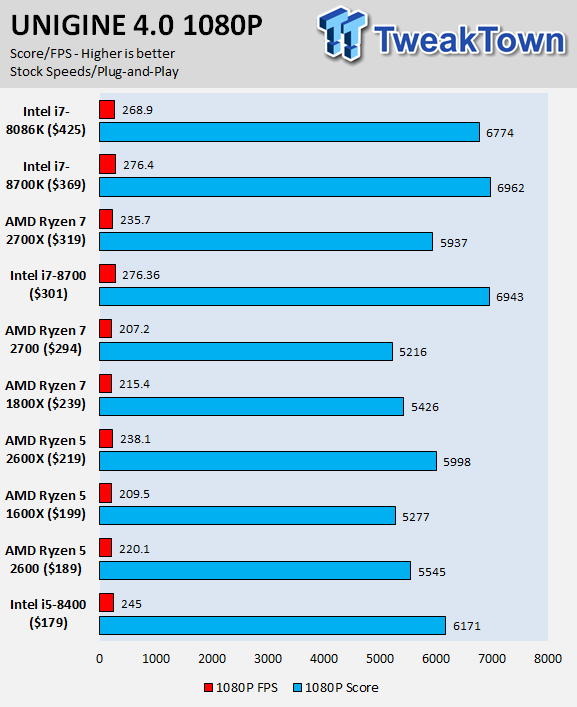 In synthetic benchmarks for gaming, we see very similar performance or perhaps even slightly lower, and this is similar to what we see in real-world gaming tests. Even so, the CPU is performing just like an 8700K
Gaming Performance: Resident Evil, Tomb Raider, GTA:V & More
Out of the Box Gaming Performance: Resident Evil, Tomb Raider, GTA:V, Ashes of Singularity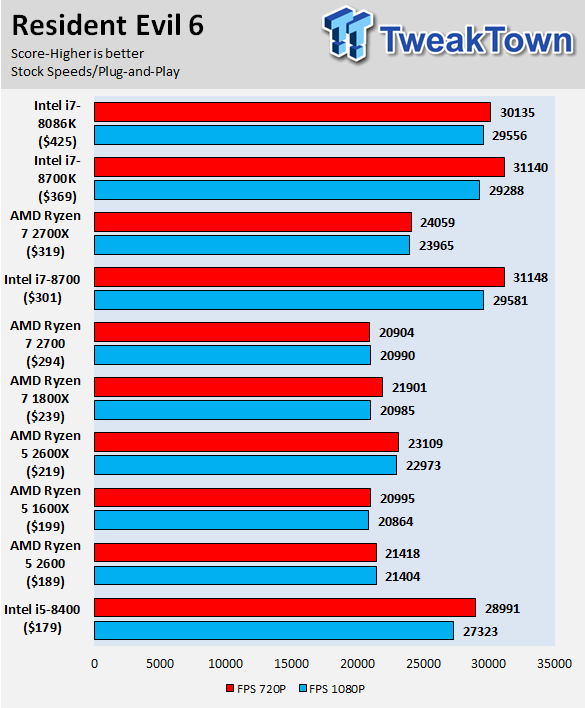 Rise of the Tomb Raider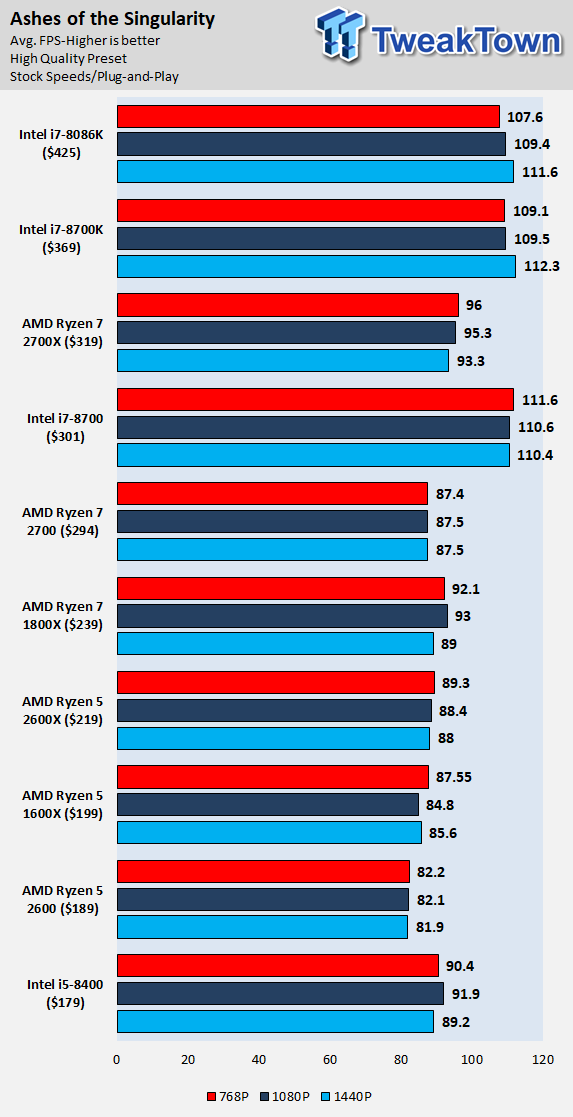 Ashes of the Singularity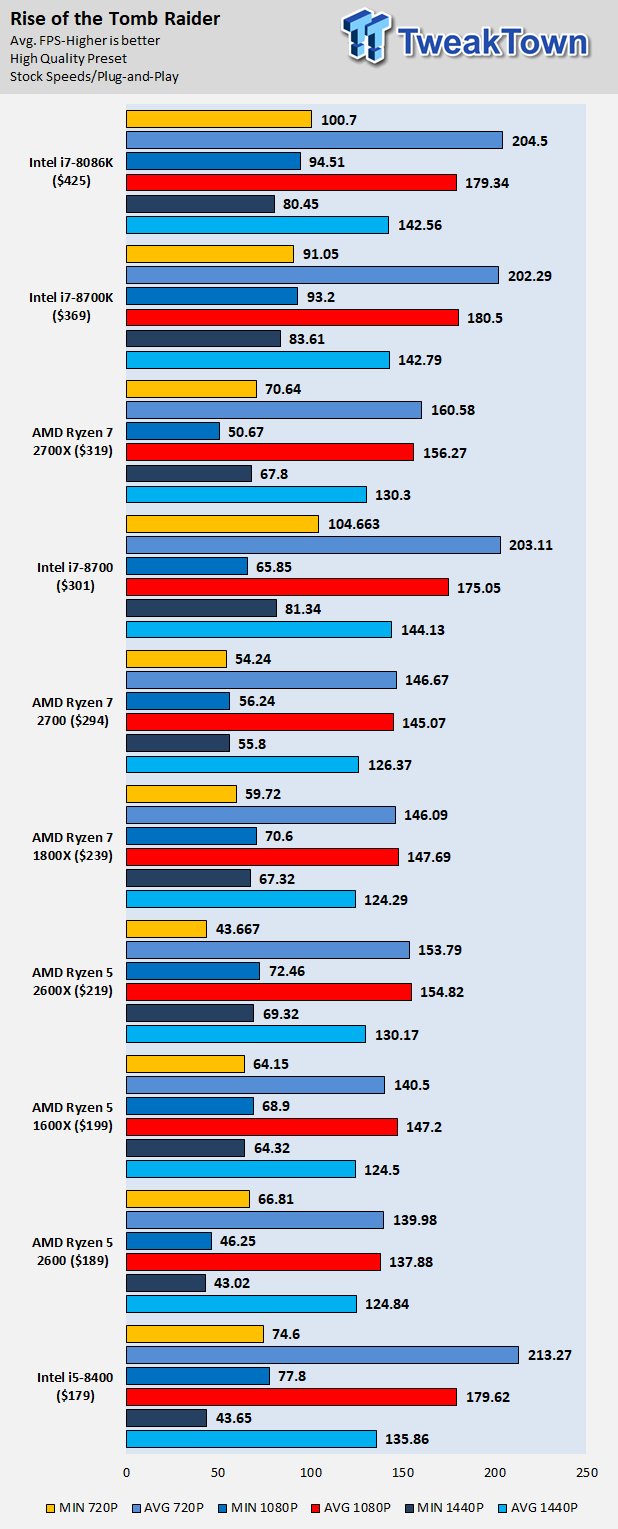 In all of our game tests we see the same thing, slightly higher minimum frame rates, but pretty much equal average frame rates to the 8700K and 8700. We expected this, as a few hundred megahertz boost isn't going to make a big difference on just a few cores.
Overclocking and Power Consumption
Power Consumption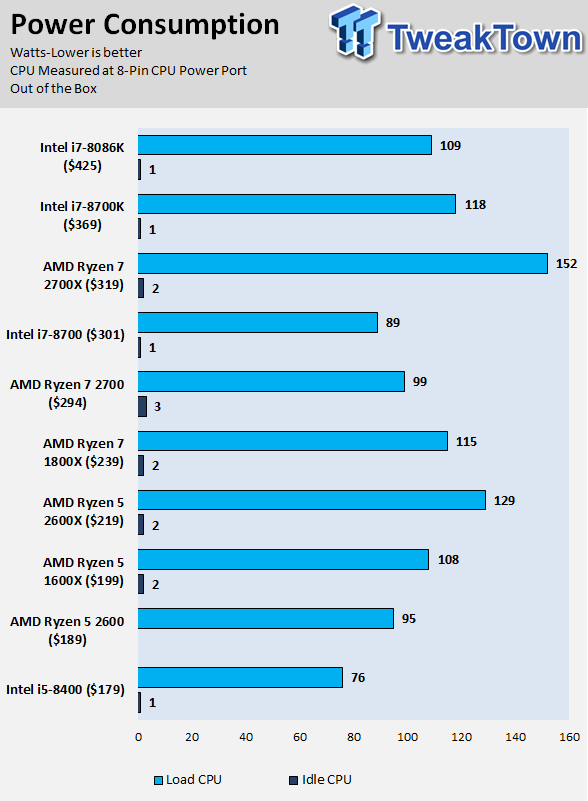 Our results here had to be investigated, and we found that the 10W difference is mainly due to differences in the VRM of the motherboard used to test either CPU. That 109W number is very close to the TDP rating, so at least there is no power cheating going on here.
Overclocking
Now, in the past, we have found that when the maximum single-core Turbo is randomly assigned to a core instead of statically (as in statically assigned CPU cores), that all cores can operate at the maximum at the same time. So if an 8700K can hit 4.7GHz on a single core, then all 8700Ks that we test can hit 4.7GHz with all cores at the same time. In fact, that's what multi-core enhancement does.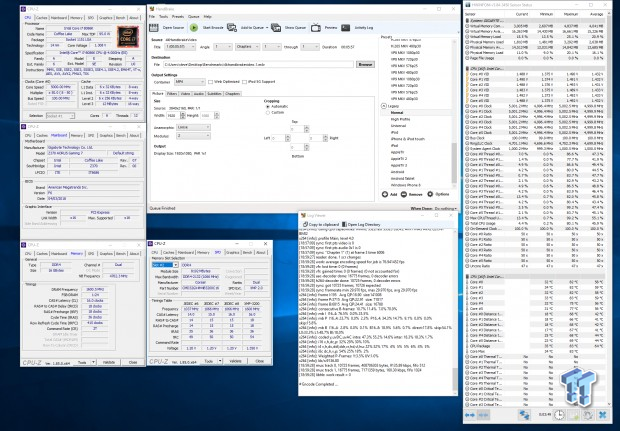 In this case, that should be 5GHz on all cores with low voltages, and we were able to achieve 5GHz on all cores with 1.25v. However, we wanted to go higher, and we were able to get 5.1GHz all cores with 1.3v, and without going into throttle range. We were able to boot into Windows at 5.2GHz, but the CPU could not pass out AVX based HandBrake stability testing. With better cooling, it should be possible to stabilize this CPU at 5.2Ghz, and with an easy de-lid, we see this CPU hitting 5.3GHz, or maybe even 5.4GHz.
What's Hot, What's Not & Final Thoughts
What's Hot
Excellent Performance: While we might see that the CPU performs just like the 8700K in many tests, it's still an excellent CPU. The 8700K might spoil us in many ways and slightly tint our view of this CPU, but this is a superior CPU if we look past the price difference.
High Single Core boost: The boost clock for a single thread is 5GHz, which is 300Mhz higher than the 8700K, and in tests where that difference is measured we see the 8086K pull ahead.
Overclocking : It seems that Intel went to the line and told their machines to bin the incoming CPUs as far as they could go, and they took those bins and branded them as the i7-8086Ks. It's evident that the 8086K is a better overclocker than the 8700K. While I was able to hit 5.0GHz for one or two runs with my 8700K, 5.1Ghz would barely get past POST, and 5.2GHz was impossible. This CPU boots into Windows at 5.2Ghz with ease, and easily posts at 5.3GHz but it cannot get past the Window's load screen at 5.3GHz. If you want 5GHz all cores, this is your best bet.
Limited Edition: While Intel won't confirm how many of these they made, the retail package, even unopened, it's destined to be a collector's item, as is the note inside signed by former CEO Brian Krzanich.
What's Not
Cost: At $50 above the 8700K you are seeing gains on paper you won't really notice in real life; instead you get a better overclocking CPU and a collector's item.
Final Thoughts
For now, the 8086K is the best CPU for the Z370 platform, and it's the best overclocking CPU I have seen from Intel. Overclocking is really the strong point of this CPU if you are looking at practicality. You are basically guaranteed a 5GHz OC on all cores (I do not promise that though...). The fact that this is a collector's item also adds to its value, and you will need to consider whether or not that is enough to spend an extra $50.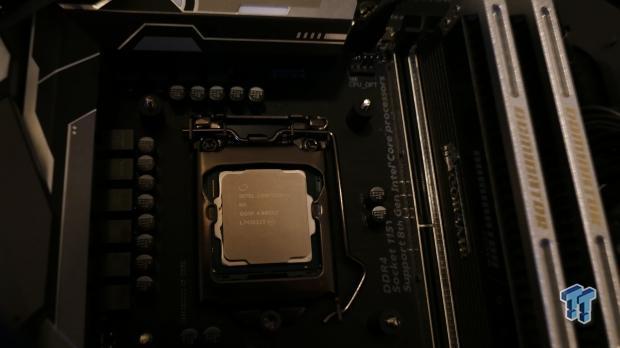 Now, if you do a lot of single core stuff, like working with audio editing, then this CPU is actually worth it. However, if you want to save $50 and don't care about hitting 100-200MHz higher on all cores and the fact that it's a collector's item, then you should probably venture towards the 8700K. That being said, the 8086K is a very cool CPU, and we are recommending it as our favorite overclocking pick! It's basically hitting the overclocks people saw with Sandy Bridge, but with the increased IPC from Coffee Lake (well Skylake).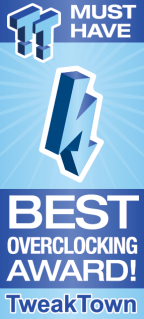 | | |
| --- | --- |
| Performance | 98% |
| Quality | 91% |
| Features | 92% |
| Value | 87% |
The Bottom Line: The Intel i7-8086K is a beast of an overclocker ready to handle whatever you can throw at it now, and then sit in a trophy case after it retires.
PRICING: You can find products similar to this one for sale below.

United States: Find other tech and computer products like this over at Amazon.com

United Kingdom: Find other tech and computer products like this over at Amazon.co.uk

Australia: Find other tech and computer products like this over at Amazon.com.au

Canada: Find other tech and computer products like this over at Amazon.ca

Deutschland: Finde andere Technik- und Computerprodukte wie dieses auf Amazon.de