Netgear Nighthawk XR500 Gaming Router Review
Netgear pulls out all the stops for its gaming platform router.

Published May 5, 2018 12:00 PM CDT
|
Updated Tue, Nov 3 2020 6:57 PM CST
5 minute read time
TweakTown's Rating: 92%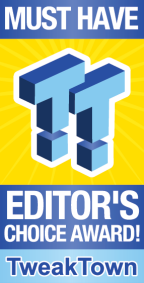 The Bottom Line
In partnership with NetDuma, Netgear has taken its XR500 platform to another level creating the most feature rich platform without a single sacrifice in performance or design.
Introduction & Pricing, Availability and Specifications
Netgear has perhaps one of the most complete router lineups much of which, we have reviewed here at TweakTown. Within this lineup, the Nighthawk brand is likely the most recognizable by consumers as it encompasses both mid-range platforms and gamer or enthusiast platforms. That said, across this entire lineup we had got used to Netgear deploying its "genie" OS/firmware and while it carried all the features needed for the typical consumer, it didn't have that edge gamers look for.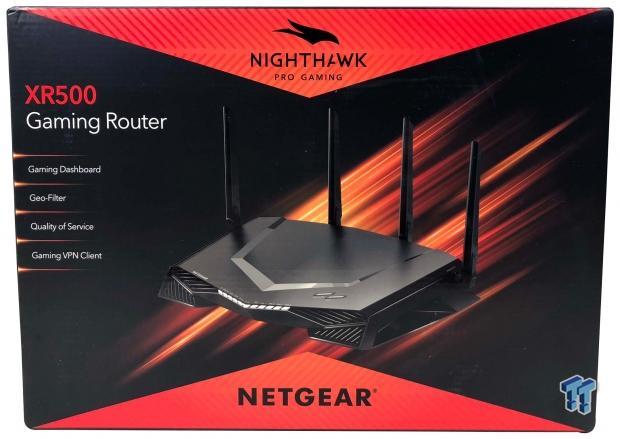 With the Nighthawk XR500 Netgear has gone all in, partnering with NetDuma, the company behind the R1 back in 2014, to create a feature-rich gaming platform. This includes a geo-filter to guarantee you connect to a host close to home, Anti-Flood technology to eliminate congestion caused by excessive downloading and the ability to set per device bandwidth with QoS.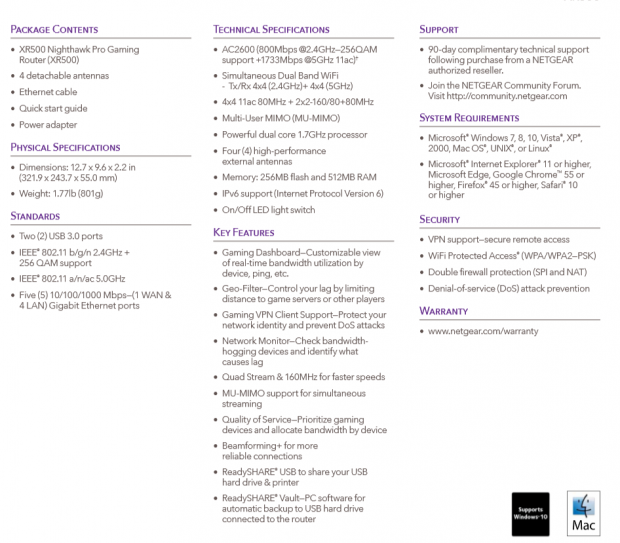 On the hardware side, Netgear pulled from their archives the Nighthawk X4S giving the new XR500 a solid base. This means we have the QUALCOMM IPQ8065 Dual-Core SoC operating at 1.7GHz as the heart of this platform. Its paired with 512MB of memory and 256MB of NAND Flash. Wi-Fi is controlled by two QCA9984 Radios and the QCA8337 switch. Connectivity includes 800Mbps on the 2.4GHz band with 256QAM and 1733Mbps on the 5GHz band. Wired connections include five-gigabit ethernet ports one dedicated to WAN and two USB 3.0 ports for storage.
MSRP of the Netgear Nighthawk XR500 comes in at $299.99 with a three-year warranty.
Router Details
Nighthawk Gaming Router XR500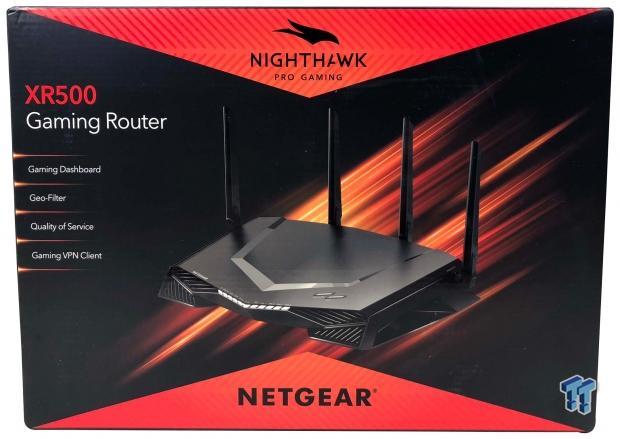 Packaging for the XR500 is completely redesigned with an edgy vibe. Centered we have an image of the router with features to the left.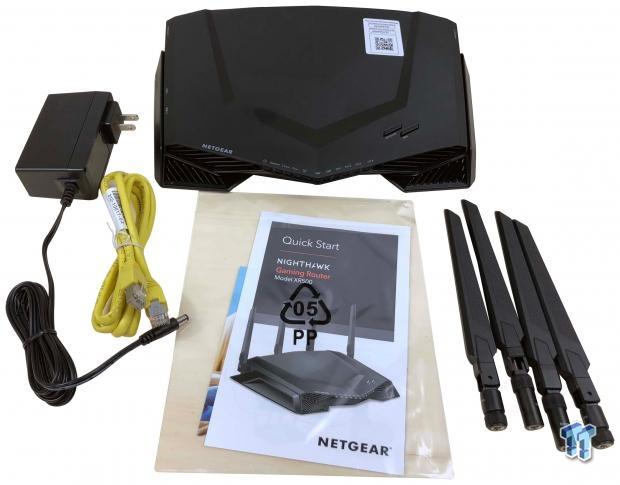 The scope of delivery includes the power adapter, ethernet cable and antennas.

The design of the XR500 is a little more aggressive than past nighthawk platforms. It really reminds me of a cross between the F117 Nighthawk and F35 with its aggressive venting. That said, we have a full array of LEDs across the front along with two buttons up top for disabling Wi-Fi and WPS.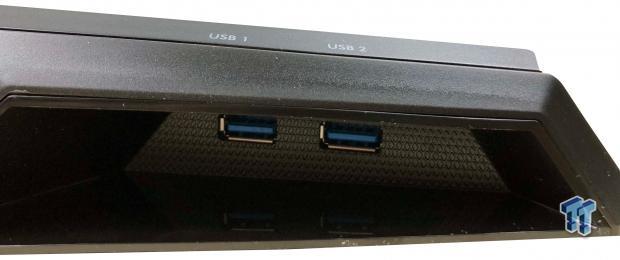 On the left side, you will find both USB 3.0 ports with plenty of space between them and around for connecting flash drives and other external storage.

On the backside, we have a LED switch to the far left followed by reset and the five gigabit Ethernet ports, the antenna SMA connections are numbered to the appropriate antenna. Closing things out on the far right we have power input at 12v 3.5A and a power on/off switch.
Management GUI Details
DumaOS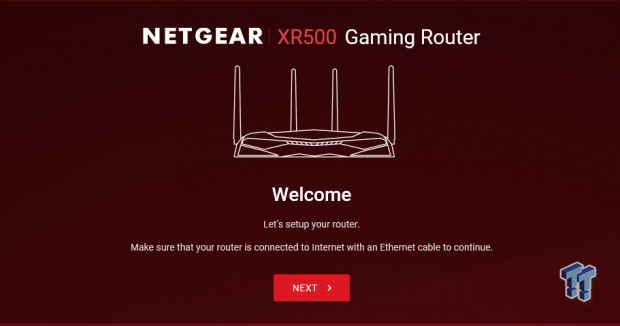 Setup starts off the same as any router platform, with a wizard to guide you through.

The first step has the router checking your internet bandwidth, mine is shown above.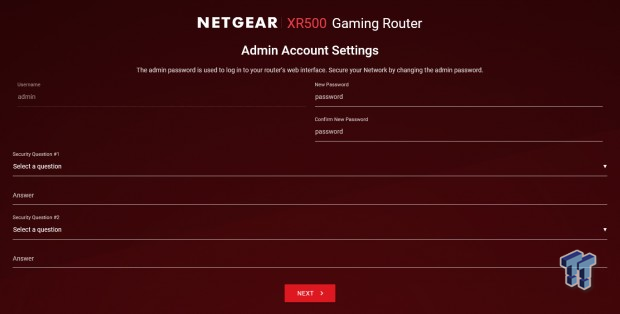 We then go through setup of the administrator account.

This gets us to the dashboard seen above. At first this interface is overwhelming but as you look things over it gives you an amazing amount of insight on network traffic in the large graph at the bottom and how the router is handling it with CPU usage to the right. We have wireless networks listed in the top two boxes on the top right and guest networks in the top center.

Geo-Filter allows you to select devices that you want to limit in terms of connectivity to game hosts. As you can see I have all three of my main gaming platforms at the top and the bottom I have a range of 1500 miles selected to get the best ping times.

QoS includes both the ability to set bandwidth per device as seen at the bottom and enable anti-buffer bloat which will prevent anyone device from taking the full throughput of your broadband connection.

The network map gives you a layout of your home network by connection.

Next, we have snapshot and overview which gives two graphs on bandwidth utilization by device.

System information breaks the screen into more graphs showing more in-depth CPU, RAM and Flash usage along with network status top to bottom.

Wireless settings include the ability to change SSID, channels and passwords.

Traffic monitor keeps track and notifies you if you get close to your data cap.

USB Storage gives access to the staple, ReadyShare Storage and Vault along with a DLNA compatible media server.

Advanced wireless is more fine tuning for those interested. You can disable wireless radios here or turn your 5GHZ band HT160 feature on or off.
Test System Setup & Benchmark Throughput Tests
Tyler's Router Test System Specifications
Wired Throughput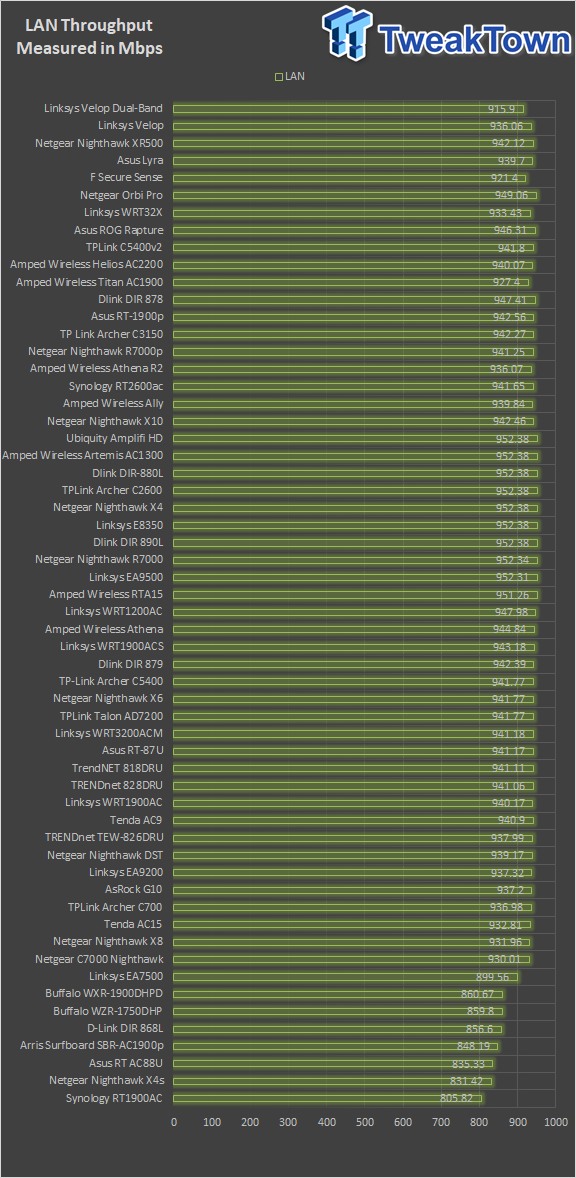 At this point, we are nearly 60 routers deep in our charts and for the most part LAN performance usually maxes out wired gigabit capabilities. That said the Nighthawk XR500 keeps with the trend offering 942Mbps.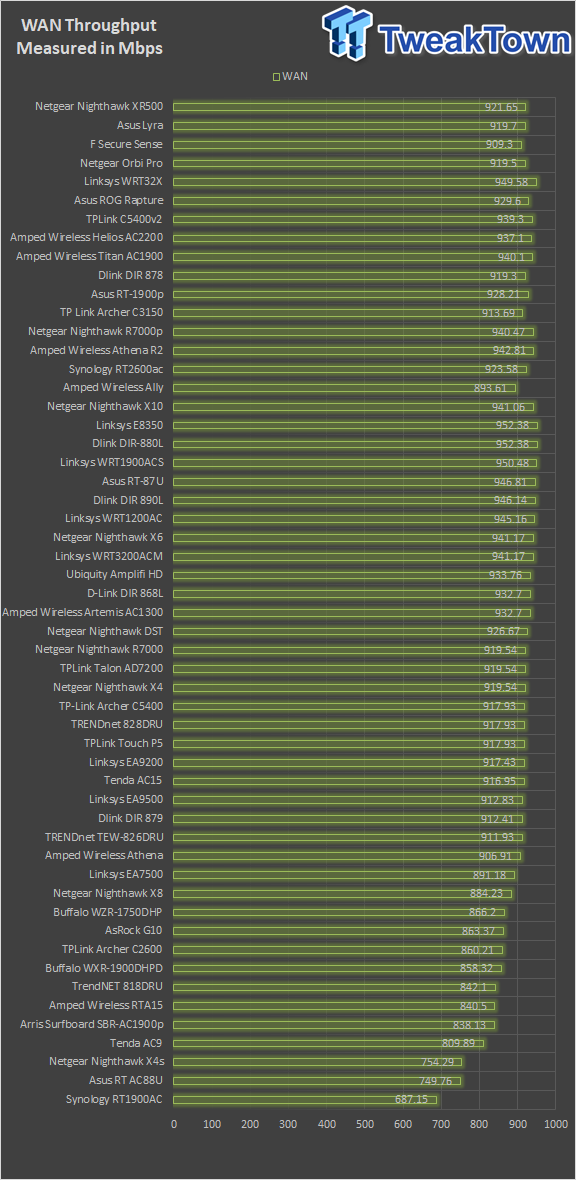 WAN throughput came through at 921.65Mbps
Wireless Throughput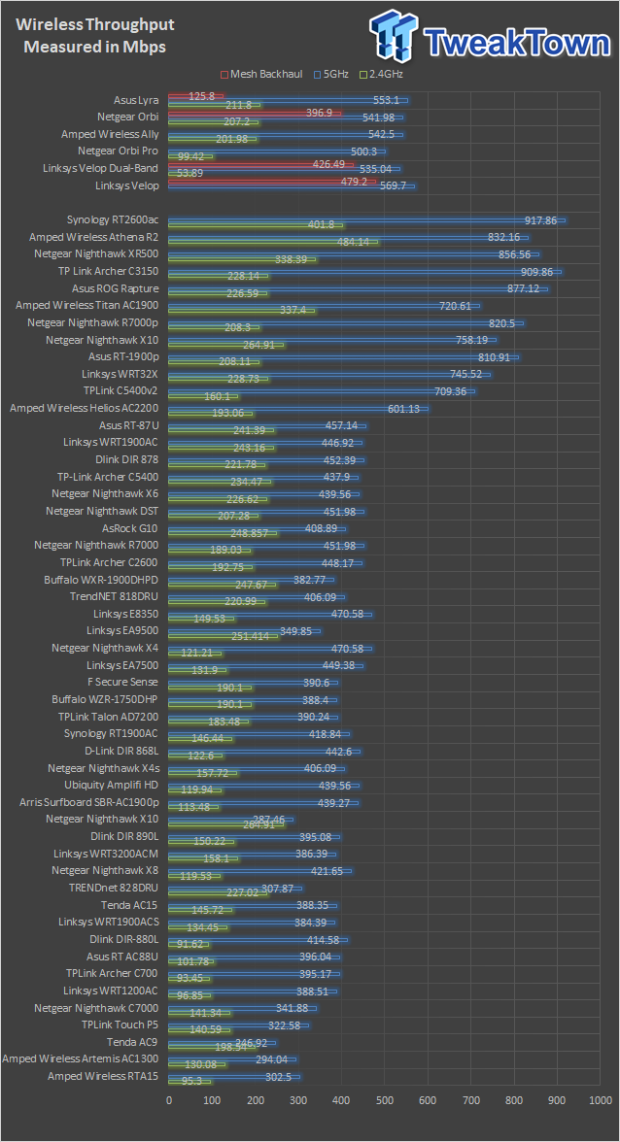 The XR500 was pretty impressive in its wireless performance with 338Mbps on the 2.4GHz band and 856Mbps on the 5GHz band, 3rd place out of all routers tested.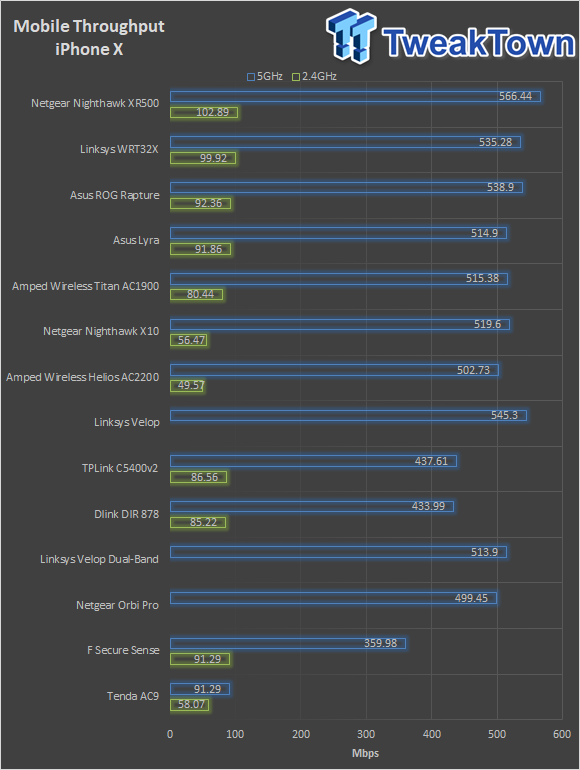 Mobile throughput was pretty good as well, reaching 102Mbps in 2.4GHz and 566Mbps with 5GHz,1st place as of this writing.
Benchmarks - Stress Test and File Performance
Wireless Range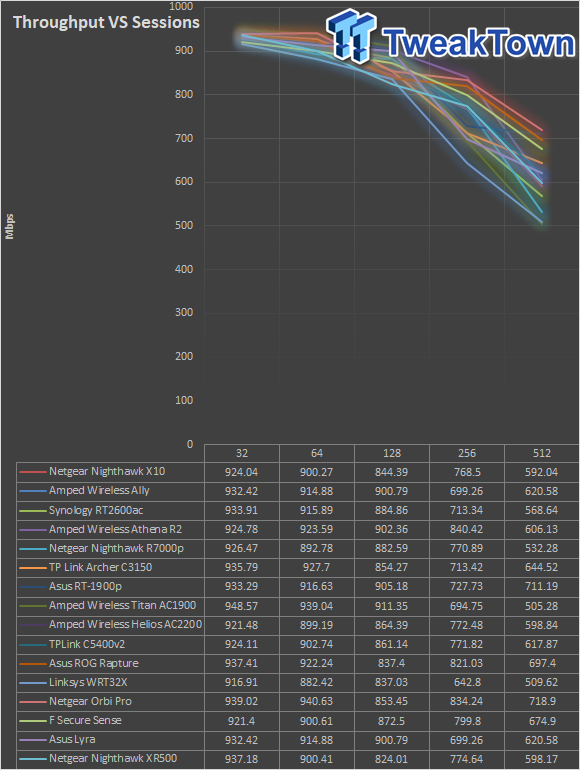 Putting the XR500 through its paces, we start our sessions test to see how well the router handles traffic. Starting off at 937Mbps we move to 64 sessions where we see a small drop to 900Mbps. At 128 session we drop a little more to 824Mbps and at 512 session we end at 598Mbps.
File Performance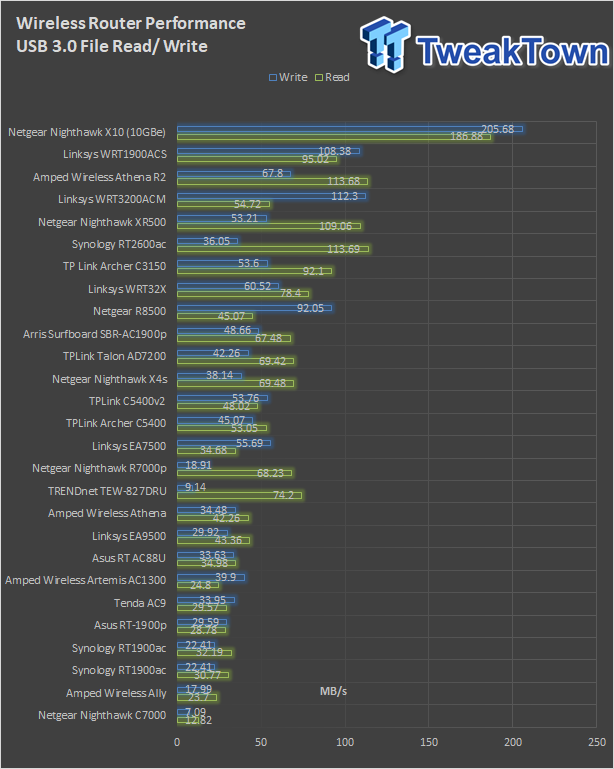 Storage performance has always been a strong suite for Nighthawk routers but the XR500 steps up its game giving a top 5 performance with 109 MB/s read and 53 MB/s write.
Final Thoughts
I have been following the Nighthawk brand since March of 2014, in those now four years, we have seen so many platforms come through the lab, the mind boggles. That said, the Nighthawk solutions, for the most part, stick out not only for the design of some models i.e. the X6, X8 and X10 but for the raw horsepower Netgear put into them.

That said, the interface always needed a bit more as it was just a carryover from the ReadyNAS platform. With the XR500 and Netgear's partnership with NetDuma, I think they hit the nail on the head as this platform carries the perfect mix of aggressive gaming styling and modern enthusiast level software that's intuitive and easy to use even for the novice.
As I stated when going through the software, the interface is overwhelming as hell when you first land on that dashboard but it quickly becomes easy to navigate and well thought out as your brain catches up to all the diagnostic data being thrown at you. Adding to this the level of features included in this platform is amazing and from what I can tell in my own testing both the QoS and Geo-filter work great for both Xbox and PS4.
Performance speaks for itself, the XR500 hit all the marks for wired performance with 942Mbps LAN to LAN and 921Mbps WAN to LAN. Wireless performance was some of the best we have seen, 338Mbps for 2.4GHz and 856Mbps for 5GHz and our iPhone X returned chart leading 566Mbps for mobile throughput. USB Storage testing showed the XR500 to perform amazingly well in read performance reaching 109 MB/s with slightly lower write at 53 MB/s.
In closing, I am impressed by the XR500 not only for its design or its performance or even its amazing software but that Netgear put it all together, giving us the consumer, the best damn 802.11ac router ever made.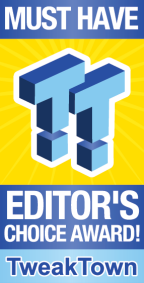 | | |
| --- | --- |
| Performance | 92% |
| Quality | 90% |
| Features | 96% |
| Value | 90% |
The Bottom Line: In partnership with NetDuma, Netgear has taken its XR500 platform to another level creating the most feature rich platform without a single sacrifice in performance or design.
PRICING: You can find products similar to this one for sale below.

United States: Find other tech and computer products like this over at Amazon.com

United Kingdom: Find other tech and computer products like this over at Amazon.co.uk

Australia: Find other tech and computer products like this over at Amazon.com.au

Canada: Find other tech and computer products like this over at Amazon.ca

Deutschland: Finde andere Technik- und Computerprodukte wie dieses auf Amazon.de
We openly invite the companies who provide us with review samples / who are mentioned or discussed to express their opinion. If any company representative wishes to respond, we will publish the response here. Please contact us if you wish to respond.