AMD Ryzen 7 2700X and Ryzen 5 2600X Review
AMD increases the threat against Intel with their new Ryzen 7 2700X and Ryzen 5 2600X processors.
Published
12 minute read time
TweakTown's Rating: 94%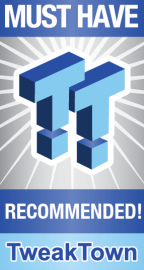 The Bottom Line
AMD's Ryzen 7 2700X and Ryzen 5 2600X are much more powerful than their predecessors and bring significant value and performance improvements to AMD's arsenal.
Introduction, Specifications, and Pricing
AMD's 2nd Generation of Ryzen processors has finally landed, and today we are going to give you our impressions of AMD's new products as well as performance numbers. The new processors are part of AMD's Zen+ product line, so please don't confuse it with Zen 2, which is a different microarchitecture. The real deal here is that AMD has moved towards a 12nm process, and they have improved many things on the processor, including maximum frequencies. So let's see how much AMD does against Intel's Coffee Lake processors in regards to gaming and productivity.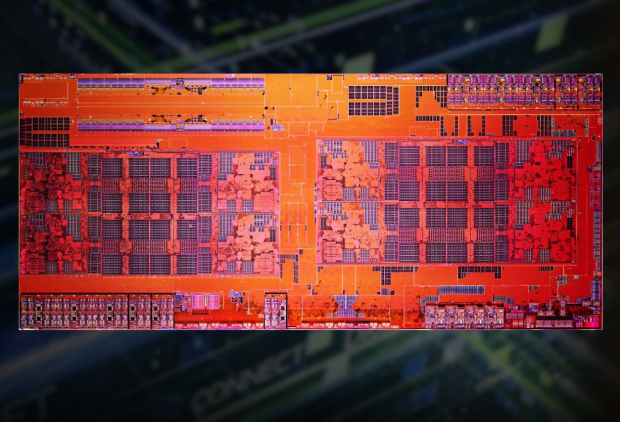 Today we will look at two new CPUs, the 2700X and 2600X, but AMD is also releasing the 2700 and 2600 processors for roughly $30 less than the "X" counterparts.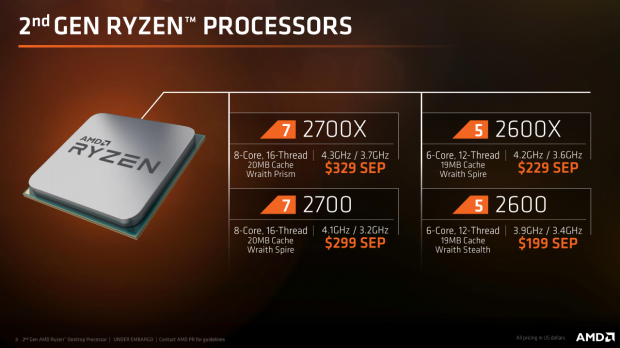 The question of whether or not AMD will launch a 2800X has been asked many times, but the slide above points to the 2700X as the replacement for both the 1800X and 1700X. It's very possible that AMD is either waiting for better yields to increase frequency for a 2800X, or they are keeping that specific SKU for a higher-end platform like the X399 platform. It would make sense, as the 1900X and 1800X were pretty similar in certain regards, and that could have confused potential buyers.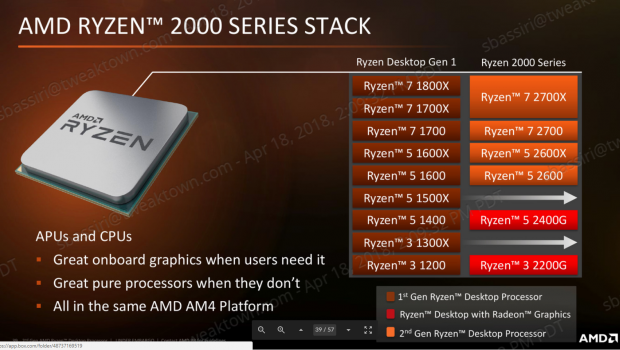 Specifications
The internal microarchitecture has not been changed, just optimized, and we have the same transistor count as Ryzen 1000 series CPUs. JEDEC memory speeds have been increased to 2933MHz, and we see some TDP boosts. The Ryzen 7 2700X will have a 105W TDP.

The 2700X will have 8 cores and 16 threads with a base clock of 3.7GHz and a max boost up to 4.3GHz while the 2600X will offer up 6 cores and 12 threads with a base of 3.6Ghz and boost up to 4.2GHz. Both CPUs have similar L3 cache sizes, but L2 and L1 cache are per core, so the 2700X has 1MB more L1/L2 cache.
Pricing
The Ryzen 7 2700X will cost $329, and the Ryzen 5 2600X will cost $229.
Process and Product Improvements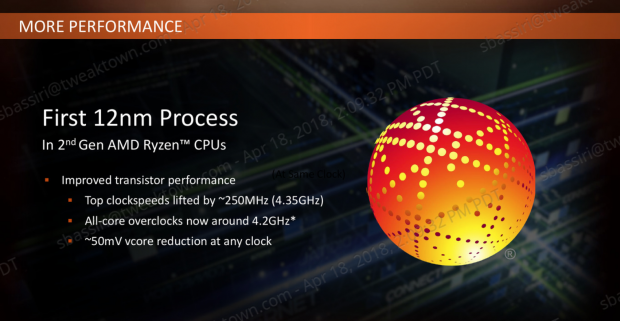 AMD is using Global Foundries 12nm LP process for their new CPUs. AMD has reported a 250MHz lift in clocks, with all core overclockers around 4.2GHz. We also see an estimated 50mv reduction at any clock, so if you were able to maintain 4GHz at 1.35v on a 1800X, then you should be able to do 4GHz at 1.3v with a 2700X.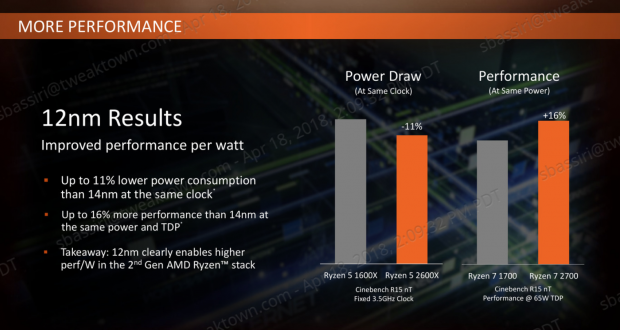 The chart above shows that at the same clock speed (3.5Ghz) the 2600X uses 11% less power than the 1600X. At the same power (65W), it offers 16% better performance. These gains are impressive.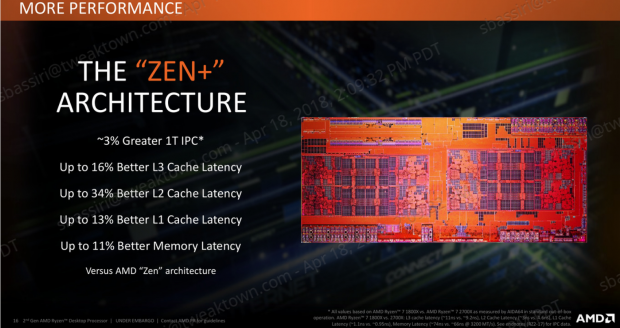 Major improvements were made to improve latency, both in the cache and memory. One of Ryzen's biggest problems was latency, and it seems that they have sped this up. They were able to reconfigure different transistors with higher performance but higher leakage in certain pathways to improve overall latency performance that helps IPC. AMD states they have gained 3% more IPC out of the 2700X compared to the 1800X.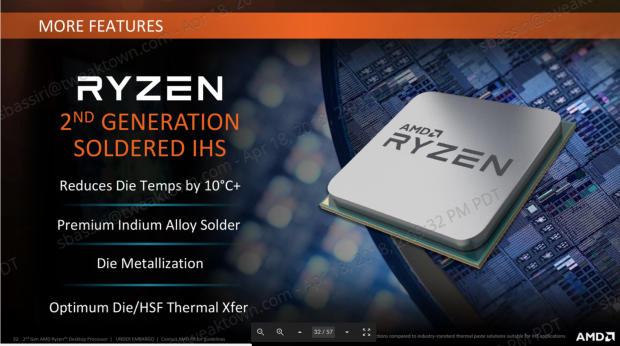 AMD also maintained a solder internal heat spreader, which should make many people quite happy since it will help with overclocking.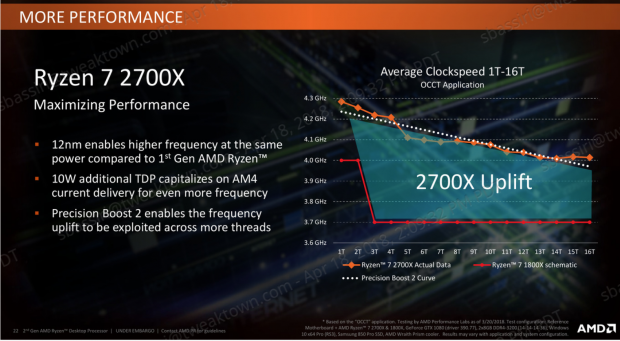 AMD is also offering up Precision Boost 2, which has made a big difference in regards to overall performance. On the 1800X you would get two cores boosted up to maximum, and then once you used more than three threads, the CPU would drop to a significantly lower multiplier. That isn't the case anymore, the CPU won't just automatically drop frequencies because of thread usage, it will scale more linearly, and this is due to the improved process allowing for higher frequencies.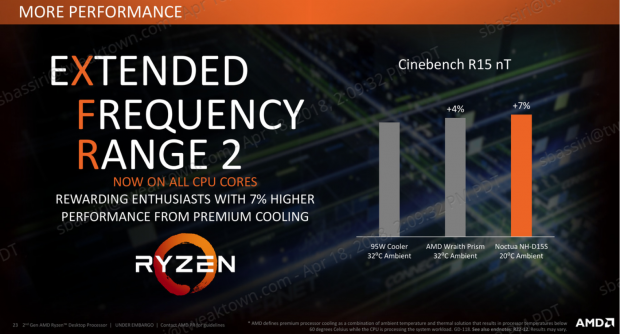 Now, we know that Precision Boost 2 will scale cores depending on thread usage much better than it's predecessor, but now we will talk a bit about XFR 2. Extended Frequency Range 2 utilizes the CPU's internal sensors, especially temperature, to allow for higher performance. If you cool down the processor well, it will basically overclock itself up safely. With the 130W capable Wraith Prism, you will get 4% more performance than if you used a 95W cooler. If you reduce ambient temperature even more with a beefier cooler, you can get 7% more performance with XFR 2.
Cooler and Platform Improvements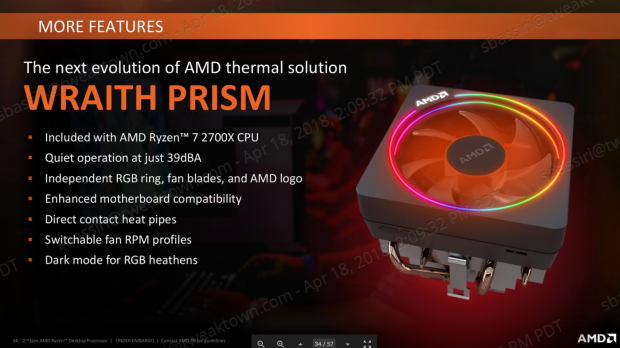 AMD also includes the Wraith Prism with the 2700X, and it's actually a very beefy cooler, perhaps the beefiest included with a CPU. It also has some neat RGB LEDs. I was told it's rated for 130W. The new cooler offers direct cooper to heat spreader contact, and it works quite well. It might be the most impressive in-box cooler we have ever seen. The RGBs are actually quite nice as well.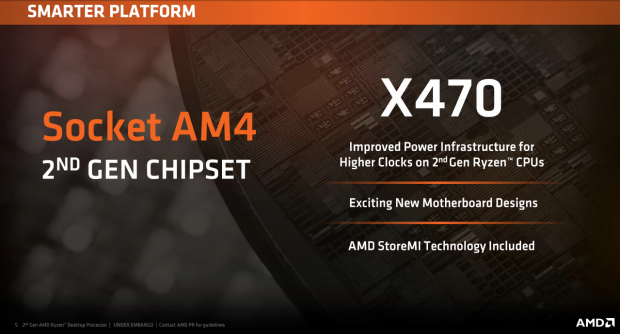 AMD is also offering X470 motherboards along with the new processors. These new X470 motherboards have improved VRMs for overclocking, and many of them should offer much better memory overclocking. A lot of bugs and problems in the X370 chipset were solved as well, and vendors have done some interesting things on their new boards. You will also get out of the box support for the new 2000 series motherboards, while a 300-series chipset might require a BIOS flash. Now, here is the kicker, if you have a motherboard that has a BIOS compatible with Raven Ridge, you will have boot up support. That means you will be able to boot up into the BIOS (but not anything more) to perform a BIOS flash to fully support the new CPUs.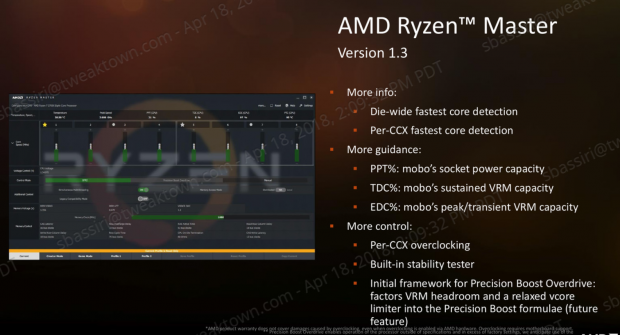 AMD has also improved Ryzen Master to version 1.3. They have added on-die OC detection, so using each core's individual characteristics they can tell you which core is best. The core with the gold star is your best, then the silver star, and then those with a round silver circle are 3rd best. You will also get per CCX overclocking, a built-in stability tester, and support for Precision Boost Overdrive, which is like multi-core enhancement for AMD. Precision Boost Overdrive can also be found in the AMD CBS menu in the UEFI under platform features. AMD also added in three metrics that measure the motherboard's VRM performance, although that is self-reported by the PWM.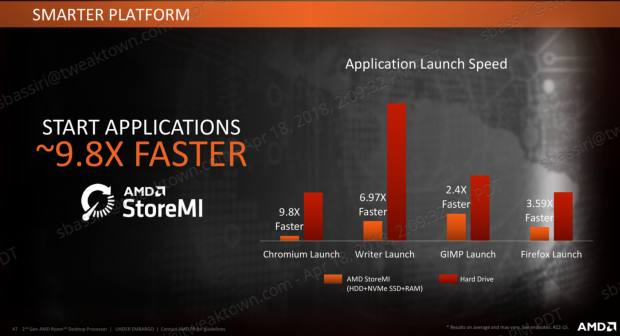 AMD also took a decent amount of time to introduce us to SenseMI, which utilized software to improve the performance of data storage. It should greatly accelerate a hard disk drive while offering NAND-like speeds. It's available with X470 motherboards.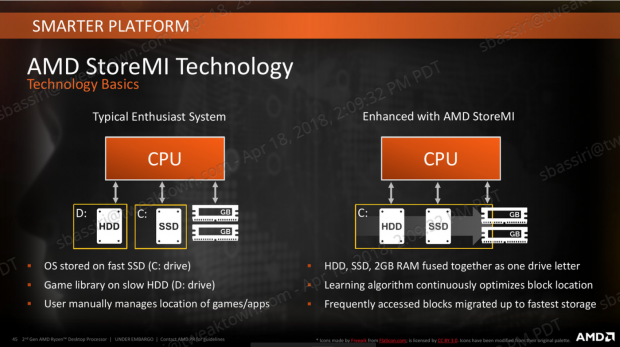 The software will basically combine your storage tiers with RAM so that you could fuse together a 256GB SSD, a 2TB HDD, and 2GB of RAM into a single drive. It also supports the use of Optane memory, which has a similar function on Intel platforms.
The CPUs and Coolers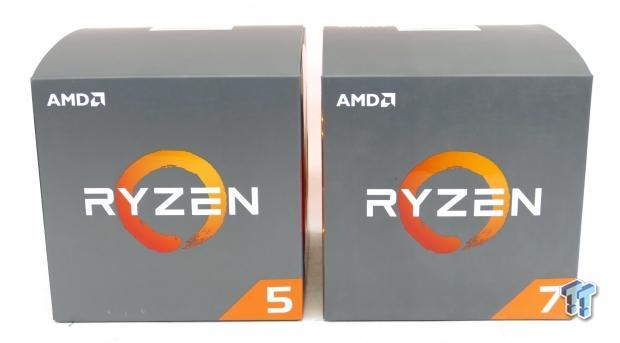 There isn't too much to see here as the box has remained unchanged from initial Ryzen release.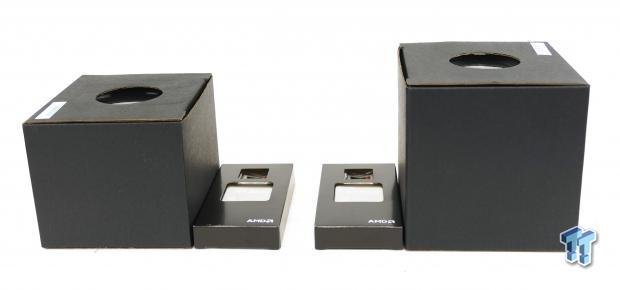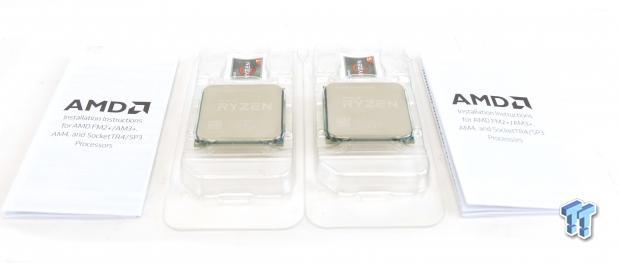 Packaging has also remained unchanged; the coolers are boxed separately from the processors.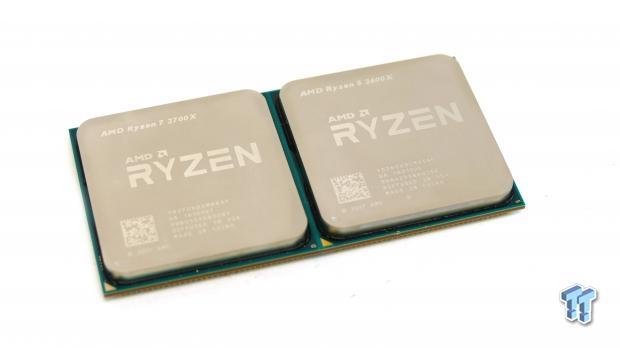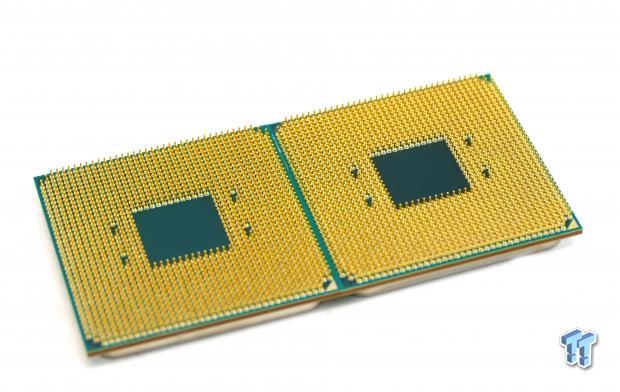 The CPUs are also very similar in regards to the shape of the internal heat spreader and the pins on the underside.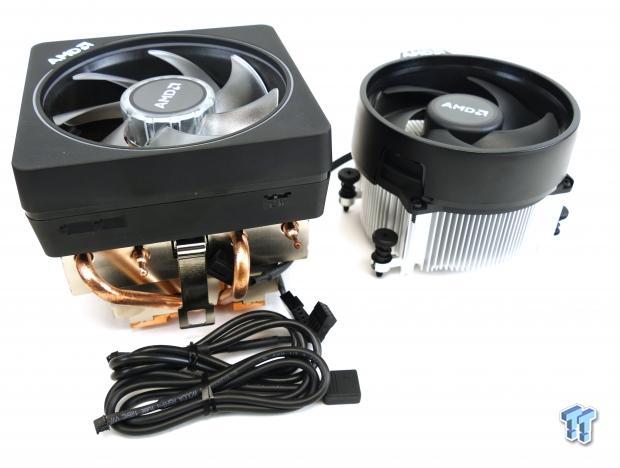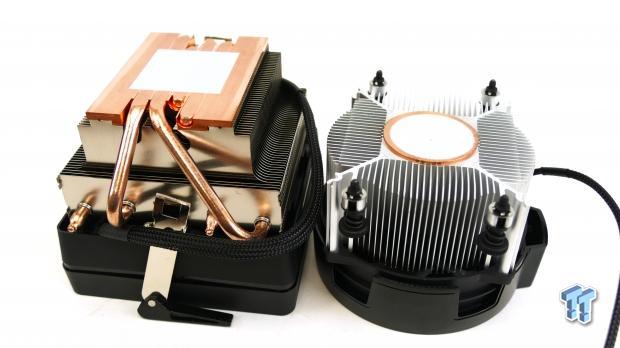 Here we have the new cooler, the Wraith Prism that comes with the 2700X, along with the Wraith Spire (no LED) that comes with the 2600X. Thermal paste is pre-applied on both coolers as well. There is a tiny switch on the Prism that allows you to put the fan into a low-performance (quiet) or high performance (louder) mode. You can also control the RGB LEDs through the motherboard using either a USB interface or an RGB interface, which is why you get two cables and most AM4 motherboards have RGB/USB internal headers near the CPU socket. By default, if you don't plug anything into the cooler, it will operate with a moving digitally addressable rainbow ring. The fan and AMD logo will also go through a rainbow sequence, and we found the colors really neat.
Test Setup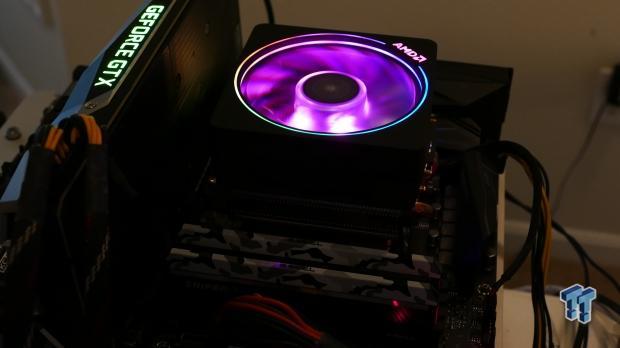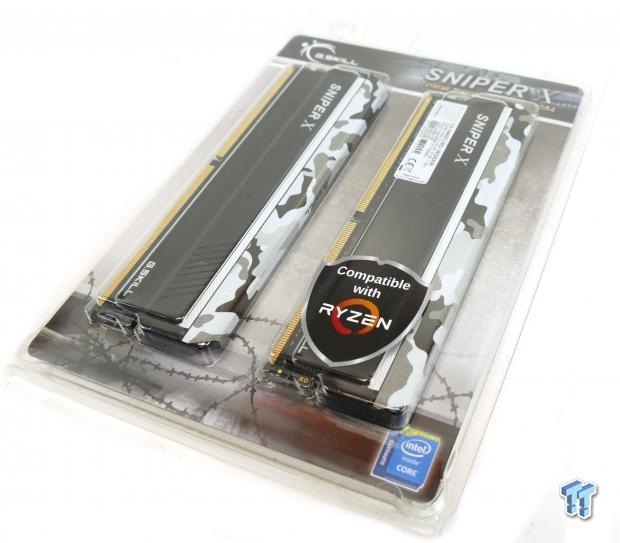 We used multiple motherboards in our testing, but we used the G.Skill Sniper 3400MHz kit designed for the AM4 Ryzen CPUs, and we were very happy with the memory.
Out of the Box Performance: CINEBENCH, wPrime, and AIDA64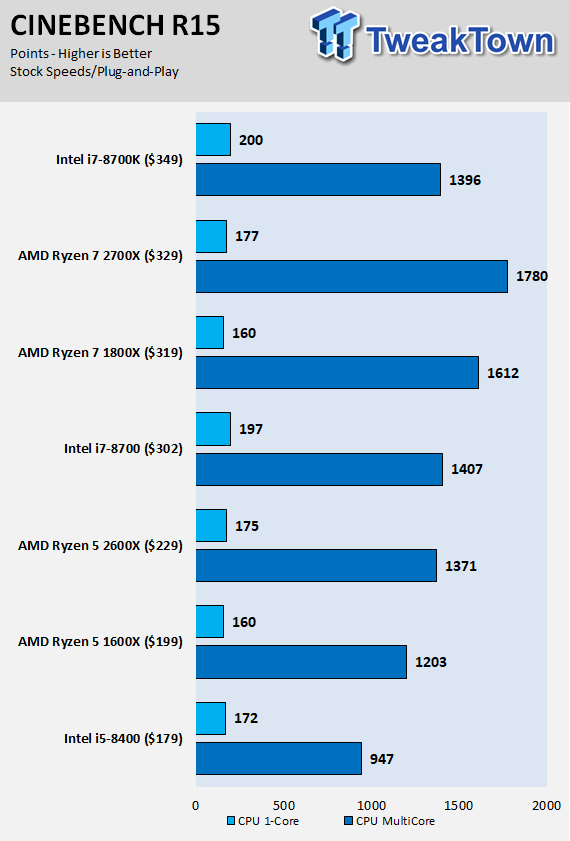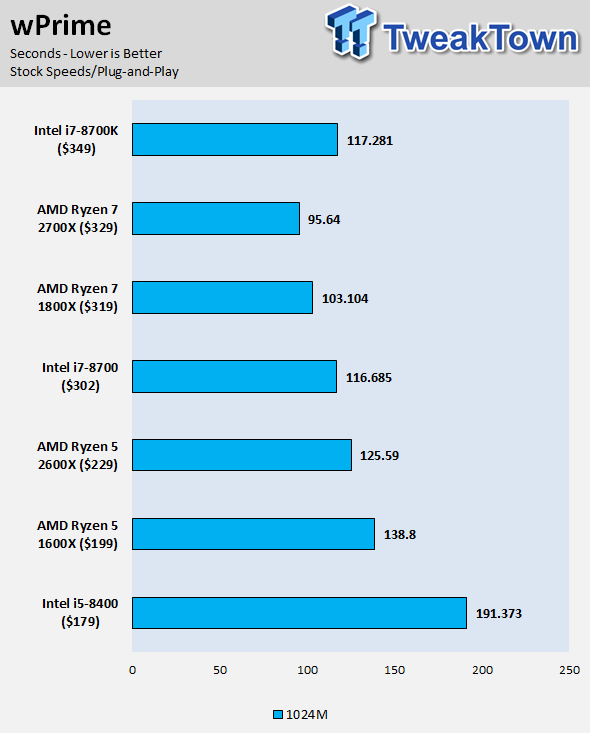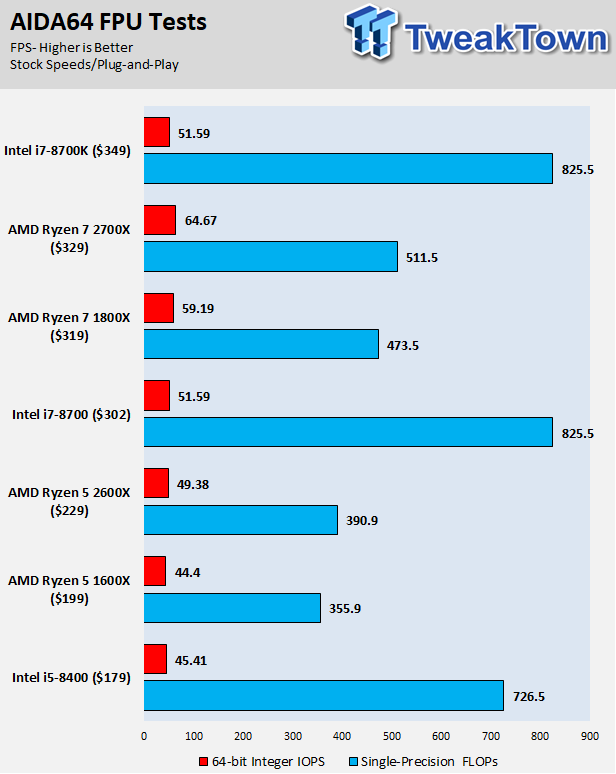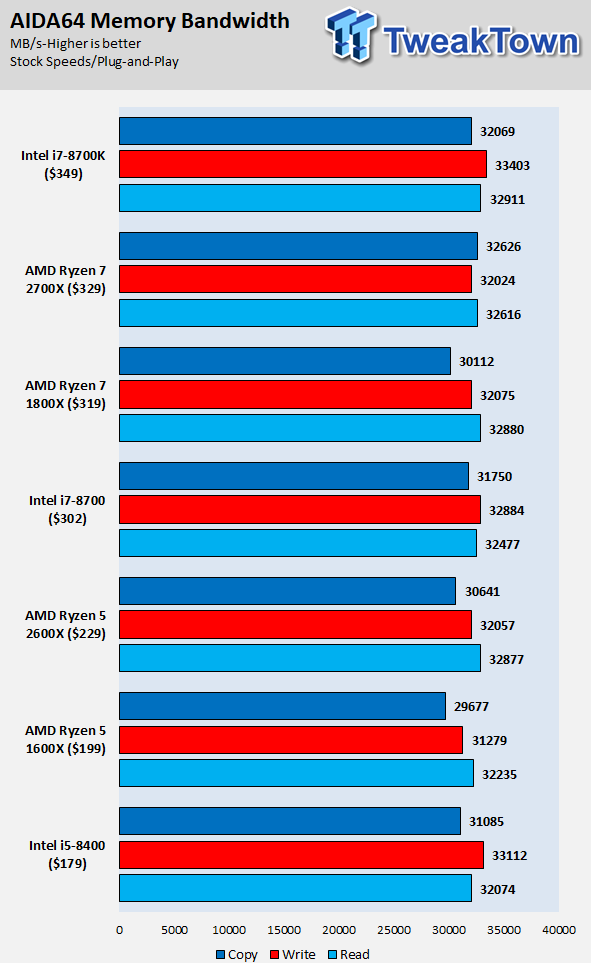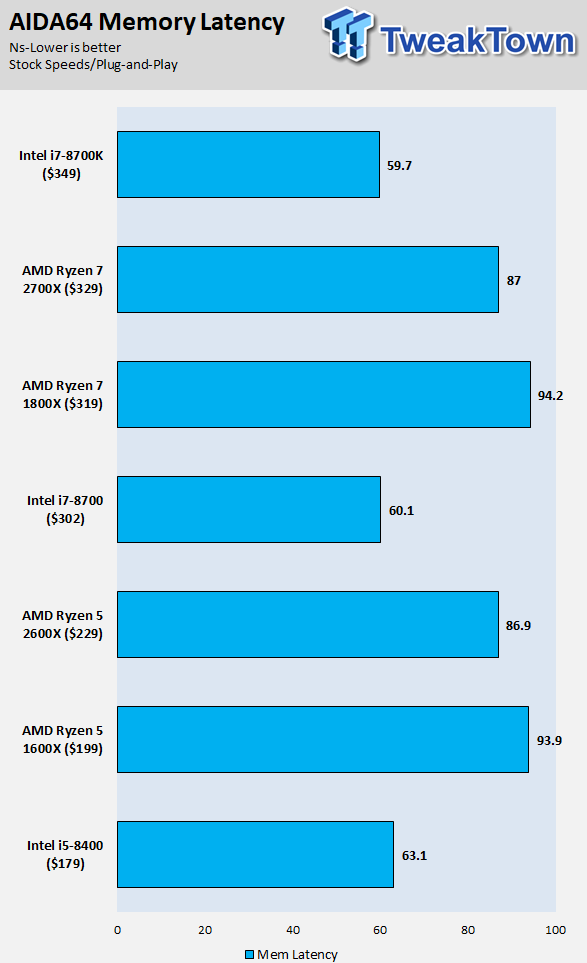 CINEBENCH multi-threaded is where Zen shines really bright, and where Zen+ shines even brighter, and the results show AMD's improvements both in single core performance and multi-core over Ryzen 1000 series. Its single core performance has been increased due to XFR 2 and the process improvements, and we see it beat out the i5-8400 in single core performance and multi-core.
Wprime is a heavily multithreaded application that calculates prime numbers, and AMD's 2600X is closing the gap against comparable Intel CPUs. FPU tests are where we see our normal Ryzen/Coffee Lake trend; floating point goes to Intel while integer goes to AMD. Memory bandwidth is very similar, but memory latency has been improved by a decent amount on Zen+ compared to Zen.
Out of the Box Performance: Handbrake and More
Out of the Box Performance: Handbrake, SuperPI, and ScienceMark
HandBrake UHD Video Transcoder (x264)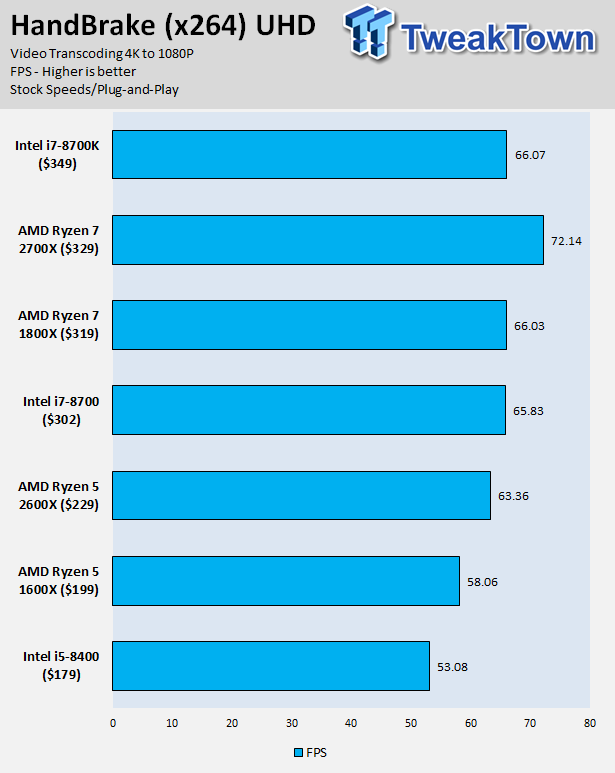 HandBrake HD Video Transcoder (x264)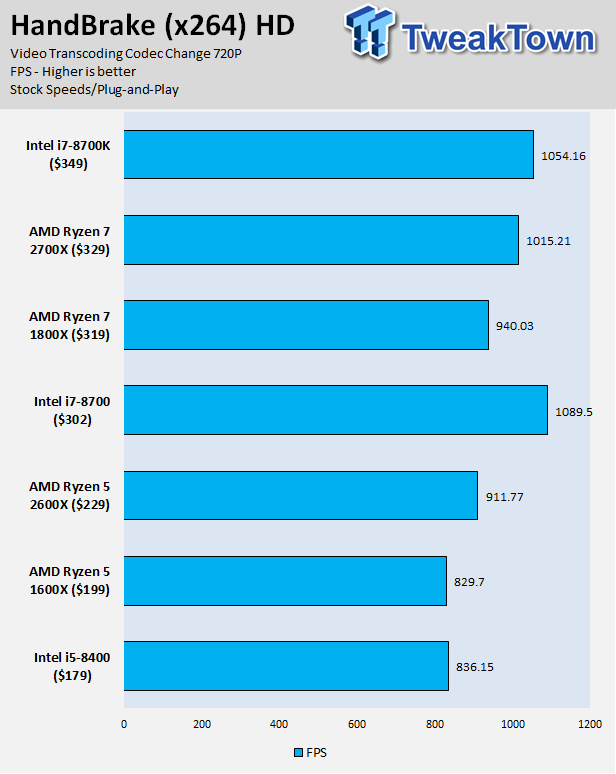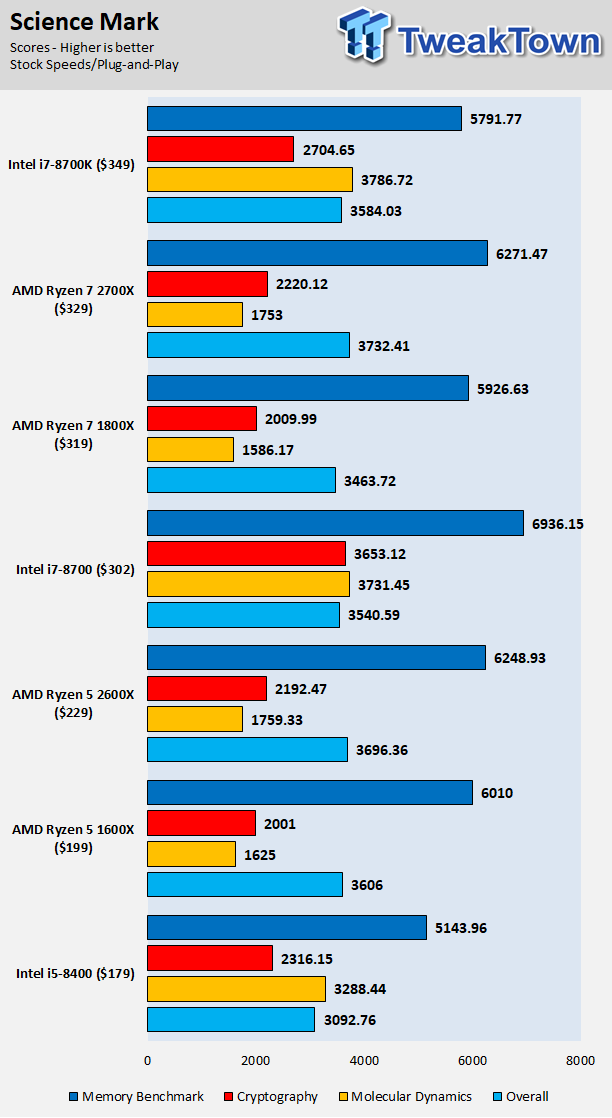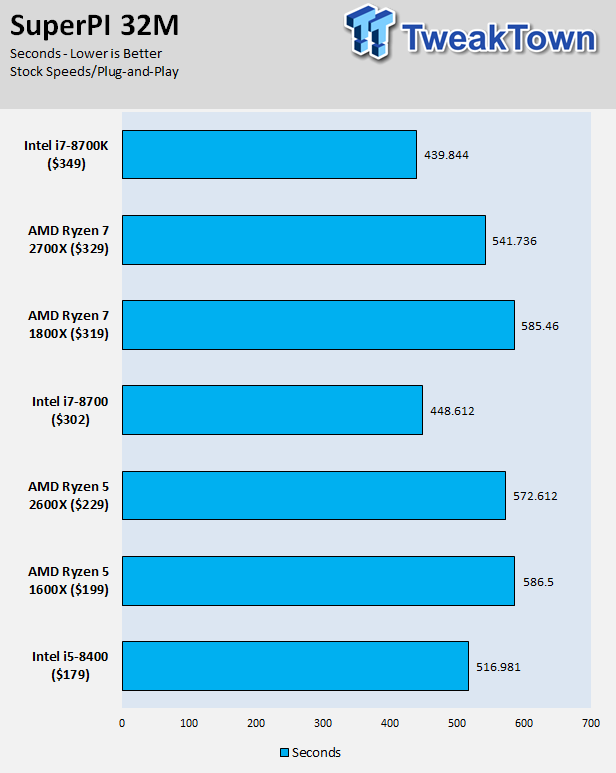 In HandBrake, we see some mixed results, but we definitely see significant improvements when comparing the 1800X/1600X to the 2700X/2600X. ScienceMark is more of a legacy benchmark, but we see AMD do quite well in it. SuperPI is won by the product with the best single core performance and memory latency, and while AMD doesn't win, it does greatly bridge the gap between Intel and AMD.
Out of the Box Synthetic Gaming Performance: UNIGINE and More
Out of the Box Synthetic Gaming Performance: UNIGINE and 3DMark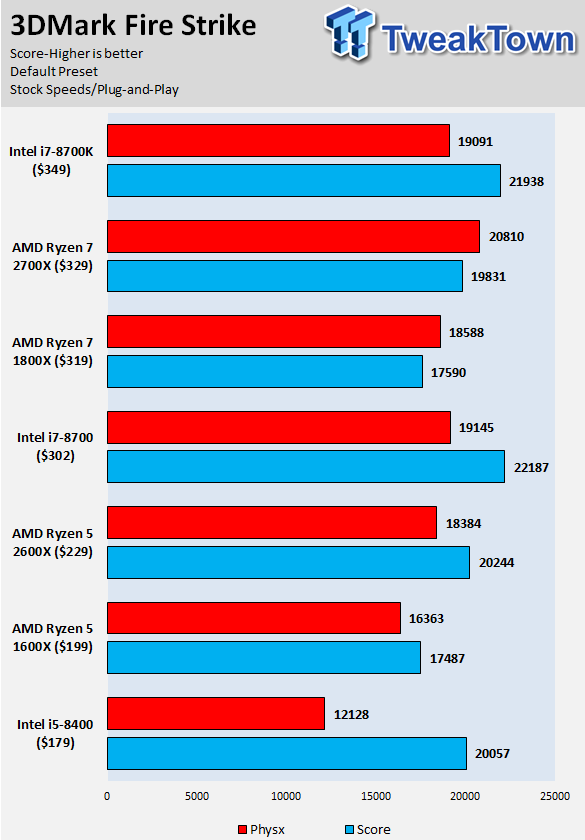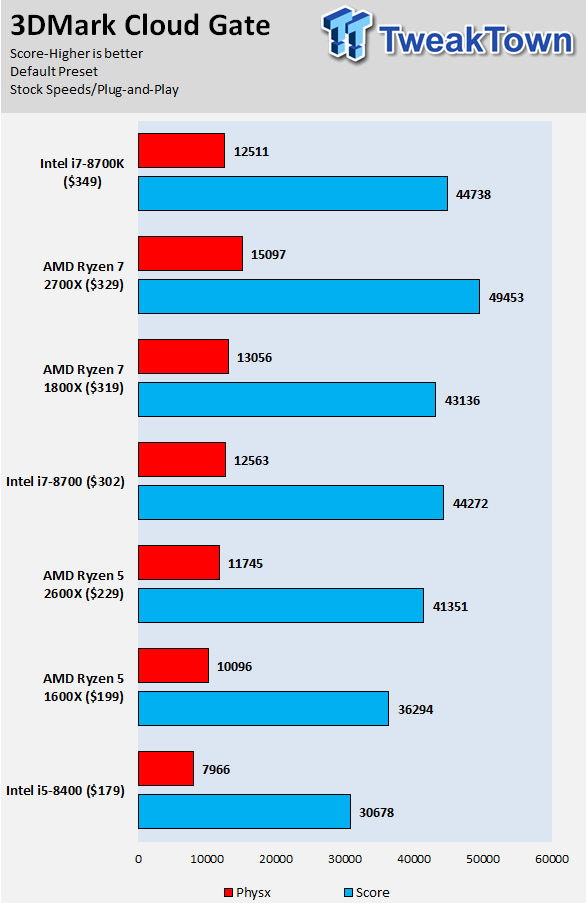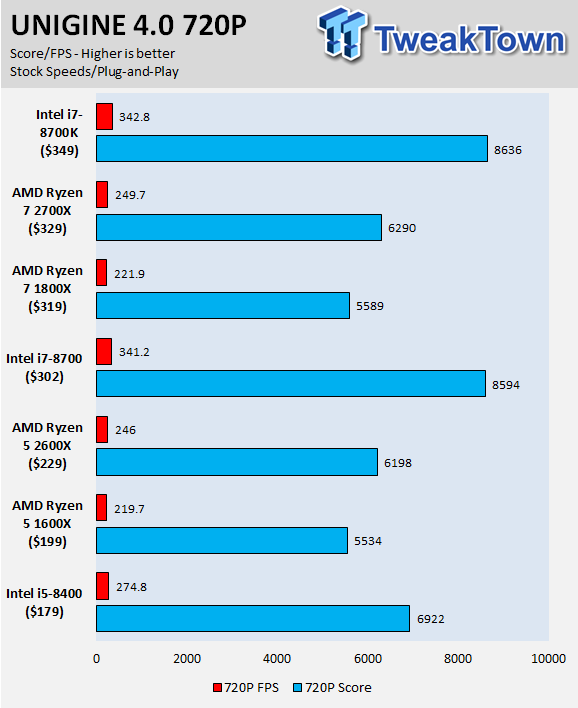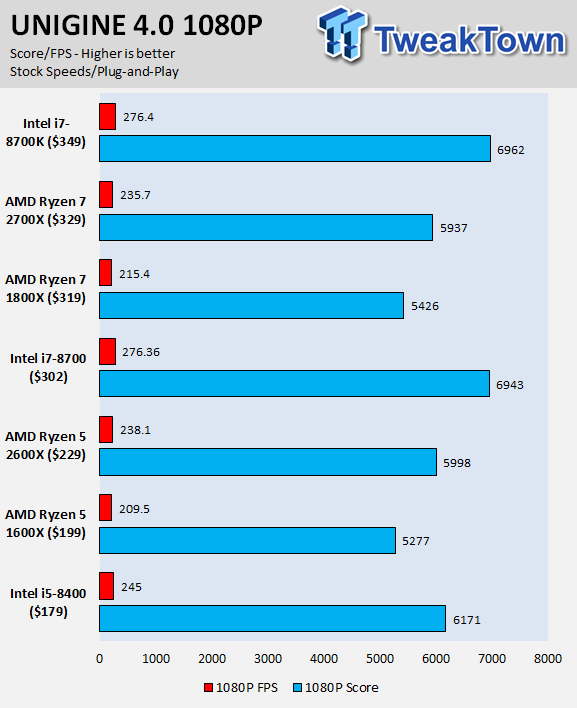 In 3DMark Fire Strike we see that the AMD CPU's Physics score pulls ahead of Intel, while overall goes to Intel. In 3DMark Cloud Gate, we see the CPU's Physics score pull ahead of Intel, and this time, overall score also goes to AMD. In Unigine we see a different trend, with Intel still winning, but by smaller margins when compared to AMD's first generation Ryzen processors.
Gaming Performance: Resident Evil, Tomb Raider and More
Out of the Box Gaming Performance: Resident Evil, Tomb Raider, GTA:V, Ashes of Singularity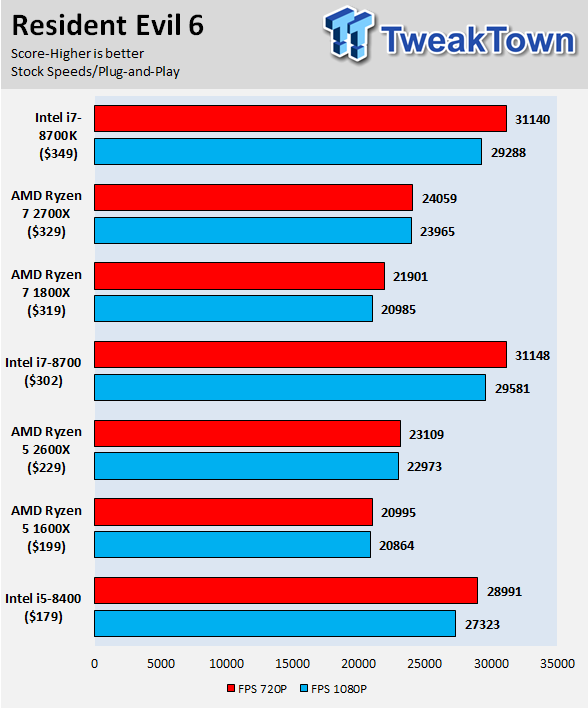 Rise of the Tomb Raider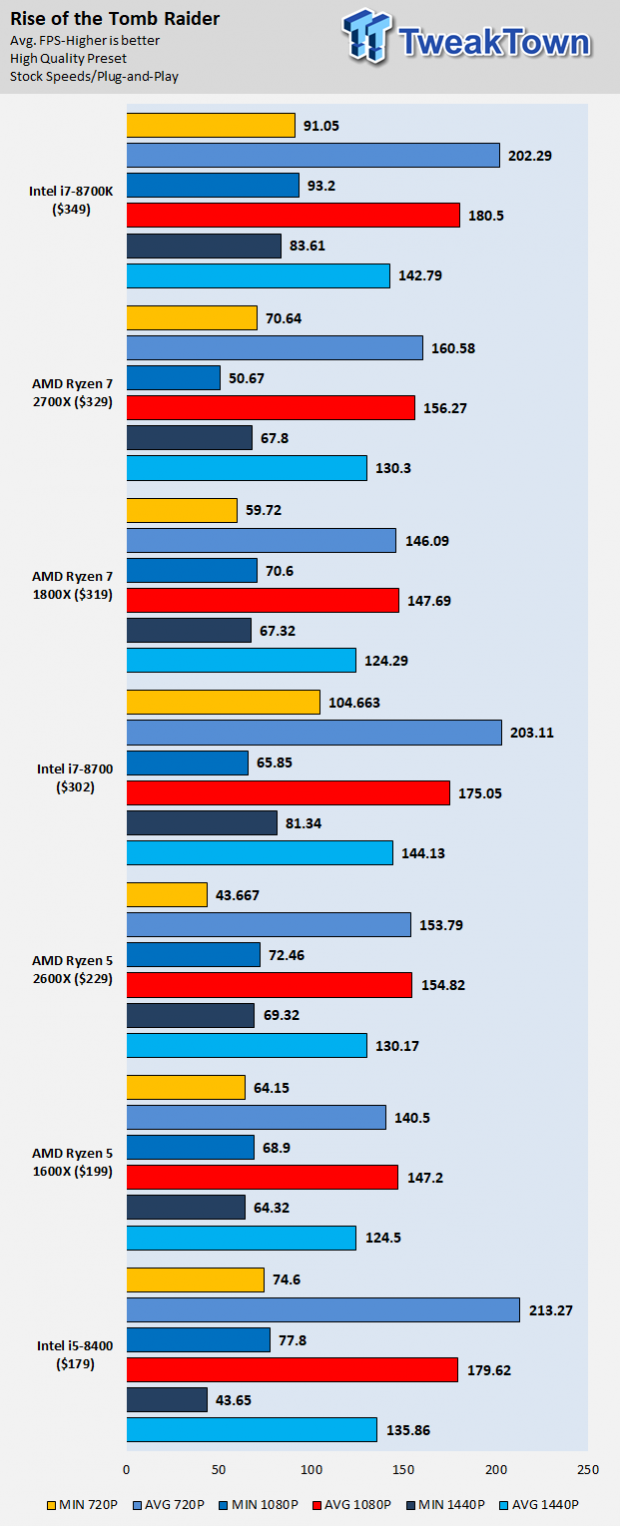 Ashes of the Singularity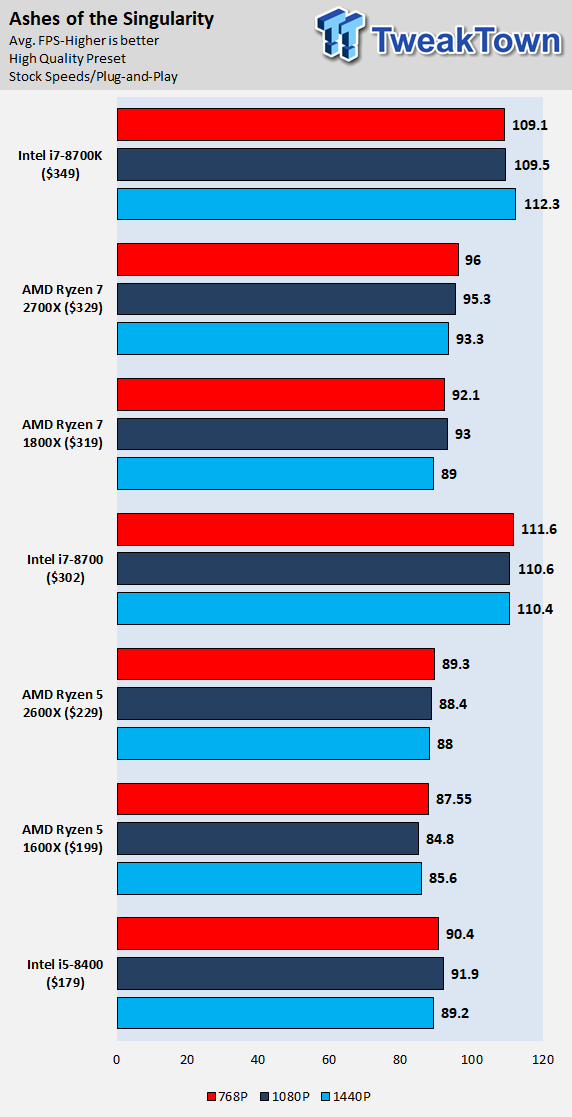 In Resident Evil, Intel still has the lead, and even the 8400 shines pretty well. However, we see definite improvements on the AMD side of things. In fact, in most games, we see that while Coffee Lake takes the cake overall, the margin by which Intel CPUs have total domination is reduced by Zen+.
AMD's 2nd Generation of Ryzen CPUs definitely bridges the gap between Intel and AMD when it comes to gaming. At higher resolutions, that difference is reduced, and it doesn't matter too much which CPU you have, and in some games, the i5-8400 will get beaten out by Ryzen 2nd Generation, especially at higher resolutions.
Overclocking and Power Consumption
CPU Overclocking
So AMD's Ryzen Master 1.3 brings a lot of improvements and new features to the table, including Precision Boost Overdrive, which is like multi-core enhancement for AMD. To overclock, you need to switch to one of the profiles, and then click the circle to the right of the setting. To change the frequency you need to change Control Mode to Manual from Auto, and then you can increase core frequency, and you can select all core if you want to change all cores at the same time. We booted into Windows with our memory OCed to 3600MHz and CPU to 4.0GHz and then boosted up cores only to see how high we could get in Windows while running HandBrake.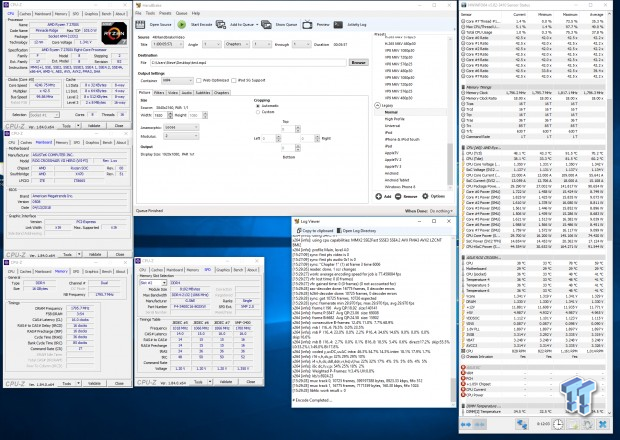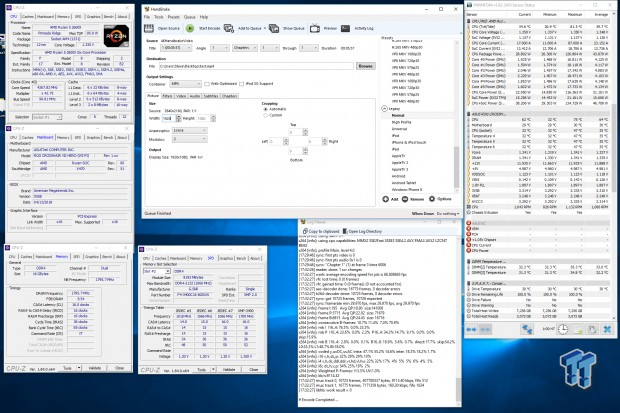 We used to set our VCore to 1.36v with our Ryzen CPUs, now we set 1.35v and leave LLC on auto allowing the voltage to drop to around 1.32v under AVX load in HandBrake. Overclocking the memory was very easy, we loaded a type of XMP (in the ASUS board it's call DOCP), which set our kit to 3400Mhz, and then we increase the memory multiplier to 36x to get 3600Mhz. We could have tightened timings down to CAS 13 and we could have tweaked tFAW to get much better latency results, but we decided to just keep XMP timings. Our 2700X was able to maintain 4.25GHz while our 2600X was able to do 4.275GHz since it has a lower TDP and fewer cores (lower temperature).
Temperatures will be your biggest limiting point (remember the 2700X has a 10C offset while the 2600X has none), and your cooling will determine how far you go. We used a Corsair H100i liquid cooler. We also attended an event where AMD Ryzen 2nd Generation was being overclocked, there eight motherboards, two from each vendor, and half of the systems used air coolers while the other used water coolers. From that testing and looking around, we saw that by using an all-in-one you could gain you 50-150MHz compared to a high-end air cooler.
Power Consumption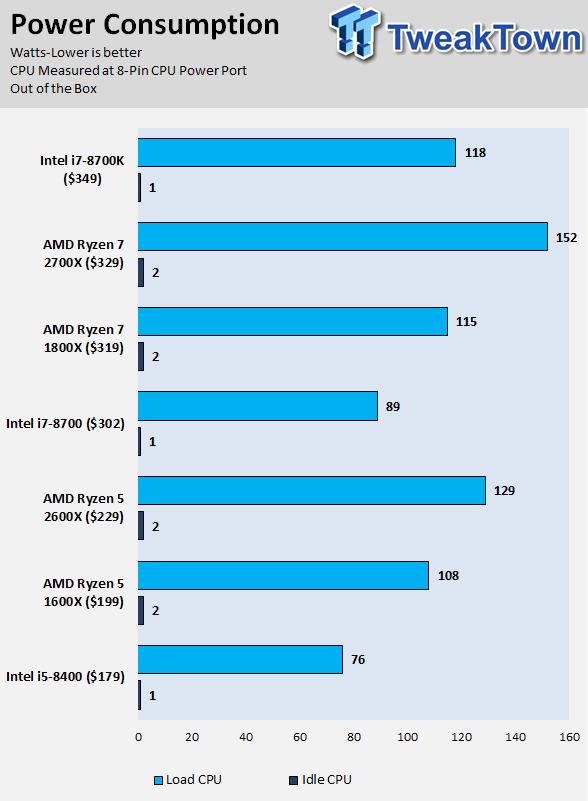 These numbers are measured at the 8-pin connector, which feeds the CPU power, and we can see that AMD has basically tweaked the voltage/frequency curve to favor performance over power efficiency. You can't just compare nanometer sizes, so while Global Foundries might call their process 12nmLP, it doesn't mean it's more power efficient than Intel's 14nm process. With these new CPUs AMD has basically unleashed the full performance of their Zen microarchitecture with leakier transistors, but much better performance gains.
What's Hot, What's Not & Final Thoughts
What's Hot, What's Not & Final Thoughts
This is where you can fast forward to the final section of the review, and get a quick recap and points on the Ryzen 7 2700X and Ryzen 5 2600X.
What's Hot
Serious Performance Bumps: Compared to Ryzen 1000-series CPUs, the new Ryzen 2000-series CPUs are real replacements, and cower over their predecessors without any issue. Performance has gone up significantly both in multi-core and single-core scenarios. Single core performance increases and the new Precision Boost 2 algorithm has greatly improved AMD's gaming performance, putting it much closer to Intel than before.
Improved Overclocking Margins: With the original Ryzen processors it was tough getting above 4.1GHz for many, I only had one or two CPUs out of more than a dozen different SKUs that could do 4.1GHz with little stability. That has changed, and most CPUs will be able to hit 4.2GHz on all cores with good stability as long as you have good cooling. Memory overclocking has increased a lot, it was too easy to hit 3600MHz, but you might want a kit tested to work with Ryzen.
Excellent Price to Performance Ratio: The original Ryzen 7 1800X was launched close to $500, and it's replacement is priced almost 30% less but offers a significant performance bump. The 2600X is also priced very competitively at $200.
Wraith Prism Cooler: We really like the RGBs in the Prism cooler. The new addressable RGBs in the ring can produce neat effects, and with the RGBs in the fan and the logo you get some interesting results. Since the lights use PWM just like the fan, you can actually see the fan blades as they turn, and as the cooler speeds up, it looks like the fan goes into reverse and then forward, which is just a trick played by our eyes due to conflicting PWM values used to pulse light. It looks really cool. Cooling performance is also quite good; the fan seems to use the same heat sink as the heat sink that came with the FX8350 processor, just with a different fan and shrouding, and direct copper heat pipe contact with the heat spreader.
What's Not
Power and Temperatures: Power consumption numbers are a bit on the high side, and temperatures did reach into the 60s with the stock cooler at stock, but you have to pay for performance some way.
Final Thoughts
If Ryzen 2nd Generation launched a year ago, Intel might have had to increase the 8700K's core count to 8 cores to keep up. Ryzen 2nd Generation performance gains come from two physical changes; the 12nm process and the optimization of transistor type placement. AMD optimized the transistors in the latency pathways, but to do so they had to expand their power budget, and that's where a lot of these higher power numbers come from. The rest of it has to do with changes to the voltage frequency curve, which allow for higher frequencies.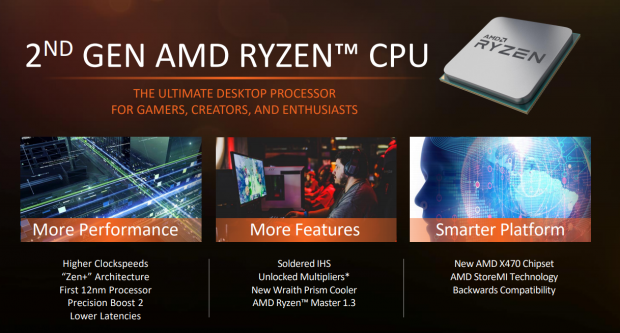 Those higher frequencies across almost all cores allowed AMD to implement Precision Boost 2, which is where a lot of AMD's gains come from. We can't just think of CPU performance in regards to single core performance and then all core performance, many real workloads exist in between these two, and we can see that in our results, and that is where AMD has greatly improved their processors. The new AMD Ryzen 2nd Generation CPUs are definitely shrinking the performance lead Intel had in gaming, and they still offer better productivity at the similar price points.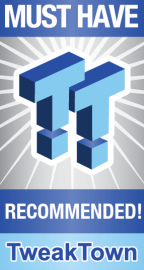 | | |
| --- | --- |
| Performance | 93% |
| Quality | 92% |
| Features | 94% |
| Value | 97% |
The Bottom Line: AMD's Ryzen 7 2700X and Ryzen 5 2600X are much more powerful than their predecessors and bring significant value and performance improvements to AMD's arsenal.
PRICING: You can find products similar to this one for sale below.

United States: Find other tech and computer products like this over at Amazon.com

United Kingdom: Find other tech and computer products like this over at Amazon.co.uk

Australia: Find other tech and computer products like this over at Amazon.com.au

Canada: Find other tech and computer products like this over at Amazon.ca

Deutschland: Finde andere Technik- und Computerprodukte wie dieses auf Amazon.de
We openly invite the companies who provide us with review samples / who are mentioned or discussed to express their opinion. If any company representative wishes to respond, we will publish the response here. Please contact us if you wish to respond.