South Park: The Fractured But Whole Review
Fractured But Whole feels genuinely like a hilarious, interactive episode of South Park.

Published
6 minute read time
TweakTown's Rating: 89%
The Bottom Line
The Fractured But Whole is a laugh-out-loud game with surprising RPG depth and a genuine authenticity that perfectly matches the show.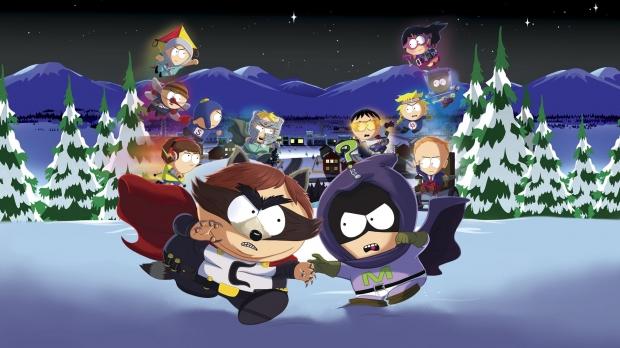 Publisher: Ubisoft
Developer: Ubisoft San Francisco, South Park Studios
Release Date: October 17, 2017
Platform: PC (Reviewed), PS4, Xbox One
Genre: Tactical Turn-based RPG
South Park: The Fractured But Whole is a ridiculous, hilarious adventure into the course and offensive core that makes the TV series so great. As a die-hard South Park fan who watched the show from day one and grew up with the little scamps, I feel like Fractured But Whole (and Obsidian's previous Stick of Truth entry) were made just for me.
And this time around, South Park Studios didn't disappoint.
The Fractured But Whole is charming, creative, hilarious and above all else, genuine. The game feels authentic as if Trey Parker and Matt Stone oversaw every little decision. Every speck of the game feels like a nod towards fans, and the experience is really akin to watching a huge interactive episode of South Park that you directly control and have a stake in.
The game itself takes place through the eyes of the kids once again (as it should) while they play superheroes (during the Stick of Truth they were playing, well, The Stick of Truth). The game is basically a big game of backyard games of children's vivid imaginations, and it follows this focus strictly throughout play. For example, red Lego bricks represent lava, and in the game, it becomes real through the children's imagination.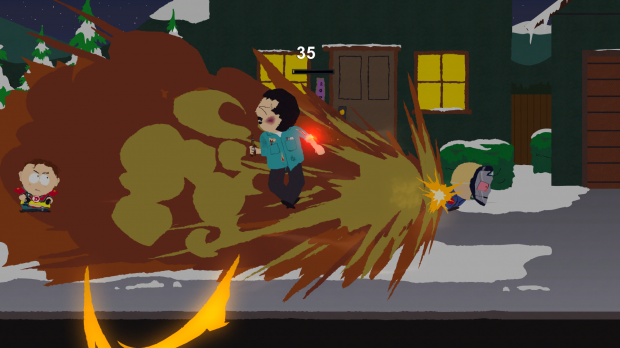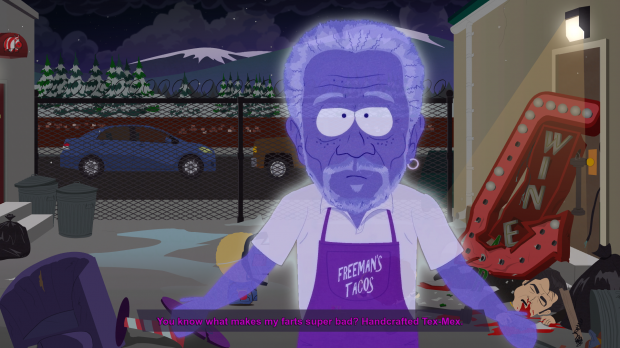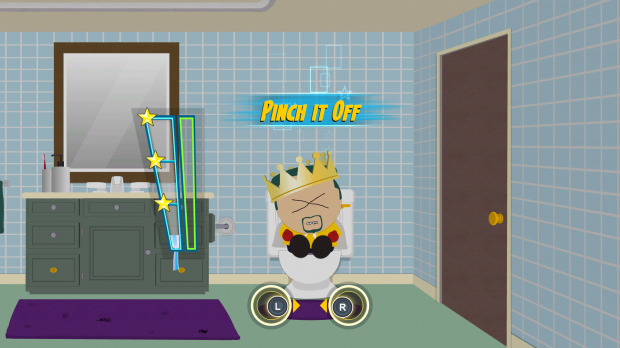 But the crass and ridiculous humor is intact. Being a South Park game, that's tremendously important, and the game delivers nice little nuggets of hilarity throughout. In the game you play as The New Kid who's superpower is farting (what else?). In fact, your farts are so potent that they can actually bend the fabric of the Space-Time Continuum.
Thus you fulfill your destiny as The Amazing Butthole, the flatulent vigilante--and Lil' Crime Stopper--who's been farting all over crime. Adding to the poop jokes, there's even a mini-game where you poop on every toilet in the town. All the toilets have different difficulties and require players to follow on-screen prompts to rapidly rotate their joysticks, press random buttons in unison, and then squeeze off your creation in the porcelain throne.
You join the Coon and Friends in their battle against the Freedom Pals and Professor Chaos, but the main goal of the game is to find a missing cat named Scrambles to reclaim a $100 reward. With that $100, Coon and Friends can finally kickstart their Marvel-esque franchise plans--In true Cartman fashion, Cartman has a huge ambitious franchise laid out, complete with prequels, spin-offs, Netflix shows, and syndicated TV series.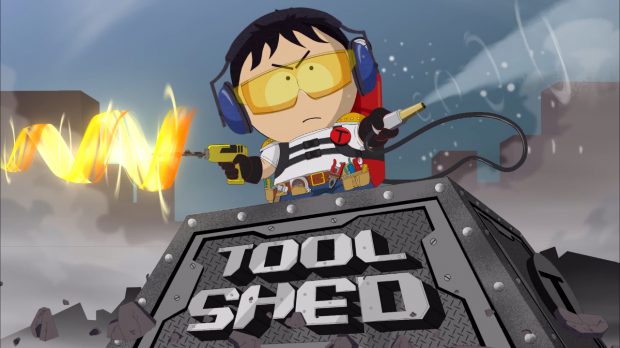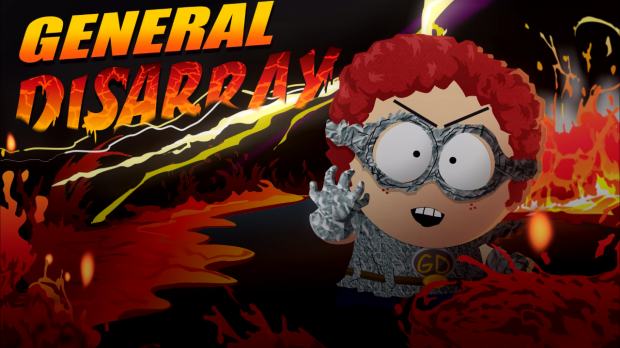 Following up a game developed by RPG giants at Obsidian is no easy feat, but Ubisoft San Francisco and South Park Studios delivered a solid sequel that captures South Park's outrageousness in a nice interactive wrapper that looks and feels like a believable and authentic experience--all without breaking the fourth wall too much.
The biggest change with The Fractured But Whole is the combat system. And this time the focus is superheroes, a departure from last game's Lord of the Rings-style fantasy RPG setting. It's believable and ties directly into the show, feeling truly authentic to the South Park experience.
Stick of Truth's combat was more traditional turn-based RPG, whereas Fracture But Whole's combat is grid-based more like Final Fantasy Tactics...albeit much more simplified. The grid system sees the PP "mana" source scrapped as well, and superhero battlers can use their attacks as many times as they want. However, there are only three moves to use at any time.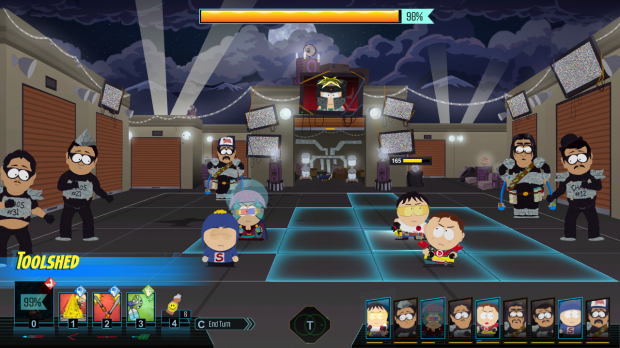 Instead of being locked to a "side," a character's moves are limited to specific grid tiles, so the game becomes more strategic as you must mix and match moves to hit certain foes.
Before every battle--and yes, every battle is comedic and splashed with ridiculous South Park charm; in The Fractured But Whole you fight strippers, angry rednecks, sixth graders, rival superheroes from the Freedom Pals, Professor Chaos, and even PC principal--you're given the chance to outfit and customize your makeshift hero.
You get only three moves in The Fractured But Whole, but you can swap in/out moves from each class before combat. Players can also change their four-party superhero team at will, but more characters unlock the farther you get. Some superheroes, like the Human Kite, are great for long-term attrition battles because of their healing abilities, whereas Mosquito and Captain Diabetes are great for battles with grouped enemies.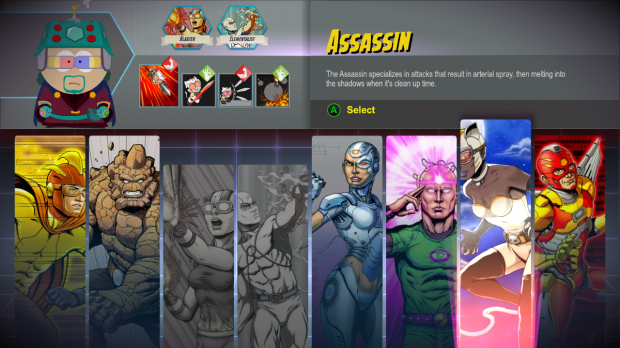 As you progress, Cartman (aka The Coon) allows you to tick three classes on your character sheet. Yes, your hero's traits and weaknesses are meticulously cataloged on a hilarious D&D style character sheet, adding a nice splash of charm to the game. The Fractured But Whole has nine different classes, and each class has three abilities, but you can only select and equip abilities from the classes you unlock--and only three attacks can be equipped during any given battle.
Finding the best combination of abilities adds a nice layer of strategy to the game, making it really fun and rather enjoyable.
For example, the Elementalist class can dish out an Ice Prison attack that slows enemies, and it can only target a certain pattern of tiles on the grid. The Psychic class has a Dazzling Flash ability that confuses enemies and makes them attack their allies. And the Blaster class has an awesome Plasma Beam that blasts in a straight line (but only left or right) to hit as many foes in its path.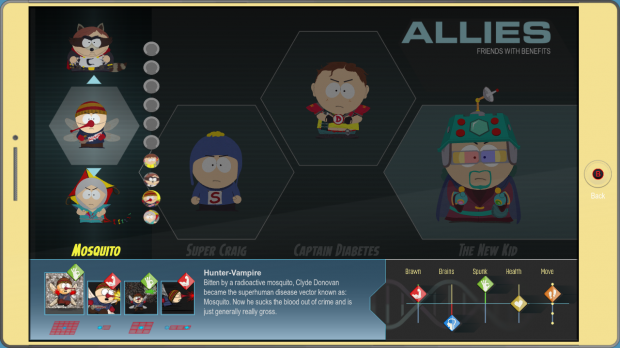 But finding the best skills is only half of the equation: you need to match them up with your set team for a nice organic selection of abilities that are versatile for any situation. Tossing in some heals and some defensive measures are just as important as the raw power that superheroes like Super Craig and the flexibility of high-tech gadgeteer Call Girl can offer.
While The Fractured But Whole wasn't by Obsidian Entertainment, it has a lot of RPG elements and they're all well designed. The tactical grid-style Final Fantasy Tactics is only part of it: there's a diverse equipment-based aspect that adds a layer to every battle, as well as the ability to customize and mix and match skills at will.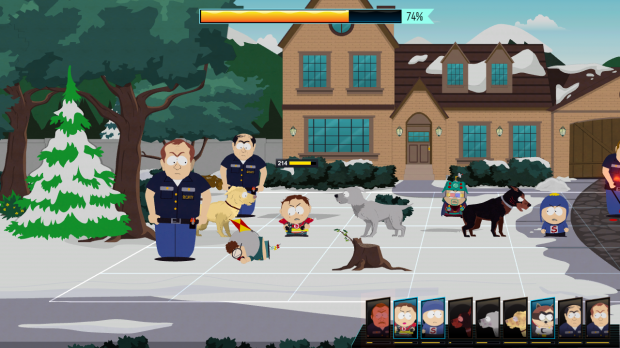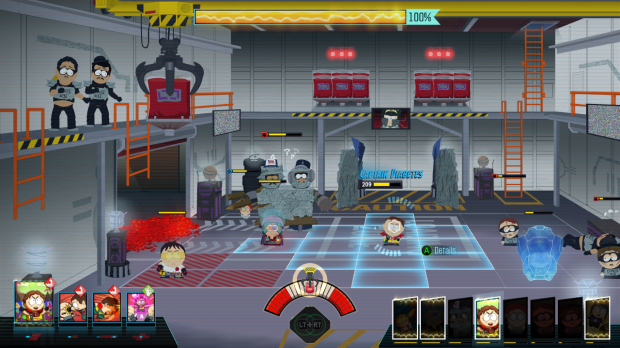 Gravitating back to combat for a bit and we find more evidence of the diverse and layered RPG mechanics. Each superhero has their own stats and traits. Toolshed, who wields a fearsome electric drill (vrrrr!) and a mastery of power tools, has high Spunk (yes, that's an attribute) but low Brawn. But Captain Diabetes, aka Scott Malkinson who's Diabetes make him ultra-powerful during a sugar rush, has massive Brawn but very low Brains.
These stats are more important for your player character than anyone else, as matching up certain attributes via DNA boosts can boost the damage of your attacks.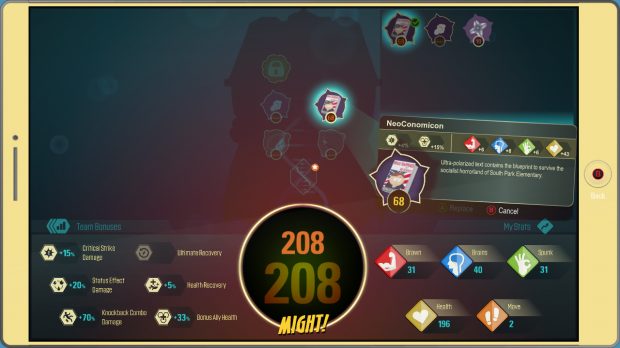 If that wasn't enough, the game also has afflictions and status effects. You can inflict hazard damage as well as status ailments while in battle. For example, fart on an enemy before battle commences and you inflict Gross Out, making them puke and take damage (basically being poisoned). Other ailments can be inflicted by various attacks include Burning, Chill, Charm, Shock, Slow, and Bleeding. Conversely, there are status buffs including Protection (basically a barrier-like shield) and the basic healing spell.
With all of these RPG layers, the combat is enjoyable if not somewhat easy. I actually amped up the difficulty because I never actually died inside of combat while playing the game.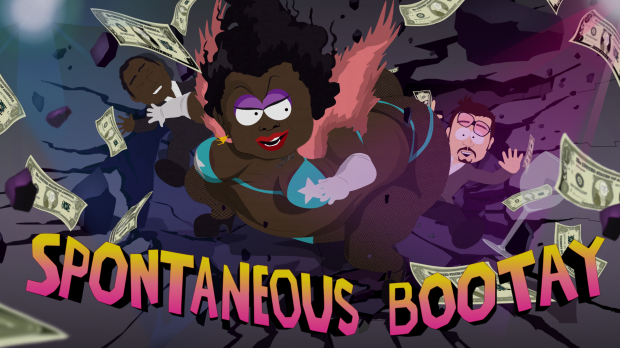 The story itself is full of whimsy, humor, charm and ridiculous hilarity. The game plays like a big South Park episode in scope, story and execution: the narrative organically winds and threads itself through the show's long, storied history while merging newer and current motifs and trends while staying true to the original and beloved source material.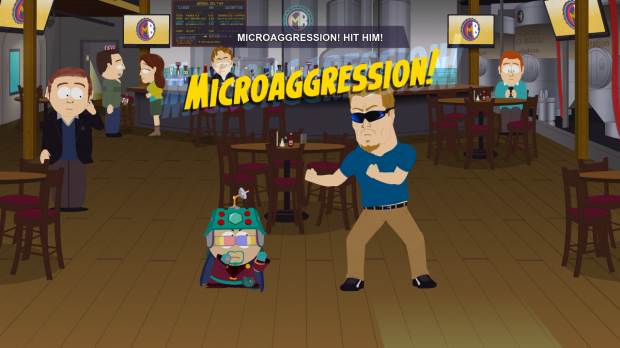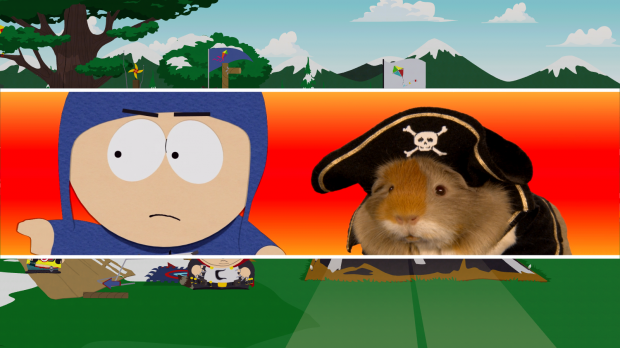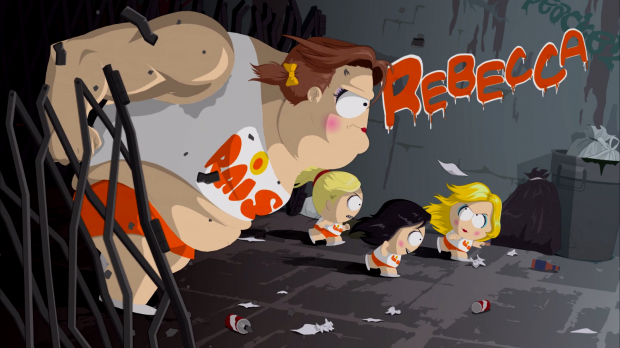 Fractured But Whole will take you all over town, from a strip club The Peppermint Hippo where you take on Spontaneous Bootay to Raisins, the Hooters parody, and even the Medicinal Fried Chicken marijuana dispensary. And that's just to start. There's cheesing meth-heads, crab people, and crazed rednecks who don't take kindly to cis-gendered males around these parts.
But the sophomoric and immature jokes are a core part of the experience here: you are, after all, the amazing farting vigilante who can wreak horrible reeking revenge at will. In the game, you solve puzzles with "fartkour," farting which lifts you in the air to get on rooftops for loot, and even powering an air compressor with the power of your gastrointestinal fortitude.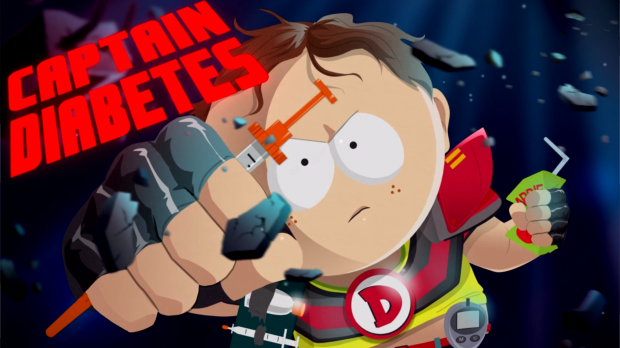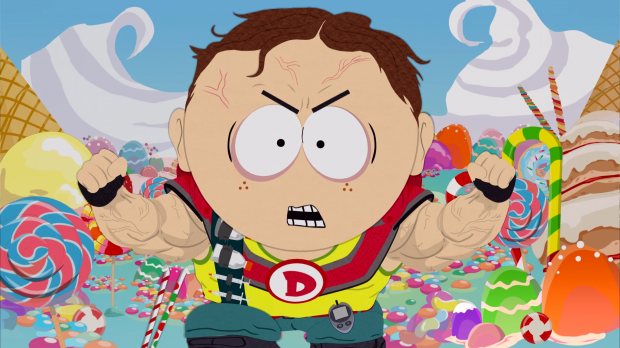 All throughout the game, there's a tremendous sense that South Park Studios and Ubisoft San Francisco put serious effort into making this game both stand out and stay true to the show. I can't stress how authentic and genuine the experience actually is, and hardly ever does it stray away from this focus or break away from the thoughtful, charming and amusing nature of the children's make-believe games and the careful sharp wit of Trey Parker and Matt Stone.
South Park Fractured But Whole is laugh out loud funny, and yes it's full of fart jokes, but it has heart.
That's really the great thing about South Park: the kids are so loveable despite their raunchy jokes, the cussing, and coarse humor. There's a genuine window of childhood on display here, and for all of its whimsy, hilarity, and ridiculous parodies of our everyday life, this experience is special. It's not just special: it's South Park special.
And that's more than enough for me.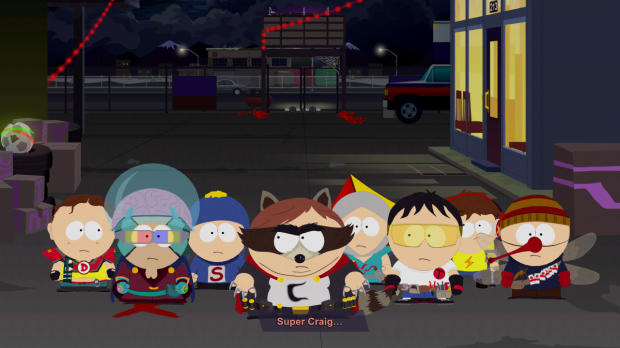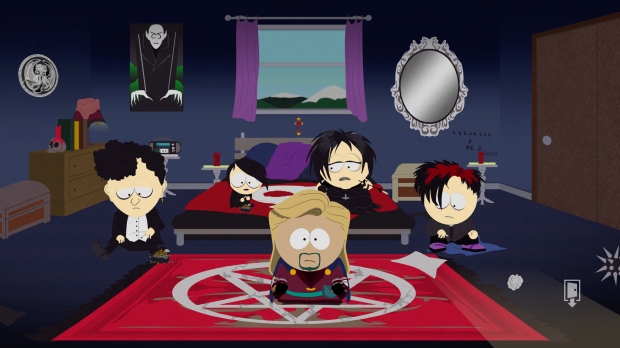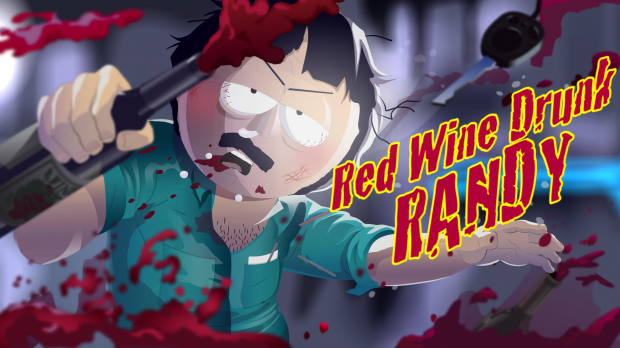 What's Hot
+ Layered RPG mechanics are very well thought out
+ Feels very authentic to the show
+ Awesome selection of skills
+ Final Fantasy Tactics-like grid-based combat
+ Hilarious style and jokes
+ Whimsical superhero make-believe universe paints a picture of childhood make-believe games
+ Tons of nods and tidbits from the show
+ Wide variety of NPCs to interact with
+ Neat little puzzles reward exploration
What's Not
- Somewhat short
- Sidequests can be kind of boring
- The town isn't very dynamic or interactive outside of puzzles
| | |
| --- | --- |
| RPG Mechanics | 90% |
| Story | 85% |
| Creativity and Humor | 95% |
| Fun Factor | 85% |
The Bottom Line: The Fractured But Whole is a laugh-out-loud game with surprising RPG depth and a genuine authenticity that perfectly matches the show.
PRICING: You can find products similar to this one for sale below.

United States: Find other tech and computer products like this over at Amazon.com

United Kingdom: Find other tech and computer products like this over at Amazon.co.uk

Australia: Find other tech and computer products like this over at Amazon.com.au

Canada: Find other tech and computer products like this over at Amazon.ca

Deutschland: Finde andere Technik- und Computerprodukte wie dieses auf Amazon.de
We openly invite the companies who provide us with review samples / who are mentioned or discussed to express their opinion. If any company representative wishes to respond, we will publish the response here. Please contact us if you wish to respond.