BIOSTAR A320MH Pro Gaming Motherboard Review
BIOSTAR's A320MH Pro Gaming is a very affordable AMD AM4 Ryzen motherboard that we put through its paces right here.
Published Sep 11, 2017 10:50 AM CDT
|
Updated Tue, Nov 3 2020 6:58 PM CST
9 minute read time
TweakTown's Rating: 87%
The Bottom Line
Getting the job done with ease, the BIOSTAR's A320MH Pro is an extremely affordable motherboard for any basic AMD Ryzen build.
Introduction, Specifications, and Pricing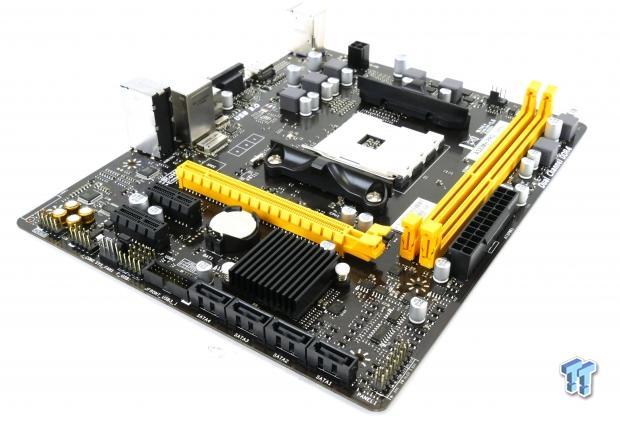 While we typically take a look at X370 or B350 motherboards for the AM4 platform, today we are taking a look at an A320 chipset motherboard. AMD considers the A320 chipset to be mainstream, for those people who just want their system to work.
The BIOSTAR A320MH Pro we are looking at today supports many features on top of what the CPU supports, but one of the best parts about the AM4 platform is that even chipsets such as the A320 support all Ryzen 7 CPUs such as the 1800X we are using today.
Let's take a look at what this extremely affordable motherboard has to offer.
Specifications

The A320MH Pro Gaming features SATA6Gb/s, USB 3.0, one x16 PCI-E 3.0 slot, iGPU outputs for AMD's upcoming APUs, but overclocking the CPU is not possible (you can overclock memory).
Pricing
The A320MH Pro Gaming costs $53.99 on Newegg.
Packaging and A320MH Pro Gaming Overview
Packaging and Overview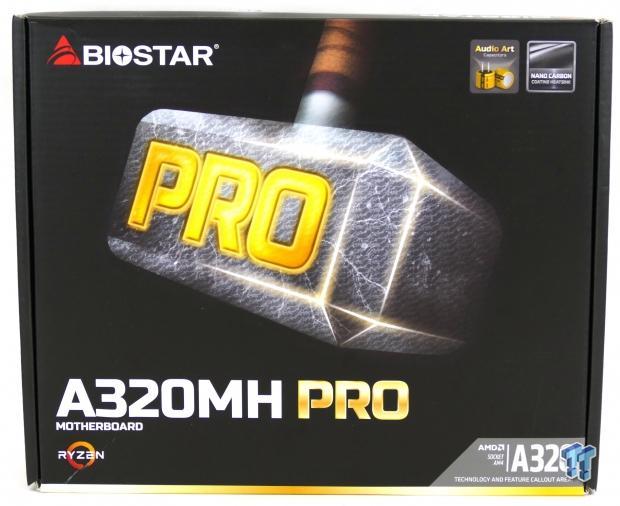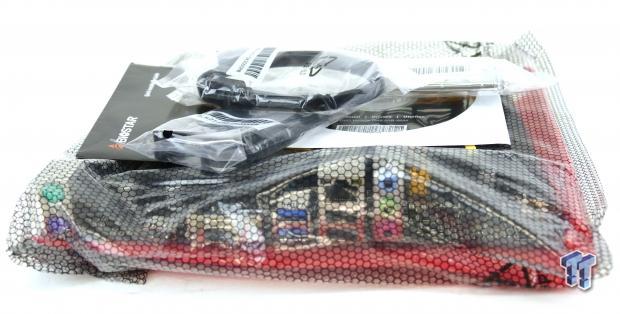 The box features a picture of what I assume is Thor's Hammer, and as part of BIOSTAR's Pro series, it should offer decent quality, but the motherboard's cost is very low. Packaging is done well; the motherboard is protected.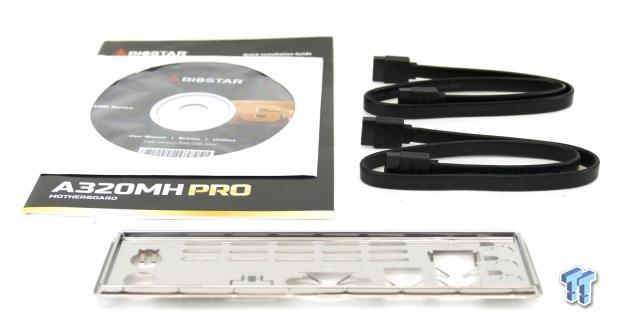 The accessory package includes four SATA6Gb/s cables, IO shield, manual, and driver DVD.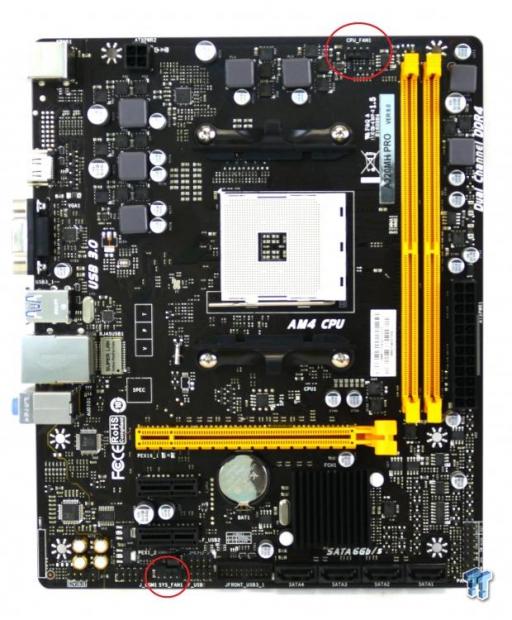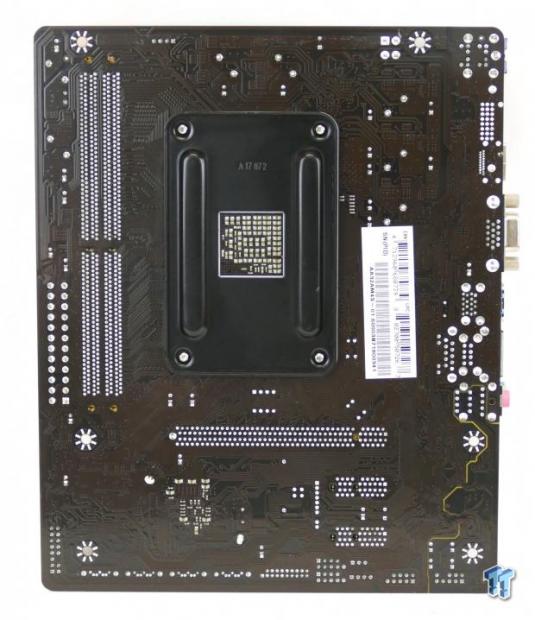 BIOSTAR put two PWM only headers on the motherboard circled in red. These headers provide 12v to the power pin of the motherboard and then control the fan using the 4th pin (PWM signal) on the motherboard. That means that 3-pin fans will run at full speed on this motherboard. The motherboard costs slightly over $50, so I didn't even expect a black PCB or colored slots, but BIOSTAR delivers on the aesthetic side of things.
The motherboard is meant to just work, and it does work by providing the basics. The motherboard's small mATX form factor is quite small, but the motherboard only provides 2-DIMMs, while some other mATX boards are capable of providing four DIMMs. The back of the motherboard is quite bare, which is a good thing.

The IO panel features PS/2 keyboard, PS?2 mouse, HDMI, VGA(D-SUB), two USB 3.0 ports, two USB 2.0 ports, Gbit LAN port, headphone jack, line-in jack, and a microphone jack.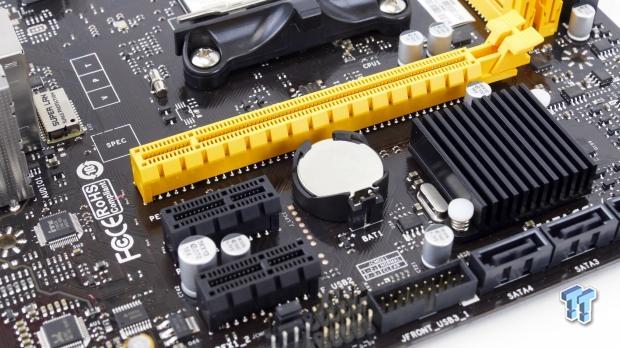 The B350 and A320 chipset motherboards do not support more than a single x16 PCI-E slot, and that is what we have here. The two PCI-E 2.0 x1 slots are routed to the A230 chipset. The motherboard provides four SATA6Gb/s ports and a USB 3.0 internal header.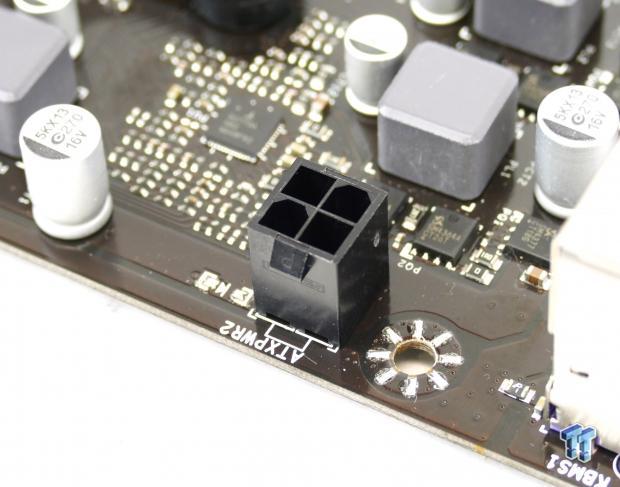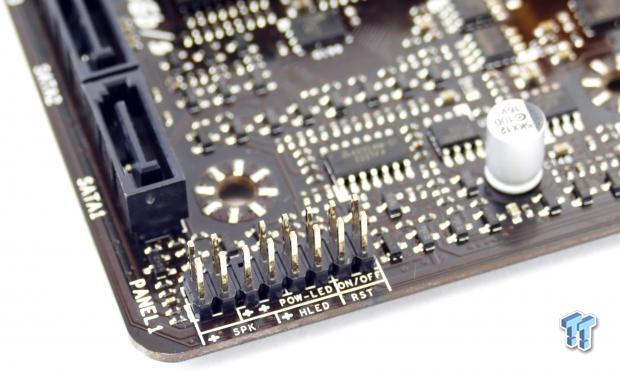 A single 4-pin CPU power connector is all you need for a Ryzen 7 1800X CPU, especially since you can't overclock it. The motherboard's front panel connectors are located in the lower right-hand corner of the motherboard.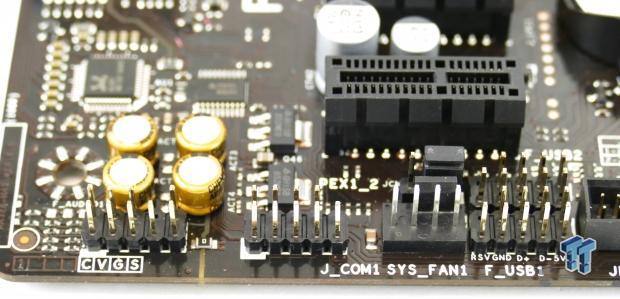 Two USB 2.0 headers are stacked near the clear CMOS jumper to the right of the COM header.
Surprisingly, the heat sinks and shields are screwed onto the motherboard.
BIOSTAR A320MH Pro Gaming Circuit Analysis
Circuit Analysis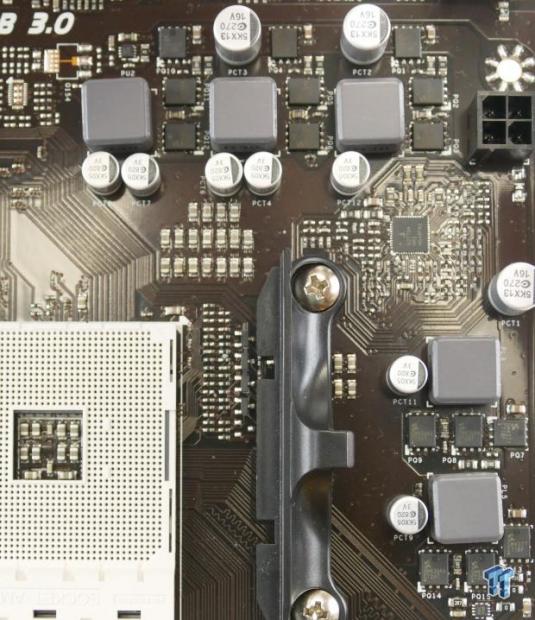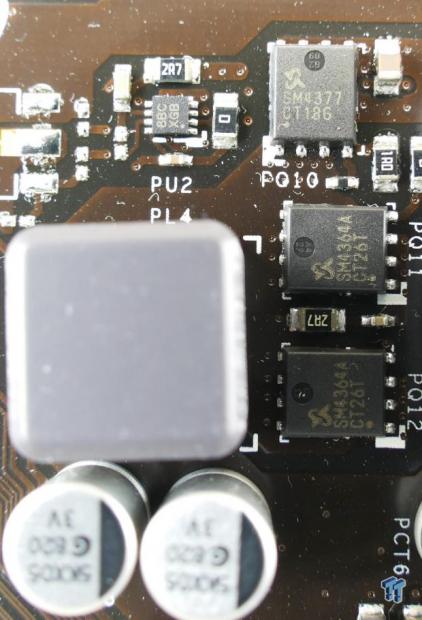 The VRM On this motherboard is specifically designed for the AMD Fusion SVI 2.0 platform VRM specification. It's setup in a 3+2 phase configuration using an Intersil ISL62773 3+2 phase PWM, which has two integrated drivers on the CPU Core rail and one for the North Bridge (SoC) rail. AMD uses two ISL6608 drivers, one for the SoC and one for the Core rail. Each phase uses one Sinopower SM4377 PowerPAK for the high-side MOSFET and two Sinopower SM4394 PowerPAKs for the low-side MOSFETs.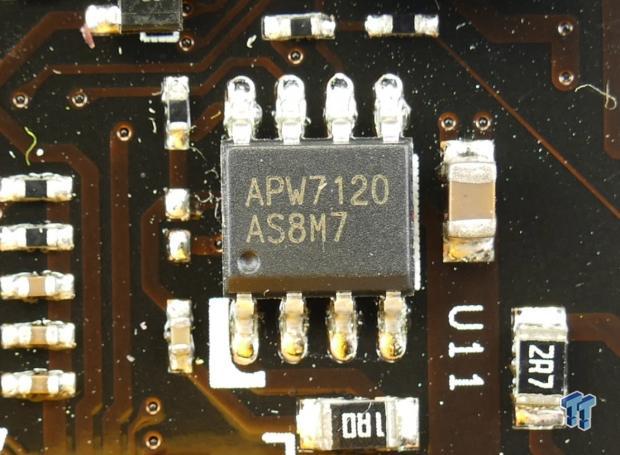 The memory VRM uses two Sinopower SM4377 PowerPAKs in a single phase configuration (one low and one high) and is controlled by the Anpec APW7120 PWM with integrated driver.
Two Sinopower N-Channel MOSFETs are driven by a single phase Richtek PWM with an integrated driver, providing enough power for two memory DIMMs.
BIOSTAR A320MH Pro Gaming Circuit Analysis Continued
A320MH Pro Gaming Circuit Analysis Continued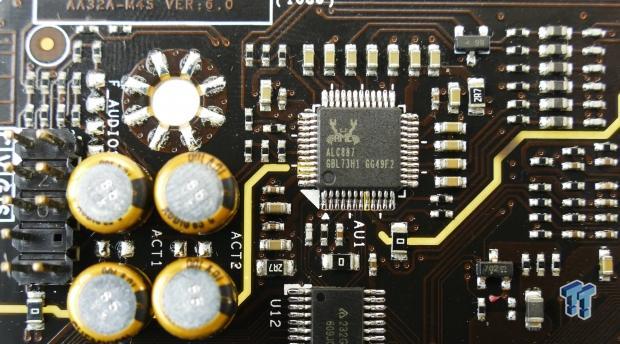 The Realtek ALC887 is used for audio output; the PCB is physically isolated to separate analog audio signals from those digital signals on the motherboard. Four Nichicon Gold series audio capacitors are used to improve audio quality.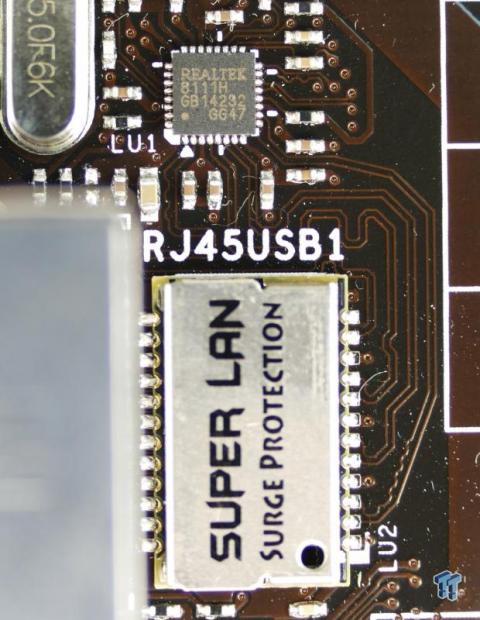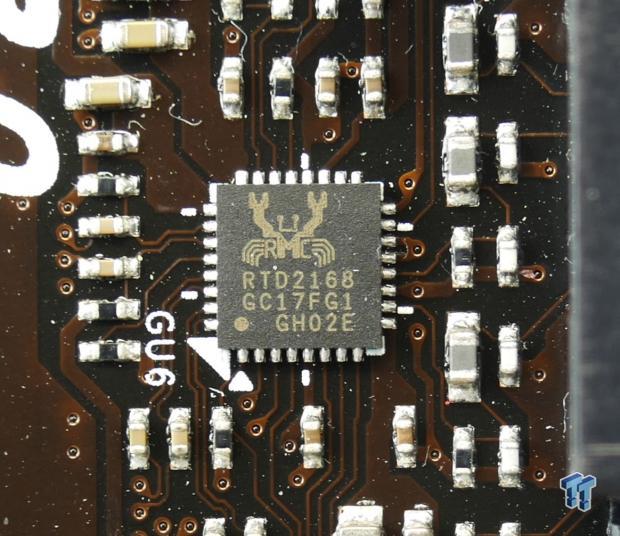 A Realtek RTL8111H is used for the Gbit LAN on the motherboard, and surprisingly BIOSTAR included a Super LAN Surge Protection magnetic SMD to protect the board from ESD. A Realtek RTD2168 takes digital video and outputs D-SUB for CPUs with integrated GPUs.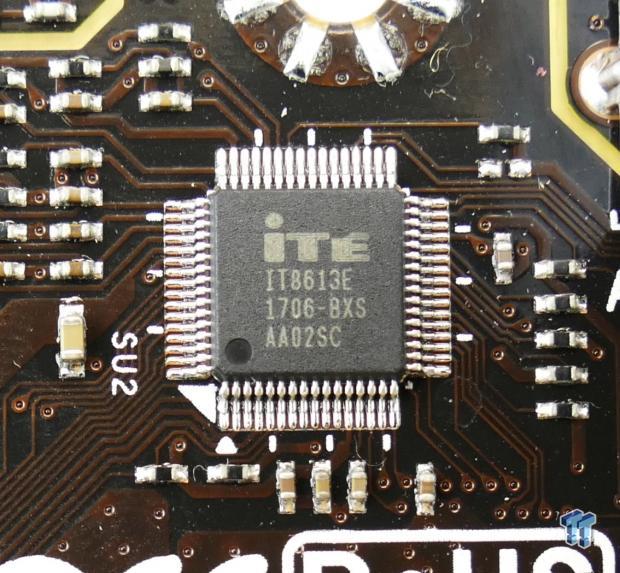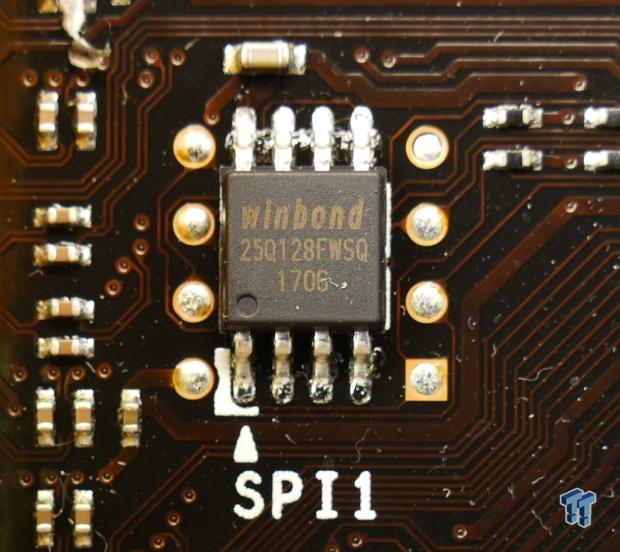 The main SuperIO on the motherboard is an ITE IT8613E, and it provides PS/2, voltage monitoring, and fan control. A 128Mbit/16MB BIOS ROM is located near the CPU socket.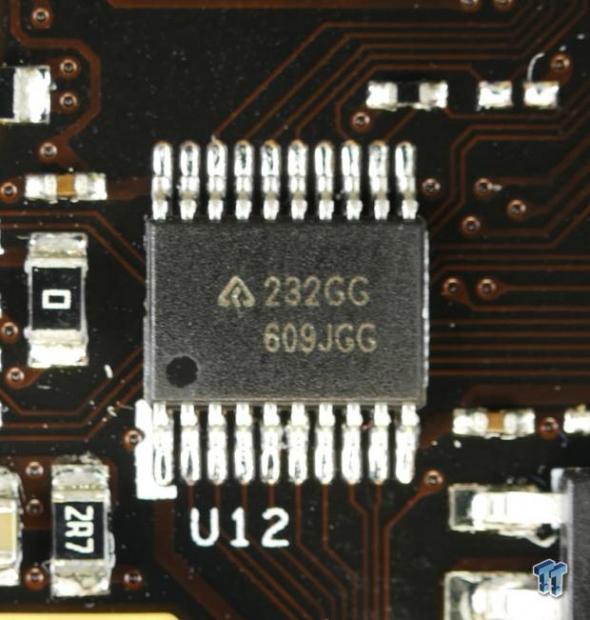 A BCD AZ75232 multiple drivers and receivers IC provides the COM port on the motherboard.
BIOS and Software
BIOS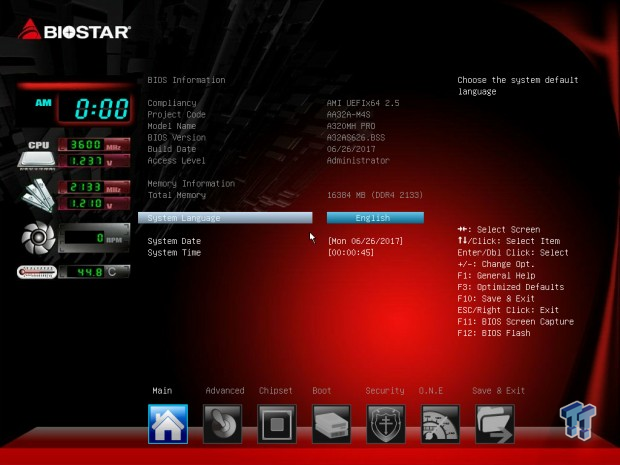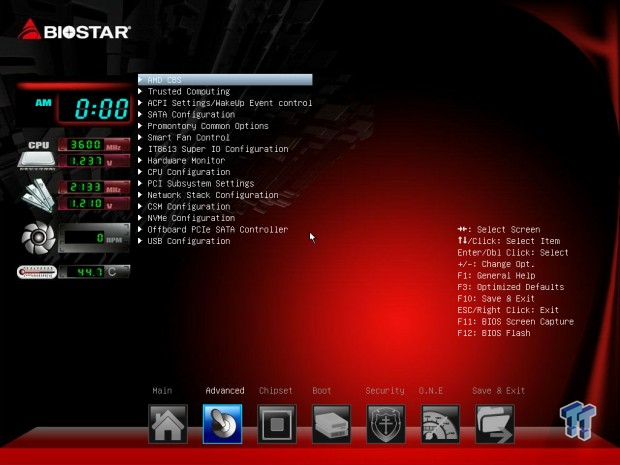 BIOSTAR's BIOS on the A320MH Pro offers a very broad range of configuration options, including AMD's own CBS menu. While the motherboard doesn't support overclocking in the traditional sense, you can still tune up memory as we will show you later in the review.
Fan control is a bit odd and limited to just the CPU fan. To control your PWM fan, you must calibrate and then use BIOSTAR's options to tweak the PWM curve. Settings for booting and storage configuration are quick and easy to find, and overall, the UEFI is useful.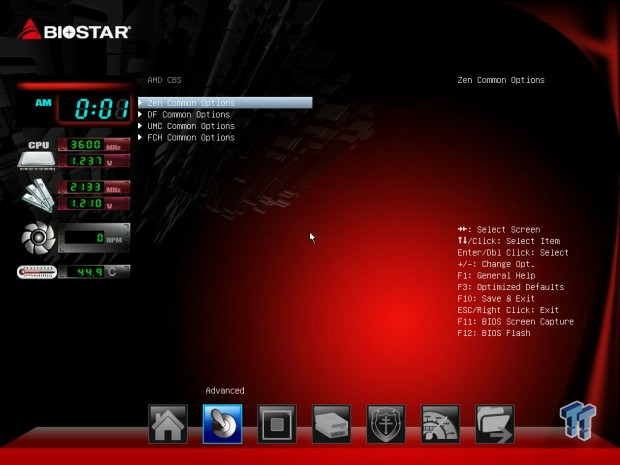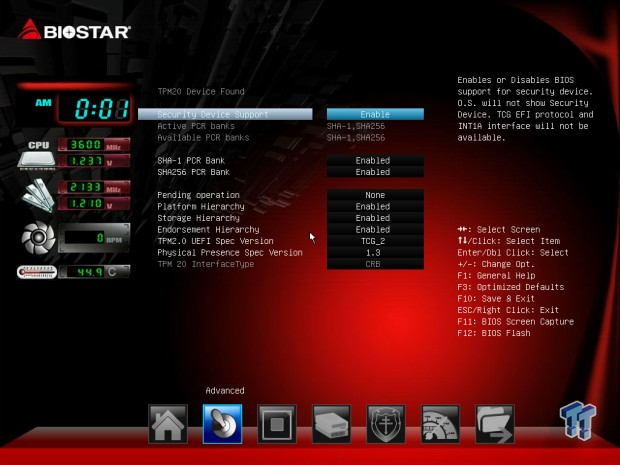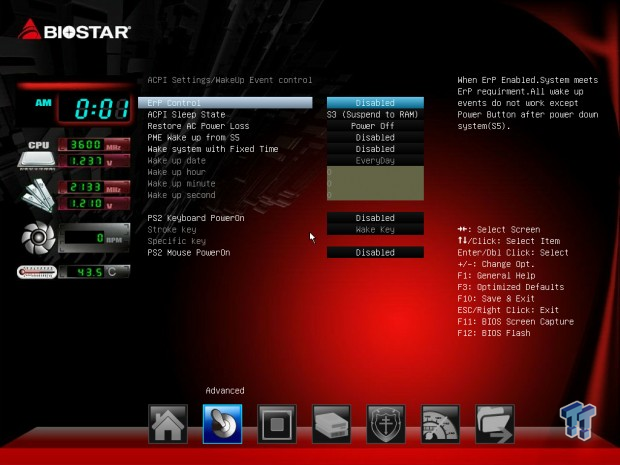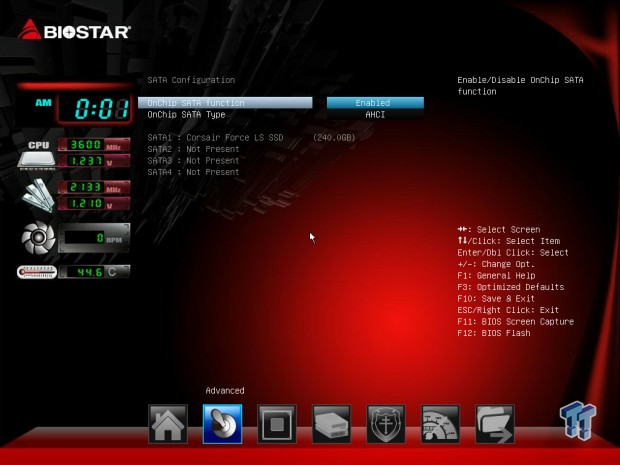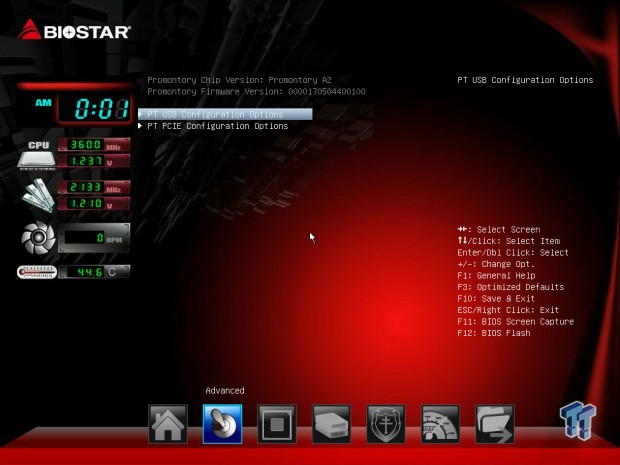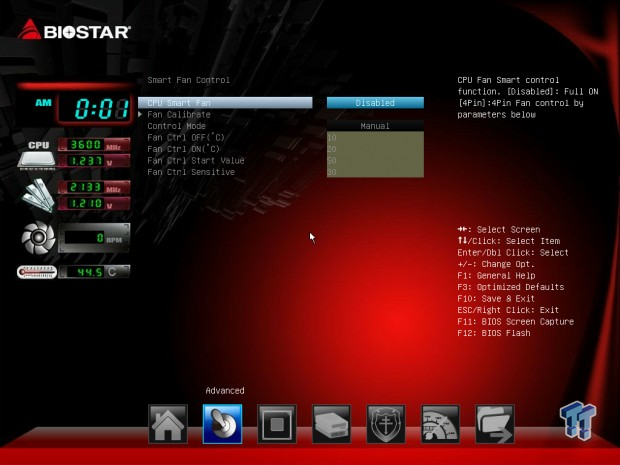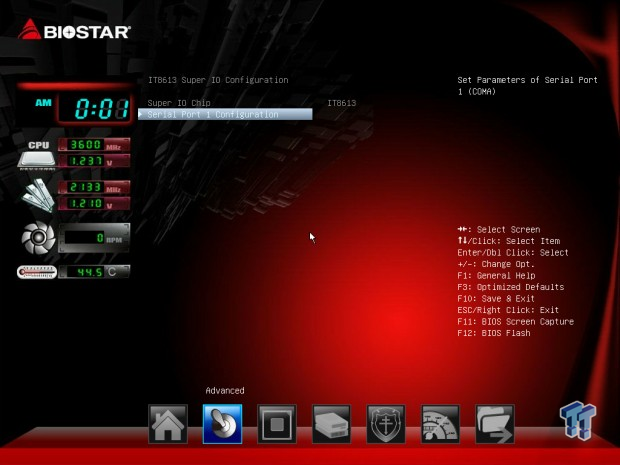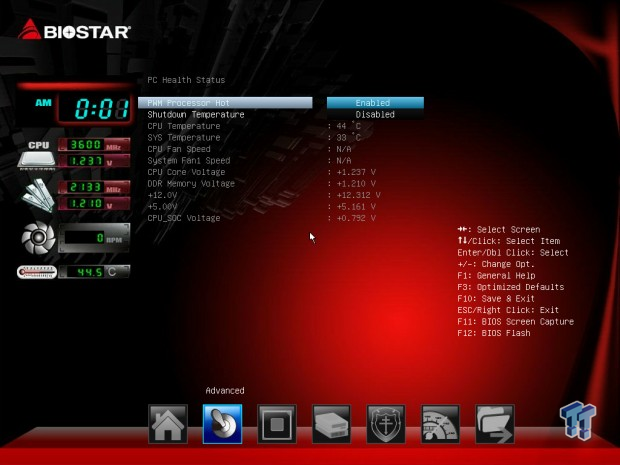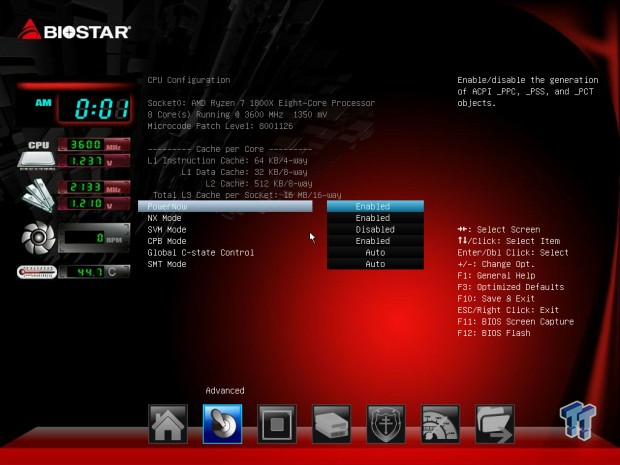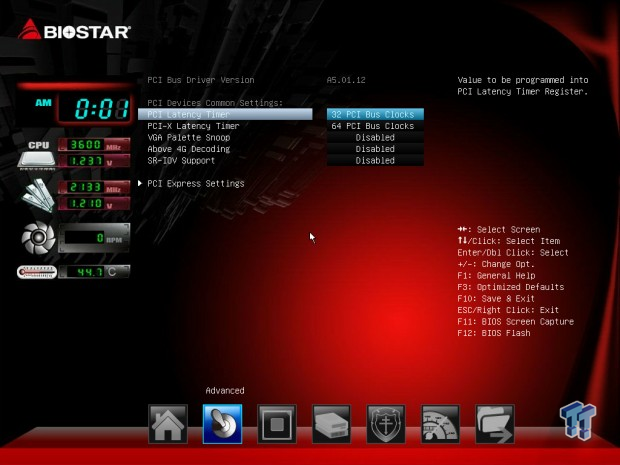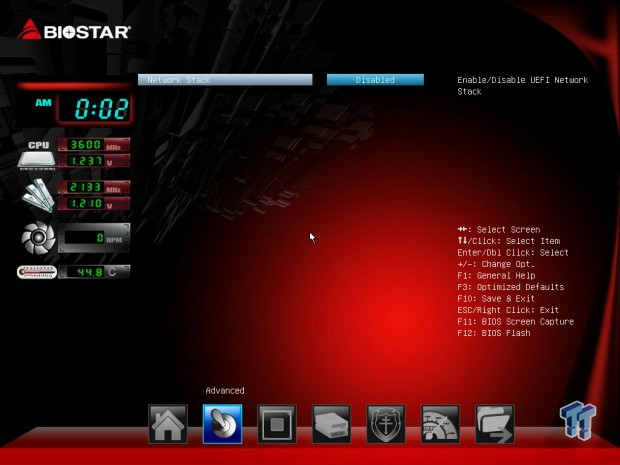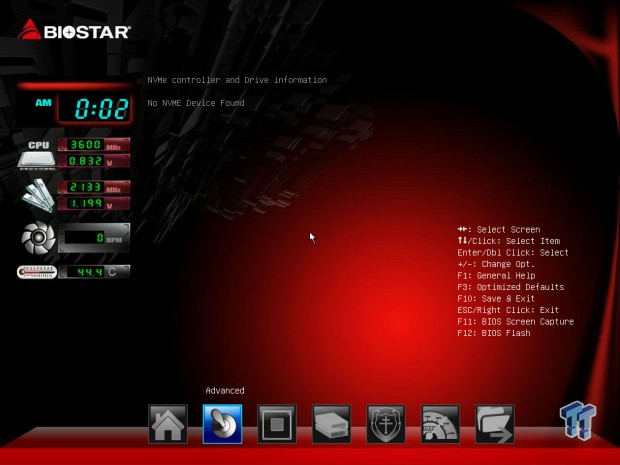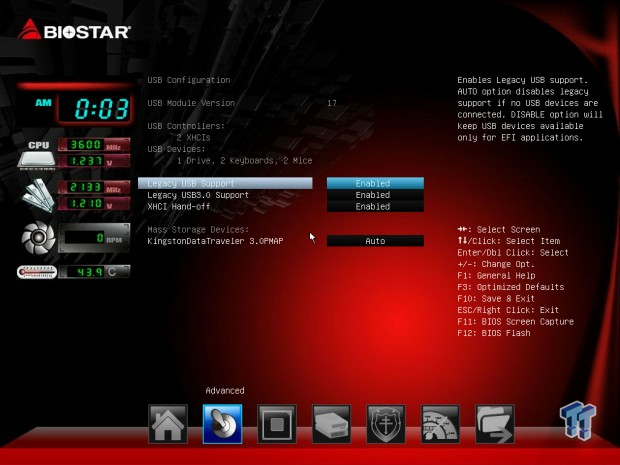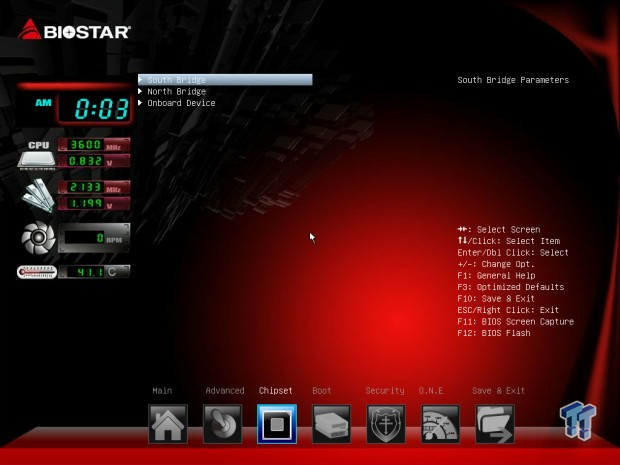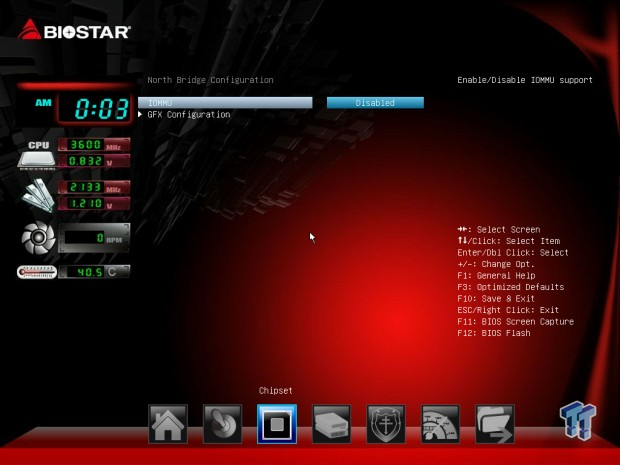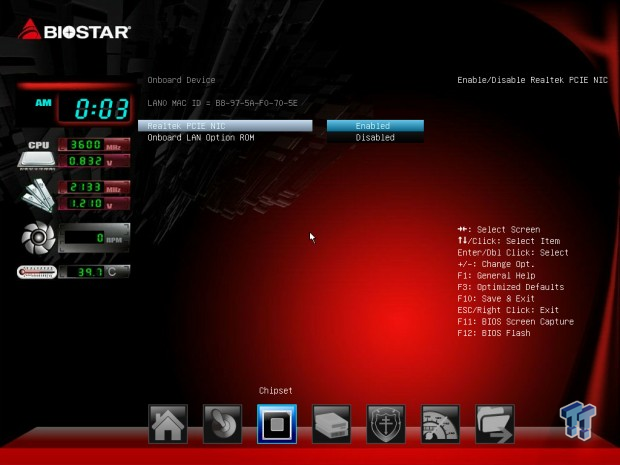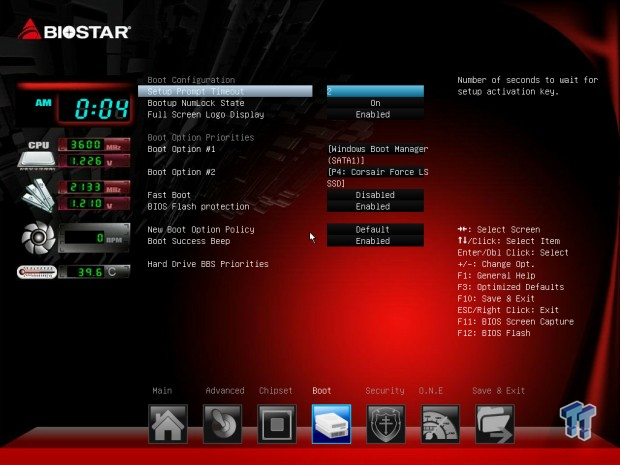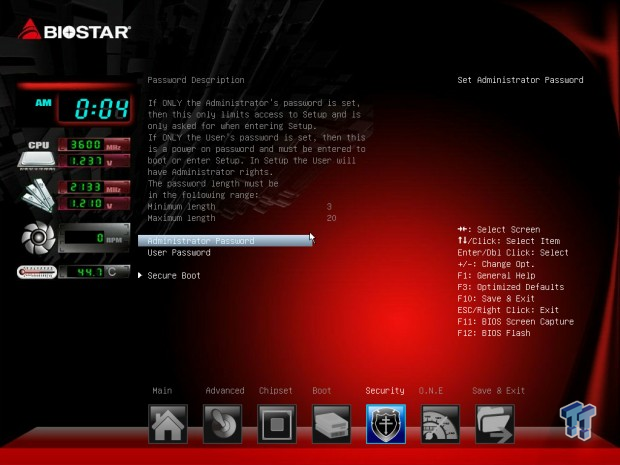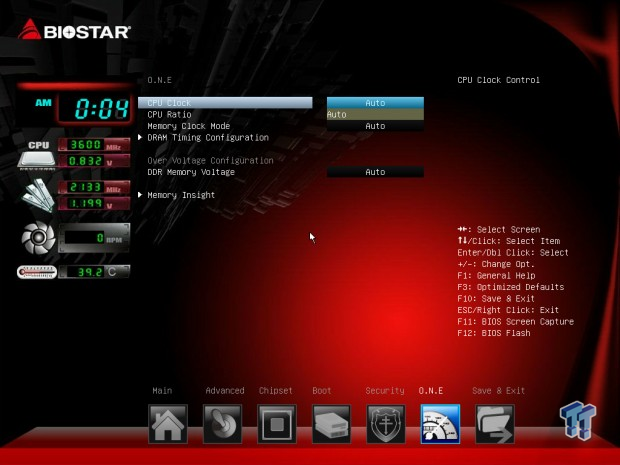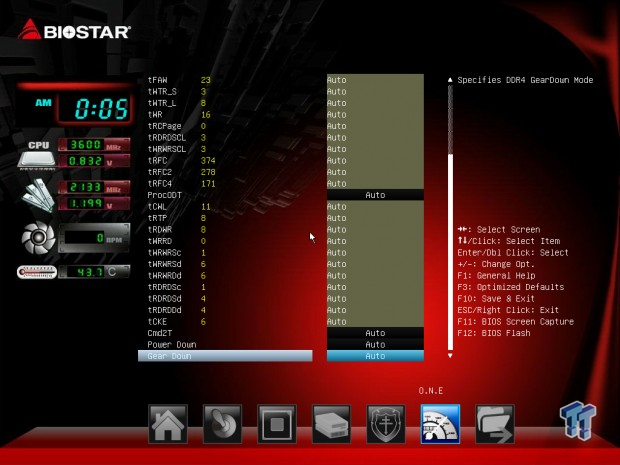 Software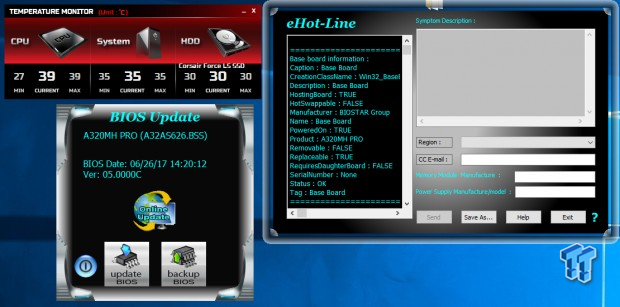 BIOSTAR's software suite includes Temperature Monitor, BIOS Update, and eHot-Line among other programs.
Test System Setup
Steven's Motherboard Test System Specifications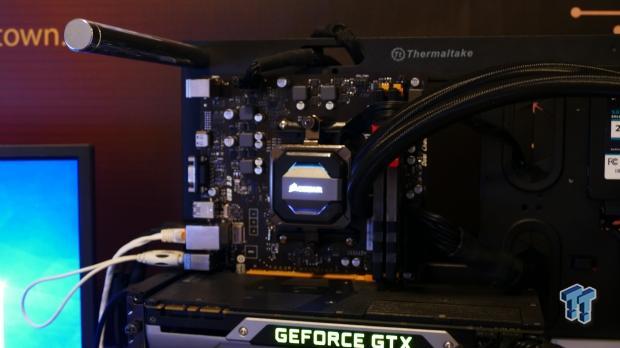 The A320MH Pro has very basic aesthetics and doesn't really jump out at you. That being said, it is an mATX motherboard with a black PCB and yellow slots, so you could spice it up if you wanted.
Overclocking
Overclocking Results
CPU Overclocking
AMD's Ryzen platform is quite new; AMD and its partners are working very hard on fixing issues and getting things to work across the board. The CPU also doesn't validate that much higher than its maximum stable frequency.
Memory overclocking is topped at 3200MHz on most motherboards, and bus adjustment is also very tricky. Don't get me wrong, the CPU can overclock, mine does 4.0GHz, but the A320 chipset does not support overclocking the CPU, but memory is another story.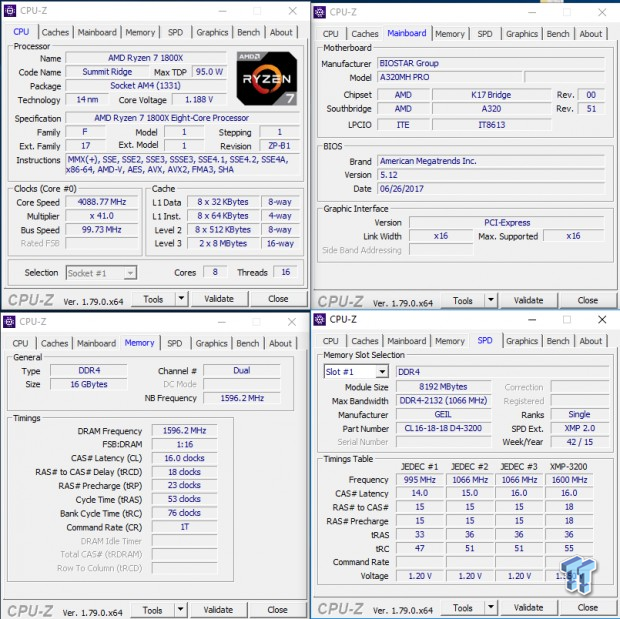 The A320MH Pro shocked me when it overclocked my kit to 3200MHz using the built in XMP profile. The new AGESA 1.0.0.6 code has done wonders, and even though you can't OC the CPU, you can still increase the speed of AMD's infinity fabric.
CPU, Memory, and System Benchmarks
CINEBENCH R15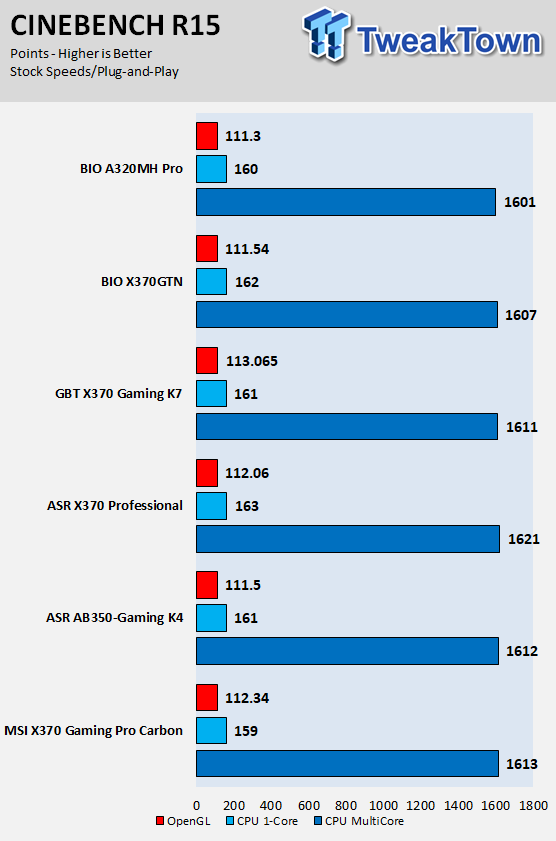 wPrime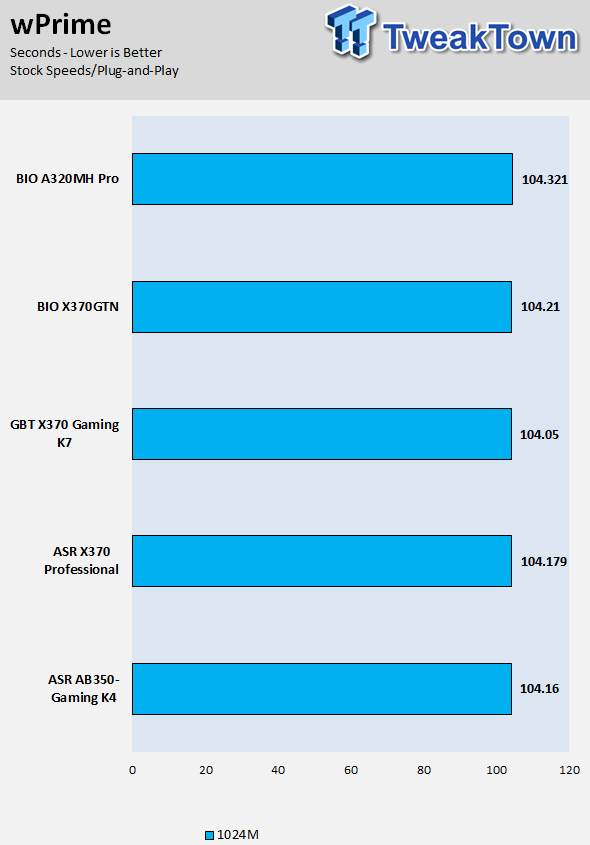 AIDA64 FPU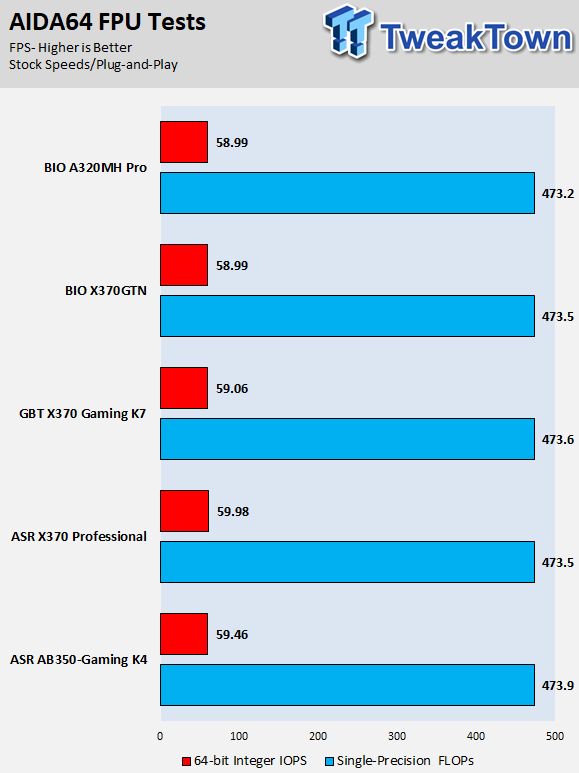 AIDA64 Memory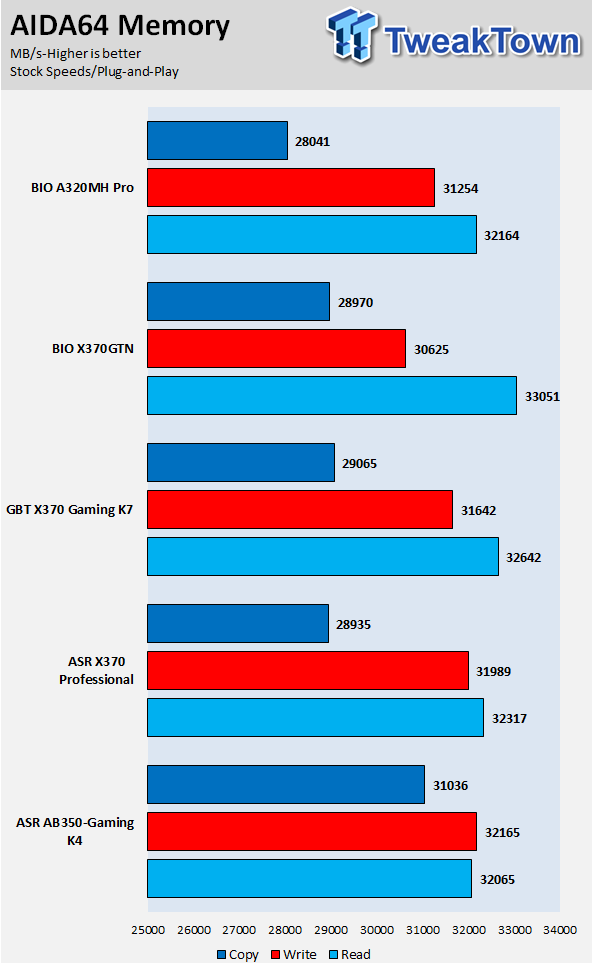 ScienceMark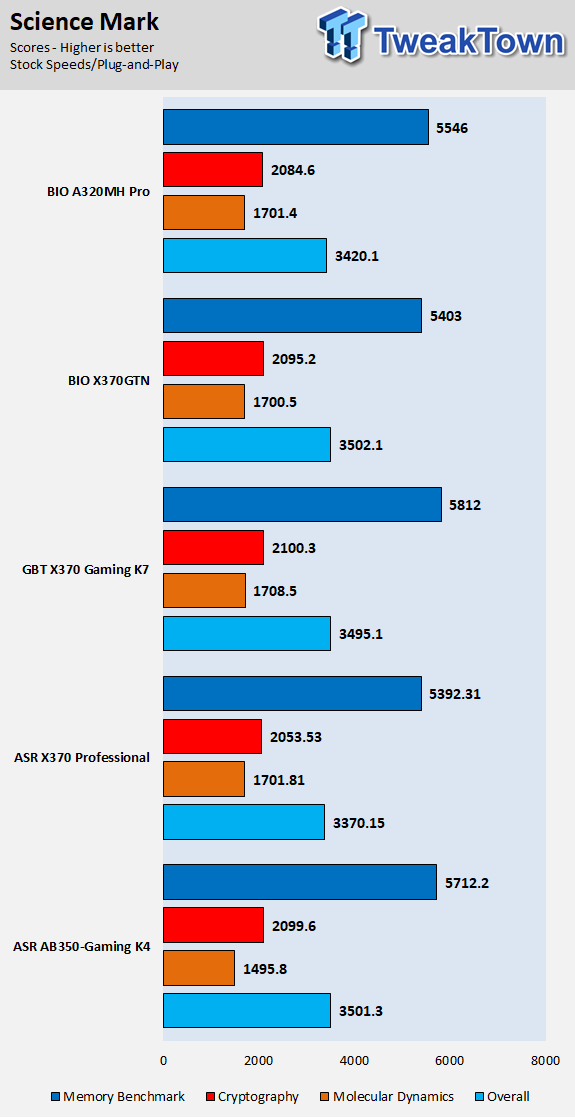 HandBrake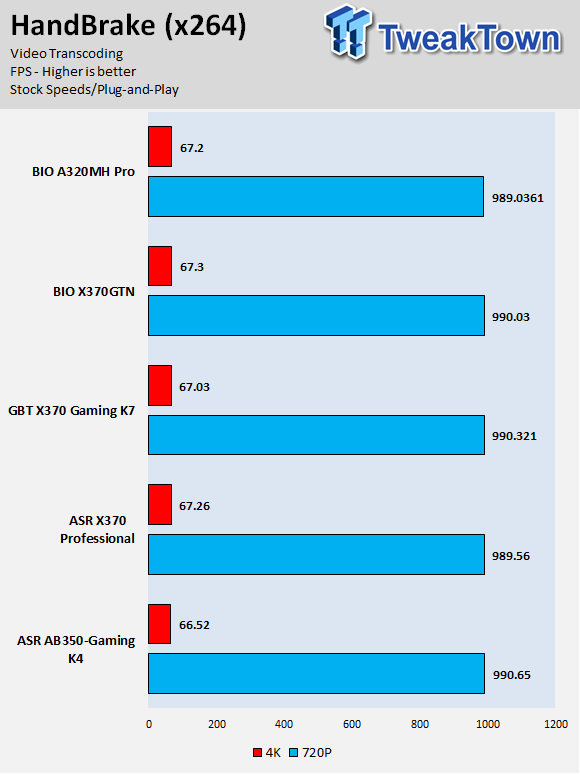 SuperPi 32M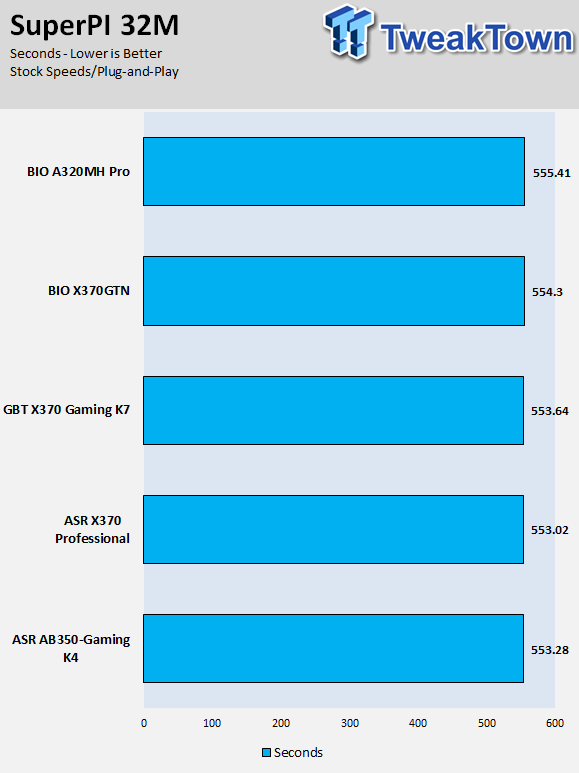 3DMark: Fire Strike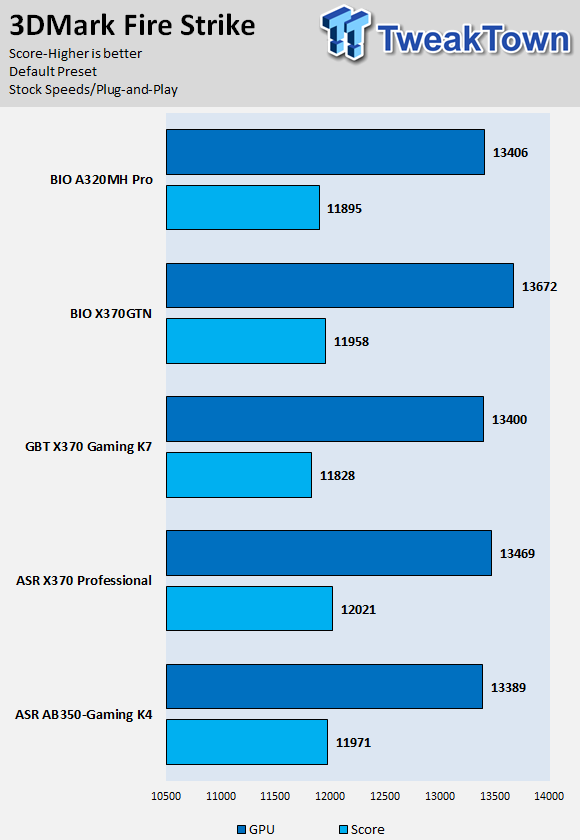 3DMark: Cloud Gate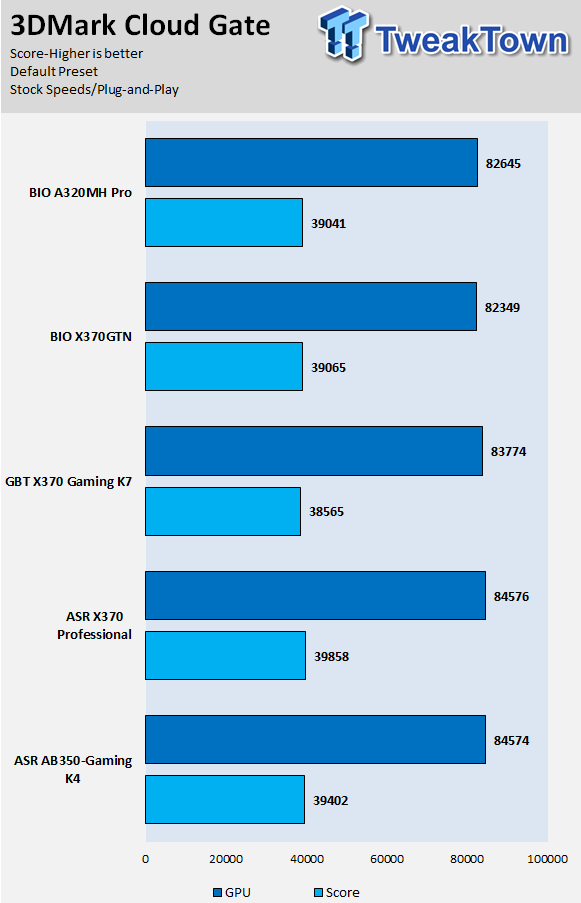 ResidentEvil 6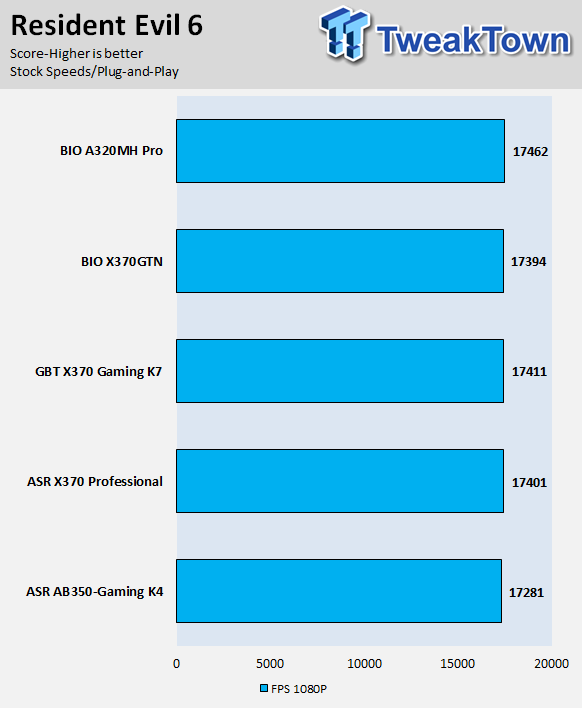 The A320MH Pro's performance is actually up there with the X370 and B3560 chipset motherboards. We should have expected this, as the B350 chipset held up against the X370, it just seems more feature limited, but not necessarily performance limited, which is great news.
System IO Benchmarks
CrystalDiskMark SATA6G: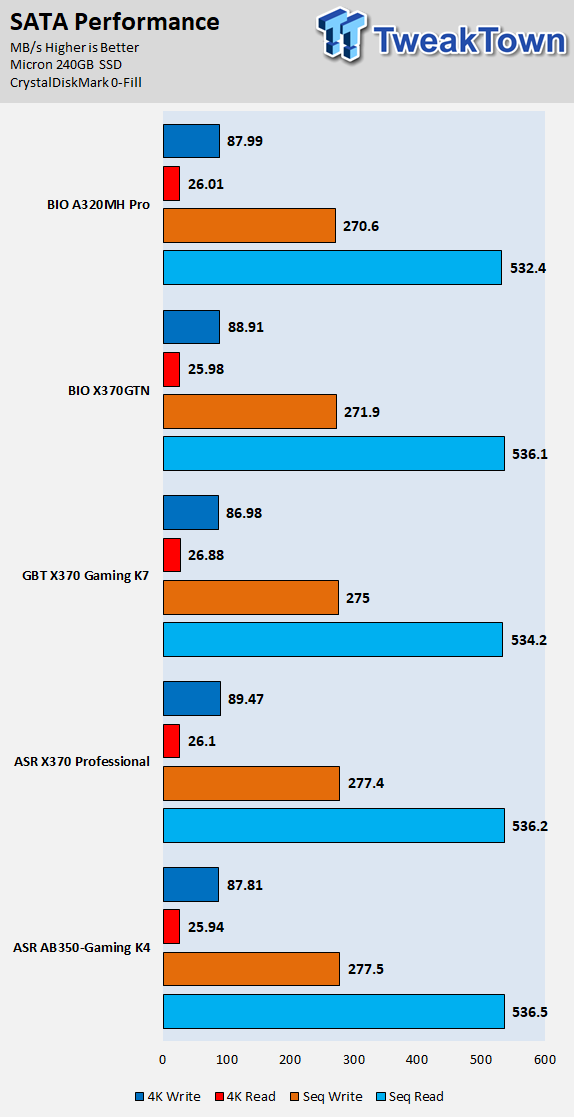 ixChariot Network Throughput: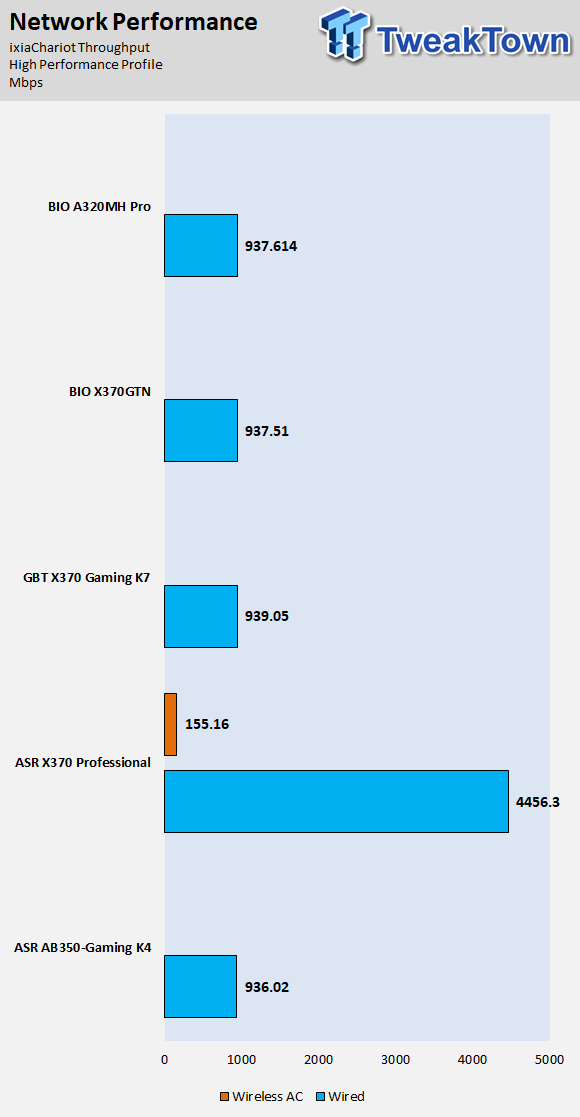 The A320MH Pro only offers SATA storage, which is performing well. Network performance isn't the best we have seen, but it's also not the worst.
Audio RMAA 5.5:
I disable all audio features, set the correct bitrates, and then test the audio with a loopback test.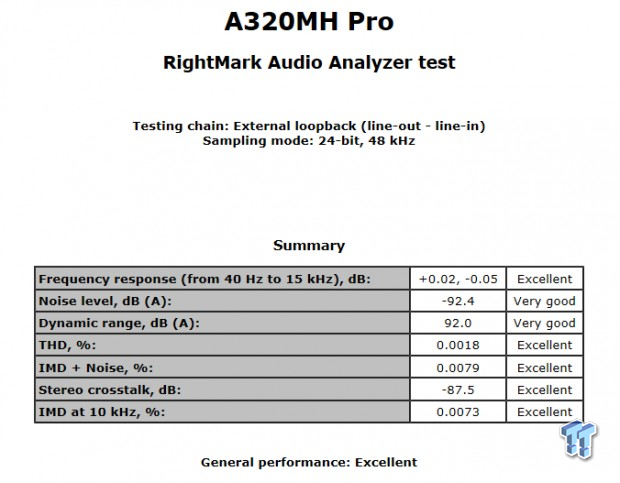 Sound Judgment by Ear: I would say audio quality is acceptable, it's not crazy like some high-end setups, but it gets the job done. There are five ratings for audio: 1. Problems, 2. Okay, 3. Acceptable, 4. Very good, 5. Excellent
Thermal Imaging and Power Consumption
System power is measured at the wall with an AC power meter.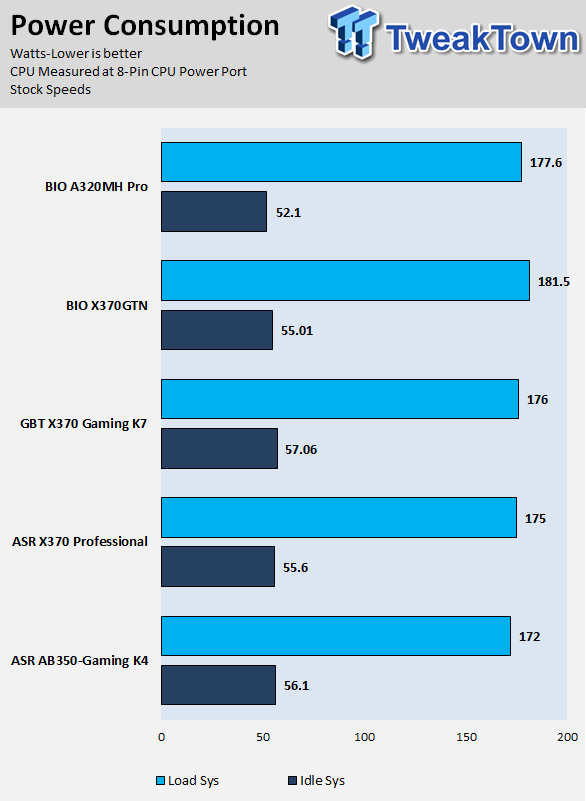 Note on Thermal Images: In the temperature section, we use our Seek thermal imaging camera to capture the surface temperatures of major components on the board. I look at the VRM and then all other things that light up the screen. If there is something to worry about, then I will state it. Otherwise, I will just show the hotter running parts of the board for fun. Unless some component is over 80-90C, then there isn't anything to worry about.
All systems will act differently, so I will look for commonalities, such as how far from the VRM the heat spreads through the PCB and the difference in temperature between the front side and backside of the PCB. Keep in mind, the majority of the heat from the VRM goes into the PCB as it is a giant soldered on copper heat sink. A larger difference in temperature between the back and front of the PCB points towards a more effective heat sink.
Thermal Testing at Stock Speeds:
The image on the left is always at idle, and the image on the right is at load. During ALL TESTS, fans above the VRM that cool the CPU cooler's (Corsair H110i) radiator are turned on to high (12v).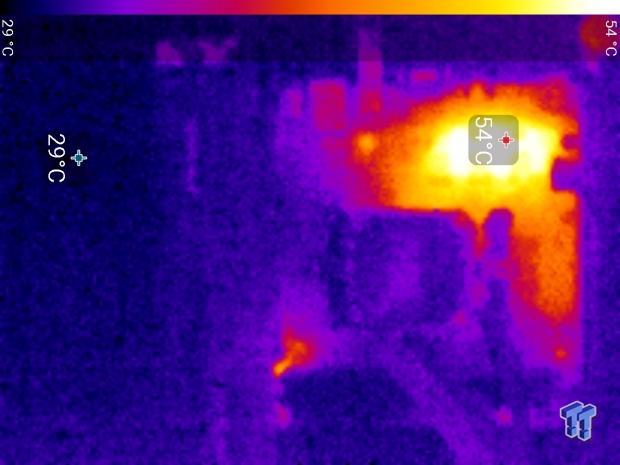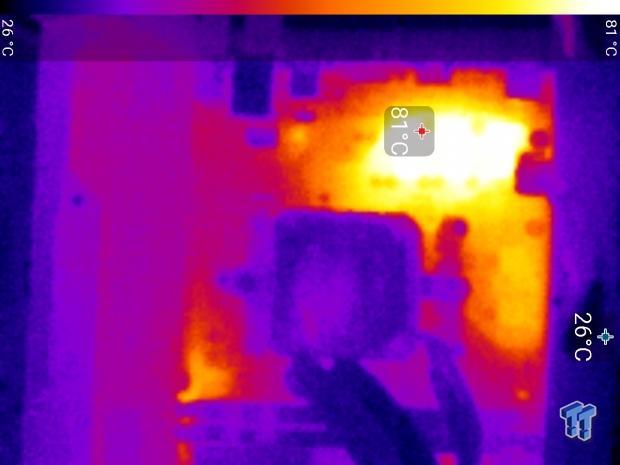 Full frontal.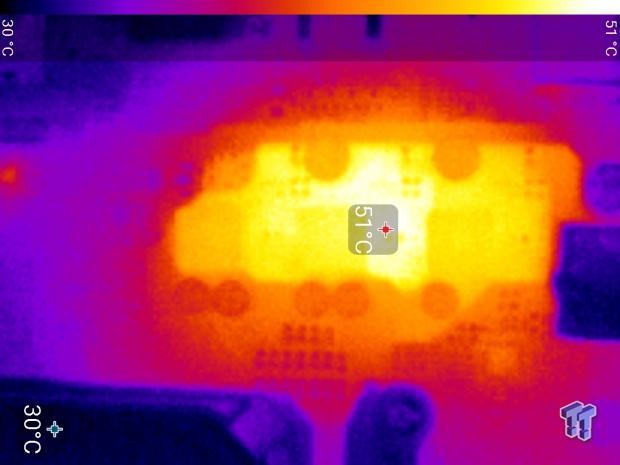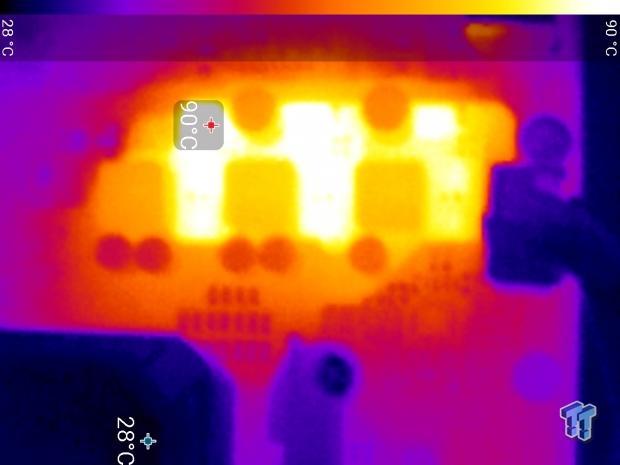 Up-close of the front of the VRM.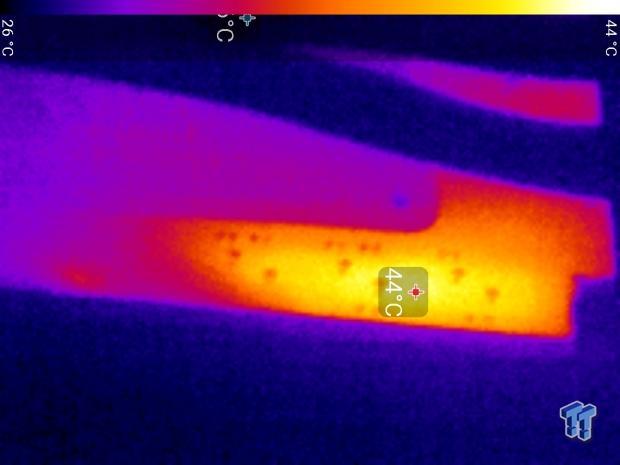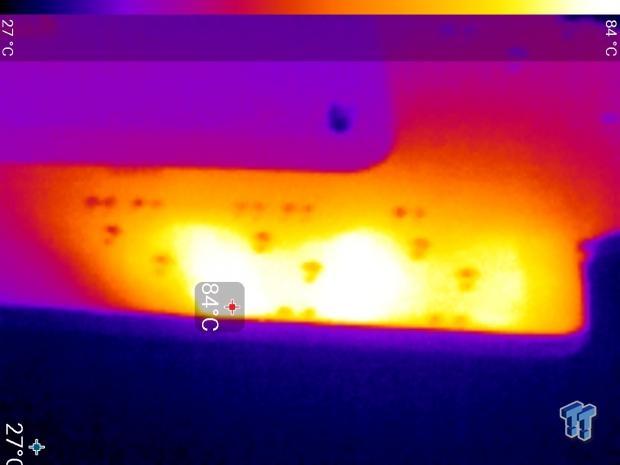 Up-close of the back of the VRM.
The A320MH Pro is not really built to overclock, and the VRM says it all. However, these temperatures are produced in a worst case scenario, with the most powerful CPU the motherboard can take, running a fake synthetic load, and operating without active VRM cooling (less airflow than in a case).
The VRM is doing its job and running just fine, but it's definitely not intended to go further regarding power.
What's Hot, What's Not & Final Thoughts
Here are key points about the BIOSTAR A320MH Pro.
What's Hot
Affordable: At just over the $50 mark, the A320MH-Pro is one of the least expensive AM4 motherboards on the market. Since AMD's new SoC design for their Ryzen CPUs puts a lot of IO into the CPU itself, there is not that much need for a chipset loaded with features, unless of course, you need those extra features. This segmentation allows vendors to put out much less expensive products, and the A320MH Pro is extremely affordable.
It Gets the Job Done: As AMD says, the A320 chipset is there to get the job done. It offers some extra SATA and supports extra PCI-E based devices such as NICs. It's the bare bones chipset, and the A320MH Pro is a bare bones motherboard; it just works.
Supports up to 95W: It's AMD's most mainstream chipset, mainly targeting APU/NPU (not really sure what an NPU is) users. However, that does not mean Ryzen 3, 5, and 7 CPUs aren't supported, in fact, they are supported right up to the 95W 1800X. XFR is even working correctly.
Audio Caps and Network Guard: BIOSTAR added in some higher quality electrolytic audio capacitors for the audio section to spice things up. BIOSTAR has also added in ESD protection for USB port and uses a LAN guard to protect from surges over your network.
What's Not
No M.2: The Ryzen 3, 5, and 7 CPUs offer x4 PCI-E 3.0 for an M.2 drive, but the A320MH Pro doesn't offer the port. It could be because it's really only useful with CPUs that support those extra lanes (we don't know what the APUs/NPUs will support).
Low On IO USB: The motherboard only offers four rear USB ports, two of which are USB 3.0.
Final Thoughts
The BIOSTAR A320MH Pro is what you would expect from a motherboard that costs only $52; it's the base model for a motherboard for the AM4 platform. The A320MH Pro and other motherboards like it are designed to facilitate AMD's upcoming lower power CPUs with integrated graphics, but the motherboard does support Ryzen 3, 5, and 7 CPUs, and it had no problem handling my 1800X. Although the chipset doesn't support CPU overclocking, I was super surprised when it overclocked my RAM to 3200Mhz with ease, and that does really help alleviate the infinity fabric bottleneck of Ryzen 3, 5, and 7 CPUs.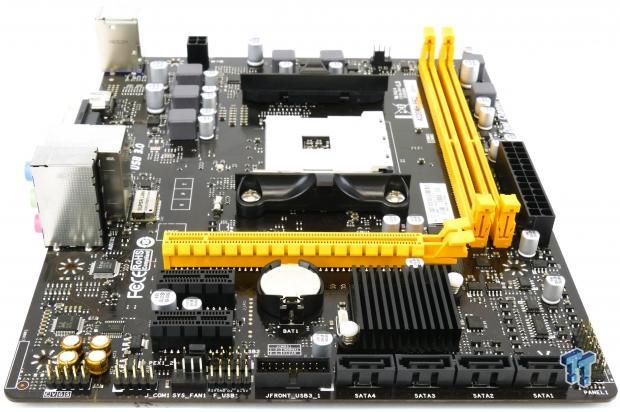 The A320MH Pro is a very basic board with basic features and decent performance. Many users these days plug in one or two SATA drives, a single GPU, and two sticks of RAM. They typically never enter the UEFI, don't overclock, and don't really configure fans. For many of those people, the A320MH Pro is more than enough, but it also offers some extra features, such as a loaded BIOS for those that want to tune things a bit more.
If you are in the market for a basic board for your Ryzen CPU, APU, or NPU, take a look at the A320MH Pro.
| | |
| --- | --- |
| Performance | 90% |
| Quality | 83% |
| Features | 82% |
| Value | 94% |
The Bottom Line: Getting the job done with ease, the BIOSTAR's A320MH Pro is an extremely affordable motherboard for any basic AMD Ryzen build.
PRICING: You can find products similar to this one for sale below.

United States: Find other tech and computer products like this over at Amazon.com

United Kingdom: Find other tech and computer products like this over at Amazon.co.uk

Australia: Find other tech and computer products like this over at Amazon.com.au

Canada: Find other tech and computer products like this over at Amazon.ca

Deutschland: Finde andere Technik- und Computerprodukte wie dieses auf Amazon.de
We openly invite the companies who provide us with review samples / who are mentioned or discussed to express their opinion. If any company representative wishes to respond, we will publish the response here. Please contact us if you wish to respond.