Team T-Force Night Hawk DDR4-3000 16GB Memory Kit Review
Team's T-Force Night Hawk DDR4-3000 16GB dual-channel memory is the next kit to go under the spotlight. Should you buy it? Let's find out.

Published Mon, Dec 19 2016 8:14 AM CST
|
Updated Tue, Nov 3 2020 6:58 PM CST
Rating:

96%
Manufacturer: Team

Team is one of the companies which keeps releasing new products and developing new designs in heat spreaders along the way. You can get everything from RAM without spreaders to those with basic metal spreaders, DDR4 with unique designs, those that look to be made by Avexir, and this latest kit which appears to have wings spread across the top of the sticks. The Vulcan RAM sort of started this design into action, and then there was the introduction of their newest Dark and the Night Hawk series of memory which has us here today.
The T-Force Night Hawk memory all comes aesthetically the same, with black spreaders and white wings on top, which when powered are illuminated by red LEDs. The specific kit we were sent is the THRD416G3000HC16CBK, which comes with an XMP 2.0 profile sporting 3000MHz of speed at 16-18-18-38 2T timings, and needing 1.35V to do so. With other makers moving to somewhat less desirable ICs, Team is sticking to the top names in the industry and has based these on Samsung ICs. These have proved in the past to be strong in performance, and tend to leave a little bit back from its maximum potential, to give the overclockers out there a little room to play.
The Team Night Hawk memory may not be everyone's cup of tea; these sticks come with a style that is unmistakable as to what kit you have running in your rig. Even when it comes to just the feel of these kits, they are heavy due to the use of cast metal for the spreaders, the texture and style are appealing in many ways, and who can complain about LED lighting? Keep in mind too that you can get Night Hawk RAM with white, blue and red LEDs. Today we are getting up close and personal with the Team Night Hawk DDR4 memory, and find out that memory, on the whole, is not getting worse, as this kit is willing and able to perform to expected levels.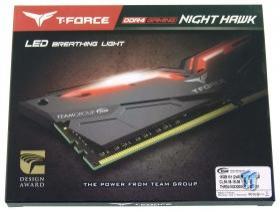 The packaging has a single stick of the T-Force Night Hawk memory laid on top of stone or concrete, but the bright red LEDs on them match the accents used along the top with all of the product naming too. It appears this kit won a design award, and we also see the product sticker so that it is easy to see what you are buying without being able to see the RAM inside.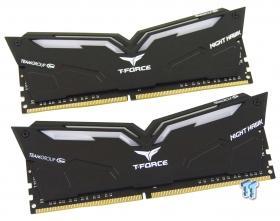 The black PCBs used under the black heat spreaders make it appear to be all one piece, and helps this kit to look better on the motherboard. The heat spreaders are thick, the entire surface is textured, and all of the naming is painted on with white paint, matching the wing-shaped LED sections along the top of each stick.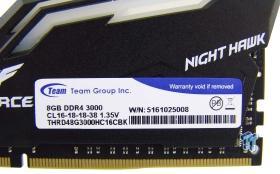 The other side of this DDR4 is identical to what we saw in the last image, except that Team also provides the product sticker here as well. It shows us that this is an 8GB stick of memory, that it will run at 3000MHz, and that timings are set for 16-18-18-38 using 1.35V.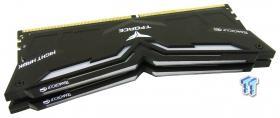 The tops of each stick offer an additional pair of segments where the LED lighting will shine through and is where the two halves of the spreaders come together. We also find the TeamGroup name and logo along the top, so that you can easily see it when they are installed.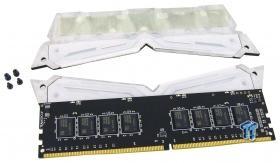 With a screw at the tip of the wing on both ends of the Night Hawk, an Allen wrench will allow the two parts to come apart. There is a run of thick tape used between the ICs and the spreader to help transfer the heat, but it is fairly easy to remove once the screws are out.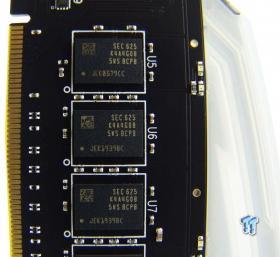 As we alluded to earlier, this kit from Team is also boasting these Samsung 625 DDR4 ICs. We do not recall using these in the past. We have seen a lot of 500 series and even early 600 series ICs, but this is the first we have run across these in a kit we can remove the spreaders from to verify.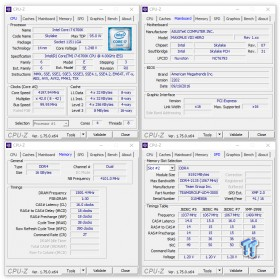 Booting into Windows with the XMP 2.0 profile activated, we had no issues loading the OS or getting on with our testing. They came right into play at 3000MHz with 16-18-18-38 timings as we had been shown all this time they should run.
Typically, we would have four windows from CPU-Z here with the timings lowered, running 3000MHz in this instance. However, every attempt that was made was fraught with instability when it came to running the tests, even pushing the voltage as high as 1.45V to try to gain some stability.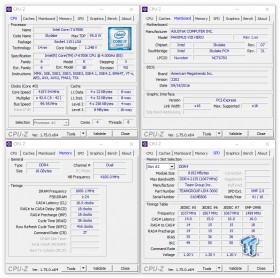 While the timings would not budge, needing only 1.40V to max out the speed, we did get the Night Hawks stable at 3200MHz with the default XMP timings. Not a huge overclock by any means, but at least there is a bit of wiggle room left when they binned this set of ICs.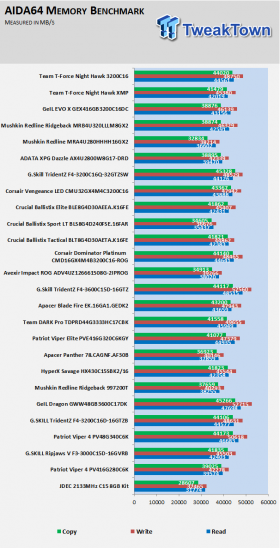 In Copy testing, the Night Hawk is in the top half of the results, slightly better in the Writes, and the Reads are so-so this time, but much closer to where we expect 3000MHz memory to score here. The additional speed does help this kit by a good margin and performs on par with other 3200MHz kits as well.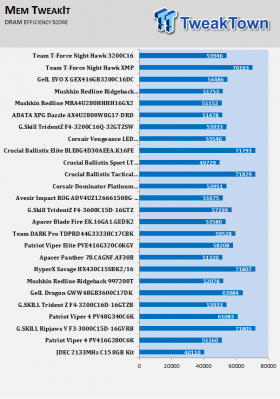 In this test, we see that when using the XMP profile and leaving it alone, the efficiency rating shown in the Night Hawk RAM is one of those kits which can break into the 70,000 range. However, adding speed to this kit seemingly chokes the life out of the score in this benchmark.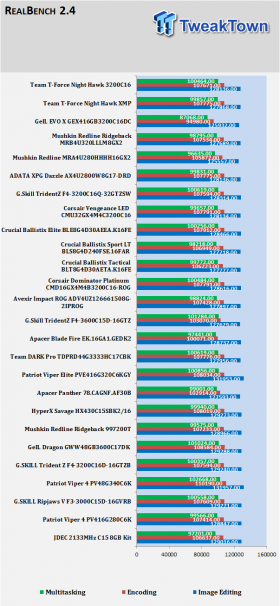 The results in RealBench, where all memory is leveled out into a much tighter group to allow any errors in, we do see that the Team RAM performs well, not terrific, but it can keep up with the Jones' here. The slight overclock gives a slight boost, and again, it is not chart-topping, but it is a good showing for the T-Force Night Hawk memory.
The Night Hawk memory looks good, offers a style like no other RAM on the market today, they are heavy, which is neither good or bad, but they do feel beefy when it comes to installing them. The LEDs are bright, but the use of white plastic does take that red lighting and turn it a pastel version of what it once was. The Night Hawk stands only 53mm in height to the tips, which means it will fit under a few air coolers, and not black a ton of airflow to the offset coolers which are made to allow room for taller sticks too.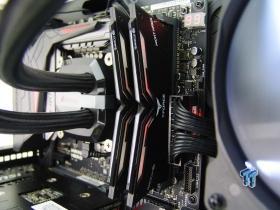 Outside of the fact that we could not make any headway with timings on this set of memory, we have nothing to remove points from this kit. Of course, the timings are tight right out of the box, and considering we could add 200MHz and run 3200MHz at CAS16, it's impressive, to say the least. Performance is all tests, we saw the Night Hawk RAM able to perform at average levels with other 3200MHz kits, and was no bested by many slower sets; it is right where it should be. Where Mushkin seemingly was looking for speed first, and timings and performance second, Team has taken it all into account and can renew our faith, seeing improvements to be had from buying higher speed kits of DDR4.
Another saving grace for a kit such as these Night Hawks is that you can have everything seen here for just less than $100. It does not matter if you want these kits with red, blue, or white LED backlighting, Newegg has all three listed on sale right now for $99.99. Considering the cost of the Mushkin we just saw, we find this kit delivers a lot more bang for the buck. The HILM EVO X are impressive when it came to lighting and style, but we would rather not have to deal with the wiring. Without a capable motherboard to control them anyways, we would, in the end, opt to get the Team T-Force Night Hawk DDR4, and enjoy terrific looks and LED light pulsing, along with performance too, since the reality is that you buy faster RAM to see gains, not just to brag about them.
Chad's DDR4 Dual-Channel Test System Specifications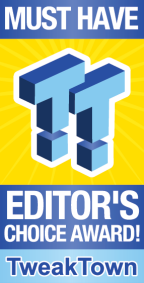 | | |
| --- | --- |
| Performance (including Overclocking) | 94% |
| Quality including Design and Build | 98% |
| General Features | 93% |
| Bundle and Packaging | 97% |
| Value for Money | 99% |
The Bottom Line: Team's T-Force Night Hawks are beefy, stylistically unique, perform where they should for the ratings they come with, and best of all they are affordable! Team has their act together, and these are something to seriously consider.
PRICING: You can find products similar to this one for sale below.

United States: Find other tech and computer products like this over at Amazon.com

United Kingdom: Find other tech and computer products like this over at Amazon.co.uk

Australia: Find other tech and computer products like this over at Amazon.com.au

Canada: Find other tech and computer products like this over at Amazon.ca

Deutschland: Finde andere Technik- und Computerprodukte wie dieses auf Amazon.de
We openly invite the companies who provide us with review samples / who are mentioned or discussed to express their opinion. If any company representative wishes to respond, we will publish the response here. Please contact us if you wish to respond.