Rogue One: A Star Wars Story Movie Review
'Rogue One' is a lop-sided, but ultimately welcome inclusion to the expanding 'Star Wars' mythos.

Published Dec 18, 2016 1:34 PM CST
|
Updated Tue, Nov 3 2020 6:58 PM CST
3 minutes & 14 seconds read time

Rogue One: A Star Wars Story Movie Review
When George Lucas closed the loop on his Star Wars saga after 2005's Revenge of the Sith, fans expected (backed by Lucas' vehemence) that that was the end of the series on the big screen. And it was, that is, until Disney took control of the franchise some six years later, paving the way, not just for a continuation of the core 'Skywalker' storyline, but also standalone movies set in the expanded Star Wars universe.
While that shouldn't have come as a huge surprise, with the franchise having already established a keen exploration beyond its roots via various books, comics, computer games, and radio dramas, the endless possibilities for such a precedent quickly became apparent. Like last year's The Force Awakens, the first of what's been dubbed Star Wars stories, Rogue One, hits with huge expectations that it can't possibly fulfill... or can it?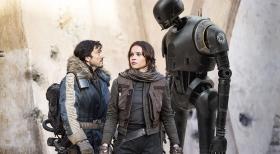 Expanding on a story only hinted at in the opening crawl to the very first Star Wars film back in 1977, Rogue One tells the story of a brave band of misfits who are tasked with locating the plans for the Empire's Death Star, a weapon with the power to finally destroy the Rebellion and take full control of the galaxy.
Led by the scrappy Jyn Erso (Felicity Jones), whose father Galen Erso (Mads Mikkelsen) has been recruited against his will to serve the Empire's pet project, the team must breach enemy lines to execute their impossible assignment, which puts them in the crosshairs of everything the Empire can muster - including Darth Vader himself.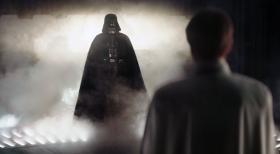 While expectations for last year's The Force Awakens sequel were understandably high, it seems those for Rogue One are the same, if not higher, driven by nostalgia and reverence to the film's setting, taking place as it does right before the much loved first Star Wars film, A New Hope. So the million dollar question is - does the ret-conned connective tissue enhance or cheapen the original trilogy? For that, we're going to need to go into some light spoiler territory. Reader beware.
While it's ripe for creative and financial gain, returning to the events of the original Star Wars was always going to be an incredibly risky proposition. Get it right, and you've got a license to print money - the $2b success of The Force Awakens and ancillary merchandising is proof of that.
But get it wrong ala the prequels, and you not only risk inflicting brand damage across the entire franchise, but you're also liable to pissing off millions of protective and vocal fans. Hell hath no fury like a fanboy scorned. Luckily, Rogue One does plenty right. But curiously, it also gets a fair bit wrong, too.
Opening to a solid scene which very effectively sets the film's plot in motion, before cutting back and forth between different locales and characters which called to mind the clunky Suicide Squad, almost the entire first half of the film seems to meander without a clear narrative vision. It does what's expected, but it's hard not to feel that the exposition couldn't have been told in a more economical and effective fashion.
Few of the secondary characters get to make their mark, with Forest Whitaker's Clone Wars character Saw Gerrara particularly superfluous. Even the initial appearance of Darth Vader, proceeded as it is by an intriguing Empire Strikes Back-style glance at a battle-damaged Anakin Skywalker, is forgettable and a wasted opportunity for James Earl Jones to reprise his character possibly for the last time on the big screen.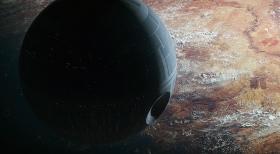 Thankfully once the film changes track around an hour in, it starts to gel together in a much-improved fashion - ironic considering the Hollywood conjecture that much of the second half was crafted from significant reshoots and editorial changes. While long term fans will no doubt appreciate the frequent sight gags and callbacks to the original saga, Rogue One is most successful in the way that it not only actively avoids contradicting the established narrative but enhances it in some subtle and often surprising ways.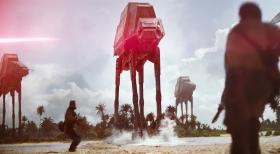 Despite the Disney branding, Rogue One is at times more brutal and violent than anything previously seen in a Star Wars film, and which seems to butt right up against a PG-13 rating. Obviously, it's no Saving Private Ryan, but Lucasfilm should be congratulated for taking a risky and bold approach to the film, which climaxes to a hugely satisfying and emotionally thrilling payoff that's worth the price of admission alone.
While Rogue One isn't the perfectly formed piece of entertainment that some fans might have wanted, it's definitive proof of the franchise's creative (and financial) viability to continue to spin-off stories set in that sprawling and ever-growing galaxy far, far away.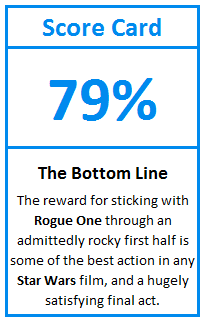 PRICING: You can find products similar to this one for sale below.

United States: Find other tech and computer products like this over at Amazon.com

United Kingdom: Find other tech and computer products like this over at Amazon.co.uk

Australia: Find other tech and computer products like this over at Amazon.com.au

Canada: Find other tech and computer products like this over at Amazon.ca

Deutschland: Finde andere Technik- und Computerprodukte wie dieses auf Amazon.de
We openly invite the companies who provide us with review samples / who are mentioned or discussed to express their opinion. If any company representative wishes to respond, we will publish the response here. Please contact us if you wish to respond.