TweakTown's Rating: 91%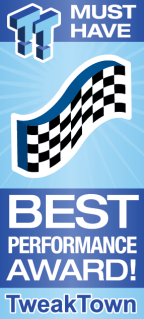 The Bottom Line
If you want Intel's most powerful consumer CPU ever, then the Core i7-6950X Extreme Edition processor fits the bill, but it's not cheap.
Introduction, Specifications, and Pricing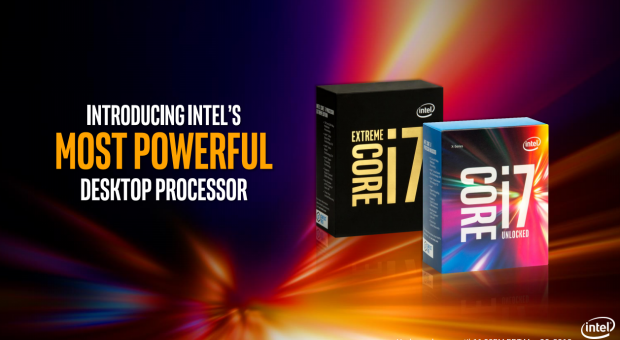 Broadwell-E has landed. Intel has finally launched its first consumer 10-core 20-thread microprocessor, aimed at content creators and those who really need that extra horsepower two extra cores can provide. Broadwell-E isn't just a core addition; it also brings Intel's 14nm node to the X99 chipset. In terms of Intel's quasi-retired tick-tock (now processor-architecture-optimization) processor cycle, Broadwell-E falls under the Tick, or architecture/optimization stage. The previous node (Haswell-E) was shrunk, and minor optimizations have taken place within the core microarchitecture.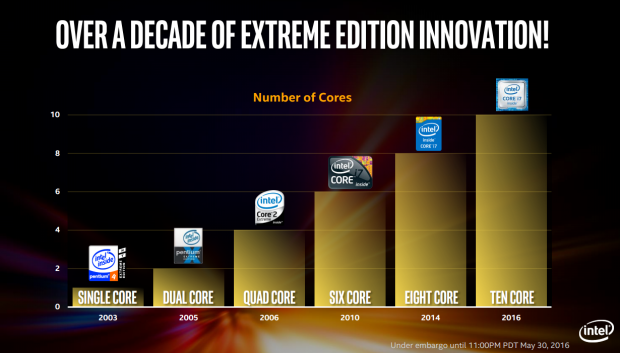 These days everything is multi-core, even the tiny microprocessors in wearable devices have multiple cores. The way Intel stacks their processor lineup is by introducing a new processor with more cores, and then expanding the standard core count in their processors. These higher core count processors are almost exclusively at the high-end, and in this case, pricey.
Pricing and Specifications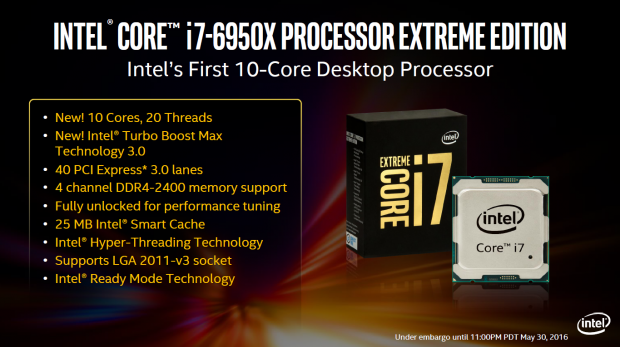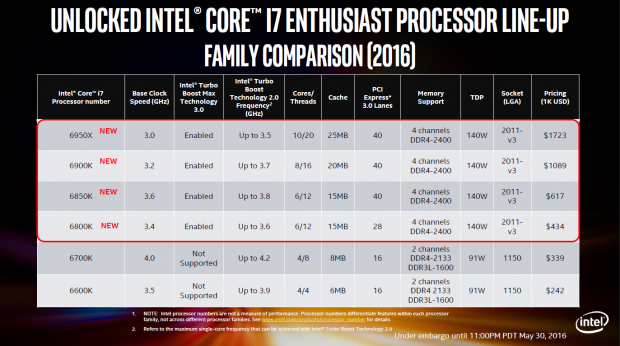 The much-anticipated Core i7-6950X will cost you roughly $1723, which is a lot of money for a consumer processor, but you will own Intel's first 10-core consumer microprocessor. For those of you who don't have almost $2K to spend on a microprocessor, there will be three other unlocked SKUs. The 6900K (8-core), 6850K (6-core), and 6800K (6-core) will also be available, and their features will scale with cost. There will only be one SKU with 28 PCI-E lanes, the 6800K; the rest will all have 40 PCI-E lanes.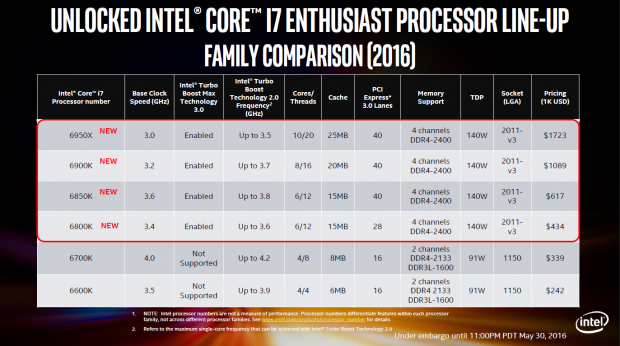 The PCI-E lanes are all in the CPU on the X99 platform, while on the Z170 platform, they are spread across the CPU and PCH. With the PCI-E lanes in the CPU, the X99 platform shouldn't face the same DMI 3.0 bottleneck of 3.5GB/s that the Z170 platform faces, allowing much faster storage options. With all the PCI-E lanes in the CPU, you will have to be careful when selecting motherboards to pair with your processor, because there will be lane switching depending on your configuration. The X99 platform isn't new to us, and Broadwell-E doesn't expand upon the feature that Haswell-E has provided.
The 6950X and New Features
The Intel Core i7-6950X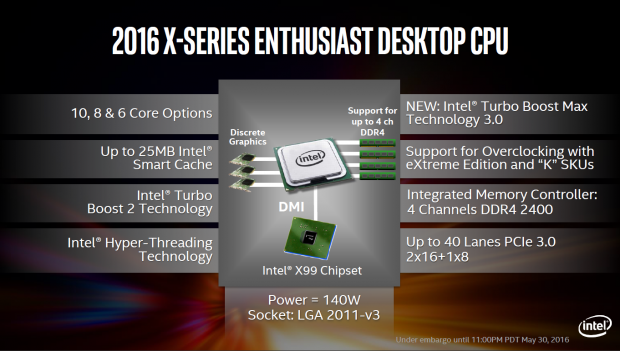 The processor die map doesn't reveal any significant changes from the Haswell-E; except that the cache is 5MB larger. It seems that half of the internal memory controller (IMC) has been moved to the opposite side of the processor, perhaps to better balance trace routing.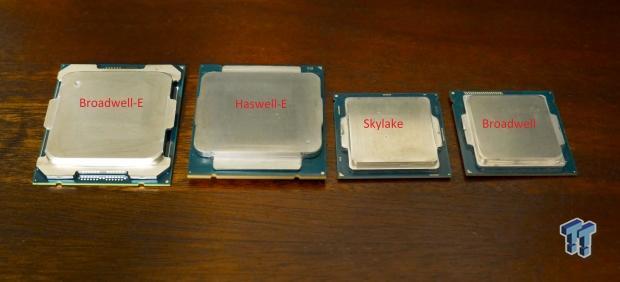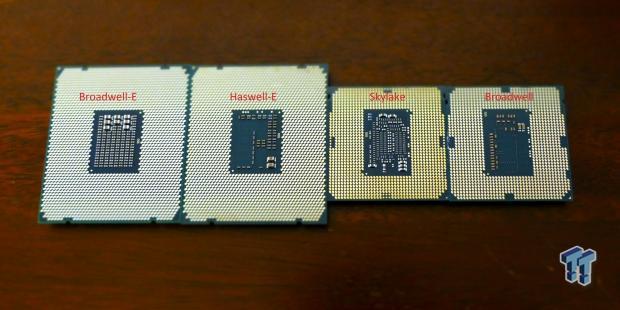 Intel has changed the shape of the edges of the internal heat spreader (IHS); it's now very similar to that of the Broadwell-EP Xeon processors. The IHS looks slightly larger, and the edges should provide better pressure distribution across the PCB. The new processor looks to have roughly the same pad layout as its predecessor, but there is a noticeable increase in bottom-side SMDs. I would assume that Intel has made upgrades to the fully integrated voltage regulator (FIVR), which is responsible for providing the many internal voltage domains from a single motherboard input.

Yes, the PCB is thinner, but that doesn't mean the CPU is shorter. In some way, shape, or form, Intel has to keep the height of the CPU roughly the same to keep the same socket and cooler specifications. So if they reduce the thickness of the PCB, then they have to add height elsewhere, perhaps in the IHS. While a lot of people think that cost is a reason, the fact that this PCB shortening was done on both the Skylake 14nm node and Broadwell-E 14nm node leads me to believe it was because of increased thermal expansion, taller die, or increased heatspeader thickness for cooling.
New Features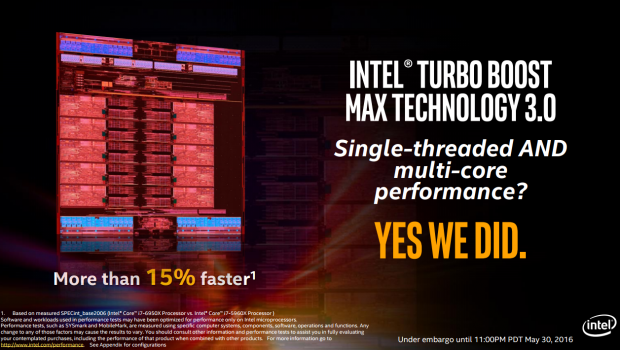 As with any Tick, new features are at a minimum since the microarchitecture doesn't change all that much. However, Intel has made strides to expand the performance of the 6950X by providing the OS the ability to rank the cores based on voltage/frequency curves and then provide an extra turbo boost to the single fastest core. This should greatly increase single core performance with stock settings, and I would venture a guess that many people who spend $1700 on a CPU will be apprehensive about overclocking it outside of Intel's specifications.
Right now, to take advantage of this new Turbo Boost Max 3.0, you will need to install Intel's light driver/software. In a future Windows 10 update, this functionality will be built-in, but with the driver, this functionality will work on Windows 7 and Windows 8.1.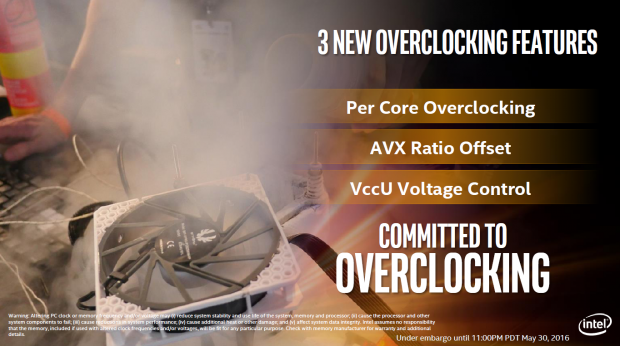 Intel has also taken the time to expand a few overclocking features. Overclocking each core independently isn't something new, but being able to assign a maximum multiplier to each unique core has become much simpler with Broadwell-E. Intel has also taken note that when users run software that uses AVX 2, stress on the CPU increases as does voltage and heat. With Broadwell-E, you will be able to define a lower multiplier for the CPU to fall back on when using AVX, as to not interfere with your overclock when using applications that utilize SSE instructions.
Intel has also added another voltage called VccU, which deals with the ring architecture between the cores, and should help increase cache frequency overclocks.
Broadwell-E Memory and Test Setup
Skylake Memory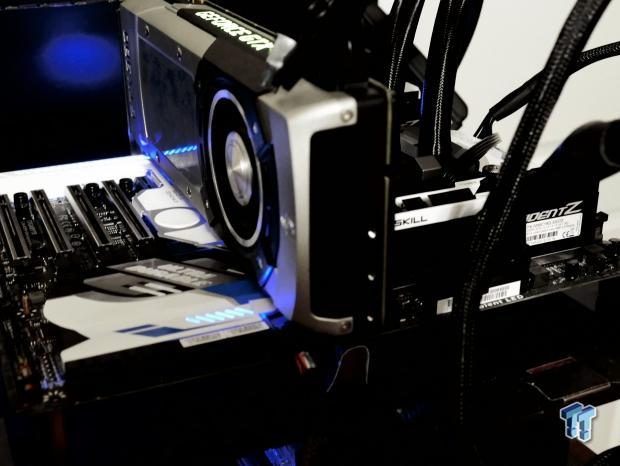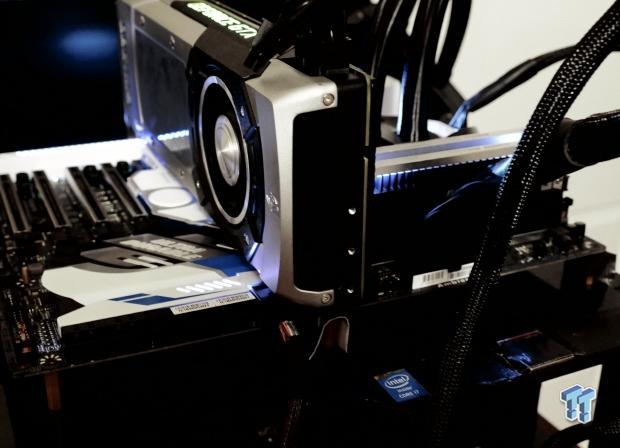 The X99 platform isn't new, but there are many new products designed for the platform that are just coming to market now. New quad-channel memory kits from both G.Skill and Corsair arrived for this review, and they both look really awesome on the new motherboards I also received.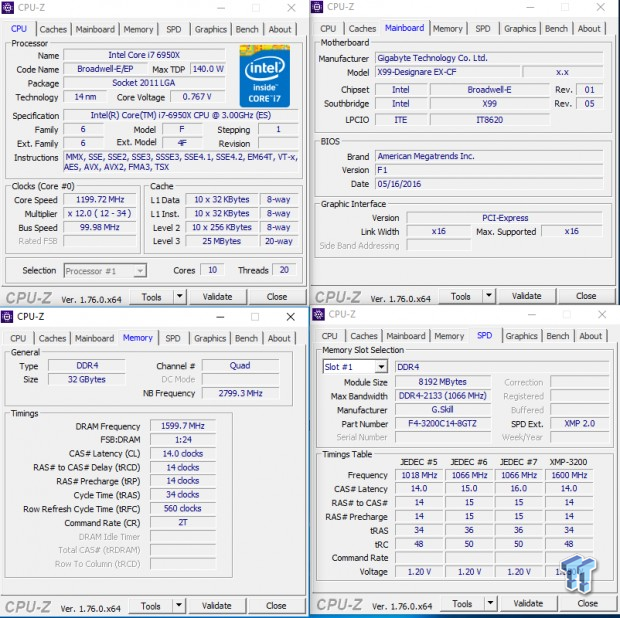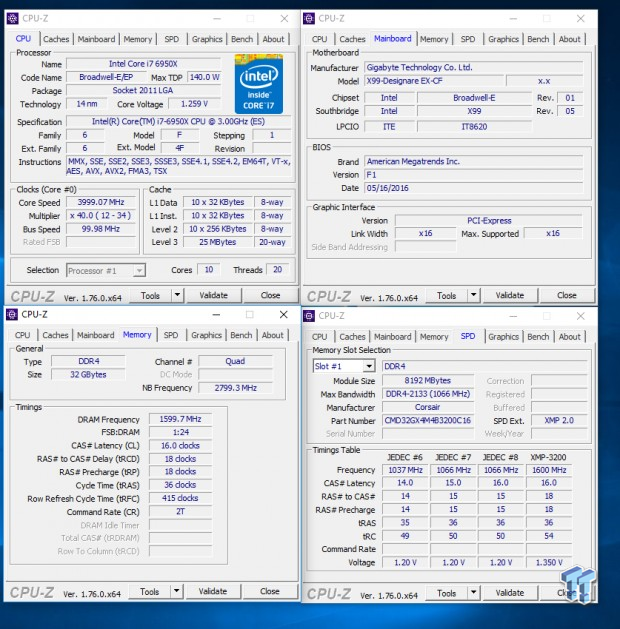 Both the Corsair Dominator Platinum 3200C16 (4x8GB) and G.Skill Trident Z 3200MHz C14 (4x8GB) kits were overclocked to their XMP settings with ease on both motherboards. The ease of the 3200MHz overclock, especially with the tight C14 CAS latency on the G.Skill shows that Intel has made strides on improving the 3200MHz multiplier and overall mainstream memory XMP compatibility for Broadwell-E. At the Haswell-E launch, overclocking to this frequency was not a simple task, usually requiring a lot of voltage adjustments and even BCLK dividers, but with Broadwell-E, it is easy, breezy, and beautiful.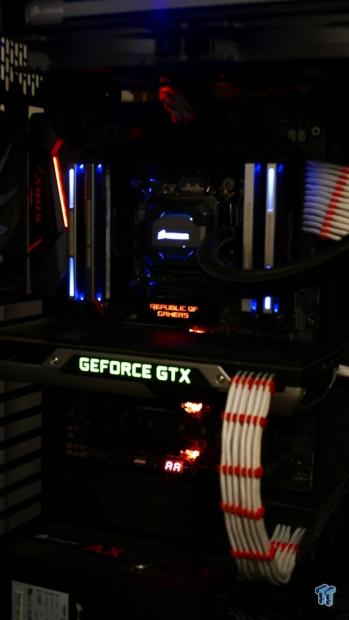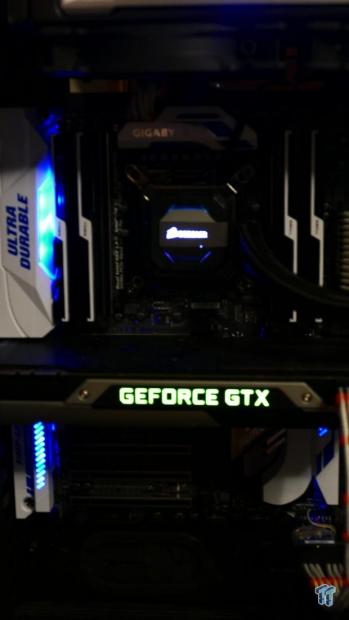 The kits look great in both the GIGABYTE X99-Designare EX and ASUS ROG STRIX X99 Gaming; in fact, memory and motherboards were basically interchangeable (both kits overclocked just as easily on both boards).
Steven's Motherboard Test System Specifications
Motherboard: GIGABYTE X99 Designare-EX
CPU: Intel Core i7 6950X Extreme Edition
Cooler: Corsair H115i GT
Memory: Corsair Dominator Platinum 32GB 3200MHz C16
Memory: G.Skill TridentZ 32GB 3200MHz C14
Video Card: NVIDIA GeForce GTX 980 - Buy from Amazon / Read our review
Storage - Boot Drive: Intel 750 400GB NVMe U.2
Storage - USB Drive: Corsair Voyager GS 64GB - Buy from Amazon / Read our review
Case: Corsair Obsidian 900D - Buy from Amazon / Read our review
Power Supply: Corsair RM1000x
OS: Microsoft Windows 10 Pro - Buy from Amazon
BIOS: F1
Drivers: Intel INF: 10.1.1.9, Intel ME: 11.1.1.1162, Intel USB 3.0 Adaptation Driver: 10.0.0.42, NVIDIA Graphics: 353.82, Audio: 6.0.1.7634, Intel LAN: 20.2.4001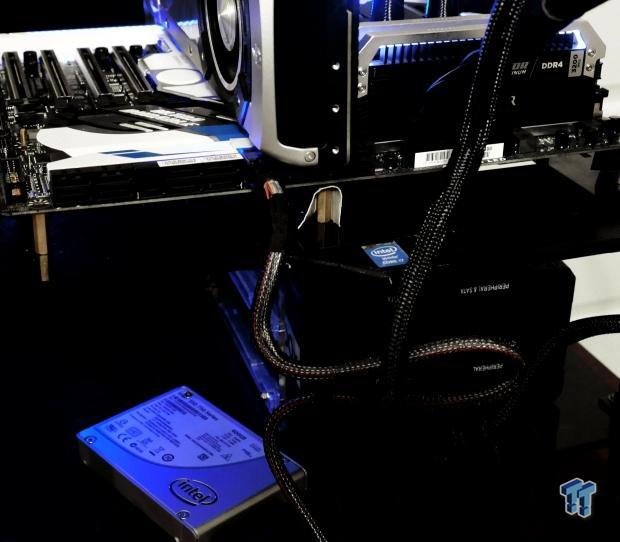 High-end hardware always looks good.
Out of the Box Performance: CINEBENCH, PCMark 8, wPrime, SuperPI, and ScienceMark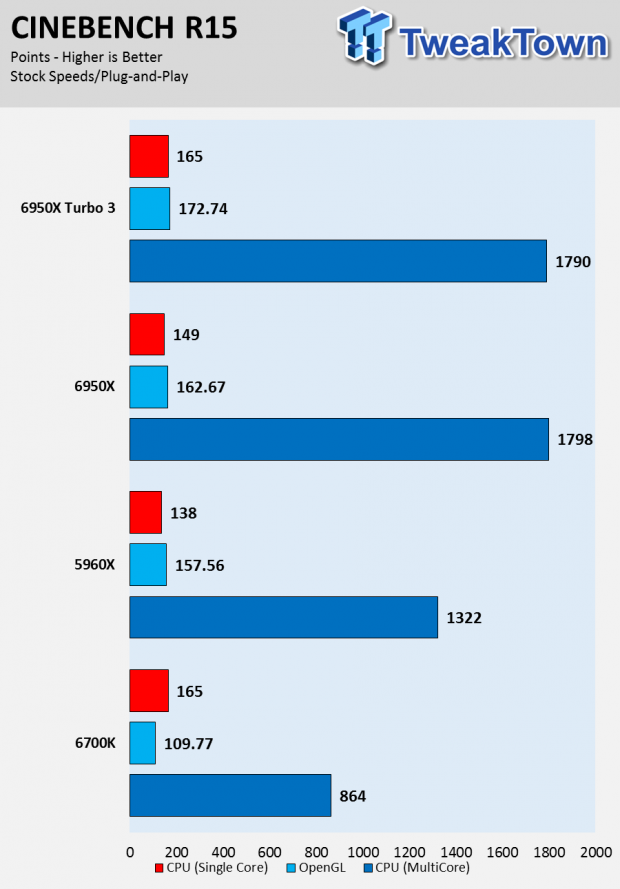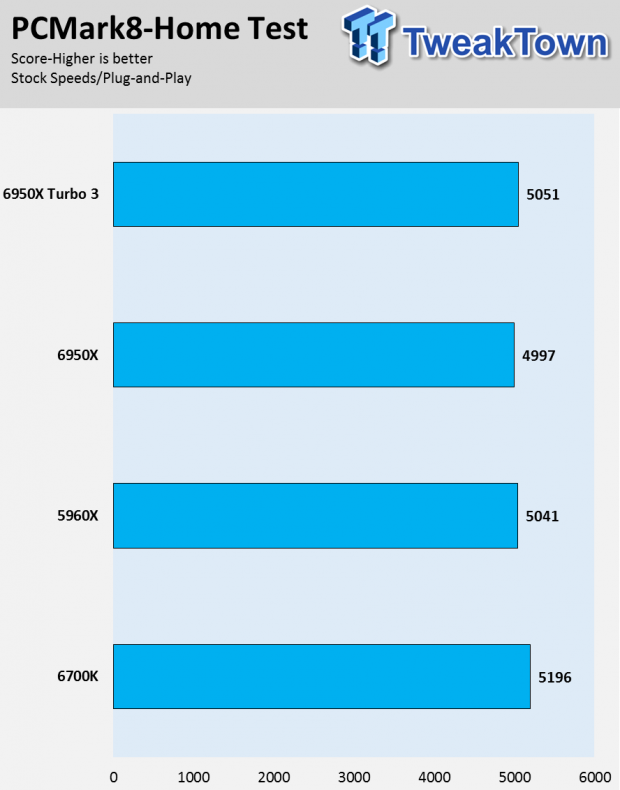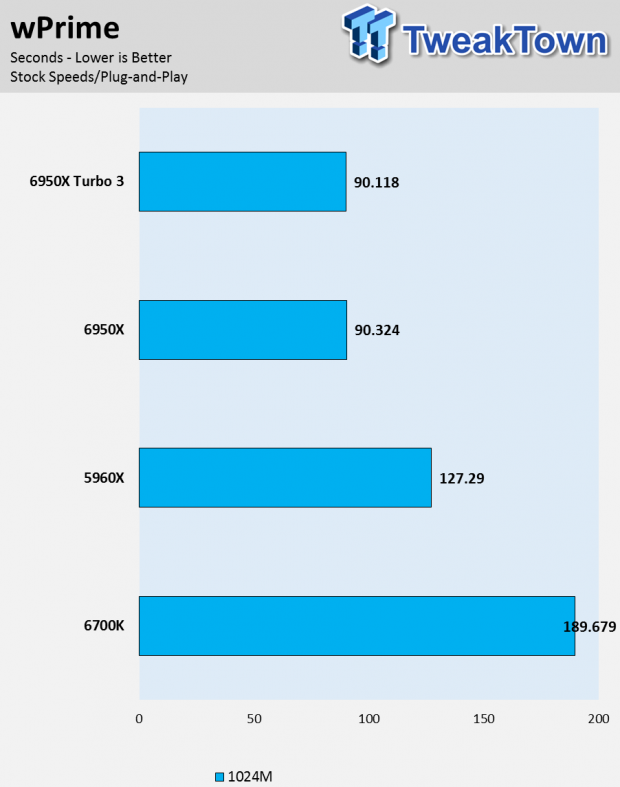 SuperPI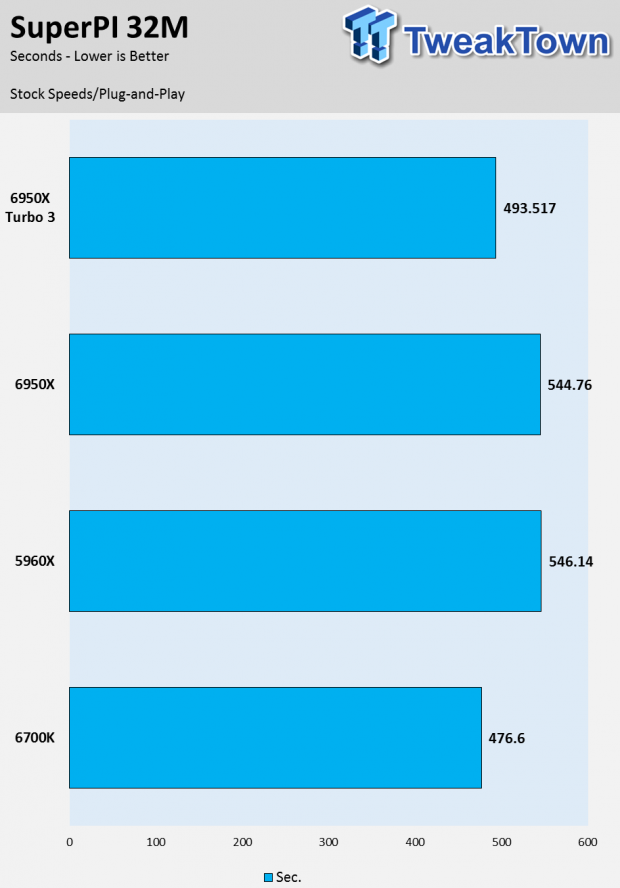 ScienceMark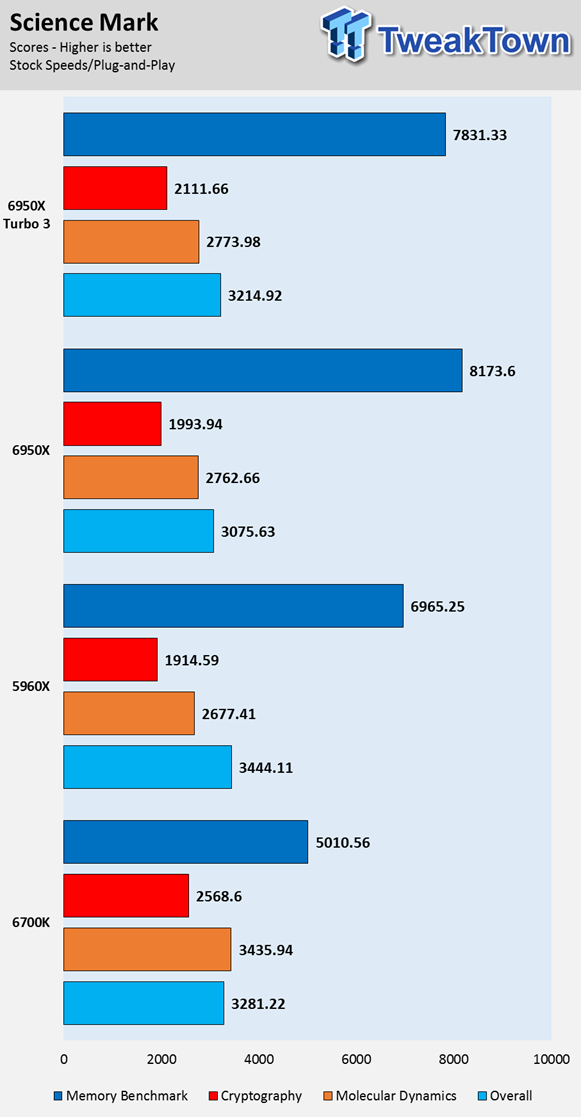 Performance numbers are where I expected them to be considering the 6950X is operating 20% more cores than the 5960X. I decided to add in results from using Turbo Boost Max 30 as well, results are quite profound when it comes to single threaded performance in CINEBENCH and SuperPI, but there isn't a big impact when the benchmark is multithreaded.
Out of the Box Performance: AIDA64 EE and HandBrake
AIDA64 Engineer Edition AES and Hash Tests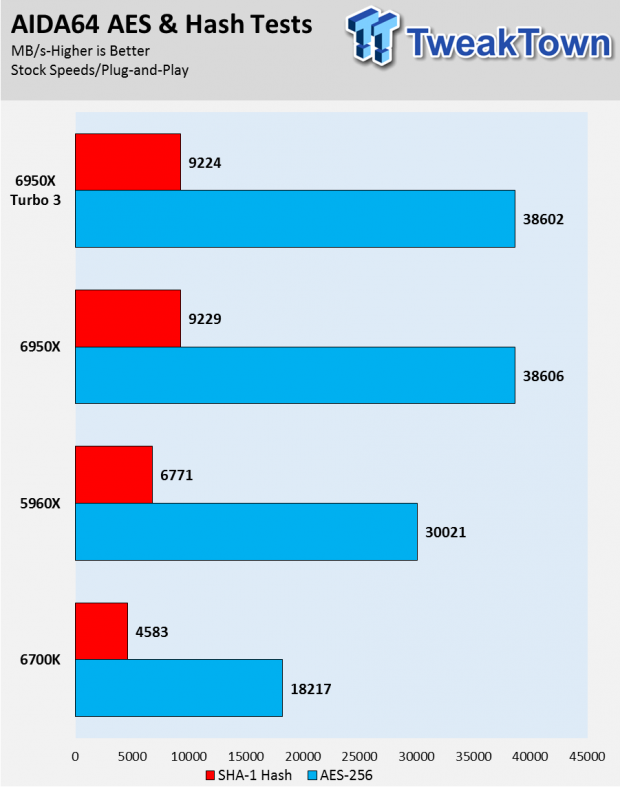 AIDA64 Engineer Edition FPU Tests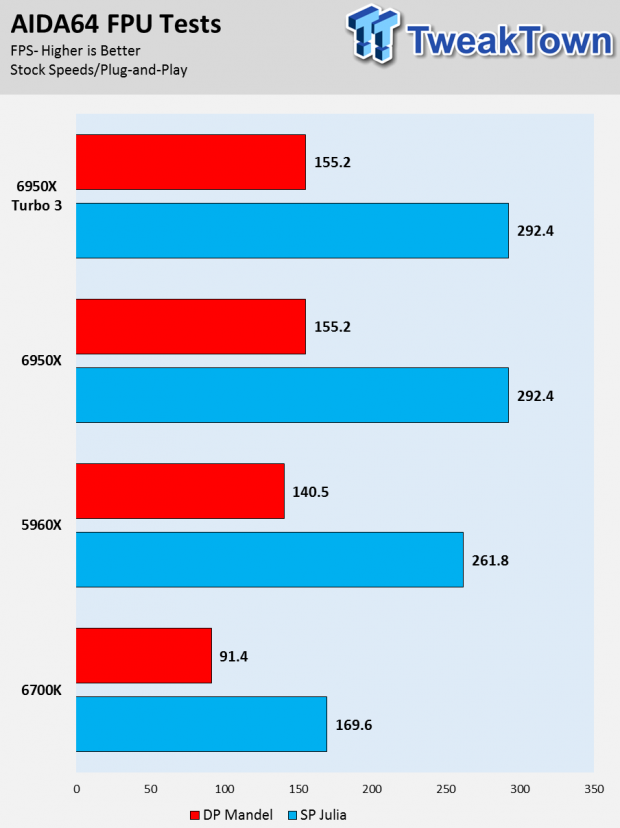 AIDA64 Engineer Edition Memory Bandwidth Test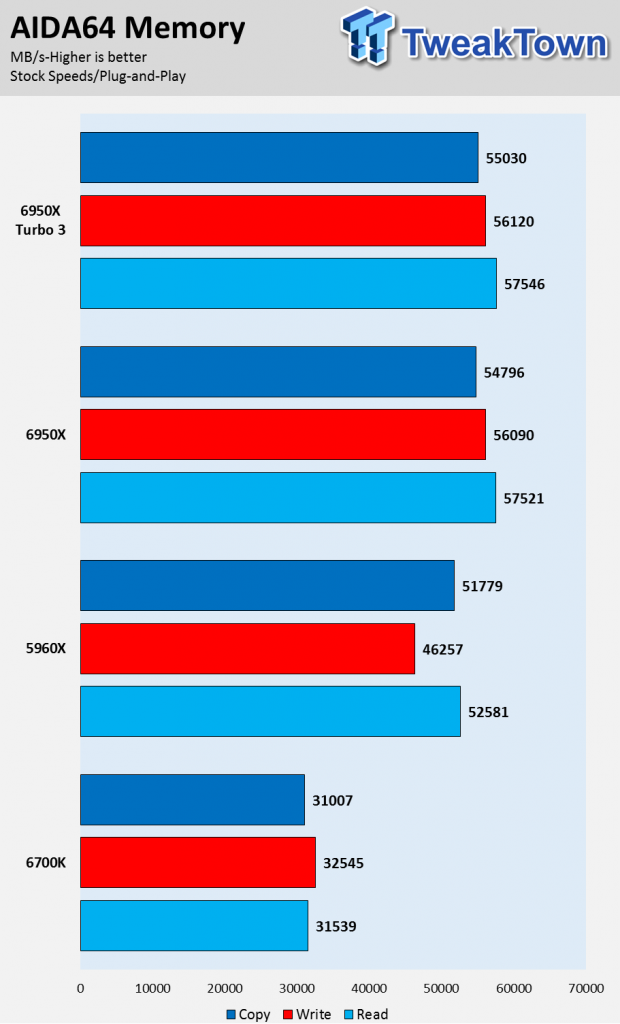 HandBrake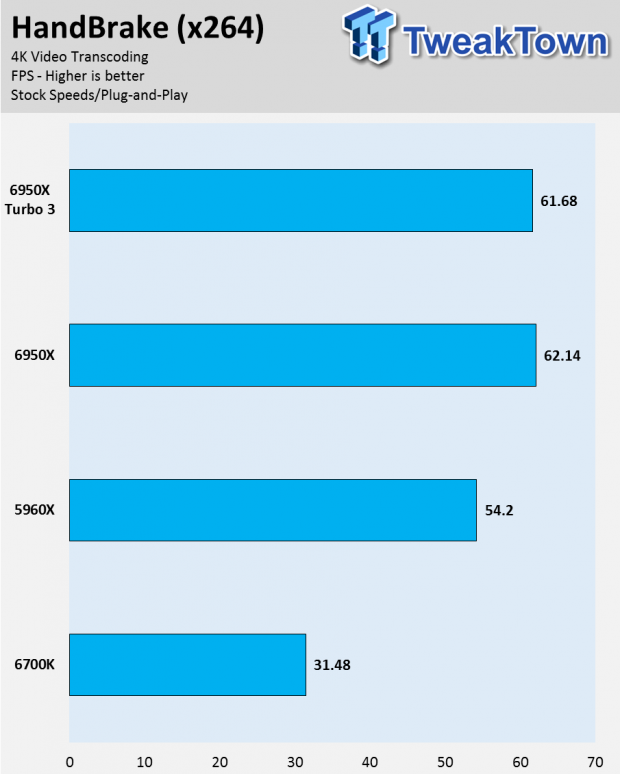 Handbrake performance is very nice; exactly what content creators like to see in terms of transcoding speed improvements. There are major improvements across the board, especially in multithreaded benchmarks.
Out of the Box Performance: 3D and Gaming Benchmarks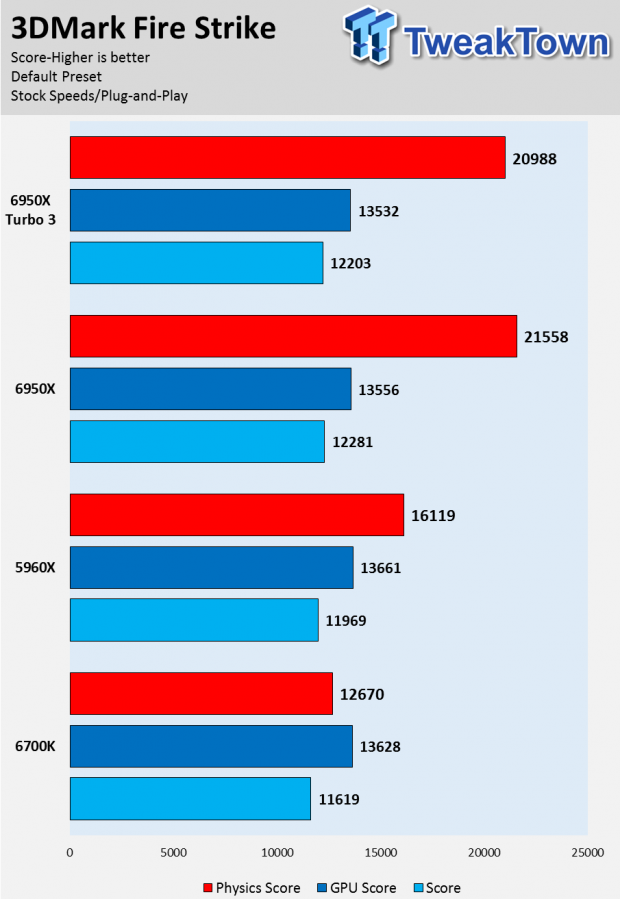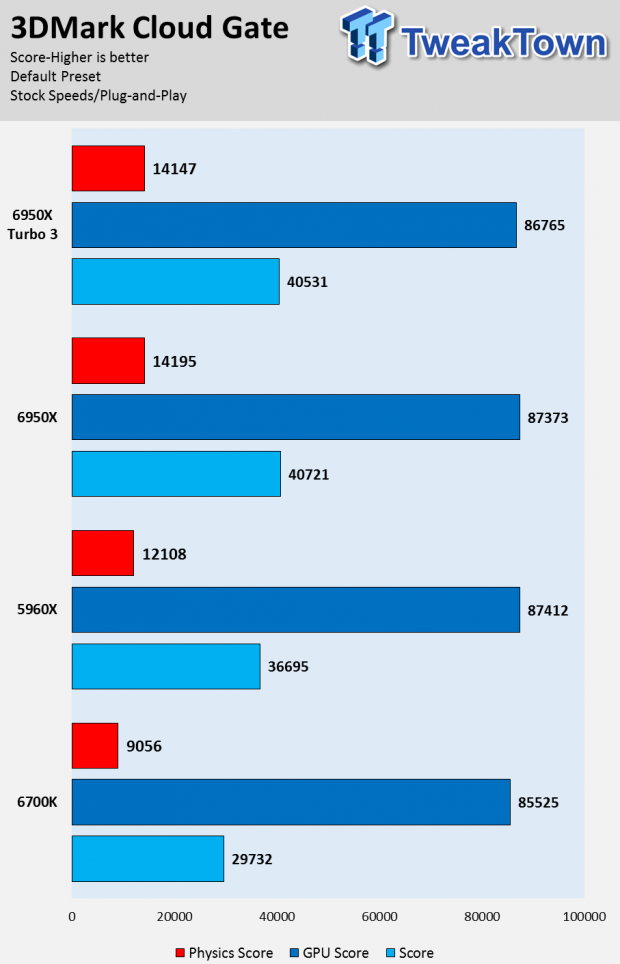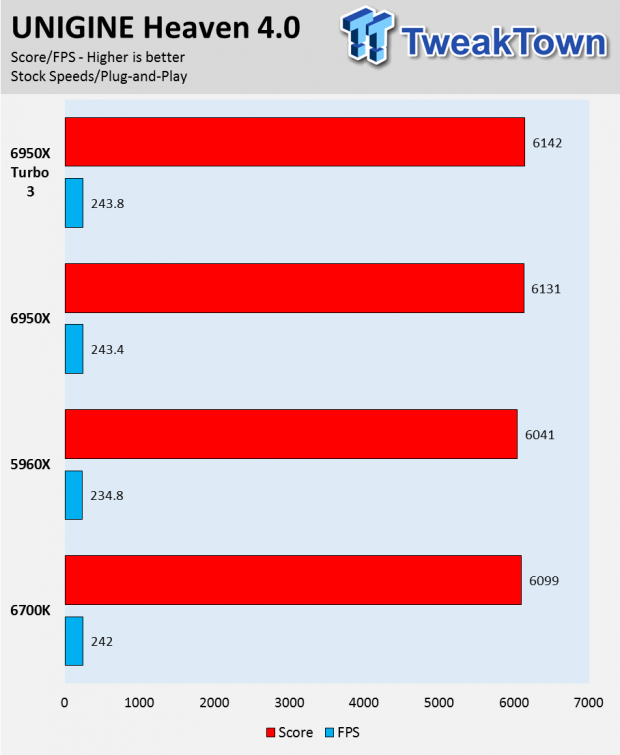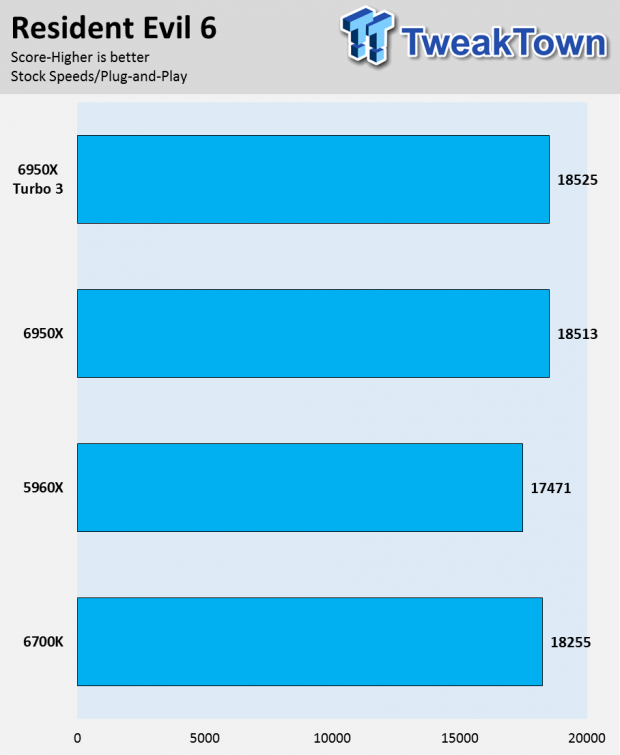 Final Fantasy XIV Benchmark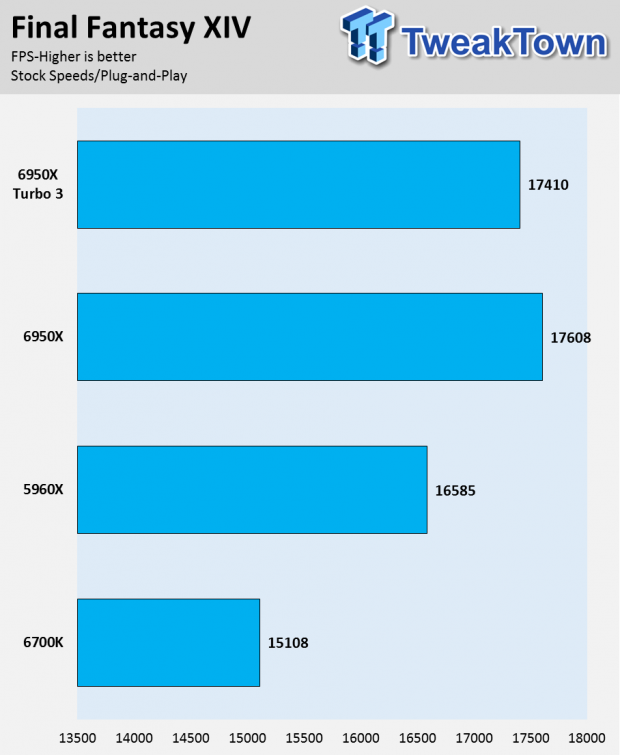 GTA:V Benchmark 1080P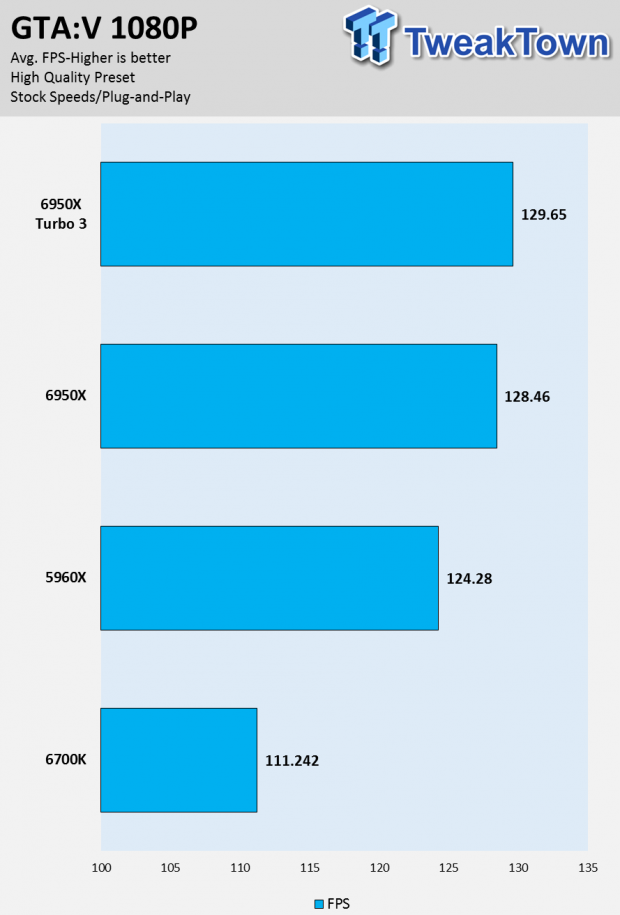 GTA:V Benchmark 720P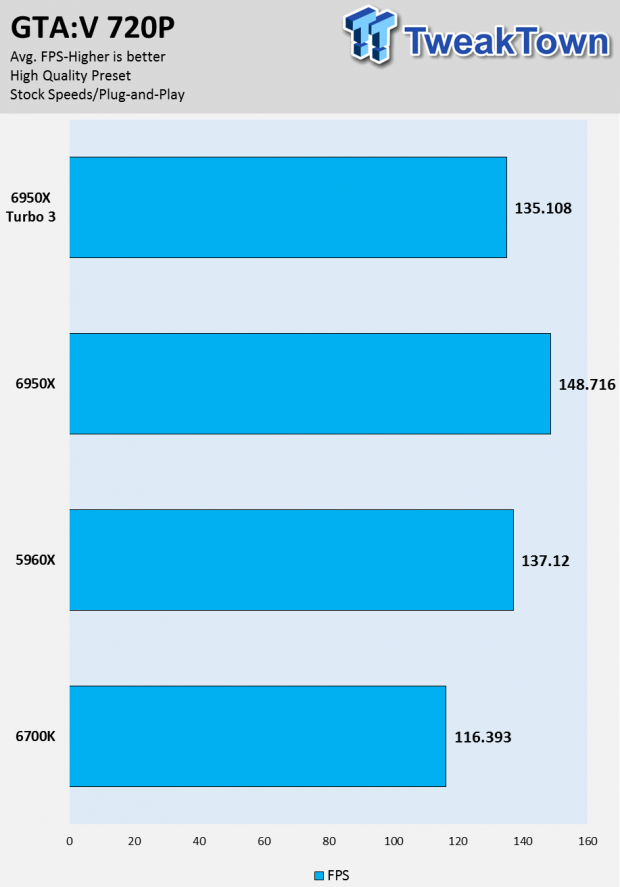 Ashes of Singularity Benchmark 1600x900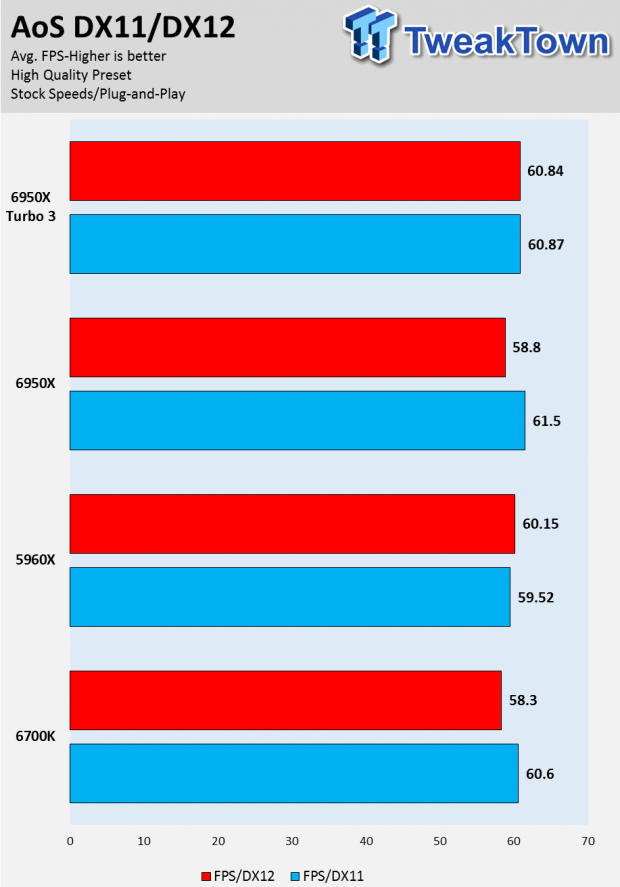 For the gaming benchmarks, I used a mixture of synthetics and built-in benchmarks that use the real game, and performance is improved when the games are CPU bound, such as in GTA: V.
Reducing the resolution of a lot of these games reduces GPU requirements, allowing us to see the difference the CPU can make in the game. Obviously, there are some improvements over the 5960X, but in some games, such as Ashes of Singularity where the game is extremely intensive, and DX12 helps reduce CPU overhead, the 6700K can still hold its own.
Clock for Clock: CINEBENCH, PCMark 8, wPrime, SuperPI, and ScienceMark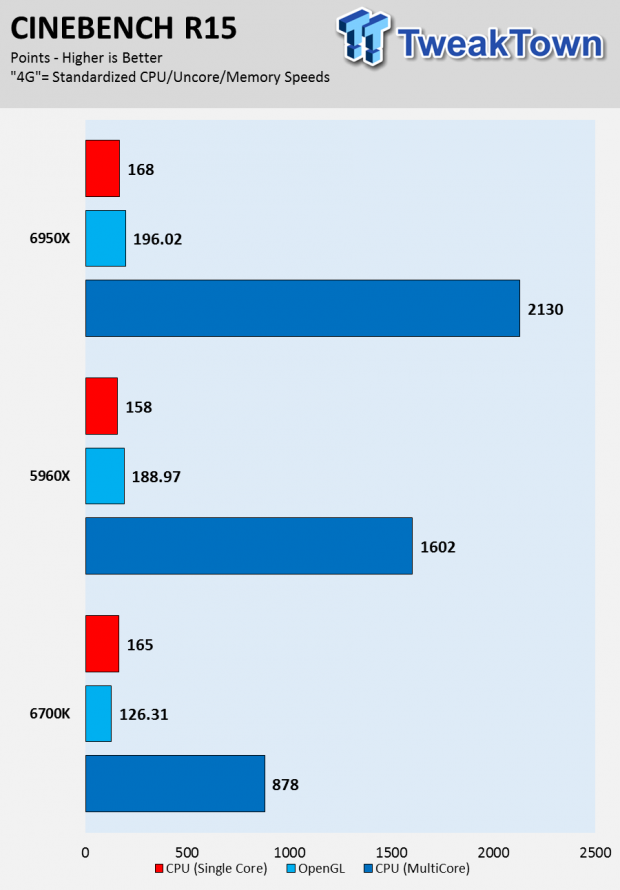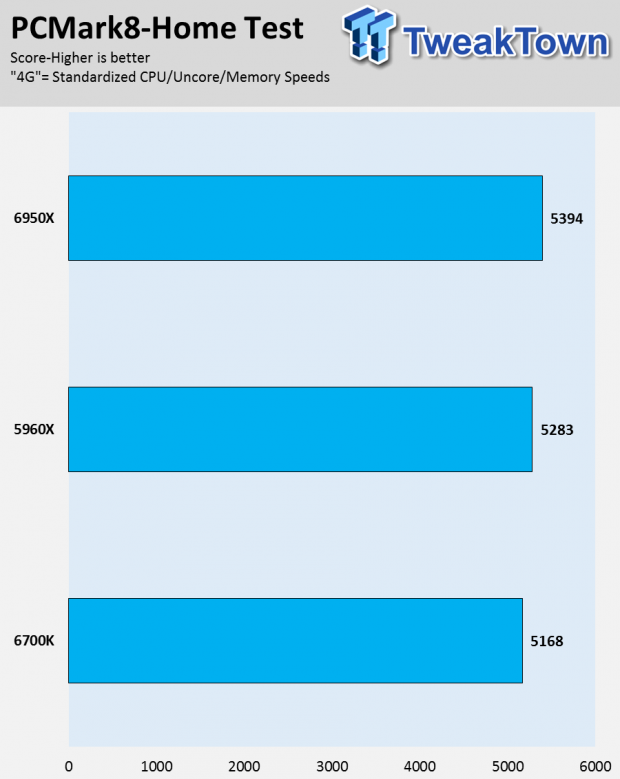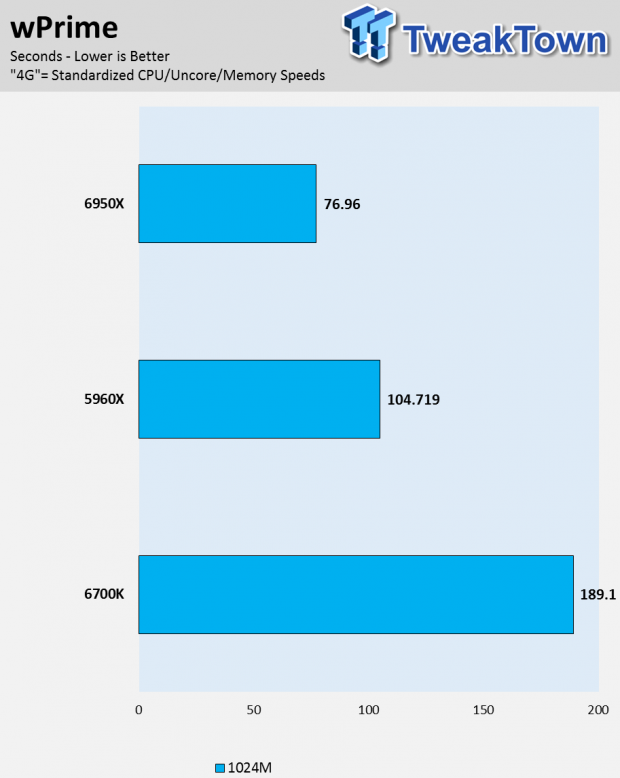 SuperPI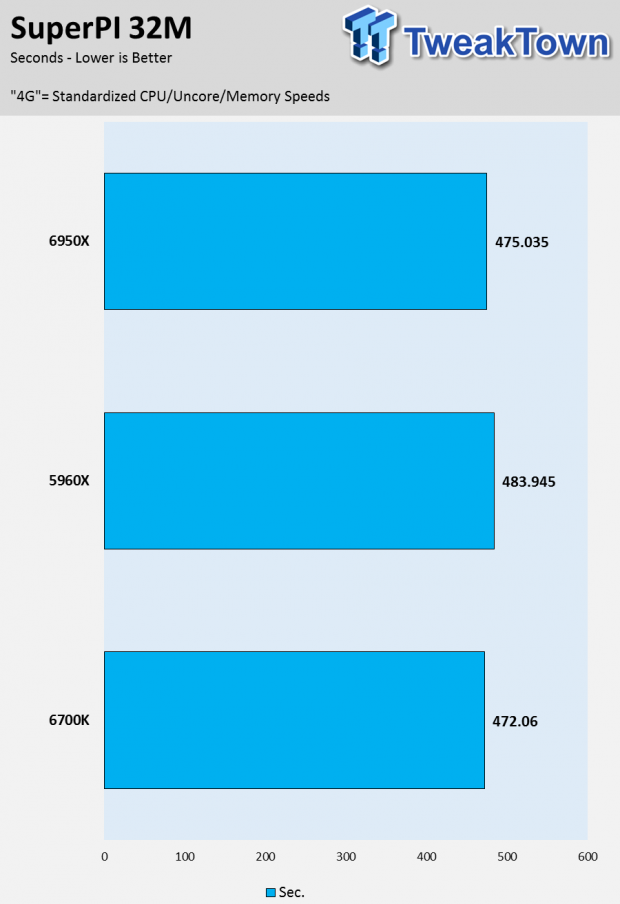 ScienceMark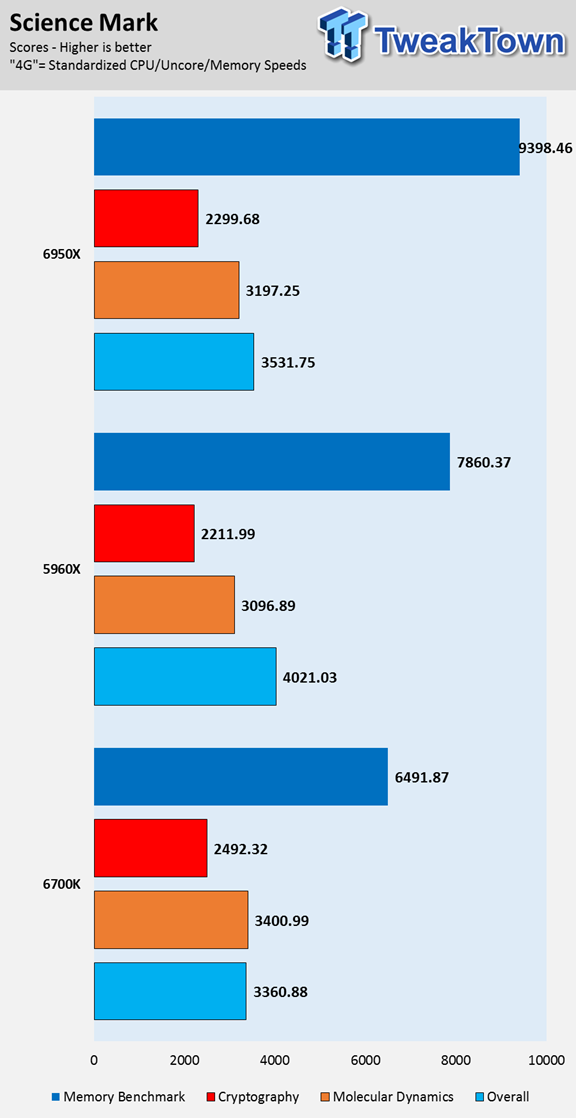 With all the CPUs running at 4GHz core, 3.5GHz cache, and 3200MHz C16 memory, we start to see how each microarchitecture stacks up. Skylake is obviously the fastest in single threaded performance, but it is quite obvious that the extra cores in the Haswell-E and Broadwell-E CPUs to help performance in multi-threaded applications. Since many applications are becoming more multithreaded, it's nice to see more and more cores.
Clock for Clock: AIDA64 EE and HandBrake
AIDA64 Engineer Edition AES and Hash Tests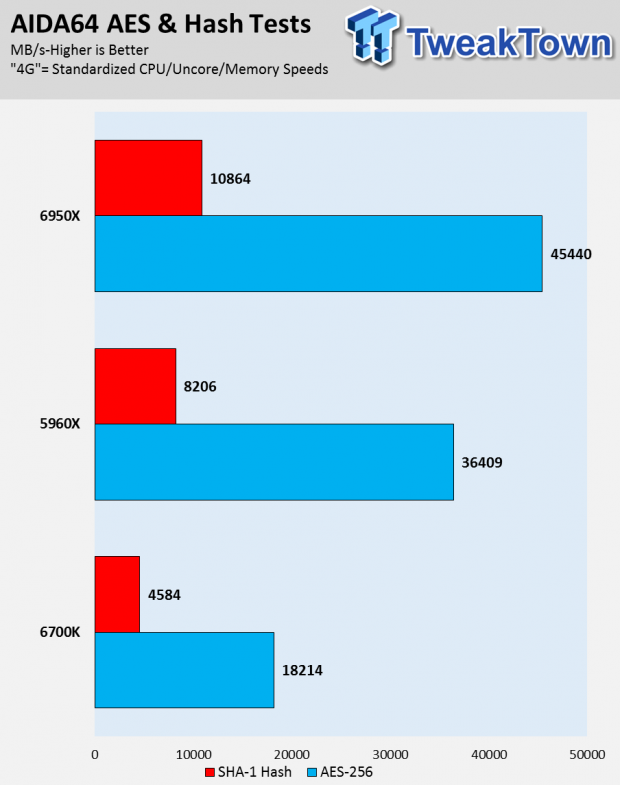 AIDA64 Engineer Edition FPU Tests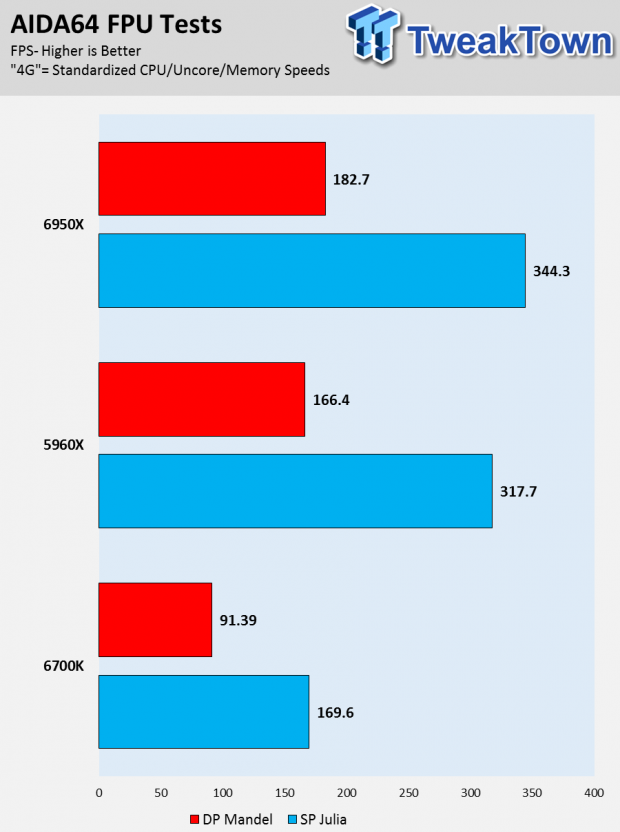 AIDA64 Engineer Edition Memory Bandwidth Test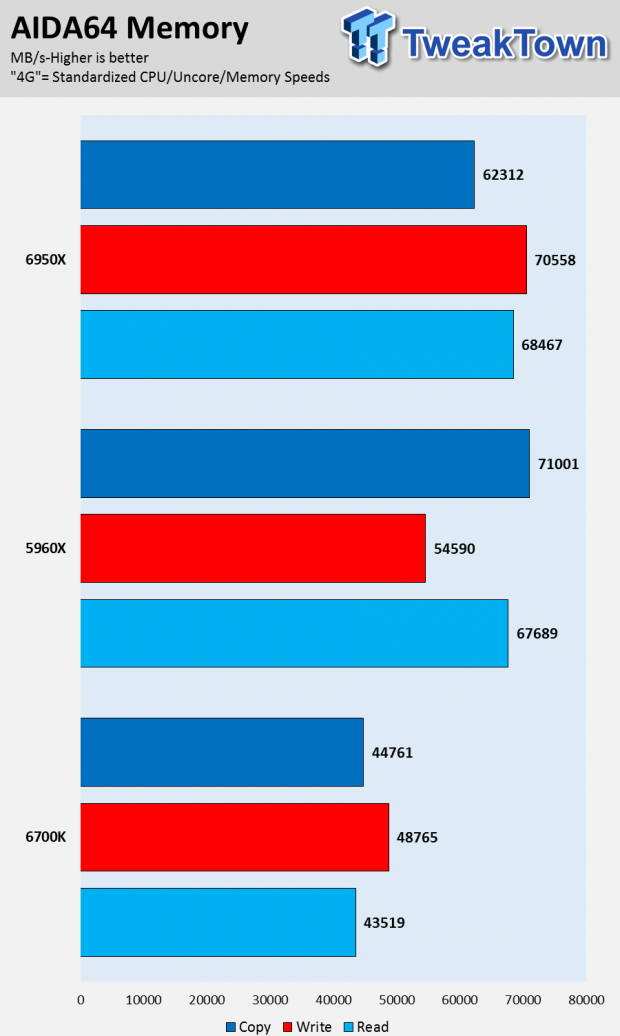 HandBrake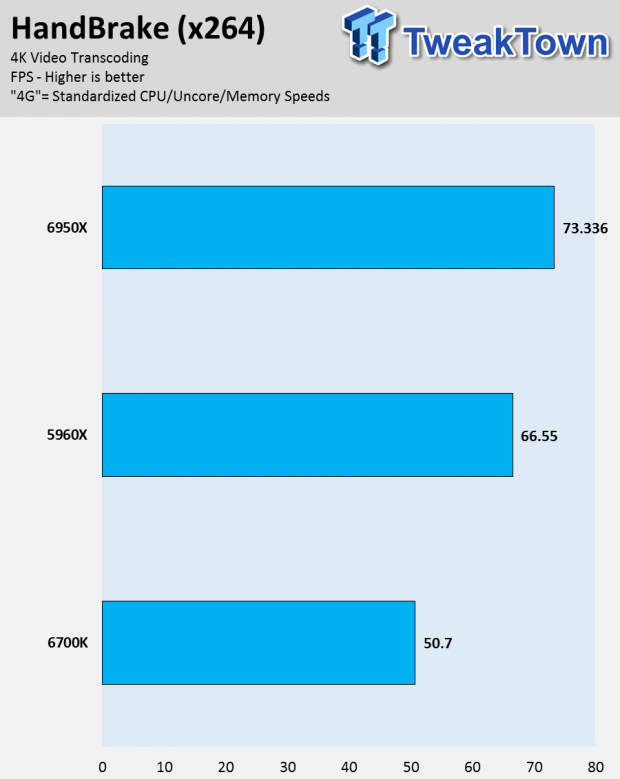 I should mention that although AIDA64 was updated and all benchmarks have been rerun just for this review, AIDA64 still notified me that it wasn't optimized for the Broadwell-E CPU. Nevertheless, performance increases are noticeable because of the extra cores. The 6950X is fully stable at 4GHz, and seeing the Handbrake numbers go up is always nice.
Clock for Clock: 3D and Gaming Benchmarks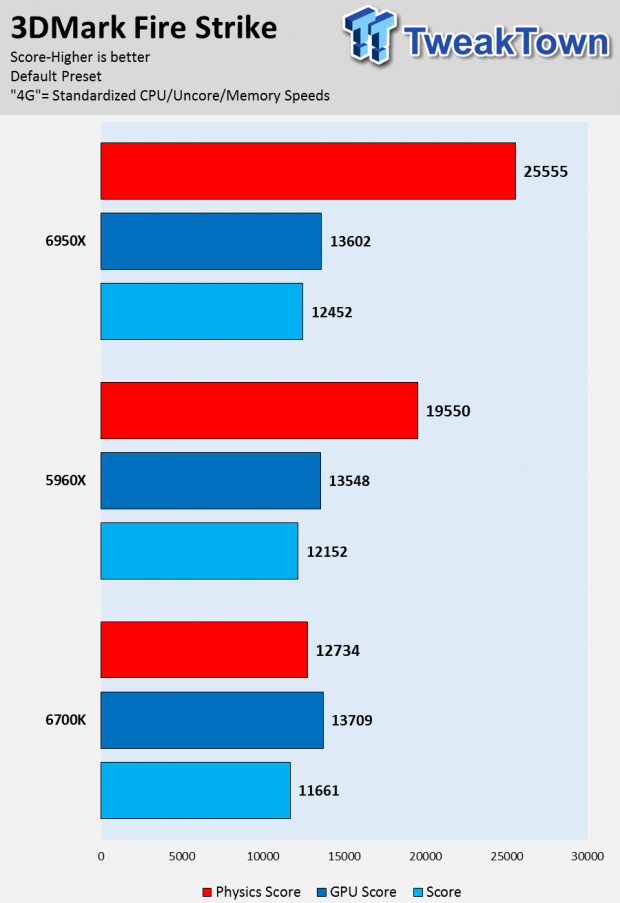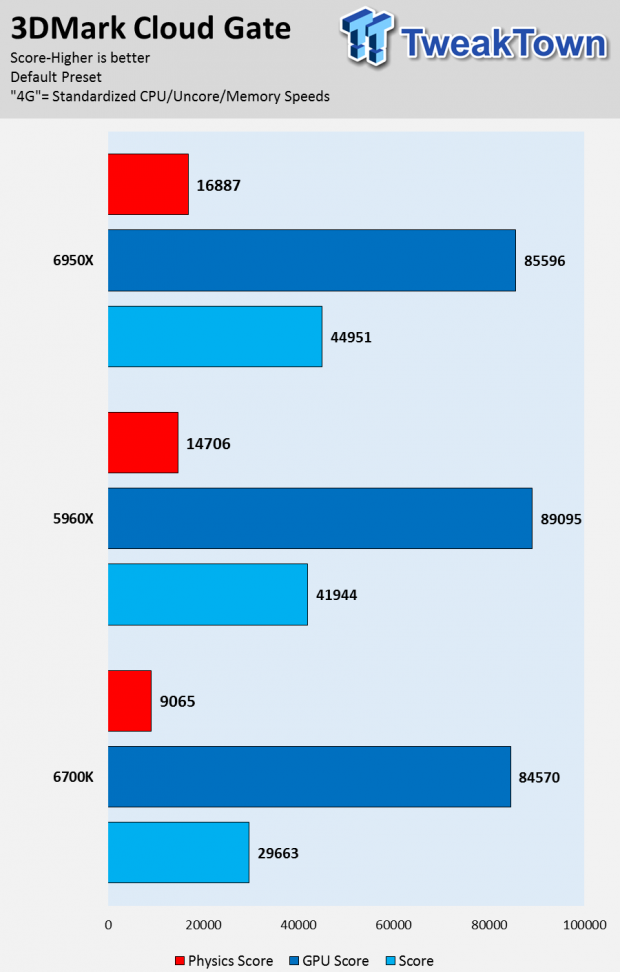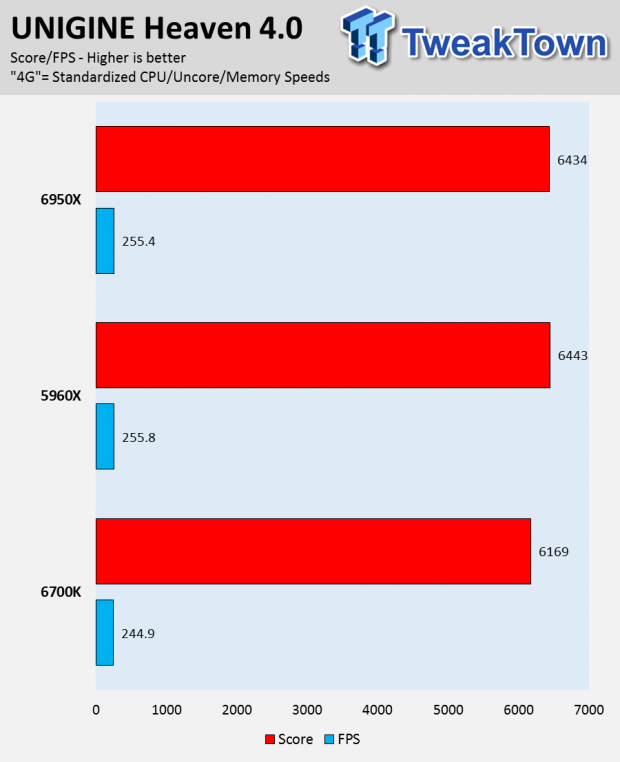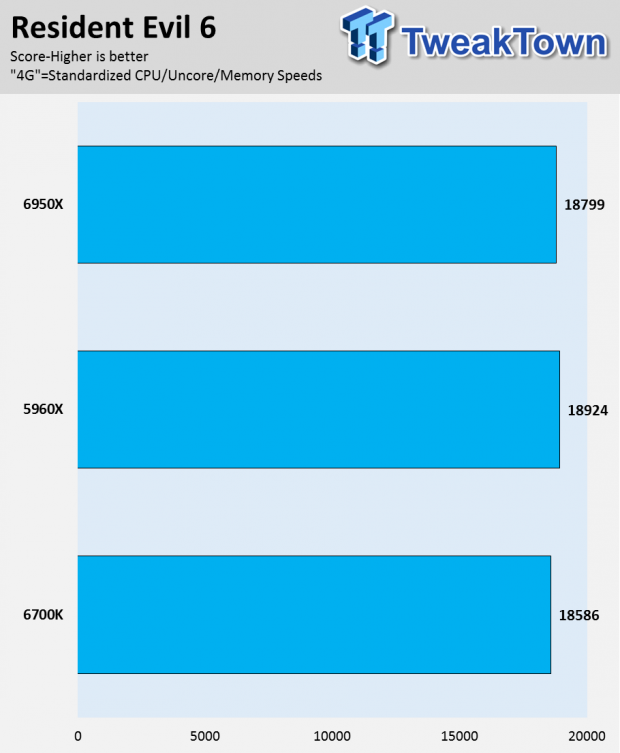 Final Fantasy XIV Benchmark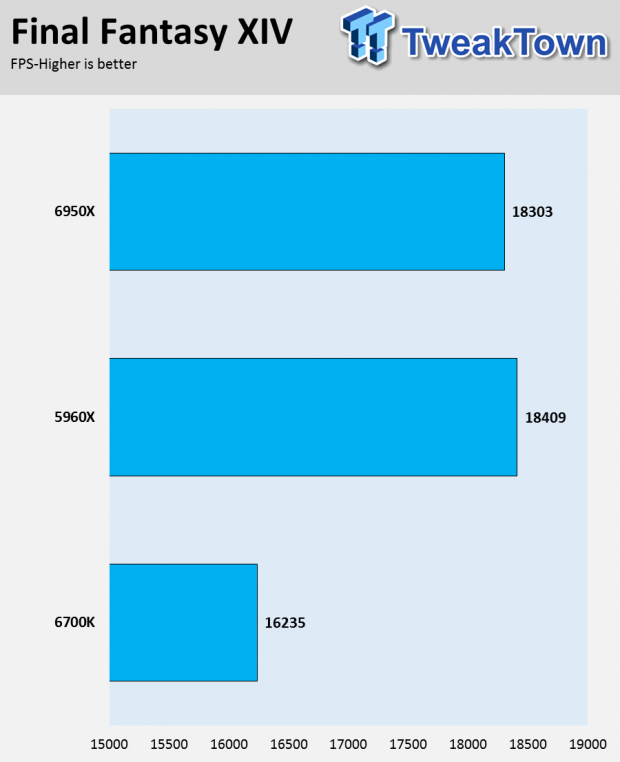 GTA:V Benchmark 1080P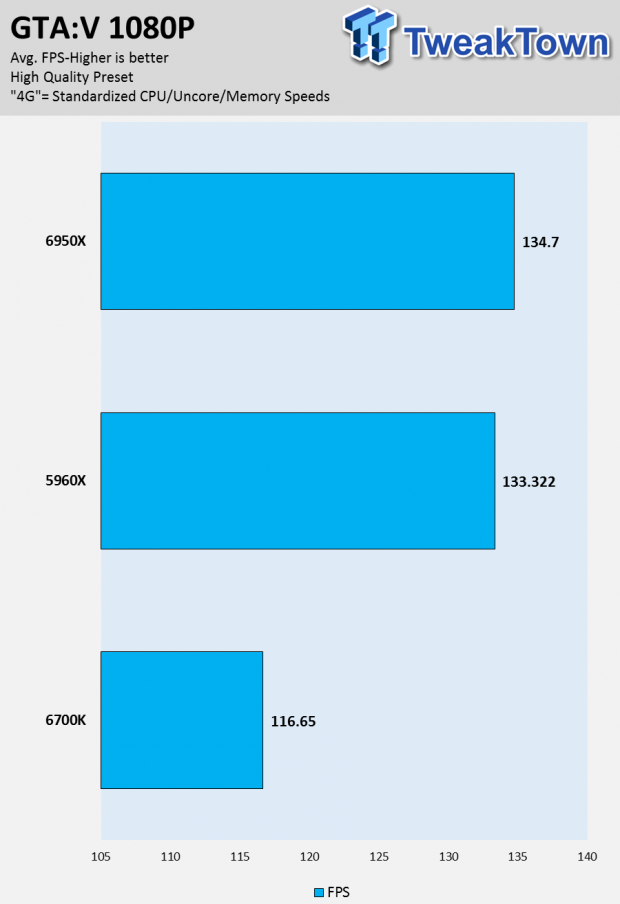 GTA:V Benchmark 720P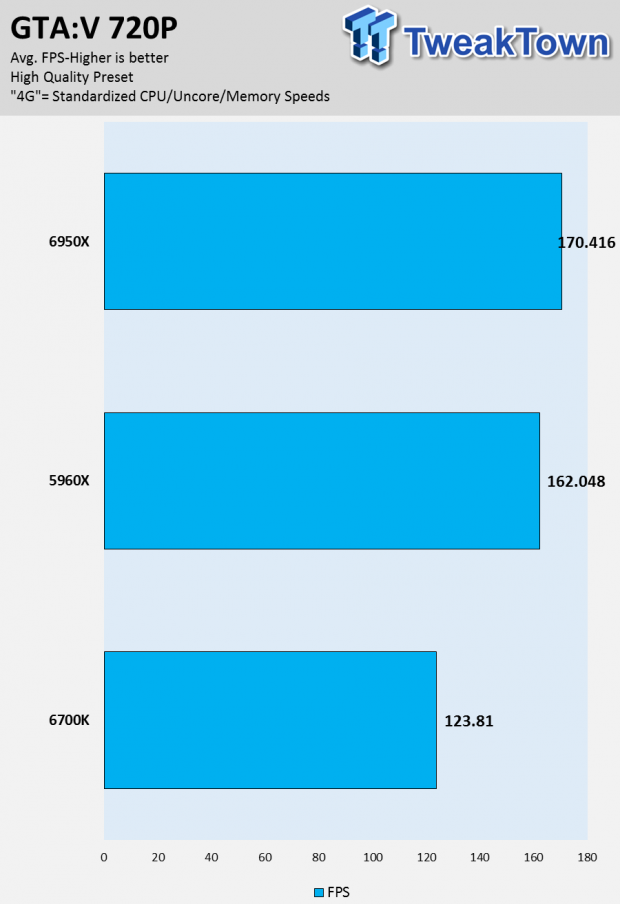 Ashes of Singularity Benchmark 1600x900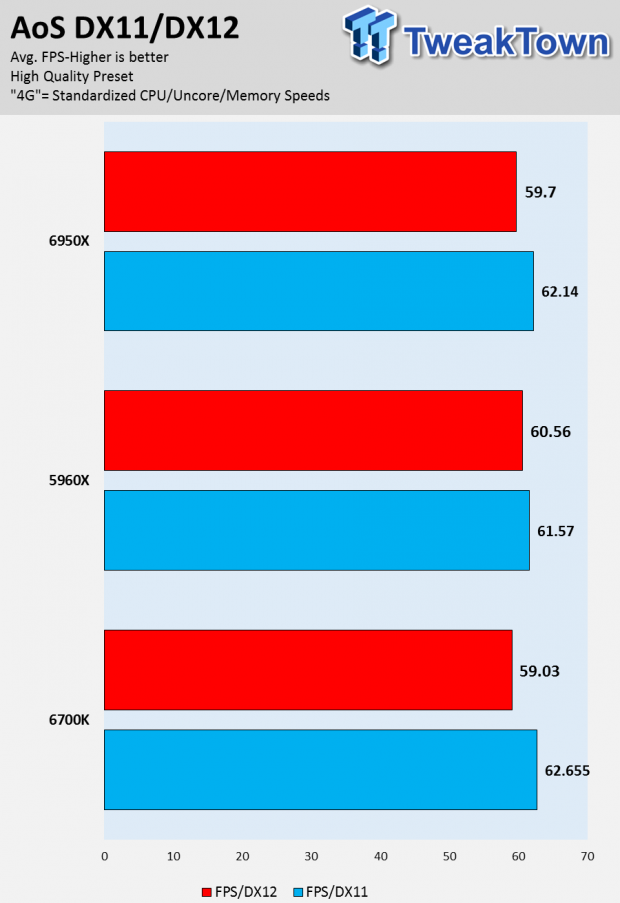 When we standardize the 5960X and 6950X, we are overclocking both CPUs, but standardizing the 6700K implies we are down-clocking it from its 4.2GHz Turbo bin.
In many benchmarks, we see the 5960X and 6950X head to head, and many times the margin of error of benchmark will result in the 5960X winning by a few points. It seems that in these benchmarks the system is GPU limited, and the CPU doesn't make much of an impact. In games such as GTA: V there are definite increases with the 10-core CPU, but in some other games, it is harder to see the benefit of the extra cores as they aren't optimized to scale up perfectly with more and more cores.
Turbo Mode 3.0, Overclocking, and Power Consumption
Turbo Mode 3.0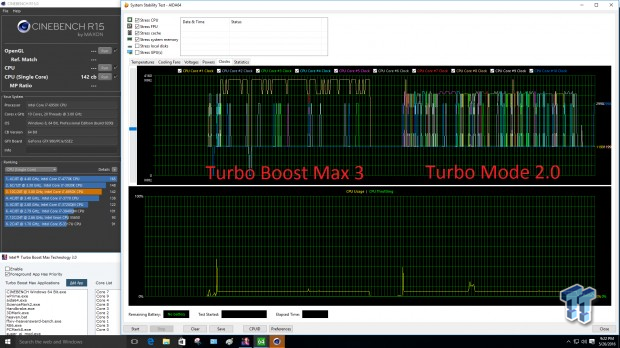 To see the difference the Turbo Boost Max 3.0 makes, I first changed the Windows Performance plan to balanced so that frequency would fluctuate more and not lock into any type of motherboard enhancement. Then I ran CINEBENCH R15 Single Core performance benchmark twice; once with Turbo Boost Max 3 enabled and again with it disable (Turbo Boost 2).
Frequency logging through AIDA64 reveals that Turbo Boost Max 3.0 actually assigns a single core (core 7) the highest priority task, but in Turbo Mode 2.0 cores randomly pick up the slack. The results in the benchmark section of this review.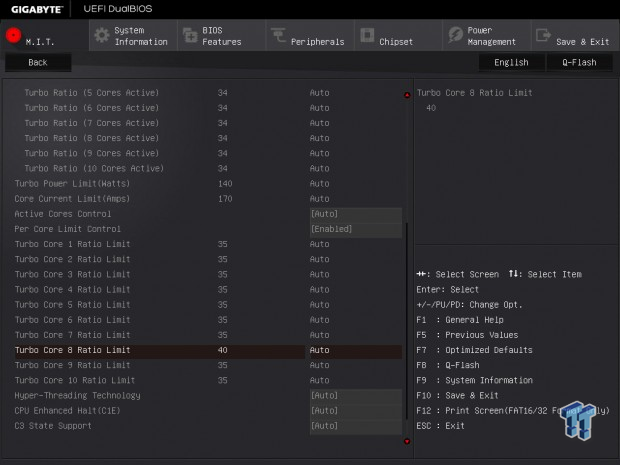 Turbo Boost Max 3.0 isn't just limited to the OS, it's also in the UEFI. In GIGABYTE's UEFI, we can see that core 8 (numbered 1-10) is assigned the 40x Turbo bin, and this aligns with the numbering Intel uses in its application (0-9). With this new Turbo Boost Max 3.0 mode, it is now possible to find which core is better, and then assign that core a higher overclock than the rest.
CPU Overclocking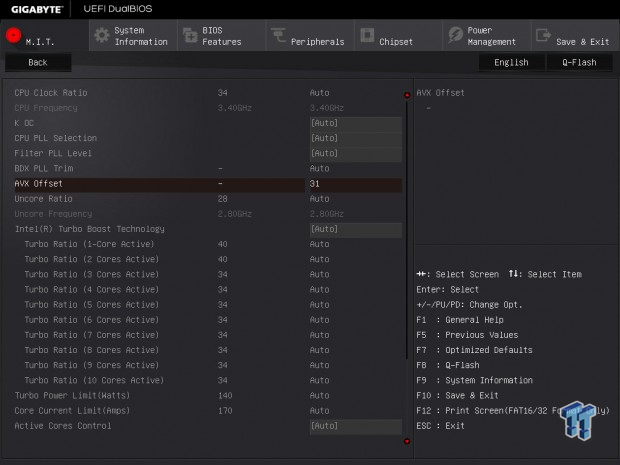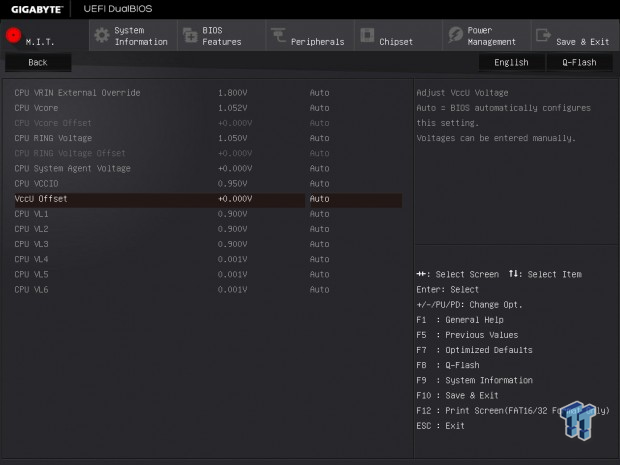 While I didn't have much time to play with overclocking this CPU, I can say that overclocking the 6950X isn't all that different than overclocking the 5960X, except you have the ability to rank each core and overclock them to different maximum Turbo bins much easier than before. There are two new settings I have highlighted in the shots above; AVX Negative offset and VccU. I didn't mess with either, since I wasn't focusing on cache overclocking nor was I tuning down the AVX multiplier, but they should allow you to overclock higher. I will write an overclocking guide soon.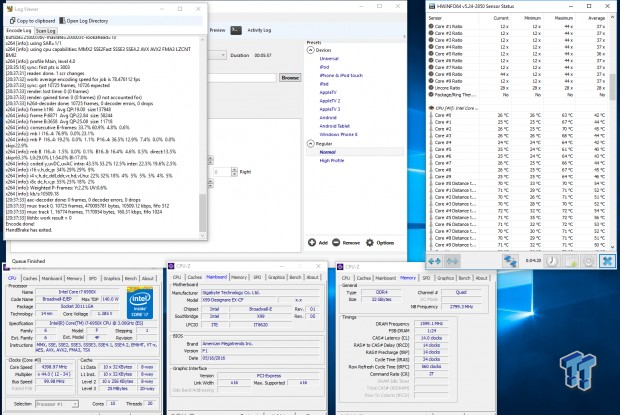 Overclocking all cores like I would on the 5960X yielded a maximum overclock of 4.4GHz. At 4.4GHz, the CPU is a beast, but I fear that many of you will have trouble getting that 4.5GHz mark without overclocking only one or two cores to 4.5GHz while the rest stay below.
Voltages are much the same as Haswell-E, but watch the input voltage as it does help stability but also greatly increases temperatures. VCore around 1.3-1.4v can be handed by an AIO cooler like the Corsair H115i I used. I didn't have time to tune much for a maximum overclock irrespective of stability (CPU-Z validation), but I was able to boot into Windows at 4.5GHz, but I quickly crashed. When vendors release their Windows light overclocking programs, I will be able to test maximum overclocks.
Power Consumption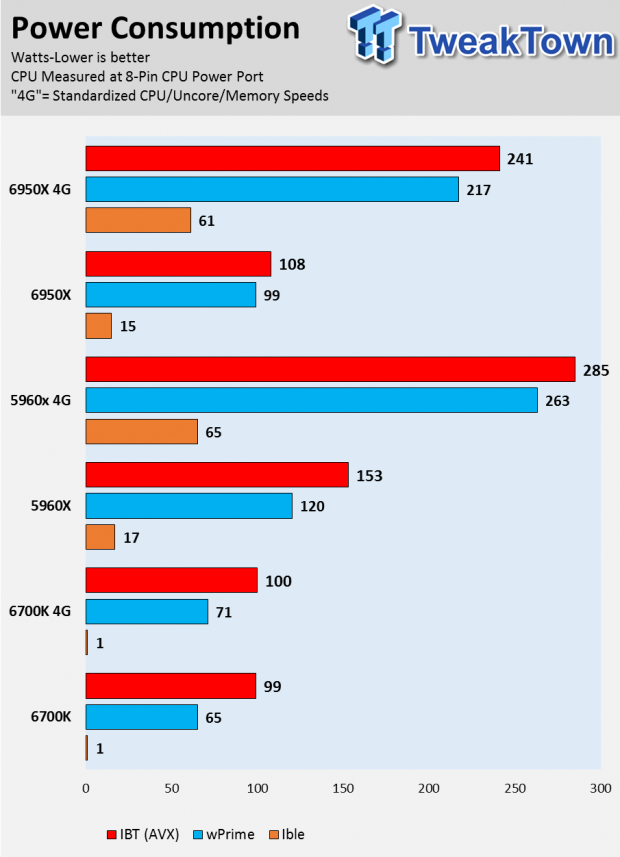 Power consumption is lower than the 5960X, and that is to be expected because of the die shrink. I was actually surprised by some of the numbers, as they look really good at stock.
What's Hot, What's Not & Final Thoughts
This is where you can fast forward to the final section of the review, and get a quick recap and points on the Intel i7-6950X.
What's Hot
Cores of Course: Ten Cores? Don't mind if I do! There are many usage scenarios where more cores help a lot, and one of them is what Intel called "Mega-Tasking" which basically means Twitch streaming plus 4K gaming + encoding all at the same time. It's basically multitasking on speed, where you need the processor to handle many different taxing programs at the same time without lag. Of course, there are benefits to all content creators since most of the software in use today will take advantage of many cores.
Turbo Boost Max 3.0: While software overclocking and extra applications to control your hardware isn't exact what people want, I have to admit that Turbo Boost Max 3.0 is a viable option for those who want extra performance out of their $1700 CPU, and don't want to risk any type of out-of-specifications overclocking. I did see major improvements in single-threaded applications, enough to justify the programs existence.
Static Core Overclocking: As the core count of CPUs increase, so does the chance that one or more cores won't be able to hit the maximum overclock you are aiming for. To tackle this issue, Intel is allowing users to manage each core in a static nature. Instead of the CPU randomly assigning maximum Turbo bins to different cores, users are now able to see the cores ranked in Windows and then proceed to tune them individually in the BIOS. I believe the next step is to allow per core voltage tuning, but that is for the future I would assume.
3200MHz Memory Support: I had a lot of trouble with overclocking my memory to 3200MHz with the previous generation 5960X, but I have no such issue with the 6950X. Even with the newer motherboards, both 3200MHz kits from both vendors easily hit 3200MHz using the 32x memory multiplier. I can't tell you how happy this makes me.
What's Not
Very Pricey: At just over $1700 MSRP, the 6950X is one of the most expensive consumer CPUs on the market. You could build two fairly decent systems for the price of just the CPU.
Final Thoughts
The 6950X is pretty much what we expected. Broadwell only really launched in the consumer arena as a quad-core CPU loaded with Iris Pro graphics, and cost an arm and a leg. The 6950X is pretty much the 5775C of the X99 platform - its cost is very high, but its performance is also extremely high. It's unique with its ten cores, and the Turbo Boost Max 3.0 is a neat way to overcome its single-threaded shortcomings.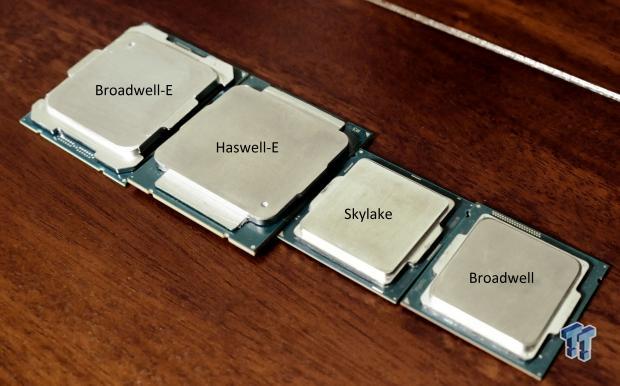 The 6950X is not your typical Extreme Edition CPU. Instead, it is a tool, and you have to invest in the platform to take full advantage of the CPU's capabilities. At just above $1700, I also expect the experience to be hassle free, and for the most part, it is. While the 5960X was a bit buggy in terms of memory support at launch, the 6950X should be compatible with a wide range of high-speed quad-channel kits, and Turbo Boost Max 3 worked like a charm.
Overall I was happy with the product, its performance is above that of the 5960X, and single-threaded performance is just between that of Haswell and Skylake, exactly where Broadwell should be. If you want the most powerful CPU on the market, look no further.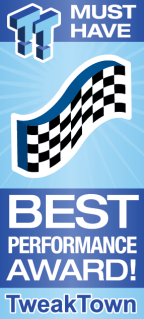 | | |
| --- | --- |
| Performance (including Overclocking w/a) | 99% |
| Quality including Design and Build | 92% |
| General Features | 90% |
| Bundle and Packaging | 88% |
| Value for Money | 85% |
The Bottom Line: If you want Intel's most powerful consumer CPU ever, then the Core i7-6950X Extreme Edition processor fits the bill, but it's not cheap.
PRICING: You can find products similar to this one for sale below.

United States: Find other tech and computer products like this over at Amazon.com

United Kingdom: Find other tech and computer products like this over at Amazon.co.uk

Australia: Find other tech and computer products like this over at Amazon.com.au

Canada: Find other tech and computer products like this over at Amazon.ca

Deutschland: Finde andere Technik- und Computerprodukte wie dieses auf Amazon.de
We openly invite the companies who provide us with review samples / who are mentioned or discussed to express their opinion. If any company representative wishes to respond, we will publish the response here. Please contact us if you wish to respond.