JBL Under Armour Bluetooth Wireless Headphones Review
Two famous company that have little to do with each other team up to produce a pair of Bluetooth wireless headphones. How do JBL and Under Armour do?
Published
9 minute read time
TweakTown's Rating: 91%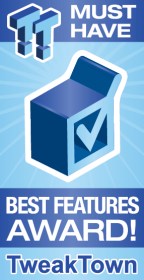 The Bottom Line
The JBL Under Armour Bluetooth Wireless Headphones are some of the best workout-focused headphones on the market. Period. Full, detailed and grand.
Introduction
Today we're taking a look at a set of in-ear wireless headphones that are coming from a company that started out as a small clothing company that specialized in making sports apparel that could wick away sweat better than anything that was on the market 20 years ago when they launched. Under Armour (UA) has been highly successful at bringing innovations to clothing for sports, and even helping make shoes a bit more sophisticated too. They want to bring their particular brand and associated to something just as innovative and overall useful as the athleticwear they've already created.
They reached out and partnered with JBL, who are known for creating a wide range of audio products that reach from the entry-level to the high-end. The sport-headphones category seemed to have a distinct gap, and thus the UA JBL partnership was born, and these are the result. The awkward (looking) earphones that look like they might hurt a little when you put em' in your ears, but actually could be a very surprising mix of design and technology.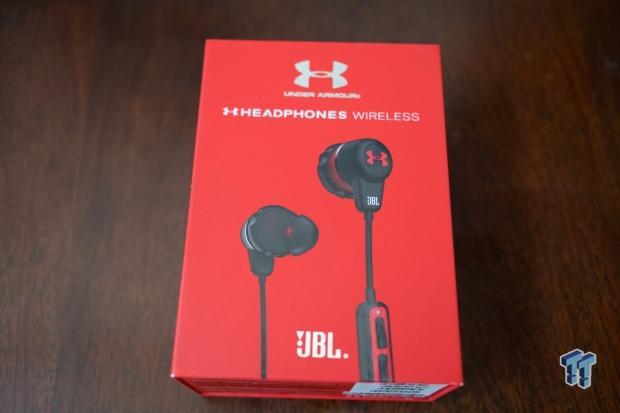 JBL engineered these headphones with guidance and what looks like some style guidelines from the fine folks at UA. That means they follow some of the athletic lines and little details you might see on some other non-apparel products from them. It's definitely distinct looking, and you wouldn't mistake it for any other brand. But looks don't make headphones. Well, unless those good looks happen to help make them more comfortable to wear.
They look big and unwieldy like you'd never be able to put them in your ear, and that they'll just fly right out once you even start walking. Well, almost.
Specifications
JBL's UnderArmour IEM's feature two custom designed 5.8mm dynamic drivers, which differ in their sonic characteristics compared to armature drivers, and the different sonic qualities and how the high-end is handled is actually preferred. These miniature dynamic drivers are capable of a frequency response of 10Hz to 22kHz. The inline remote has a microphone that's compatible with both Android and iOS. Even though they may look mighty strange, those ear tips are actually very stable, and they lock into place and fit into the ear strangely comfortably.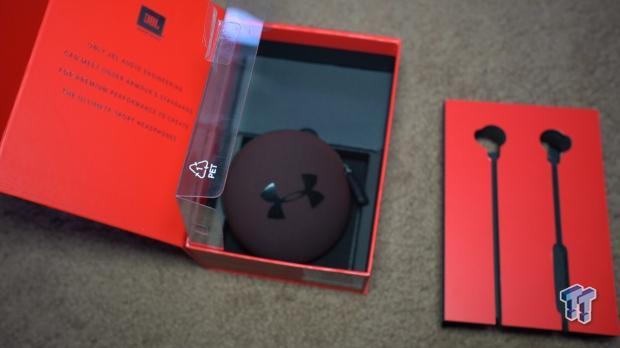 Bluetooth 4.2 plus A2DP allow for a secure connection within about 50ft. The battery is listed to last around eight hours on a charge, enough for a quoted one week worth of workouts, depending on how much time you spend in the gym. It uses a micro-USB connection to charge, which is as common as ever. It would have been very forward thinking of JBL to include a USB 3.1 Type-C port, but those still aren't quite as common just yet. Either way, you'll get another tiny micro-USB cable to lug around. You can never have too many.
JBL and Under Armour have given a year membership to MapMyFitness included in the box. You'll get a one-year premium membership to the service that let you track your fitness. It's a great step to help encourage a better level of fitness. That service lets you enter in activities that you do, food you eat, and it can even interface with some wearables, and your phone, to use GPS to track any mobile and enthusiastic activities.
Pricing & Availability
These headphones are listed at $180 on the JBL and the Under Armour website. You can find them listed on Amazon as well as B&H Photo Video. Because they're so new, there really isn't much in the way of leeway in price. That price will change as deals come into play. It's a bit more static at the moment.
What's in the box?
The box that these come in is fairly full of goodies. Inside are the headphones themselves, nicely ensconced in plastic, staring at you, willing you to put them in your ears. Underneath the headphones are two sets of "enhancers" or the ear-tips themselves in different sizes. It's absolutely vital to have a good fit with IEM's. A proper fit and seal in the ears will help any of those frequencies blasting from the small drivers to actually sound as intended. You get two sizes in this case, size 5 and 7. You'll also find a round neoprene carrying case, a small micro-USB charging cable, and the requisite quick-start and warranty cards.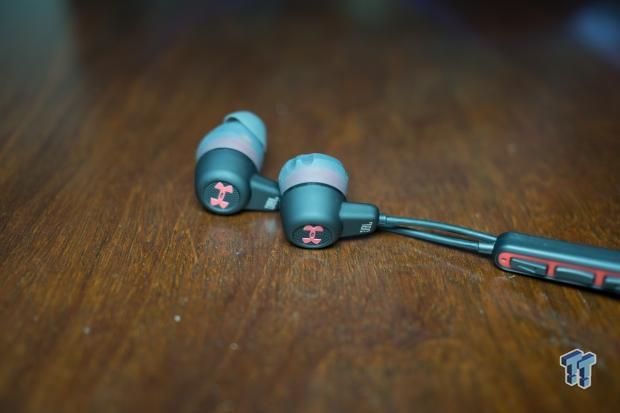 Under Armour is all about fitness, that's their mantra and part of their creed. The MapMyFitness premium membership, developed and owned by Under Armour, is a big part of this package, designed to help motivate you to get out and moving. Apps themselves don't do anything on their own, at all. Sometimes it's the exact opposite, that we don't want to see the poor progress you might make. Even so, MapMyFitness at least can enable you to do better, whether you use it or not. It's useful, though, and does let you organize your day in a logical way. It's still up to you to actually use it.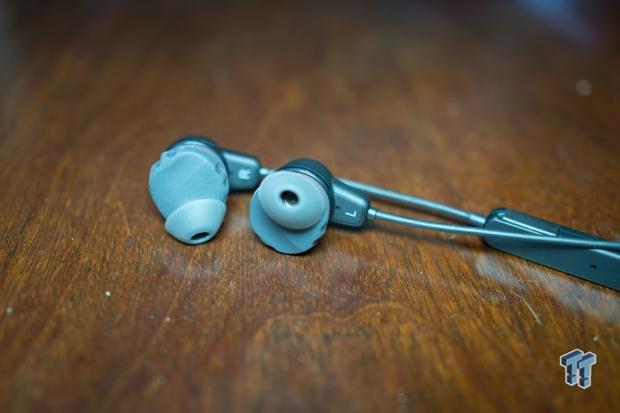 The ear-tips, or enhancers as they call them, look uncomfortable. They look like they'd rip your ear, and not in a good way. They're massive and kind of terrifying looking. That is until you actually follow the directions and put them in your ears. Yeah, they're ginormous bricks of silicone and stone, but these monstrous things are made with a purpose, which is to actually stay in your ears when working out. They just look weird. Really weird.
Once you acclimate to that, it's a matter of finding the right size and pinching them and pulling slightly as you insert them into your ears. It's a process, but once in, they can be some of the most comfortable tips ever. The problem lies in finding the right fit. Until that's figured out, through trial and error, the pressure they exert can actually be a trifle annoying, and even a bit painful. Once you've dialed the size in correctly, though, they fit and they tend to stay in quite well. The kicker is that after extended periods of wear, they do make your ears hurt a tad, but not terribly so. These are also quite light, as well.
During bouts of exercise with these, there was no problem with them staying in my ears while running, doing box jumps, or anything. The cord is supposed to be worn in front of you, which does make it a bit easier to access the controls, which are big and very easy to find. There is an issue with the middle button not being easy to feel for when compared to the top-most volume button. The gap is small, and it's easy to miss-press as a result.
Pairing the headphones is a very simple process and doesn't use any authentication at all. Simply go into the Bluetooth menu of your phone and look for the requisite device after holding the power button down for at least five seconds. Once connected, you'll hear a confirmation in the headphones themselves, and then you're good to go!
Battery life is rated at around eight hours of constant music listening, which means around a week or more if used sparingly for working out only. That's a very conservative number on their part, because for constant use, I managed 9.4 hours of listening pleasure until they shut off.
How do they sound?
Now on to the most important question. That of actual sound quality. Being an IEM, a proper fit is absolutely needed to have actual proper sound quality. If they don't fit like they should in your ears, they won't sound nearly as good as they're able to. That's the first lesson, and it's the most important because if you don't have that seal and that great fit, then you'll likely complain that they sound terrible, small and tinny. And if they do get them seated properly, you'll be greeted with a full-frequency explosion of sound, a bit hot in the high-end and pronounced in the mid-range but with a sweet and largely well-defined lower region.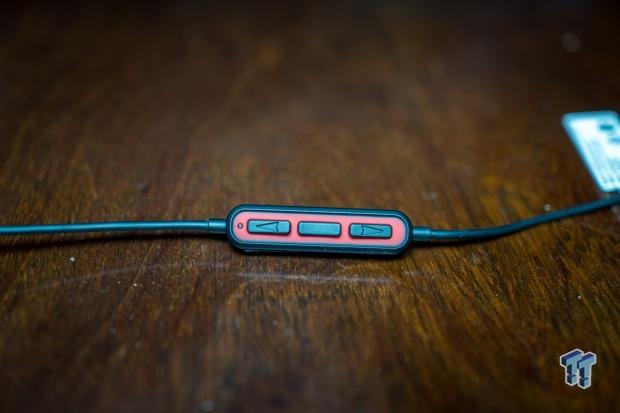 The frequency response of these isn't neutral by any means and seems to follow a curve with a slight midrange bump that seems to accentuates vocals and voices. The high-end sparkles just a tad, but it's otherwise well controlled. All of that seems to help make other more flavorful instruments, and voices in particular, easier to hear while going about strenuous activity. At least that's my theory as to why they decided on the frequency curve they did.
The sound is sweet, though, and though the low-end is a less pronounced, it doesn't feel terribly lacking. Would a bit more power down there be appreciated? Always for a well-controlled bass-head like me. But this all helps to make a full sound that's fun, and easy to pay attention to while working out, the main target market.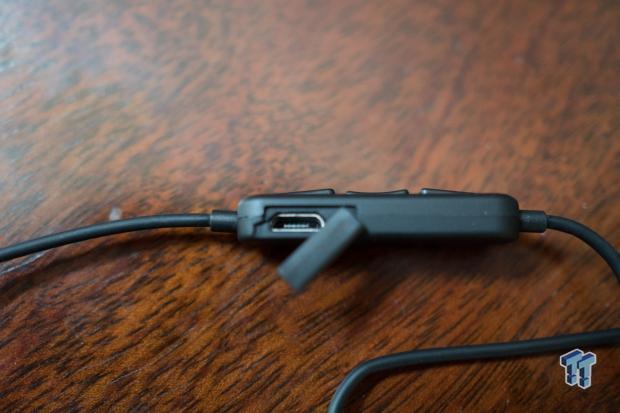 But mostly I was surprised at how airy and spacious everything sounded given the types of drivers and how many of them there are. It sounded good, like really good. When they were put in and twisted into position properly, there was an easily discernable separation of all the instruments and a tight, with a surprisingly fast low-end. I didn't have the presupposition that these would sound that good. My experience with pure athletic headphones in the past was very lacking, so this was a very nice surprise. They're just so full and rich that I don't want to take them out.
An Audio Analysis
Once I had them snug into my ear holes, I tried the first thing I had in my FLAC folder, one of the greatest soundtracks that's ever been created, Battlestar Galactica by Bear McCreary. I like using this as one of my test pieces because of the variety of instrumentation that he uses in his pieces. It's also bass heavy at times, which some headphones either fall apart with, or they shine. It's a good test. Plus I love it as a soundtrack; it's memorable and very easily identifiable.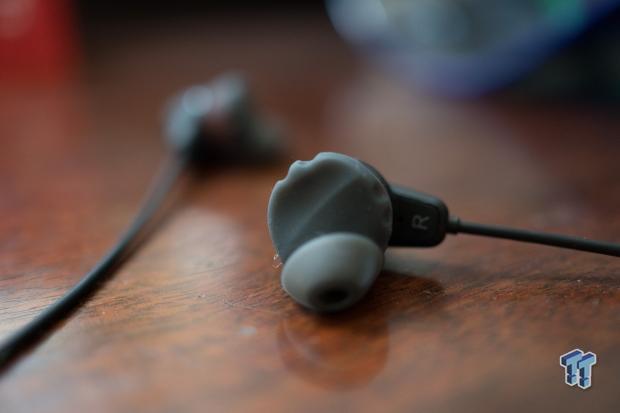 In particular, the singular duduk at the beginning of Worthy of Survival is very sorrowful and sounds like it's literally emanating from my head. The viola and violin companions later on plus the pounding percussion are all rendered rather well. There's a slight scintillation at the top-end, but it's not annoying, per-se, but more of a sparkling presence. The sound is a bit subdued, overall, but the bass isn't overpowering, but it does sound a bit distant when the timpani comes into the background. These have a remarkable ability to transport you into the music. It comes from within your head, if that makes sense, where it sounds like you're there.
Because of the ability of the drivers to reproduce sounds very quickly, they excel at nearly all types of music. Moving on to some modern classical from Pedro Macedo Camacho, the JBL's did a great job with the stringed instruments in an arrangement called The Oath, revealing quite a bit of detail. That high-end harshness remained a bit at the very top, but it wasn't quite fatiguing, to me at least. Crucially, while working out, it wasn't noticeable in the slightest.
Music is what these are made for, but being Bluetooth, that means I can connect them to any enabled device to get sound from. For gaming, I connected these to my Creative Sound Blaster X7 to pipe my PC's sound through there. It worked splendidly and was very easy to setup. The unfortunate thing is that you can only have the headphones connected to one device at a time, but that's a limitation of the Bluetooth protocol, not the headphones.
Battlefield 4 and Star Wars Battlefront are some of my favorite showcase of sound design because the care that was taken in adding in sound effects that are true to life and really add to a more visceral experience. The in-your-face (or brain) positioning of the sound helps to transport you there. Even though these are Bluetooth enabled, that type of sound positioning is crucial for VR. Anyway, near misses have the texture you'd think, the subtle sound of dirt spraying up around you, or of rubble being blown from the wall just behind you. The actual 3D positioning, as a result of where the sound appears to come from, is actually quite good. Explosions from the left, right, or behind you when rendered in a good implementation of OpenAL sound like they're coming from where you'd think. In short, games sound phenomenal despite having to be connected via Bluetooth.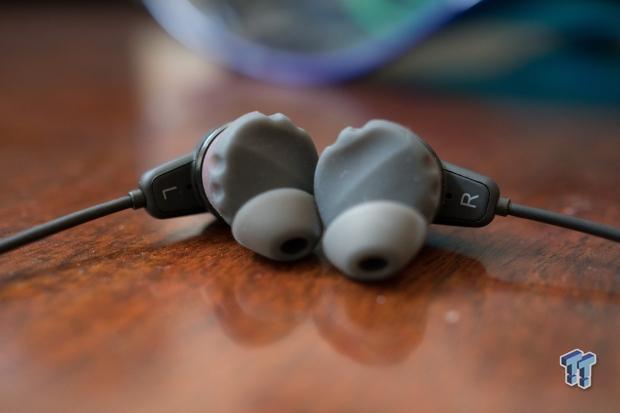 Movies are similarly pounding with presence.
What's Hot
The fit: Once you dial it in, they're incredibly comfortable, and they aren't going anywhere during exercise.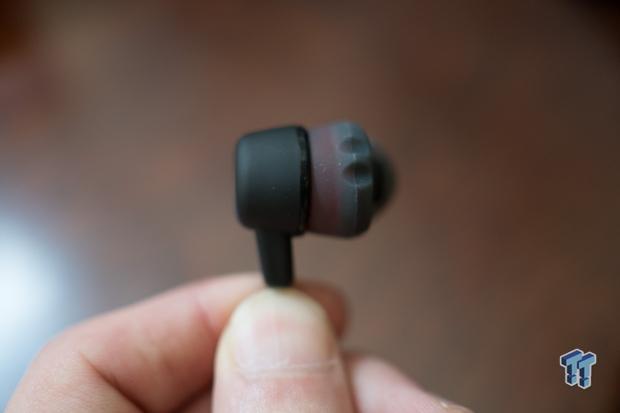 Strong lows: The bass isn't overpowering, but it's prevalent and very well controlled.
Surprisingly full sound: Overall they're very pleasent.
What's Not
Long-term comfort: We're talking having these in for hours, though, but after around 3-4, you'll definitely notice them in your ears. Up till then is no problem.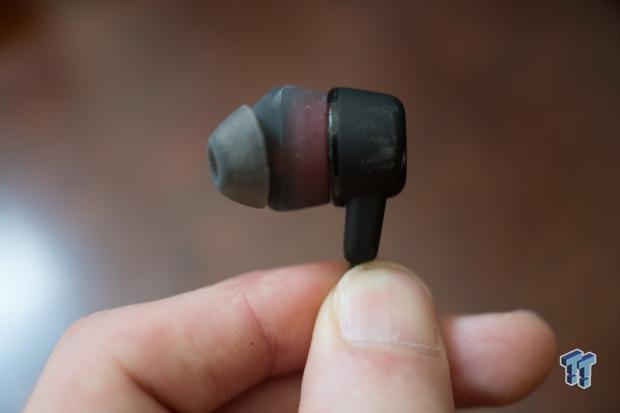 Not easy to differentiate top from middle button: The separation point between the top most volume button and the middle button is difficult to discern at times.
Slightly pronounced treble: It might end up being fatiguing for long periods for some people, though it's not terrible.
Final Thoughts
I'd love to see some of JBL's in-ear designs make it into gaming specific, or much higher tier audio segments. Despite the Under Armour association that some might think negatively about, the actual headphones are very well made. The design is ingenious and really brings sound to the forefront, and not in an obnoxious, overly loud way. It's detailed and sweet, perfect for more than just running around in. For those that are worried, the partnership is definitely in name, with JBL handling all of the engineering and design. The result is a great headphone that borders on phenomenal.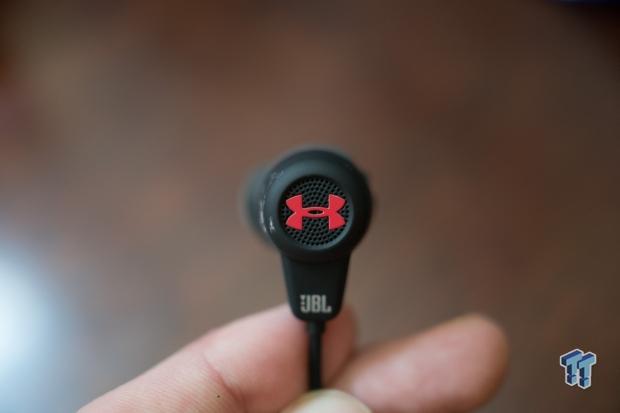 They are expensive, but you end up getting what you pay for. A well-made, rugged, great sounding piece of technology that'll last about half a day on a full charge. Sure, they might look a bit intimidating, but don't be afraid, unless you don't like good sound serenading your ear holes.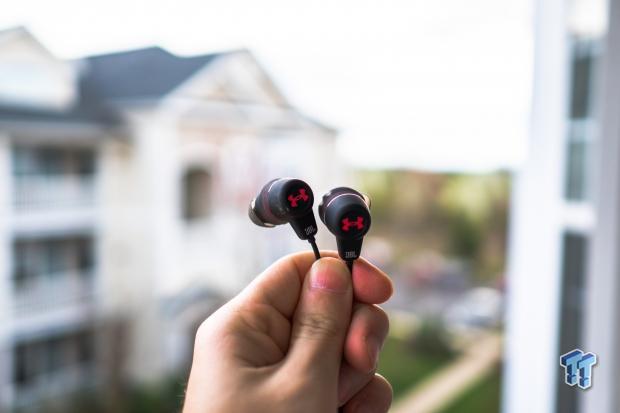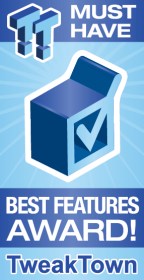 | | |
| --- | --- |
| Performance | 92% |
| Quality including Design and Build | 90% |
| General Features | 95% |
| Bundle and Packaging | 90% |
| Value for Money | 88% |
The Bottom Line: The JBL Under Armour Bluetooth Wireless Headphones are some of the best workout-focused headphones on the market. Period. Full, detailed and grand.
PRICING: You can find products similar to this one for sale below.

United States: Find other tech and computer products like this over at Amazon.com

United Kingdom: Find other tech and computer products like this over at Amazon.co.uk

Australia: Find other tech and computer products like this over at Amazon.com.au

Canada: Find other tech and computer products like this over at Amazon.ca

Deutschland: Finde andere Technik- und Computerprodukte wie dieses auf Amazon.de
We openly invite the companies who provide us with review samples / who are mentioned or discussed to express their opinion. If any company representative wishes to respond, we will publish the response here. Please contact us if you wish to respond.