Creative Sound BlasterX P5 Pro-Gaming Earphones Review
Designed for maximum noise isolation and sound quality, we're here to see if the performance matches the marketing for the Creative Sound BlasterX P5.
Published Tue, Feb 23 2016 9:39 PM CST
|
Updated Tue, Nov 3 2020 6:58 PM CST
Introduction
Released as part of the new Sound BlasterX gaming series of audio products by Creative, the P5 is the first and only in-ear product in this range.
Aiming to provide a significant amount of noise isolation, 'pro-gaming' sound performance and a solid package that caters for events local and international, Sound Blaster has gone all out with this new range.
I've already enjoyed the H5 gaming headset in a review with plenty more products from this range to come. In-ear gaming audio is something I'm extremely interested in sampling, and I'm always pushing for more review samples, so let's see if Creative can do the same great job as they did with the H5, with this product.
Specifications
Designed with noise isolation in mind, the packaging explains that you can expect 95% of outside sounds to be cut out entirely. The frame of the earpieces achieves this through its specialist design that's wrapped in shiny silver plastic, not metal as it may seem.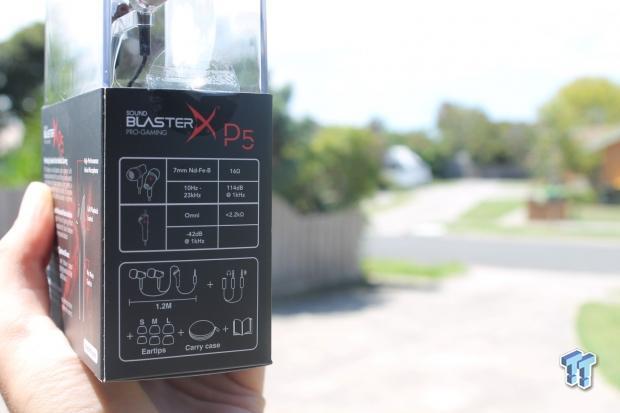 Sporting 7mm neodymium drivers, this product offers a frequency response of 10Hz – 23kHz, showcasing a larger range than most other gaming models, which often will provide 20hz – 20kHz. Further speaker specifications include an SPL of 114dB @ 1kHZ and a rating of 16 Ohms. Also, the included in-line microphone picks up sound in an omnidirectional pattern.
This product connects to your PC, Mac, Xbox One, PlayStation 4 or mobile device through a hard-wired 3.5mm 3-ringed AUX connection for sound and microphone, or the supplied splitter for separate audio and microphone transmission. Last up on the specifications list is the cable. Woven cloth in design and measuring in at 1.2m (without the splitter), this is a relatively standard offering. The cable is quite sleek and won't get caught on clothing items as with rubber coated models.
Pricing & Availability
Set at $69.97 with free shipping from Amazon, this product is placed into high-end gaming audio section. Most competing gaming brands price its in-ear audio from $35-$45, with the enhanced audio claims pushing this product over the edge. Similar to this product, I recently reviewed the SteelSeries Flux In-ear Pro which is set at a high-end gaming price point, but offered some different features than what the P5 does.
What's in the box?
The P5 comes with a standard set of accessories, mirroring what you'll see in basically any gaming audio package.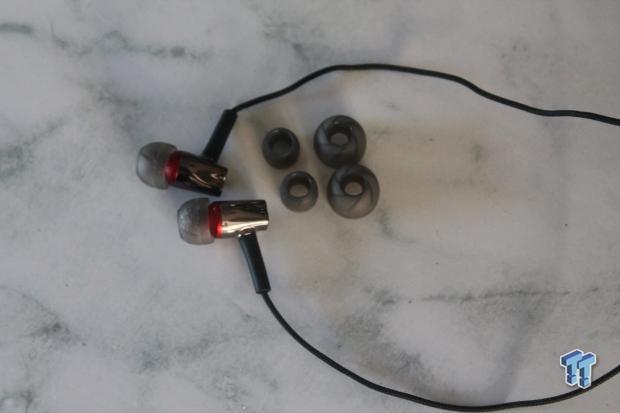 Included in the package is the unit itself, optional small, medium and large rubber ear tips, the single 3.5mm AUX female to dual 3.5mm AUX Male splitter, a carry case, and warranty information. Thankfully the packaging is extremely sturdy and also easy to take apart and put back together. If you are concerned about travelling with this product, you can just throw it back inside the hard plastic packaging for optimal safety.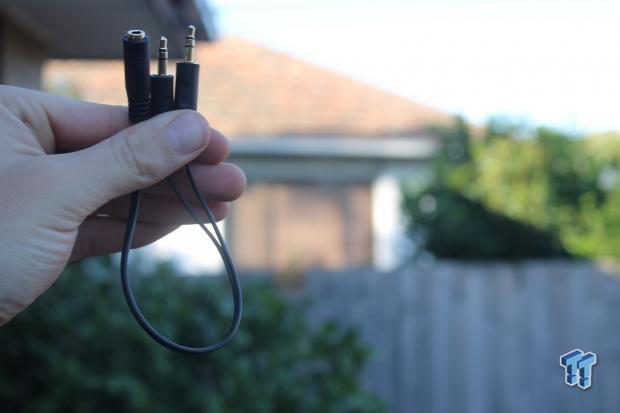 The only other accessory I would suggest for future revisions would be an aircraft adapter. This fixture is extremely inexpensive and helps when travelling.
Let's dig deeper
They are certainly noise isolating! Throwing this product in your ears without any music playing will ensure you're able to observe every one of your breaths, feeling somewhat similar to using a stethoscope.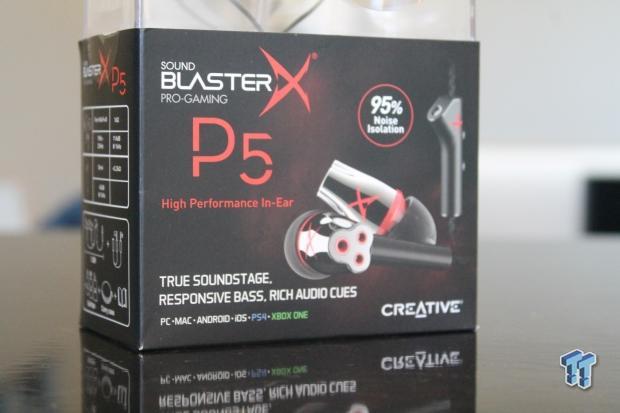 The other thing I noticed straight away is how comfortable they are out of the box. As someone with slightly smaller ear canals, there was no adjustment or teething period necessary with this model as with others. Leaving this product in for a 45 minute Skype meeting then 55 minute Dota 2 game caused absolutely no discomfort and didn't require me to take out and put back in the product to find a perfect fit as with other competitors.
The cable is also extremely lightweight and something that comes to mind, however, is that it could do with being a little longer. As this product is marketed towards gaming (not just travel), the 1.2-meter cable can become annoying. I would suggest it be lengthened to at least 1.5m in future models. Comparing it to my 1.8m and 3m headsets that I use at home, the 1.2m cable doesn't leave much room for movement.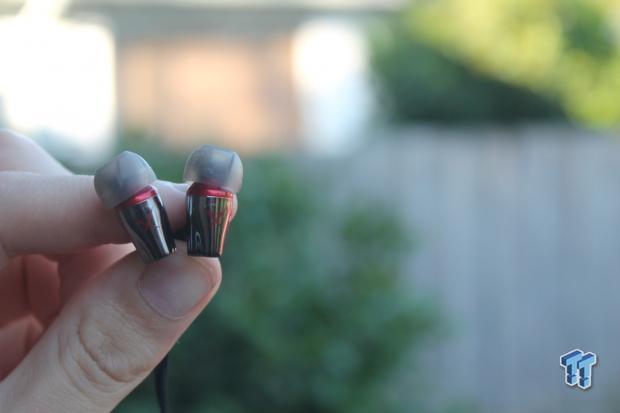 The carry case feels smooth and is strong enough to provide protection for your precious item. A downfall comes with the heavy line transfer noise coming from this product – meaning that every time it rubs a little on your arm or shirt you're able to hear it resonated through the earpieces. This is nullified by draping the cable over the back of your ear, but it's quite annoying, and a drawback of a thin and lightweight cloth braided cable.
A Dota 2 analysis
This product was tested in games of Dota 2, business meetings in Skype, music pumping through Spotify, and my friends yelling at each other in Mumble, a gaming VOIP program.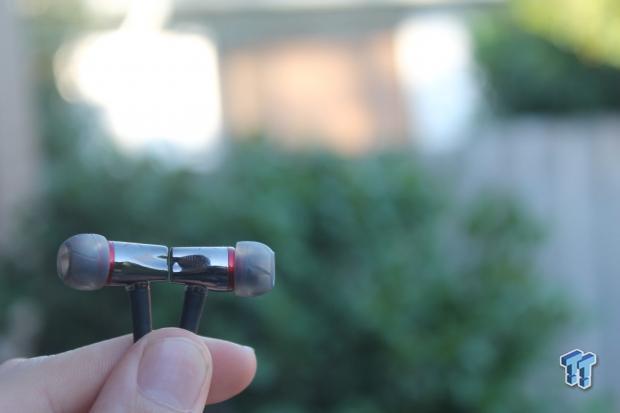 Most in-ear gaming audio has sounded quite similar in my reviews thus far, even when prices varied between $35 and $75. Generally, you're presented with a very similar set of accessories give or take a couple, you're given a bunch of marketing hype regarding tuned audio and enhanced bass, and then you're sent on your way into the gaming world. The difference between these and the Sound BlasterX P5 is that it delivers on these promises.
You're still not getting audiophile quality sound, but that's not what this sub-$70 product promises. The noise cancellation is on point, and the responsive bass and rich audio are both delivered as promised on the packaging. Using this set in Dota 2, I'm able to hone in on different sounds and multitask well. The P5 helps me game while listening to music and talking to friends in Mumble simultaneously, something that a cheap set will not let you achieve.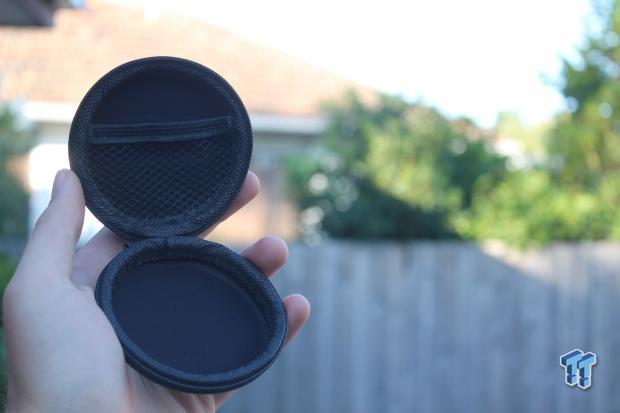 To date, I haven't been presented with a gaming in-ear product that I would personally happily use for gaming - that changed with this model. Cheaper products with muffled or poor quality sound will often provide harsh highs and muddy bass, detracting majorly from your gaming experience and muddling audio together. Playing heroes ranging from Death Prophet to Faceless Void in Dota 2 while in Mumble and using Spotify caused no issues – with my teammates being able to hear me loud and clear through the supplied in-line microphone on this product.
Loading up some tracks to listen to on their own further accentuated the quality of this gaming product, providing some very crisp highs and tight bass, improving majorly on the wandering and muddy bass that many competitors hard to offer. If I were nit-picking, I would point out that sometimes the middles aren't overly bright, but, for the most part, that's completely outdone by the rest of what this product has to offer.
The reverse bass kick in AudiofreQ's 'Warcry' sounded great, sitting alongside respectable performance in quieter songs like Pink Floyd's 'Wish You Were Here'. There isn't an abundance of booming bass so lovers of overbearing and dominant bass may be a little disappointed, with this product still providing more than enough enjoyment for me in bass-laden genres ranging from rap to hardstyle.
Some of the music I tested this product with included:
What's Hot
The comfort: If you think other gaming audio feels nice, you'll be blown away by these.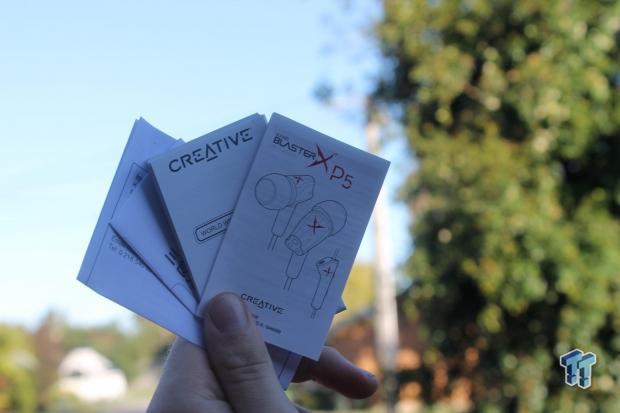 Clarity: The high-end of the spectrum sounds great, and that's backed up by a higher frequency response than most.
Responsive bass: The bass is crisp and clean. It doesn't detract from the highs and assists this product in sounding great.
What's Not
Muddy mid-range: This is nit-picking here, but the mid-range could be slightly tuned up.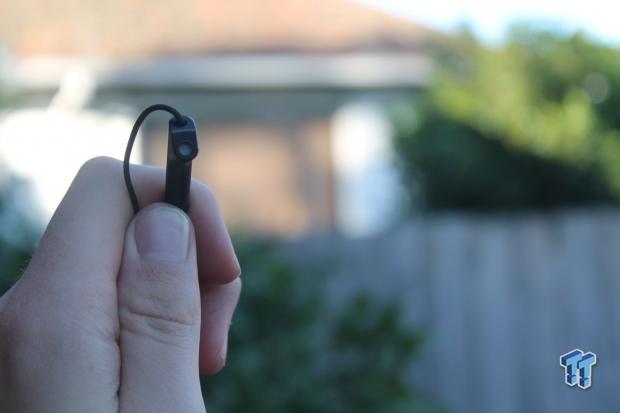 Short cable: The 1.2m cable is quite short for those looking to use these on a PC, especially provided that the P5 is marketed as pro-gaming audio.
Final Thoughts
I never thought I'd be able to use an in-ear audio product on my gaming rig properly before this model, proving me wrong and showing that there is certainly space for these types of products at events without breaking the bank.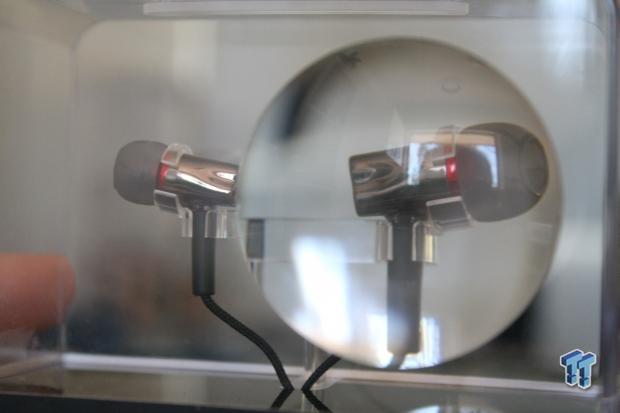 While the space-like design is a real love or hate thing for most, there's no denying that it sounds brilliant for the price, and it's a force to be reckoned with. Matching the performance of my previously-reviewed on-ear Sound BlasterX H5 headset, the P5 performs well for the price.
The included 1.2-meter cable is a little short, and it would be nice if an aircraft adapter were included, but these two slight downsides are nothing compared to the whole package. If you're considering spending up to $50 on an in-ear gaming solution, I strongly suggest you consider breaking the piggy bank for these sub-$70 beauties.
Chris' Test System Specifications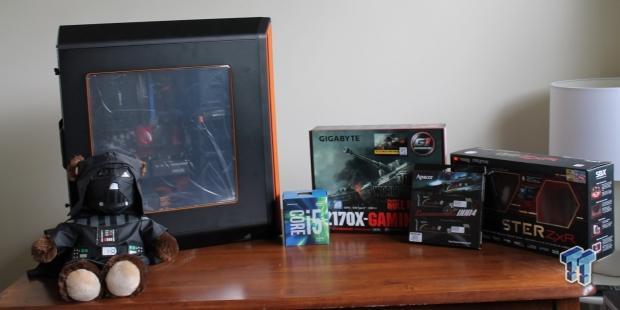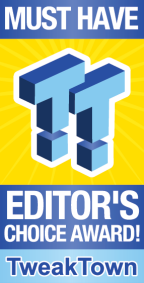 | | |
| --- | --- |
| Performance | 94% |
| Quality including Design and Build | 95% |
| General Features | 95% |
| Bundle and Packaging | 95% |
| Value for Money | 90% |
The Bottom Line: You should seriously considering buying these premium-priced gaming earphones, the higher price certainly earns you a premium audio experience.
PRICING: You can find products similar to this one for sale below.

United States: Find other tech and computer products like this over at Amazon.com

United Kingdom: Find other tech and computer products like this over at Amazon.co.uk

Australia: Find other tech and computer products like this over at Amazon.com.au

Canada: Find other tech and computer products like this over at Amazon.ca

Deutschland: Finde andere Technik- und Computerprodukte wie dieses auf Amazon.de