Creative Sound BlasterX Pro Gaming H5 Headset Review
Creative has gotten serious about its gaming headset line-up. Here's our thoughts on its champion analog product, the Sound BlasterX Pro Gaming H5.
Published
6 minute read time
TweakTown's Rating: 88%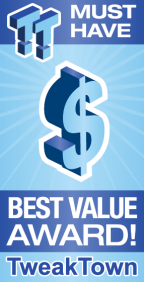 The Bottom Line
If you're looking at a sub-$150 gaming headset, there's not much better than the BlasterX H5.
Introduction
Reinvigorating its gaming headset line, Sound Blaster (Creative) has announced and released its brand new BlasterX range, complete with analog and digital products across headsets, sound cards, and in-ears.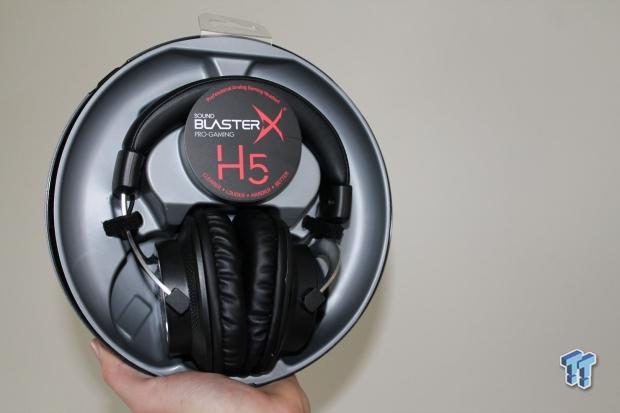 The complete range includes the G5 7.1 sound card, P5 in-ear with microphone, H3 and H5 analog headsets, and the H7 7.1 surround-sound digital headset.
While this headset can arguably be claimed as the 'champion product' due to its extra features, its analog capabilities might not mean it is so as far as the manufacturer is concerned. However, this review will dive straight into the gameplay and music side of things, seeing if this brand new H5 headset might be for you.
Specifications
Featuring 50mm neodymium magnet drivers in each earcup, this product connects through a 3.5mm connection for mic and sound to your computer while also offering an optional single-3.5mm 3-ring connection to a smartphone or tablet, meaning microphone and sound can travel through the one plug.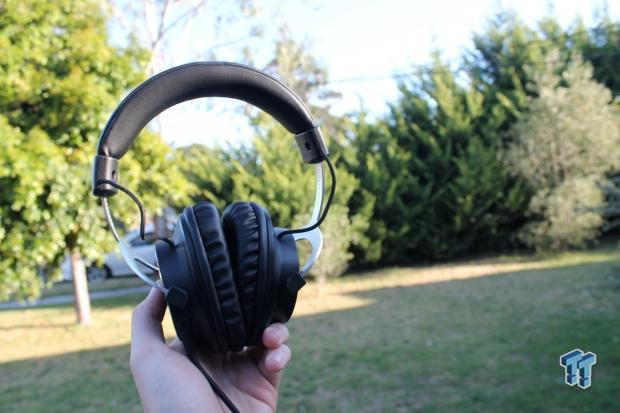 The headset as a whole offers a frequency response of 20Hz - 20kHz with an impedance of 32 Ohms, ranking it as fairly similar to any $100-$150 option available on the market today. The frequency response caps out at 2KHz lower than some competitors, but this isn't a big deal as far as general gaming is concerned. The microphone itself offers a detachable design and a unidirectional pickup with an impedance of 2.2k Ohms, a frequency response of 100Hz - 15kHz, and a sensitivity of -42 dB @ 1KHz. These microphone statistics are slightly more broad than other headsets in its price bracket, but it's nothing major.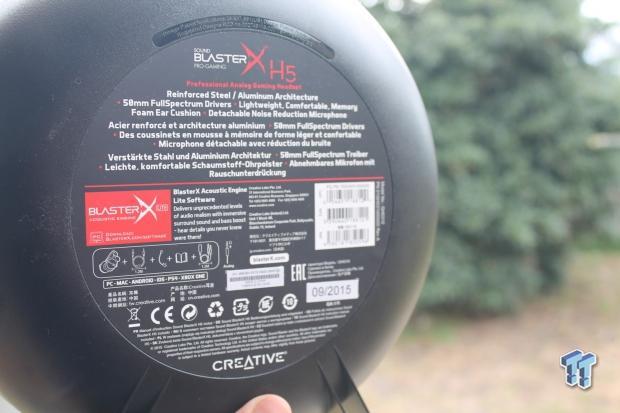 The ear cups on this are leather, and the headset sits on top of your dome thanks to a soft leather headband. Both detachable cables are braided and attach to the headset through a non-locking 3.5mm socket. The detachable microphone further mirrors this design, connecting through a 3.5mm port of its own. Last up there is the included in-line volume control unit, allowing you to mute your microphone or turn sound levels up and down or mute the microphone.
Pricing & Availability
Available from Amazon for $129.99 with free shipping, the BlasterX H5 ranks at the utmost tier for 'gaming headsets', placing it right next to TweakTown's current audio poster-child, the HyperX Cloud II. While the whole Cloud range obtained Editor's Choice awards, this strong gaming presence doesn't faze the old school tech heads at Sound Blaster, offering a competitive and decent product from the get-go.
What's in the box?
Packaged with just about as many features as you could expect, the H5 comes with the aforementioned single to twin 3.5mm jack, single mobile 3.5mm jack, a detachable microphone and optional condenser to throw onto the end of it. When rummaging around for other goodies is when I was first disappointed with this model, finding nothing else within.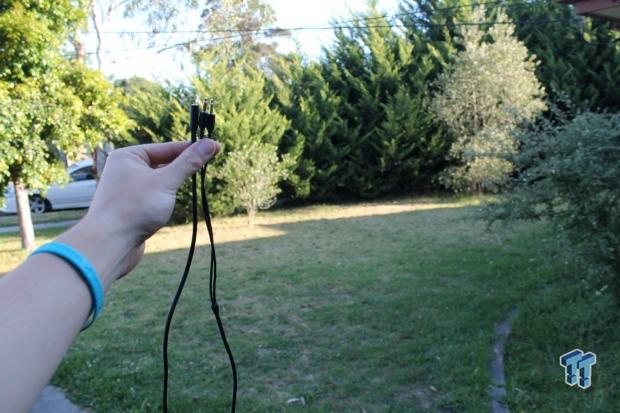 For over $100, you're going to expect some form of optional extras thrown in. Companies like Kingston HyperX offer you secondary earcups, Tt eSPORTS will often give you carry pouches, and Razer and SteelSeries will always throw in free stickers. In regards to this whole lot, the thing that always annoys me the most is a lack of carry pouch.
This headset does come with the cables and microphone as mentioned above, but that's it - besides standard warranty information and manuals.
Let's dig deeper
Expanding on Sound Blaster designs of old, this headset has a much more classy and professional look to it, that's for certain. The engineers took quite some time in picking out the earcup design and, in particular, chose amazing quality leather earcups. These things are Sennheiser-type quality, the kind you'll usually see on $250+ headsets. It's extremely soft, it's squishy, and it's great to wear.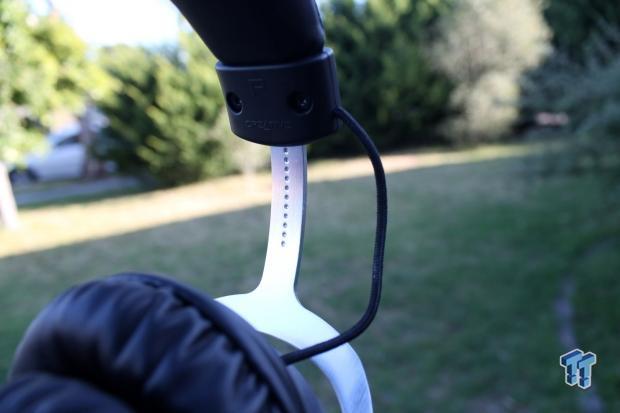 The headband and total frame design are other positives with this model, offering a complete steel inner headband and cabling being wired externally to ensure no internal fraying will take place. The microphone and detachable cable connections are extremely solid and shouldn't cause any long-term issues.
There's no LED lighting, no fancy colors and that's exactly how I like my products. From previous reviews, you'll notice that my favorites are always products that are either not flashy at all, or offer the ability to turn off all the 'bells and whistles'. The mostly black-on-black design of the H5 is something I appreciate, in this age of Chroma.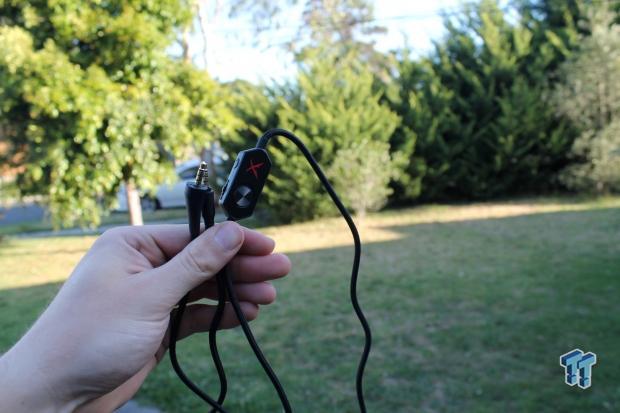 I honestly can't determine if the in-line control unit cheapens the overall look or not. Subjectiveness aside, it performs as it should, never skipping a beat when changing volume levels or muting and un-muting sound.
How does it compare?
Here's what often makes or breaks a headset. Almost all models on the market today provide some resemblance of comfort, and they offer similar features within their price range constraints, but the sound can vary largely.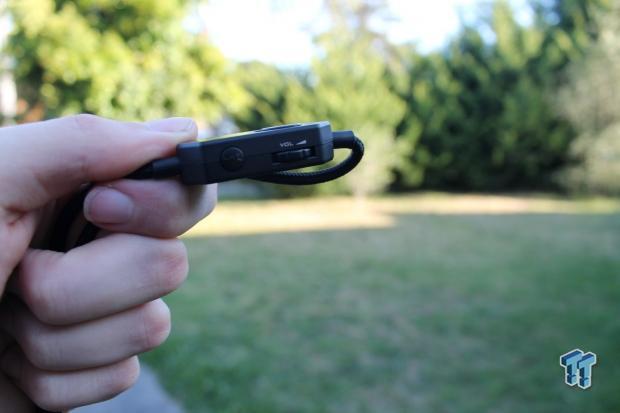 I like to open and test a headset before looking into the nitty-gritty of special features and prices, this means I can try and guess the pricing for myself and jump head first into the review without any pre-conceived ideas of how it 'should' sound or perform when in certain price ranges. With the BlasterX H5, I was able to pick out what the price would be - this doesn't mean I'm a wizard, it just means that I think it's priced around what it should be.
Loading into the recently-released Star Wars Battlefront allowed me to test out the range of this headset quite well, alongside playing three games in Dota 2. With Battlefront, there's thumping AT-AT's and AT-ST's, there's the amazing thermal implosion grenades, and there's your fair share of rockets exploding to give you a full bass-range test. Battlefront testing becomes important when you're trying to listen closely for any footsteps coming up behind you during all of this chaos, allowing us to see if the bass is too strong, taking over the whole experience.
I'm happy to report that the BlasterX gave me an extremely similar response of the HyperX. It's certainly not audiophile level and the H5, I think, is one of these headsets that 'you get what you pay for'. When gaming the soundstage is full, you're able to listen in closely to teammates yelling for cover in-game while appreciating exploding AT-ST's and the 'whuck whuck' of lasers flying around.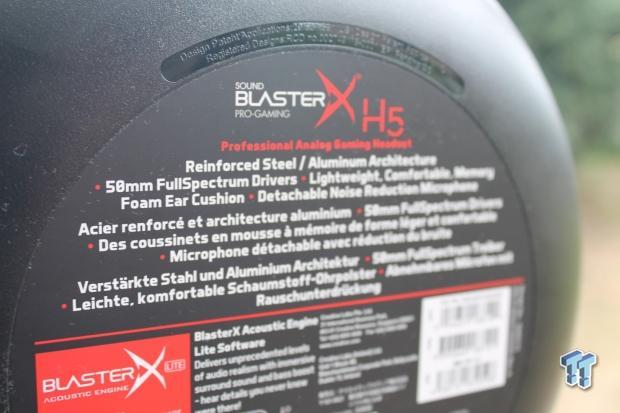 As far as Dota 2 and Mumble (VOIP) is concerned, the headset also tests quite well. It's a little more of an 'open' design than the HyperX Cloud II, meaning that I can hear what's going on in my house more so than I can with the headset mentioned above, along with my voice, but this is a major positive to some. In the last game, I played Dazzle, and the headset was able to offer me the listening experience I had come to expect of it - playing all sounds well. The microphone also functioned just fine through Mumble; while this test seems a little redundant to some, I've tested headsets up to $170 that have had sub-par microphones to the point where my friends couldn't even understand me talking.
Twenty One Pilots' 'Ode To Sleep' reported back another full sound experience. The crisp melodies were audible, added to by a booming (yet crisp) back beat. While I'm using colorful language to explain these things, it's important to remember that I'm talking about the headset in relation to its price point here. It's still not going to match my $250+ Feenix Aria headset in the clarity department, but it does a great job for a sub-$150 model.
Also tested was some chilled out rap music from Nas to introduce a little punchy bass into the mix, once again mirroring the same experience as above. This headset handles the addition of bass well, not overtaking the lyrics, but it does manage to fall off when blasted at high volumes.
In a last ditch effort to give this headset a death by bass, I loaded up Warcry by Audiofreq. This bass-filled song would be my last 'real-world' test of the BlasterX H5. The reverse bass drop was a little lackluster in here, showing that the H5 ultimately falls short when assaulted with heavy bass. If you're looking for a headset to handle gaming alongside vicious assaults of hardcore, hardstyle or anything with a 'hard' prefix, look elsewhere.
What's Hot
The clarity: Proving to be the top of its game, the H5 offers (almost) the best clarity you can come to expect from any gaming headset.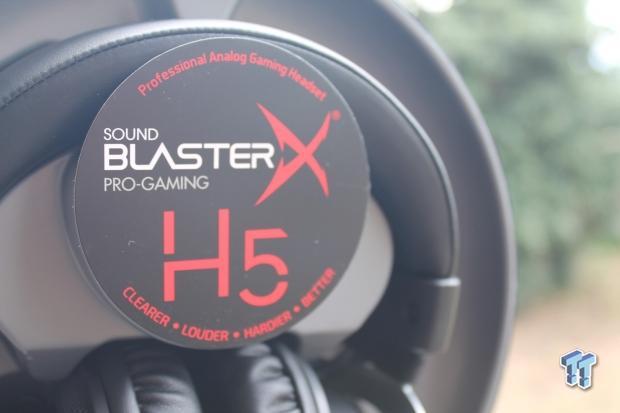 The feel: The leather is extremely soft on your ears and head. Wear this product for hours without causing any strain. What's even better is the leather makes it easy to clean.
The price: While you could argue that a $5-$10 drop couldn't hurt, I feel that the BlasterX H5 is priced quite sensibly for a new release model.
What's Not
The rumbling bass: If you're looking for a headset to handle gaming alongside vicious assaults of hardcore, hardstyle or anything with a 'hard' prefix, look elsewhere.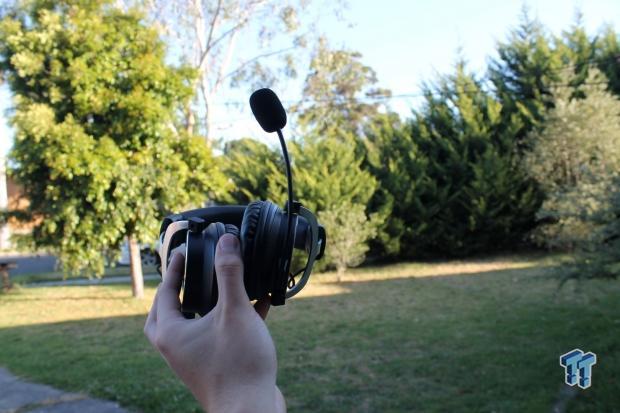 The accessories: Sitting at $130 for and there's no accessories, they're not expensive or difficult to add - but they are useful.
Playing at full speed ahead: If you like your music at 100%, this is when the bass starts to drop off and will cause issues with your listening experience.
Final Thoughts
If you're looking for a headset to handle gaming alongside vicious assaults of hardcore, hardstyle or anything with a 'hard' prefix, look elsewhere. If you're looking at a well-rounded gaming headset that's priced sensibly and will handle any game you throw at it with ease, the Sound Blaster H5 is for you.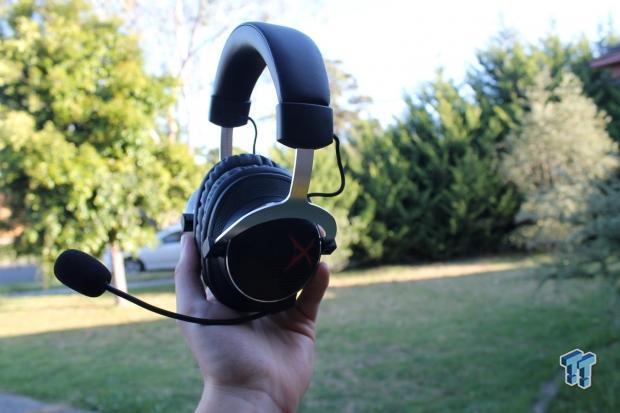 While the earcups are a little smaller and more open than the HyperX Cloud II, it ranks an almost identical experience. While not taking the crown itself, Sound Blaster has done a great job with this new gaming line of headsets so far - pending my testing of the other four models. There's also the issue of playing music at full speed ahead, as I noticed the bass fell off quite a lot when pumping at 100% volume.
If you're looking at a sub-$150 gaming headset, there's not much better than the BlasterX H5. I just hope that they throw in some more optional-extra goodies in the future.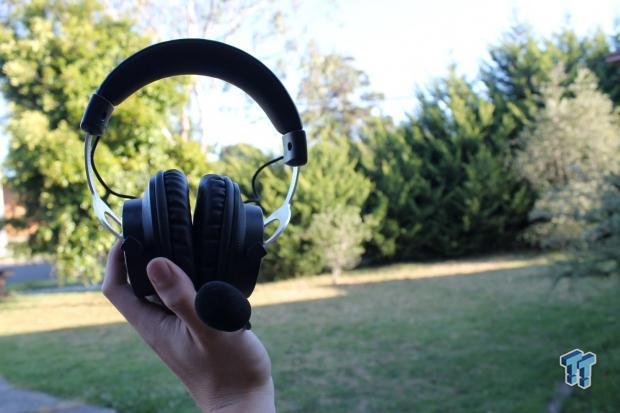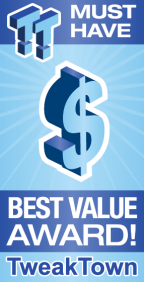 | | |
| --- | --- |
| Performance | 85% |
| Quality including Design and Build | 95% |
| General Features | 90% |
| Bundle and Packaging | 75% |
| Value for Money | 95% |
The Bottom Line: If you're looking at a sub-$150 gaming headset, there's not much better than the BlasterX H5.
PRICING: You can find products similar to this one for sale below.

United States: Find other tech and computer products like this over at Amazon.com

United Kingdom: Find other tech and computer products like this over at Amazon.co.uk

Australia: Find other tech and computer products like this over at Amazon.com.au

Canada: Find other tech and computer products like this over at Amazon.ca

Deutschland: Finde andere Technik- und Computerprodukte wie dieses auf Amazon.de
We openly invite the companies who provide us with review samples / who are mentioned or discussed to express their opinion. If any company representative wishes to respond, we will publish the response here. Please contact us if you wish to respond.
Related Tags