Corsair RM1000x 1000W 80 PLUS Gold Power Supply Review
Corsair ditches its Corsair Link integration with the new RM1000x and the result is a great unit at a lower price point.
Published Thu, Oct 1 2015 7:23 PM CDT
|
Updated Thu, Jul 30 2020 4:20 PM CDT
Introduction and Specifications, Availability, & Pricing
Ever since the release of the Corsair AX1200i digital power supply, we've seen a steady stream of digital power supplies bearing the Corsair logo. They have been revamping most of their products and as such, it seems only fitting that they add more features in an attempt to stay ahead of the competition. This includes the RMi series of units which is meant to be a rock solid unit without the bleeding edge price of a top end enthusiast units. We reviewed the RM1000i when it launched, and it proved to be a good unit.
The problem with adding more features is that it typically adds to the cost. On top of the added cost, some people simply prefer to have a simpler unit with fewer features. Think of it as a "simpler is easier" mantra. Enter the new RMx series from Corsair. It features the same build quality and performance as the RMi series, sans the digital control/monitoring from Corsair Link.
Corsair touts the same performance yet a lower price and let's face it, for most, they simply want the best bang for their buck. Let's start getting into this unit to see if that is just what it delivers.
Specifications, Availability, & Pricing
The Corsair RM1000x 1000W power supply features a single 12V rail rated for 83.3A or 1000W. Both the 3.3V and 5V rails are rated for 25A each with a combined maximum output of 150W. The 5VSB rail is rated for 3A or 15W. Maximum combined output for the Corsair RM1000x 1000W power supply is 1000W.
As far as specifications go, it features everything that Corsair features in all of their power supplies. There is a full suite of protections including SCP, OVP, OCP, OPP, and OTP. The unit features fully modular cables, all of which are either fully sleeved or of the flat ribbon type. The Corsair RM1000x is rated for 80 PLUS Gold efficiency. Finally, the power supply is rated for 100% continuous output at 50C.
The Corsair RM1000x 1000W has an MSRP of $179.99. This places pricing slightly above average for a 1000W Gold rated unit. The Corsair RM1000x is available immediately from the usual online outlets. Corsair backs the RM1000x with their standard seven-year warranty.
Package & Inside the Box
Package
Corsair's packaging is nearly identical for all of their power supplies, and the RM1000x is no exception. Basic features and a good shot of the unit are present on the front of the box.
The left side talks about the build quality along with efficiency and noise charts. Note that the unit runs silently until about 40% load and then kicks on the fan.
The other half of the back provide dimensions, more photos of the physical unit, and the I/O specifications.
This side of the box provides cable and connector availability with length.
The other side speaks of the efficiency of the unit itself.
Both ends feature the same summary information that is found on the rest of the box and in multiple languages.
Inside the Box
The internal packaging is the same as all other Corsair units that we have seen. Thick foam surrounds the power supply on all sides, and the extra space in the box is take up by the modular cables and accessories. It is very well protected.
As is usual for Corsair, the unit is finished in a textured black and the I/O specification label is on top of the power supply.
Both sides of the RM1000x feature the same logo with the opposite being inverted. The beveled edges of the power supply are a nice touch when building a system and just makes installation easier.
The bottom of the unit features the wire mesh grill that blends in with the bottom of the unit. Here we can see the gray 135mm fan that provides the active cooling for the RM1000x.
Flipping to the back side of the unit, we find that ventilation is provided via standard honeycomb mesh cutouts. There is a heavy duty on/off rocker switch for the AC input. Corsair also places a sticker that must be removed prior to powering on the unit that lets you know the fan will not operate until the unit reaches a moderate load, thus keeping the unit silent until it gets warm.
Rounding out the images of the unit itself is a picture of the front. All cables are fully modular and are clearly labeled for easy connectivity.
All cables for the RM1000x are either fully sleeved or of the flat ribbon type and black in color.
Accessories included with the unit include an AC power cord, mounting screws, cable ties, and a Corsair case badge.
Finally, we have the user's manual and warranty guide.
Cabling Arrangement & A Look Inside
Cabling Arrangement
Corsair does a good job of providing all of the cables that you should need to fully load down the 1000W provided by the RM1000x. There are four PCI-E cables with two connectors each which should more than take care of any set of video cards that this power supply can handle. Peripherals are given power via three SATA cables with 11 connectors total and two Molex cables with eight connectors total. If an FDD connector is needed, Corsair includes a single Molex to FDD connector.
Rail distribution is as simple as it gets with a single 12V rail. There is no need to worry about load balancing here.
A Look Inside
Corsair always has a very clean interior layout that provides for excellent airflow within the unit. Three black heat sinks provide all of the passive cooling for the unit.
A pair of Nippon Chemi-Con caps sit on the primary side of the power supply.
The secondary side is filled only with Nippon Chemi-Con caps.
Corsair utilizes their NR135L fan to cool the unit should it get hot enough to kick the fan on.
Test System and Results
Our Testing Method and Test Results
Our load tests utilize a couple of FAST ATE active load testers, and a variety of other equipment such as an oscilloscope, power conditioner, temperature probe, and a power consumption meter. You can read more about our standard testing approach here.
The tests performed are based around six conceivable setups that are out there, and progressively load down the PSU up to the power supply's limits, or 1000W; whichever comes first. Since our test equipment's limits are equal to that of the Corsair RM1000x power supply, we can test it to its maximum.
The above tests represent typical loads that we have measured from various systems and are meant to give a rough idea of where your computer might fall in line with our tests. Please keep in mind that each system is different, and actual loads can vary greatly, even with similar hardware.
Let's start by taking a look at the voltages, to see how well this unit did during testing. Starting with the 12V rail, we see 1% regulation from start to finish, with a total drop of .06V. The 5V rail managed to stay within 2% of specification, with a total drop of .03V from start to finish. Moving towards the 3.3V rail, we see that regulation was within 2% of specification, with a total voltage drop of .03V.
DC Output quality for the Corsair RM1000x was excellent and well within specifications. During Test One, we saw 4mV of noise on our scope at 22% load. When we increased the loads in Test Three, the ripple climbed to 9mV at around 56% load. Increasing loads even further showed that the noise on the 12V rail climbed to 14mV at 1000W.
The Corsair RM1000x 1000W power supply is rated for 80 PLUS Gold efficiency. This means that the power supply must perform at 87% / 90% / 87% efficiency, at 20% / 50% / 100% loads respectively. As you can see, the Corsair RM1000x performed exactly as would be expected to reach these levels of efficiency.
Final Thoughts
It has been ages since we have seen a power supply from Corsair that even hinted that it was anything less than of superior quality. Even then, it was a bare bones entry level unit that was simply designed to get you by and nothing more than that. Corsair continues to prove that their power supplies are all you can want in a unit and sometimes more, and the RM1000x is no exception to this.
The RM1000x is a unit that displays superior performance characteristics all the way around. From a voltage regulation standpoint, even though the voltages are only within 2% tolerance of ATX specs, they are very stable and display minimal changes from low to full loads. Heck, the 12V rail even stays within 1% the entire time. When you look at the DC Output quality of the unit, you simply can't ask for anything better. Even then the Corsair AX1200i and Corsair AX1500i barely perform better and you really have to zoom in on the scope to see the noise. Even from an efficiency standpoint, the unit stands very strong. I have a feeling that the only reason that this is an 80 PLUS Gold rated unit instead of Platinum is that they were trying to keep the cost down.
The RM1000x is priced about $20 cheaper than the RM1000i, and this is because it does not contain the digital monitoring capability of the RM1000i with integrated Corsair Link, but still maintains their seven-year warranty. I've been using Corsair's Link enabled units for quite some time, and aside from when you are trying to do some serious overclocking or troubleshooting, it isn't a necessary feature. Shaving a few bucks off a power supply but still maintaining great quality is a great idea and it is money that can be devoted elsewhere to the system for faster performance.
When it comes down to it, this is what matters to most as they are trying to build the fastest machine possible for the budget they are given. Few have unlimited budgets to blow on bleeding edge everything, and it does matter when you can shave a little here and there and still wind up with the same performance. If you're looking for a superior quality power supply but trying to shave a few extra bucks for elsewhere, this RM1000x is just the ticket.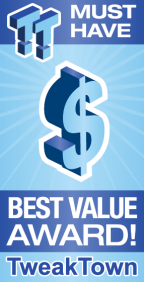 | | |
| --- | --- |
| Performance | 92% |
| Quality including Design and Build | 95% |
| General Features | 93% |
| Bundle and Packaging | 92% |
| Value for Money | 95% |
The Bottom Line: Corsair's RM1000x is all about delivering amazing performance while keeping the price down and it is very successful at doing so. Unless you absolutely have to have the Corsair Link monitoring offered by their other models, the RM1000x is an excellent choice for anyone in need of excellent 1000W power supply.
PRICING: You can find products similar to this one for sale below.
United States: Find other tech and computer products like this over at Amazon.com
United Kingdom: Find other tech and computer products like this over at Amazon.co.uk
Australia: Find other tech and computer products like this over at Amazon.com.au
Canada: Find other tech and computer products like this over at Amazon.ca
Deutschland: Finde andere Technik- und Computerprodukte wie dieses auf Amazon.de
We openly invite the companies who provide us with review samples / who are mentioned or discussed to express their opinion. If any company representative wishes to respond, we will publish the response here. Please contact us if you wish to respond.
Related Tags