OCZ TRION 100 480GB SATA III SSD Review
The inevitable move to TLC flash is in full swing and OCZ is all in. OCZ's TRION 100 is their first 100% Toshiba-Based SSD.

Published
15 minute read time
TweakTown's Rating: 80%
The Bottom Line
OCZ's TRION 100 480GB delivers great read performance, but it's lackluster write performance and high MSRP at launch are holding it back.
Introduction, Drive Specifications, Pricing and Availability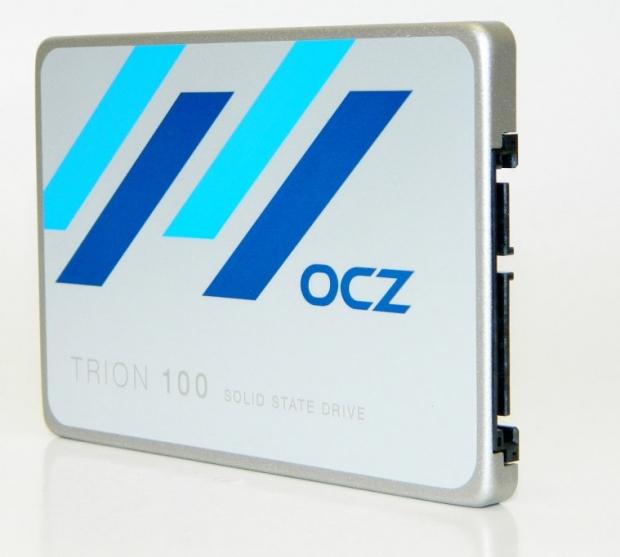 When we first started seeing MLC flash-based SSD's arriving on the scene, believe it or not, there was serious concern that MLC (Multi-Level Cell or 2-Bit per cell) flash could not provide enough endurance to be viable. Advancements in bit error correction engines and node process eventually quelled and put an end to MLC related endurance concerns. Fast forward to today and we now are at the point where concerns over the durability of low cost TLC (Triple-Level Cell or 3-Bit per cell) flash-based SSD's have proven to be unfounded. Make no mistake TLC is here to stay and is poised to become the norm. TLC flash is ushering a new era of solid-state storage affordability.
OCZ is the founding father of today's mainstream SSD's. First on the scene, OCZ has quickly became a household name in the PC Universe. Beginning with the original Vertex, OCZ was really the first company to bring us SSD's we could actually afford. Fast as hell and affordable, the Vertex established OCZ as the leading purveyor of mainstream SSD's, with the lion's share of the market. OCZ is a big believer in PR, implementing a fully staffed forum for their customers to interact with the company and fellow enthusiasts. Many of today's analysts including myself, learned a lot of what we know about SSD's by becoming active members of what I consider one of the best forums ever, the OCZ forum. Sadly, the original forum is no longer with us. When Toshiba acquired OCZ, OCZ was in turmoil and like parent companies will do, Toshiba felt a clean slate was in order for OCZ to be revived as a household name with a favorable image. Part of cleaning the slate was killing off a forum that had become full of customer complaints, and starting a new forum.
Yesterday's OCZ was totally reliant on third party components for their SSD's and that eventually put OCZ at a disadvantage as fab enabled companies like Intel and Samsung began to take a stranglehold on SSD market share. OCZ seeing the writing on the wall, focused their efforts into developing their own in-house controller to level the playing field. Spinning your own silicon is a very costly endeavor, costing upwards of 100 million dollars, but OCZ managed to get it done with the payoff being today's Barefoot controller. Having your own SSD controller is great, it's big asset to any player in the game, but that's really not the most important piece of the puzzle.
To really be a player, having in-house access to flash is what really matters. This means you need to have your own NAND FAB to be really competitive. Problem with that is, a NAND Fab is a multi-billion dollar investment. With the competition on the rise, and no access to a reliable cost effective pool of quality flash, OCZ was hanging on for dear life. Rumors swirled, would OCZ die off? Or, would a large corporation swoop in and acquire OCZ? We are glad to say the latter of the two fates won out. After careful consideration, Toshiba decided they could make OCZ could viable again. OCZ is now back in the game. With an industry giant like Toshiba for a parent company, OCZ is poised to make a comeback.
This brings us to where we are today. The introduction of the first 100% Toshiba-Based OCZ SSD. Having met with Toshiba's storage marketing and development teams at their San Jose, Ca. facilities earlier this year, I can tell you that Toshiba/OCZ have a solid road-map that's rife with cutting edge SSD's. I was introduced to the TRION 100 months ago and since then I've been eagerly awaiting its arrival. Today is that day. Will the OCZ's first value-centered TLC SSD Solution be able to withstand TweakTown's brutal proving ground? Let's take a close look.
Specifications OCZ TRION 100 480GB SATA III SSD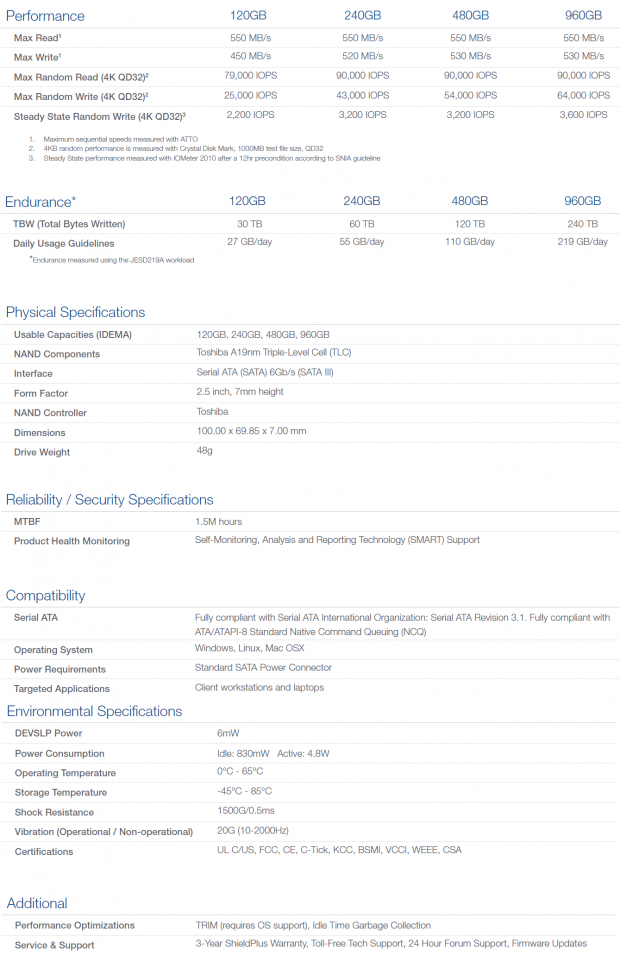 OCZ's TRION 100 SATA III 2.5" FF SSD is available in 4 capacities: 120GB, 240GB, 480GB and 960GB. Sequential read performance for the TRION 100 is listed as up to 550MB/s. Sequential write performance varies by capacity, 470 MB/s at 120GB, 520 MB/s at 240GB and 530 MB/s for the 480-960GB drives.
The TRION 100's delivers up to 90,000 4k random read IOPS and 64,000 4k random write IOPS at QD32. Random 4k IOP FOB and Steady State performance vary by capacity. Please refer to the above product specifications for specific ratings by capacity. LBA addressing is handled by a single LPDDR DRAM package that varies in density by capacity. Endurance or TBW (Total Bytes Written) varies by capacity doubling at each increase in capacity from 30TB at 120GB to 240TB at 960GB. Power consumption for the TRION 100 is listed at 4.8W active. Idle power consumption is listed at 830mW and Device Sleep power consumption is listed at 6mW.
OCZ backs the TRION 100 with their exclusive 3-Year ShieldPlus limited warranty. OCZ's ShieldPlus warranty is OCZ's policy of no wait, no receipt necessary, and no shipping cost to the customer product replacement. In the unlikely event that you're OCZ SSD fails, OCZ will immediately ship you a replacement with a postage paid return envelope to return the original purchased product.
Drive Details
OCZ TRION 100 480GB SATA III SSD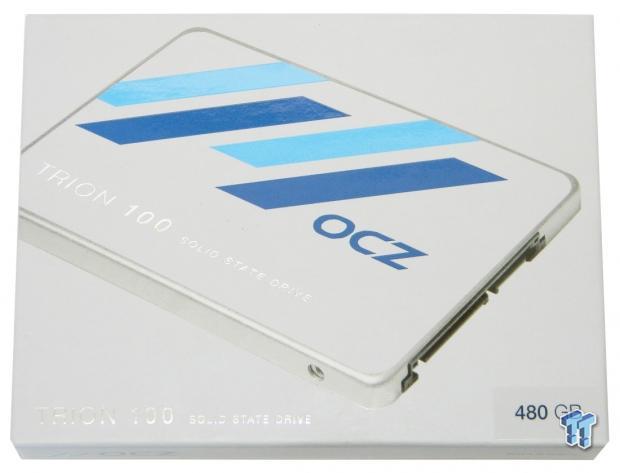 The TRION 100 is packaged in a white box with embossed chrome lettering. There is a picture of the drive on the front of the box. The drive's capacity is advertised on the lower right corner.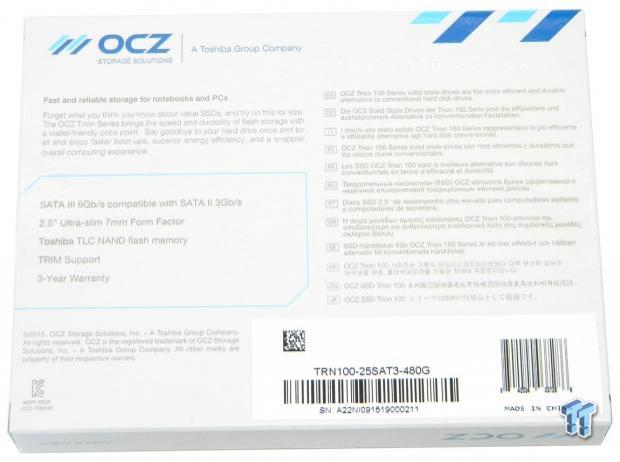 On the rear of the packaging, OCZ explains that the TRION 100 will improve your computing experience and lists some of the drive's attributes. There is a label located at the lower right corner of the box with the drive's model and serial numbers printed onto it.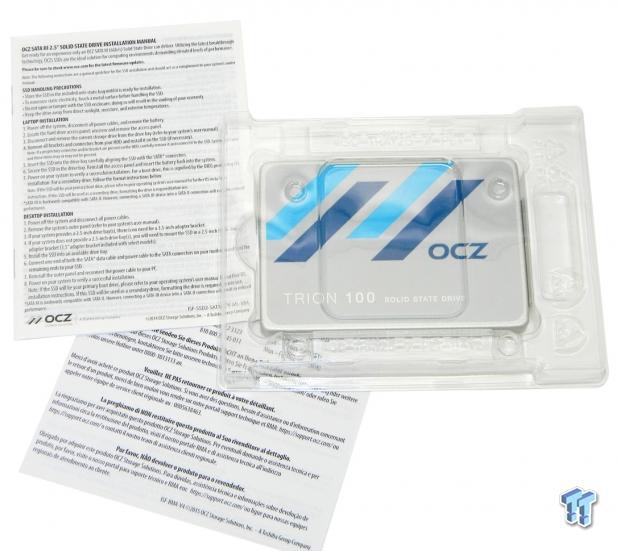 Inside the box, the drive is protected from damage by a two piece clear plastic enclosure.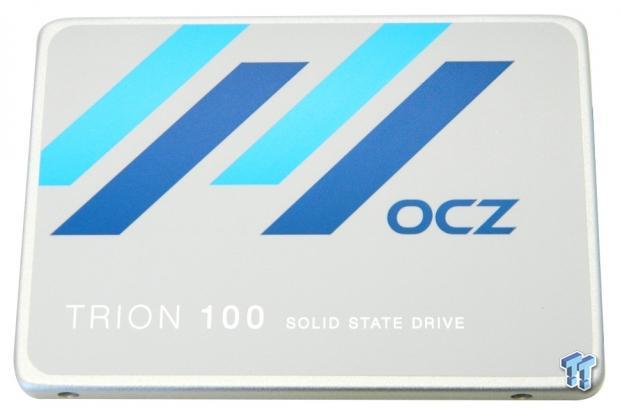 The front facing of the drive's enclosure is covered with an attractive light grey OCZ label. The label has light and dark blue angled stripes that enhance the visual appearance of the drive.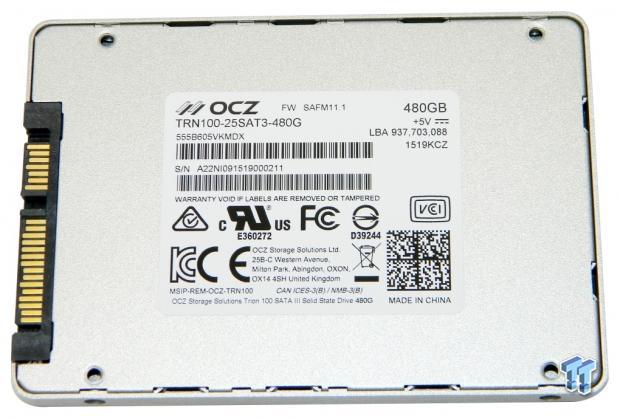 Centered on the back half of the drive is a manufacturer's label that lists the drive's model number, serial number, shipping firmware and capacity.
The drive's enclosure is formed from stamped aluminum, natural in color. The PCB snaps into place as does each half of the enclosure. The enclosure is a completely screw-less design.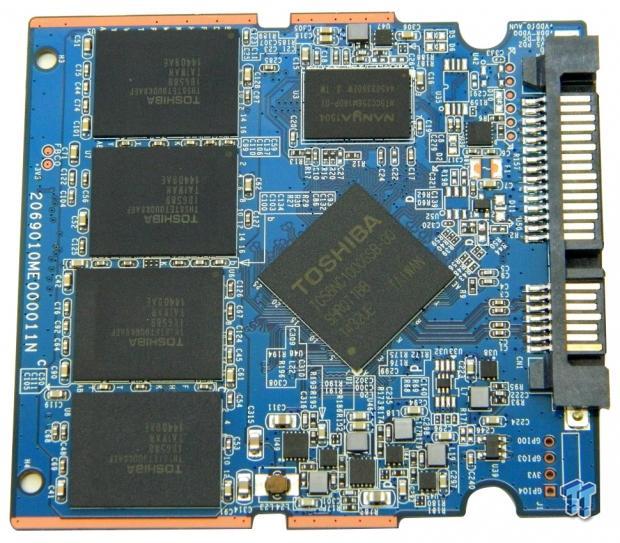 All of the drive's major components are located on this half of the blue PCB. There are 4 Toshiba branded BGA flash packages, a Toshiba controller and a single DRAM package.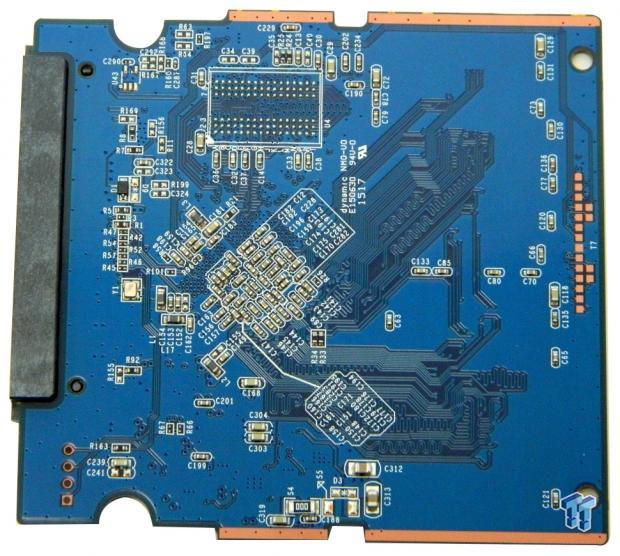 This side of the blue 3/4 length PCB is populated with a few small surface mounted components.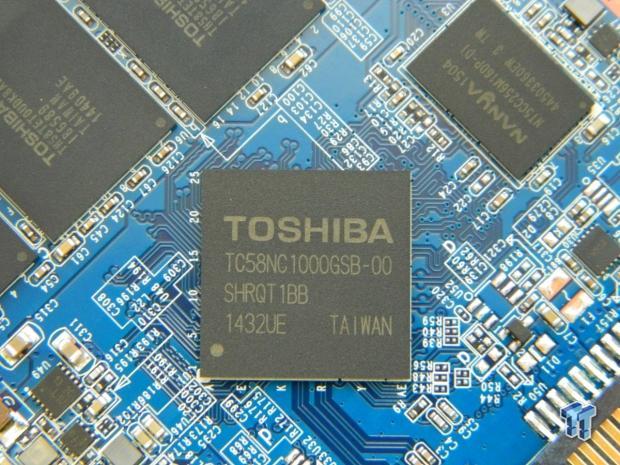 A close-in view of the Toshiba TC58 controller that powers the TRION 100.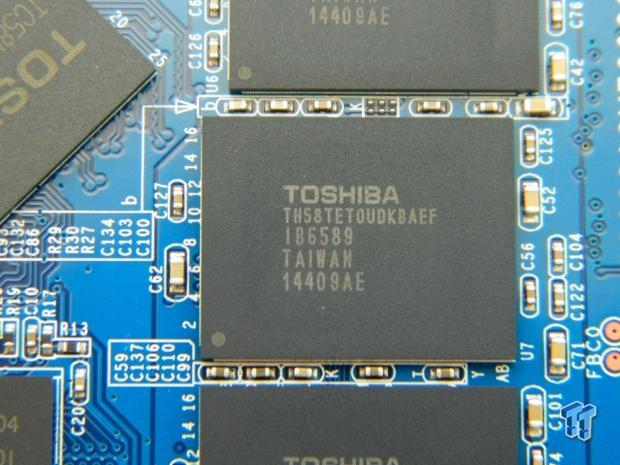 A close-in view of one of the drive's four Toshiba A19 TLC 128GB flash packages.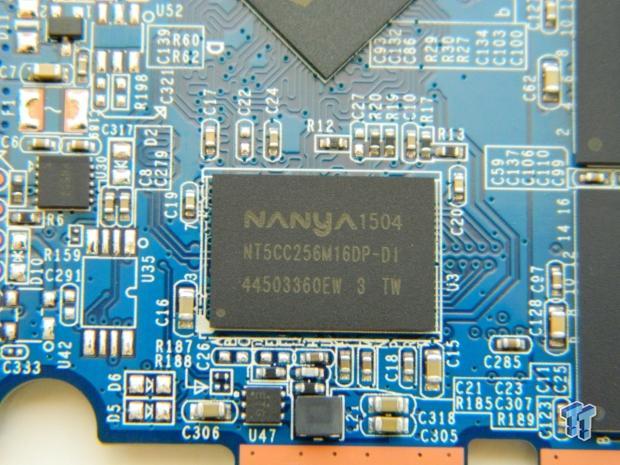 Finally, a close-in view of the drive's NANYA branded LPDDR DRAM package.
Test System Setup and Properties
Test System Configuration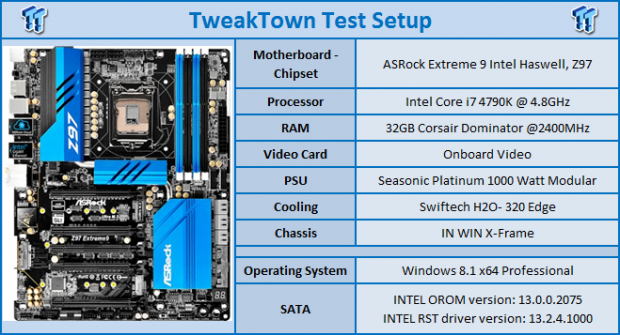 We would like to thank the following companies: ASRock, Crucial, Intel, Corsair, RamCity, IN WIN, and Seasonic for making our test system possible.
Drive Properties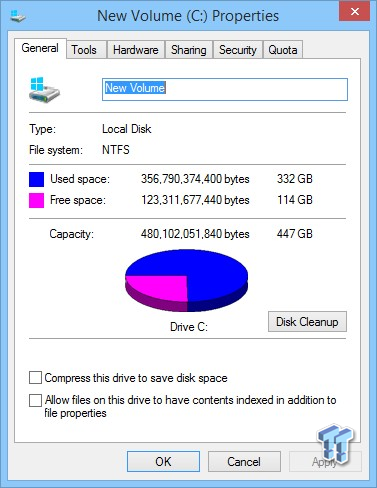 The majority of our testing is performed with our test drive as our boot volume. Our boot volume is 75% full for all OS Disk "C" drive testing to replicate a typical consumer OS volume implementation. We feel that most of you will be utilizing your SSD's for your boot volume and that presenting you with results from an OS volume is more relevant than presenting you with empty secondary volume results.
System settings: Cstates and Speed stepping are both disabled in our systems BIOS. Windows High Performance power plan is enabled. Windows write caching is enabled, and Windows buffer flushing is disabled. We are utilizing Windows 8.1 64-bit for all of our testing except for our MOP (Maxed-Out Performance) benchmarks where we switch to Windows Server 2008 R2 64 Bit.
Synthetic Benchmarks - ATTO & Anvil Storage Utilities
ATTO
Version and / or Patch Used: 2.47
ATTO is a timeless benchmark used to provide manufacturers with data used for marketing storage products.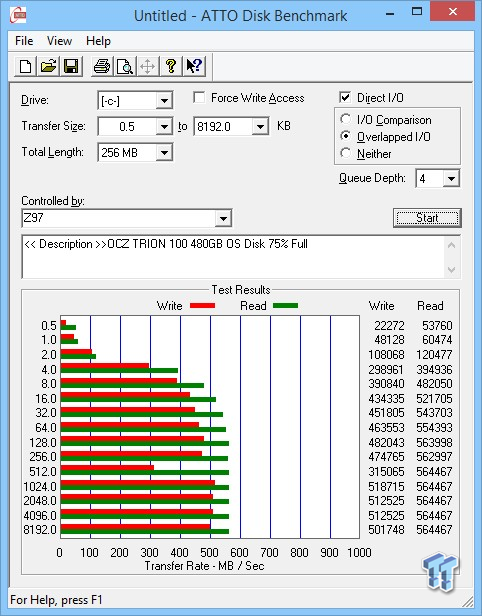 Sequential read/write transfers max out at 551/507 MB/s. Keep in mind this is our OS volume 75% full, and we are properly converting KB to MB.
Sequential Write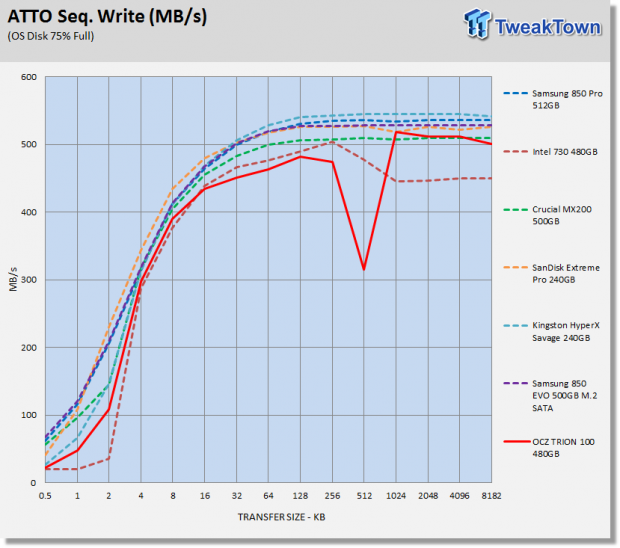 Aside from Intel's 730, the TRION 100 is outperformed by the rest of the SSD's on our chart.
Sequential Read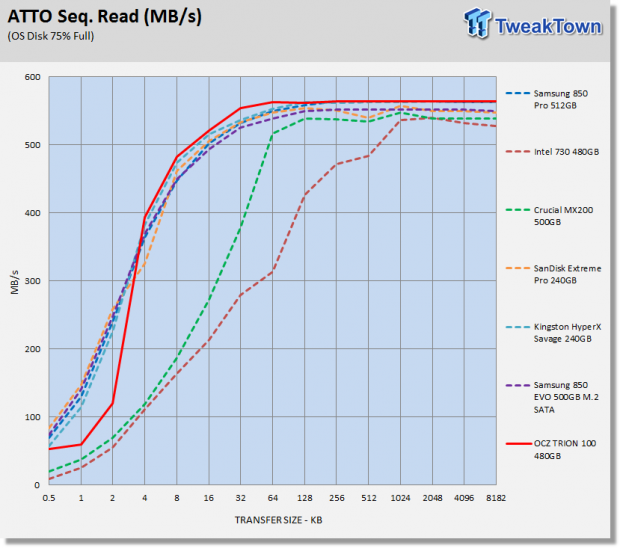 Sequential read performance of the TRION 100 is very good. The TRION leads the field at QD4-32.
Anvil Storage Utilities
Version and / or Patch Used: 1.1.0
Anvil's Storage Utilities is a storage benchmark designed to measure the storage performance of SSD's. The Standard Storage Benchmark performs a series of tests; you can run a full test or just the read or write test, or you can run a single test, i.e. 4k QD16.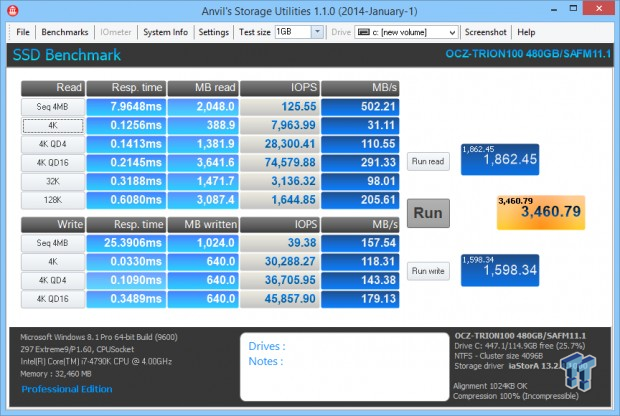 Scoring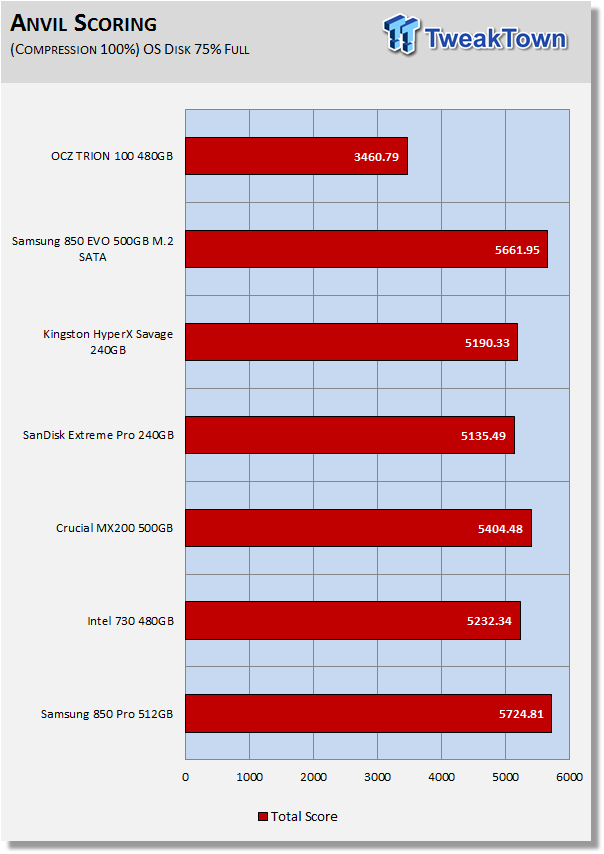 Anvil's scoring gives a good indication of a drives overall performance. What we can take away from this test is that when the TRION 100 is loaded up with data, sequential and random write performance will take a big hit. I will mention that the TRION 100's sequential write performance can be kind of like a wave, with highs and lows. This test caught the TRION 100 at a low point as evidenced by testing later in this review.
(Anvil) Read IOPS through Queue Depth Scale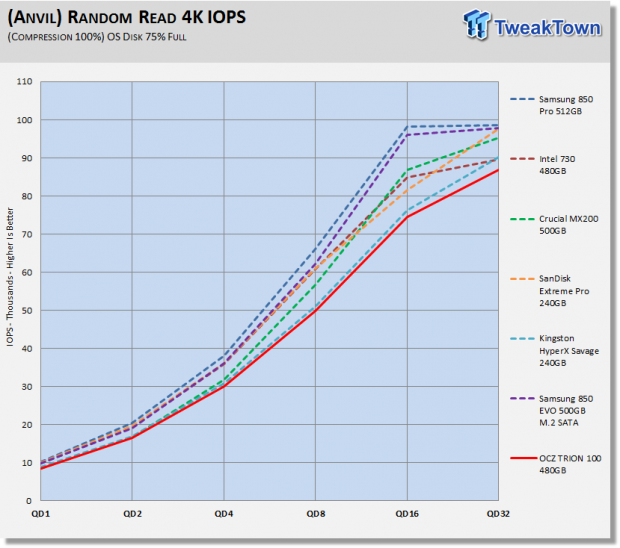 The TRION 100's 4k random read performance is lower than the rest of the field, but not by very much, it's still very acceptable for a "value-centric" SSD.
(Anvil) Write IOPS through Queue Scale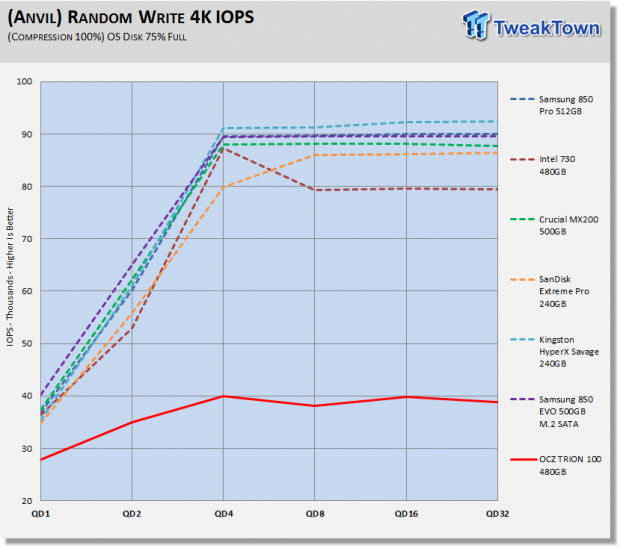 Random write performance with data on the drive is entirely another matter; it's not so good. The other TLC SSD on our chart is the Samsung 850 EVO. The 850 EVO is able keep random write performance very high despite the write disadvantage inherent to TLC flash.
Synthetic Benchmarks - CrystalDiskMark & AS SSD
CrystalDiskMark
Version and / or Patch Used: 3.0 Technical Preview
CrystalDiskMark is disk benchmark software that allows us to benchmark 4k and 4k queue depths with accuracy. Note: Crystal Disk Mark 3.0 Technical Preview was used for these tests since it offers the ability to measure native command queuing at QD4.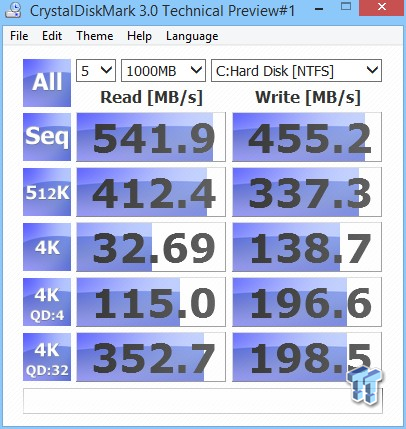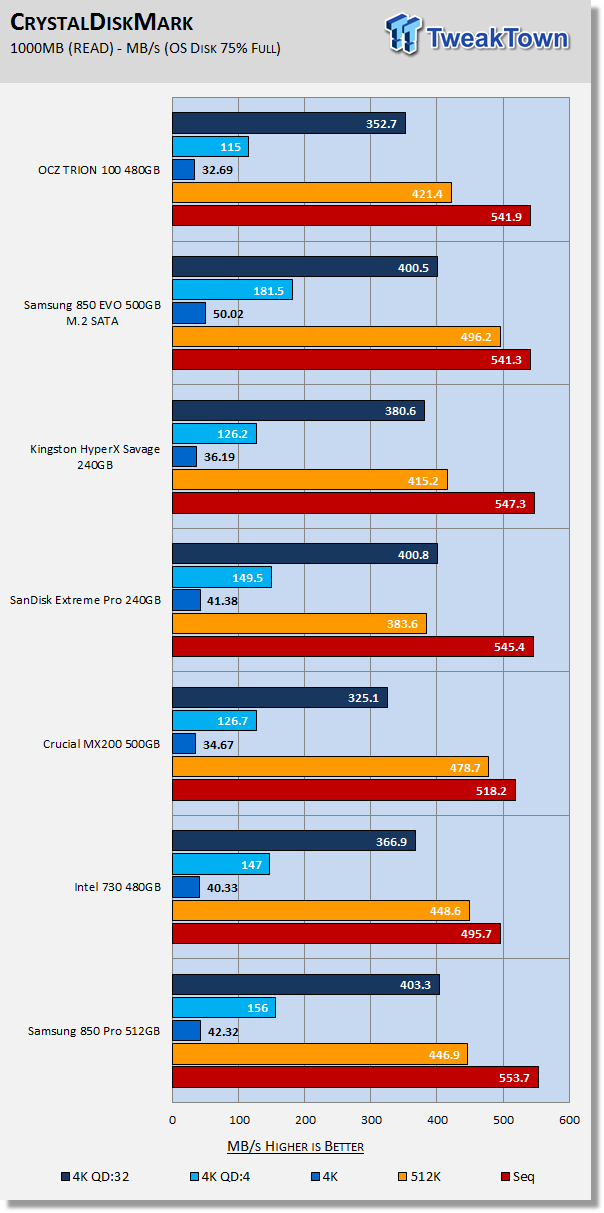 Again, read performance, in particular sequential read, is very good for a value-centric SSD.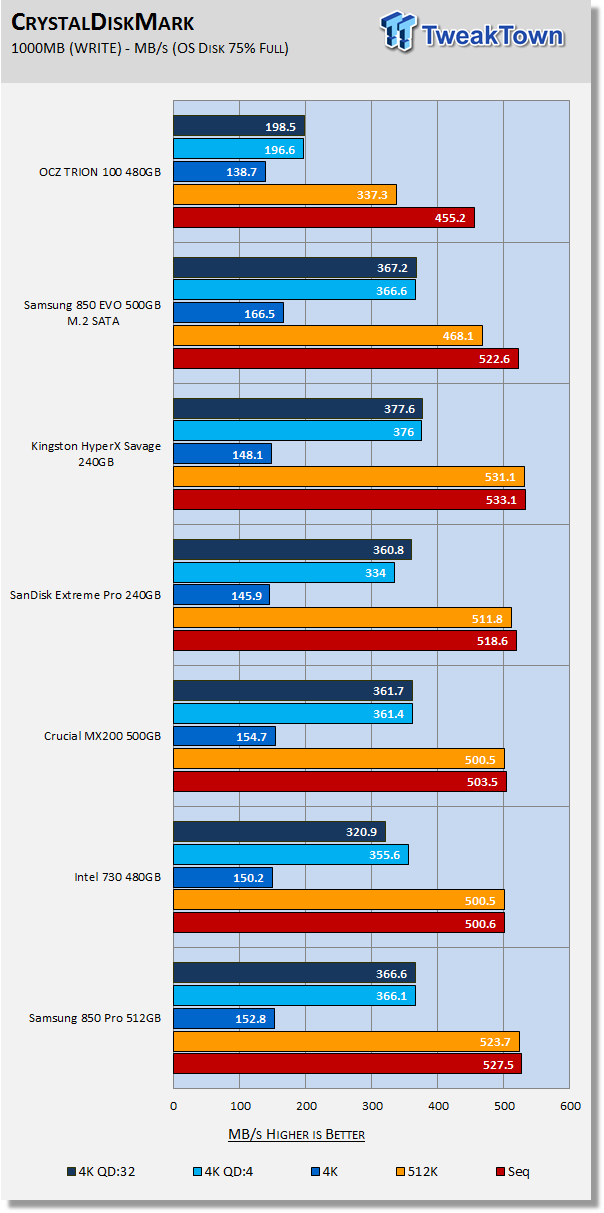 Single queue 4k random write performance is good. The rest of the write categories not so much. We will point out that we consider 4k QD1 write the most important category of the write portion of this test.
AS SSD
Version and / or Patch Used: 1.7.4739.38088
AS SSD determines the performance of Solid-State Drives (SSD). The tool contains four synthetic as well as three practice tests. The synthetic tests are to determine the sequential and random read and write performance of the SSD.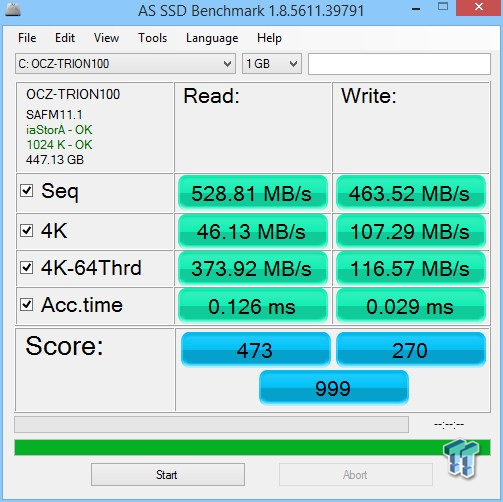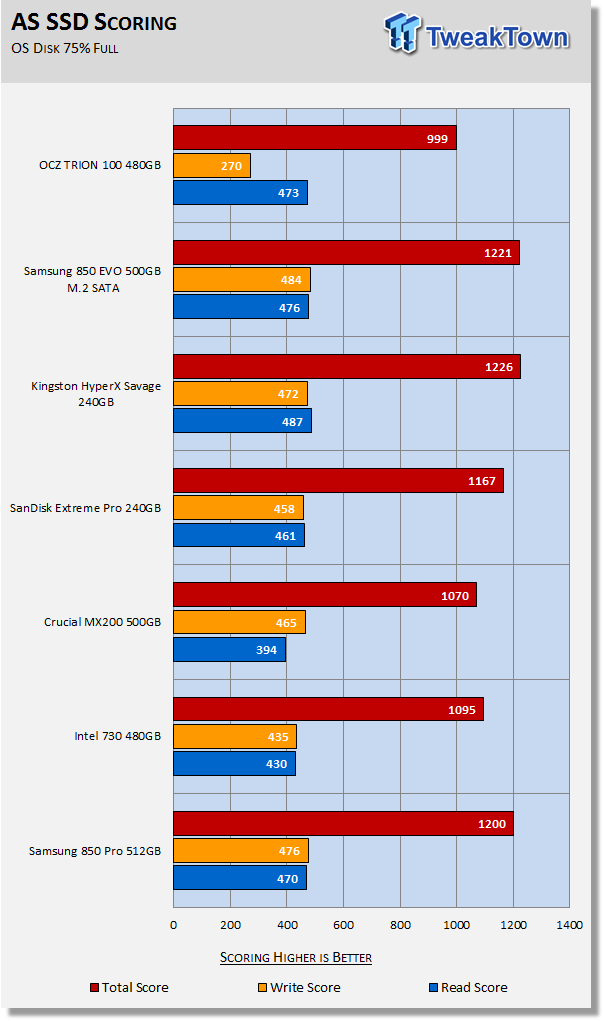 The TRION 100 shreds the read portion of this test delivering outstanding performance. In fact, it's one of the best we've seen to date for any SSD. Looking at the write portion of the test, sequential and 4k QD1 are both returning good results. The one sore spot is 4k-64-Thrd write.
Benchmarks (Trace Based OS Volume) - PCMark Vantage, PCMark 7 & PCMark 8
Moderate Workload Model
We categorize these tests as indicative of a moderate workload environment.
PCMark Vantage - Hard Disk Tests
Version and / or Patch Used: 1.2.0.0
The reason we like PCMark Vantage is because the recorded traces are played back without system stops. What we see is the raw performance of the drive. This allows us to see a marked difference between scoring that other trace-based benchmarks do not exhibit. An example of a marked difference in scoring on the same drive would be empty vs. filled vs. steady state.
We run Vantage three ways. The first run is with the OS drive 75% full to simulate a lightly used OS volume filled with data to an amount we feel is common for most users. The second run is with the OS volume written into a "Steady State" utilizing SNIA's guidelines. Steady state testing simulates a drives performance similar to that of a drive that been subjected to consumer workloads for extensive amounts of time. The third run is a Vantage HDD test with the test drive attached as an empty, lightly used secondary device.
OS Volume 75% Full - Lightly Used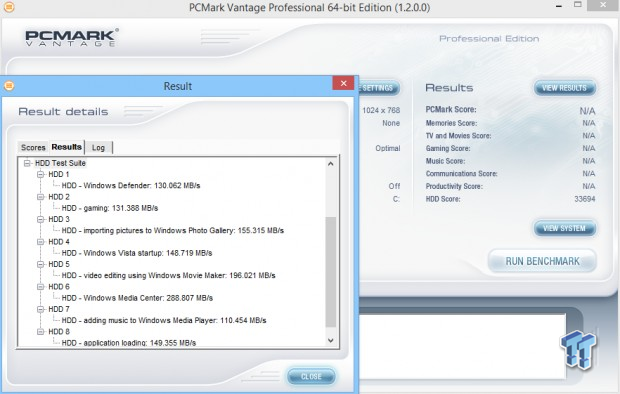 OS Volume 75% Full - Steady State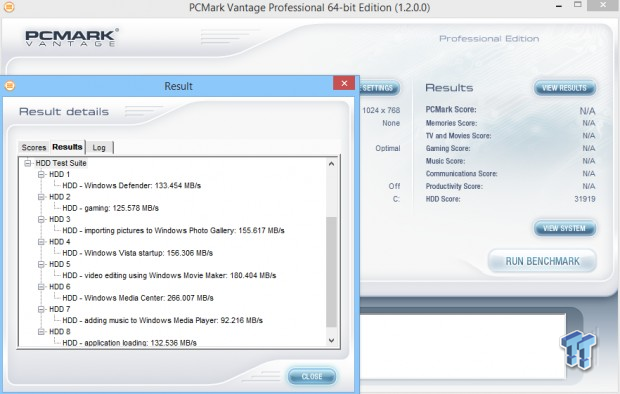 Secondary Volume Empty - FOB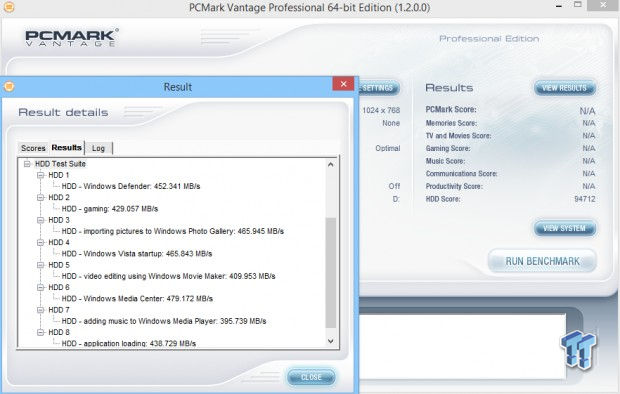 There's a big difference between an empty drive, one that's 75% full/used, and one that's in a steady state.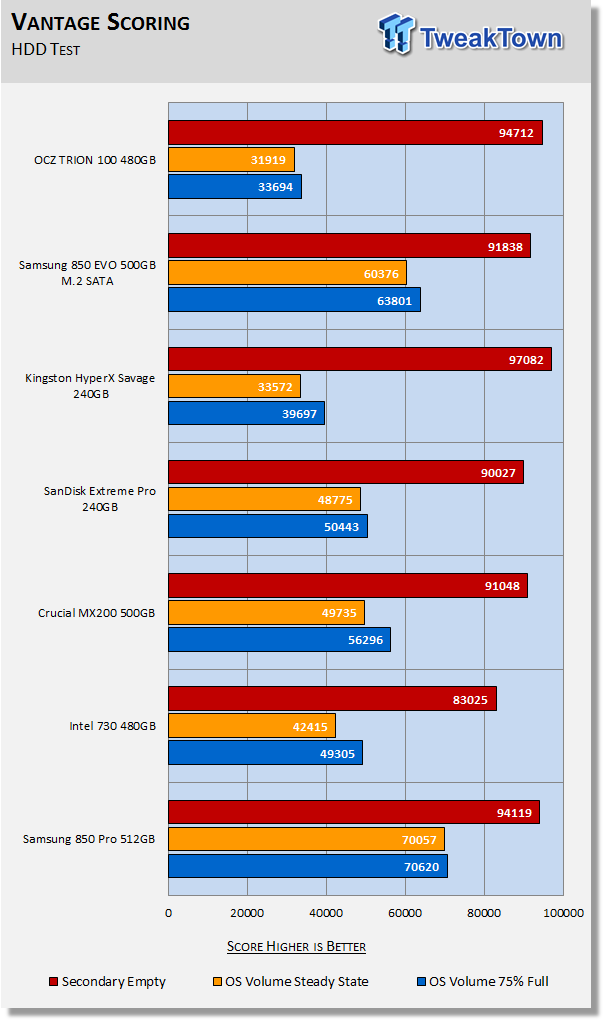 The important scores to pay attention to are "OS Volume Steady State" and "OS Volume 75% full." These two categories are most important because they are indicative of typical of consumer user states. When a drive is in a steady state, it means garbage collection is running at the same time it's reading/writing. This is exactly why we focus on steady state performance.
The empty score is some nice bling, but for the most part it's meaningless. When we examine filled drive and steady-state performance, the TRION 100 is performing exactly as marketed; entry level, which is still about 10x that of an HDD.
PCMark 7 - System Storage
Version and / or Patch Used: 1.4.0
We will look to Raw System Storage scoring for an evaluation because it's done without system stops and therefore allows us to see significant scoring differences between drives.
OS Volume 75% Full - Lightly Used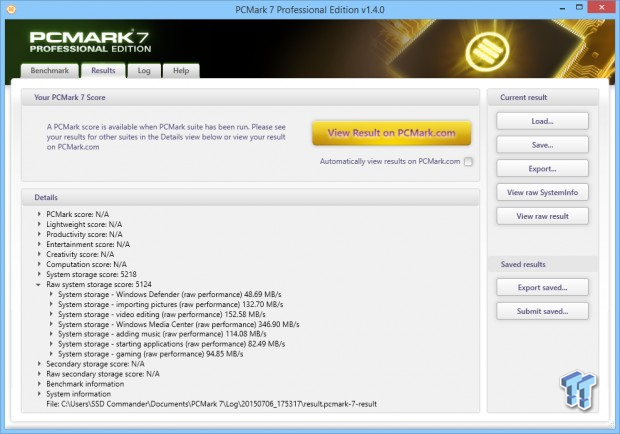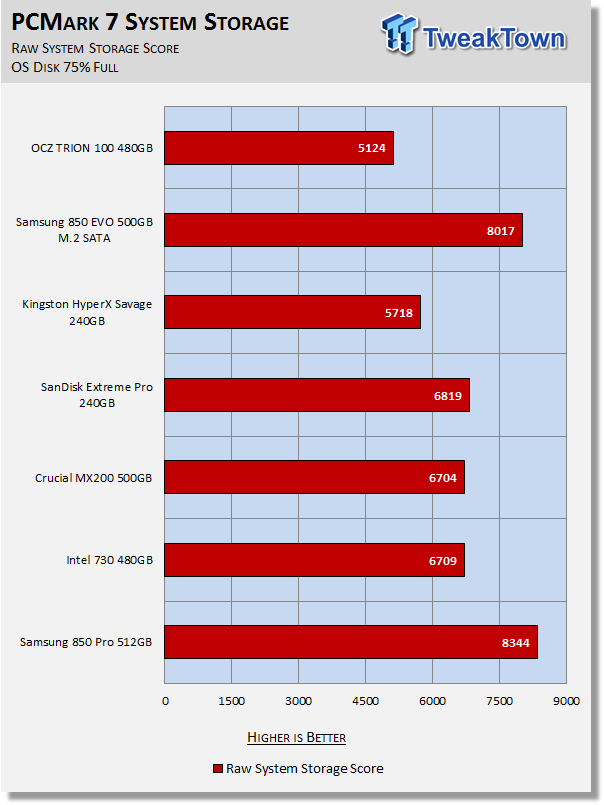 The TRION 100 performs as expected with this test.
PCMark 8 - Storage Bandwidth
Version and / or Patch Used: 2.4.304
We use PCMark 8 Storage benchmark to test the performance of SSDs, HDDs, and hybrid drives with traces recorded from Adobe Creative Suite, Microsoft Office, and a selection of popular games. You can test the system drive or any other recognized storage device, including local external drives. Unlike synthetic storage tests, the PCMark 8 Storage benchmark highlights real-world performance differences between storage devices.
OS Volume 75% Full - Lightly Used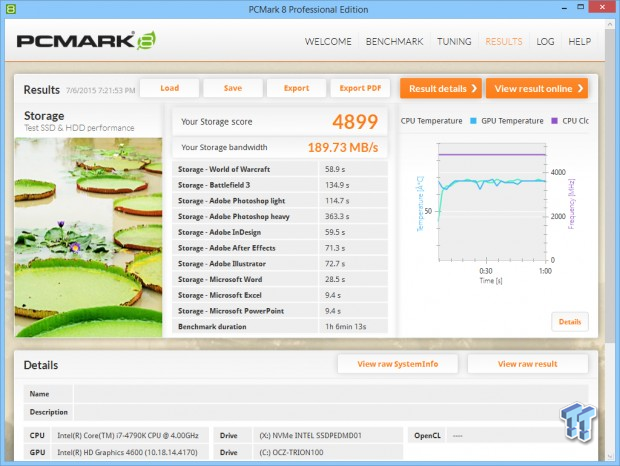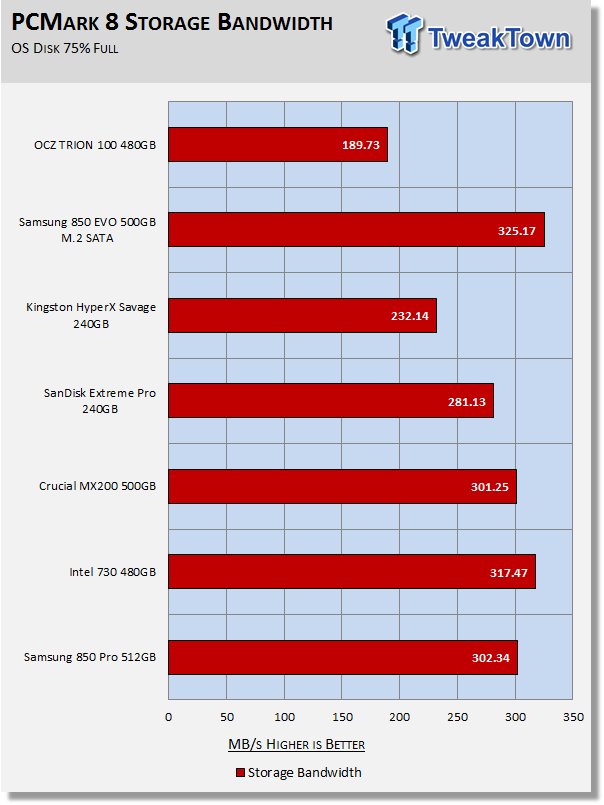 PCMark 8 is the most intensive moderate workload simulation we run. With respect to moderate workloads, this test is what we consider the best indicator of a drives performance. The TRION again performs as expected for an entry level SSD.
Benchmarks (Secondary Volume) - Max IOPS, Disk Response & Transfer Rates
Iometer - Maximum IOPS
Version and / or Patch Used: Iometer 2014
We use Iometer to measure high queue depth performance. (No Partition)
Max IOPS Read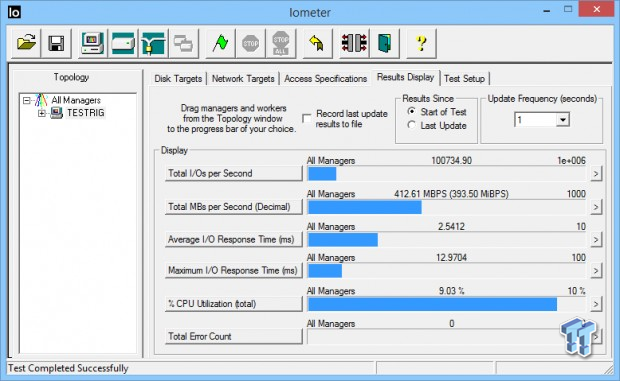 Max IOPS Write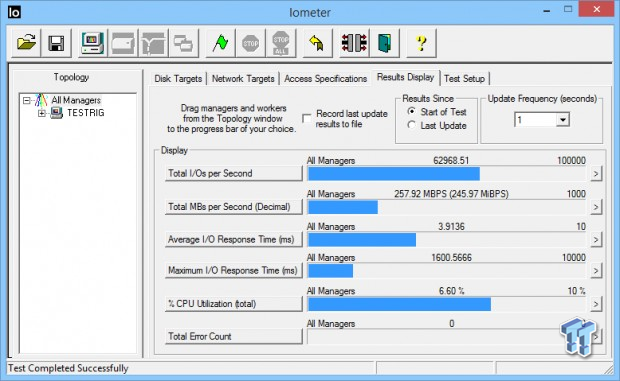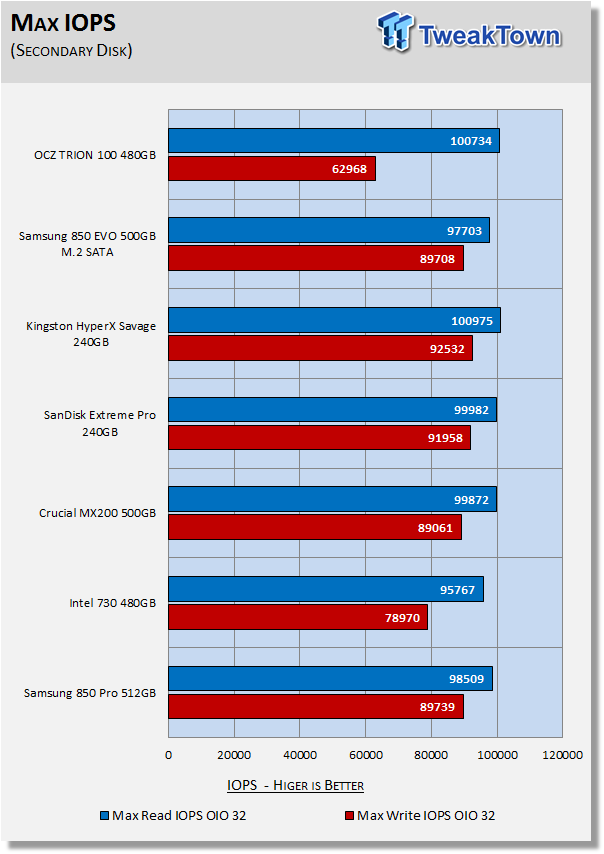 The TRION 100 is exceeding OCZ's max IOPS specifications by 10,000 with both read and write. Read performance continues to be very impressive.
Iometer - Disk Response
Version and / or Patch Used: Iometer 2014
We use Iometer to measure disk response times. Disk response times are measured at an industry accepted standard of 4K QD1 for both write and read. Each test runs twice for 30 seconds consecutively, with a 5-second ramp-up before each test. We partition the drive/array as a secondary device for this testing.
Avg. Write Response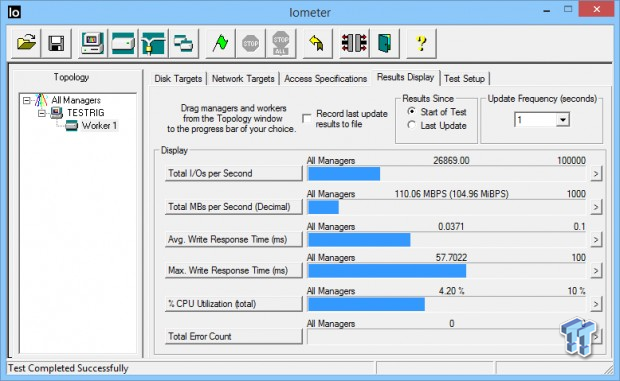 Avg. Read Response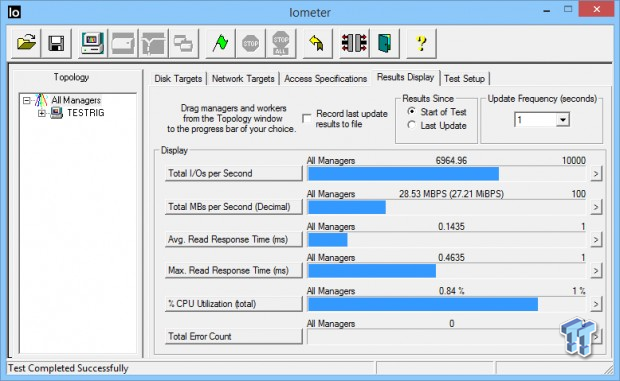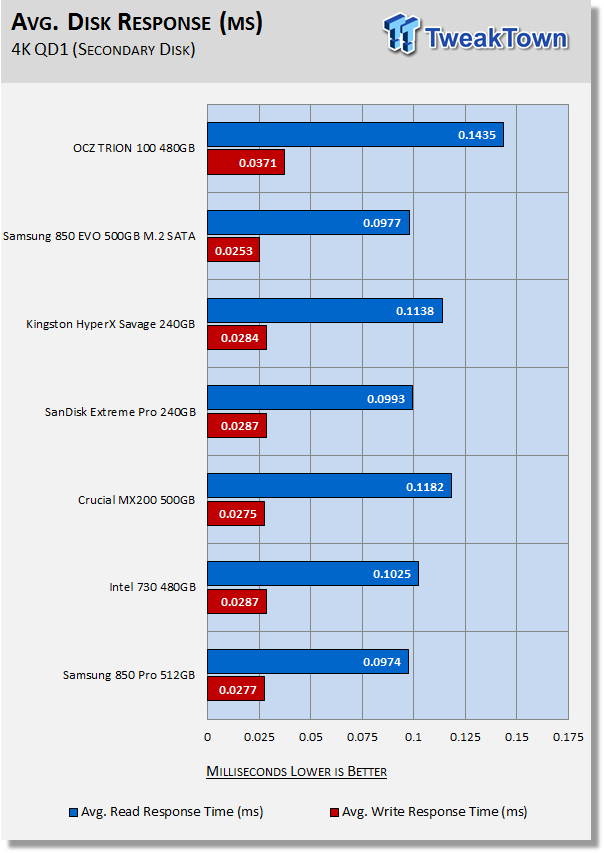 Even with an emulated SLC layer, the TRION has high response times.
DiskBench - Directory Copy
Version and / or Patch Used: 2.6.2.0
We use DiskBench to time a 28.6GB block (9,882 files in 1,247 folders) composed primarily of incompressible sequential and random data as it's transferred from our DC P3700 PCIe NVME SSD to our test drive. We then read from a 6GB zip file that's part of our 28.6GB data block to determine the test drives read transfer rate. Our system is restarted prior to the read test to clear any cached data, ensuring an accurate test result.
Write Transfer Rate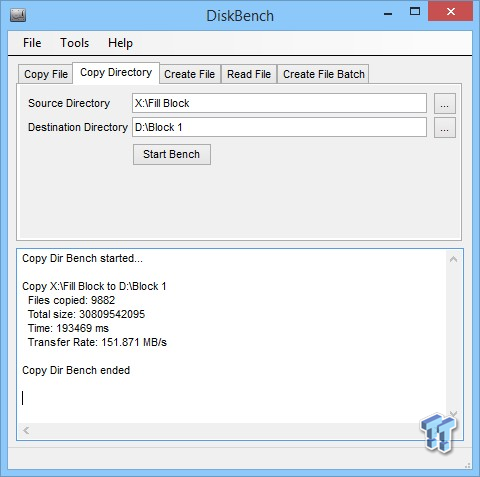 Read Transfer Rate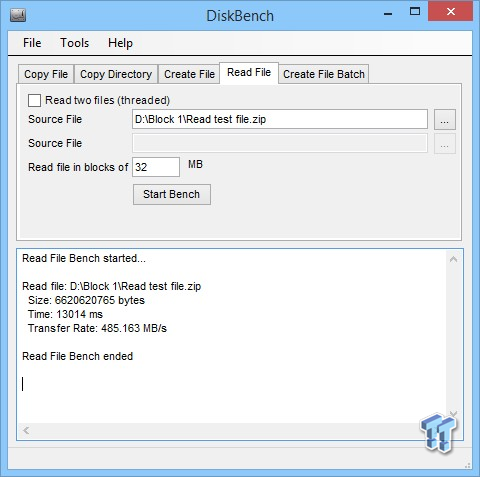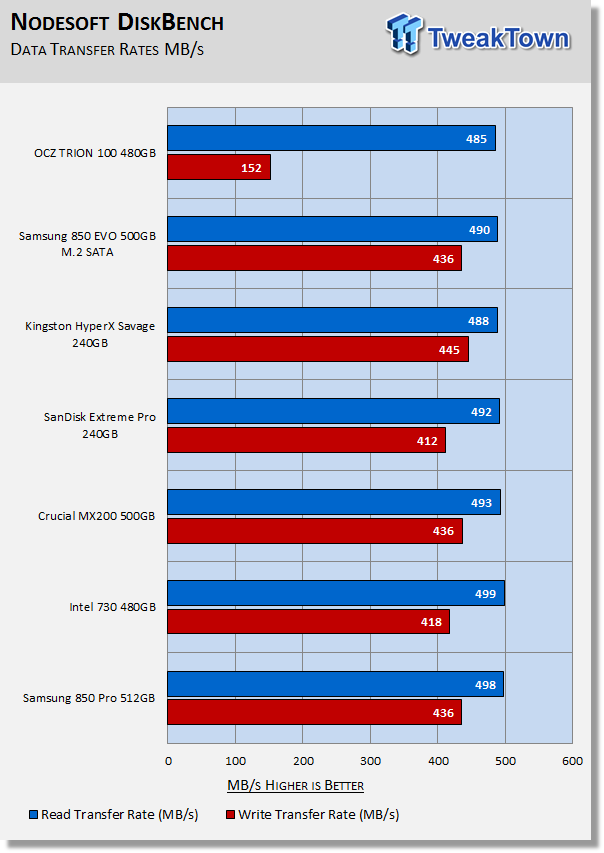 The TRION 100's read transfer rate is excellent but its write transfer rate is painfully low.
Benchmarks (Secondary Volume) - PCMark 8 Extended
Futuremark PCMark 8 Extended
Heavy Workload Model
PCMark 8's consistency test simulates an extended duration heavy workload environment. PCMark 8 has built-in, command line executed storage testing. The PCMark 8 Consistency test measures the performance consistency and the degradation tendency of a storage system.
The Storage test workloads are repeated. Between each repetition, the storage system is bombarded with a usage that causes degraded drive performance. In the first part of the test, the cycle continues until a steady degraded level of performance has been reached. (Steady State)
In the second part, the recovery of the system is tested by allowing the system to idle and measuring the performance after 5-minute long intervals. (Internal drive maintenance: Garbage Collection (GC)) The test reports the performance level at the start, the degraded steady-state, and the recovered state, as well as the number of iterations required to reach the degraded state and the recovered state.
We feel Futuremark's Consistency Test is the best test ever devised to show the true performance of solid-state storage in an extended duration heavy workload environment. This test takes on average 13 to 17 hours to complete, and writes somewhere between 450GB and 14,000GB of test data depending on the drive. If you want to know what an SSD's steady state performance is going to look like during a heavy workload, this test will show you.
Here's a breakdown of Futuremark's Consistency Test:
Precondition phase:
1. Write to the drive sequentially through up to the reported capacity with random data.
2. Write the drive through a second time (to take care of overprovisioning).
Degradation phase:
1. Run writes of random size between 8*512 and 2048*512 bytes on random offsets for 10 minutes.
2. Run performance test (one pass only).
3. Repeat 1 and 2 for 8 times, and on each pass increase the duration of random writes by 5 minutes.
Steady state phase:
1. Run writes of random size between 8*512 and 2048*512 bytes on random offsets for 50 minutes.
2. Run performance test (one pass only).
3. Repeat 1 and 2 for 5 times.
Recovery phase:
1. Idle for 5 minutes.
2. Run performance test (one pass only).
3. Repeat 1 and 2 for 5 times.
Storage Bandwidth
PCMark 8's Consistency test provides a ton of data output that we use to judge a drive's performance.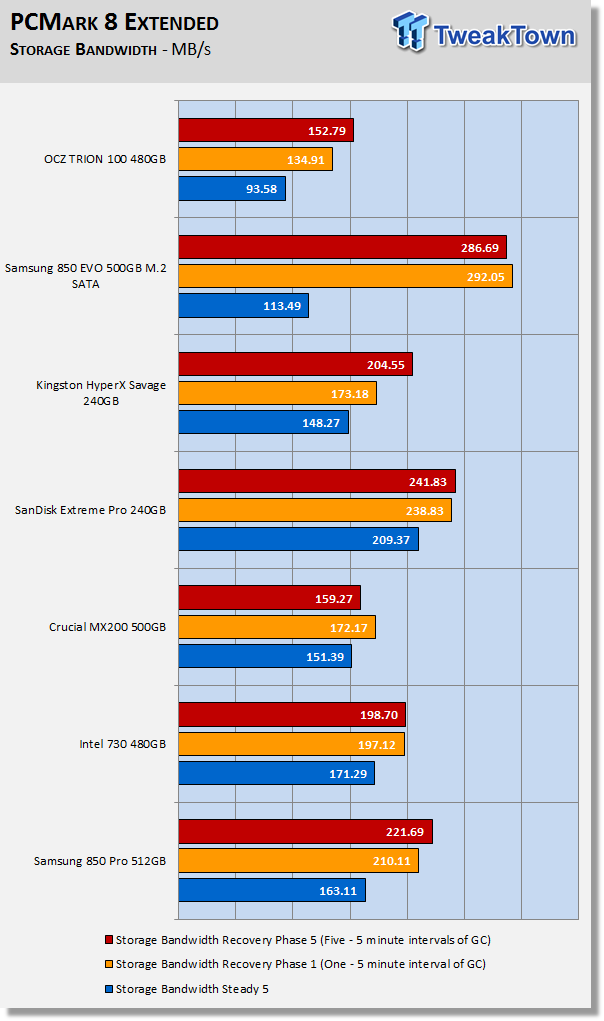 We consider steady state bandwidth (the blue bar) our test that carries the most weight in ranking a drive/arrays heavy workload performance. Performance after Garbage Collection (GC) (the orange and red bars) is what we consider the second most important consideration when ranking a drives performance. Trace based steady state testing is where true high performing SSDs are separated from the rest of the pack.
In a steady state, the TRION 100 outperforms our expectations by delivering a solid performance with our most demanding test.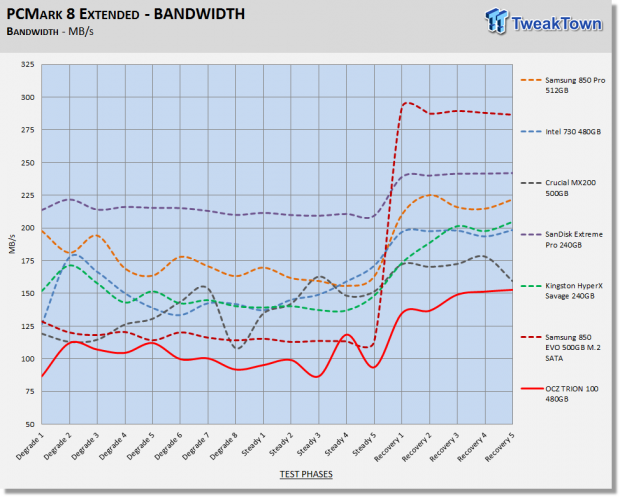 We chart our test subject's storage bandwidth as reported at each of the test's 18 trace iterations. This gives us a good visual perspective of how our test subjects perform as testing progresses.
Total Access Time (Latency)
We chart the total time the disk is accessed as reported at each of the test's 18 trace iterations.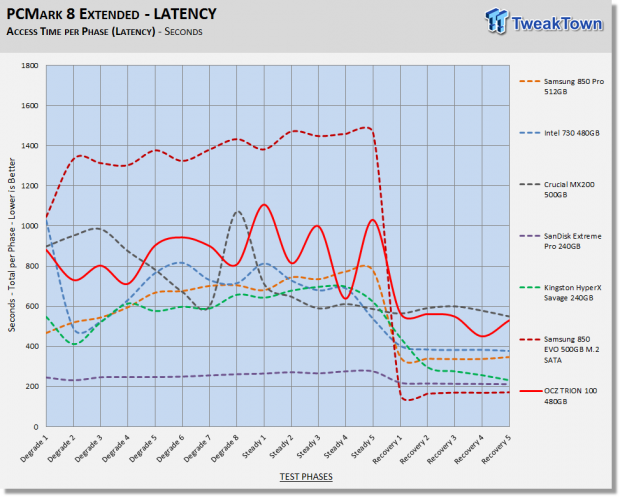 Disk Busy Time
Disk Busy Time is how long the disk is busy working. We chart the total time the disk is working as reported at each of the tests 18 trace iterations.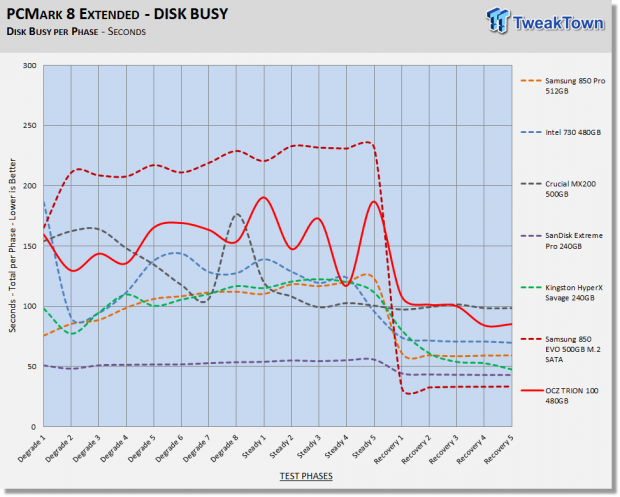 When latency is low, disk busy time is low as well.
Data Written
We measure the total amount of random data that our test drive/array is capable of writing during the degradation phases of the consistency test. Pre-conditioning data is not included in the total. The total combined time that degradation data is written to the drive/array is 470 minutes. This can be very telling. The better a drive/array can process a continuous stream of random data, the more data will be written.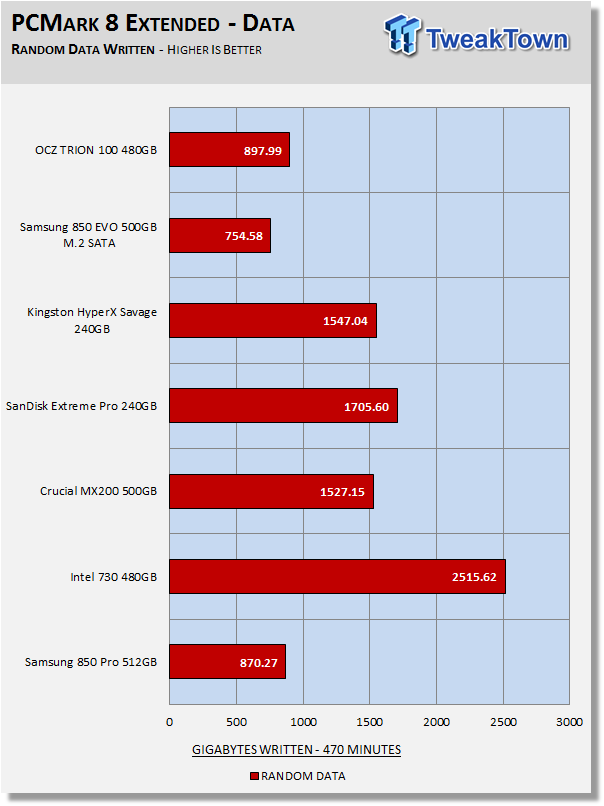 Again, the TRION 100 is able to exceed our expectations by writing a good amount of random data in 470 minutes.
Benchmarks (Secondary Volume) - 70/30 Mixed Workload
70/30 Mixed Workload Test (Sledgehammer)
Version and / or Patch Used: Iometer 2014
Heavy Workload Model
This test hammers a drive so hard we've dubbed it "Sledgehammer". Our 70/30 Mixed Workload test is designed to simulate a heavy-duty enthusiast/workstation steady-state environment. We feel that a mix of 70% read/30% write, full random 4K transfers best represents this type of user environment. Our test allows us to see the drive enter into and reach a steady state as the test progresses.
Phase one of the test preconditions the drive for 1 hour with 128K sequential writes. Phase two of the test runs a 70% read/30% write, full random 4K transfer workload on the drive for 1 hour. We log and chart (phase two) IOPS data at 5-second intervals for 1 hour (720 data points). 60 data points = 5 minutes.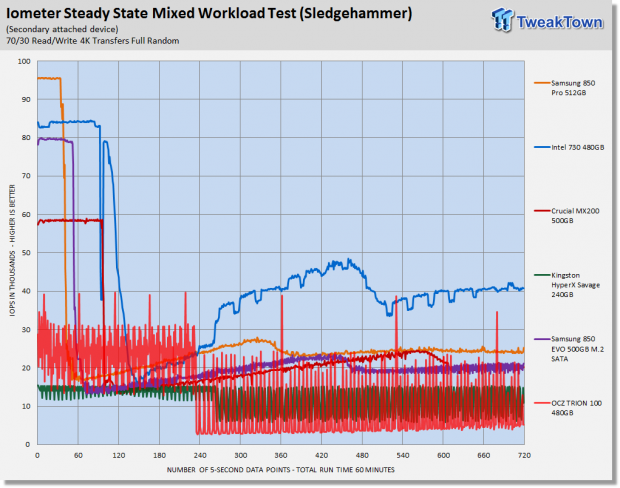 What we like about this test is that it reflects reality. Everything lines up, as it should. Consumer drives don't outperform Enterprise-Class SSD's that were designed for enterprise workloads. Consumer drives based on old technology are not outperforming modern Performance-Class SSD's, etc.
The TRION 100 doesn't do particularly well with workloads and this test slams it pretty hard. The TRION's 12,800 average IOPS is higher than the Kingston HyperX Savage.
Maxed-Out Performance (MOP)
Maxed-Out Performance
This testing is just to see what the drive is capable of in an FOB (Fresh Out of Box) state under optimal conditions. We are utilizing Windows Server 2008 R2 64-bit for this testing. Same Hardware, just an OS change.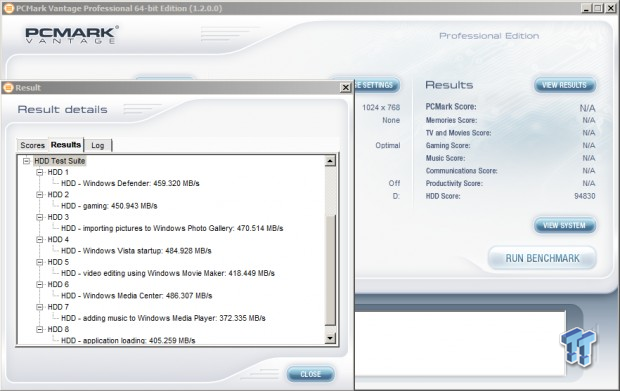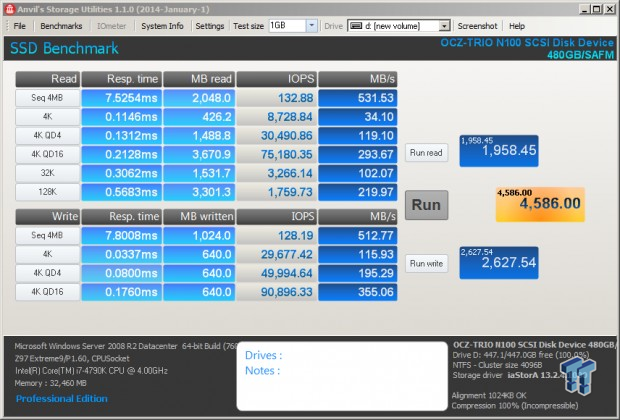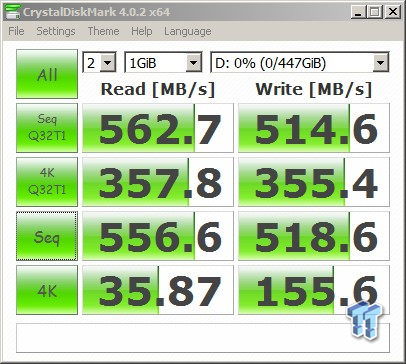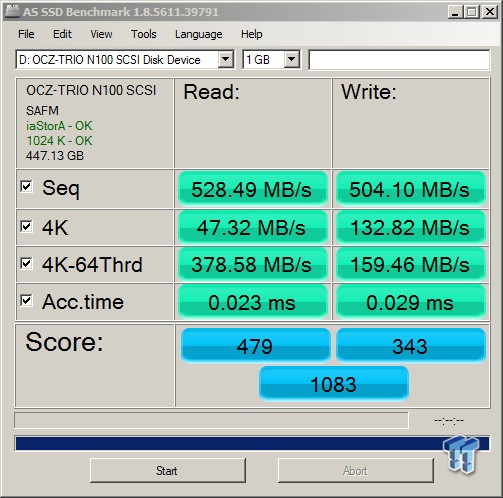 Final Thoughts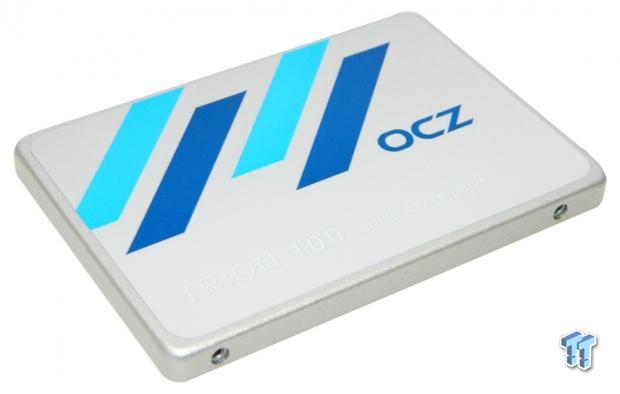 TLC flash will usher in a new era of low cost SSD's. OCZ's first TLC drive is designed for entry level value ownership and in that regard it performs as expected. The drive delivers excellent read performance, but its write performance is a little disappointing even for a "value SSD". Is the TRION a worthy SSD replacement for your HDD? Sure it is, so in that respect the TRION 100 can and will deliver.
However, we're more interested in how OCZ's TRION 100 stacks up against the competition. The 500GB 850 EVO and 500GB Crucial MX200 are both currently selling for about the same price as the 480GB TRION 100's MSRP of $184.99. MSRP's are just that, they are a suggested price and actual pricing will typically be significantly lower once the product becomes available through retail channels for a short time. We are certain the actual price you will pay for a 480GB TRION 100 will quickly come down, but all we have to go on at this time is the MSRP set by OCZ. We also need to consider how accessories factor into the overall picture. The TRION doesn't come with accessories. Both the MX200 and 850 EVO outperform the TRION 100, and both come with cloning software making transitioning from an HDD to an SSD hassle free with no additional cost. It's true that there is freeware out there that will do the job, but that's just another loop to jump through for someone new to SSD's. We are of the opinion that until you can purchase a 480GB TRION 100 for $40-$50 less than an 850 EVO or MX200 of similar capacity, there is no compelling reason to go with a TRION.
Looking at performance, we found the 480GB TRION 100 overall performed below similarly priced SSD's on the market. The one redeeming quality was the TRION's excellent read performance. The sore spot is the TRION's unusually low write transfer rate. At a mere 152 MB/s that's a hard pill to swallow unless the price is right.
Our experience while running the TRION as our OS volume has been acceptable. It delivers a decent SSD experience, but not quite on the level of the 850 EVO or MX200. The TRION is not designed to compete in performance with either of these drives. The thing is, at launch the TRION 100 480GB at an MSRP of $184.99 is going to have to compete with both the 850 EVO and MX200.
OCZ TRION 100 480GB SATA III SSD
Pros:
Quality Toshiba NAND Flash

ShieldPlus Warranty
Cons:
High MSRP

Low moderate workload performance
| | |
| --- | --- |
| Performance | 75% |
| Quality including Design and Build | 90% |
| General Features | 85% |
| Bundle and Packaging | 80% |
| Value for Money | 70% |
The Bottom Line: OCZ's TRION 100 480GB delivers great read performance, but it's lackluster write performance and high MSRP at launch are holding it back.
PRICING: You can find products similar to this one for sale below.

United States: Find other tech and computer products like this over at Amazon.com

United Kingdom: Find other tech and computer products like this over at Amazon.co.uk

Australia: Find other tech and computer products like this over at Amazon.com.au

Canada: Find other tech and computer products like this over at Amazon.ca

Deutschland: Finde andere Technik- und Computerprodukte wie dieses auf Amazon.de
We openly invite the companies who provide us with review samples / who are mentioned or discussed to express their opinion. If any company representative wishes to respond, we will publish the response here. Please contact us if you wish to respond.