Lenovo ThinkPad W550s Ultrabook Mobile Workstation Review
Lenovo's ThinkPad W550s mobile workstation enters the lab with battery life that just keeps on going. Here's our review.
Published
18 minute read time
TweakTown's Rating: 95%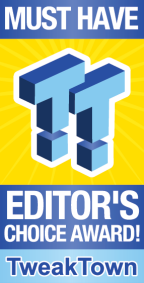 The Bottom Line
Lenovo's ThinkPad W550s Ultrabook mobile workstation offers extreme battery life, good performance and high quality build, making the W550s a great mobile workstation for demanding users on the go.
Introduction & Specifications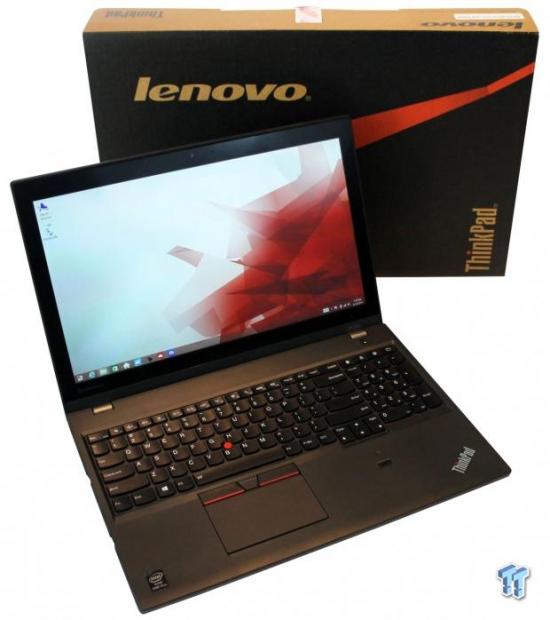 The Lenovo ThinkPad W550s Mobile Workstation offers good performance with long battery life to handle long days and times where there is no battery charger around.
We reviewed the Lenovo ThinkPad W540 Mobile Workstation not long ago and were anxious to see the W550s in action. The ThinkPad W550ss was designed for various industries such as media and entertainment, manufacturing and design and 2D and entry level 3D CAD/CAM.
Let us look at the specifications for the W550s.
Specifications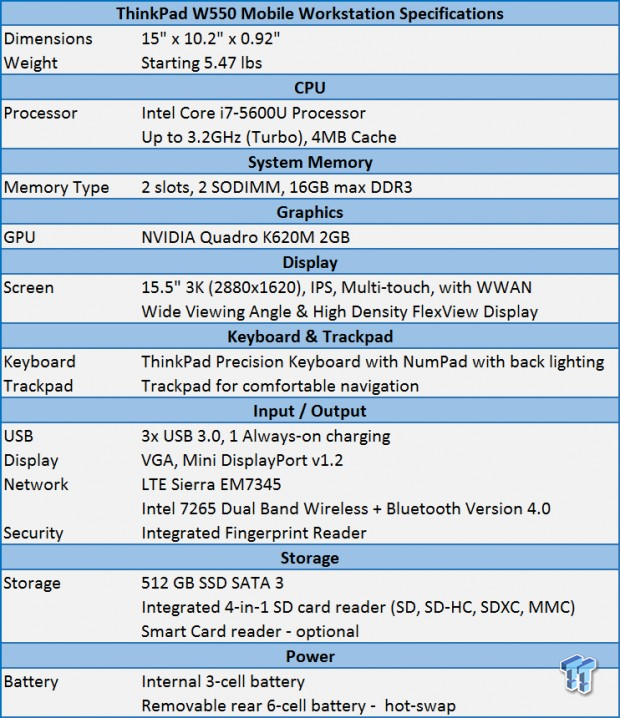 The W550s that we received came equipped with an Intel Core i7-5600U processor, this CPU has only 2 cores and with HT turned on we have 4 threads and based on the Broadwell-ULT Architecture. The clock speed of the i7-5600U is at 2.6GHz and it will Turbo up to 3.2GHz. Memory capacity is at 16GB of DDR3 which is the maximum that can be installed in the W550s.
The NVIDIA Quadro K620M 2GB based on NVIDIA's Shark Bay platform generation. The K620M includes 384 Cuda cores, but only used 2GB of DDR3. The W550s uses a 512GB SSD, which gives it fast response, quick boot times and low power use. The W550s uses Lenovo's Power Bridge technology that lets you hot-swap the removable rear 6-cell battery with an extra travel battery, without powering down. The internal 3-cell battery keeps you up and running.
The display on our W550s features an optional 10-point multi-touch panel with up to 3K (2880 x 1620) resolution and IPS technology In-Plane Switching (IPS) technology allows for vivid colors and nearly 180-degree viewing angles.
The W550s also comes equipped with stereo speakers & Dolby stereo sound. For extra security, the W550s has fingerprint scanner and Intel vPro Technology. Intel vPro Technology makes managing the W550s in an enterprise type setting more convenient. You have the ability to manage, protect, repair or locate deployed laptops from anywhere in the world.
Packaging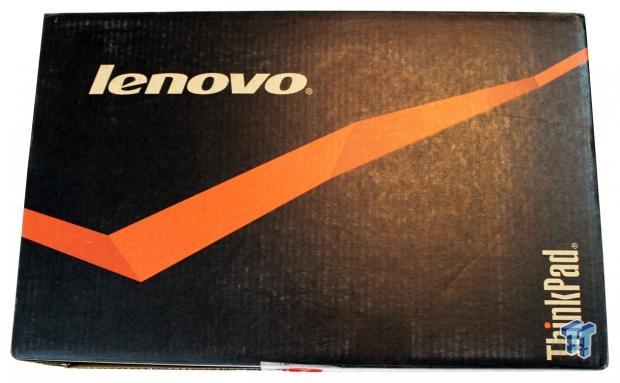 The Lenovo W550s ThinkPad Mobile Workstation that we received came in the standard ThinkPad shipping box which was no different than the W540 we received earlier. This is a fine shipping box that protects the laptop inside without issues.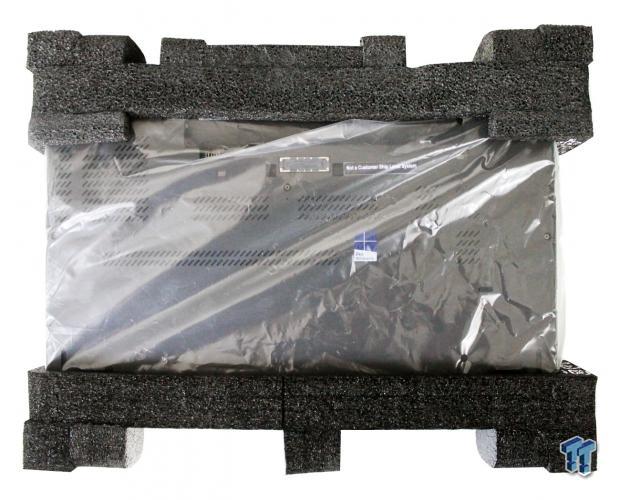 The W550s came with two heavy duty foam inserts to protect the laptop during shipping. These work very well to protect the laptop from drops, rough handling and punctures.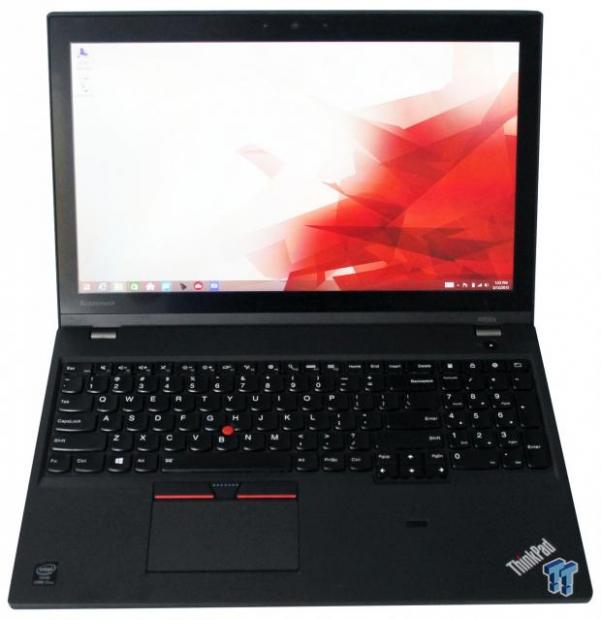 After taking the W550s out of the shipping foam and bag, we get our first look at the Lenovo ThinkPad W550s Mobile Workstation. The first impression is the W550s is fairly light weighing in at 5.47 lbs. The case is made of the same material as the W540 which is carbon fiber-plastic material and the surface texture has a matte feel to it, not very shiny, but overall it has high quality feel to it.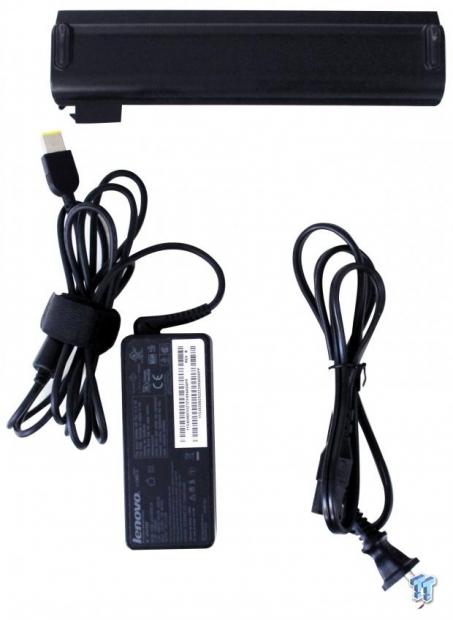 Taking out the rest of the shipping contents we find the battery which is 6 cells with a 48 Whr estimated running time. Then we see the power brick and power cable. Simply plug the power cable into the power brick and then to your wall socket.
Temperatures, Cooling and Noise
We tested temperatures, cooling and noise with the W550s at idle and under full load using AIDA Stability test and wPrime. These test simulate how the W550s would respond to light workloads like web surfing and word editing and then under high demand workloads. The W550s was setup using default settings for power use. Our room temperature was 76F for all the tests that we did. All temperatures shown are in Fahrenheit.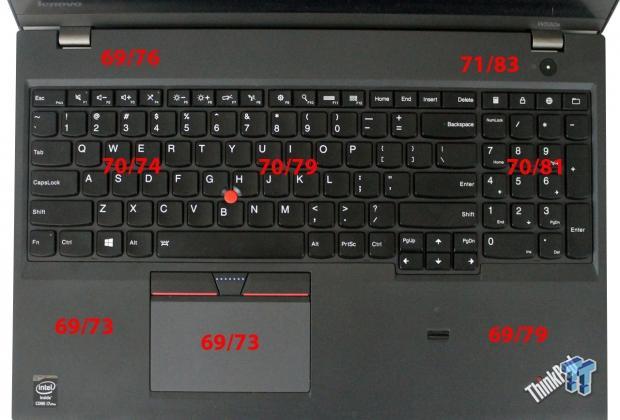 The two sets of numbers at the top left show what temperatures we measured at the cooling vents. We saw the highest overall temperatures here, but this is as expected. The working surface of the W550s did reach 83F at high loads so it was a little bit warm, but generally the W550s remained relatively cool and was pleasant to work with. The cooling vents output does get somewhat warm under high loads, but is about average for some of the laptops we have used.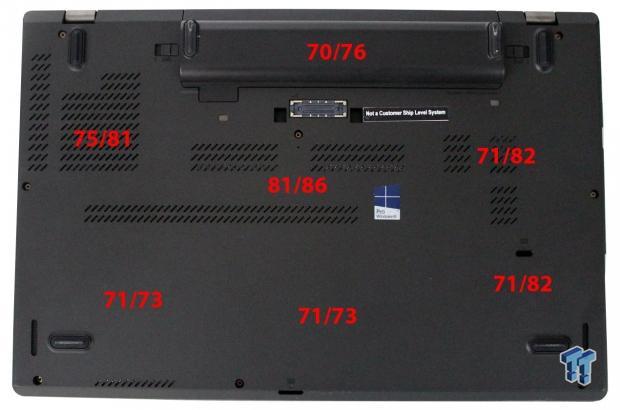 Now we are looking at temperatures on the bottom of the W550s. Overall, it does not get that warm, except for the left rear corner. You might want to keep this in mind if you would be using the W550s on your lap. It was comfortable to us, but for extended periods of use, you might want to have something to set the W550s on for your comfort.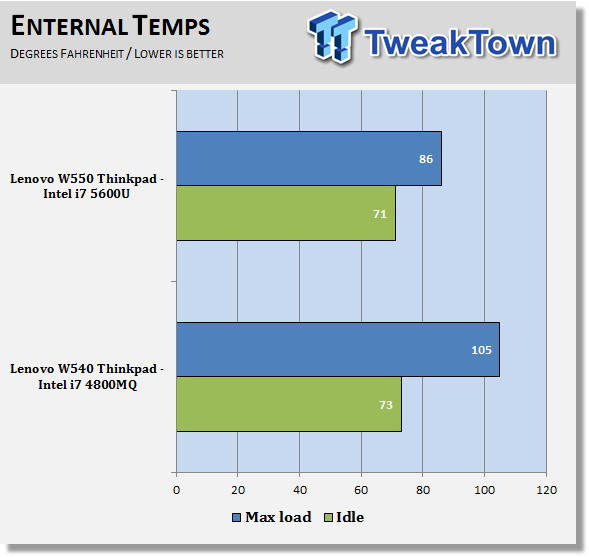 This graph summarizes the idle temperatures and max load temperatures. The W550s has a very comfortable cooling range compared to the W540 which can get rather warm. The W540 has a CPU with double the core count vs the W550s so it does not draw as much power which helps to keep the W550s cool.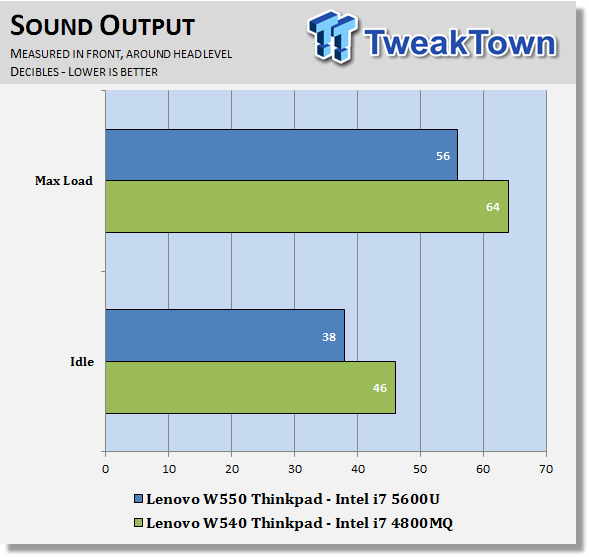 Sound output measured sitting in our chair and the meter placed at head level. The W550s really hardly makes any noise, even under full workloads. We found ambient room noise to be about equal to the sound output of the W550s and it was just becoming noticeable when we had the fans set to 100% and then under full load.
The W540 does make a little more noise, but overall both these laptops run nice and quiet with the W550s take the lead as a low noise laptop.
Bundled Software
The first thing that many people do is take a look at the bundled software that comes pre-installed on the laptop they purchase and start uninstalling the bulk of it. On many of the laptops we have used in the past, there is a fair amount of junk stuff. Much of that is only a trial and software that we are not interested in using.
In the case of the W540, we did not find any junk apps but we did find apps that you should take a careful look at too decided if you want to keep it. Here is the pre-installed software that we had installed on this W540:
Lenovo QuickCast

Lenovo QuickControl

Lenovo QuickDisplay

Lenovo SHAREit

Lenovo ThinkVantage

Lenovo ThinkVantage Tools

Lenovo Solution Center

Evernote

Microsoft Office

Norton Anti-Virus
For our use, we would have no need for Evernote or Nitro Pro 8. We use Microsoft Office 2013 Pro, so we have no need for Microsoft Office pre-load. We also use Kaspersky for our Anti-Virus needs. These would be our choices to uninstall. We also like to run Stardock's Start8 for our home button.
This is our personal preference, these are fine products and it is up to your personal preference if you wish to keep those. On the other hand, we found the Lenovo software very useful so let us look at what Lenovo has done to make managing the W550s easier for us.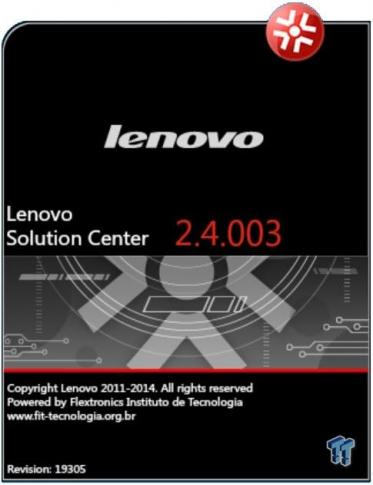 Down at the bottom right hand side of the task bar you will find a red icon with white cross like the red logo at the top of this picture. Click on this to bring up Lenovo Solution Center, which will be your home for controlling the W550s.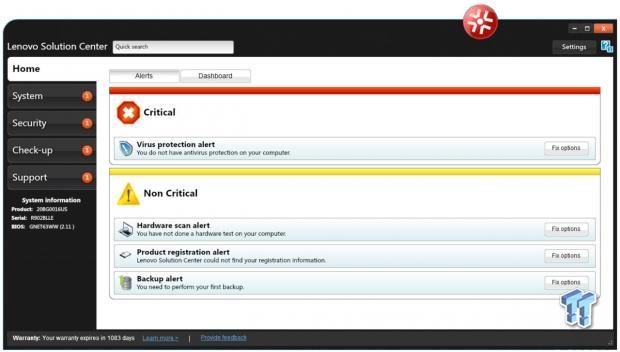 Here we see the home screen for the Lenovo Solution Center. At first startup, yours should look something like this. It tells you that you need to get Anti-Virus, do a hardware scan, register your W550s and complete a backup.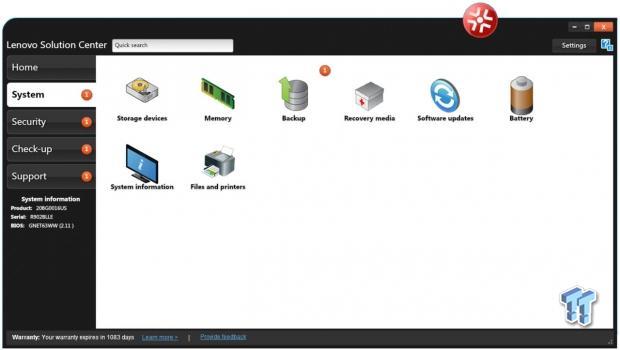 Next down the list is the System menu. This shows all information about the W550s. Simply click on each icon to bring up status windows that we will so next.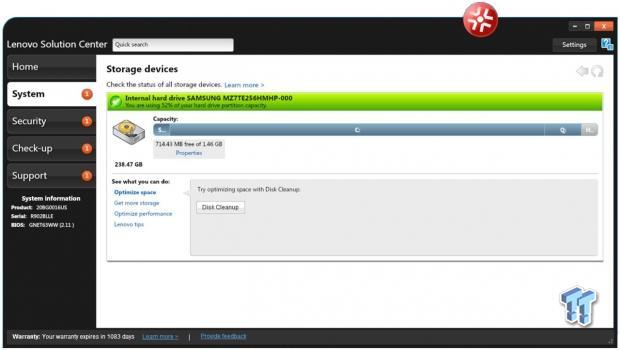 The first Icon is Storage Devices. We only have a 512 GB SSD installed so that is the only item showing up here. You can do many functions here like Disk Cleanup, Optimize performance and get properties of the SSD. Clicking more storage will bring up a Shop Lenovo web page to order additional storage drives.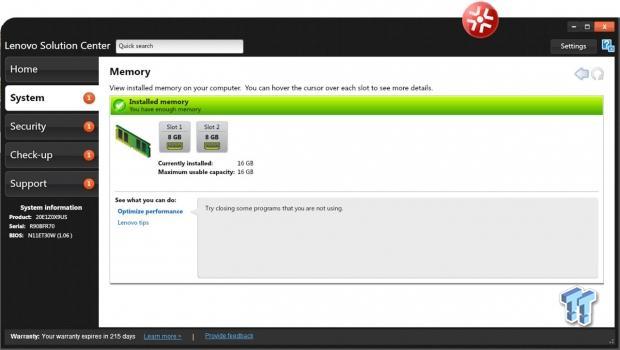 Next up is the Memory Icon. This shows you how many slots the W550s has, and which ones have a RAM stick installed. You can see the current amount of memory installed. What the maximum capacity is for the W550s, in this case its 16 GB.
Optimizing performance will simply tell you to close some programs. Clicking, Get more memory will bring up a Lenovo web page to order additional memory.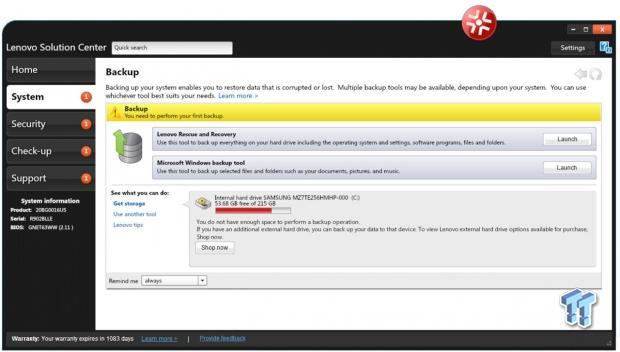 Next is the Backup Icon. Here you can launch Lenovo Rescue and Recovery to make a complete backup of your system. Just like before, clicking Get more storage will bring up a web page to order additional storage. If you use another backup tool like Arconis for example click the Use another tool to get started with that.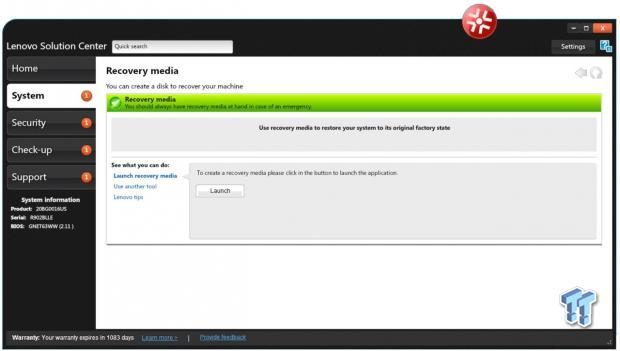 Recovery media will get you started doing a backup restore that you created in the step before this. Use another tool will get you started with another program, such as Arconis.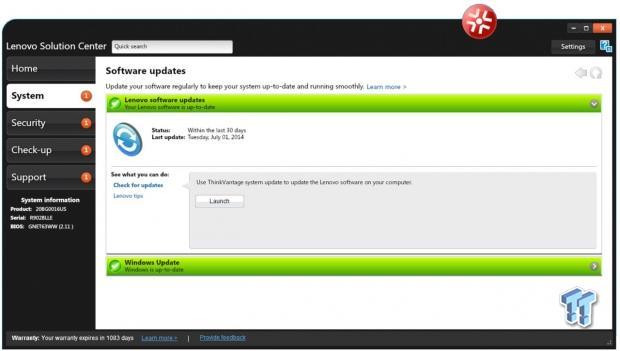 Software updates will update Lenovo software and Windows updates. Windows update should be taken care of just fine in your Windows update program. This is located here so all updates features are located in one place.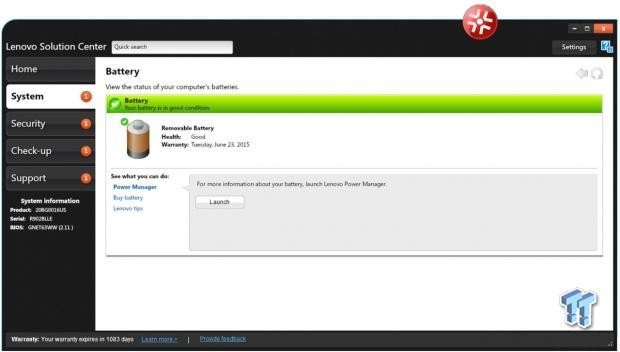 Here we look at the Battery menu. Clicking the Power Manager will bring up the next screen.
This is useful when you are working with the W550s plugged into a wall outlet you can quickly set this to use full power settings. Then when needed you can quickly select lower power options for when you are running on batter power.
Clicking Buy battery will bring up a web page to order additional battery's for the W550s.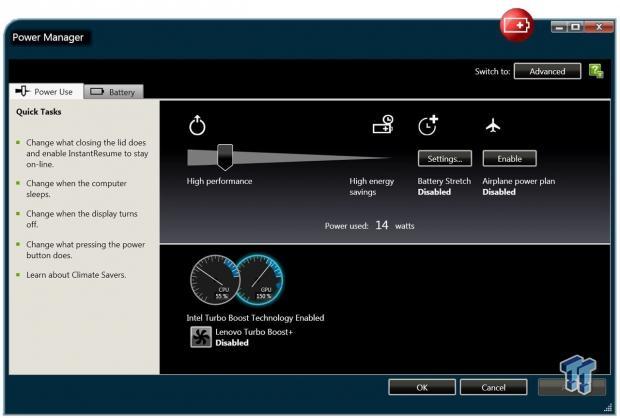 Here we see the Power manager. The top has a slider to adjust energy saving needs, from full power to high-energy savings when on the go.
When you are on the go clicking Battery stretch will help you get the most of your battery life. Intel Turbo Boost will spin the fans up to 100% for added cooling when working with heavy software loads.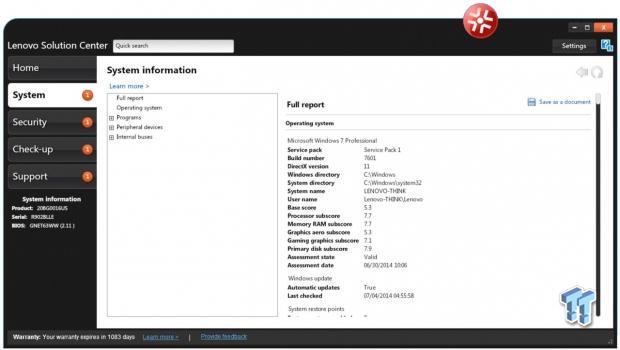 The System information will bring up all the system details about your W550s.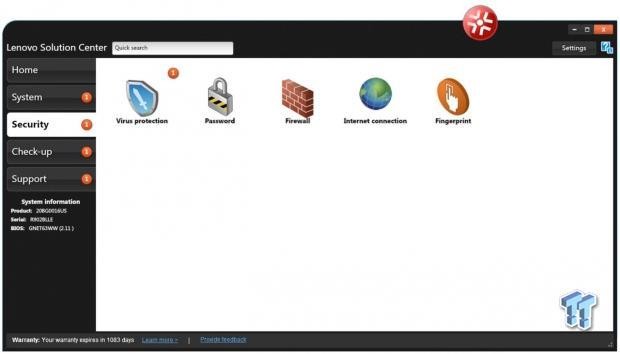 The Security menu will allow you to set passwords for the W550s, turn on the firewall, check virus-protection and internet connection security settings. Clicking the Fingerprint Icon will get you started in setting up your W550s so that it will require you to swipe your finger in the sensor to unlock the laptop.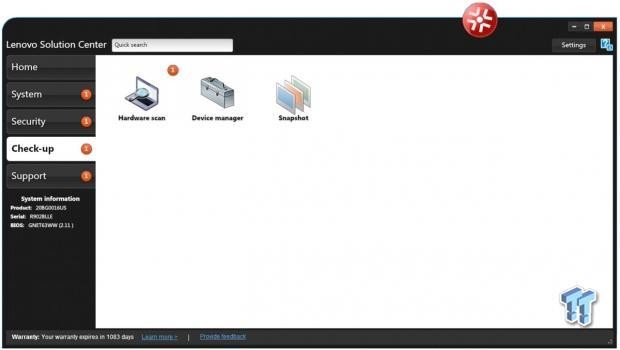 Check-up allows you to do a hardware scan, check the device manager and take backup snap shots. This is useful to diagnose hardware issues or check that you have the latest drivers installed.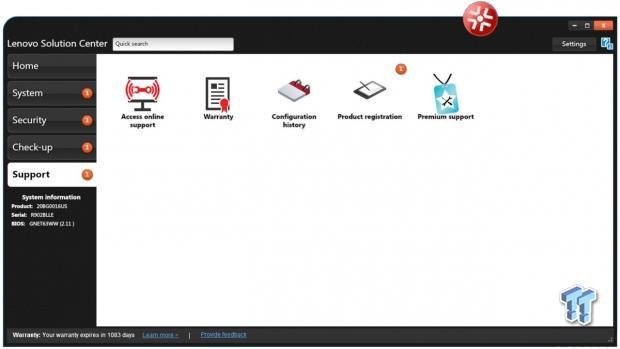 The Support menu allows you to connect to online support and check your warranty status. You can check your configuration history and register your W550s. Thank about covers Lenovo Solution Center, there are several other Lenovo apps to look at next.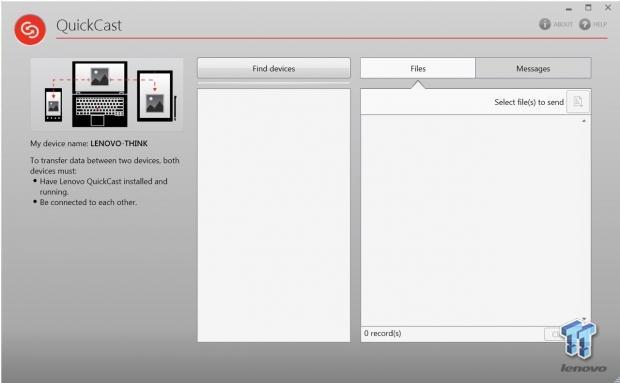 To find the next set of apps, go to the Start Button/All Programs/Lenovo.
If you have other Lenovo devices such as a tablet or other laptops, using QuickCast will make it easy to transfer data from one machine to another. All devices must have QuickCast installed for this to function.
Find devices will bring up a list of possible devices that you can share data between. Once you have a device selected browse for the files you want to transfer in the right hand window and click transfer.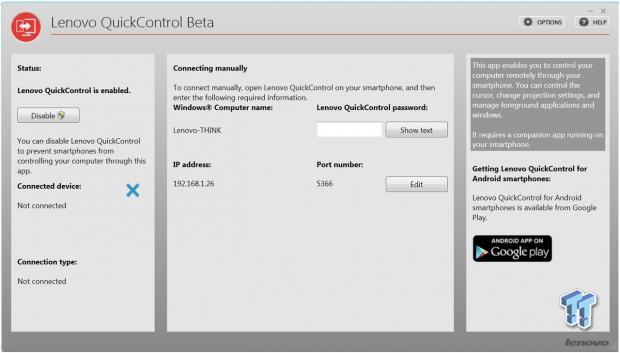 QuickControl will allow you to control your computer through a smartphone. You can use this with an Android app that is available from Google Play. This could be useful if you are doing an onsite presentation and you do not have the ability to sit at the W550s.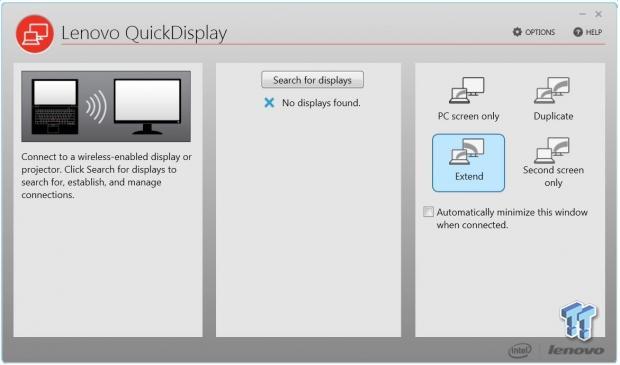 QuickDisplay allows you to connect to a wireless-enabled display.
Several options allow you to show the PC screen only, a Duplicate screen, extend the current screen or allow a second screen. Again this is very useful when onsite and doing a presentation or if you wish to see your display on a larger screen.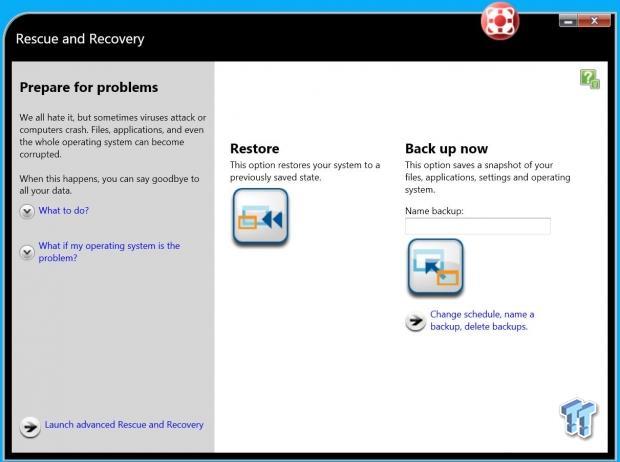 Rescue and Recovery is very much like the one we saw in Lenovo Solution Center. It is very easy to do full backups or a snap shot of the current system.
Additionally you will find Lenovo SHAREit in the Start Button/All Programs/Lenovo. SHAREit allows you to store files in Lenovo's cloud for easy access wherever you go.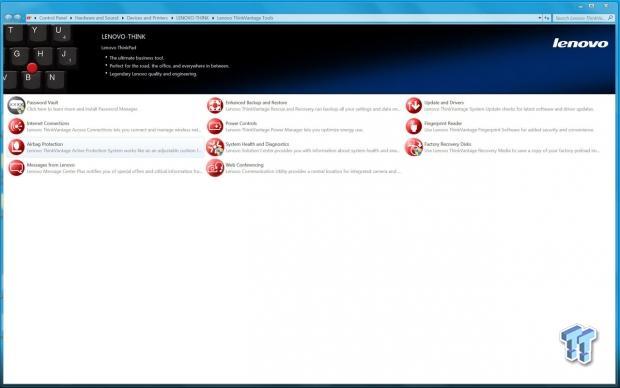 In your control panel or under the Start Button/All Programs you will find Lenovo ThinkVantage Tools. This is like Lenovo Solution Center, but with added features such as Airbag Protection, Web Conferencing and messages from Lenovo.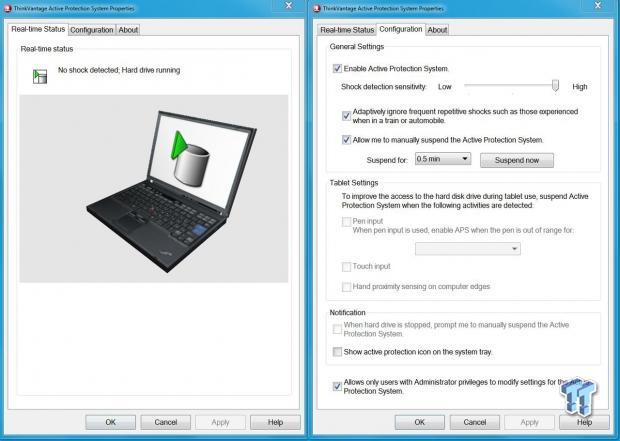 Clicking the Airbag button brings up this screen.
The Active Protection System can detect sudden changes in motion and temporarily stop the hard drive to help protect your valuable data from some crashes that could occur due to everyday notebook accidents.
The system has an integrated motion sensor that continuously monitors the movement of the notebook, and, if a sudden change in motion is detected, it temporarily stops the hard drive to protect it from a potential crash. We do not have a HDD installed in our W550s to protect by this. However if you plan to upgrade to additional HDD space this becomes a nice feature to have.
BIOS
Let us look at the W550s BIOS now. This is the heart of the system and several key features found here that you could adjust.
To bring up the BIOS, power up or restart the W550s, during the boot process a screen will be displayed that says hit enter to go into the BIOS.
A word of warning here, do not change settings if you do not fully understand the effects of doing so.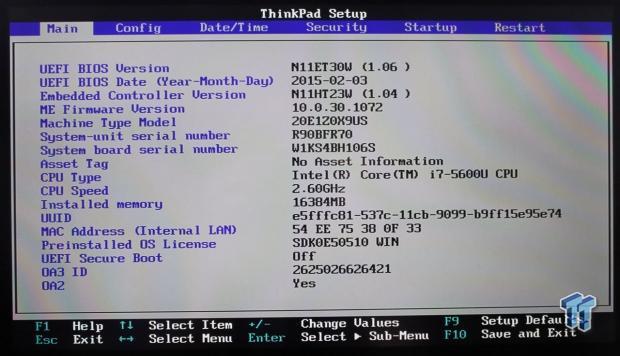 This is the home screen for the W550s BIOS. It shows the basic system specifications and a menu at the top to move to other settings.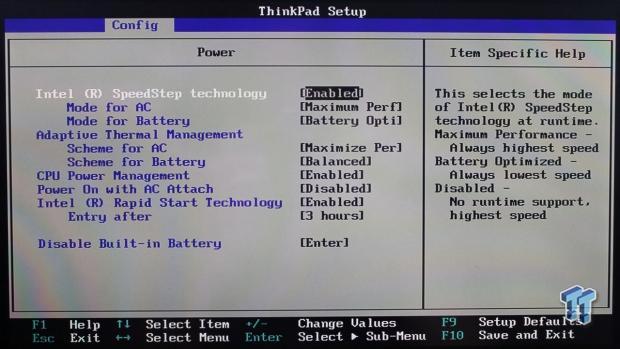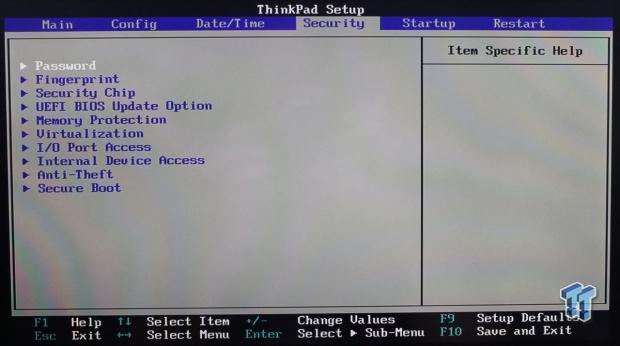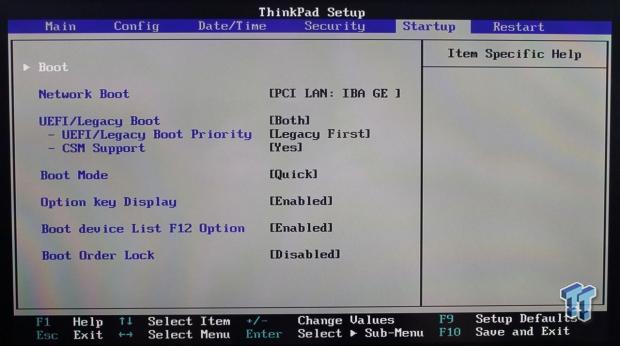 Keyboard, TouchPad, Screen and Other User Interface
Keyboard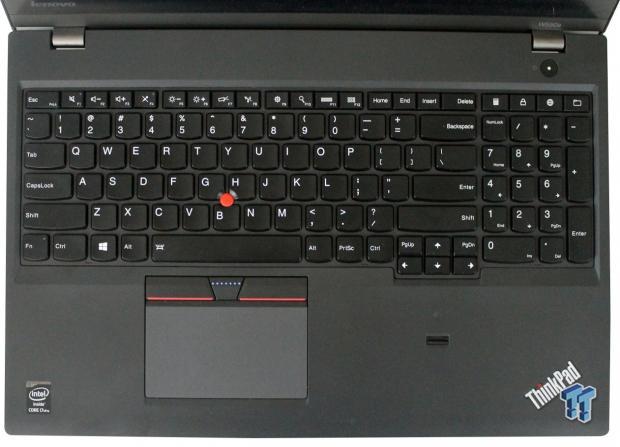 The Lenovo ThinkPad W550s Mobile Workstation comes with a full-sized and spill-resistant, ergonomic keyboard. The keys for the keyboard have a good tactile feel to them. This is a membrane style keyboard, which requires very little pressure to push the keys down.
The position of the keyboard vs the body of the W550s allows you to set your wrist on the laptop corners and extend your fingers to the keys with ease. This was a comfortable position for us to work on while doing this review. Across the top is a series of function keys optimized for Windows 8, multimedia buttons that gives instant access to key functions. Also on the keyboard is a TrackPoint pointing device that you can use your finger to move the mouse pointer around on the screen.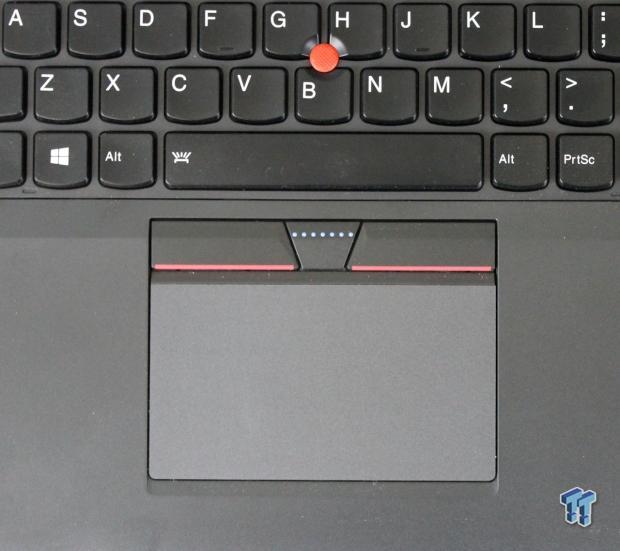 Here we have a closer look at the TrackPad. It has a matte finish that matches the body of the W550s. We found this touchpad to be a huge improvement over the pad equipped on the W540, it has a very smooth feel to it, is accurate and responds to left and right key clicks very well.
Screen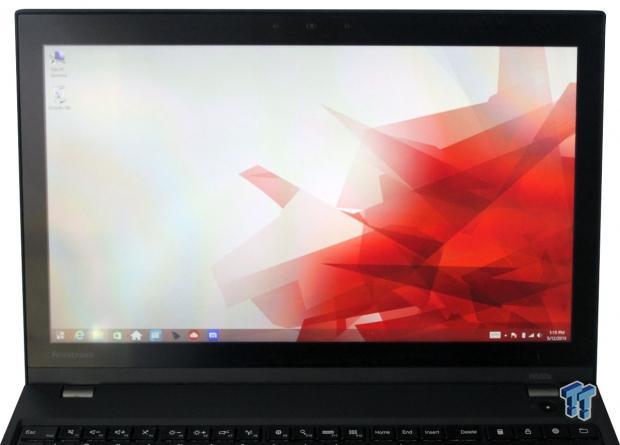 The W550s comes with a 10-point multi-touch panel with up to 3K (2880 x 1620) resolution and IPS technology In-Plane Switching (IPS) technology allows for vivid colors and nearly 180-degree viewing angles. Overall, we find the display simply gorgeous, watching movies or video editing is very pleasing.
At the top of the display, the W540 comes equipped with a HD Webcam and Dual digital-array microphones with supply premium audio input for recording or web conferencing. Using this webcam with Skype or other messaging services is a breeze with high quality video and sound.
Accessory Port Layout and Upgrade
The Lenovo ThinkPad W540 Mobile Workstation has several IO ports on the unit four IO needs. Let us take a look at what options we have available to us.

Here we are looking at the right side of the Lenovo ThinkPad W550s Mobile Workstation. There are USB 3.0 always-on charging port, USB 3.0 port, miniDisplayPort v1.2 and a Kensington Lock Slot. There is also the main cooling vent located here in-between the miniDisplayPort and the lock slot.

Now looking at the left side we find the power port, USB 3.0 port, VGA output, Headphone/Mic port, SD Card Reader, Ethernet RJ45 and a Smart Card Reader to round out the connections available on the W550s.

At the rear of the Lenovo ThinkPad W550s Mobile Workstation which has no connections.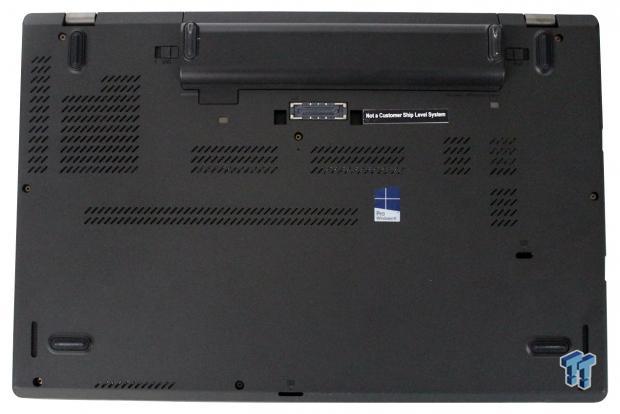 Looking at the bottom of the W550s, we find there are no access hatches here and it has several vent locations to keep the W550s nice and cool.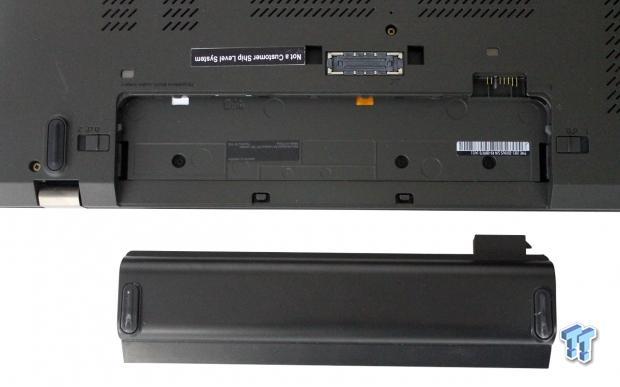 The shape of the rear of the battery is conformed to the W550s outside. A round bulge matches the W550s and allows for a gripping surface for when you need to install or replace the battery. The battery just slides right in and locks. On either side of the battery are two unlocking levers when pulled left and right unlock the battery for removal.
Testing Methodology
We have gone over the specifications of the W550s in detail; now let us look at how performance stacks up on the W550s mobile workstation.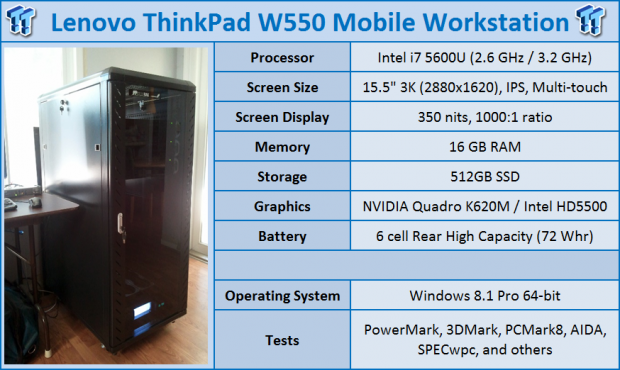 Here we see the basic stats of the W550s mobile workstation. We will run this through our battery of tests to check performance, battery life and storage. We run a wide range of benchmarks on this unit to ensure that we can see just how well this unit performs.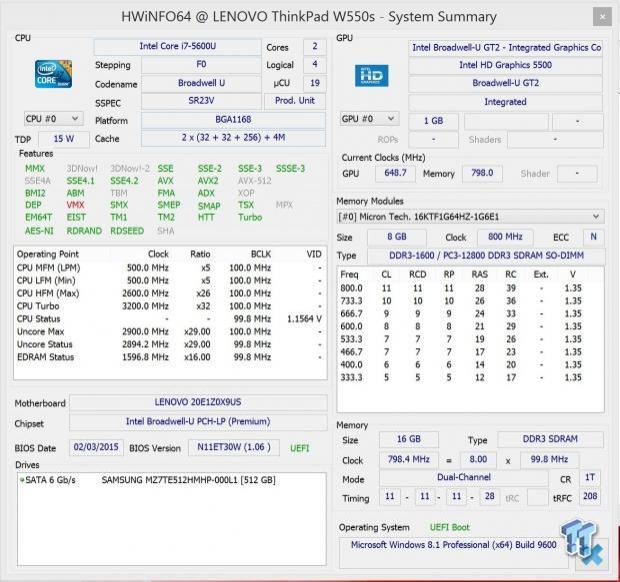 The CPU in the W550s is Intel Core i7-5600U processor. This is a Dual Core CPU with Hyper threading giving us 2 cores/4 threads to work with. The CPU has a stock speed of 2.6GHz and Turbo's up to 3.2 GHz. Memory speed comes rated at 1600MHz and CL11 timings. These are standard memory stats so we expect that to be about equal to other systems. The W550s comes with 16GB of DDR3 RAM.
We also can see the stats of the Intel HD 5500 graphics included with the Core i7-5600U processor. The W550s also includes NVIDIA Quadro K620M graphics processor for additional GPU power.
CPU and Memory Benchmarks
We will start by running several CPU benchmarks to get an idea of what the processing power is with the Intel Core i7-5600U processor.
Cinebench 11.5
CINEBENCH is a real-world cross platform test suite that evaluates your computer's performance capabilities. The test scenario uses all of your system's processing power to render a photorealistic 3D scene. This scene makes use of various different algorithms to stress all available processor cores. You can also run this test with a single core mode to give a single core rating.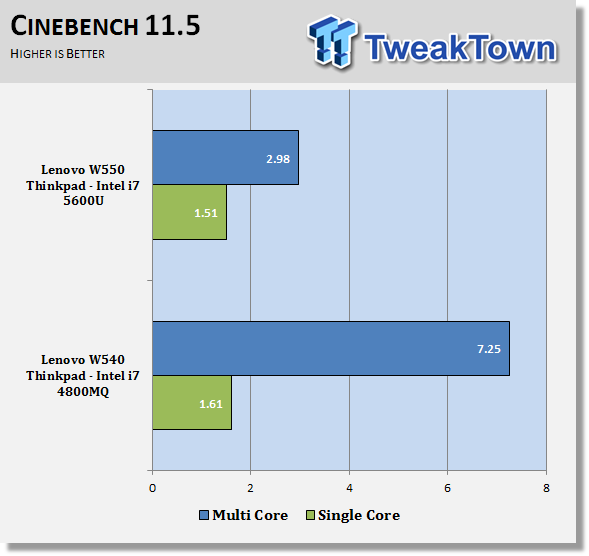 We get our first look at CPU power in this Cinebench 11.5 benchmark. In our tests we will find that the Intel Core i7-5600U processor only has 2 cores and 4 threads, so in many tests the W540 will come out ahead because it has double the amount of cores.
Cinebench R15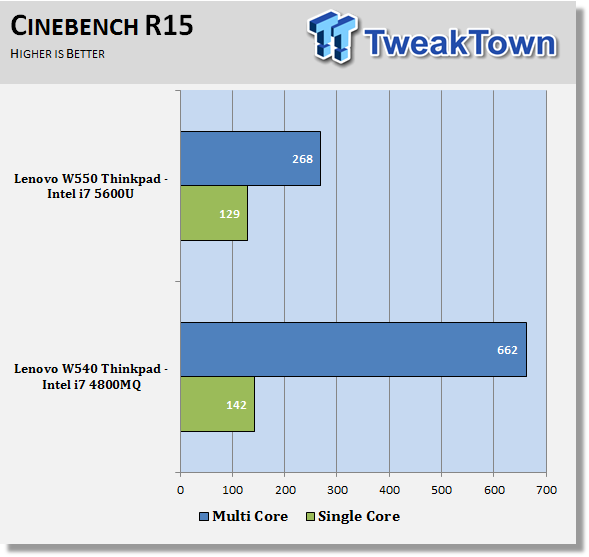 Just like in the Cinebench 11.5 results, we see single threaded scores come very close to the Intel i7-4800MQ that the W540 has.
wPrime
wPrime is a leading multi threaded benchmark for x86 processors that tests your processor performance. This is a great test to use to rate the system speed; it also works as a stress test to see how well the system cooling is performing.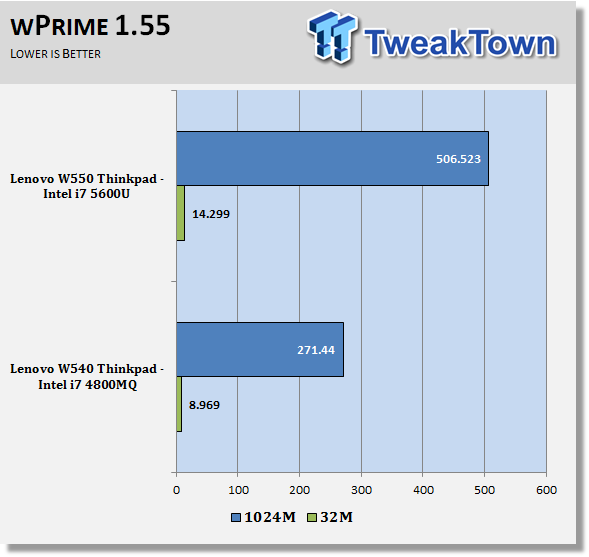 This test puts a heavy load on the system and can stress the systems cooling ability. We had CPUz open through the whole test and did not see any throttling. This shows again that the W550s has a very robust cooling system inside.
AIDA64
AIDA64 memory bandwidth benchmarks (Memory Read, Memory Write, and Memory Copy) measure the maximum achievable memory data transfer bandwidth.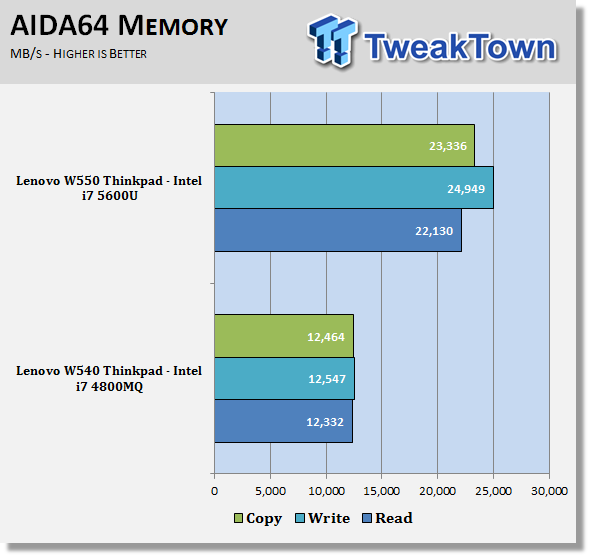 The W540 we tested had only one stick of RAM installed. The W550s has two sticks of RAM installed so we are seeing about double the memory bandwidth on the W550s.
System Benchmarks
Geekbench
Geekbench 3 is a processor benchmark that uses single-core and multi performance simulating real-world scenarios.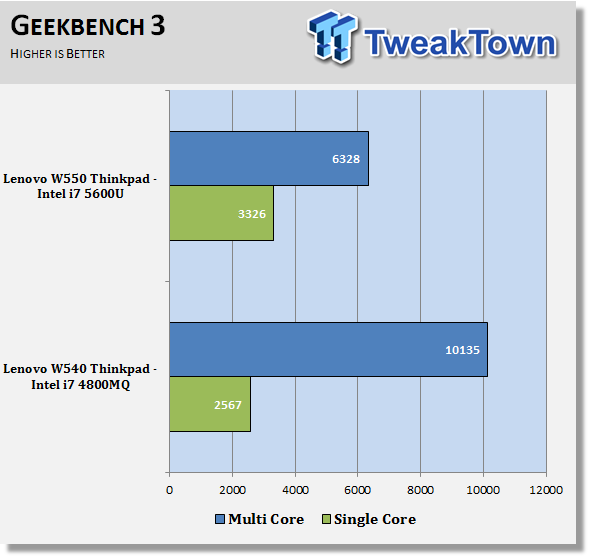 The W550s again scores rather well in Geekbench single threaded scores, but the W540 takes the lead with double the amount of cores.
Passmark
PassMark performance test runs 32 tests including CPU, 2D & 3D graphics, disk, and memory tests, to come up with an overall system ranking that allows you to determine how fast your computer is in comparison with other systems.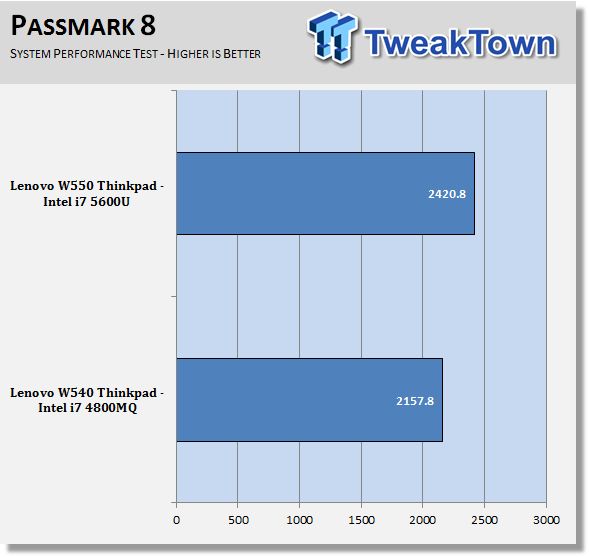 In this test both systems come out rather close with the W550s taking the lead.
PCMark8
PCMark 8 is the latest version in the series of PC benchmarking tools by Futuremark. It is fully compatible with Windows 8, and can be run under Windows 7.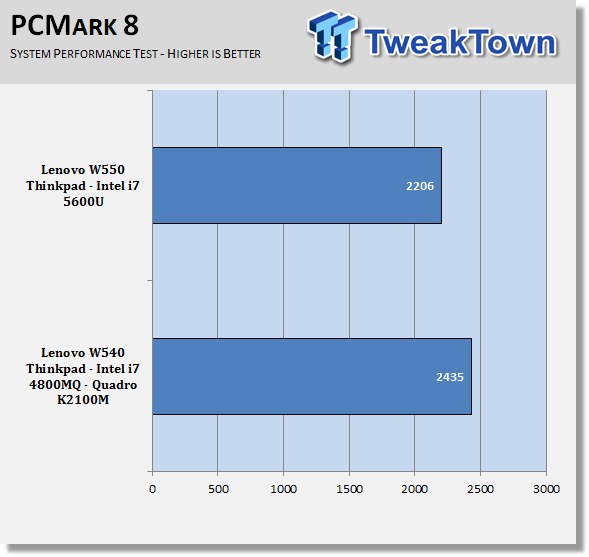 PCMark8 gives us a full system benchmark that can compare a wide range of applications that a typical user would run on the W550s. In these tests, the NVIDIA Quadro K620M helps a great deal in the graphics area. While the SSD gives a large boost to system related use.
SPECwpc
SPECwpc_v1.0.2 is a workstation benchmark that measures key aspects of workstation applications.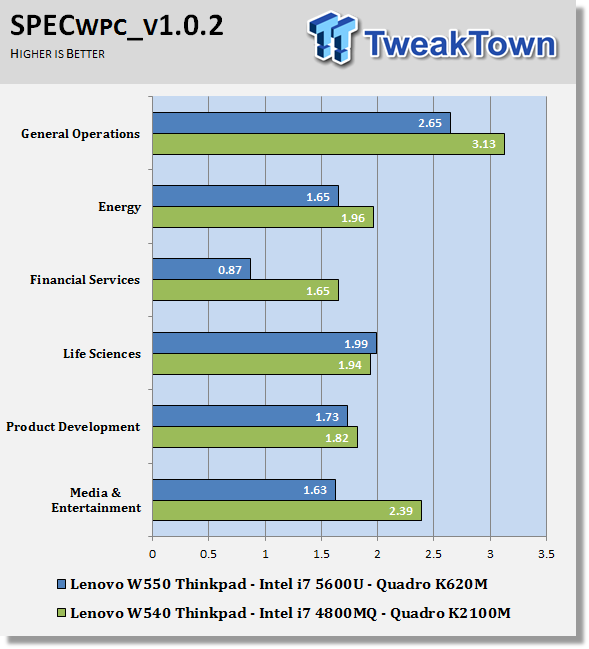 These tests do put a huge load on the system and takes ~8 hours to run on this system. SPECwpc puts a heavy load on the GPU.
Even small increases in scores show a big improvement in performance. The two important scores for the W550s are General Operations and Media & Entertainment; these are areas that typically the W550s would be used in. These scores are actually not bad for a mobile workstation and shows that even on location the W540 can do serious number crunching.
BootRacer
BootRacer is an app that will tell you how long your computer takes to boot. It will measure the actual time your PC takes to get to windows boot process, then measure the actual windows OS boot time. This is a free download for personal use and can tell you if your PC is booting slower over time or after you have installed apps.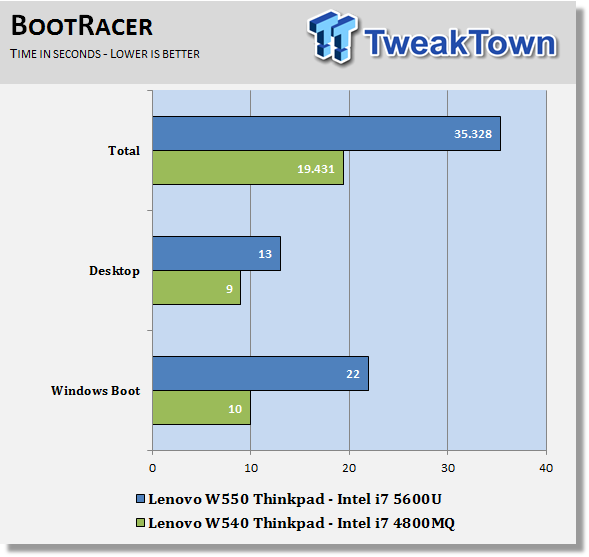 We ran Bootracer on the W550s after we set everything up, before any other apps were installed. Overtime and use, installing other apps you might find that the laptop might start to slow down or take longer to boot. The best practice is to keep your laptop clean of unwanted applications that affect booting times.
You can see your startup applications by running MSCONFIG from a command line. Then head over to the startup menu, here you can disable startup apps that might be slowing your computer down during the boot process.
There is nothing worse than starting up your laptop and then going to make a pot of coffee because it takes so long to boot. 35 seconds is a fast boot up so the W550s will not keep you waiting. Normal operation would be to just close the lid when finished using the W550s. To resume operation just lift the lid back up and relog back into Windows. This operation is almost instant so we prefer to use this method.
CrystalDiskMark
CrystalDiskMark is a well-known benchmark to test your HDD or SSD's.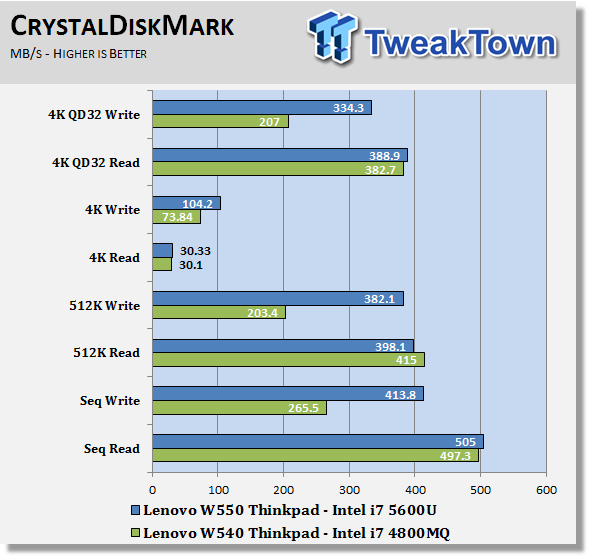 For an OS drive, the two most important numbers to look at are 4K read & writes. This is what the OS uses the bulk of the time. The speeds of the SSD used in the wW540 are excellent and give the system very fast responses feel to it.
Power Consumption and Final Thoughts
Power Consumption
We ran the W540 through a series of battery tests to find out just how long the 9 Cell Li-Ion Cylindrical Battery 99.9Wh would last. Each test started with a fully charged battery and BIOS & system set to power saving modes to simulate conditions out in the field away from a wall AC power connection.
After each test, the battery was again fully charged and then the next test started. PowerMark tests would run until the battery was at 15% charge. PCMark8 battery life testing uses third-party applications from Adobe Creative Suite and Microsoft Office to simulate typical applications and workloads using battery life mode to loop a test until the battery is almost empty for results that are more accurate.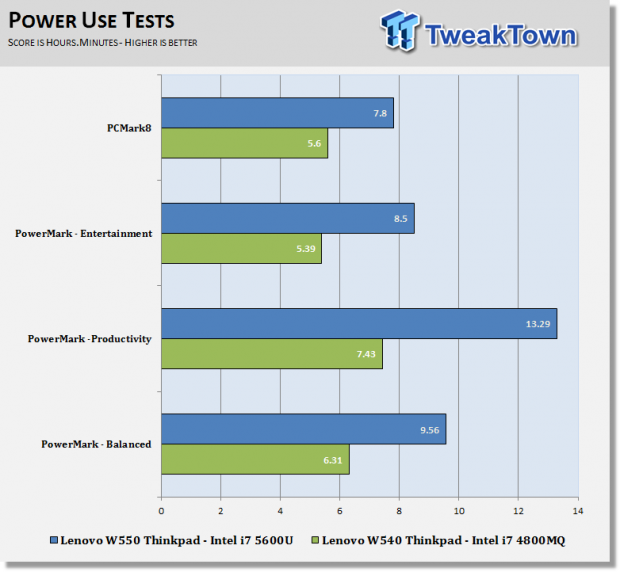 Lenovo estimates the battery life to be approximately 13 hours +. We found that this estimate is close to what we experienced in our tests and in some cases, it lasted longer. Of course, your battery life will depend on what you are doing with the W550s and how long you have been using the battery.
We found the battery life to be excellent on the W550s, in fact in actual use it can be almost double what the W540 can do.
Final Thoughts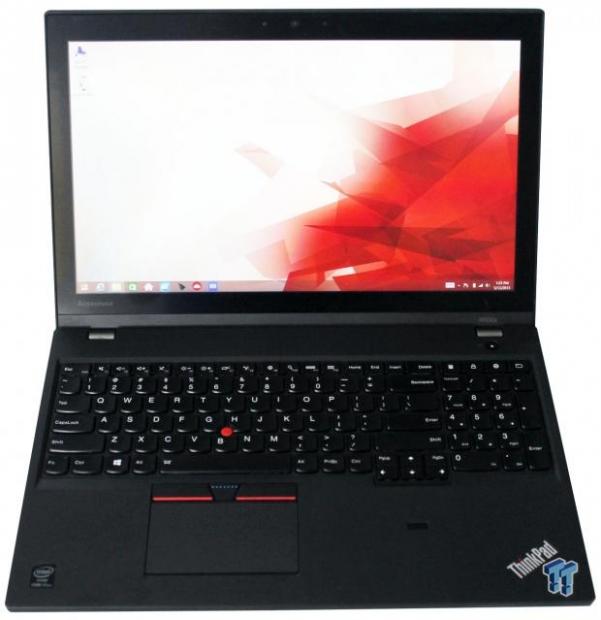 The ThinkPad W550s Mobile Workstation was a very powerful laptop to use while we had the review unit.
The W550s comes equipped with just about everything you would want. The feature load out and bundled software is typical for Lenovo devices so we had no surprises there. We were rather surprised to see only dual-core processors available for the W500 which somewhat limit mobile workstation use, but overall the Intel Core i7-5600U processor that came equipped with our review unit was able to keep up with us just fine. If you needed to do heavy duty video work or encoding, you might want to take a look at the W540 instead because the CPU's you can pick from can have as many as 4 cores or double what you can get with the W550s.
We used our W550s on several trips and found that it performed very well in our usual workloads, office apps and Photoshop work. The next benefit we saw was battery life, the W550s can run all day without even coming close to running out of power. We went through airports, in flights, at the hotel and at meetings without even coming close to running the batteries down, they just kept going.
The W550s also ran much cooler than the W540 we tested. It was not unconformable to have the W550s on our lap while taking notes. Battery life and running cool is where the W550s really shines. We also used the W550s in our lab and would have liked to see a DVD drive in the W550s. Even though we do not watch many DVD movies, we often have the need to burn an ISO disk image, which we could not do with this unit. The display on the W550s is just as good as the W540 and it does include touchscreen capabilities, which is nice if you like to use some of the features of Windows 8.
Our W550s came with Windows 8.1 installed so we did not receive any disks with our unit, which is just fine with us. All restore functions are included in the BIOS in case you need to do a factory restore.
Our experience with the W550s was very positive; it had fast response with running our programs, extremely long battery life and ran nice and cool. We did find that only a dual-core CPU version somewhat lacking, but the tradeoff for long battery life seems rather good. We also found the new touchpad on the W550s to be a much-needed improvement over the W540, the difference is night and day better. It's responsive and accurate and does not have that clunky feel to it like we saw with the W540.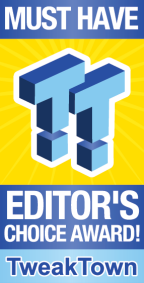 | | |
| --- | --- |
| Performance | 90% |
| Quality including Design and Build | 97% |
| General Features | 96% |
| Bundle and Packaging | 96% |
| Value for Money | 95% |
The Bottom Line: Lenovo's ThinkPad W550s Ultrabook mobile workstation offers extreme battery life, good performance and high quality build, making the W550s a great mobile workstation for demanding users on the go.
PRICING: You can find products similar to this one for sale below.

United States: Find other tech and computer products like this over at Amazon.com

United Kingdom: Find other tech and computer products like this over at Amazon.co.uk

Australia: Find other tech and computer products like this over at Amazon.com.au

Canada: Find other tech and computer products like this over at Amazon.ca

Deutschland: Finde andere Technik- und Computerprodukte wie dieses auf Amazon.de
We openly invite the companies who provide us with review samples / who are mentioned or discussed to express their opinion. If any company representative wishes to respond, we will publish the response here. Please contact us if you wish to respond.