TweakTown's Rating: 94%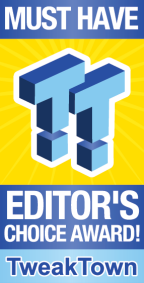 The Bottom Line
While not an obvious standout in any section of the breakdown, Kingston's HyperX Fury 2666MHz CAS15 32GB kit is really well rounded. The price is right for the density, they perform well out of the box and afford enthusiasts a bit of room to play, and at the same time are priced well against the rest of the market options currently.

The RAM kit in question today is Kingston's HyperX Fury series of memory, of which, while we already know it is double the density, we also get this kit with a speed of 2666MHz, and even sports CAS15 timings. On top of all of this love that this latest kit has to offer, not only does it come with a lifetime warranty, but we also see that this kit requires the minimum of only 1.2V to run its XMP2.0 profile.
While initially we did not expect our testing to actually show performance just due to capacity, and the reality is we really just touch on it with one test suite. The thing is though, even with the density afforded with this kit, many would assume timings and latencies would have to suffer, even slightly to accommodate for such a kit. The reality of it though is with very little effort from the user to get this kit set up properly, even if not using it all, there are benefits to be had opting for this kit over many similarly spec'd with only 16GB of density.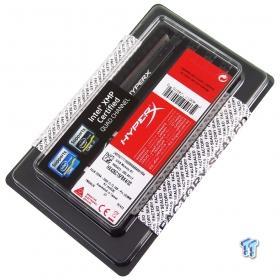 Packaging is typical for a Kingston memory kit, and is something we have seen since DDR days of them shipping memory. However, we do not see the word Kingston anywhere, as they went with HyperX branding for the Intel XMP certified, factory sealed kit of Fury inside of it.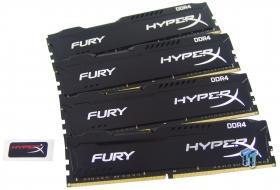 Inside of the packaging, we find a small rectangular case badge to brag about the memory inside of it, and of course there are four sticks of double sided DIMMs offered in this 32GB kit. The top has a gun-esque design to the heat spreaders, with slits cut in the side at the top and bottom edge. The main section of the sticks offers the Fury, HyperX and DDR4 naming with raised and milled sections of exposed metal, while the rest of the surface is left matte in its finish.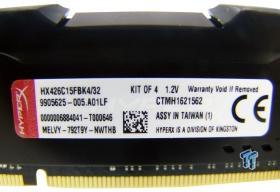 Flipping the memory onto its other side, we find the heat spreader is designed identical to the other side, but it lacks any of the naming seen on the front. Instead, at the right end of the stick, we find the product sticker displaying the model number and voltage needed, but no mention of the speed or timings the XMP2.0 profile gives us.

Where most other memory we have seen has no real concessions to naming on the top edge of the heat spreaders, we really do like the bold HyperX naming displayed here. Since this is likely what you will see most, the exposed metal naming makes it simple to see quickly the memory used in this build.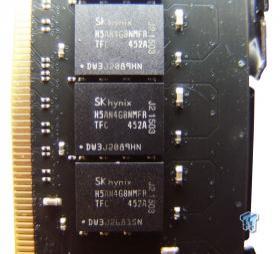 In this set of Fury memory, they have decided to go to SK Hynix for the ICs in this kit. While we have some very good luck in the past with this brand of ICs and their overclock-ability, with this much density, we honestly don't expect much wiggle room in that aspect, but who knows; this is why we are here.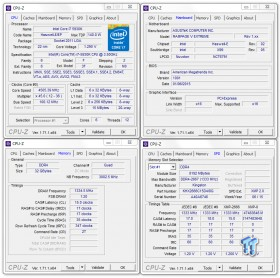 Initially booting this kit, we find the XMP profile will use a 125BCLK and a 2133MHz divider to accomplish the 2666MHz speed of this kit. However, as we do when at all possible, we level off the BCLK to 100 and use the appropriate divider. With this set of HyperX Fury, we had no issues with XMP or our version of it, both ran stable right out of the box.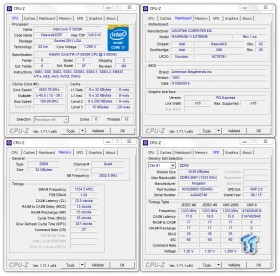 As we tend to do here, we also used the XMP speeds, and started to drop the timings to see how tight they will go. Here we find that with the use of 1.33V, we were able to get 12-13-15-35 2T rock solid stable and able to pass any and all testing. Not too shabby considering the amount of ICs at play all able to use these reduced timings.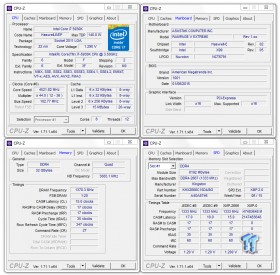 What really pleased us about this Fury 32GB kit is that there is even some extra MHz left in the tank as well. We raised the BCLK until we reached the maximum memory speed of 2740MHz. With the increase of speed, the timings were not responsive at all at this point, and we were still using 1.33V at this time too.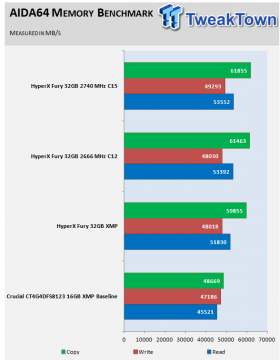 The read and write bandwidth is right where we would expect things to be for the speed and timings used in each of the three scores compared to the baseline kit. However, when it comes to copy bandwidth, the scores with this kit are some 10,000 points higher than the last 2666MHz kit we tested.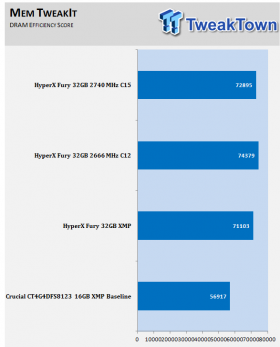 Mem TweakIt shows a lot of love for the XMP profile as well as the reduced timing run. When it come to increasing the speed, this test did not show well for the Fury, but this is just a programmed metric to go by and other tests will show its benefits like AIDA64 did previously.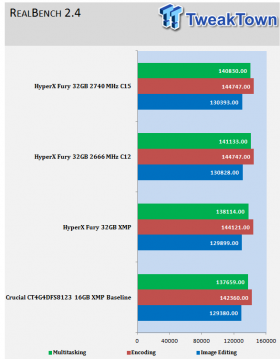 Jumping into RealBench testing, where real-world usage comes into play for those who are really into working their PCs in images, rendering, and multitasking. Here we find slight jumps in all three ways to look at the HyperX Fury. XMP has a slight advantage over the baseline kit for scores, and there is a bit of give and take depending on which way you may choose to overclock this kit.
While our testing does not show obvious reasons to grab this kit over the average 16GB kit for an X99 build, your individual needs and usage will play a huge part in this decision. If you just plan to game and surf the internet with your system, this may not be the kit for you, unless you just want it and have the money to burn - sort of future-proofing, if you will. Where this kit shows its true colors is in time saved with rendering huge projects, editing video from your latest trip to an electronics show, or even to start to dabble into RAM disk usage without imposing on the basic 16GB that DDR4 kits all seem to start off in density at. This is also potentially half of a setup that would fill all eight DIMM slots allowing hardcore users to use 64GB worth of memory in their systems.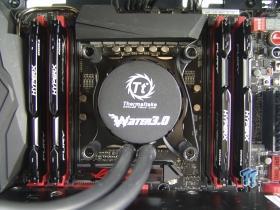 It is hard to deny that these 34mm tall sticks are indeed very pleasing to see in your rig as they are in our image above. From either side they look good, and even when viewing them from the top, there is the HyperX naming staring you right back in the face. On top of the good looks, there is a fair bit of fun to be had tinkering around in the BIOS with this kit as well. For shorter work times than the XMP profile will offer, dropping these to CAS12 at 2666MHz, and even allowing us to take them to 2750MHz at XMP timings are both ways to add a bit more performance as you tweak the entire system for the best of what it can offer you. There is a lot to be said for the newer memory controllers as well, because our last experience with tinkering with a 32GB of Kingston's was early in the DDR3 game, and those sticks would not budge one bit. We also feel that these sticks have a bit more to give, and did do some off the books tinkering, since we had to pass on our 10% voltage rule for the review. However, with the right cooling in play, these will respond to more voltage than what we used for testing.
Of course this early in the game, pricing is the one thing that will keep many users from looking at a kit such as this, but that does not mean in any way that the pricing is not on point for the current situation in the DDR4 market. Considering most of the 16GB kits we tested so far are $150 to $300 or more, we initially had thought that this set of HyperX Fury would have been priced out of reach for the masses, but that is not what we find at all. Shopping around for this kit is advised, as there is quite the swing in retail pricing. At the time of writing, at Newegg.com, for instance, this kit will set you back over $400, but if you look at Amazon.com, this HX426C15FBK4/32 kit can be had at just $345.49 and requires only $4.18 more for shipping.
All things out in the open, the mainstream users may not immediately find use for a kit such as this and will be fine and dandy with the basic 16GB offerings out there. We do like the fact that we don't lose out on an attractive kit of RAM, we still get memory based on black PCBs, and they even named the edge of the memory you see every day. It does take a certain buyer to appreciate the density, but those who can and will use the 32GB this kit offers, you will also reap the performance benefits that this HyperX Fury kit it able to produce, above and beyond similar 16GB kits. The fact that Kingston aren't charging more than double for the density at a time when it is definitely a seller's market when it comes to pricing for such high-end luxuries such as DDR4, it has us respecting them and their choice to play fair and not pilfer the pockets of early adopters unnecessarily.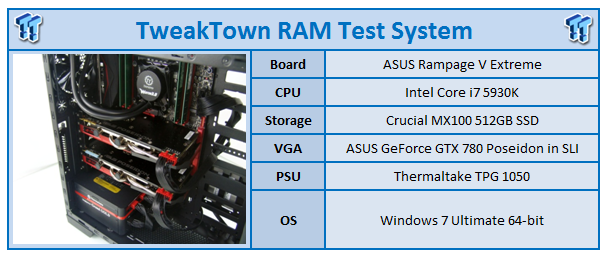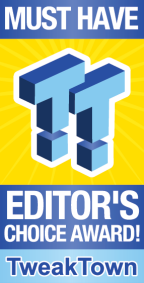 | | |
| --- | --- |
| Performance (including Overclocking) | 93% |
| Quality including Design and Build | 95% |
| General Features | 94% |
| Bundle and Packaging | 92% |
| Value for Money | 94% |
The Bottom Line: While not an obvious standout in any section of the breakdown, Kingston's HyperX Fury 2666MHz CAS15 32GB kit is really well rounded. The price is right for the density, they perform well out of the box and afford enthusiasts a bit of room to play, and at the same time are priced well against the rest of the market options currently.
PRICING: You can find products similar to this one for sale below.

United States: Find other tech and computer products like this over at Amazon.com

United Kingdom: Find other tech and computer products like this over at Amazon.co.uk

Australia: Find other tech and computer products like this over at Amazon.com.au

Canada: Find other tech and computer products like this over at Amazon.ca

Deutschland: Finde andere Technik- und Computerprodukte wie dieses auf Amazon.de
We openly invite the companies who provide us with review samples / who are mentioned or discussed to express their opinion. If any company representative wishes to respond, we will publish the response here. Please contact us if you wish to respond.