Crucial Ballistix Sport DDR4-2400 16GB Quad-Channel Memory Kit Review
Today Chad tells us all about Crucial's Ballistix Sport DDR4-2400 16GB quad-channel memory kit. Come and take a look.

Published Mon, May 18 2015 9:15 AM CDT
|
Updated Tue, Nov 3 2020 6:59 PM CST

Our latest memory kit from Crucial is not what we would call "value RAM" like the green PCBs we originally tested from them, but in Crucial's own words, this kit is "designed for entry-level and mainstream users". They also go on to say that while enthusiasts tended to migrate to the Ballistix series in some form, but "Why should the most hardcore gamer have all the fun?" is the mission statement that brings us the Ballistix Sport series of memory, where things like aesthetics are addressed with integrated heat spreaders and black PCBs, but at the same time deliver performance as well as a good bang for the buck ratio all in the same package.
The specific set that was sent over for testing this time is the Ballistix Sport DDR4-2400 16GB kit, and more specifically this is the BLS4K4G4D240FSA kit. There is also a similar kit that ends in "FSB" and costs a touch more, but there is no real defining factor in their specifications to help establish the difference there. This kit, made for Intel X99 systems, comes in four sticks, each with 4GB of memory on a single side of the PCB. The speed of this kit is on the lower-end of the spectrum of available options at 2400MHz, timings are pretty relaxed at 16-16-16-39 2T, but the kit does offer savings on power with only 1.2V needed to run the XMP2.0 profile. With the purchase of said kit, we are also given a limited lifetime warranty, which basically means that this kit will have a warranty for replacement as long as stock of the kit is still available for the RMA process.
With our batch of tests and methodology of how we go about things when it comes to memory in general, we found the Crucial Ballistix Sport memory to be very pliable in what we could do with it. Of course, we always ascertain a baseline of the kit with the use of the XMP profile, but leaving some overclocking headroom or the ability to drop the timings makes the enthusiast in us happy to see what we did when it came to this "entry-level" memory.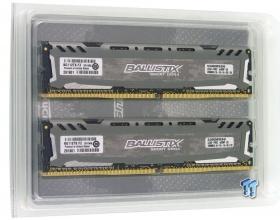 As all the other kits to arrive from Crucial, we find the Ballistix Sport also come in clear plastic, snap together packaging to put the sticks right out on display so that they are easy to see on the self at a brick and mortar store. They also include a cardboard insert this time that offers a diamond plate pattern and also offers the Ballistix name across it.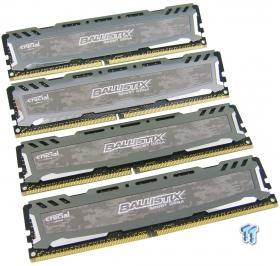 The memory inside of the packaging is built on black PCBs which many users appreciate, and they also include integrated heat spreaders that offer a lot of style. There is a mix of matte grey with exposed and milled sections at the edges and along the bottom, and the bulk of it is covered with a sticker sporting digital camouflage and is where Crucial by Micron and Ballistix Sport DDR4 is presented in white.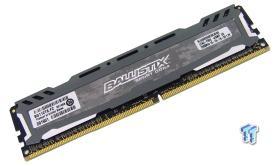 The reverse of them is nearly the same. The spreader is the same, and the main sticker is also the same, but on this side of each stick you will find two stickers. The one to the left has the individual stick part number and serial number, while the one to the right delivers the XMP profile speed, timings, and voltage.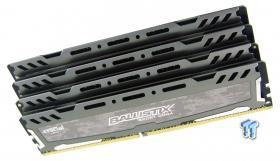 We do like that Crucial took the time to add some flare to the top of the spreaders as well. Since most of the time this is what will be seen looking into the system, we appreciate the angles, milled out bits, and an unmistakable design that is easily recognized by those in the know.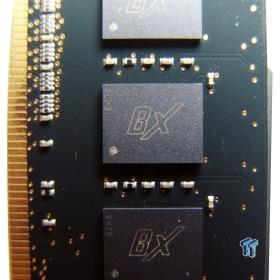 We also wanted to bring forth the IC in an image with our reviews, because there are those out there that want this sort of thing. Of course it is easy to say that these are Micron ICs, but as we have seen before, Crucial has these shipped with just a "BX" on them, and the V478 on the left side of each IC.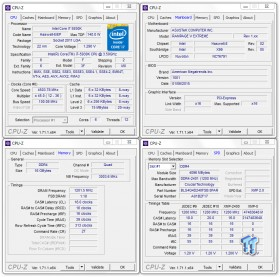 Booting the system with the XMP profile took no adjustments at all. Simply switch to XMP in BIOS and away they went as we see them here. The kit booted right to, and slightly beyond 2400MHz with our system, and the 16-16-16-39 timings and 1.2V needed to power them was all verified in BIOS with nothing strange to report.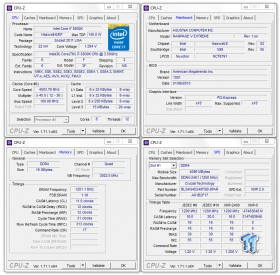 This is where we had a bunch of fun with this kit. Of course most users would be happy puttering along at CAS16, all relaxed and enjoying life. Thing is though, all we had to do was raise the voltage to 1.3V for the memory and were able to achieve 2400MHz with 11-12-12-31 timings, and were also able to run them at 1T command rate, completely stable.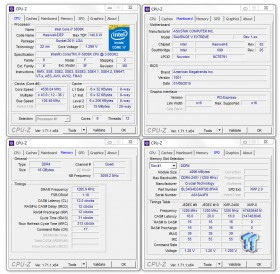 There is the other way to look at overclocking memory, where we find its absolute maximum speed. Not only were we able to get this kit to run 131MHz faster than the XMP profile offered us, but we were also able to drop the timings pretty tight at the same time, again with just 1.3V applied to them. We are pretty happy with this 2531MHz 12-12-12-31 1T result.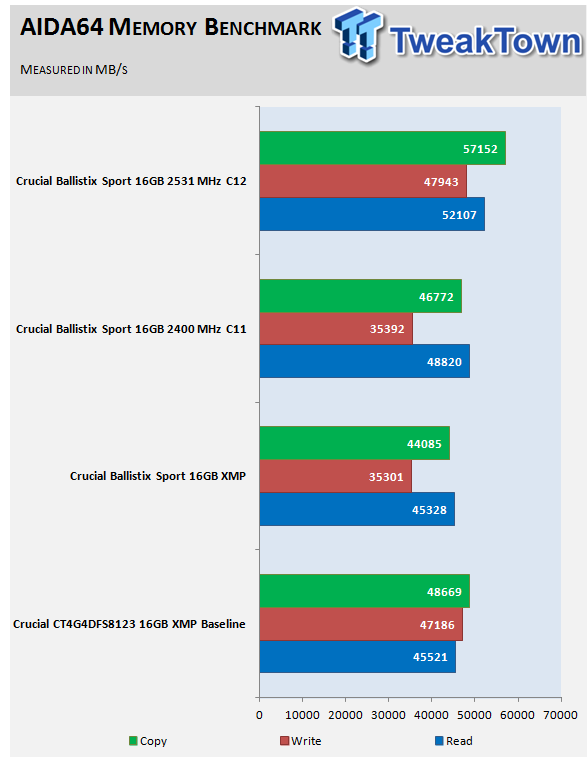 Of course changes are not drastic when it comes to AIDA64 testing, but there are improvements to be had. The thing that sort of put us off at this point though, was it takes everything this kit has in speed and timings to actually best our baseline kit.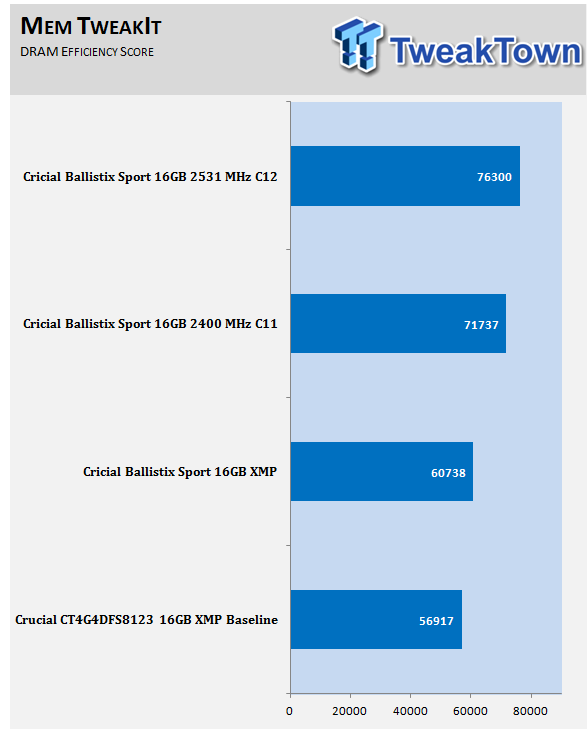 While Mem TweakIt is more of a metric of speed and timings, this is where the Ballistix Sport DDR4-2400 starts to shine. Not only does the XMP profile offer higher results than the baseline, but once the timings are as tight as can be with an added speed boost, we got some of the best results ever here, including much faster kits we have tested in the past.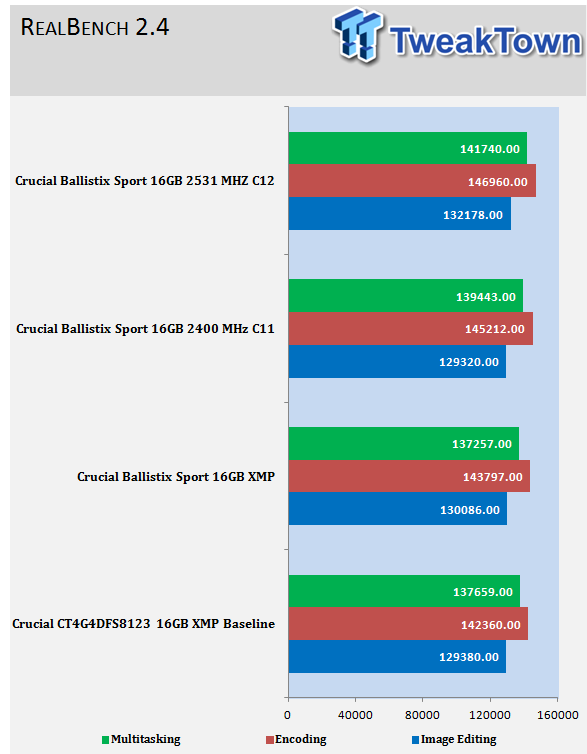 With RealBench now stressing the kits potential to the extreme end of what most users will put it through, we do like the results here. The XMP profile offers advantages in ability right out of the gate. Lowering the XMP timings affords a decent jump in performance, but it is the mix of speed and timings that plays best with this test. While not the best results we have seen, we do like the bonus ability that this kit offers those who are willing to tweak things and have a little fun with their investment.
For most users out there, you are looking for a good mix of value and aesthetics as the main reasons to purchase any kit these days. Crucial seems to have hit the nail on the head when it comes to this. Of course, this is not the fastest DDR4 known to man, and it likely won't put you on the top of the lists at HWBot, but the kits that just might do that will also require a loan against your house, or your first born child, to offset the cost. In this Ballistix Sport kit, it took us back to the old days, where memory was a blast to sit and clock it for speed, but at the same time are able to still achieve near DDR3 timings to go with the speed, and in doing so also reduced the latency quite a bit too, which seems to be the big killer to DDR4 performance at this time.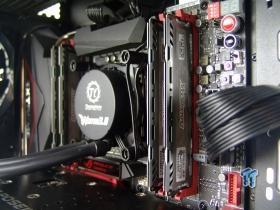 What Crucial has done here is delivered on everything that their specifications and marketing put forward. This is a kit for the masses for two very key reasons. The first we addressed, where the kit will look terrific in any system as it does in the image above of our system. The second part of the kit that is handy is that there were no issues along the way with this kit. Whether booting to 2133MHz by default, or opting for the XMP profile, this kit simply springs to life and boots right to desktop and is ready to take on whatever it is you want to dish to it. Of course, having the ability to run a tad faster is a plus, but timings with this kit were definitely the key to extracting every bit of love we could get from the Ballistix Sport DDR4-2400 in testing.
While most of the extreme kits are going to cost you $400 to $500 or more to obtain, keeping in the line of memory for the masses, Crucial is not asking the world to have this 16GB kit in your X99 system. If you want to go direct through Crucial, this set will cost you $199.99, and there will be some shipping costs involved as well. We also found this specific kit on Amazon.com as well, and there you can save $40 as the pricing is set to $159.99 and has free shipping to boot. With what we have seen in many kits now, Crucial has an ability to offer kits at very reasonable pricing, and when it comes to the Ballistix Sport DDR4-2400 we just looked at, we are pleased to see great value in this kit.
When it comes to daily life on the PC, in games, and even when loaded with harder tasks like photo editing, and rendering, this kit of Ballistix Sport can stand tall. Speed seems great for benches, but when it comes to normal usage, most users will reap no real benefits of said speed. This is where kits like this come into play as hot sellers in the market, as they are certainly up to the job needed to be done by them, they won't cost you an arm and a leg, and even while not exactly our cup of tea aesthetically, you can't go wrong with black PCBs, and we do appreciate the design and thought that went into the spreaders, and feel there are many out there who will almost be waiting in line to gobble these up.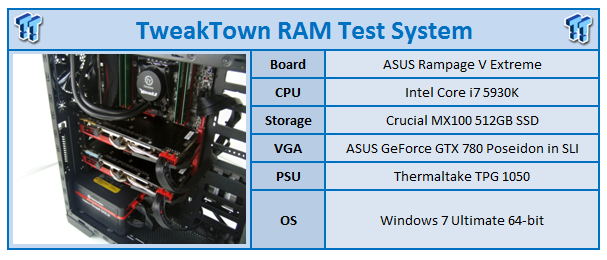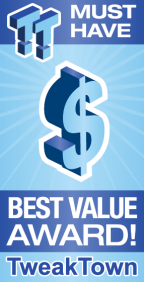 | | |
| --- | --- |
| Performance (including Overclocking) | 89% |
| Quality including Design and Build | 91% |
| General Features | 93% |
| Bundle and Packaging | 90% |
| Value for Money | 97% |
The Bottom Line: Military themed, spunky for their speed, were loads of fun to tinker with, but what sets the Ballistix Sport 2400MHz CAS 16 apart is the inherent value at this price, combined with a kit that any user can enjoy using.
PRICING: You can find products similar to this one for sale below.

United States: Find other tech and computer products like this over at Amazon.com

United Kingdom: Find other tech and computer products like this over at Amazon.co.uk

Australia: Find other tech and computer products like this over at Amazon.com.au

Canada: Find other tech and computer products like this over at Amazon.ca

Deutschland: Finde andere Technik- und Computerprodukte wie dieses auf Amazon.de
We openly invite the companies who provide us with review samples / who are mentioned or discussed to express their opinion. If any company representative wishes to respond, we will publish the response here. Please contact us if you wish to respond.