TweakTown's Rating: 92%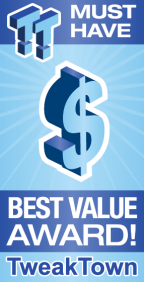 The Bottom Line
G.Skill delivered good speed, a bit of flexibility in overclocking, and in style under a huge name in memory, and these Ripjaws4 are underpriced for what they offer in our opinion.

Ripjaws seem to have been around forever now, and we are not ashamed to admit that that series of memory has been used in many of our builds since back in the DDR2 days. Why did we use them so often? Well, it is very simple really, it always came down to three things. They were attractive in whatever color you wanted to match the theme of the system, they were very affordable, and we rarely, if ever, ran into a compatibility issue. G.Skill figures, why not keep running with the torch that has lit the way to a huge success in memory sales for them, and continue with more Ripjaws as the PC industry makes its way into DDR4.
While we did have to put off G.Skill a bit while we built the test rig and made sure all was well and ready to test, we made sure to get back with them to see what they had in mind to send along for a sample. They replied by sending is this set of Ripjaws 4 in black that goes by the model number of F4-2800C16Q-16GRK, and out of the red or black option, we were sent the later. This kit is 16GB in density with ICs on one side of all four sticks in this X99 setup. This kit sports an XMP profile that allows this kit to boot at 2800MHz using 125 BCLK and a 2200MHz memory divider. For the speed, the timings aren't too bad, and seem to be almost the industry standard at this point with the use of 16-16-16-36 2N timings, but we do appreciate that this is all achievable with just 1.2V as well.
While Ripjaws have always been a part of our past, it is now time to get a look at what has been sent over to us now for testing and see if our favour towards this series of memory is still up to par with what we remember in days gone by. So, how about we get right to the meaty and potatoes of why we are here and get right to what these G.Skill Ripjaws4 offer users moving to the land of DDR4.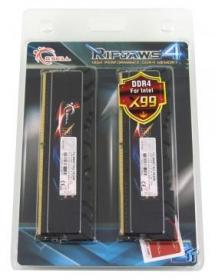 As a lot of memory does, G.Skill also uses the clear plastic, snap together packaging to display their sticks front and center. There is a cardboard insert where we see that this is high performance DDR4 at the top, and a case badge poking out at the bottom. We also see that this kit is made for Intel X99 chipsets, since it is the only one currently demanding its use.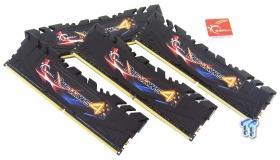 Flat black heat spreaders with all sorts of shapes and angles used to draw your eye in from the aggressive top fins down to the colorful sticker with the G.Skill Ripjaws4 contrasting against the spreader. We also find the use of black PCBs under the spreaders; so there is no chance of green tips poking out in your build with this kit.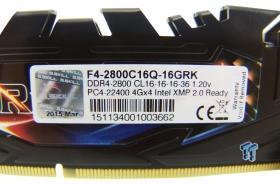 The reverse of each stick is identical both in the heat spreaders shape and design, but also down to the large sticker placed in the center. The difference here is highlighted in this image where the product sticker displays the kits model number, 2800MHz speed, 16-16-16-36 timings, and that they require only 1.2V to achieve this.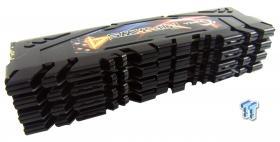 Harking back to the design that has kept the Ripjaws name so prominent when it comes to what RAM to buy, these Ripjaws4 sticks keep the taller design. This does leave the user with memory that is very near 40mm in height, but it should not have issues with most tower CPU coolers made today.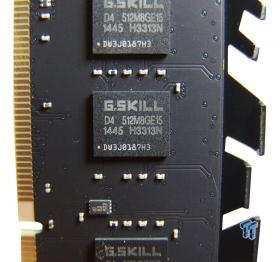 While we would love to be able to say with certainty that this is "X, Y, or Z" ICs used in this kit, we were stymied with the fact that G.Skill also uses their name on the ICs. We did try our hand with Google-Fu and the numbers to follow, but they only come back to this kit or nothing at all.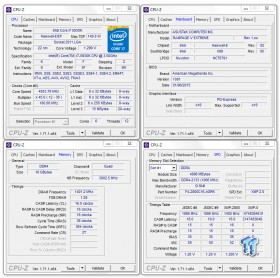 While this kit will boot at a default speed of 2133MHz enabling the XMP profile and adjusting things to fit our testing methodology, we find this set of Ripjaws4 has no issues at all booting at 2800MHz, CAS16, with only 1.2V verified used in BIOS.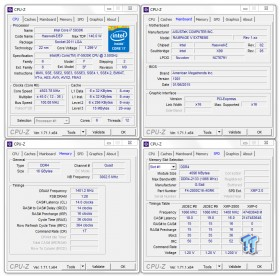 While this kit was binned to near maximum speeds, as even 2820MHz proved to be unstable with anything we tried, the only thing left to do was to try adjusting the timings. Here we did find a fair bit of wiggle room to play around. With only 1.275V needed to get here, we were able to get down to 14-14-16-36 1T timings, stable as can be. Even with more voltage, any decreases in timings past this resulted in a no boot situation.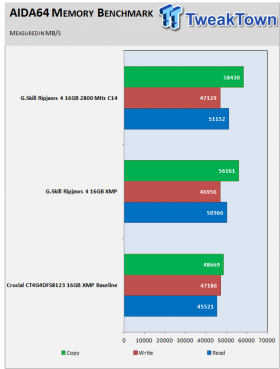 AIDA64 showed us marked improvement in bandwidth from the baseline kit to the XMP profile of the Ripjaws4, but the write bandwidth is slightly slower. With tighter timings bandwidth increased over the XMP results, but latency was nearly the same for both tests.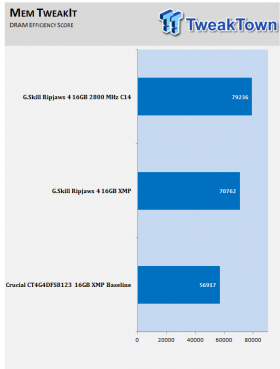 Mem TweakIt showed a preference to the way the secondary and tertiary timings are set in this kit as can be seen in this chart. While the initial timings are decent for the speed of this kit, lowering the timings to CAS14 with these Ripjaws almost broke into the 80,000 mark.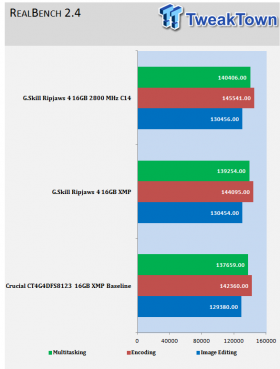 Real-world testing environments show small improvements from the baseline to the XMP profile, and again, there is a slight advantage to reducing the timings. While these results are respectable, we would have expected a bit more love with a jump from 2133MHz to 2800MHz when it comes to things that should really take advantage of a speed boost.
With all of the testing done and time to sit and reflect on the kits of Ripjaws that have been used in the past, we find everything we recalled with previous experiences, almost down to the letter. In our experience, when it comes to Ripjaws series memory, you buy the speed you want or need. This is due to the fact that G.Skill usually bins these kits very well and does not leave a whole lot of meat on the bone when it comes to increasing speeds, they have more extreme kits for such things. While this is a more affordable solution for the average Joe, the aggressive styling, and flat black nature of the heat spreaders covering the black PCBs, it's going to continue to be a hit for many users.
While extra speed may not have been in the cards for us, we were still able to decrease the timings quite a bit at 2800MHz. Again, it may not show in the testing in huge leaps and bounds, but there is something to be said for the feel of this kit at CAS14. We don't feel it was a placebo, as we have had much faster memory in the system; it just seems that this was a touch snappier when it came to everyday usage.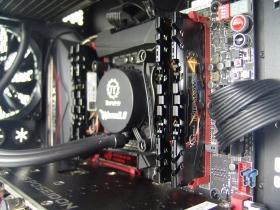 We know they look good, we know they outperformed the baseline kit, and we also know there are tons of fans of the Ripjaws name, and like us, have been using these kits for years. When it came to the move to DDR4, G.Skill leaves us with all the same reasoning we turned to their kits in the past. They are virtually plug and play, and even with a high-end motherboard in use, it took these ICs, booted them right up to spec, and sent us merrily on our way to testing them out. As long as you buy the speed you wanted, you won't be disappointed there, and with just 1.3V pushed through this kit, we were then able to get down to CAS14 and 1T command rate stable. While we did get 2850MHz to boot into Windows, it would not pass any testing, and even dropping to 2820MHz did not get through all of the testing, and while 2805MHz was stable, that limited overclock was not worth the effort to present in the charts.
While Amazon.com is showing this kit for sale, they do require $249 to obtain them if you go that route, with G.Skill listed as the seller, and the option for free shipping. We would rather you shop around a bit as we did, and use one of the other locations such as Newegg.com, where the kit is listed at only $199.99 currently. Considering other kits in this price range, G.Skill is offering strong competition at this level. Yes, there are a few kits to be had at around $200 when it comes to DDR4, in this density, with this speed; there are not many cheaper to be had.
G.Skill keeps the memories alive on through to DDR4 with the Ripjaws 4 2800MHz CAS16 kit we tested. There is some fun to be had, and as always, they always seem to price themselves into a sweet position in the market. Having a company that always offers new versions in the same line with color options as the series runs is something we also hope is not lost in the move to DDR4. While early and offering only red and black versions currently, we hope to see the other versions of blue and such that were available in previous series Ripjaws. As it stands, we really could not ask more of the Ripjaws4 we were sent. They worked flawlessly out of the box, offers a marked improvement over what the low-end of the spectrum has to offer, and will not need to work out a loan to obtain them after looking at $600 motherboard and CPU options.
PRICING: You can find the 16GB G.Skill Ripjaws 4 DDR4 2800MHz PC4-22400 CL16 Quad-Channel kit (4x4GB) Black Heatsinks for sale below. The prices listed are valid at the time of writing, but can change at any time. Click the link to see the very latest pricing for the best deal.
United States: The 16GB G.Skill Ripjaws 4 DDR4 2800MHz PC4-22400 CL16 Quad-Channel kit (4x4GB) Black Heatsinks retails for $254 at Amazon.
Australia: Find other tech and computer products like this over at PLE Computer's website.
Canada: The 16GB G.Skill Ripjaws 4 DDR4 2800MHz PC4-22400 CL16 Quad-Channel kit (4x4GB) Black Heatsinks retails for CDN$377.99 at Amazon Canada.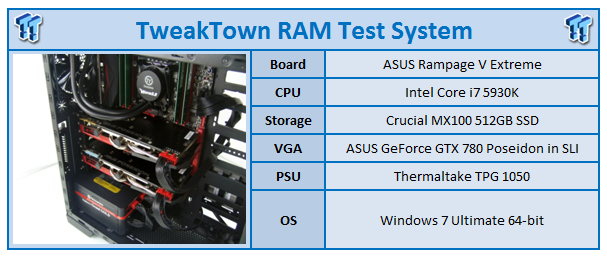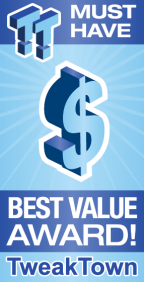 | | |
| --- | --- |
| Performance (including Overclocking) | 90% |
| Quality including Design and Build | 91% |
| General Features | 93% |
| Bundle and Packaging | 89% |
| Value for Money | 95% |
The Bottom Line: G.Skill delivered good speed, a bit of flexibility in overclocking, and in style under a huge name in memory, and these Ripjaws4 are underpriced for what they offer in our opinion.
PRICING: You can find products similar to this one for sale below.

United States: Find other tech and computer products like this over at Amazon.com

United Kingdom: Find other tech and computer products like this over at Amazon.co.uk

Australia: Find other tech and computer products like this over at Amazon.com.au

Canada: Find other tech and computer products like this over at Amazon.ca

Deutschland: Finde andere Technik- und Computerprodukte wie dieses auf Amazon.de
We openly invite the companies who provide us with review samples / who are mentioned or discussed to express their opinion. If any company representative wishes to respond, we will publish the response here. Please contact us if you wish to respond.