TweakTown's Apple iPhone 6 Plus Smartphone Review
After a week using Apple's biggest iPhone yet, I've found myself enjoying the bigger changes, but the company still has an uphill battle against Google.

Published Oct 27, 2014 8:47 AM CDT
|
Updated Tue, Nov 3 2020 6:59 PM CST
19 minute read time
TweakTown's Rating: 82%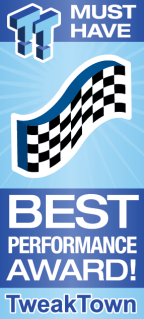 The Bottom Line
Apple fans, the new iPhone is here, and you need it now. Google fans, you might want to check it out first, and not dive in head first right away. Apple has done some truly amazing things with the new iPhone, stepping outside of its comfort zone, that's for sure.
Introduction, Specs and Price
Reintroduction - Walking Out of Camp Apple
It's funny, most of my friends know me as a big fan of everything Google, but when I spent the first page writing about my time as an Android user, walking into the camp that is iPhone, I had a few friends message me specifically drawing in on this point.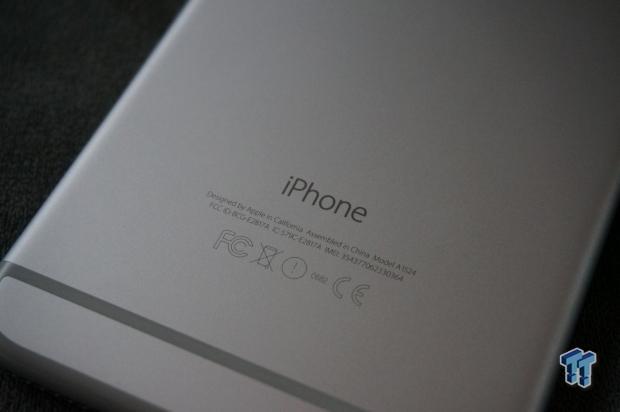 But, I felt like I had to provide this to the world, because if I went in all guns blazing, destroying every part that Apple does wrong, I would be ripped apart both online, and offline. This is where I'm not going to write the traditional review, I'm going to do what I did before and just write until I think I'm done. This review is going to directly compare both iOS to Android on flagship smartphones, and Apple's new iPhone 6 Plus against some of the Android devices I've been using this year.
So this is a reintroduction of sorts, reiterating that I'm here once again, after just over a week using Apple's newest iPhone.
Specs
Apple has baked in some half-decent specifications into the iPhone 6 Plus, but it just doesn't compare to the mouthful of specs that its competition has. Here's what we're looking at, comparing the iPhone 6 and 6 Plus against the 5S, and a slew of other devices from Samsung, Sony, LG and Motorola.

As you can see, the iPhone (all three of them) get their asses handed to them in the specs department. Now, specs won't win the war, but they do sell phones. Samsung has been able to outmaneuver Apple in the hardware department for a while now, but Apple keeps its own by being able to do some truly magical things with much less grunt inside.
This isn't a spec war, and we're not going to say that Apple is somehow much worse because it has a dual-core processor compared to the up to 8-core processor in some variants of Samsung's handsets. Also, Qualcomm has been pumping out some seriously fast processors that are offering up to quad-core 2.7GHz chips, which is just damn right impressive.
One of the bigger standout specifications here is that Apple has opted for a massive 2915mAh battery in the 6 Plus, while the iPhone 6 deals with an 1810mAh battery. This would leave most to believe that the iPhone 6 Plus should provide close to twice the battery life than the iPhone 6, but the screen must be going through some serious juice, because that's not the case.
Camera, Storage & Price
When looking at the spec sheet, we can see that both of the new iPhones have an 8-megapixel iSight camera, which was the same one found in the iPhone 5S, but this time with OIS (optical image stabilization). Compared to some of the rear-snappers on the competition, it's definitely weak - and not in the sense that the sensor isn't up to the challenge, but it can't shoot 4K video. This isn't a big problem, but in 2014 and at the edge of the year at that, we should be shooting video at 4K - or at least providing the option to.
As for storage, we have 16GB, 64GB and 128GB with the 32GB option now completely gone, for whatever reason. There's no expandable storage, which we have on Samsung's Galaxy S5 and Galaxy Note 4, the iPhone 6 and iPhone 6 Plus direct competitors, and most of the other phones on the market that compete at this level, including the QHD-powered G3 from LG.
I'm not happy with the fact that Apple didn't provide expandable storage with the new iPhones, but we shouldn't be surprised. On the other hand, why isn't anyone kicking up a stink about it? You're forced to spend a massive $200 more to upgrade from the 16GB iPhone to the 128GB iPhone, which is just ludicrous.
Considering SanDisk sells its super-fast 128GB Ultra Class 10 microSD card (capable of 48MB/sec) on Amazon for $109, that's close to a 100% markup on the additional storage inside of the iPhone - and that's at retail level pricing, not with mass purchasing power factored in. I've also chosen a fast, reliable brand and card - but keep in mind, there are far cheaper ones on the market which make the 128GB iPhone look crazy expensive. Kingston for example, sells a 128GB microSD card for $46.99.
When it comes to price, the iPhone is one of the most expensive smartphones on the market right now, especially when you're gunning for that 128GB model. Starting with the 16GB iPhone 6, we have a price of $649, which is double that of the Nexus 5, and even more expensive than the LG G3, which comes with 32GB of on-board storage by default.
The iPhone 6 Plus, has a starting price of $749, which makes it more expensive than every other smartphone on our chart. The 128GB model is an insane $949, which when compared to something like the G3 (which also has a 5.5-inch display, but a resolution of 2560x1440), it is just too expensive. Even with the $109 microSD card from SanDisk, we have $599 + $109, for a total of $708. $708 versus $949, and the LG path would give you 32GB + 128GB, for a total of 160GB of mobile storage, and $241 in your pocket.
PRICING: You can find the Apple iPhone 6 Plus 16GB (5.5-inch) 4G LTE Factory Unlocked GSM Dual-Core Smartphone - Gold for sale below. The prices listed are valid at the time of writing but can change at any time. Click the link to see the very latest pricing for the best deal.
United States: The Apple iPhone 6 Plus 16GB (5.5-inch) 4G LTE Factory Unlocked GSM Dual-Core Smartphone - Gold retails for $909.00 at Amazon.
Recap of Apple's Year, Specs & Key Features
Apple's Moves Over the Last Year
To start off on this journey, what has Apple been doing this year? Sure, they've released new iMacs, new iPads, new MacBooks, but we can't talk about all of that, let's just talk mobile. So we've had iOS 8 released, and two new iPhones. The first, iPhone 6, is a 4.7-inch device, up from the 4-inch iPhone 5 and 5S.
To me, Apple had no idea what they were doing releasing these two phones. Both of them feel like they are not fully formed smartphones, but almost like a single vision that was split into two to better compete with Samsung, HTC, LG and various other competitors who have been clawing away at Apple's consumers.
The iPhone 5S had a 4-inch display with a 'Retina' resolution of 1336 x 640, sub HD in the world we live in today - even if the word 'Retina' is thrown in front of it. The iPhone 6 on the other hand, features a 4.7-inch display, with the resolution bumped up ever so slightly to 1334 x 750, just over HD.
The bigger iPhone 6 Plus features a 5.5-inch display, with a full 1920 x 1080 display - this is where I feel Apple put most of its time, the bigger of the two new iPhones. The 5.5-inch display on the iPhone 6 Plus is something I'm going to spend more time writing about shortly, but it really is something that stands out - and something Apple should stand right next to, shouting from the rooftops at just how beautiful it is.
So over the last 12 months, we've had two new smartphones from Apple, and iOS 8. iOS 8 deserves its own review, as it has many more faults and disadvantages that I don't see talked about in many other channels, at least not officially - like competing sites to TweakTown - but you see it all over forums, and from friends' opinions and discussions about the new iPhone, or any iPhone for that matter.
Key Features
Apple has a few tricks up its sleeve when it comes to the iPhone, so let's talk about what makes it stand out from the competition. We have Siri, Touch ID, the Lightning port for charging and syncing and well, that's about it.
Siri - Still Can't Compete With Google Now
Starting with Siri, I actually found her quite useful. She can be asked quite a few things, and be put to tasks quite easily. I didn't find Siri as useful as Google Now, not even close. Google Now is absolutely miles ahead, because it will pull emails down and alert you of your next flight, or hotel check-in details, delays on your trip to work, and so much more. Here's what Siri can do: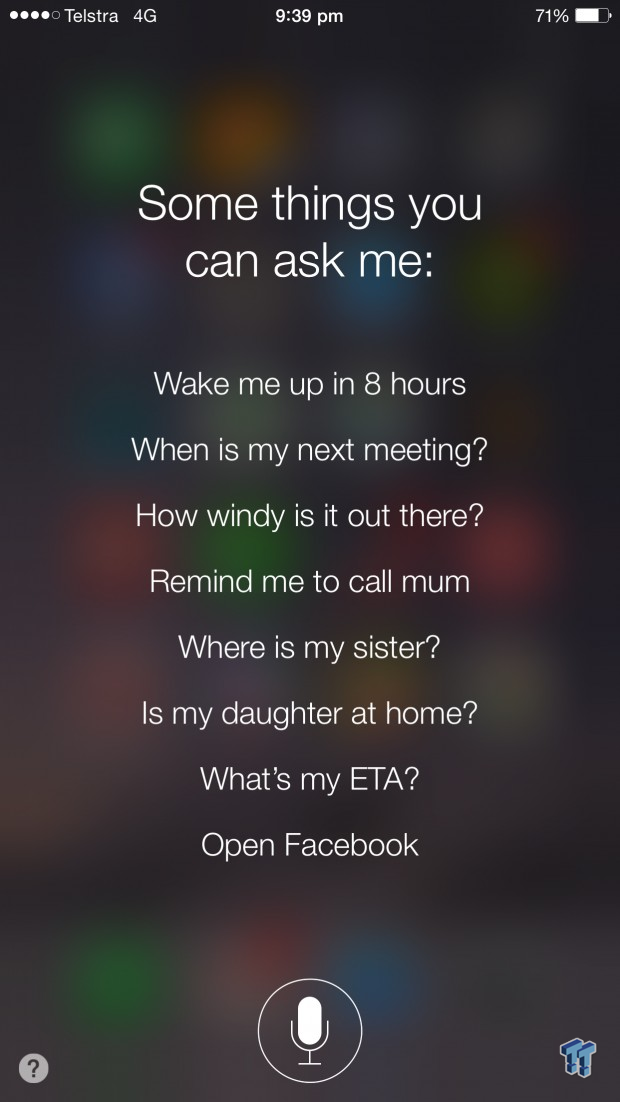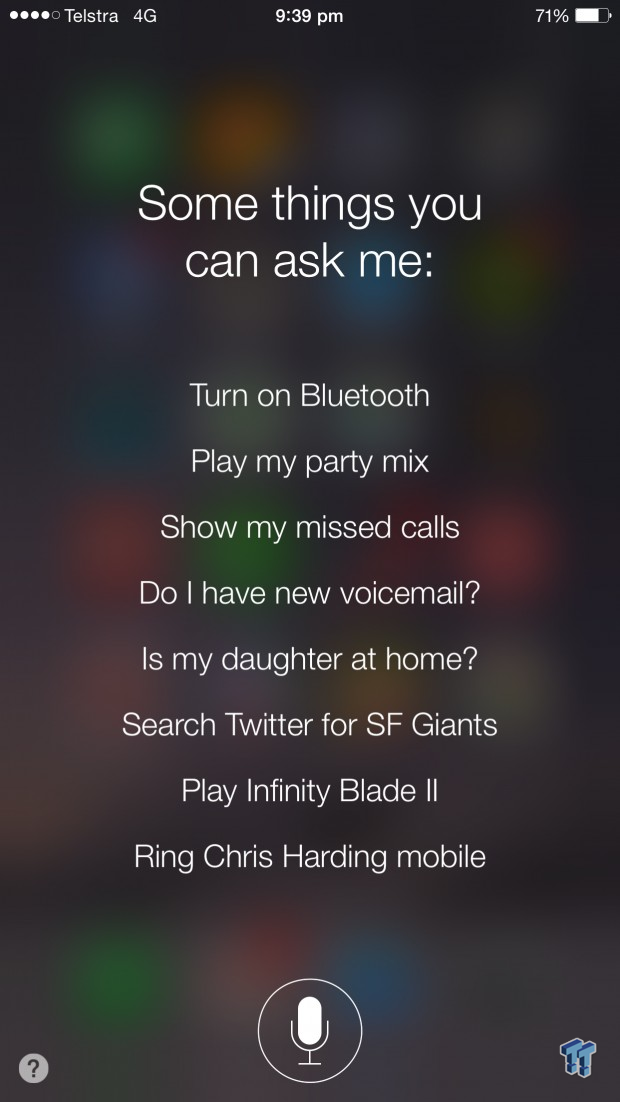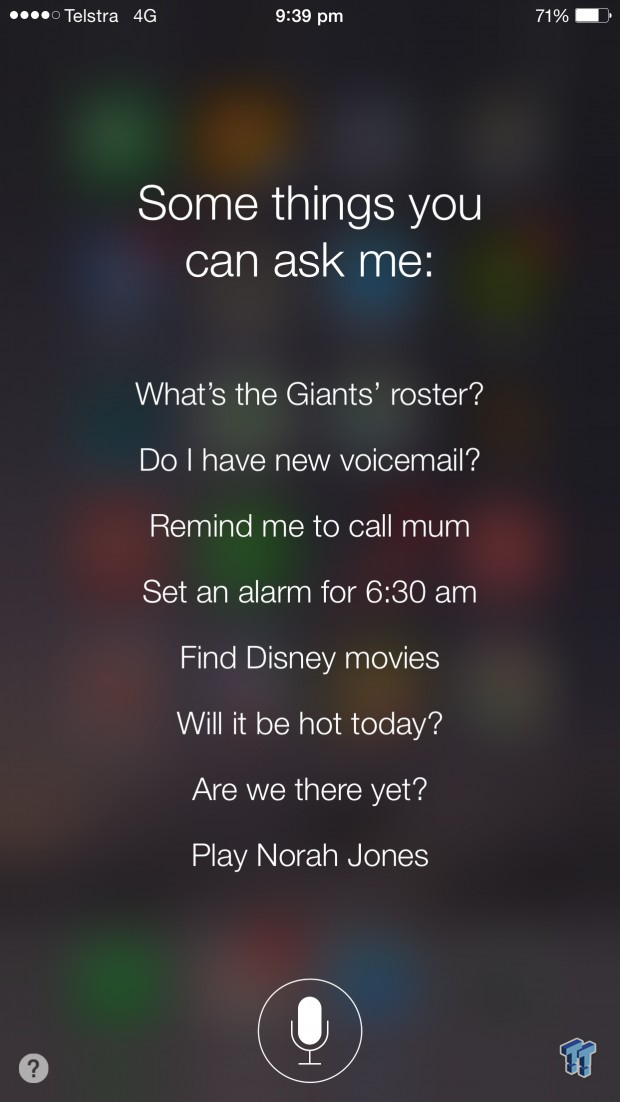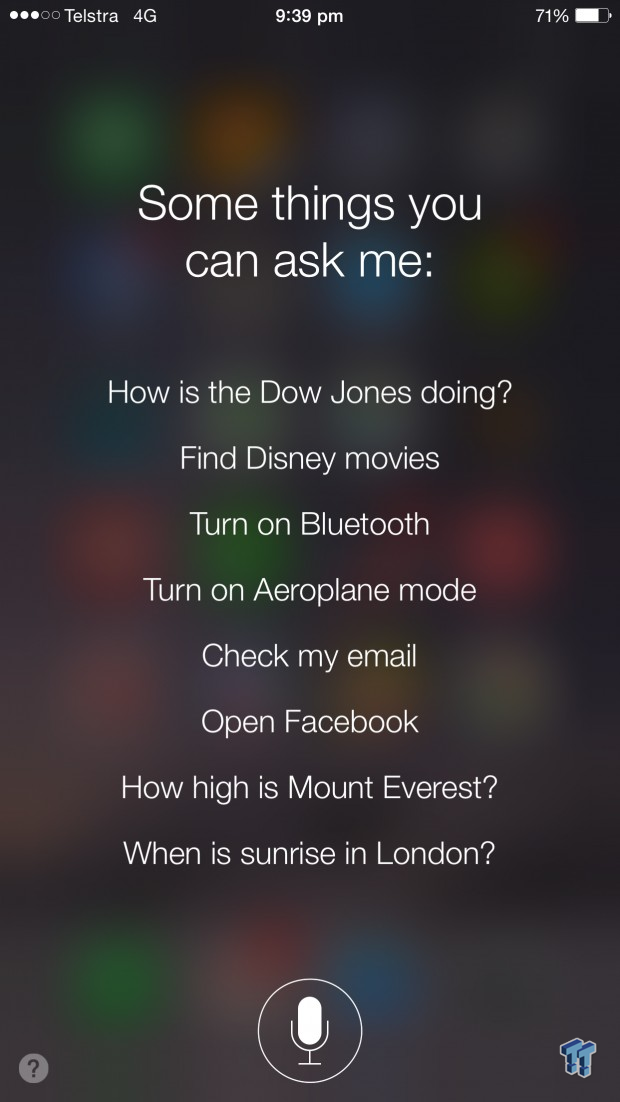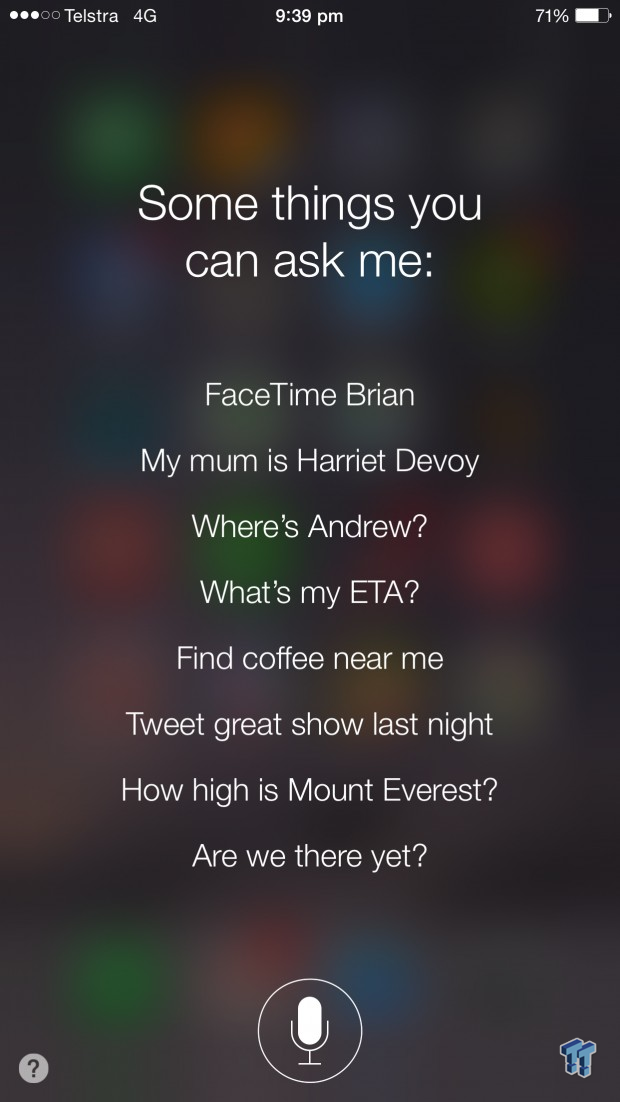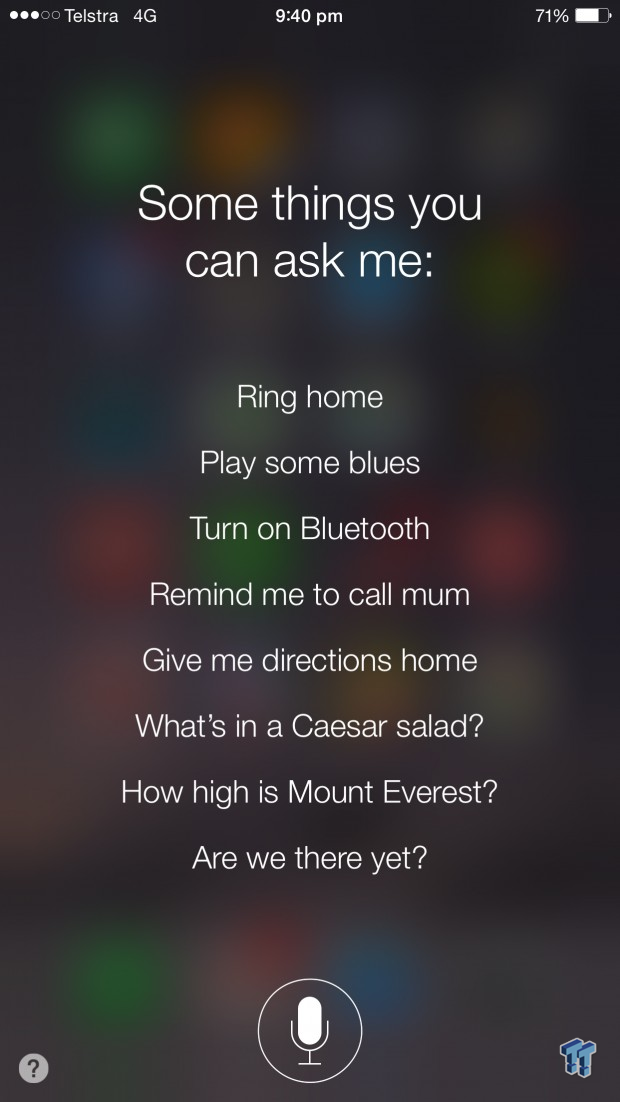 Touch ID - If You Lose Your Thumb, Don't Worry: The NSA Has It Now
TouchID - oh how the NSA must love thee. This is a feature that is quite easy to explain: you scan your fingerprint onto the Home button, and it can be used to unlock, and lock your iPhone. It makes it close to, but not impossible, to break into your iPhone. You can also use it to sign into various parts of Apple's services, such as authorizing a payment or purchase through iTunes, which is definitely a nice touch, pun not intended, but it works so I'll take it.
Downside? Someone will cut your thumb off and use it to unlock your phone. Just kidding, but be careful anyway.
Ride the Lightning
This is one of the most glowing parts of the review, Apple's foresight to go toward its Lightning port. It is miles ahead of microUSB, which is just such a poor implementation and use of a port. Sure, it's widespread and I use it on every single other device I use, but Lightning is just so thin, and so magical. It can be plugged in both ways, unlike USB's single way (for now).
Build Quality, How It Feels, Retina Display
Let's take a quick look around the iPhone 6 Plus.

On the back, we have the 8-megapixel iSight camera with dual LED flash.

On the right side, we have the power button and nano SIM card tray.

On the left, we have the volume and mute buttons. Up top we now have nothing.

Down the bottom, we have the 3.5mm jack, Lightning port, and speaker.
Apple Kills It When It Comes to Build Quality
In just a few words: the iPhone 6 Plus is one of the best handsets I've ever had in my hands. It looks great, the power button has been moved from the top, to the side - which was really required, as the new iPhone is no longer a phone that you can use with one hand.
We have beautiful curved edges, with the 5.5-inch Full HD display curving along the edge of this. So instead of competing devices, where we might see some nice curves on the side, but the screen itself is still rectangular. This is not the case with the iPhone, showing Apple's keen eye for detail.
Unfortunately, it doesn't look any different to virtually every other iPhone, with the display taking up the majority of the front, and the Touch ID or Home button residing down the bottom, as usual. I would've loved to have seen a radical change in design, especially after so many generations of iPhones looking virtually identical.
One of the stranger parts of the new iPhone is that it has a protruding camera lens, which makes it stand up slightly from the desk or whatever flat surface you've got it laying on. This isn't a big problem, but I don't see how Apple couldn't have made the entire phone 0.1mm thicker, for the sake of keeping that camera lens inside of the iPhone. Apple has protected it by providing a lens made from sapphire, but this won't fully protect it.
How Does the New iPhone 6 Plus Feel In My Hand?
When I first touched the iPhone, I loved it. It feels absolutely amazing in my hands, with every iota of quality oozing out of every single part of the iPhone. From the finish, to the buttons, it is all class from Apple. At just 6.9mm thick, it is much thinner than you'd expect for such a large iPhone, but it isn't all roses.
Apple wastes a lot of space down the bottom with its Home button, with the company saving space down the bottom of the handset if it made a smaller button. If the Home/Touch ID button was under half the size it is, Apple could've made a significantly shorter iPhone.
The new 5.5-inch display stops you from using it with one hand, shifting it into the two-handed category. Most of iOS isn't built for two-handed operation, which is something I'm going to talk about soon.
Meet the New Display King
Apple is known for its beautiful displays, with the new iPhone 6 Plus not disappointing. Cranking up to 1920x1080 ensures that resolution freaks, like myself, are not disappointed, but it's not all about resolution, either.
While I'm a huge fan of QHD panels being baked into smartphones, such as the LG G3, it does consume more battery life, and require more processing power to render everything - including, and probably most importantly, games. 2560x1440 isn't easy, and I'm sure Apple made a conscious decision to not jump up to 2560x1440, and stick with 1920x1080 - which is still a hell of a jump from the sub HD panel on the previous iPhones.
The display has great contrast, easily visible in broad daylight, and it can be turned right down so that it's not making your eyes bleed when you're using your iPhone in bed at night.
iOS 8 - Still Needs Work
iOS - The Biggest Fault With the New iPhones
In my original iPhone piece, I spent a considerable amount of time talking about my time with Android, and that I was "walking into camp iPhone". Well, consider yourself warned, because from here on out, it's all out bashing on how truly weird, and unintuitive iOS is.
If you're coming from an iPhone, most of this won't apply to you, because you don't know what you're missing, or don't mind not having it. Coming in from Android, where I'm in a free roam environment, with a much more customized OS, iOS is just so... backwards.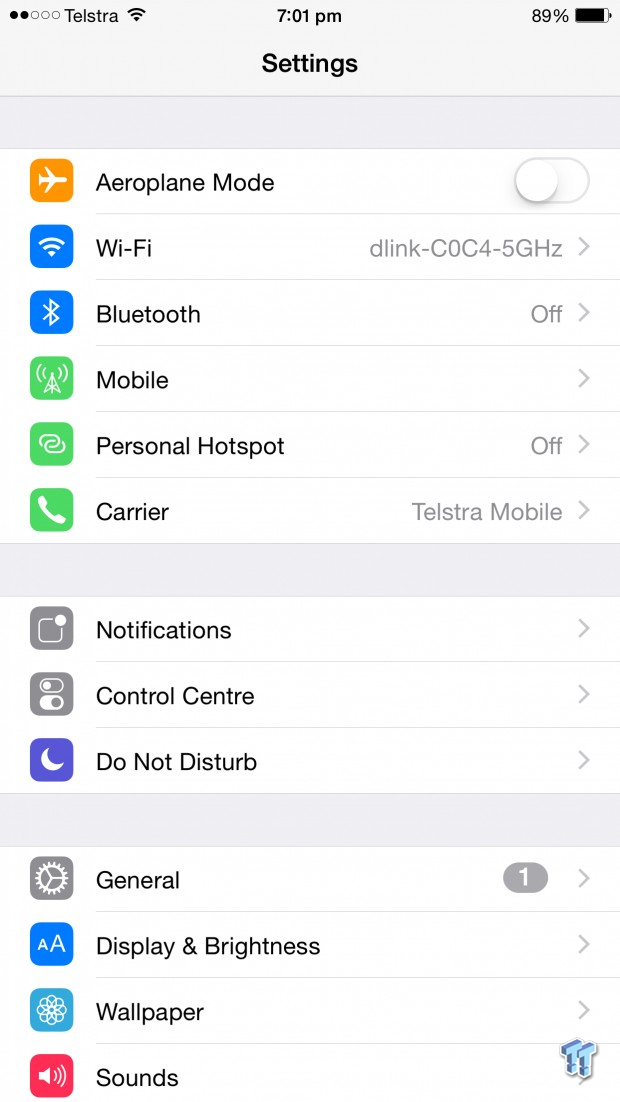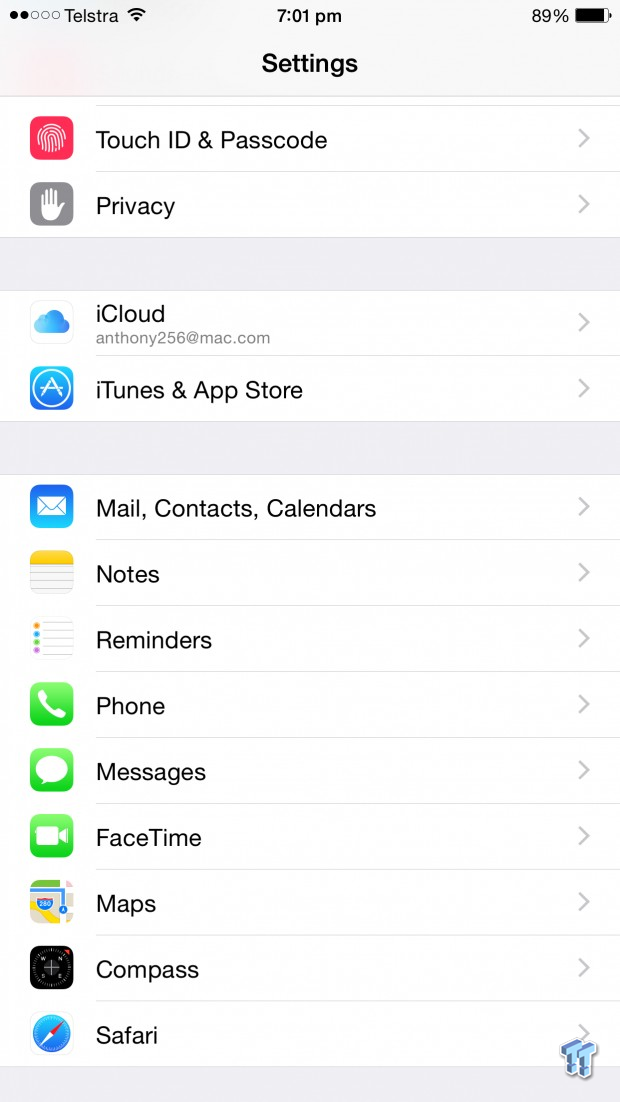 For starters, the Settings part of the iPhone is just a god damn mess. There's so many things to play with, and for a phone that sells itself (and is known by people) as less complicated than Android, I can safely say it's not. Maybe I'm too used to the better structure of Android and its settings, which feels much more intuitive and safe to play around with, but just take a look at the Settings options above, and below in the images, because there's a lot.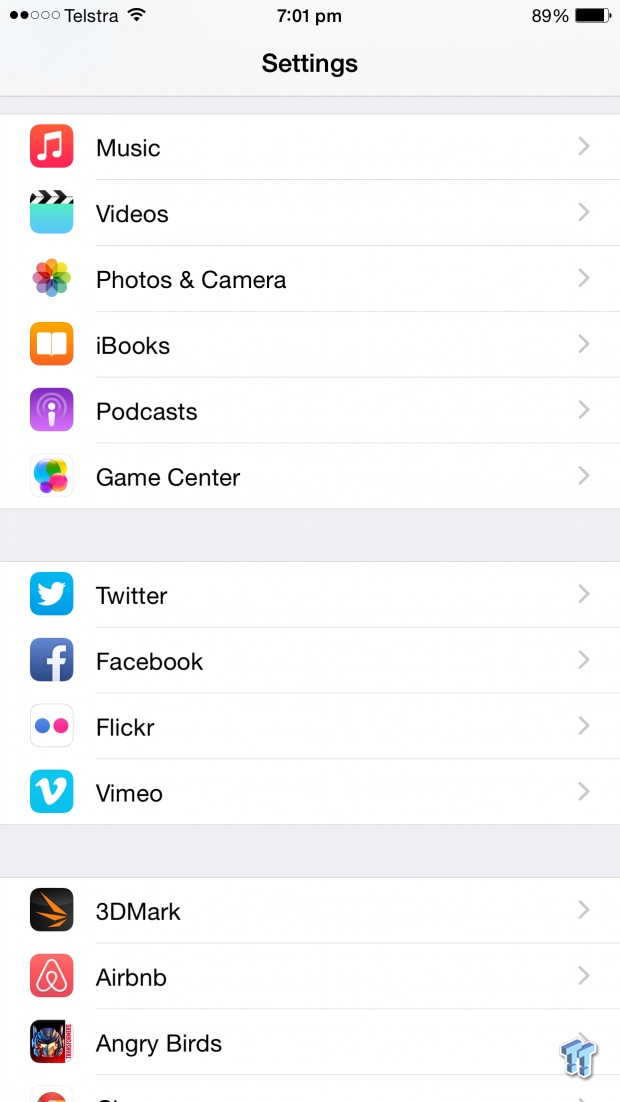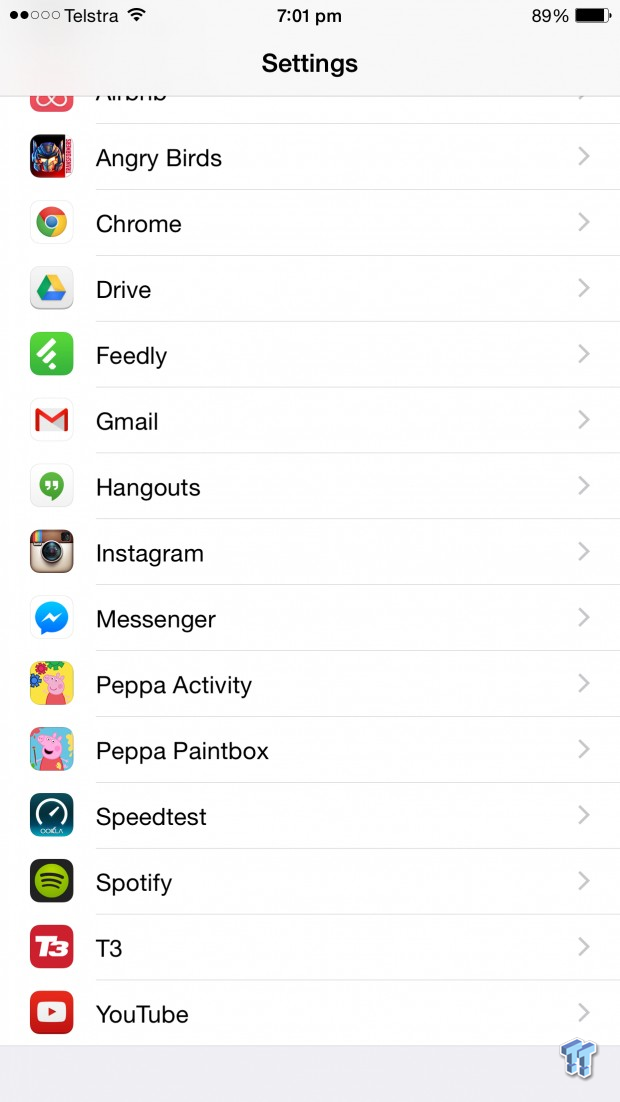 There's nothing to tell me what categories they fall into - with everything to do with connectivity slapped up the top. We have Aeroplane Mode, Wi-Fi, Bluetooth and so forth, but no "Wireless & Networks" category that it falls into, unlike Android. Then we have General, Display & Brightness, Wallpaper, Touch ID and more - but no category. I would find it much easier to tune my iPhone if I knew which section to quickly dive to.
First Things First, Fix Your Menus, Apple
Apple does this because iOS apps don't have a Settings option inside of them, which is really, really weird coming in from Android. So for example, if you want to change a setting within Safari, you would have to press the Home button, navigate to Settings, scroll down to Safari, and then start playing around.
Android on the other hand, if I wanted to get to settings within Chrome, I would be in Chrome and just tap the three dots in the top right and have settings right there in front of me in a single tap.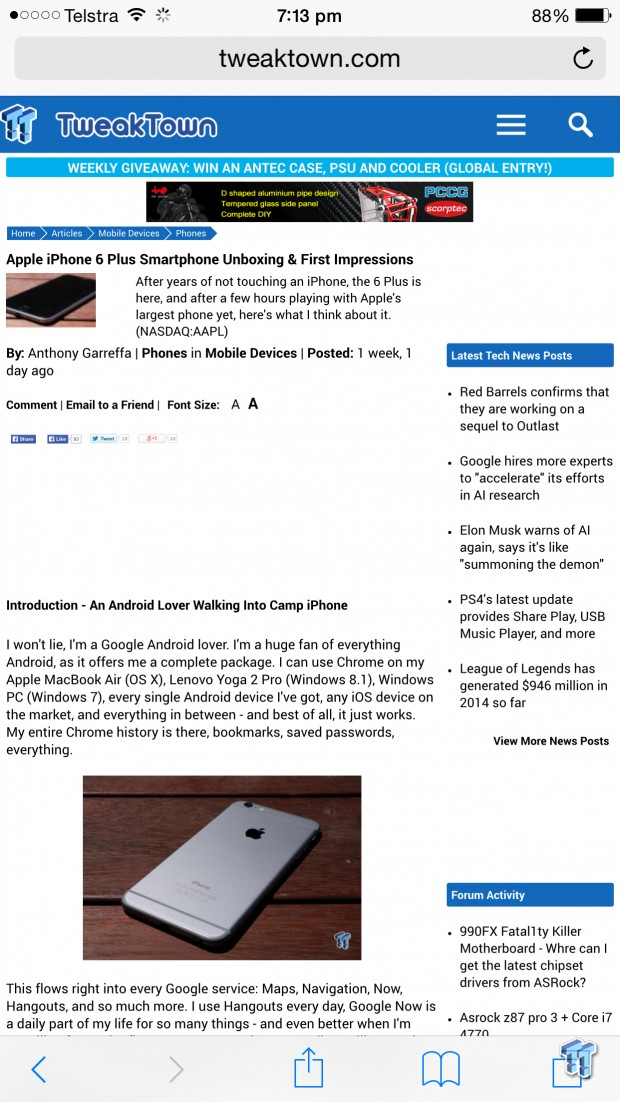 Then we come to things like back navigation within apps, where I'll use Safari once again as an example. Safari acts great here, as the navigation bar is at the bottom. We have back, forward, Share, Bookmarks, and finally, a button to access your other tabs.
But then we go into an app like Gmail, and the menu system is in the top left, meaning that I have to stretch my hand all the way up to the top left, or use a second hand. It also creates a massive wedge between apps, as it feels like I'm using a bi-polar smartphone at times. Compared to Android, where every single app has the same menu buttons or layout, it is almost impossible to deal with.
Even going to something like Control Center, and then Timer, I cannot go back... I have to slide up from the bottom to once again enter the menu.
Notification Center
Android's notifications are just so good, that when you arrive on camp iOS, you find yourself completely disorientated. To get to the Notification Center, you tap and slide down from the top of the screen, which brings up two options: Today, and Notifications.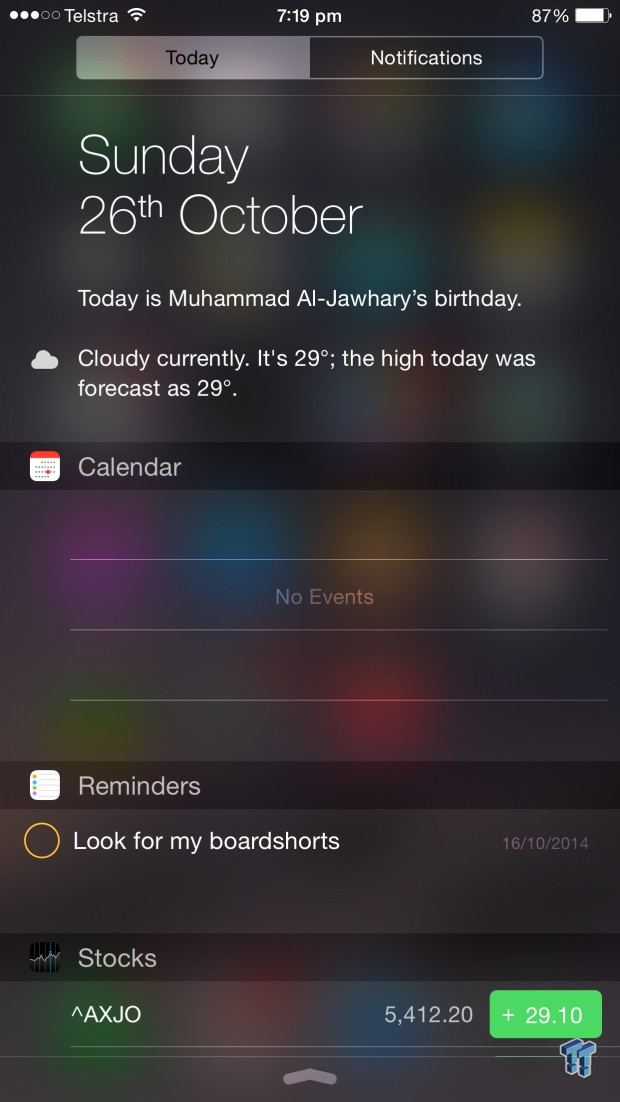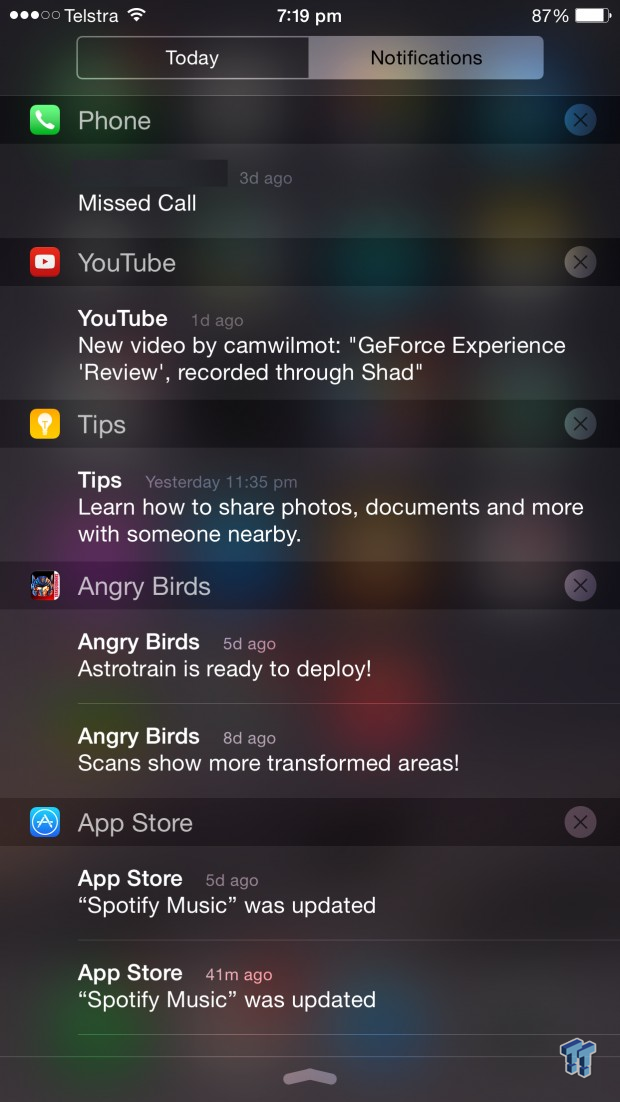 In Today, we have a nice rundown of what your plans and schedule has up for you. It clearly tells you the date, which is something I liked, but other than that - it's just a basic rundown of your Calendar, Stocks, Reminders, and your schedule for tomorrow. You can edit some of these options and take some things out, but you can't add much in at all, which is another limitation Apple forces upon you.
Notifications is nice, but it simply doesn't even scratch the surface of what Google puts in front of you when sliding down with one tap. You have missed calls, and whatever notifications hit your iOS device, which is a lot if you choose it to let the iPhone spam you with notifications from every single application on your device.
Control Center
Something that I use virtually every day on Android is Quick settings, where I can enable or disable various functions on my phone such as Wi-Fi, Bluetooth, NFC, Wi-Fi Hotspot, and more. Apple's equivalent is Control Center, where you have some control of your iOS-powered device.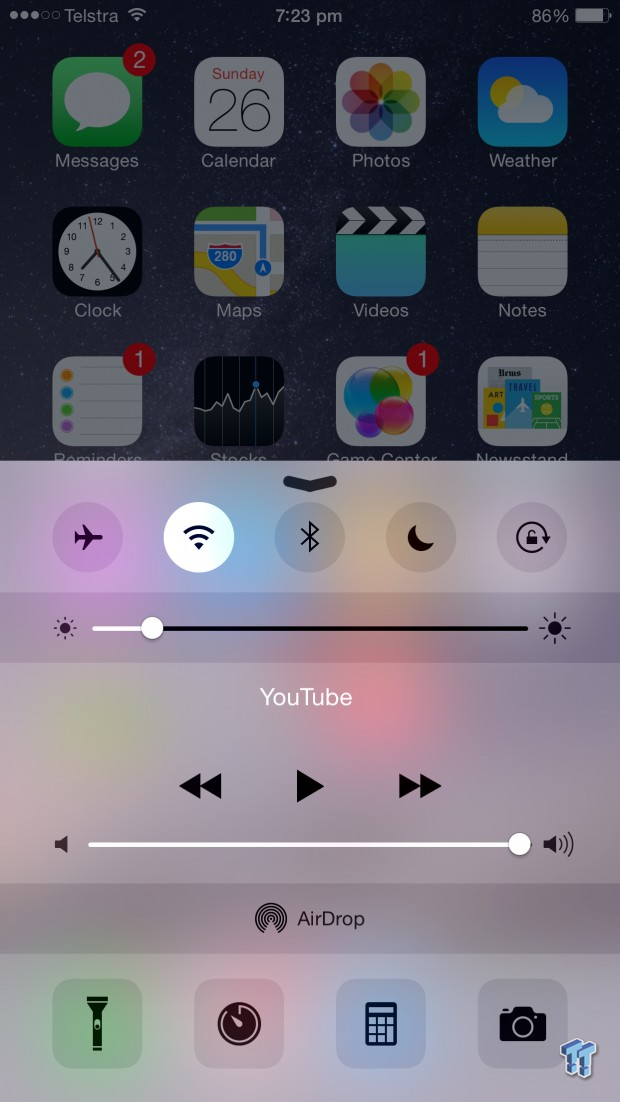 Within Control Center, you can enable or disable: Aeroplane Mode, Wi-Fi, Bluetooth, Do Not Disturb mode, and the rotation lock for the screen, and adjust the screens brightness. Auto brightness is missing, so you can only slide the brightness bar up and down to your liking. To edit the auto brightness feature, you'd have to go to the mess that is Settings.
Whatever media player is running in the background can be accessed from Control Center, be it iTunes, Spotify or YouTube. AirDrop is accessed through Control Center, and then we have four options which are just shortcuts to other applications.
From left to right, we have a Flashlight app (nice work, Apple!), a timer, calculator and a shortcut to access the camera.
It's Not All Bad - iOS 8 Has Some Beautiful Animations
Some of the animations in iOS are quite slick, such as when you're opening a new app and it zooms into the icon, and zooms out of it when closing it. It's a nice touch, as it makes you feel and recognize which exact application you're going into, and coming out of.
Performance, Leather Case, Camera, Battery Life & Benchmarks
Throw Everything at the iPhone, it Doesn't Slow Down
Not that I'm a massive performance enthusiast on mobile devices, but Apple is definitely great at optimizing their devices. I used the phone pretty heavily for just over a week without any problems. I didn't experience any lag whatsoever, or any crashes or performance-related issues.
I played a bunch of games, streamed 1080p YouTube videos over 4G and Wi-Fi, streamed and played copious amounts of music, and web surfed till the sun came up - the iPhone handled it all, but so it should.
Performance is something I don't like talking about on smartphones, as it changes from person to person depending on pre-installed apps, where they purchased it (and if it came with pre-installed apps), and about 3.5 million other variables that make it hard to really analyze performance.
Personally, I found no issues - but from previous experience with the iPhone, it's after months of use that it begins to feel and act slower, and so does the battery life.
Gotta Keep That Expensive, New iPhone Protected, Right?
For the week or so I had the new iPhone 6 Plus, I was using an Apple-designed leather case. It felt great to use, but it did make the phone thicker - something I didn't like. It does make the phone feel much safer in your hands, removing that super-slick feel that makes it feel like this close-to-$1000-smartphone feel like it's going to slide right out of your hands.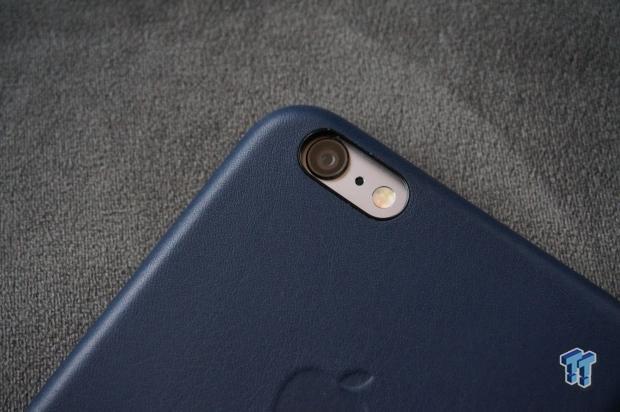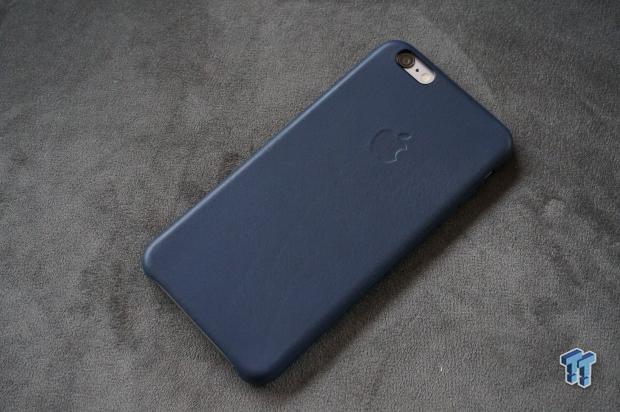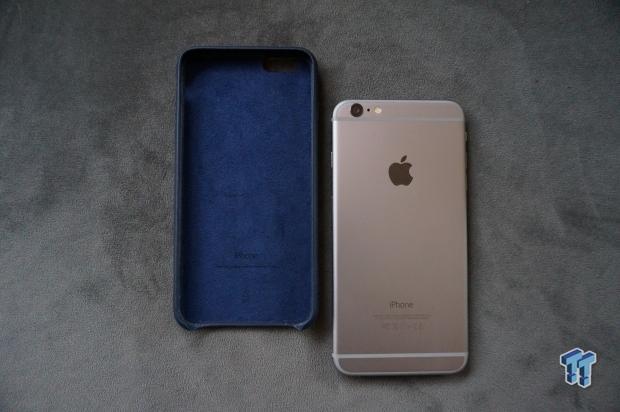 The bulk it does add to the phone isn't that bad, but I'm the kind of person who uses their device naked. I don't like covers, but I didn't mind the leather case that Apple had made for the iPhone 6 Plus. So if you're in the market for something to protect your brand new investment, definitely take a look at the leather case.
We Have a New Camera Benchmark
Even though it only has an 8-megapixel rear-facing camera, gosh darn does the iPhone 6 Plus take some truly beautiful photos. It's even great in low-light situations, which was surprising. Instead of me talking about it, take a look at some of the photos I took with my time on the iPhone 6 Plus. Below are uncompressed photos straight from the phone.
All-Day Battery Life, Yes Please
Another one of the things that Apple does well, is battery life, with the new iPhone 6 Plus being no exception. I had all-day battery life without a problem, and standby time on it was exceedingly good as well. I had it sitting on my desk for two of the days, where I took it off charge at around 9am, with it receiving countless notifications in the meantime and light use (Facebook and email) taking it down to 81% by 5pm or so.
When out and about snapping photos and using 4G, the battery life began to dive down considerably quicker. Using 4G was taking another 20-30% of my battery within an hour or two of moderate use (again, Facebook, email and some light Spotify use).
Benchmarks - Does Apple Have What It Takes?
Ah, benchmarks - is this where Apple topples the competition with its dual-core CPU and moderate GPU? Let's find out, starting off with 3DMark and its Ice Storm Unlimited test.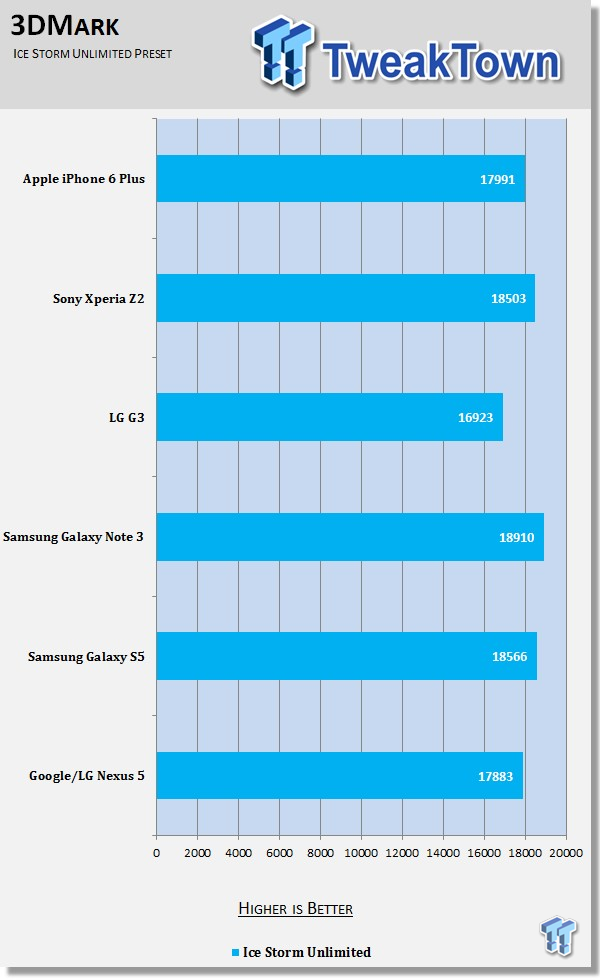 We see that Apple is keeping toe-to-toe with the Galaxy S5 and Galaxy Note 3 from Samsung, but gets beaten by the Xperia Z2. The super-cheap, and still-relevant Nexus 5 is barely edged out by Apple, while the QHD-powered LG G3 loses to the iPhone 6 Plus.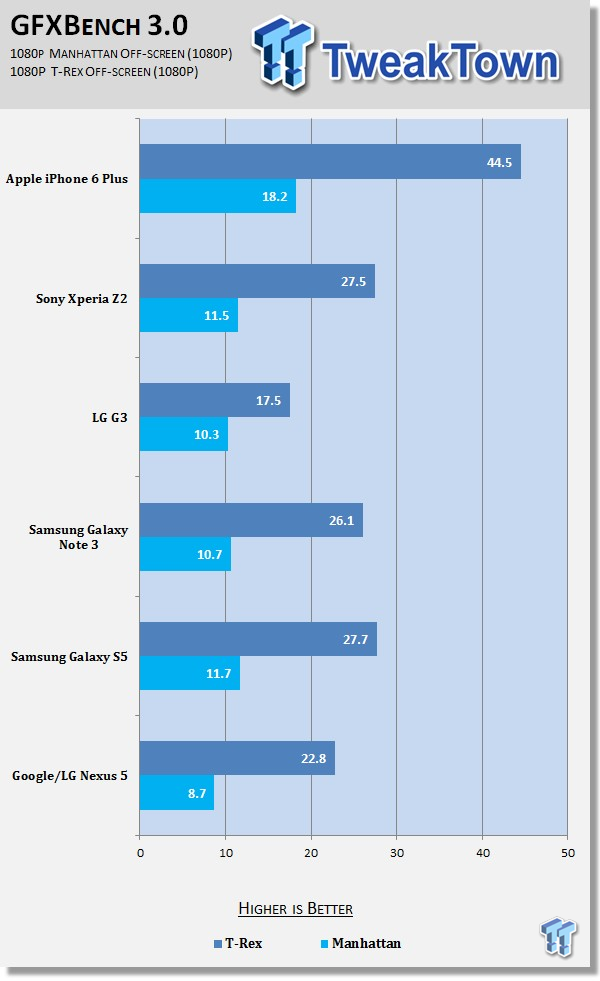 Well then. Moving onto GFXBench 3.0 and its 1080p Off-screen tests, we see that Apple is absolutely demolishing the competition.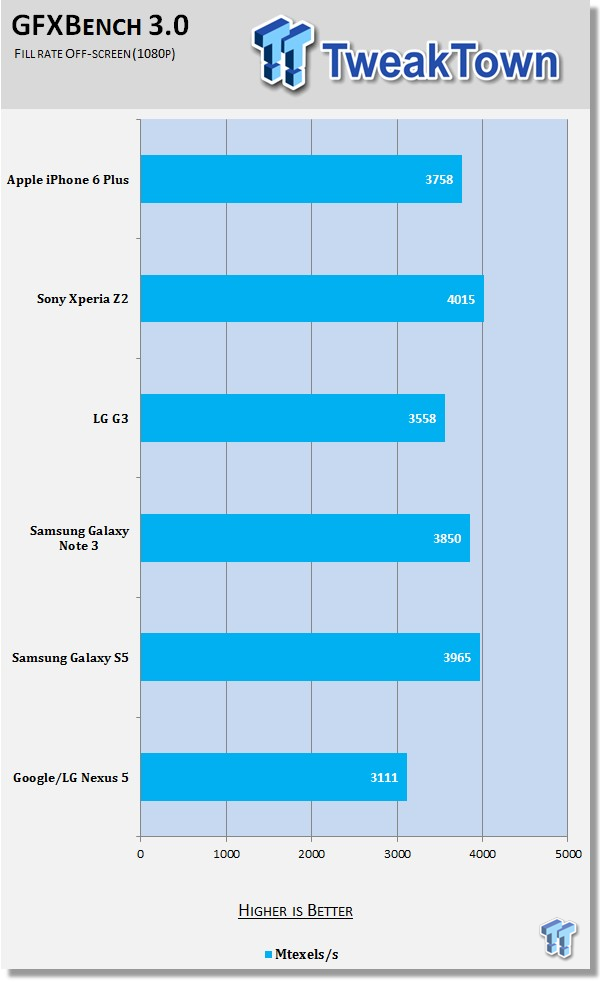 When it comes to the Fill Rate Off-screen test within GFXBench 3.0, we see that Apple still holds its own, losing out to the Xperia Z2, and just a few digits off of the Galaxy Note 3 and Galaxy S5 from Samsung.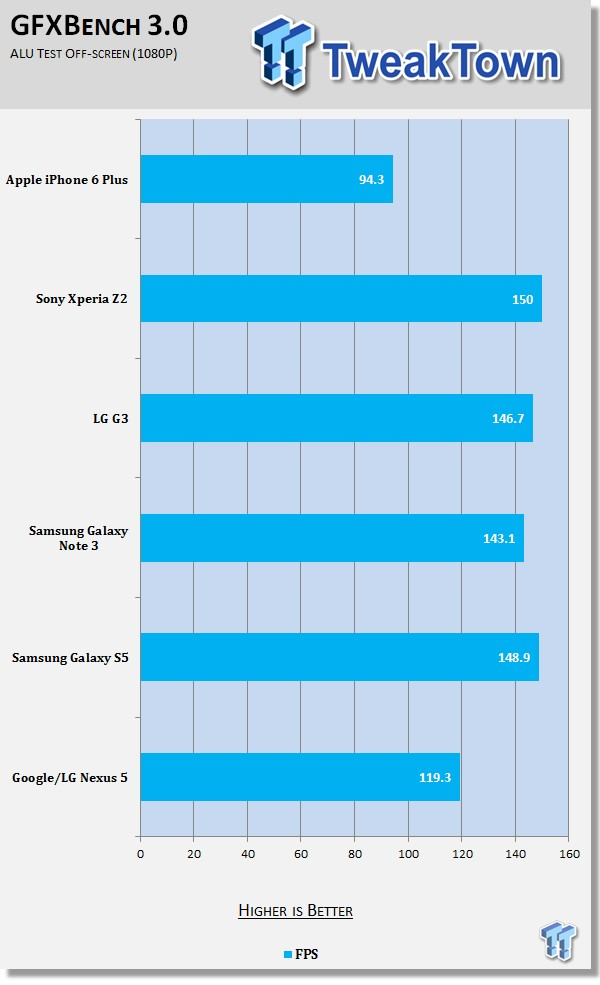 In GFXBench 3.0's ALU Test Off-screen, the iPhone 6 Plus gets trampled.
What's Hot, What's Not (So Far) & Final Thoughts
After my time with new iPhone 6 Plus, here is what I liked and didn't like about it.
What's Hot
The New Best Display: While LG has the 2560x1440 QHD panel in its G3, Apple is still using just 1920x1080 on its 5.5-inch iPhone. It doesn't win pixel density awards, but it wins clarity, color reproduction, outdoor visibility - it's just beautiful.
I still found myself just marveling at it, staring out the icons and text, or the beautiful background.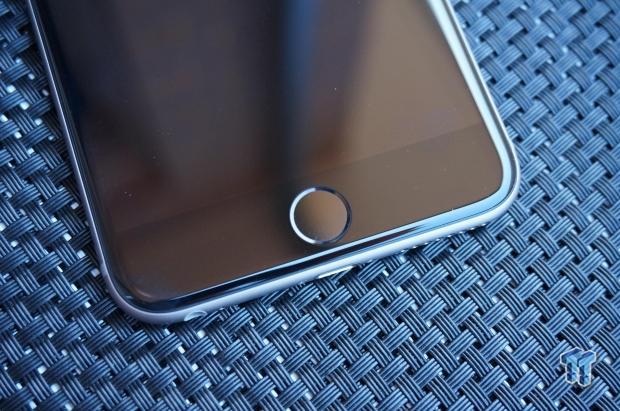 Amazing Build Quality: I talked about this in my first impressions piece, but I have to reiterate. Apple has done truly amazing work here on the physical build of the iPhone, it is built from stunning materials, and it looks and feels great, too. I would like to see the physical Home/Touch ID button shrunken on the next iPhone, with better use of the bottom space on the iPhone.
Excellent Camera: Even though we only have an 8-megapixel rear-facing camera, it's more than impressive. It snapped photos that kept up and even beat the 20.7-megapixel rear-snapper in my Sony Xperia Z2.
Screen Turns On For Notifications: I can be sitting here writing this review for example, and the screen turns on with a notification, letting me know there's a new e-mail waiting for me. I can choose to tap it, or in this case, ignore it and continue writing my review. It's a nice glance-and-see-what's-new feature, that allows me to keep updated, but continue on with what I was doing, choosing whether or not I'd like to reply, or check it out.
[Ride the] Lightning: Oi... psst... Apple... yeah, you, over there in Cupertino. I know I give you a lot of hate, but I still enjoy what you do - especially with Lightning. Holy s**t is Lightning a big, big step up from using micro USB. I never had to fiddle with it, finding out if I was plugging my cable in the right way.
All-Day Battery Life: Another tick for Apple is the impressive battery life. At home on my Wi-Fi network, the battery life was damn impressive, but out on the road, 4G use was draining it much quicker than my Xperia Z2.
What's Not
iOS 8: Man oh man, coming from Android (and mostly pure Android at that), iOS 8 is such a gigantic leap backwards. Apple blew every single other company out of the water with iOS and the first iPhone, but Google has come so far, and totally leapfrogged Apple in the mobile OS department.
Too Much Wasted Physical Space: I started off my 'What's Not' section with iOS 8, and for the physical space problem to be solved, iOS 8 needs a radical, redesign from the ground up. I want to see the physical space removed and additional space within the OS for software buttons, or if Apple wants to really use physical buttons, a physical back and menu button.
Final Thoughts
There you have it, my review on the iPhone 6 Plus. Do you see that I actually enjoyed a considerable amount of it? I think by now, you should see that iOS is the problem with Apple, and not the iPhone itself. Apple has been losing at the software game for quite some time now, and this needs to change.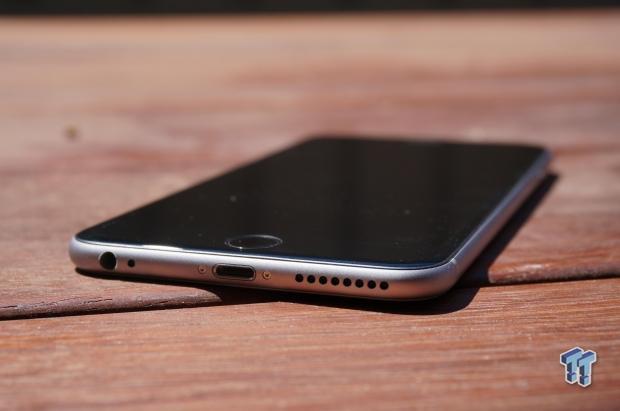 We live in a world where services are used more than anything else, with Google owning the entire Internet pretty much. We have Drive, Gmail, Maps, Navigation, Now, Search, Chrome, and countless others that so many people around the world use each and every day, and I'm one of them.
There is not a single Apple service or app I will use after I box this iPhone up, not one. I will not use iTunes. I will not touch Safari. This is a big problem for Apple, because if you don't live within their system, you don't live with them at all. It's the flipside for Google. You might use an iPhone, but you still "Google" something. Some prefer Chrome over Safari, while others will use Google Maps versus Apple's still-not-great Maps app.
In saying that, Apple does hardware extremely well. It's a beautifully crafted device, where anyone who picks it up can see that Apple would've gone through hundreds of prototypes before landing on this. Sure, it has the same look as the previous iPhones, but it's just beautifully made.
Closing it up, you have two ways to go from here: if you're an iPhone fan and due for an upgrade, I'd definitely recommend looking at the bigger iPhone 6 Plus. Yes, it's massive coming from a 3.5 or 4-inch phone, but you'll adjust quicker than you thought you could. Everyone I know who has upgraded from the iPhone 5/5S enjoys the 6 Plus - it just took them a few weeks to adjust.
Second, if you're a Google user and deep into Google services, steer clear. Android is far superior (no matter what you say iOS fanboys, be gone) and you will regret it. Google has various apps tied into the iPhone, but they are nowhere near as powerful as they are on Android. If you don't use Google apps that much and just 'use an Android phone' or 'own a Galaxy phone', then you might actually enjoy what Apple has on offer with the new iPhone.
PRICING: You can find the Apple iPhone 6 Plus 16GB (5.5-inch) 4G LTE Factory Unlocked GSM Dual-Core Smartphone - Gold for sale below. The prices listed are valid at the time of writing but can change at any time. Click the link to see the very latest pricing for the best deal.
United States: The Apple iPhone 6 Plus 16GB (5.5-inch) 4G LTE Factory Unlocked GSM Dual-Core Smartphone - Gold retails for $909.00 at Amazon.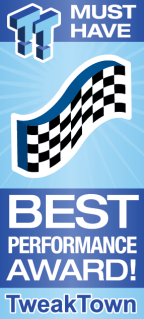 | | |
| --- | --- |
| Performance (Battery Life, Speed) | 95% |
| Quality including Design and Build | 95% |
| General Features (Software) | 75% |
| Bundle and Packaging | 75% |
| Value for Money | 70% |
The Bottom Line: Apple fans, the new iPhone is here, and you need it now. Google fans, you might want to check it out first, and not dive in head first right away. Apple has done some truly amazing things with the new iPhone, stepping outside of its comfort zone, that's for sure.
PRICING: You can find products similar to this one for sale below.

United States: Find other tech and computer products like this over at Amazon.com

United Kingdom: Find other tech and computer products like this over at Amazon.co.uk

Australia: Find other tech and computer products like this over at Amazon.com.au

Canada: Find other tech and computer products like this over at Amazon.ca

Deutschland: Finde andere Technik- und Computerprodukte wie dieses auf Amazon.de
We openly invite the companies who provide us with review samples / who are mentioned or discussed to express their opinion. If any company representative wishes to respond, we will publish the response here. Please contact us if you wish to respond.