G.Skill Ripjaws4 DDR4-3000 16GB Quad-Channel Memory Kit Review
Our second DDR4 kit comes from G.Skill and carries an out of the box clock of 3000MHz DDR. Read on as Shawn tests it and sees just how fast it will go.
Published Fri, Sep 5 2014 6:05 PM CDT
|
Updated Tue, Nov 3 2020 6:59 PM CST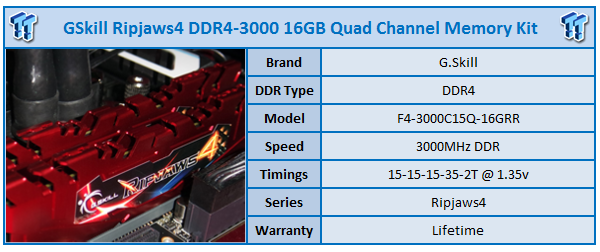 The other day we got the chance to check out our first DDR4 kit in the form of the Corsair Vengeance LPX DDR4-2800 16GB Quad-Channel kit and found ourselves really impressed with what Corsair was offering. Today we're looking at our second kit which comes from G.Skill. We've mixed our RAM reviews up a little with the introduction of DDR4 by adding in graphs to make comparison easier, and an extra benchmark to see the difference in a real-world environment.
While the Ripjaws name isn't anything new to us, the addition of the 4 to help let you know it's a DDR4 kit is. When it comes to the overall design, we don't have anything too crazy going on, with the Ripjaws cooler being something that we've seen before. The red heat sink looks great set against the black PCB.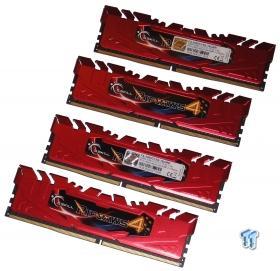 Taking a look at the modules, you can see that the Ripjaws4 logo is on both sides, although on one side, it's slightly covered with a sticker that gives us a rundown on some of the main specifications. Let's move in a little closer and see just what exactly we're dealing with here today.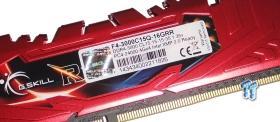 The F4-3000C15Q-16GRR gives us a fairly good idea with just what exactly we're dealing with. Out of the box, this G.Skill kit includes a 3000MHz DDR memory clock with a 15-15-15-35-2T @ 1.35v timing setup. This is both a little faster than the 2800MHz DDR kit we looked at the other day, along with being also slightly more aggressive on the timings front. One of the larger differences is the fact that this kit requires a higher 1.35v, instead of the Corsair kit that needed just 1.2v.
Heading into the BIOS, it was time to see if 3000MHz DDR was going to be possible. Moving onto the ASUS X99 Deluxe that we just reviewed the other day, ASUS has told us that thanks to the new OC Socket, the requirement for a strong Internal Memory Controller (IMC) on your CPU isn't as large. Considering the Corsair kit we looked at the other day also carried with it a second XMP profile for 3000MHz DDR, we weren't really expecting any issues as we loaded this kits' XMP profile up.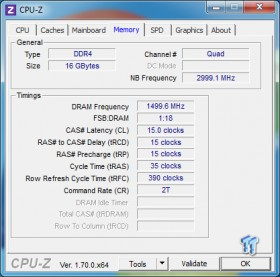 With the first and only XMP profile set, we found ourselves getting into Windows without a problem. Loading up CPU-Z to make sure everything was correct, you can see above that it was indeed running at 3000MHz DDR with a 15-15-15-35-2T setup. Firing up our benchmarks, we had everything work without a single issue. With that not being an issue, we headed back into the BIOS to see if we could get some more performance out of the kit.
With this being the only XMP profile, everything from here out had to be done manually to get a higher clock speed. We tried simply moving to the next divider, which would've brought it in at 3200MHz DDR. Unfortunately, upon saving the settings and rebooting, our system wouldn't boot back up.
Heading back into the BIOS, we moved to the 3000MHz DDR divider again and started to mess around with the BCLK to see just what we could get out of the kit. After a bit of time going backwards and forwards, we ended up with a 130 BCLK with the 3000MHz DDR divider. Looking below, you can see this results in a 3118.5MHz DDR RAM clock, or 3119MHz DDR, as illustrated in our graphs.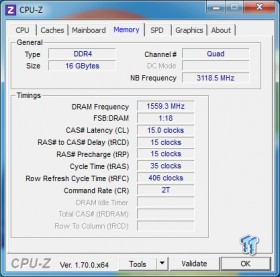 The last thing we wanted to do before we get into the performance side of things is see what kind of CPU performance we can add into the mix. While we didn't have much luck in our initial testing on the ASRock X99X Killer motherboard, we fortunately managed to have a bit more luck pushing the CPU multiplier up to 31x. Combined with the 130 BCLK, our i7 5960X EE was running at 4029MHz, while the RAM remains at 3119MHz DDR 15-15-15-35-2T @ 1.35v.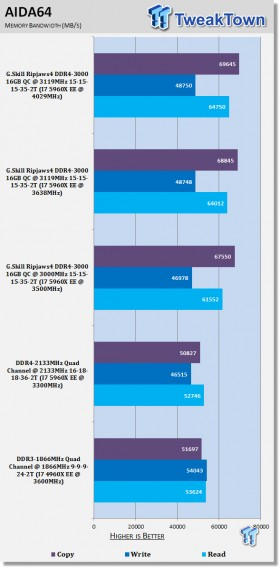 Taking a look above, you can see how performance looks under AIDA64. Moving away from the stock 2133MHz DDR clock, you can see big boosts in both the read and copy performance. Moving further north in the clock speeds department, you can see at 3119MHz DDR that the number increase a little more. At the same speed, but with the CPU coming in nearly 500MHz higher, you can see that overall performance doesn't change much as CPU overclocking even on the X99 platforms continues to not really effect memory bandwidth that much.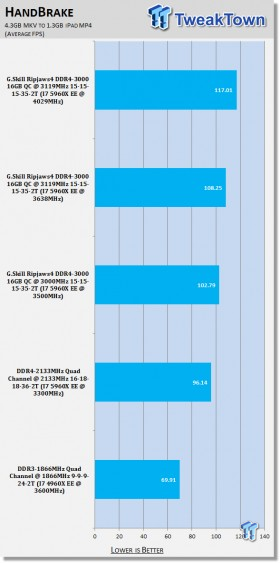 When it comes to looking at performance under HandBrake, you can see a nice performance jump as we move to 3000MHz DDR with an increased core clock. Moving to 3119MHz DDR then brings even further performance as the increase BCLK means that the CPU clock comes in slightly higher as well. The biggest gains come as we move our CPU to over 4GHz, though.
This is a really attractive kit from G.Skill thanks to its price tag that sits under $400. Considering we're dealing with 16GB Quad-Channel kit that carries an out of the box clock of 3000MHz DDR, this is really impressive. While it isn't exactly a cheap kit by any means, it is one of the more competitively priced ones on the market. So much so that stock seems to be an issue at the moment as it's selling out quite quickly.
The new Intel Haswell-E platform continues to be quite the investment with the main three items associated with it costing some serious coin. Saying that, though, it doesn't mean that you still can't get some great valued components when it comes to those core items. If you're going to jump on the Haswell-E bandwagon, this G.Skill memory kit is one that you should consider.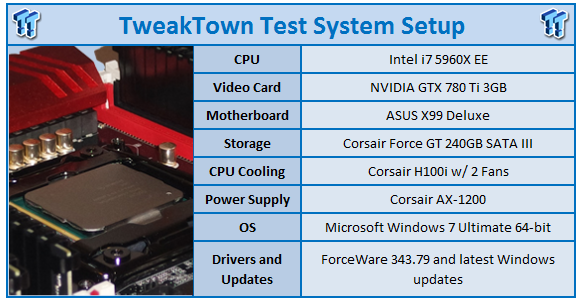 PRICING: You can find products similar to this one for sale below.

United States: Find other tech and computer products like this over at Amazon.com

United Kingdom: Find other tech and computer products like this over at Amazon.co.uk

Australia: Find other tech and computer products like this over at Amazon.com.au

Canada: Find other tech and computer products like this over at Amazon.ca

Deutschland: Finde andere Technik- und Computerprodukte wie dieses auf Amazon.de