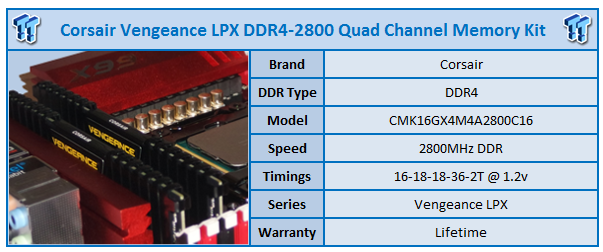 One of the major changes with Intel's X99 platform is the introduction of DDR4 memory. While we've had a little bit of a look at how DDR4 performs thanks to our initial CPU and motherboard review, we haven't really expanded into its performance at multiple speeds and what the extra speed is able to do.
Today, we're going to be taking a look at our first DDR4 RAM kit and it comes from Corsair. While quad-channel isn't new to us, it's been a long time since we've tested it. The X79 market has been quiet for a while now, and because of that, new RAM and motherboard models have been almost non-existent.
A while ago, we pulled away from offering graphs in our RAM reviews and instead just focused on the raw speed of the kit under AIDA64. With the introduction of DDR4, we thought it was time to reevaluate our RAM reviews, and see if it was time to maybe change it a bit.
While we're continuing to stick to the same style of review in this page form, we're going to put graphs back into the mix, which will include results from other RAM kits that we've tested. While our main focus will be on the raw speed of the kits still under AIDA64, we've added HandBrake testing into the mix to show a real-world difference in performance.
That really wraps up what we're doing here today. So, with that all said and done, let's not delay any longer and get into just what exactly we're looking at today. As we just mentioned, we're dealing with a kit from Corsair, which is part of the new Vengeance LPX memory series. While the Vengeance series isn't new to us, the LPX variant is. Taking a look below, you can see there's nothing too unusual when it comes to the setup.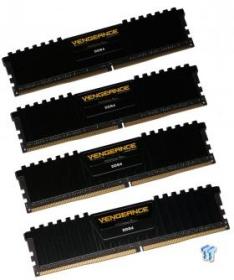 Just like the Vengeance series, we've got a basic heat spreader. We've got a standard black on black setup, which looks good, and really goes with most motherboards. Outside of the black heat sink, Corsair also offers red and blue ones to match your particular color scheme.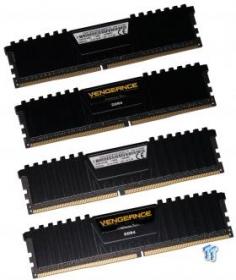 The overall design on the modules is pretty simple. We've got a Vengeance sticker, along with DDR 4 labeling on one side, while in the same spot on the other side, we have a sticker that gives us a rundown on what exactly we're dealing with.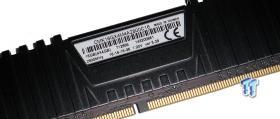 Across the top, you can see the model number, which gives us a good idea what we're dealing with. As the CMK16GX4M4A2800C16 name suggests and the details below tell us, we're dealing with a 16GB kit, which is made up of four 4GB modules. The stock speeds on the kit are 2800MHz DDR with a 16-18-18-36-2T setup at 1.2 volts.
While the new Intel Haswell-E processors are rated for just 2133MHz DDR officially, we're able to achieve higher speeds via overclocking. Heading into the BIOS, we loaded the XMP. When we went to load up the XMP profile, we noticed that two were offered on the kit. This isn't actually all that rare, but most the time both profiles are the same. In this case, though, along with the 2800MHz DDR 16-18-18-36-2T at 1.2v profile, we had a second XMP profile rated for 3000MHz DDR 16-18-18-39-2T at 1.35v.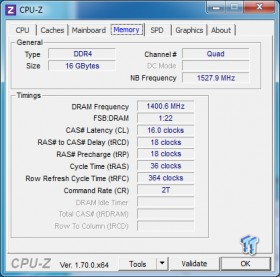 We'll look at that second profile in a second, but the first thing we need to do is look at the first and make sure everything works fine. Setting the XMP to Profile 1, you can see above we headed into Windows without a problem and proceeded to run AIDA64 and HandBrake with no issues. Since that worked without an issue, we thought we'd head back into the BIOS, and try to see if Profile 2 ran without an issue also.
Setting to Profile 2, we got back into Windows without a problem and double checked our RAM speed. Looking below, you can see we're indeed running 3000MHz DDR with a 16-18-18-39-2T setup. Getting into Windows is just half the battle, we again ran into no issues under AIDA64 and HandBrake. So far everything was working smoothly and it was time to head back into the BIOS and see if we could expand upon the clocks.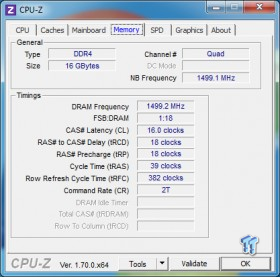 Moving into the unknown, we didn't quite know where we could go with manually overclocking this RAM kit. Messing around with the RAM dividers, along with the BCLK, we really didn't have much luck at all when it came to getting more speed out of the kit. Memory dividers with a 100 BCLK aren't the greatest. To achieve past 2666MHz DDR, the multiplier and BCLK is adjusted.
The ASRock X99X Killer actually has its own DRAM Frequency OC Preset, much like the CPU. It's a bunch of preset memory settings that are increased 50MHz DDR at a time. Moving to the 3050MHz DDR setting, though, resulted in our system not booting. We messed around manually a bit, and could get the machine posting, but it would freeze during the Windows logo at boot.
Seeming to not be able to do anything past 3000MHz DDR, we figured that we'd simply just increase the CPU multiplier a bit to increase the clock speed. This in itself didn't seem to be the easiest task either. We know our CPU is capable of doing 4.4GHz stable via a 100BCLK and 44x divider, but because we need the 125BCLK for 3000MHz DDR, we just couldn't seem to do anything with the CPU clock. We're still wrapping our heads around both the X99 chipset and DDR4 on a whole, so hopefully over the next few weeks as we test more and more memory, we'll have more luck with an increase in both CPU and RAM clocks.
When it comes to the performance side of things, you can see below we've got four results on offer here. Starting from the bottom of the graph, we have our base quad-channel 2133MHz DDR clock speed which is the official rating for the new Haswell-E platform. Moving up we have the Corsair kit running at Profile 1 which is 2800MHz and above that we have Profile 2 which is 3000MHz. Finally at the top, we have a quad-channel DDR3 kit running at 1866MHz DDR with quite an aggressive CL9 setup.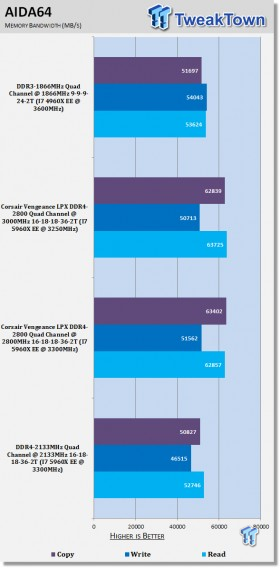 Looking above, you can see that the Corsair kit when overclocked helps yield a really strong performance increase when it comes to raw speed. Moving from 2800MHz DDR to 3000MHz DDR really sees no movement. Most of the movement would come from just the fluctuation of testing.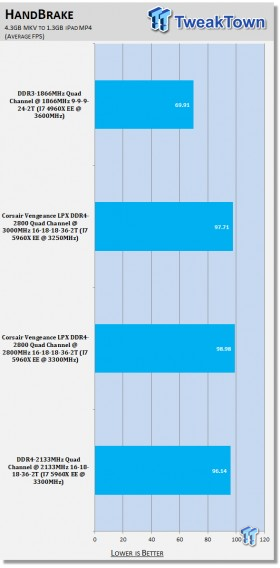 When it comes to testing under HandBrake, you can see that the difference between the two platforms is quite large thanks to the 5960X EE and X99 combination giving a massive boost in performance. When it comes to clock speeds, you can see that moving to 2800MHz DDR from the default 2133MHz DDR clock gives us a slight increase in performance. Moving to 3000MHz DDR on the other hand causes a slightly drop in performance. This is mainly due to the slight drop in CPU speed more than anything else.
Overall, DDR4 performance is extremely strong, and out of the box, the Corsair Vengeance LPX kit we're looking at today with its 2800MHz DDR memory clock offers some great performance. This is the kind of kit you're more than likely going to be looking at when building your new X99 system. For starters, nobody wants to run at the stock 2133MHz DDR clock that is officially supported by the Haswell-E processors, well at least not most TweakTown readers.
When it does come to speed, 2800MHz DDR seems like a nice sweet spot. It's not too crazy, but it's a nice jump from the stock 2133MHz DDR clock. When it comes to pricing, while the kit isn't cheap at a bit under $400, it's actually priced well for the speed and the size. It really hits the mark when it comes to price, performance, and speed.
Moving to the X99 platform brings with it a large investment. Motherboard pricing is quite broad, but when it comes to CPUs, the cheapest Haswell-E based processor is $50 more than the Core i7 4790K. As for DDR4 memory, even if you don't go for something as expensive as this kit, the 2666MHz DDR4 kit from Corsair will still set you back over $300.
The CMK16GX4M4A2800C16 sits well in the middle of the pack. 16GB is the amount you're most likely to want, and 2800MHz DDR is a good number. As we start to move higher, the price jumps quite a bit. If you're jumping into the X99 platform and you're after a solid 16GB kit, this is a DDR4 memory kit well worth considering.
PRICING: You can find the Corsair Vengeance LPX 16GB DDR4-2800 Quad-Channel Memory Kit for sale below. The prices listed are valid at the time of writing but can change at any time. Click the link to see the very latest pricing for the best deal.
United States: The Corsair Vengeance LPX 16GB DDR4-2800 Quad-Channel Memory Kit retails for $379.99 at Amazon.