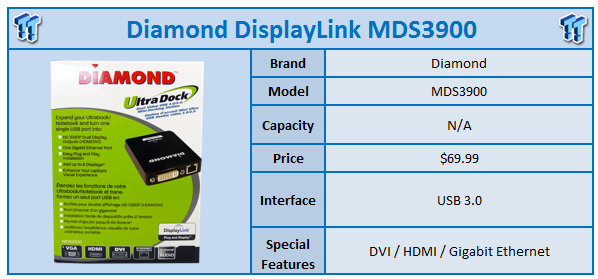 The MDS3900 device is the next generation of DisplayLink capable solutions from Diamond.
The MDS3900, as the name suggests, uses the DisplayLink DL-3900 chipset enabling two monitors to be powered simultaneously with a maximum resolution of 2048 x 1152. The MDS3900 supports both OS X and Windows platforms, while also providing a gigabit Ethernet port and support for up to 5.1 channel audio.
MSRP of the Diamond MDS3900 is set at $69.99 with a one-year warranty.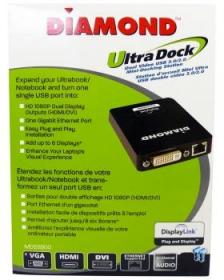 Packaging for the MDS3900 houses an image of the dock on the front. Marketing information surrounds giving you an idea of the capabilities.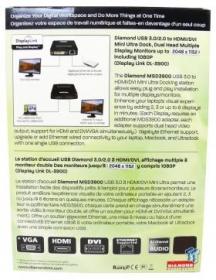 The back of the packaging gives a few use scenarios, along with more detailed information about the adapter.
Scope of delivery includes the USB 3.0 cable, DVI adapter and driver CD.

The side of the dock houses a USB 3.0 input connection and HDMI output.

Flipping the unit around, we found a DVI and Gigabit LAN port.
The top of the dock houses the Diamond and DisplayLink logos.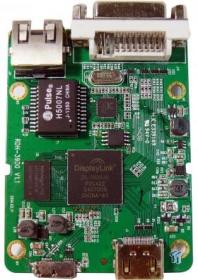 Here we have the PCB for the MDS3900. In the center, we have the DL-3900 chipset with Nanya DRAM next to it.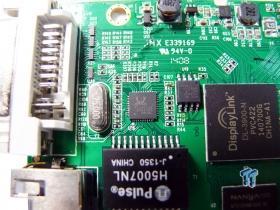 Tucked away at the top of the PCB is the RTL8211E.
The Diamond MDS399 is certainly a great device for adding additional monitors to your portable computer whether it is a MacBook or Windows based notebook or Ultrabook. The built quality of the Ultra Dock is pretty solid, the plastics fit together well and at no time did I feel like corners were cut.
Performance with what testing I was able to do was two sided. The Ultra Dock wasn't able to power the high resolution of my Qnix 2710 Evolution, but did fine with my older Gateway FPD2185w and HD2200. The gigabit Ethernet port, while it does give you a gigabit connection, only has about 600 Mbps of throughput available in our testing, not the 1000 Mbps you would expect.
Overall, the MDS3900 is a decent product at a fairly good price, but for those wanting to use multiple high-resolution monitors, you would be better off looking for a DisplayLink product with a 5000 series chipset as it supports 4K.
PRICING: You can find the Diamond Multimedia USB 3.0/2.0 to HDMI/DVI Mini Ultra Dock for sale below. The prices listed are valid at the time of writing but can change at any time. Click the link to see the very latest pricing for the best deal.
United States: The Diamond Multimedia USB 3.0/2.0 to HDMI/DVI Mini Ultra Dock retails for $69.99 at Amazon.
Canada: The Diamond Multimedia USB 3.0/2.0 to HDMI/DVI Mini Ultra Dock retails for CDN$102.61 at Amazon Canada.