The Lego Movie (2014) Blu-ray Movie Review
"Come with me if you want to not die."

Published Jul 20, 2014 11:36 PM CDT
|
Updated Tue, Nov 3 2020 6:59 PM CST
4 minute read time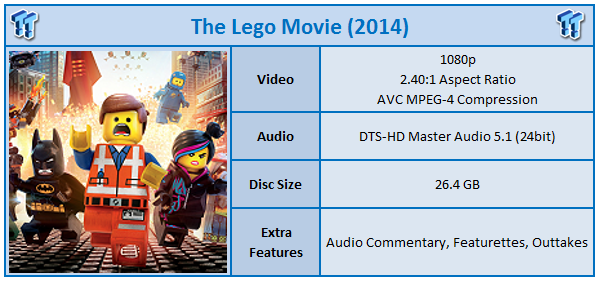 The Lego Movie (2014)
Just a decade ago, the Lego Company was on its knees and literally months from bankruptcy. Despite the relative success of Star Wars tie-ins, a perfect storm of issues coalesced for the Danish company, including the development of complex and costly new products, reduced sales and the introduction of a series of ill-advised toy-lines that strayed precariously far from the company's core products.
Flash forward to today and with yearly revenues of nearly $5 billion, it seems Lego is now more popular than ever. Nothing exemplifies the company's renewed success more than the premiere of The Lego Movie and the millions that it has brought in to company coffers off its own back.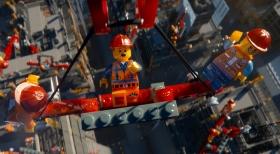 In a land where creativity has been oppressed by the evil Lord Businessman (Will Ferrell), happy-go-lucky construction worker Emmett (Chris Pratt) is recruited by fringe dwellers Wyldstyle (Elizabeth Banks) and Vitruvius (Morgan Freeman) and hailed as the prophesied "special", the hero destined to thwart Lord Businessman's plan to freeze the world with the terrifying power of the super glue 'Kragle'. Teaming up with the master builders of the Lego world, including Batman (Will Arnett), Metalbeard (Nick Offerman) and Unikitty (Alison Brie), Emmett offers the denizens of Cloud Cuckoo Land the best chance of defeating the forces of evil, but what hope do they have if the prophecy proves incorrect?
Whilst it's easy to dismiss The Lego Movie as a cynical, $100m advertisement for the minuscule slabs of plastic, there's no denying the entertainment value and theatrical opportunities that the line offers, probably surpassing that of other products that have transitioned quite well, including Transformers and G.I. Joe.
The CG animation is unique and features a lot more attention to detail than might be instantly obvious, taking on an almost stop-motion style, with the characters movement carefully emulating that of the Lego figures themselves.
Writer/Directors Chris Miller and Phil Lord have produced a whip smart script full of in-jokes, pop culture references and other irreverent humor with breezy abandon, the film manages to enthrall for three quarters before disappointingly stalling towards the finish line. Having cut their teeth on animated and live action productions such as Cloudy With A Chance of Meatballs and 21 Jump Street, their attempts to bridge the animated and live action world's in The Lego Movie simply to deliver a schmaltzy message about the importance of play and creativity proves unnecessary. A disappointment to be sure, but it seems that others might just have enough goodwill banked up from the sheer fun of the first 90 minutes to overlook this transgression.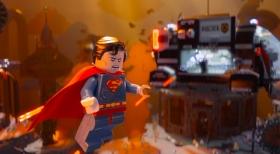 Video
The Lego Movie is encoded with AVC MPEG-4 compression and presented in the intended aspect ratio of 2.40:1.
A pleasing direct digital transfer, The Lego Movie certainly looks the goods, but not all will agree with the creative choices in the film's visuals. First off - this isn't your typical Disney or DreamWorks CG animated film - colors are desaturated, the animation deliberately stilted to emulate a stop-motion effect. However, the image is as perfect as the directors intended.
Such is the attention to detail evident in this transfer are the Easter eggs littered throughout, including the flaws built into character models such as fingerprints, dents and mold joins and other tidbits that the directors point out with glee in the audio commentary.
This is a fabulous transfer, exquisitely matched to artistic intent - just don't expect bright and bold CG visual perfection. That just wasn't the aim.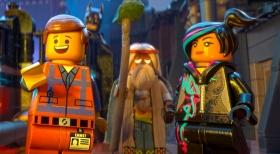 Audio
The Lego Movie is presented in DTS HD Master Audio 5.1, at 24 bits.
As with all animated films, it's often easy to forget that every single sound effect that goes into the mix is built from the ground up - not just a case of sticking a boom mic on a set. Whilst this may give some freedoms in post-production, let's just dwell on that point for a sec.
In short, The Lego Movie features a stunning and aggressive audio mix, which impresses with relative ease. It's an incredibly dense track with every channel overflowing with some kind of effect. Gone are the days when the subwoofer was used lightly in case it scared the kids - The Lego Movie holds little back in this area.
Any review of the sound quality must mention the films de facto theme song "Everything is awesome", whose catchiness has resulted in a slight reduction in the score. Just kidding.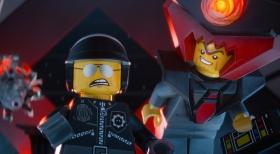 Extras
Roadshow's local disc mirrors the international equivalent, coming with a generous collection of bonuses that will please fans. Let's take a look.
First up is an Audio Commentary with Co-Directors Chris Miller and Phil Lord , joined by voice artists Chris Pratt, Will Arnett, Charlie Day and Alison Brie. Miller and Lord are funny guys, and they give a comedic and illuminating running track of trivia, often highlighting the Easter eggs and in-jokes littered throughout.
Bringing LEGO to Life is the longest featurette running at around 13 minutes, which looks predominantly at the CGI produced by Australian VFX firm Animal Logic and the designs that emulate the look of real LEGO blocks.
Next up are a bunch of short and sweet featurettes, including Stories from the Story Team which looks at the evolution of scenes from their storyboard concepts, See It, Built It! which gives instructions on how to recreate a few moments from the film with LEGO blocks, Everything is Awesome Sing-Along for you to belt out Karaoke style, Fan-Made Films: Top-Secret Submissions, which show excerpts from some of the best homemade LEGO adventures.
The Alleyway Test featurette shows an early, proof of concept for the film's animation style, while Batman's A True Artist is a spoof music video starring the caped crusader being all "dark" and brooding, whilst Enter the Ninjago is a brief encounter with the other LEGO franchise that didn't quite get a look in during the film, but is being actively developed for a film in its own right.
Finally, we have a number of Deleted Scenes, which didn't get out of the storyboard phase, whilst the Outtakes reel is not as funny as one would hope.
PRICING: You can find the Lego Movie Blu-ray for sale below. The prices listed are valid at the time of writing but can change at any time. Click the link to see the very latest pricing for the best deal.
United States: The Lego Movie Blu-ray retails for $17.96 at Amazon.
Canada: The Lego Movie Blu-ray retails for CDN$24.99 at Amazon Canada.

PRICING: You can find products similar to this one for sale below.

United States: Find other tech and computer products like this over at Amazon.com

United Kingdom: Find other tech and computer products like this over at Amazon.co.uk

Australia: Find other tech and computer products like this over at Amazon.com.au

Canada: Find other tech and computer products like this over at Amazon.ca

Deutschland: Finde andere Technik- und Computerprodukte wie dieses auf Amazon.de
We openly invite the companies who provide us with review samples / who are mentioned or discussed to express their opinion. If any company representative wishes to respond, we will publish the response here. Please contact us if you wish to respond.