Walking With Dinosaurs: The 3D Movie (2013) Blu-ray Review
"I think I just stepped in some fear!"

Published May 18, 2014 10:10 PM CDT
|
Updated Tue, Nov 3 2020 7:00 PM CST
4 minute read time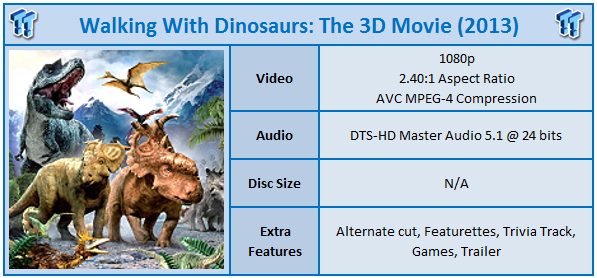 Walking With Dinosaurs: The 3D Movie (2013)
Taking its namesake from the incredibly successful 1999 BBC series, Walking With Dinosaurs: The Movie in truth has little in common with its documentary predecessor, choosing to instead anthropomorphize its subjects with oversized eyes and endowed with the ability of speech.
It's certainly something that it's not even the film's worst crime that the dinosaurs 'talk' with an inane and unrelenting stream of consciousness - it's that it takes for granted an intelligence of children older than five years old. That's not just a crying shame; it's a wholly missed opportunity and a smack in the face to fans of the franchise.
Seen through the eyes of the narrator; a prehistoric bird named Alex (voiced by John Leguizamo), Walking with Dinosaurs follows a herd of Pachyrhinosaurus and their youngest offspring Patchi (voiced by Justin Long), who are navigating to greener pastures following a winter migration, whilst seeking to avoid the numerous threats both environmental and predator alike, including the vicious Gorgosaurus. Along the way, Patchi will need to grow up, find love and deal with the inevitable power struggles inherent in steering the herd to safety.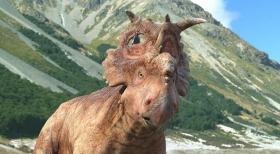 My expectations for a Walking With Dinosaurs movie were admittedly quite high. I was quite the fan of the original series growing up; with its superb mix of animatronic and computer generated images (especially accounting for its reduced television budget), and its documentary storytelling which was second to none. It even came complete with a rousing orchestral score by Ben Bartlett, which stands alone as a spectacular and soaring performance in itself. Sadly, the film version shares absolutely none of these attributes. Bizarrely, the film is even bookended by a brief live action segment featuring actor Karl Urban as a paleontologist, with two tag-along kids, whose dubious contribution to the film is a head scratcher.
Whilst the computer graphics are undoubtedly impressive, the dinosaur designs are heavily exaggerated for cutesy appeal and the appalling voice work truly undermines the visuals. Worse, I'm certain that all of the key story points could have been conveyed perfectly well in their absence.
I understand that the original production plan for Walking With Dinosaurs was to create an entirely silent and brutal 'fly on the wall' adventure, which stayed true to the series, with updated visual effects. Obviously, at a certain point, someone in one of the film's production companies ran the figures and thought the film could do better as a heavily targeted kid's film. The disappointing international box office takings would indicate otherwise.
I'm utterly convinced that there's a much better film within Walking With Dinosaurs and the alternate version featured in the Blu-ray bonus features is testament to this. But even so, a toll is still taken and that's a huge shame. What a missed opportunity. What a tragedy.
Video
Walking With Dinosaurs: The 3D Movie is presented in the original aspect ratio of 2.40:1, encoded with the MVC MPEG-4 codec.
Walking With Dinosaurs comes from a variety of sources; live action segments and backgrounds and CG animation. Regardless of the origin, the image is extremely consistent across the board.
Coming from a 2K finished digital intermediate, the transfer leaves little room for complaint in either 2D or 3D versions. Both are full of very fine detail and gloriously rendered colors. I didn't notice any macroblocking, nor other imperfections. My only complaint would be that the 2D version seems a little too bright - I suspect this was added to compensate for light blocking 3D glasses, a downside of utilizing the same core encode for both 2D and 3D versions.
The 3D version is perfectly fine, often going for a more 'in your face' mentality, but also introducing some more nuanced, subtle layering. The image is predominantly free of troublesome crosstalk/ghosting and is generally not too taxing on the eyes.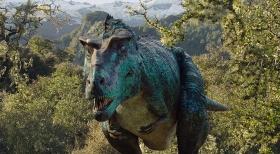 Audio
Walking With Dinosaurs: The 3D Movie is presented in DTS HD Master Audio 5.1 at 24 bits.
No review of the soundtrack can be complete without mentioning the biggest bug bear of the track and that's the aforementioned dialogue and narration. It really does sap any enjoyment out of an otherwise accomplished track. Just to rub it in further, it seemed to me that that the center channel is at least a decibel or two louder than usual.
If you can overlook this, Walking With Dinosaurs: The 3D Movie is a perfectly fine, even rather aggressive audio mix, which serves to anchor the locations in a time long since passed. The front and rear soundstages are kept alive throughout, throwing out some impressive directionality. The score by Paul Leonard-Morgan is a far cry from Benjamin Bartlett's original score, but still serviceable enough. Unfortunately, it's supplemented by tracks from Fleetwood Mac and Barry White for further cringe.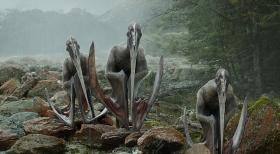 Extras
Twentieth Century Fox graced Walking With Dinosaurs: The 3D Movie with a small amount of supplemental material, which is aimed predominantly at a younger audience, save for one much requested feature. I think it's telling that the bonus material does not include any behind the scenes features, nor involvement by co-directors Barry Cook and Neil Nightingale, but it's still a disappointment. Still, let's take a look at what's here.
First up is the ubiquitously named Cretaceous Cut, which is in fact an alternate cut of the film which eschews the opening and closing live action segments, and places an alternate soundtrack which removes all narration and dinosaur voice-overs. I can't underscore just how much difference this makes to the palatability of the film, immediately taking it from a juvenile piece of junk, to a soaring and lively tale of survival. Still, it's not entirely perfect.
The lossy Dolby Digital 5.1 soundtrack represents a noticeable decrease in audio fidelity compared to the film proper and it still screeches to a halt with the introduction of character titles and 3D models littered throughout. In a perfect world, the alternate cut would have been included on a separate disc, instead of utilizing seamless branching and allowed for a more judicious re-edit to extract the goodness from the film.
Next is the interactive Ultimate Dino Guide and Interactive Map features which utilizes BD-Java to present facts and figures on 11 dinosaur breeds, coupled with short video segments.
The Dinosaur Fact Track is a well presented and informative subtitle track which presents generally relevant trivia as the film plays. Sadly, this can't be engaged concurrently with the Cretaceous Cut.
The Match the Call interactive game is one for the littlies, as is the bizarre Nickelodeon Orange Carpet Dino Rap featurette which mercifully lasts only a minute. Finally, we have the Original Theatrical Trailer, presented in both 3D and 2D versions, with 5.1 sound.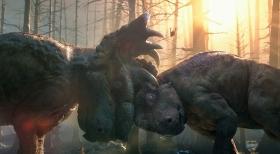 PRICING: You can find the Walking With Dinosaurs Blu-ray for sale below. The prices listed are valid at the time of writing but can change at any time. Click the link to see the very latest pricing for the best deal.
United States: The Walking With Dinosaurs Blu-ray retails for $14.96 at Amazon.
Canada: The Walking With Dinosaurs Blu-ray retails for CDN$26.99 at Amazon Canada.
Australia: The Walking With Dinosaurs Blu-ray retails for $49.99 AUD at Mighty Ape Australia.
New Zealand: The Walking With Dinosaurs Blu-ray retails for $49.99 NZD at Mighty Ape NZ.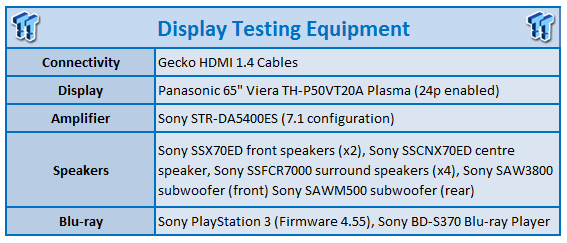 PRICING: You can find products similar to this one for sale below.

United States: Find other tech and computer products like this over at Amazon.com

United Kingdom: Find other tech and computer products like this over at Amazon.co.uk

Australia: Find other tech and computer products like this over at Amazon.com.au

Canada: Find other tech and computer products like this over at Amazon.ca

Deutschland: Finde andere Technik- und Computerprodukte wie dieses auf Amazon.de
We openly invite the companies who provide us with review samples / who are mentioned or discussed to express their opinion. If any company representative wishes to respond, we will publish the response here. Please contact us if you wish to respond.