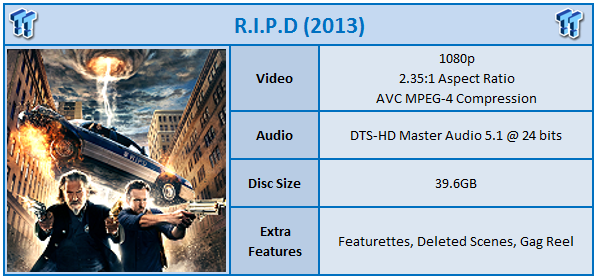 R.I.P.D. (2013)
Having mined and re-mined the collection of well-known graphic novel properties, Hollywood has in recent times committed to digging a little deeper, offering little known graphic novels such as Ant-Man and Guardians of the Galaxy and now this - Dark Horse's 2003 novel series R.I.P.D..
Unfortunately, the feature film adaptation of R.I.P.D. is much less Watchmen and more Green Lantern; another piece of crap that un-coincidentally also starred Ryan Reynolds.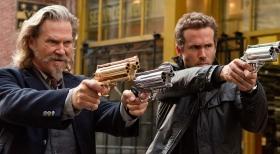 Boston cop Nick Walker (Ryan Reynolds) in cahoots with his partner Bobby Hayes (Kevin Bacon) made a misguided decision to keep valuable evidence from a crime scene, but fearing being ratted out, Hayes murders his partner under the cover of a raid. Summoned to the Rest In Peace Division - an afterlife crime fighting force who recruit deceased lawmen in exchange for a delay in their likely unfavorable judgment day, Walker is forcibly teamed with 18th Century U.S. Marshall Roy Pulsipher (Jeff Bridges) to stave off the threat of evil 'deados' who are threatening to wreak havoc on Earth.
R.I.P.D. attempts to channel both Men in Black and Ghostbusters, but despite the noblest of intentions, fails to reach the heights of either. Director Robert Schwentke is no slouch, having previously helmed solid features such as Flightplan and Red, however the scope of such a huge CG feature seems out of his league.
Particular note must be made of the films dreadful visual effects, no doubt exacerbated by the mid-production bankruptcy of firm Rhythm and Hues. Suspension of disbelief is hard to engender when more convincing digital characters can be willed to life on my PlayStation 3.
Ryan Reynolds plays his typically likeable jock character and it's hard to fault him for deficiencies in the film's script. However, veteran Jeff Bridges knows better and his wild-west lawman really rubbed me up the wrong way. Maybe it's because it was so damn hard to make out what he was saying, or the anachronism of his character, but I just really disliked it. And when your leading character is so unlikeable, well - it can only go downhill from there.
R.I.P.D. ultimately fails to make good on its promising theatrical trailer, disappointing comic and general audiences alike and posting a multi-million dollar loss for Universal.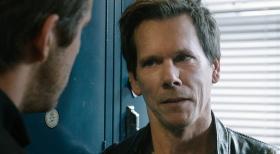 Video
R.I.P.D. is encoded with AVC MPEG-4 compression and presented in the intended aspect ratio of 2.40:1.
Lensed on Arri Alexa cameras and finalized in a 2K digital intermediate, the specs of R.I.P.D. certainly looks good on paper, but not in person. The image is devoid of any introduced artifacts, nor encoding nasties. For all intents and purposes, this is a perfect presentation of the films zeroes and ones, but this doesn't necessarily mean that it's pleasing to look at. Colors are bright and bold, but a range of poor digital color grading decisions and diabolically sub-par CG effects leaves the film looking like a poor man's Pixar film, and certainly not that of a live action feature.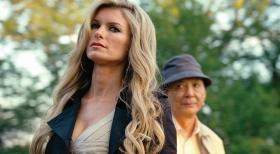 Audio
R.I.P.D. is presented in DTS HD Master Audio 5.1, at 24 bits.
Much more pleasing is the film's rousing surround mix, which more than makes up for in bombast what it lacks in subtlety. This is an incredibly aggressive track, which never lets up for a second, filling every spare second of airtime with effects that envelope the viewer and creates a true 360 degree sound field.
There are occasional issues with Jeff Bridges dialogue, but these go back to the film's production and were just as noticeable in the cinema. I didn't notice any audio sync issues or obviously out of place ADR, nor any wider errors or glitches.
The low frequency channel is fully featured and sustained throughout.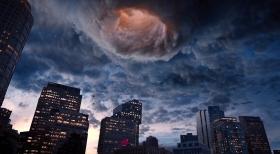 Extras
Such is the reputation of the film that Universal failed to include much in the way of extra features, but let's take a look what's here.
First up are a number of slickly produced, yet overwhelmingly brief featurettes, including Transferring R.I.P.D., which looks at the original graphic novel, Filming the Other Side concerned with the films maligned visual effects, and Walking Among Us, which shows some of the films creature designs. Bringing the Avatars to Life takes the form of an animated storyboard, Anatomy of a Shootout breaks down the visuals of the films climax, whilst the barely minute long Nick's New Avatars looks at the alternate designs for the reincarnated character.
Next are two Alternate Openings, one of which is clearly superior to what was used in the final film, and to me indicates the films tone was difficult to lock down, whilst a collection of Deleted and Alternate Scenes amounts to around eight minutes of generally superfluous material.
Finally, we have a brief Gag Reel which shows the cast and crew having more fun that the audience ultimately did.
PRICING: You can find the R.I.P.D. Blu-ray for sale below. The prices listed are valid at the time of writing but can change at any time. Click the link to see the very latest pricing for the best deal.
United States: The R.I.P.D. Blu-ray retails for $14.99 at Amazon.
Canada: The R.I.P.D. Blu-ray retails for CDN$19.99 at Amazon Canada.
Australia: The R.I.P.D. Blu-ray retails for $23.00 AUD at Mighty Ape Australia.
New Zealand: The R.I.P.D. Blu-ray retails for $24.99 NZD at Mighty Ape NZ.