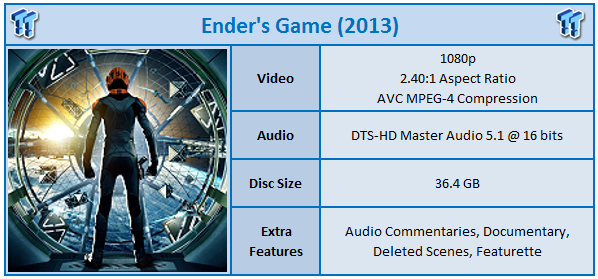 Ender's Game (2013)
At the end of the 21st Century, Earth was ravaged for its resources by an alien race known as the Formics, until a brave pilot, Mazer Rackham (Ben Kingsley) sacrificed himself on a kamikaze run to destroy the attacking fleet. Fast forward to the year 2136 and Earth has amassed a frightening horde of weaponry to pre-emptively strike at the Formic home world, a shock and awe tactic to engage a war to end all wars.
To undertake this, the international military, led by Colonel Graff (Harrison Ford) trains a fleet of child soldiers for their quicker reflexes and superior problem solving skills. One of these, Ender Wiggin (Asa Butterworth) quickly rises through the ranks of his superiors, but will need to prove he has the endurance to take on the role of Earth's savior.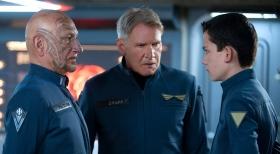 Director Gavin Hood, previously best known for making a snooze-fest out of one of the best comic book characters of all time in X-Men Origins: Wolverine has done a serviceable job with the material and directing the predominantly young cast. Of these, Asa Butterworth is clearly the standout, a young actor who is headed for an illustrious acting career and not just another Jake Lloyd of Phantom Menace fame, who ironically enough was tagged for the role in a previously aborted adaptation.
Harrison Ford plays his useful gruff and joyless self, a disappointing turn from a once great and charismatic actor who was evidently cloned sometime around 1990 and replaced with a charmless, yet efficient stand in. Ben Kingsley's Kiwi accent is regrettable, but otherwise the only thing notable about his portrayal of Earth's martyr. Well, that and the facial tattoos.
Where the Ender's Game novel series sprawls off into many follow ups, and the films ambiguous ending which leaves the door wide open for more, I suspect that the box office takings won't justify further sequels off the back of this obviously well intentioned, yet ultimately disappointing feature.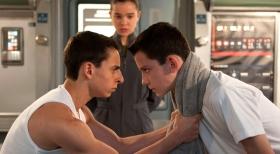 Video
Ender's Game is encoded with AVC MPEG-4 compression and presented in the intended aspect ratio of 2.40:1.
Filmed digitally on RED Epic cameras at 4K resolution and finished in a 2K digital intermediate, Ender's Game certainly looks rather impressive. Unsurprisingly, the image is incredibly sharp and detailed. Colors are generally quite bold, but at times takes on a desaturated look. For a film which was overwhelmingly shot against green screen, the images blend together utterly convincingly in a way that leaves other CG intensive productions left for dead.
To my eyes however, the digital grading is perhaps a little too aggressive, resulting in an image that is rather dark, however I note this is not a fault of the transfer and accurately mirrors its theatrical presentation.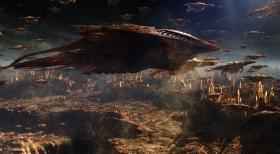 Audio
Ender's Game is presented in DTS-HD Master Audio 5.1, at 16 bits.
Sadly, the local Australian release of the film is a slight downgrade from the U.S. release, which features a 7.1, 24 bit audio transfer overseas. The local release menu also misspells the track as 'DTS HD Mastering 5.1'.
That aside, Ender's Game features a very respectable mix which proves a good companion for the visuals. The surrounds are kept active throughout, with every buzzer and klaxon immersing the viewer in the film. Ender's dream sequences are a highlight, with aggressive mixing that ground the strange visuals. Audio sync is dead on throughout and most dialogue is perfectly audible, although some is a strain to hear properly.
Overall, Ender's Game features a pleasing mix, but it's a bit of a shame that our release doesn't feature the same specs as the souped up overseas release.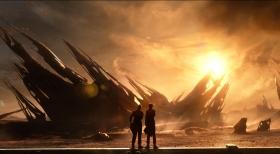 Extras
Icon has certainly gone the extra mile to license all the rather generous extra features from the U.S. release and for that they should be applauded.
First up are two Audio Commentaries, the first featuring Director Gavin Hood solo, and the second with Producers Gigi Pritzker and Roberto Orci. You'd have to be somewhat of a super-fan to get through four hours of commentaries and I can't admit to being much of a fan of Bob Into Darkness Orci, although I did find listening to the rationale behind the necessary changes from the novel quite illuminating.
The 50 minute long Making Ender's Game is a lavish and detailed documentary which goes into significant depth behind the most significant aspects of production. It's edited briskly and moves along quite rapidly, and I'm sure that fans will get a real kick out of this. I'm really enjoying the fact that after a seemingly long absence of gritty, long-form behind the scenes documentaries which harken back to Laserdisc days, they're making a return.
Next are 10 minutes of Deleted Scenes which look to have been excised at a late stage, due to the motion picture quality finish. Their exclusion won't be grieved.
Finally, we have a short Inside the Mind Games featurette, which is a neat progression reel of Ender's recurring CG dream sequence.