Star Trek: Enterprise - Season Three (2003) Blu-ray Review
"Open the vortex... Set a course for Earth!"

Published
4 minute read time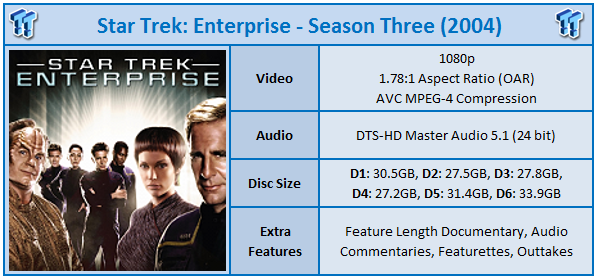 Coming fast on the heels of the conclusion of Star Trek: Voyager, which itself hobbled to seven seasons following diminishing viewership, the Enterprise pilot Broken Bow aired in September 2001 to mixed reviews; the new age theme song got many off board in the first few minutes.
By the third season, the show had behind the scenes finally received the support it needed. The revolving door of writing staff had stabilized and the UPN network finally relented and allowed Manny Coto to start implementing story arcs in order to tell a wider narrative.
Unfortunately, the rushed and haphazard production of the first two seasons of Enterprise had already resulted in a noticeable impact on the show; viewers were dropping off and after the box office disappointment of Star Trek Nemesis the previous year, it seemed that the Star Trek brand had now reached the saturation point. In many ways, the third season attempted to shake up the formula to reinvigorate the show by implementing a new race and a high stakes battle facing Earth.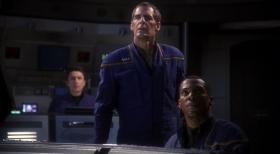 A decade on and with the resurgence of the Star Trek brand under J.J. Abram, Enterprise--and particularly the third season--can be looked upon with fresh eyes. There's a lot to like, and in many ways, the risky third season represents the height of the entire series.
Video
Star Trek: Enterprise - Season Three is presented in the series' original aspect ratio of 1.78:1 and is encoded with AVC MPEG-4 compression.
The visual look of the series, which will be familiar to anyone who has picked up any of the earlier Enterprise Blu-ray seasons, carries through into the third season, albeit with some improvements. Utilizing the decade old off-the-shelf HD masters produced for the original broadcasts, which today sits in contrast to the modern 35mm scans afforded to the new Next Generation Blu-rays, these masters harken back to a time when HD video mastering was in its infancy and workflow kinks had yet to been ironed out.
The image here takes on a unique look that appears rather soft and noisy at times with subdued colors and a general lack of clarity. Still, by season three, there are visible improvements to be enjoyed, including the move to render effects shots in either 720p or 1080p, which helps smooth over some of the stepping and aliasing artifacts that hit visual effects scenes in the first two series due to their standard definition origins.
Again, this is still a solid effort and the best that Enterprise has ever looked--certainly better than television broadcasts and DVD and, realistically, the best it will look short of completely recompiling the series, the cost and complexity of which will render that possibility extremely unlikely.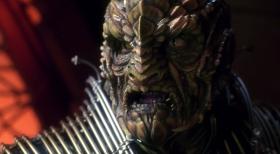 Audio
Star Trek: Enterprise - Season Three is presented in DTS HD Master Audio 5.1 at 24 bits.
Unlike The Next Generation, CBS has not taken the opportunity to expand Enterprise with a 7.1 audio mix, but this isn't a necessarily bad thing because the 5.1 mix is quite satisfactory.
Dialogue is recorded and presented well, and I didn't see any evidence of audio sync issues. The season features a little more action than customary, and this gives the opportunity for some more aggressive surround mixing, but it's not always taken. The front soundstage handles most of the show's actions, but there is reasonable bleed into the rear channels, but it's just too un-occasional to be truly impressive.
Similar to previous mixes, low frequency use is a bit hit or miss; some scenes feature noticeable kick in the sub, yet other scenes do not. I suspect this is more a reflection of who was behind the audio dials.
Extras
Directors Roger Lay and Robert Meyer Burnett have become honorary Trek hall of fame inductees amongst Blu-ray fans due to the hours upon hours of exhaustive extra features packages compiled for both The Next Generation and previous seasons of Enterprise. Here, they return once again with an abundance of quality extra features; it's a truly generous collection with something for all fans to enjoy. Let's take a look.
The crown jewel in the collection is once again a full length documentary, spanning three parts, this time around entitled In a Time of War, which rounds up many members of the cast and crew who detail the warts and all battles both in front of and behind the camera, many of whom have never aired their stories. Following the mold set by previous season documentaries, the candor on offer is both fascinating and refreshing with interviewees holding little back.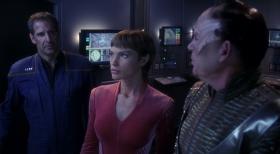 Eight episodes feature a mix of archive and newly recorded Audio Commentary from a range of participants, whilst three episodes also include Text Commentaries written by Trek luminaries Michael and Denise Okuda, which have been bought over from the DVD release but have been cleanly re-formatted for HD displays.
Next, we have some of the previously released DVD features, which are good to retain for completeness sake, although many of the stories are repeated and elaborated on in the In a Time of War feature. First up is the Archival Mission Logs: The Xindi Saga Begins that looks at the new major threat for this season, while
Archival Mission Logs: Enterprise Moments: Season Three is concerned with a few of the more standout episodes of the season.
A Day in the Life of a Director: Roxann Dawson follows the Star Trek: Voyager actor who undertook the Paramount directing school program and lensed ten Enterprise episodes, while Behind the Camera: Marvin Rush serves a short profile on the Trek cinematographer. Enterprise Secrets takes the viewer on a tour of the Paramount lot, which itself is filled with rich history.
Finally, three episodes feature Deleted Scenes, totaling around eight minutes, presented in 1080p, and a six minute Gag Reel in 480p has been thrown in for good measure.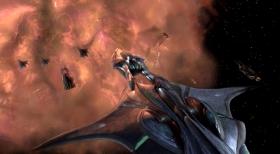 PRICING: You can find the Star Trek: Enterprise S3 Blu-ray for sale below. The prices listed are valid at the time of writing but can change at any time. Click the link to see the very latest pricing for the best deal.
United States: The Star Trek: Enterprise S3 Blu-ray retails for $67.81 at Amazon.
Canada: The Star Trek: Enterprise S3 Blu-ray retails for CDN$90.97 at Amazon Canada.
Australia: The Star Trek: Enterprise S3 Blu-ray retails for $69.99 AUD at Mighty Ape Australia.
New Zealand: The Star Trek: Enterprise S3 Blu-ray retails for $69.99 NZD at Mighty Ape NZ.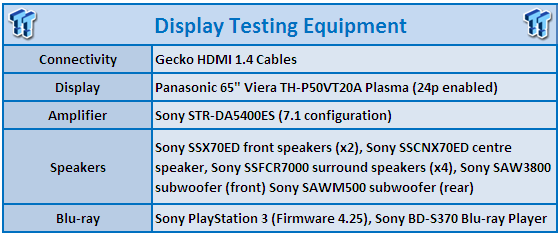 PRICING: You can find products similar to this one for sale below.

United States: Find other tech and computer products like this over at Amazon.com

United Kingdom: Find other tech and computer products like this over at Amazon.co.uk

Australia: Find other tech and computer products like this over at Amazon.com.au

Canada: Find other tech and computer products like this over at Amazon.ca

Deutschland: Finde andere Technik- und Computerprodukte wie dieses auf Amazon.de
We openly invite the companies who provide us with review samples / who are mentioned or discussed to express their opinion. If any company representative wishes to respond, we will publish the response here. Please contact us if you wish to respond.