Gravity (2013) Blu-ray Movie Review
"Houston, I have a bad feeling about this mission."

Published
|
Updated Tue, Nov 3 2020 7:00 PM CST
3 minutes & 38 seconds read time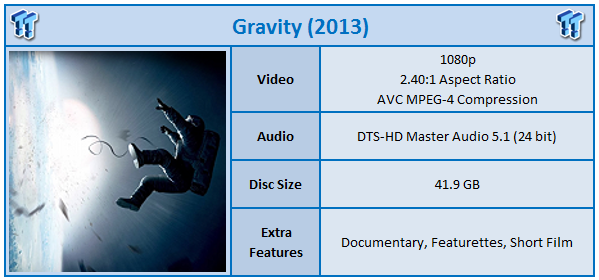 Released on the eve of the 2014 Academy Awards, which are expected to grant more than a few to this film, Gravity comes to Blu-ray with none of the surprise that accompanied the whispered campaign of brilliance during its initially low-key theatrical release. Instead, Warner has included a superb video and audio transfer and added in some superb bonus features.
During a routine maintenance procedure on the Hubble space telescope, Astronauts Ryan Stone (Sandra Bullock) and Matt Kowalski (George Clooney) become caught up in a satellite debris field that rips apart their shuttle, the Endeavour, kills the remainder of their crew, and leaves them stranded and floating out into the blackness of space and separated from mission control (voice of Ed Harris).
Utilizing a thruster pack, Stone and Kowalski attempt a nail biting journey to the nearby International Space Station. With oxygen supplies rapidly dwindling and the debris field making a return trip under gravitational forces, the only chance they have of getting home alive doesn't look promising.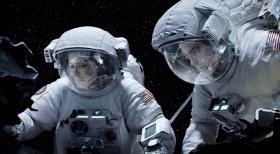 Much has been made of the technical brilliance of Gravity--in the same vein that Douglas Trumbull's effects in 2001: A Space Odyssey wowed audiences in the 1960s (and continues to do so). The effects are utterly convincing and not once did I stop to think "nice digital matte" or "beautifully rendered skylines". No, George Clooney and Sandra Bullock are truly floating in zero gravity.
However as good as the effects are, Clooney and Bullock are even better; they really sell the effects. Whilst Clooney has formerly appearing in Steven Soderbergh's space thriller Solaris in 2002, I had much more concern for Bullock in the role of a high achieving astronaut, especially after being subjected to her whiny tones in the films theatrical trailer so many times.
Suffice to say, she is utterly superb and carries the weight of the film on her shoulders through large patches with aplomb. It's amazing that twenty years after her star making role in Speed she continues to develop and grow as an actor.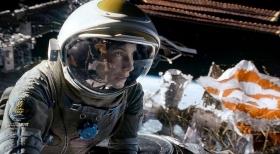 Video
Gravity is presented in the aspect ratio of 2.40:1 and encoded with AVC MPEG-4 compression.
Filmed digitally with the Arri Alexa camera system and finished with a 2K digital intermediate, Gravity doesn't come much better than what you'll find with this Blu-ray release. But that's certainly not a bad thing because it is a treat to be savored indeed.
The image is sharp--super sharp and infinitely detailed. Colors are contrasty (albeit heavily blue toned) and pop appropriately. Thankfully, for a film which plays out almost completely in the blackness of space, the contrast isn't so high as to crush the blacks--there is a lot of detail in the shadows.
Warner traditionally utilizes lower bitrates with its encodes, and, despite a significant amount of features sharing space on the one disc, there is no visible toll on the image. This is top tier stuff.
Audio
Gravity is presented in DTS-HD Master Audio 5.1 at 24 bits.
Fittingly, a reference quality video transfer joins a reference quality audio transfer. The sound design of the picture is heavily weighted to be scientifically accurate to the vacuum of space, which also amps up the isolation that the characters are enduring. To be sure, you won't be hearing any Star Wars-esque explosions, but there are some extremely impressive audio tricks to be enjoyed.
For a film that relies quite heavily on dialogue, this is crystal clear and sync-locked and no intelligibility issues were noted. The surrounds are kept quite active throughout, although not as much as the subwoofer whose output I would term as "cooked". That is, probably a little too extreme in my honest opinion.
Still, this is a really pleasing and appropriate audio track that space nerds and home theater aficionadas alike will appreciate.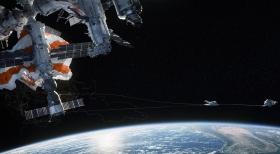 Extras
In a time when compressed release schedules mean that new release films often come to video with lackluster bonus feature collections, Warner Brothers have assembled a truly impressive package of bonus features that befits the status of the film. Let's take a look at what's included.
First up is the Gravity: Mission Control documentary, which over nine parts and nearly two hours in length touches upon just about every element of the film's production. A particular highlight was seeing firsthand how the utterly convincing zero gravity shots were produced so transparently, along with the aforementioned decision to retain a semblance of accuracy to the sound design.
Next up are five Shot Breakdowns featurettes, which spend a bit more time explaining the processes of producing key effect sequences throughout; in totality, these add up to around 30 minutes of behind the scenes material.
Aninjaaq: A Short Film by Jonas Cuaron is a fascinating little gem that takes an alternate perspective on one of the pivotal moments in the film. I don't want to ruin the surprise, so I will say no more.
Finally, we have a 20 minute documentary, Collision Point: The Race to Clean Up Space, which is concerned with the real life scenario of floating space junk, the threat of which is the inspiration for the events in the film.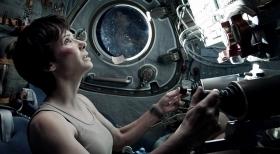 PRICING: You can find Gravity for sale below. The prices listed are valid at the time of writing, but can change at any time. Click the link to see the very latest pricing for the best deal.
United States: Gravity retails for $22.99 at Amazon.
Canada: Gravity retails for CDN$24.99 at Amazon Canada.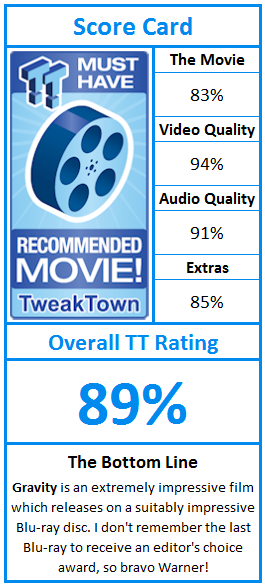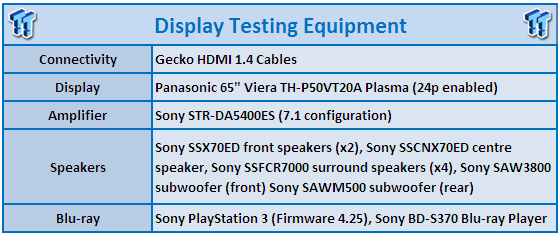 PRICING: You can find products similar to this one for sale below.

United States: Find other tech and computer products like this over at Amazon.com

United Kingdom: Find other tech and computer products like this over at Amazon.co.uk

Australia: Find other tech and computer products like this over at Amazon.com.au

Canada: Find other tech and computer products like this over at Amazon.ca

Deutschland: Finde andere Technik- und Computerprodukte wie dieses auf Amazon.de
We openly invite the companies who provide us with review samples / who are mentioned or discussed to express their opinion. If any company representative wishes to respond, we will publish the response here. Please contact us if you wish to respond.