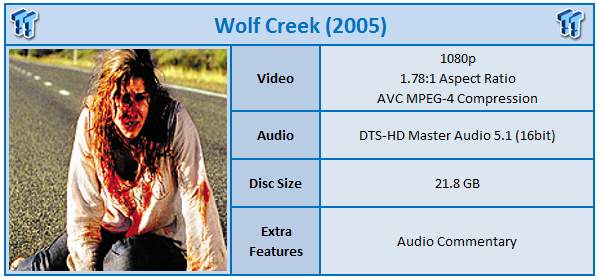 Despite punching well above our weight with successful TV productions, and with the availability of significant funding by Government organizations, tax breaks, and a lenient critic industry that runs a protection racket for local productions, it's an ongoing surprise there are so few Australian made movies that truly breakout to become successful domestically, let alone internationally.
One of the more notable films to come out of the country in the last decade, Wolf Creek, made on a shoestring budget of around million dollars, went on to gross $22 million; hardly a gigantic money spinner, but a respectable return on investment, and it did breathe much needed life back into the local feature industry.
When Ben Mitchell (Nathan Phillips) and British backpackers Liz (Cassandra McGrath) and Kristy Earl (Kestie Morassi) become broken down in the sparse outback of Wolf Creek, Mick Taylor (John Jarratt) masquerading as a good Samaritan comes to their assistance. However, the three unknowing victims will soon be the play thing of a particularly brutal and sadistic serial killer.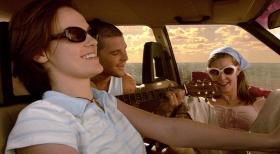 Loosely based on a composite of real life Australian outback murderers, the success of Wolf Creek hinges almost solely on the performance of Jarratt, who has imbued Taylor with a chillingly odd set of characteristics. However, his risky performance pays off, making him one of the most memorable screen villains ever seen in an Australian motion picture.
Wolf Creek certainly isn't high-brow entertainment; its script is predictable and the three young lead actors are not overly convincing and interchangeable. However, it is infinitely entertaining and, on that basis, serves as a benchmark to the industry, which other home grown features should seek to rise to.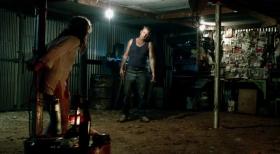 Video
Wolf Creek is encoded with AVC MPEG-4 compression and presented in the aspect ratio of 1.78:1, which represents a slight opening up of the mattes from the original 1.85:1 aspect ratio.
Filmed digitally with the Sony HDW-F900 digital camera at a resolution of 1080p (the same camera that lensed Star Wars Episode II: Attack of the Clones) this Blu-ray represents the film at its optimal quality. I was prepared to accept a few deficiencies that have been identified with digital cameras of this vintage, namely in the way of increased video noise in low light sequences (which do feature significantly), but this has been kept to a minimum, probably by way of the increased contrast that has resulted in slightly crushed blacks.
Establishing shots of the Australian outback are superb, with beautifully rich colors and tones, and this is mostly carried over to shots in full light. There are two brief shots towards the film's conclusion that are upscaled from a standard definition source and whilst these are noticeable, they don't interfere too much. I didn't see any evidence of aliasing or pixilation despite the film's modest bit rate.
Overall, this is a very pleasing video transfer that well and truly exceeded expectations.
Audio
Wolf Creek is presented in DTS-HD Master Audio 5.1 at 16 bits.
The subject matter of the film is one that is not necessarily conducive to a rollicking surround channel, but I was pleasantly surprised at how effective the track is. Naturally, the audio track is punctuated by a cacophony of screams and blood curdling shrieks, but there are a lot of impressive directional effects and general ambience, which accentuate the isolation of Taylor's outback hideaway.
There is not significant scope for the low frequency channel, but it is called upon every once in a while.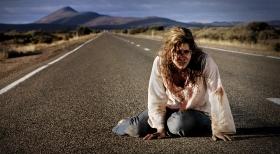 Extras
Sadly, despite significant extra features having been produced and released on the previous 2-disc DVD edition, for example a one hour long documentary, interviews and deleted scenes, all of these have been jettisoned for this Blu-ray release. If this was done in order to squeeze the data down to fit on a single layer Blu-ray disc for cost considerations, I'm not sure why Roadshow couldn't have just included the second disc from the DVD set in this package. A head scratcher indeed.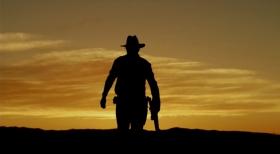 The sole extra feature is an Audio Commentary by Writer/Director Greg McLean, Producer Matt Hearn, and actresses Cassandra Magrath and Kestie Morassi. In the absence of any documentary footage, the commentary does a good job of telling the stories of the low budget production and the creative and financial compromises that were necessary.
PRICING: You can find Wolf Creek for sale below. The prices listed are valid at the time of writing, but can change at any time. Click the link to see the very latest pricing for the best deal.
United States: Wolf Creek retails for $4.48 at Amazon.