After helming three back-to-back Transformers films since 2007, director Michael Bay had yearned to return to his roots with a Bad Boys-esque low budget and down and dirty pet project based on ludicrous, yet true events from Miami in the mid 1990's. Paramount agreed to fund the project in part for Bay returning to direct a fourth Transformers film, before handing on the reigns to another director for future installments.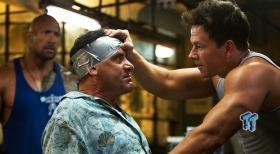 Daniel Lugo (Mark Wahlberg) is a generally good natured, yet relatively simple fitness instructor whom has taken on a new client, the abrasive Victor Kershaw (Tony Shalhoub) at the Sun Gym in Miami. Inspired by the life led by motivational speaker Johnny Wu (Ken Jeong) and frustrated by his ability to make ends meet with a paltry salary and disgusted by the excesses of Kershaw's obscene wealth, Lugo teams up with gym junkies Paul Doyle (Dwayne Johnson) and Adrian Dorbal (Anthony Mackie) in order to kidnap Kershaw and sign over his worldly possessions to him.
The deed is done and Lugo soon leaps into a much higher socio-economic bracket, enjoying the spoils and opportunities their lives now hold. But when private detective Ed DuBois (Ed Harris) begins tracking the group, the loose ends associated with Kershaw's escape, in conjunction with their overt ineptness soon begin to unravel.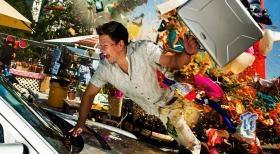 Michael Bay has been called a lot of things, but you could never accuse the former music video director of not having a keen visual eye, which instills within Pain and Gain a glossy, otherworldly sheen with an underlying nasty and gritty tone. Sensational as the loosely true story may be, Bay's editing style which utilizes a range of camera angles and shooting methods that he's gleaned from his career to date helps ground the story in a close perspective.
The cast, led by the suitably buffed-up Mark Wahlberg are uniformly good, even if former WWE wrestler Dwayne Johnson is as subtle as a sledge hammer, and is lent some gravitas by Ed Harris in the role of a hardnosed, take no prisoners detective.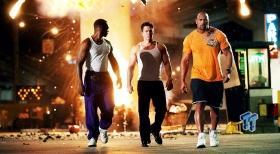 Despite the films obvious flaws - it's too long and a little light in the IQ stakes, I'm willing to forego most based on the fact that after his two decade long career, we all know what to expect from a Michael Bay film, a man whose artistic limitations have long been established (see Pearl Harbor, or better still, don't.) However, in typical Bay fashion, it's a highly entertaining tale, delivered with all the flair of his mega budgeted and excessive A+ list pictures. I suspect that this production has recharged his batteries in between Transformers pictures and proved that he still can helm tighter budgeted, touch-and-go productions on the seat of his pants.
As a side note, distributor Paramount could do well to take heed of the disappointment of Australians from such a staggered international release schedule, coming some five months after its U.S. release. Clearly projected from a non-print, digital source, you need to wonder why the release was delayed at all.