Rounding out the so-called "Blood and Ice Cream trilogy" that begun life with 2004's Shaun of the Dead and continued with 2007's Hot Fuzz, The World's End reunites director Edgar Wright and stars Simon Pegg and Nick Frost one more time.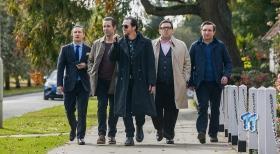 Wanting to recreate a failed ten-establishment pub crawl from their youth, down and out Gary King (Simon Pegg) reunites the five childhood friends Peter (Eddie Marsan), Oliver (Martin Freeman), Steven (Paddy Considine) and with a sprinkling of emotional blackmail, the holdout Andrew (Nick Frost). Returning to their former stomping ground of Newton Haven reveals that not much has changed externally, but the gang are taken aback by the curious uniformity of pubs, which has washed away any traces of individuality, coupled with the lack of familiarity by the grizzled bar keepers. After a bathroom attack by the youths that menacingly patrol the city, it becomes increasingly clear that all is not well in their home town, and that they, and humanity is under threat.
Intent on reaching his goal of downing a pint at the tenth and final pub The World's End, Gary must face the threats head on whilst keeping the group together.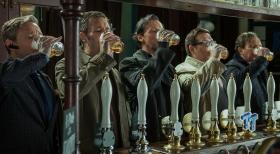 I'm a big fan of the wholly English humor and sentiments that the filmmakers projects have imbued previous projects such as Shaun of the Dead and TV's Spaced, but I've always been particularly enamored with Hot Fuzz, which is way up there in my list of top movies. To say I had high hopes for The World's End is an understatement, but in retrospect, perhaps I could have moderated them a bit better.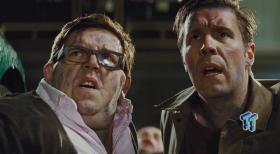 As it stands, I enjoyed the film, although it falls well below the high bar set by its predecessors. Whereas Simon Pegg generally plays loveable buffoons, his portrayal of Gary King was somewhat annoying and hard to care about, by playing up the characters flaws a little too successfully.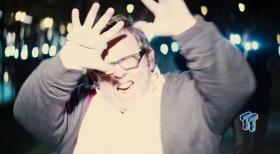 Hot Fuzz too was a powerhouse of intersecting editing and design choices that really gave the film an exciting visual edge, but all of that is missing in The World's End, so in that respect it is almost a poor step child. Still, the film does have a number of genuine laughs and general mirth and the visual effects are pretty spectacular, and certainly more ambitious than one would assume. On that note, I'll be interested to see how Edgar Wright uses his talent working with the Marvel property Ant-Man due in 2015, but I just can't help but think that property diverted his attention from this comparatively small comedy.