Introduction and Specifications, Pricing and Availability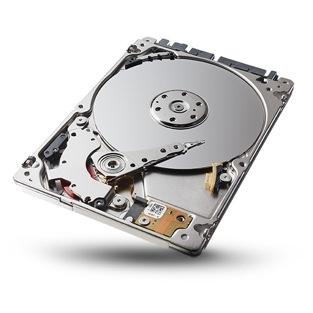 About a month ago, Seagate launched their latest drive aimed at ultrathin computing. Dubbed the Laptop Ultrathin, Seagate has taken all of the technology from the previous Momentus Thin and packed it into a 5mm Z-Height.
Over the last few years the need for portable storage has grown exponentially, leading Seagate to see tremendous value in designing and building 5mm hard drives. Devices like portable USB 3.0 storage, ultrathin netbooks, notebooks and tablets further this demand putting value in high capacity low cost storage options.
In April, we watched as Western Digital launched the Ultra Slim HDD. Built from the ground up using its proprietary edge connector, the success of the new WD Blue hinges largely on OEMs that are willing to design and build around this new connector. Seagate on the other hand has chosen the proven route, the route of the standard SATA connection, allowing for mass compatibility between old and upcoming devices. Like the days of Betamax vs. VHS and HD-DVD vs. Blu-ray, there can be only one for the most part, and Seagate has placed their bets on the SATA standard.
The Seagate Laptop Ultrathin at launch is available in 320GB and 500GB capacities; additionally Seagate has set aside a self-encrypting model ST500LT033 in the 500GB capacity that complies with TCG Opal standards.
Specifications, Pricing and Availability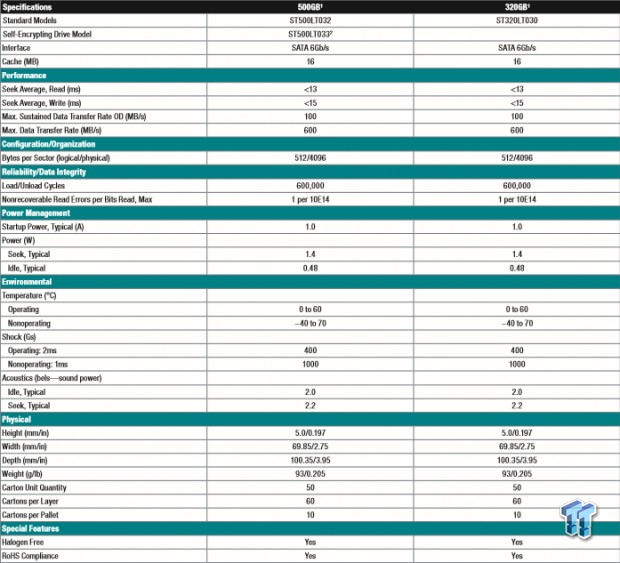 Specifications for the Laptop Ultrathin have Seagate using a SATA 6Gb/s interface, with 16MB of cache complimenting the drive. Further, we have Average Seek times of 13ms for read operations and 15ms for write. The Maximum Sustained Data Rate is set to 100MB/s with 4K Advanced Format Sectors. Load/Unload Cycles match what we found with the NAS HDD at 600,000.
Power Consumption has the Laptop Ultrathin using just 1A during startup, with Seek and Idle coming in at 1.4W and 0.48W, respectively.
The Seagate Laptop Ultrathin will be offered at an MSRP of $89.99 in the 500GB capacity. Seagate adds to this by including a two year warranty.
Laptop Ultrathin 500GB HDD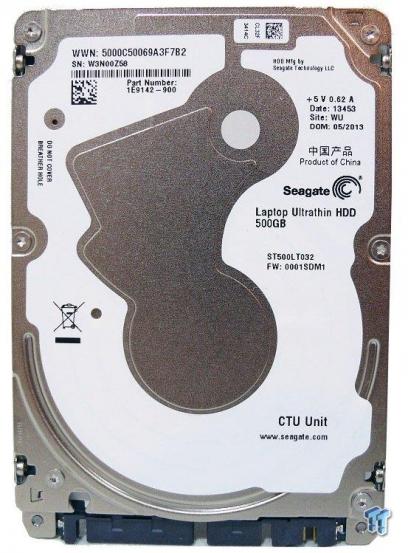 Our review sample of the Laptop Ultrathin was delivered in bare drive form. At the top, we find the capacity listed at 500GB with firmware revision 0001SDM1.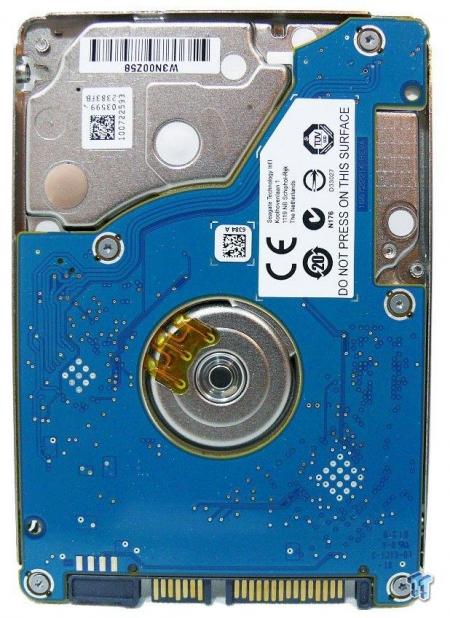 The back of the drive houses a blue PCB with the standard SATA connections at the bottom.

The SATA power and data connections are placed in position for wide compatibility.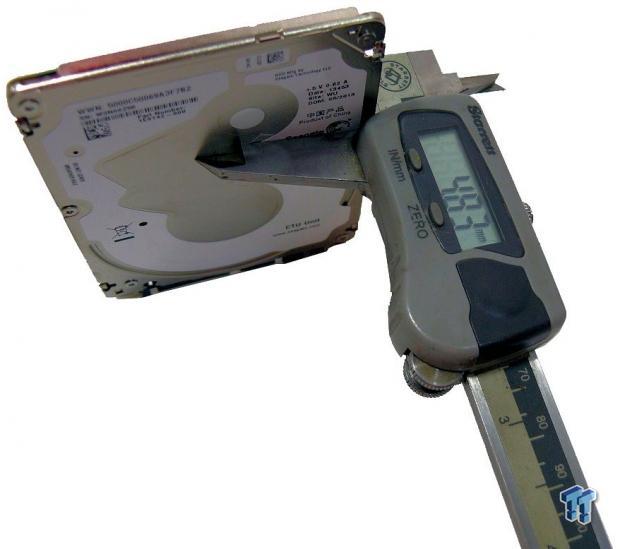 Measuring the drive with our caliper, the Laptop Ultrathin came in at 4.83mm.
With our scale, we were able to weigh the Laptop Ultrathin at 89.5 grams or 3.15 ounces.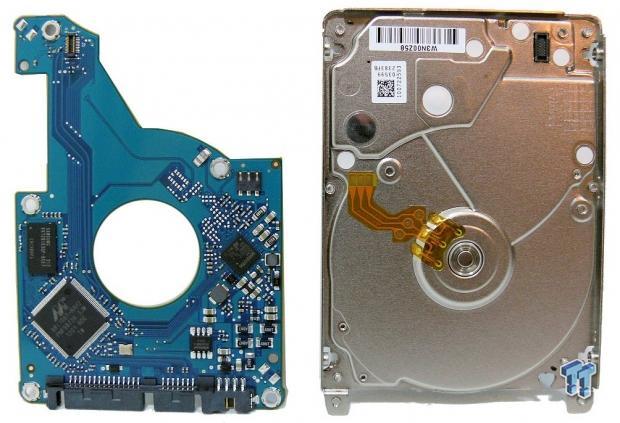 Here we have the PCB removed from the drive. At the top, we have the connection for the head, with a set of three pins in the center for the motor.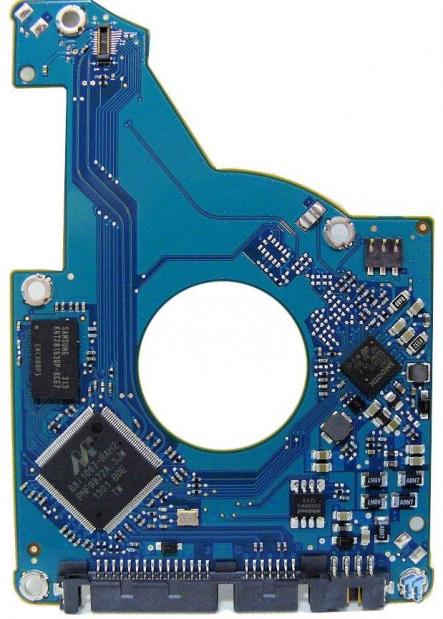 The Laptop Ultrathin uses the Marvell 88i1067 controller, with the drive spindle operated by the Smooth controller. Next to the Marvell, we find 16MB of cache manufactured by Samsung.
Benchmarks - Test System Setup and ATTO Baseline Performance
Desktop Test System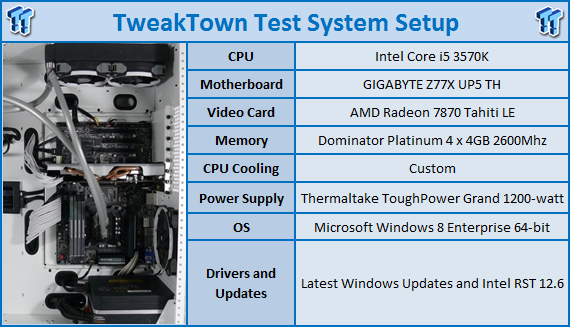 ATTO Baseline Performance
Version and / or Patch Used: 2.34
Many disk manufacturers, to determine the read and write speeds that will be presented to customers, use ATTO.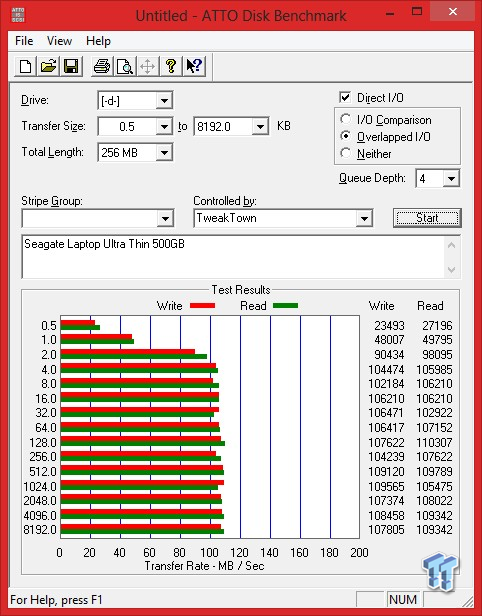 First, a look at our marketing performance through ATTO. Here we find the Laptop Ultrathin with balanced results peaking at 100MB/s read and 109MB/s write.
Benchmarks - Sequential Performance
HD Tune Pro
Version and / or Patch Used: 4.00
Developer Homepage: http://www.efdsoftware.com
Product Homepage: http://www.hdtune.com
HD Tune is a Hard Disk utility which has the following functions:
Benchmark: measures the performance
Info: shows detailed information
Health: checks the health status by using SMART
Error Scan: scans the surface for errors
Temperature display
HD Tune Pro gives us accurate read, write and access time results and for the last couple of years has gained popularity amongst reviewers. It is now considered a must have application for storage device testing.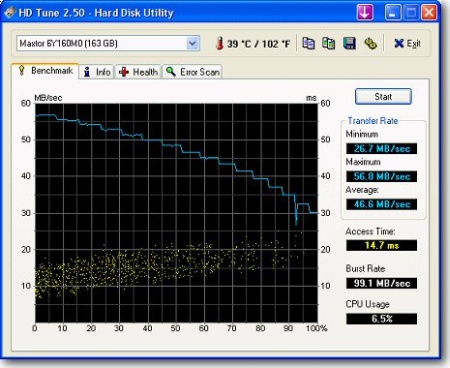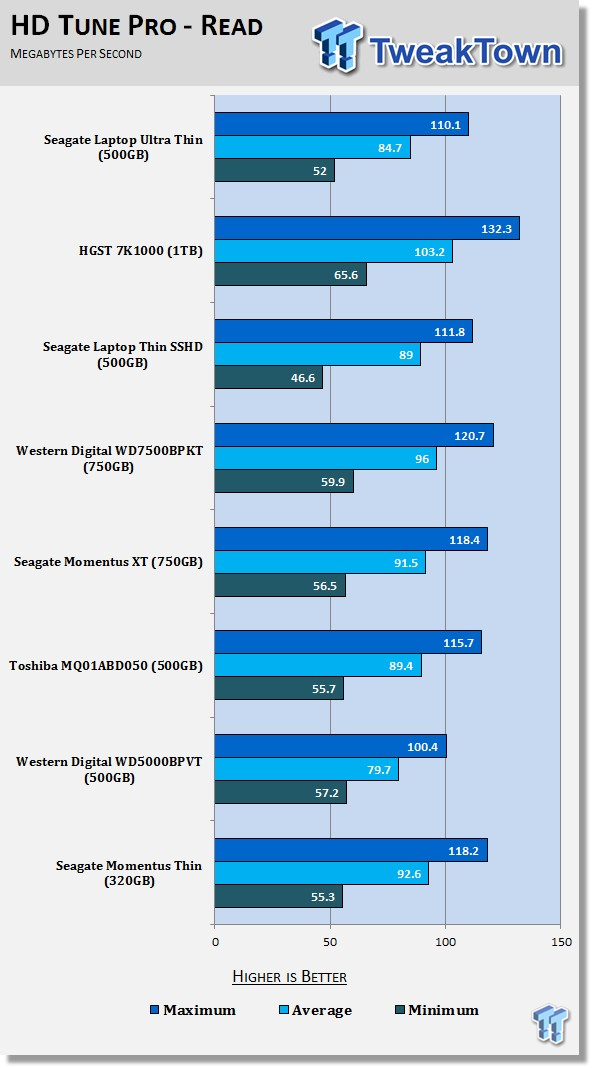 HD Tune read presented us with a peak of 110.1MB/s, putting the Ultrathin right up there with the SSHD. Average and minimum finished at 84.7MB/s and 52MB/s, respectively.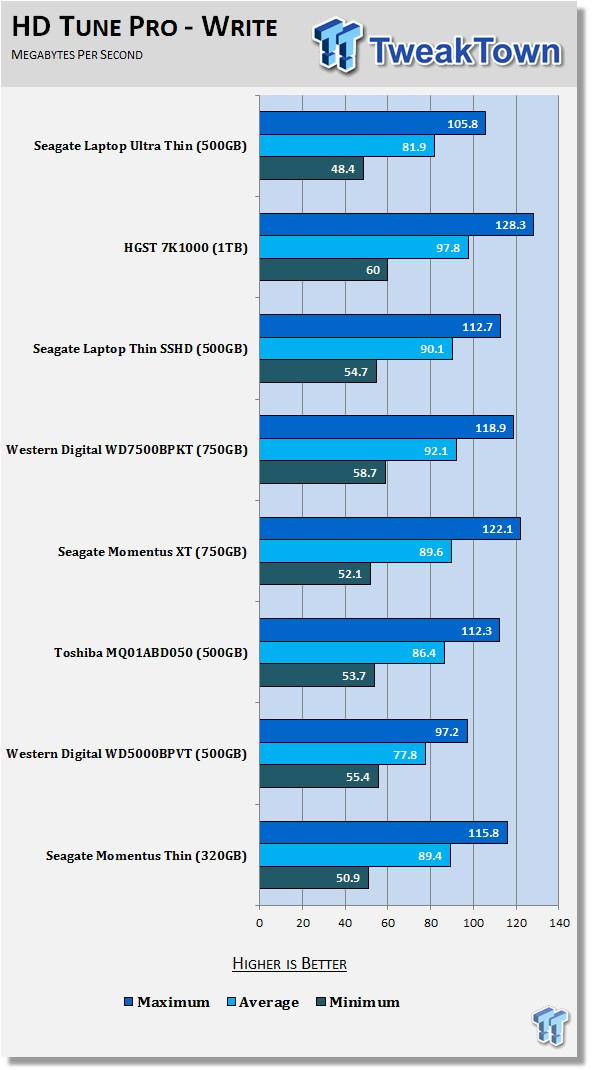 Write performance found the Laptop Ultrathin at 105.8MB/s at its peak with an 81.9MB/s average.
Benchmarks - AIDA64 Random Access Time
AIDA64 Random Access Time
Version and / or Patch Used: 1.60
Developer Homepage: http://www.aida64.com
Product Homepage: http://www.aida64.com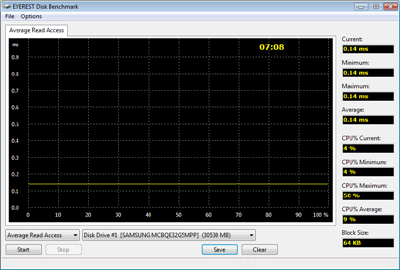 AIDA64 offers several different benchmarks for testing and optimizing your system or network. The Random Access test is one of very few if not only that will measure hard drives random access times in hundredths of milliseconds as oppose to tens of milliseconds.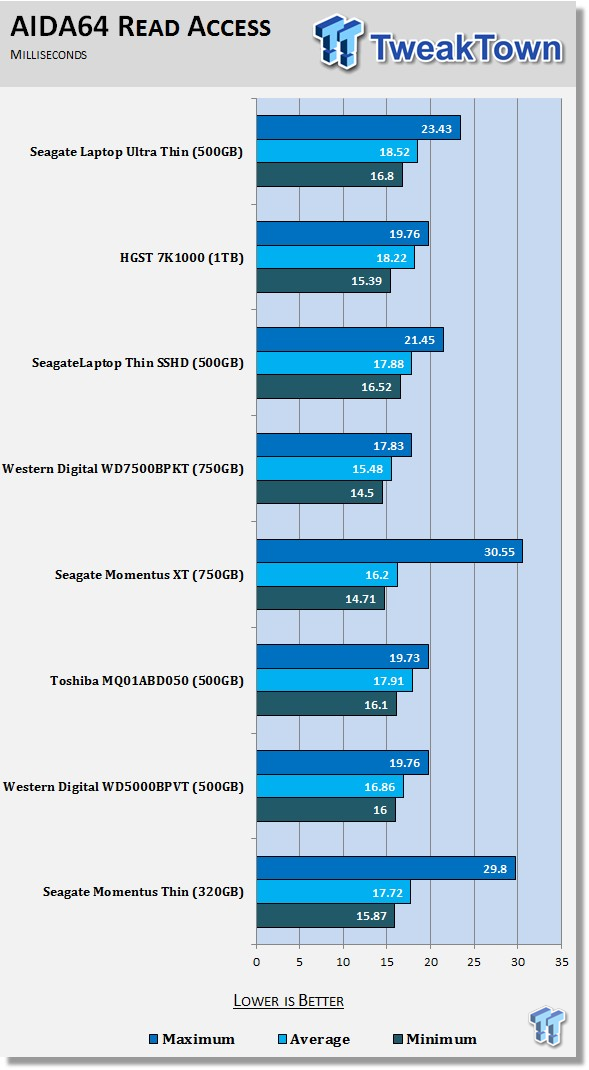 Read access times for the Laptop Ultrathin were slightly higher than most drives in our charts, apart from the Momentus XT and Momentus Thin, which were quite a bit higher.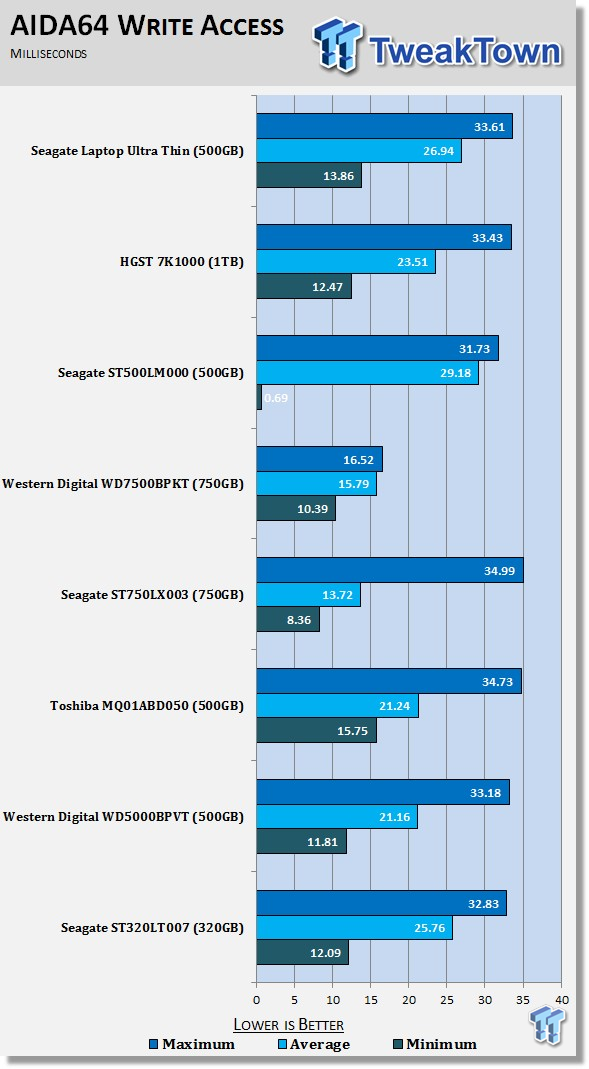 Write access times were on par with the large majority of our tested drives.
Benchmarks - Anvil Storage Utilities
Anvil Storage Utilities
Version and / or Patch Used: RC6
So what is Anvil Storage Utilities? First of all, it's a storage benchmark for SSDs and HDDs where you can check and monitor your performance. The Standard Storage Benchmark performs a series of tests, you can run a full test or just the read or the write test or you can run a single test, i.e. 4K DQ16.
Anvil Storage Utilities is not officially available yet but we've been playing with the beta for several months now. The author, Anvil on several international forums has been updating the software steadily and is adding new features every couple of months.
The software is used several different ways and to show different aspects for each drive. We've chosen to use this software to show the performance of a drive with two different data sets. The first is with compressible data and the second data set is incompressible data. Several users have requested this data in our SSD reviews.
Incompressible Data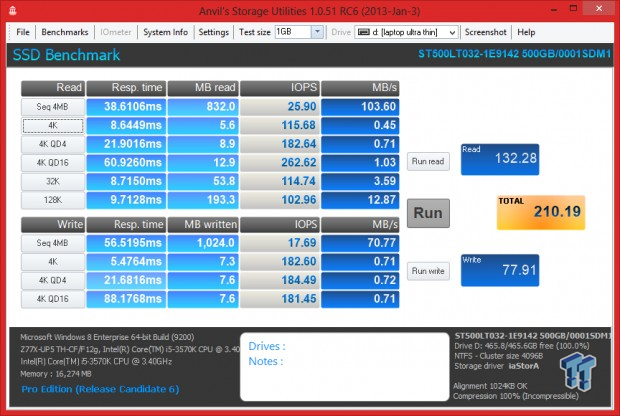 0-Fill Compressible Data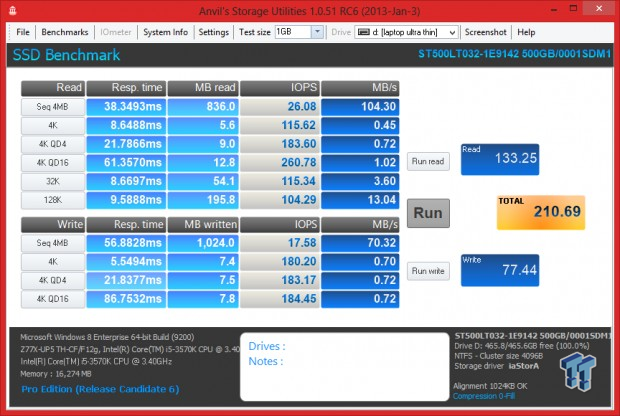 Read IOPS through Queue Depth Scale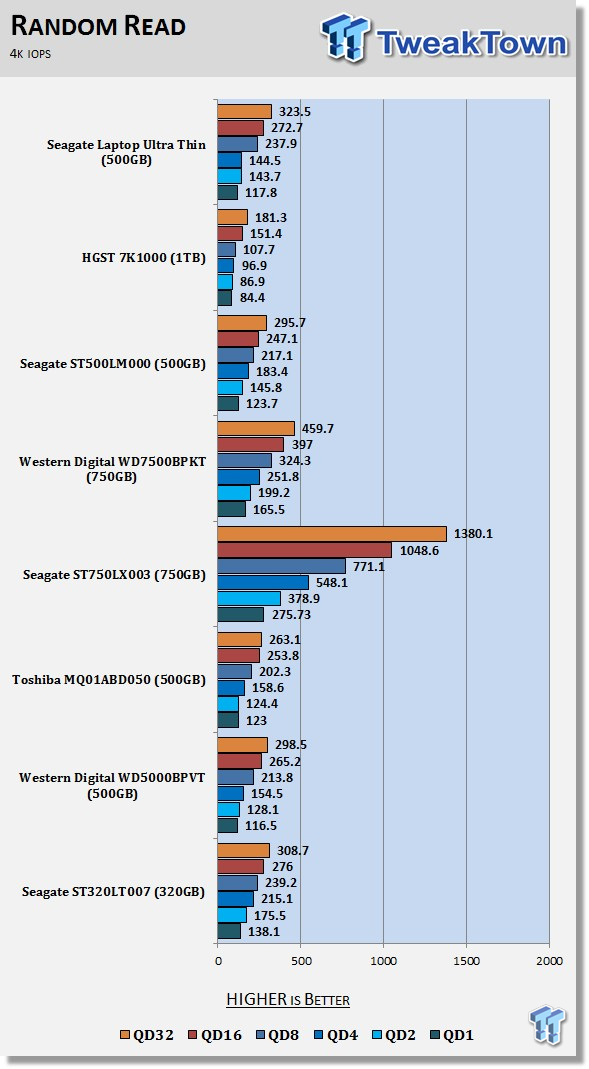 Next to the 750GB WD drive and Momentus XT, the Laptop Ultrathin is the quickest drive in our Random read testing.
Write IOPS through Queue Depth Scale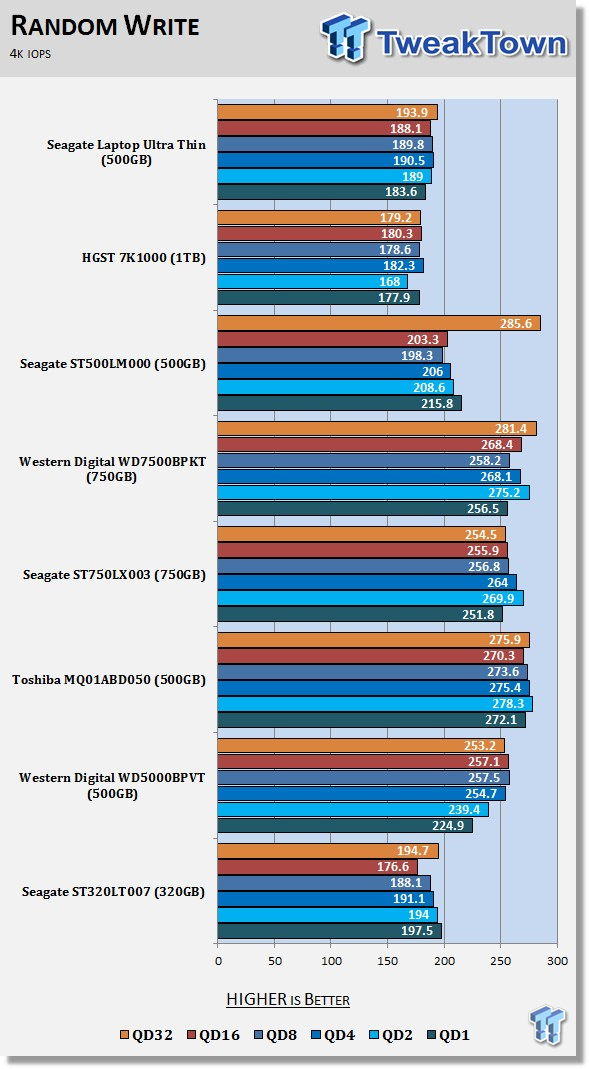 4K random write has the Ultrathin slightly quicker than our previously reviewed HGST 7K1000.
Benchmarks - PCMark 8 Hard Disk Tests
PCMark 8 - Hard Disk Tests
Version and / or Patch Used: 1.0.0
Developer Homepage: http://www.futuremark.com
Product Homepage: http://www.futuremark.com/benchmarks/pcmark8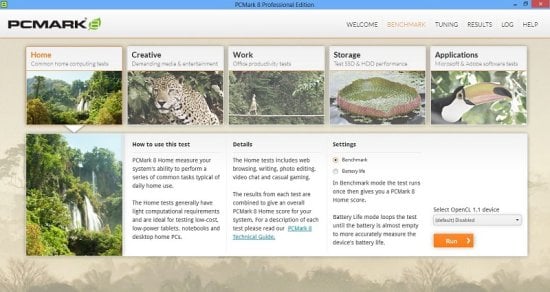 PCMark 8 is the latest version in our popular series of PC benchmarking tools. Improving on previous releases, PCMark 8 includes battery life measurement tools and new tests using popular applications from Adobe and Microsoft. Whether you are looking for long battery life, or maximum power, PCMark 8 helps you find the devices that offer the perfect combination of efficiency and performance for your needs.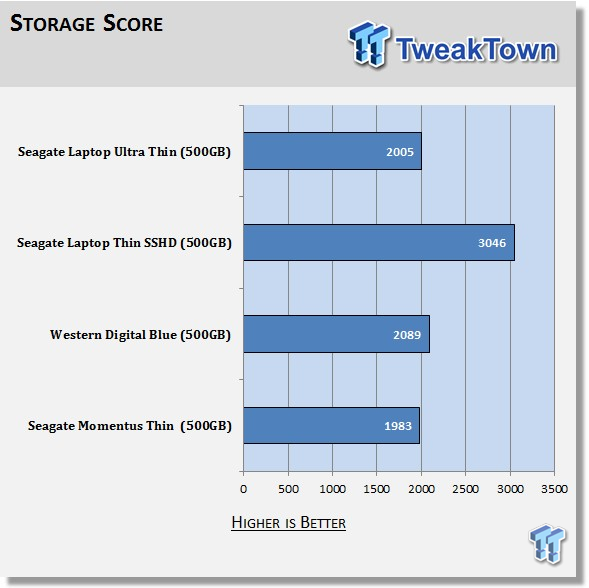 Overall storage score for our Laptop Ultrathin came in just over 2000 at 2005 marks.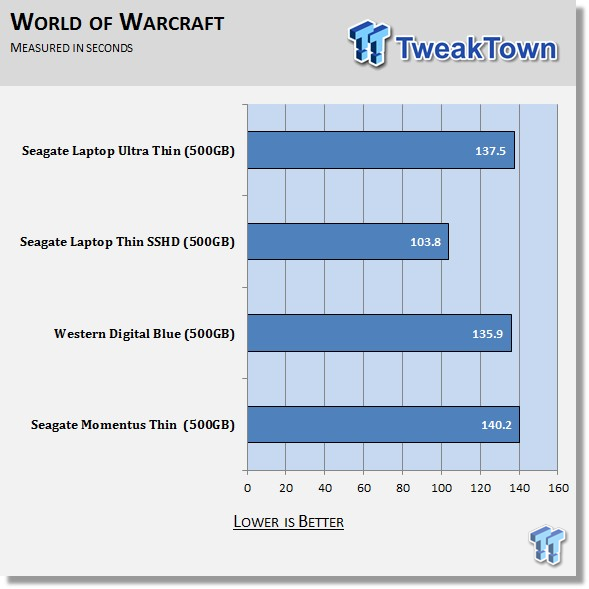 In WoW the Ultrathin was capable of 137.5 seconds, very close to the WD Blue and Momentus Thin.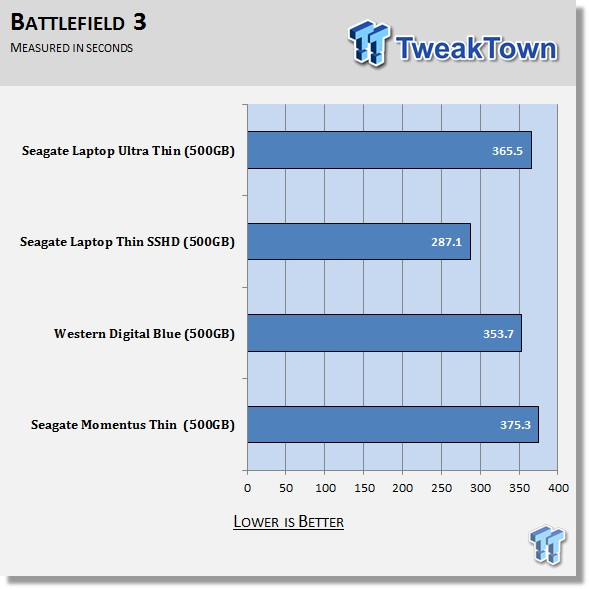 Battlefield 3 had the WD Blue slightly quicker than our Ultrathin, which sits at 365.5 seconds.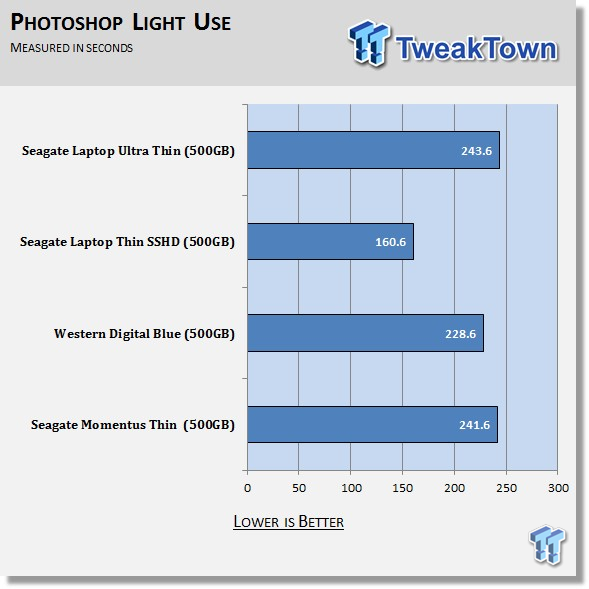 Utilizing Photoshop under light use, the Ultrathin comes in at 243.6 seconds.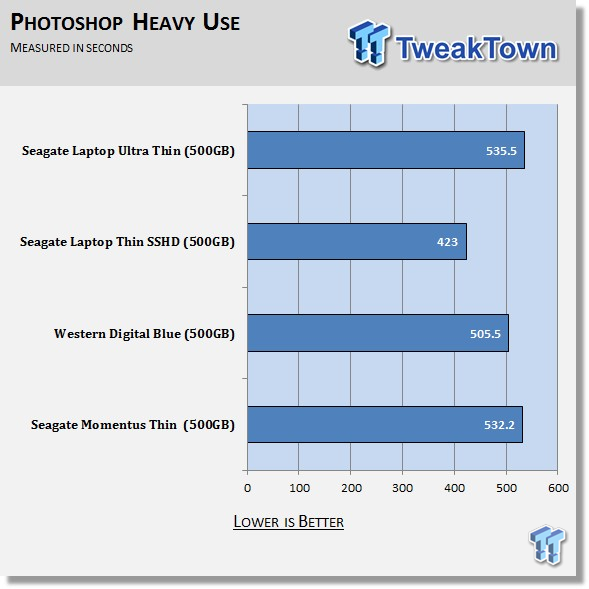 A heavy use scenario allows for the Momentus Thin and our sample of the Laptop Ultrathin to come within three seconds of each other.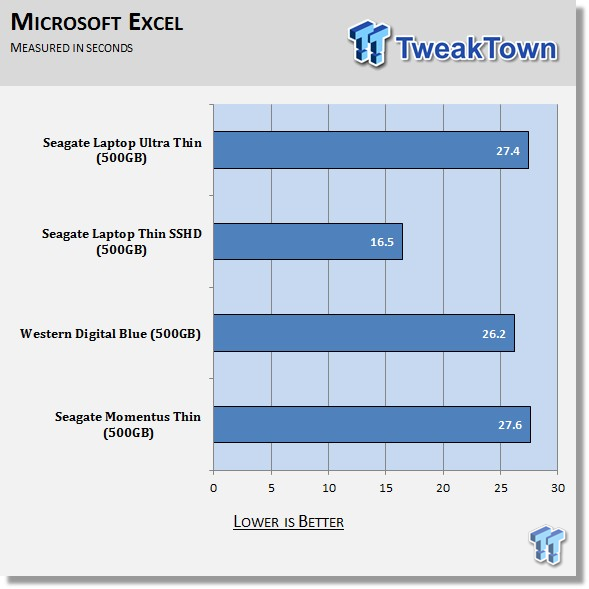 The Excel application trace has our drive at 27.4 seconds, again very close to the WD Blue and older Momentus Thin.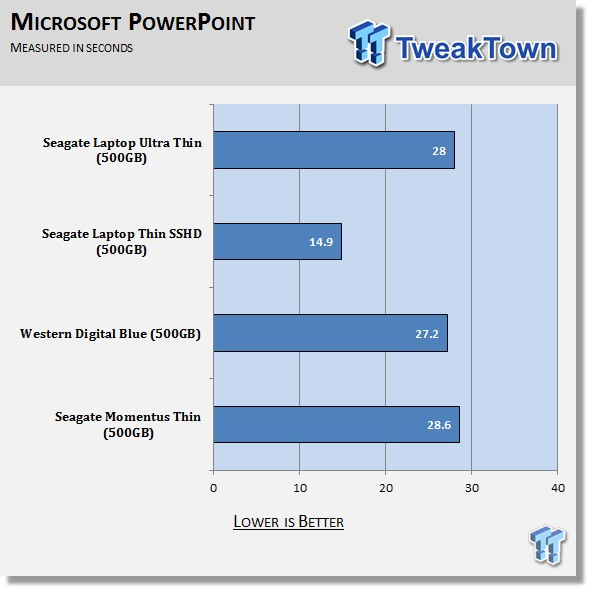 The PowerPoint trace has our Laptop Ultrathin tucked in at 28 seconds.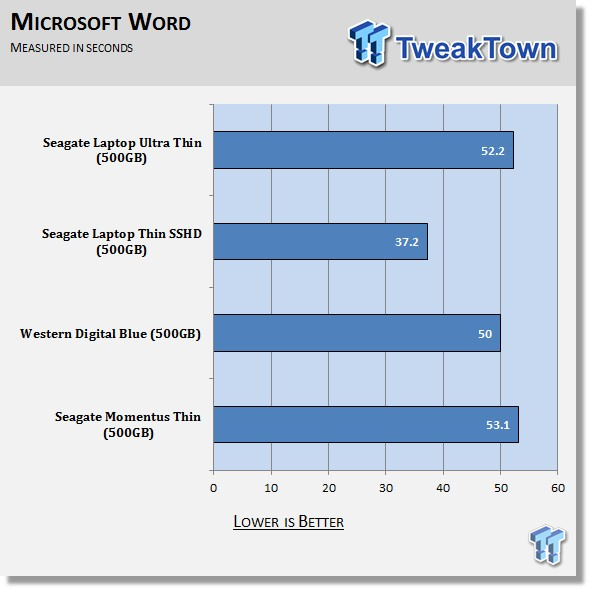 Lastly, the Microsoft Word application trace allows the Laptop Ultrathin to be slightly quicker than the Momentus Thin and just behind the WD Blue.
Benchmarks - BootRacer and Resume from S4 Hibernation
BootRacer - System Boot Time
Version and / or Patch Used: 4.0
Developer Homepage: Greatis
Product Homepage: BootRacer
Download here: http://www.greatis.com/bootracer/download.htm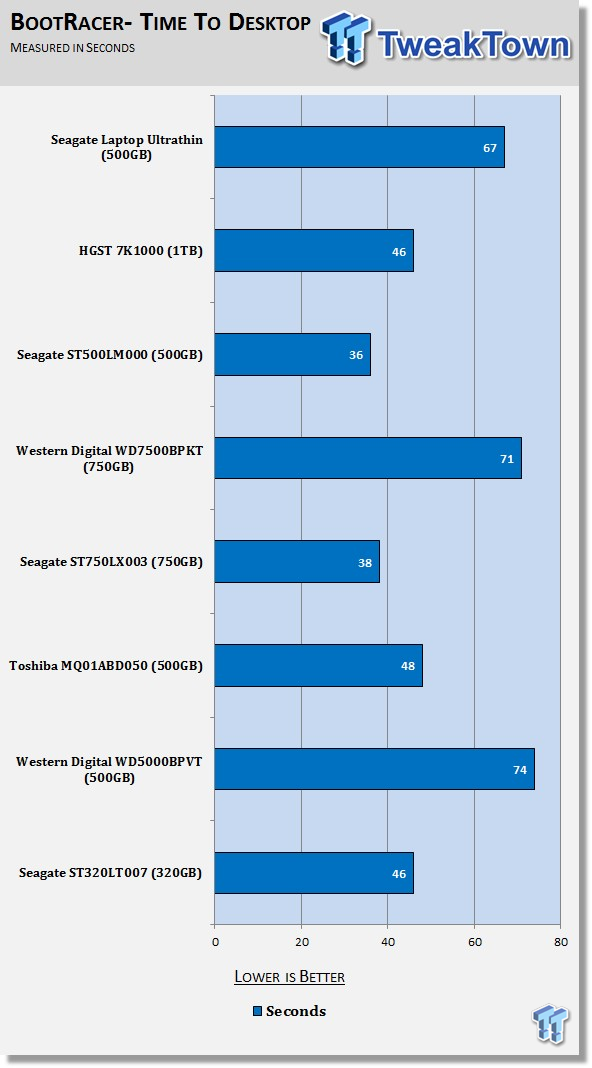 Time to desktop came in at 67 seconds, this is quite a bit slower than previous Seagate drives, and more closely resembles that of a WD Drive.
Resume from S4 Hibernation
Hibernation or S4 is part of the Advanced Configuration and Power Interface specification. In our custom "Resume from S4" testing, we allow the drive to enter hibernation for a period of ten minutes; from there we use our trusted stopwatch and time how long it takes for the drive to resume to a working desktop environment.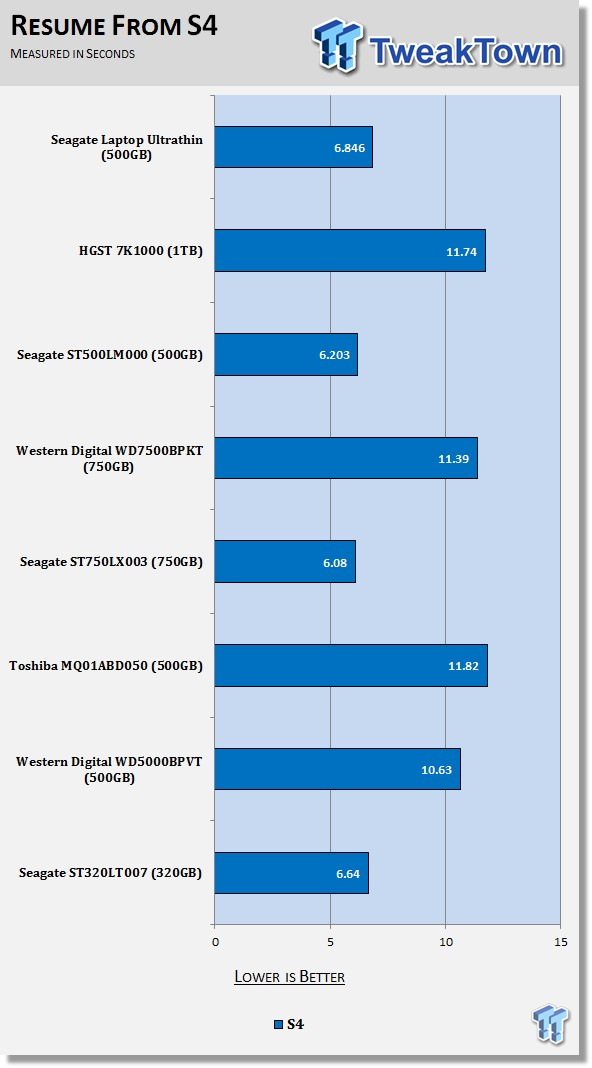 In our custom resume from S4 testing, the Laptop Ultrathin is back to being neck in neck with other Seagate drives. At 6.8 seconds, it is quite a bit faster than any competing product from HGST or WD.
Final Thoughts

Even with WD striking first, with their competing Ultra Slim drive, Seagate has come roaring back with the Laptop Ultrathin. More recently, we have seen manufacturers such as ASUS and Dell jump on the ultrathin bandwagon, choosing Seagate as the supplier.
Furthermore, Seagate's adoption of the standard SATA connector should allow for an ease in transition to 5mm mobile HDD's, and as we look in to the future, I fully expect to see more portable storage solutions from a host of manufacturers to use the Laptop Ultrathin.
Looking into the performance of the Laptop Ultrathin, at first glance we could see where things are a bit doom and gloom. The Laptop Ultrathin does not really stand out as a true performer in any category, but at the same time, it doesn't give up any of the performance we gained in the past.
With this, we have a drive that utilizes the 5mm Z-Height offering the performance of drives that are much larger in the 7mm and 9mm Z-Height arena. Looking back at the charts from previous pages, you will find the Laptop Ultrathin in the mix with all competing drives.
Pricing of the Seagate Laptop Ultrathin in the 500GB capacity is set at $89.99 USD with availability low at the moment.