Introduction, Specifications, Availability and Pricing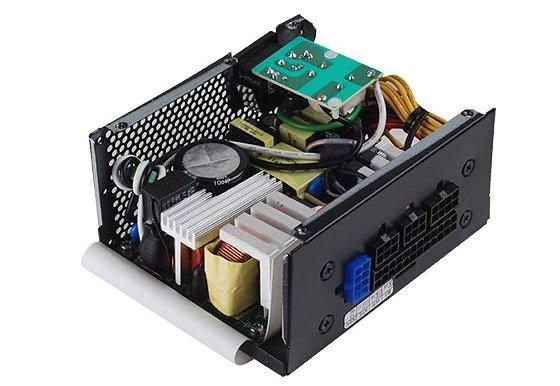 There isn't really any other way to say this other than to just come out with it. The power supply industry isn't exactly super exciting. You don't hear people talking about the latest 1000W power supply that just came out and you certainly don't see tables where the new units are benched under 15 trillion different applications just to see what it is capable of. Unless you're deep into the very specifics of electronic circuitry, this will always hold constant for the most part.
There are a few little gems that come along though that are exciting to take a look at and this new unit on the bench from SilverStone is one of them. The power supply I'm speaking of is the ST45SF-G. It is a 450W power supply with a single 12V rail, rated for 80 PLUS Gold efficiency and is fully modular. Now that doesn't sound particularly special compared to everything else that we take a look at here, but there is a little bit more to it that just those specifications.
The SilverStone ST45F-S is also a Small Form Factor (SFX) power supply. For those who aren't familiar SFX power supplies and want to do some technical reading on them, I highly suggest that you take a look at the SFX12V Power Supply Design Guide. In it you'll find that SFX power supplies are essentially identical to that of ATX12V power supplies, but they are smaller in size. The big difference is that there are about five different fan configurations that can be used so that the fan can be placed as needed. This does change the dimensions of the unit too, but makes it a lot more flexible for specialized uses such as in a NAS or various SFX cases. The ST45SF-G that we have today has the fan on the bottom of the unit just like your typical ATX12V power supply.
You'll find that the ST45SF-G is a bit beefier than other SFX units out there as most are meant to power systems needing 250W or less. SilverStone wants you to be able to do more than turn on a calculator, so they've upped the ante a bit. Let's start digging in to this little beast and see what it is made of.
Specifications, Availability and Pricing

SilverStone's ST45SF-G features a single 12V rail rated for 37A or 444W of power. The 3.3V rail is rated for 19A, while the 5V rail is rated for 15A. The minor rails are rated for a maximum combined output of 90W. The 5VSB is rated for 2.5A or 12.5W. Maximum combined output for the ST45SF-G is 450W.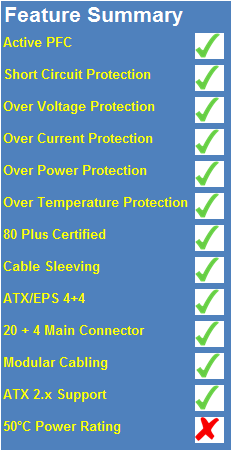 Something that you wouldn't normally expect from a low wattage unit or something that is meant for specialty machines is a full list of features. The ST45SF-G fills our feature summary more than we would expect, but it does come up just a bit short for nothing but green check marks. It has SCP, OVP, OCP, OPP and even OTP. Perhaps the most shocking in this list is that not only are all of the cables fully sleeved, but they are also fully modular. The SilverStone ST45SF-G is rated for 80 PLUS Gold efficiency, but is not rated for 100% continuous output at 50C. Instead SilverStone rates the unit at a more modest 40C, just as they do with almost all of their units.
Silverstone's ST45SF-G has an MSRP of $93.99. The cheapest we can find it for at the time of writing is $100.89 after shipping at Newegg. Without a doubt, that makes this one of the most expensive units in its class, but there aren't too many SFX units out there - especially around 450W. SilverStone backs the ST45SF-G with a three year warranty.
Packaging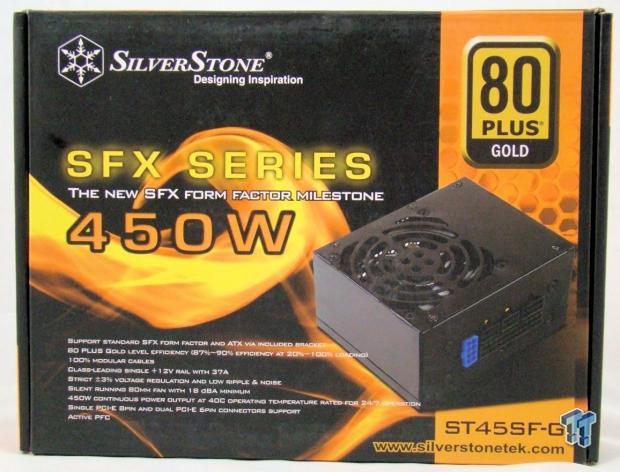 If it wasn't for the box being so small, you wouldn't know this unit was different from any other SilverStone unit. The front gives us a glimpse of the power supply and a few bullets. SilverStone claims the ST45SF-G to be a new SFX milestone and they are correct. It is currently the only SFX unit on the market rated for 450W with both fully modular cables and an 80 PLUS Gold efficiency rating.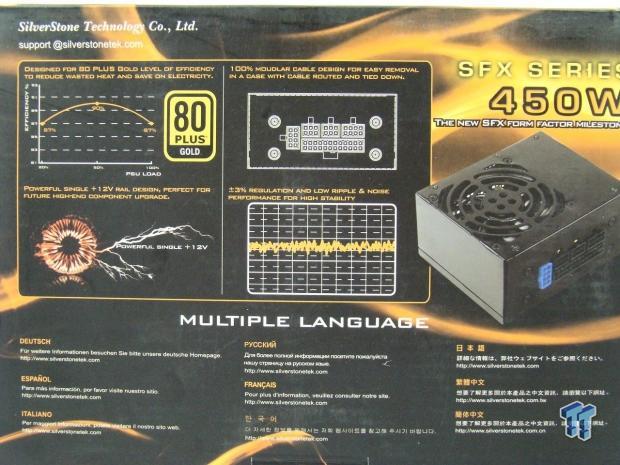 The back presents us with the typical SilverStone mumbo jumbo. SilverStone claims low noise, high efficiency, low ripple and fully modular cables. This sounds just about everything we expect from something with the SilverStone name on it.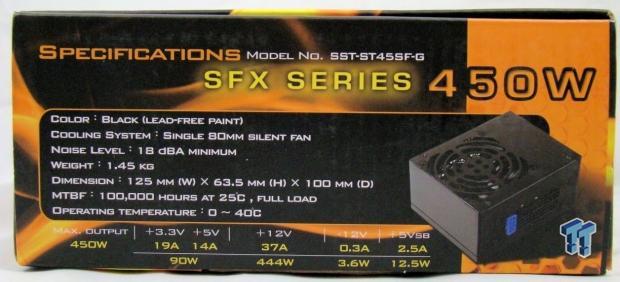 One side of the box gives us the I/O specifications of the ST45SF-G.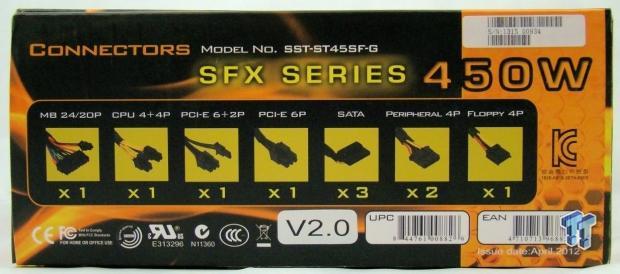 The other provides us with the connectors available within - it's not too bad for such a low wattage unit.
Inside the Box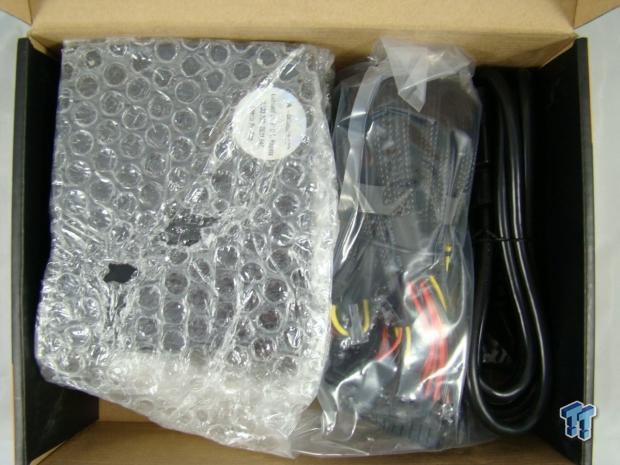 Inside we find some no frills packaging. Other than the bubble wrap around the power supply, there isn't any padding on the inside.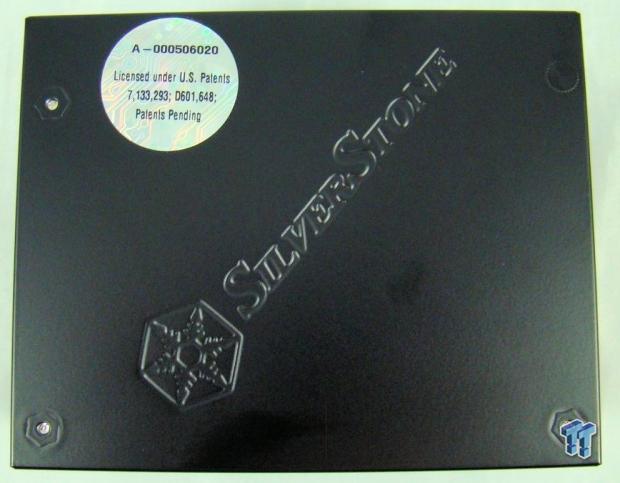 As with all of SilverStone units we have tested, this one has the SilverStone logo stamped in the top of the power supply.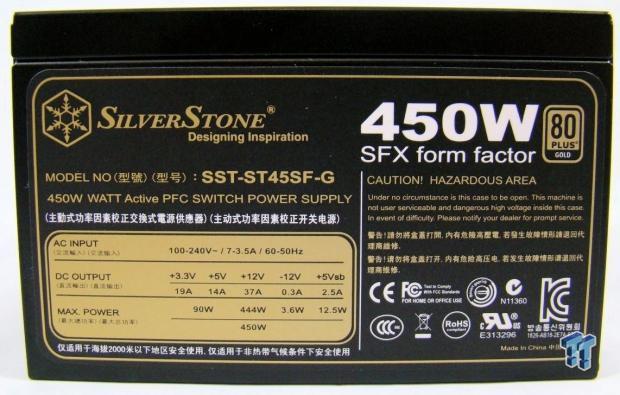 This side of the power supply gives us the I/O specifications for the ST45SF-G, and the other side of the power supply is blank.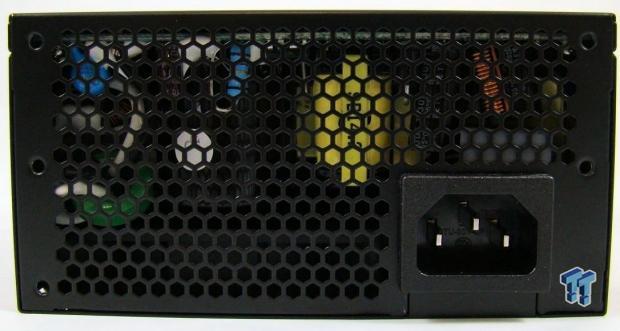 Moving to the back, we don't find anything special. The only things back here are the AC input and honeycomb mesh grill to allow the exhaust out of the power supply.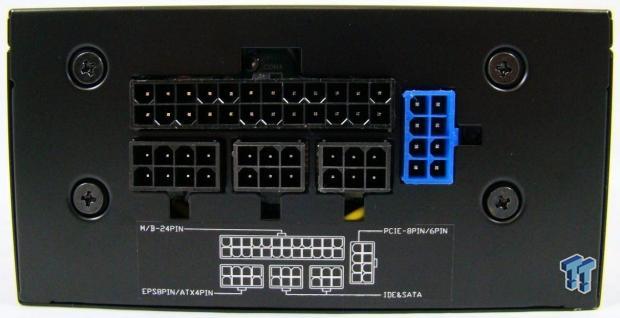 The front presents us with the modular connectors for the ST45SF-G. There aren't many, but it should be enough to get the job done, considering there is only so much that you can do with 450W.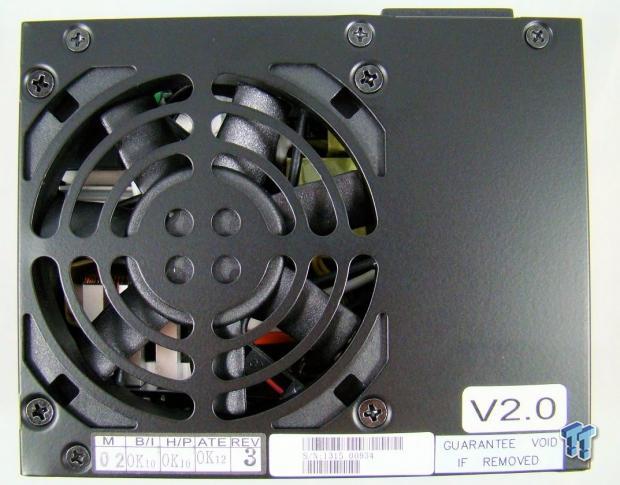 The bottom of the SF45SF-G features an 80mm fan that cools the power supply.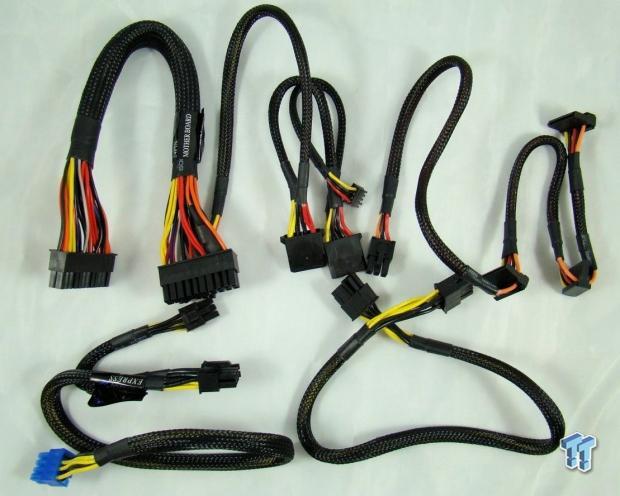 There are only five modular cables included with the SF45SF-G. Chances are that you'll end up using them all.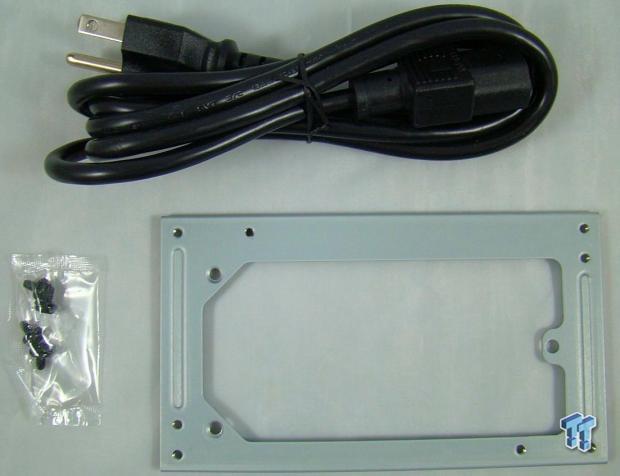 There are a few things included with the ST45SF-G. These include the AC power cable, mounting screws and the ATX adapter bracket. The bracket allows you to mount this SFX power supply in cases that only feature mounting holes for ATX power supplies. The bracket also gives you a good idea of just how much smaller the ST45SF-G is compared to a standard ATX power supply.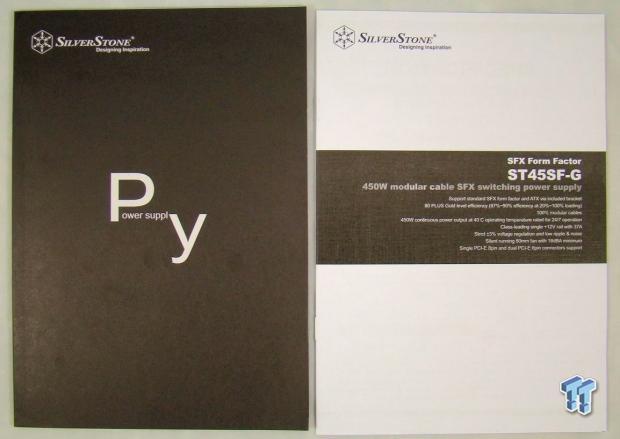 Also included are the two manuals. The one on the left are general installation instructions, while the one on the right is specific to the ST45SF-G and its pins.
Cabling Arrangement and A Look Inside
Cabling Arrangement

While 450W may be enough to game on with a single video card, it most certainly isn't enough power to do much more than that. As such, it only makes sense for them to include a few cables and connectors with the ST45SF-G.
It is also worth noting that most of the cables are a bit shorter than many are used to. This is quite a blessing in small cases as there is less cable clutter to hide or fight.

Rail distribution is as simple as it gets with a single 12V rail. There is no need to worry about load balancing here.
A Look Inside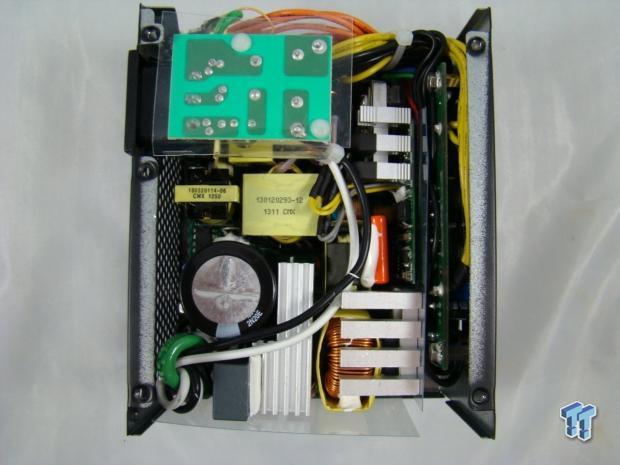 If you didn't catch it already, the ST45SF-G is a tiny unit and this shot of the internals makes it quite apparent. The PSU is only five inches wide and four inches deep. Passive cooling is important on such a small unit and there is plenty of it inside the ST45SF-G.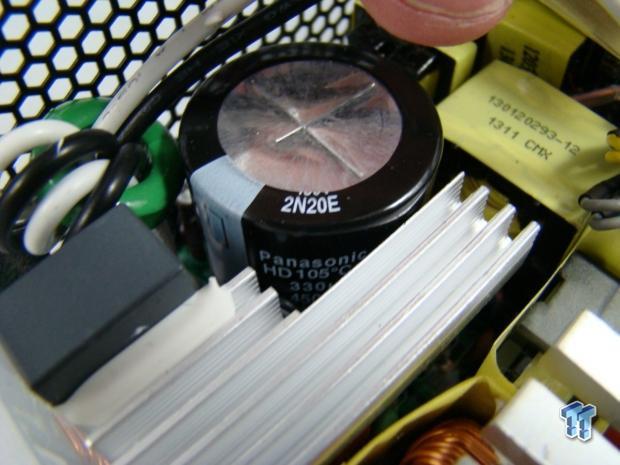 A single Panasonic bulk capacitor sits on the primary side of the power supply.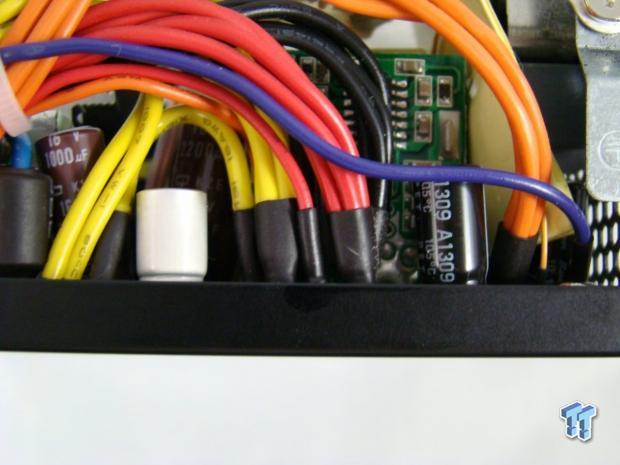 The secondary side is littered with a bunch of Rubycon and Nippon Chemi-Con caps.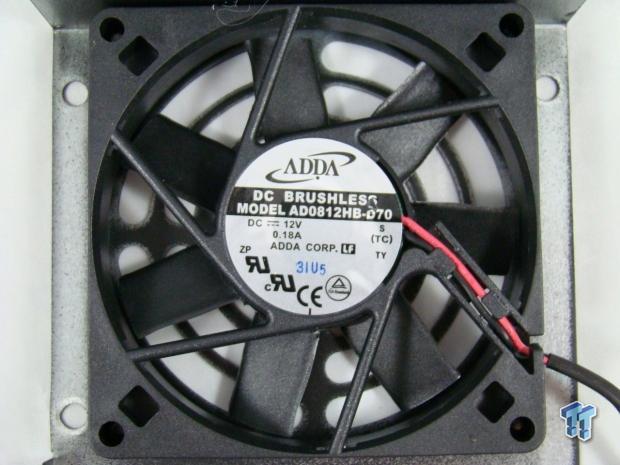 Silverstone uses the ADDA AD0812HB-D70 80mm fan to provide active cooling.
Test Results and Final Thoughts
Test Results
Our load tests utilize a couple of FAST ATE active load testers and a variety of other equipment such as an oscilloscope, power conditioner, temperature probe and a power consumption meter. You can read more about our standard testing approach here.
The tests performed are based around six conceivable setups that are out there and progressively load down the PSU up to the power supply's limits or 1000W, whichever comes first. Since our test equipment's limits are higher than that of the SilverStone ST45SF-G 450W power supply, we can test it to the maximum.

The above tests represent typical loads that we have measured from various systems and are meant to give a rough idea of where your computer might fall in line with our tests. Please keep in mind that each system is different and actual loads can vary greatly even with similar hardware.

Let's start by taking a look at the voltages to see how well this unit did during testing. Starting with the 12V rail, we see 1% regulation from start to finish with a total drop of .09V. The 5V rail managed to stay within 1% of specification with a total drop of .06V from start to finish. Moving towards the 3.3V rail, we see that regulation was within 2% of specification with a total voltage drop of .04V.
DC Output quality for the SilverStone ST45SF-G 450W was good and well within specifications. During Test 1, we saw 21mV of noise on our scope. When we increased the loads in Test 2, the ripple climbed to 33mV at around 3/4 load. During Test 3 under a load of 450W, the oscilloscope showed a maximum of 46mV on noise on the 12V rail.
The SilverStone ST45SF-G 450W is rated for 80 PLUS Gold efficiency. This means that the power supply must perform at 87%/89%/87% efficiency at 20%/50%/100% loads respectively. As you can see, the ST45SF-G 450W passed on our bench, and wasn't close to failing at any point.
Final Thoughts
The SilverStone ST45SF-G is the first Small Form Factor power supply that we have tested here at TweakTown. It isn't something that we go after simply because most units aren't capable of handling something that our readers would build. The ST45SF-G gives enough power that one could comfortably game on a gaming system featuring something like one Radeon 7970 or GTX 780. If you're only using a single monitor, chances are that you don't need anything more than that, so it will fit the bill just fine.
There are quite a lot of other uses for power supplies like this, such as homemade NAS boxes and small home servers, especially if they aren't running anything but onboard graphics. Let's also not forget that you aren't confined to only utilizing the ST45SF-G inside an SFX chassis. The SFX to ATX adapter sweetens the unit a little bit more, as you can then slip this into a very small case and free up a bit more room.
Performance wise, the ST45SF-G is just what we have come to expect from SilverStone. We'd be quite unhappy if it wasn't up to the standards that they've set for themselves. Voltage regulation faired the best for the ST45SF-G with the 12V and 5V rails staying within 1% of specifications. The 3.3V rail wasn't too far off, staying with 2% itself. DC Output quality could have been a little better, but with a maximum of only 46mV on the 12V rail, it is more than low enough for a stable rig with quality power. The efficiency was spot on during our testing as well, meaning that the ST45SF-G passes with flying colors.
The one drawback to the ST45SF-G from SilverStone seems to be the price. At a shipped price of about $94, you can find much more power, but not in a SFX unit. As with all things that are the best of the best, the price is typically a bit higher. This holds true with the ST45SF-G as you simply won't find a higher wattage SFX unit that performs better with 80 PLUS Gold efficiency and fully modular cables.