Star Trek: Enterprise - Season One (2001) Blu-ray Review
"They have two settings: stun and kill... It'd be best not to confuse them"

Published Sun, Jun 2 2013 8:29 AM CDT
|
Updated Tue, Nov 3 2020 7:00 PM CST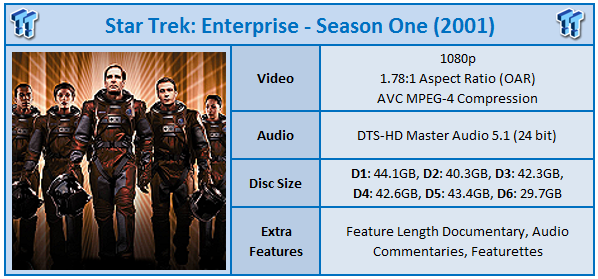 Following the end of Star Trek: Voyager in May 2001 and despite the diminishing returns in viewership over that time, the United Paramount Network were keen the lucrative Star Trek franchise alive on the small screen with a new series, although much discussion was focused on what form it would take. In September 2001, the Enterprise pilot Broken Bow aired to mixed reviews, with many polarized from the opening minutes with the controversial theme song. As the season continued with some mediocre to badly written episodes Enterprise hobbled along, continuing to lose viewers and further contrasting viewer opinions.
12 years on and 8 from the broadcast of the last episode of Star Trek on television screens, interest in Enterprise has been rekindled by the relative success of the new feature films, and the high definition debut of the much loved Next Generation series. Whilst none of the 26 episodes that make up the first season can be considered classic, there are some good episodes, including the pilot Breaking Bow and Shuttlepod One an effective character exploration on minimalist terms.
I still have gripes with the cold sterility of the first season, but there is more to like that I remembered, and importantly it does get better over time. For those willing to give Enterprise a second chance, they'll find a competent and enjoyable series that acts as a nice alternative to some of the pretenders that have cropped up since (I'm looking at you Into Darkness
Video
Star Trek: Enterprise Season One is presented in the series original aspect ratio of 1.78:1, encoded with AVC MPEG-4 compression.
Owing to the emergence of digital television at the dawn of the new millennium Enterprise was the first Trek series to be natively composed and broadcast in a widescreen aspect ratio, riding the crest of HD technology, which was still in its infancy. Sadly, this is also an Achilles heel for the Blu-ray. The 35mm scan is now, 12 years later considered to be ancient, with many of the tell-tale signs of age, including at time rampant grain and noise. A further issue is that all CG shots were rendered out at between 480p and 720p. Upscaled to 1080p, most CG shots exhibit obvious aliasing effects and shimmering. And this is before you even consider the somewhat ropey nature of some of the effects from today's perspective.
Still, it's not all bad. This is still a solid effort and the best that Enterprise has ever looked - certainly better than television broadcasts and previous DVD releases. Color balance is good, most shots feature a visible improvement in detail, and textures are nicely rendered, whether it be the fine patterns on uniforms, to the slick harshness of brushed metal.
In short, those expecting the same image quality than the Next Generation Blu-rays will be disappointed, and perhaps ironically so, but it is an improvement and realistically the best the series will ever look.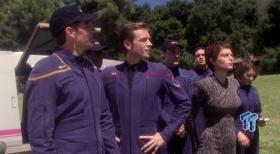 Audio
Star Trek: Enterprise Season One is presented in DTS HD Master Audio 5.1 at 24 bits.
Unlike The Next Generation, CBS have not taken the opportunity to expand Enterprise with a 7.1 audio mix, but this isn't a necessarily bad thing, because the 5.1 mix is more than reasonable, if a little conservative by modern standards.
Dialogue is recorded and presented well and I don't recall any audio sync issues. The front soundstage handles most of the shows actions, but there is reasonable bleed into the rear channels, which also houses some bleed from Dennis McCarthy's score.
Low frequency use is a bit hit or miss - some scenes feature noticeable kick in the sub, yet over scenes feature significantly less. Perhaps this is more a reflection of who was behind the audio dials upon the original mix.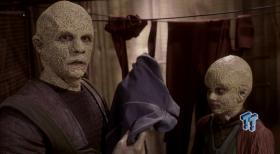 Extras
For many, one of the more compelling reasons to pickup Enterprise is based on the strength and quantity of the extra features packaged, which have sprinkled over all six discs. Directors Roger Lay and Robert Meyer Burnett have once again created a significant amount of new features, in addition to previously produced extra features, making this one of the most generous Blu-ray release of a TV series yet seen. Let's take a look.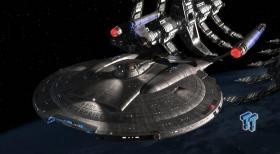 First up is the three part, 90 minute long To Boldly Go: Launching Enterprise Documentary, which in quite detailed recollections from key members of cast and crew.
Next is the hour long In Conversation Documentary which reunites show runners Rick Berman and Brannon Braga ruminating on getting the show up and running so soon after years of back-to-back productions. Even after all this time, it's clear how burnt out the two were, really giving a sense of the burden that time proved, which resulted in a rocky start to the series. The candor on display is impressive, with the duo clearly comfortable in discuss the good and not so good, sharing blame equally and holding little back. I love features like this that truly peel back the onion, but sadly we see so little of it. I also particularly note the discussion revolving around the show's theme song, which is still to this day a bone of contention amongst fans! In short; hardcore and casual fans alike need to give this feature their time.
Four episodes feature newly recorded Audio Commentary, from a range of participants, whilst the pilot also features a second commentary track recorded in 2005. Three episodes also include Text Commentaries written by Trek luminaries Michael and Denise Okuda in a nicely formatted manner of display.
On The Set is a vintage produced but unreleased 30 minute look at the ups and downs of production, focusing on the "Vox Sola" episode towards the end of the first season. The Cast Introduction, and Network and Syndication Presentations are an interesting look at the techniques involved with selling the series to the networks and audiences alike.
Next we have some of the previously released DVD features which are good to retain for posterities sake (and completists like myself), but featurettes such as Creating Enterprise and Enterprise Secrets are mostly made redundant by the aforementioned 90 minute documentary. O Captain! My Captain! A Profile of Scott Bakula and Cast Impressions: Season One take a look at the human element and the show's casting (albeit from a more promotional standpoint). Star Trek Time Travel: Temporal Cold Wars and Beyond and Inside Shuttlepod One take a look at some of the more important plot points of the first season and Celebrating Star Trek which gives an insight into the weird and wacky world of Star Trek conventions.
Finally, we have a total of eight episodes which feature brief Deleted Scenes, presented in 1080p and a nine minute Gag Reel in 480p.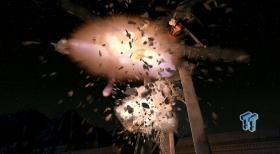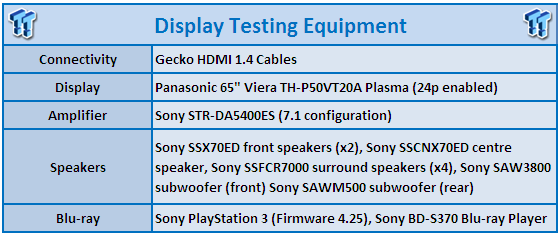 PRICING: You can find products similar to this one for sale below.

United States: Find other tech and computer products like this over at Amazon.com

United Kingdom: Find other tech and computer products like this over at Amazon.co.uk

Australia: Find other tech and computer products like this over at Amazon.com.au

Canada: Find other tech and computer products like this over at Amazon.ca

Deutschland: Finde andere Technik- und Computerprodukte wie dieses auf Amazon.de
We openly invite the companies who provide us with review samples / who are mentioned or discussed to express their opinion. If any company representative wishes to respond, we will publish the response here. Please contact us if you wish to respond.
Related Tags