HGST Travelstar 7K1000 1TB 2.5inch Hard Drive Review
Class leading shock protection ushers in the new generation of mobile hard drives from HGST. Today we're reviewing the Travelstar 7K1000 1TB model.

Published May 23, 2013 6:11 PM CDT
|
Updated Tue, Nov 3 2020 7:00 PM CST
7 minute read time
Introduction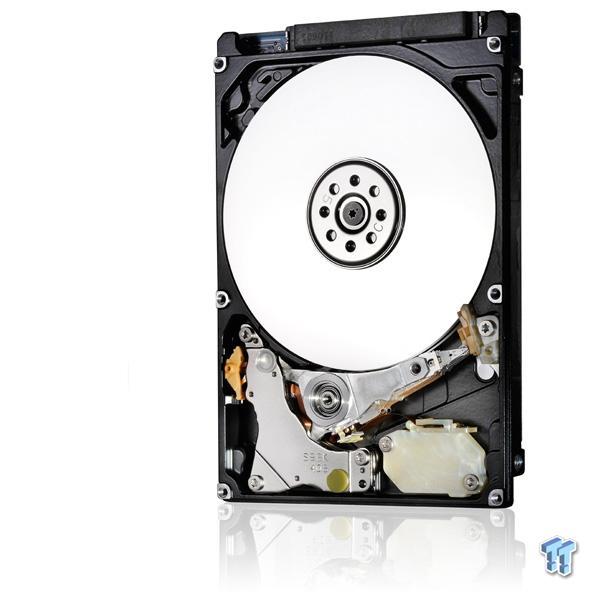 Previously we mentioned in our review of the Laptop Thin SSHD from Seagate, manufacturers have started moving towards eliminating traditional 7200 RPM 2.5" platter based drives. These drives are being replaced with slower 5400 RPM drives with NAND packages that effectively cache the most common accessed data using pinning and other caching algorithms, in order to offer the end-user the speed of solid state and capacity of a hard drive.
There is, however, one company that has chosen to stick with the 7200 RPM 2.5" drive and release it in the form of the seventh generation of mobile hard drives, the HGST 7K1000. With operating systems and storage controllers leveraging new technologies, HGST has packed the 7K1000 with 500GB per platter density, along with implementing Advanced Format Technology.
Advanced Format or "AF" as we will call it from here forward, utilizes the surface of the disk more efficiently by combining eight traditional 512 byte sectors into a single 4096 byte or 4K sector. Gains measured from the transition from 512 byte to 4K sectors equal up to eleven percent increase in physical platter space. So, why choose 4K as the definitive sector size? Why not 1K or 8K for that matter? What it all boils down to is modern operating systems and even processors utilize data in 4K page sizes, effectively streamlining data throughput from the low level hardware to the software that runs at the surface.
Today is all about the Travelstar 7K1000 1TB hard drive, let's dive in and take a look now.
Specifications, Pricing and Availability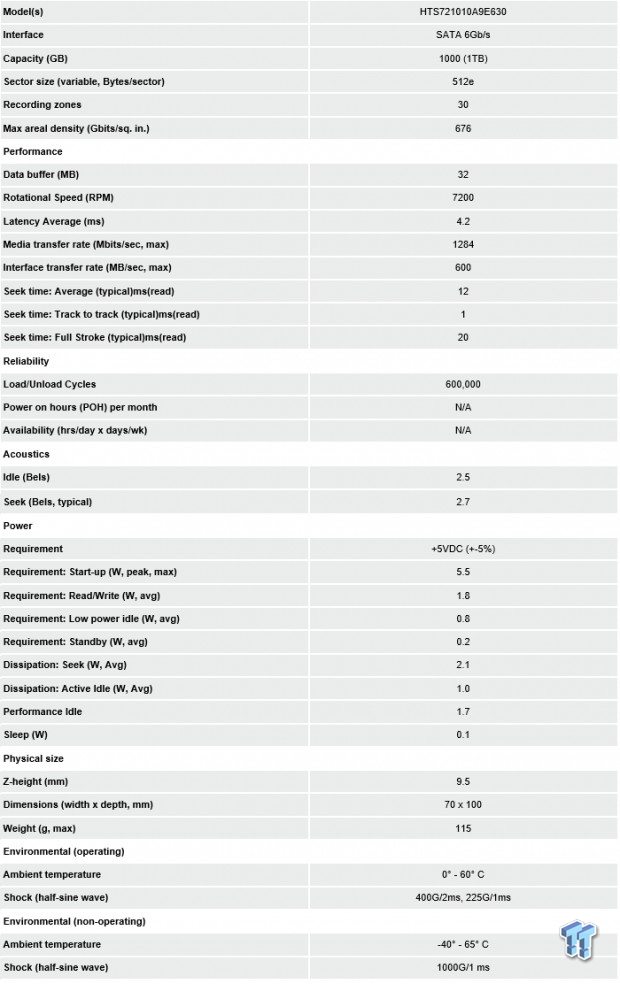 The HGST 7K series comes in several capacities including 500GB (7K500), 750GB (7K750), and the model we have here today, the 1TB or 7K1000. Sector size utilized by the 7K1000 follows the Advanced Format 512e specification with the maximum areal density at 676 Gbits/Sq. in and a SATA 6Gb/s interface.
The data buffer for the 7K1000 sits at 32MB, with the rotational speed at 7200 RPM. Media transfer rate is spec'd for 1284Mbits/s or roughly 160MB/s.
Power requirements for the 7K1000 include a peak of 5.5W during start-up, a low power idle of 0.8W and read/write average of 1.8W. The HGST 7K1000 offers class leading shock protection at 1000G/1ms in a non-operational environment, and 400G/2ms while operating.
Newegg currently has the HGST 7K1000 listed and in stock at $89.99 for the drive in its bare form.
HGST Travelstar 7K1000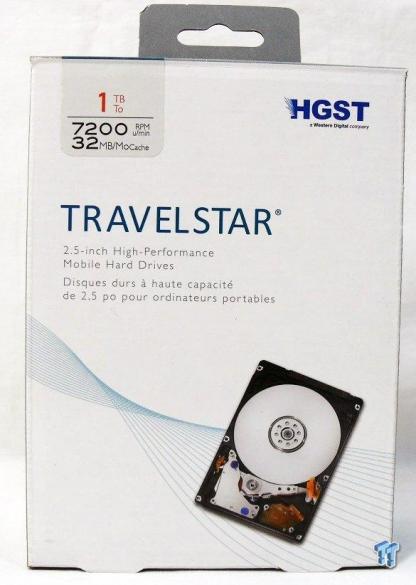 We received our Travelstar review sample with full retail kit. The front of the box shows a sample image of the drive, with the capacity listed across the top.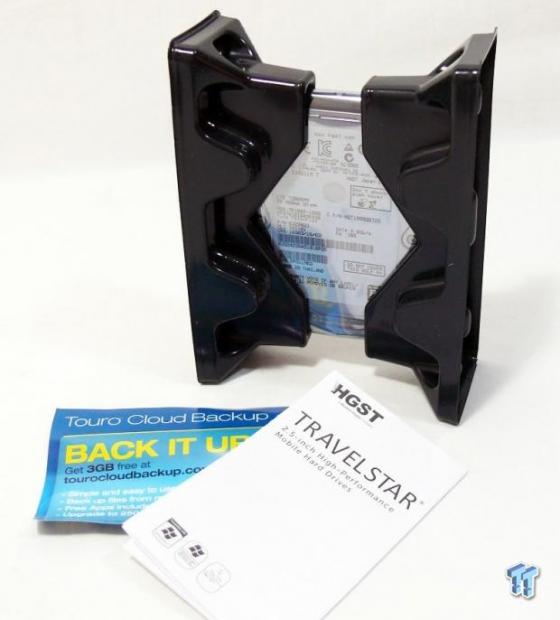 The retail kit included the drive, manual and a coupon for 3GB of free cloud backup from Touro.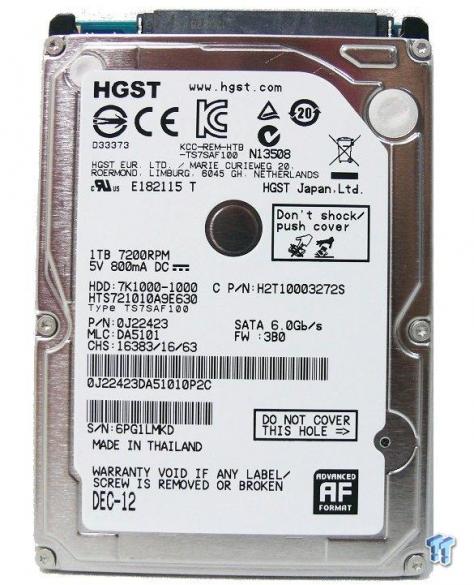 Looking over our drive, we find the capacity listed to the left center of the drive with power requirements under. Further down we find the SATA 6Gb/s capability listed, along with the drive's shipping firmware revision of 3B0.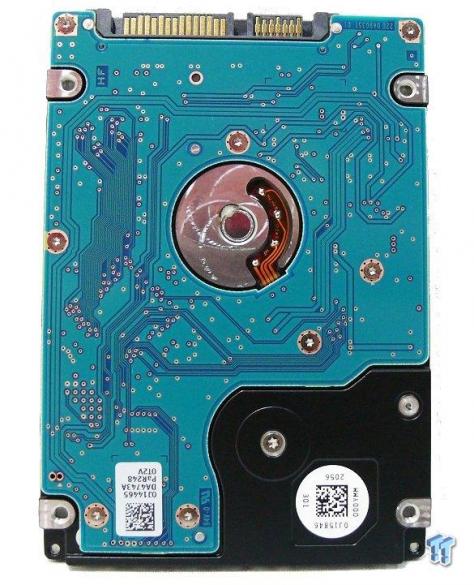 The back of the drive has an ocean green PCB, with no surface mount components exposed.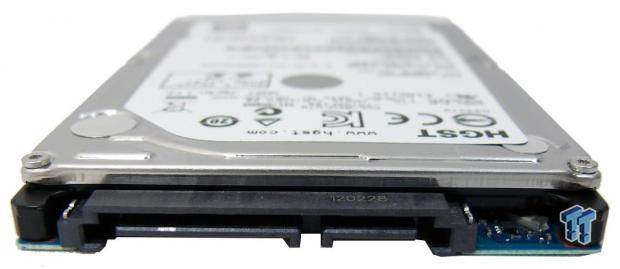 The drives SATA and power connections correctly placed.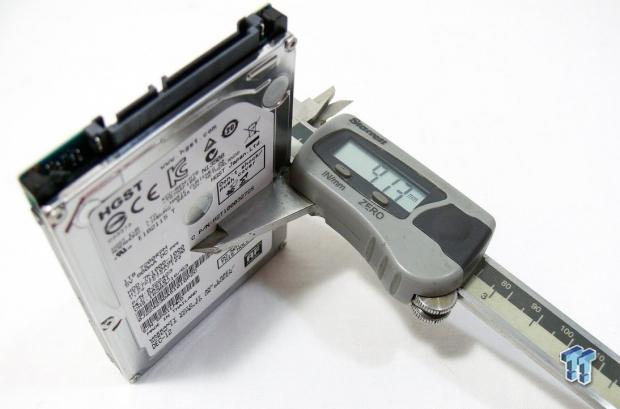 To check the Z-Height of the drive, I setup my Starrett 799. At the drives thickest point it measured in at 9.13mm. This means that this drive will fit in most notebooks, but not your new Ultrabook, which calls for a 7mm Z-Height.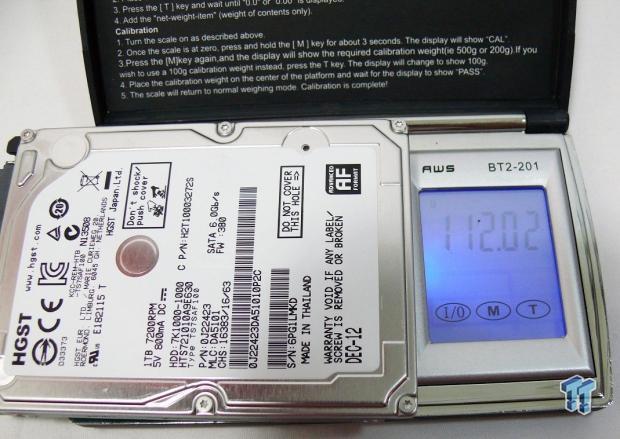 Putting the drive on our AWS BT-201 scale we find the drive weighing in just over 112 grams.
Benchmarks - Test System Setup and ATTO Baseline Performance
Desktop Test System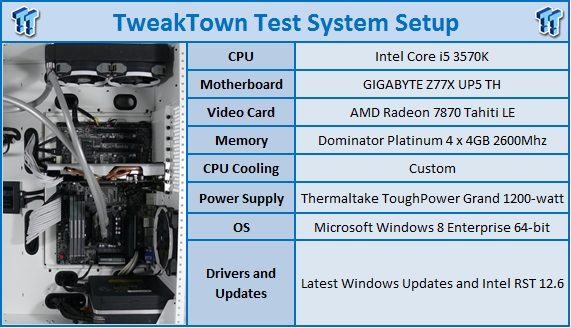 ATTO Baseline Performance
Version and / or Patch Used: 2.34
ATTO is used by many disk manufacturers to determine the read and write speeds that will be presented to customers.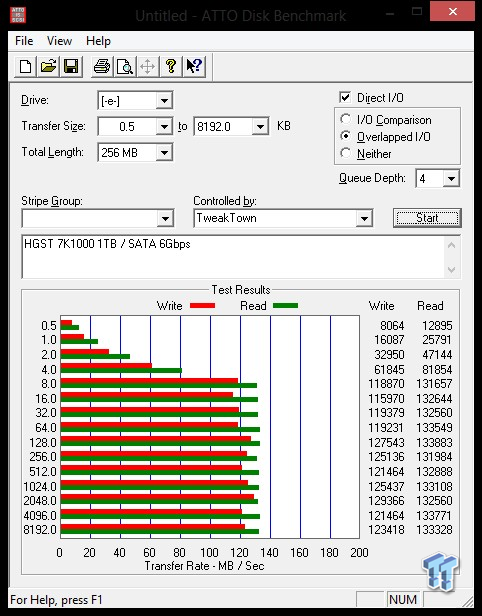 Firing up the test system we are presented with our ATTO results. Here we achieved 133MB/s read and 129MB/s write for the 7K1000. I found this rather impressive as most drives we test, including the SSHD, peak around 110MB/s.
Benchmarks - Sequential Performance
HD Tune Pro
Version and / or Patch Used: 4.00
Developer Homepage: http://www.efdsoftware.com
Product Homepage: http://www.hdtune.com
HD Tune is a Hard Disk utility which has the following functions:
Benchmark: measures the performance
Info: shows detailed information
Health: checks the health status by using SMART
Error Scan: scans the surface for errors
Temperature display
HD Tune Pro allows us, through synthetics, to gauge the drives read and write performance. In the last few years this benchmark has gained wide acceptance in the industry and is now considered a must have application for storage testing.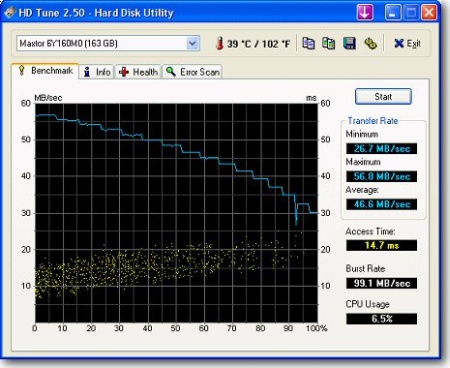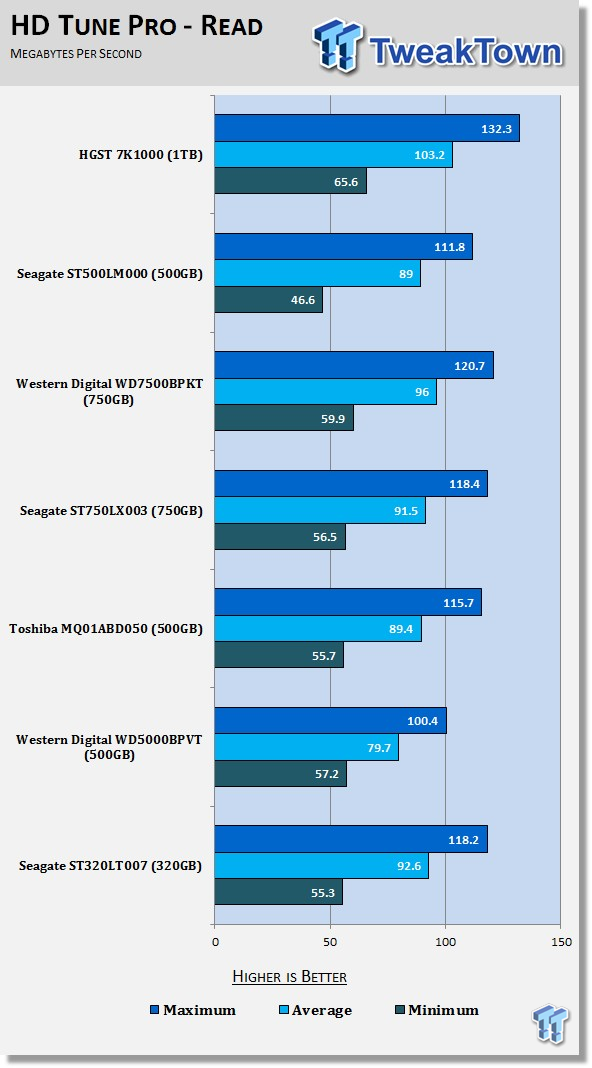 Throughout read testing the 7K1000 arrived at a low of 65.6MB/s. The average read speed was impressive at 103MB/s, and peaking at 132MB/s.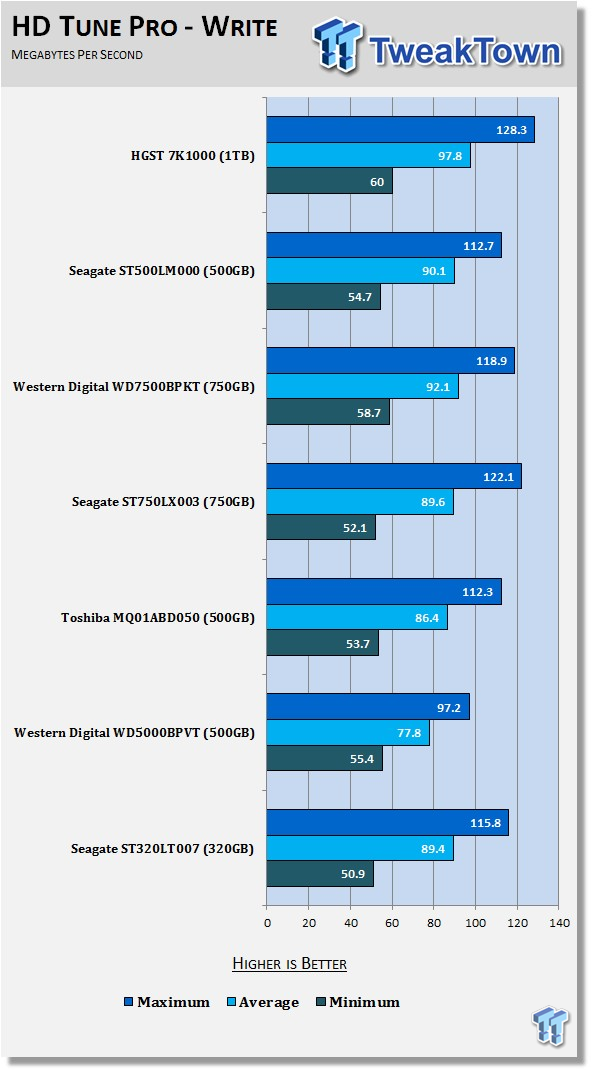 Flipping the switch over to write testing we find the 7K1000 leading the charts once again. The drive, again impressive, peaked at 129MB/s, with the low point reading 60MB/s.
Benchmarks - AIDA64 Random Access Time
AIDA64 Random Access Time
Version and / or Patch Used: 2.80
Developer Homepage: http://www.aida64.com
Product Homepage: http://www.aida64.com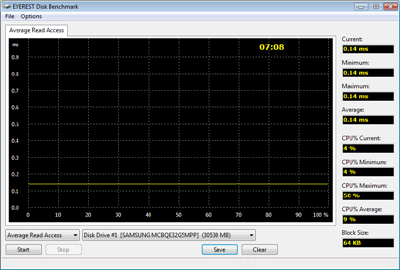 AIDA64 offers several different benchmarks for testing and optimizing your system. The Random Access test is one of very few if not only that will measure hard drives random access times in hundredths of milliseconds as oppose to tens of milliseconds.
Throughout AIDA read testing we found the 7K1000 to be on par with most of the drives on the chart. Average access ended settling at 18ms.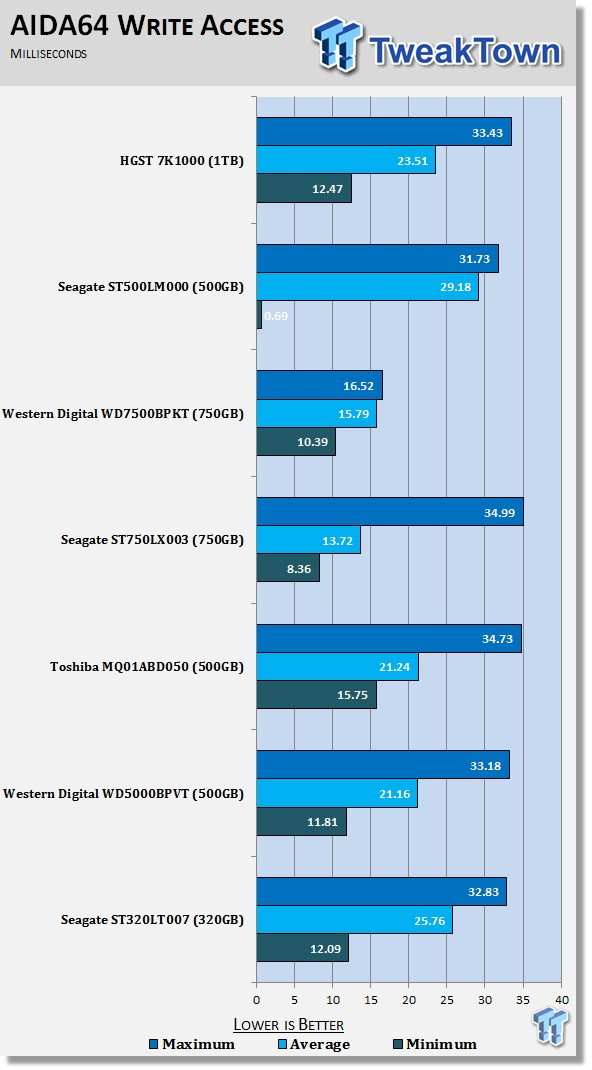 Write access times were on par with comparable drives in our charts and standard for platter media. 23ms ended up being our average, with 12ms at its quickest point.
Benchmarks - Anvil Storage Utilities
Anvil Storage Utilities
Version and / or Patch Used: RC6
So what is Anvil Storage Utilities? First of all, it's a storage benchmark for SSD's and HDD's where you can check and monitor your performance. The Standard Storage Benchmark performs a series of tests, you can run a full test or just the read or the write test or you can run a single test, i.e. 4K DQ16.
Anvil Storage Utilities is not officially available yet but we've been playing with the beta for several months now. The author, Anvil on several international forums has been updating the software steadily and is adding new features every couple of months.
The software is used several different ways and to show different aspects for each drive. We've chosen to use this software to show the performance of a drive with two different data sets. The first is with compressible data and the second data set is incompressible data. Several users have requested this data in our SSD reviews.
0-Fill Compressible Data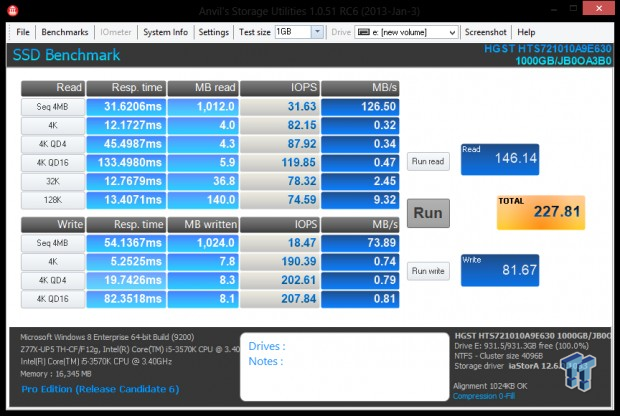 Incompressible Data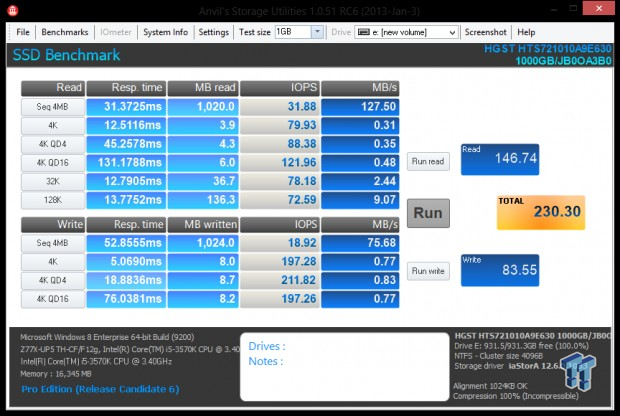 Read IOPS through Queue Depth Scale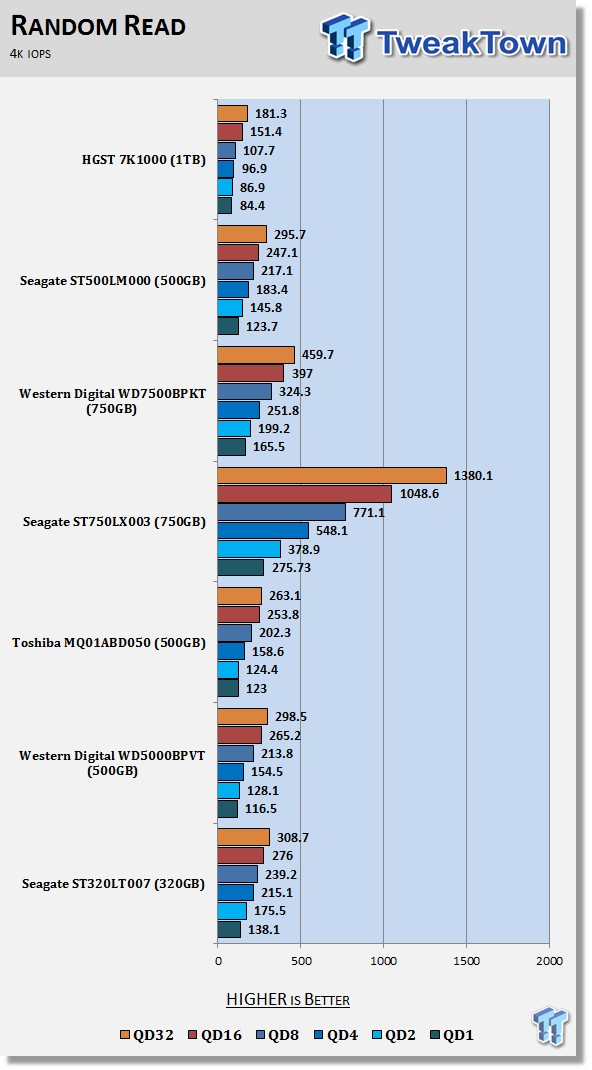 Our IOPS through queue depths showed a weak point for the HGST 7K1000, with the drive being the slowest in our charts. We peaked at 181 IOPS at QD32.
Scaling Write IOPS through Queue Scale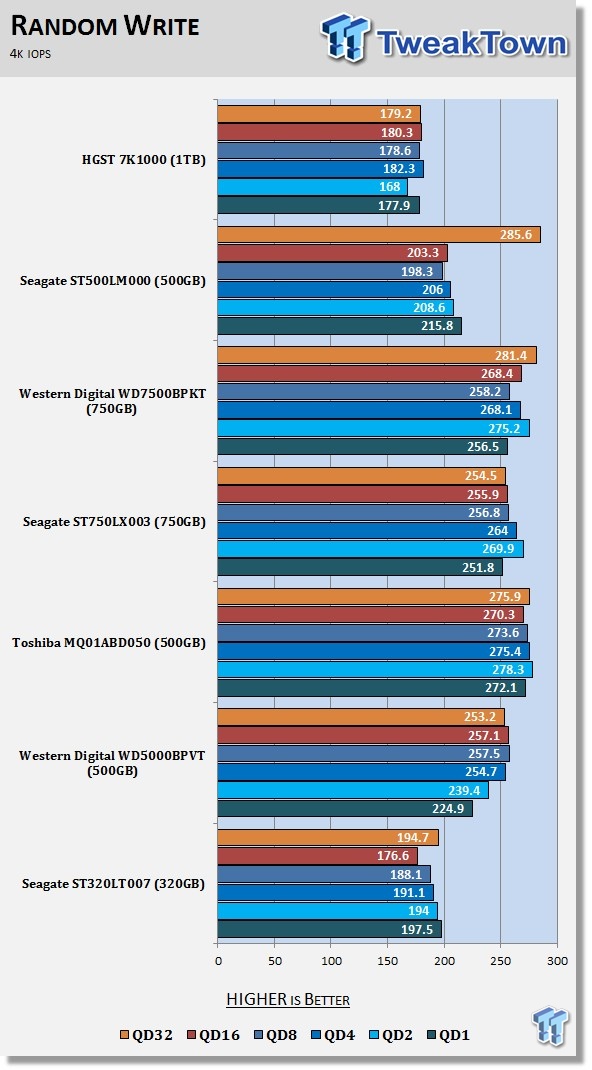 We find the 7K1000 in an equally bad place dealing with 4K write IOPS with queue depths. Write IOPS were equal across all stages of testing, peaking at 182 at QD4.
Benchmarks - PCMark Vantage Hard Disk Tests
PCMark Vantage - Hard Disk Tests
Version and / or Patch Used: 1.2
Developer Homepage: http://www.futuremark.com
Product Homepage: http://www.futuremark.com/benchmarks/pcmark-vantage/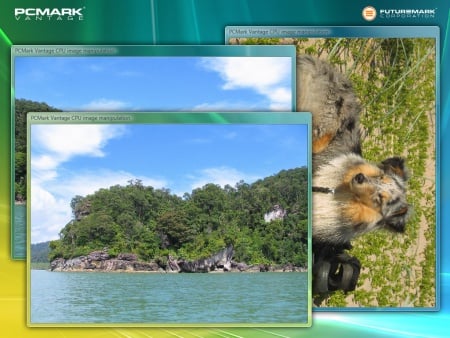 PCMark Vantage is the first objective hardware performance benchmark for PCs running 32 and 64 bit versions of Microsoft Windows Vista. PCMark Vantage is perfectly suited for benchmarking any type of Microsoft Windows Vista PC, from multimedia home entertainment systems and laptops to dedicated workstations and high-end gaming rigs. Regardless of whether the user is an artist or an IT Professional, PCMark Vantage shows the user where their system soars or falls flat, and how to get the most performance possible out of their hardware. PCMark Vantage is easy enough for the casual enthusiast to use, yet supports in-depth, professional industry grade testing.
Futuremark has developed a good set of hard disk tests for their PCMark Vantage Suite. Windows users can count on Vantage to show them how a drive will perform in normal day to day usage scenarios. For most users these are the tests that matter since many of the old hat ways to measure performance have become ineffective to measure true Windows performance.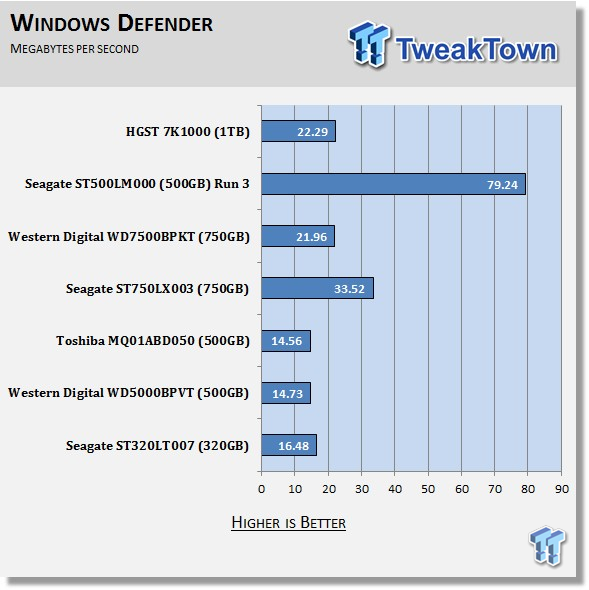 Moving out of synthetic benchmarking, we land with PCMark Vantage and Windows Defender. As seen above, the HGST 7K1000 was able to touch 22MB/s in testing. If we remove the drives from the chart that use NAND, you will find the Travelstar at the top.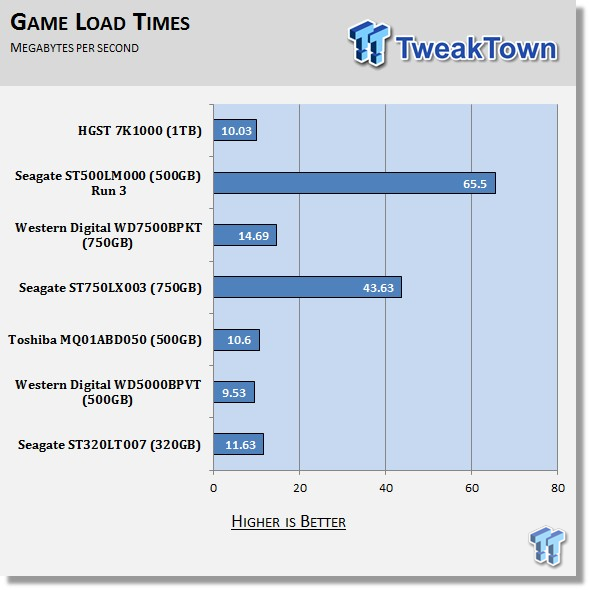 Game load times were average for a platter based drive. The 7K1000 was just behind the 750GB Black from Western Digital.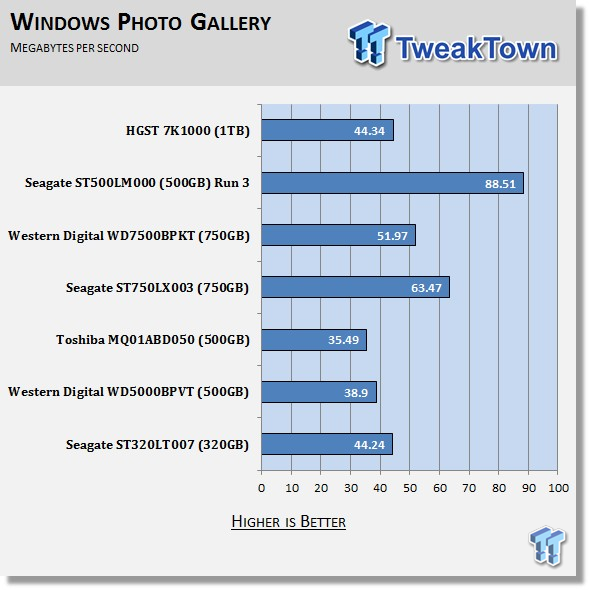 Photo Gallery netted great performance out of the Travelstar, we even find it outperforming the Hybrid Momentus XT 320GB.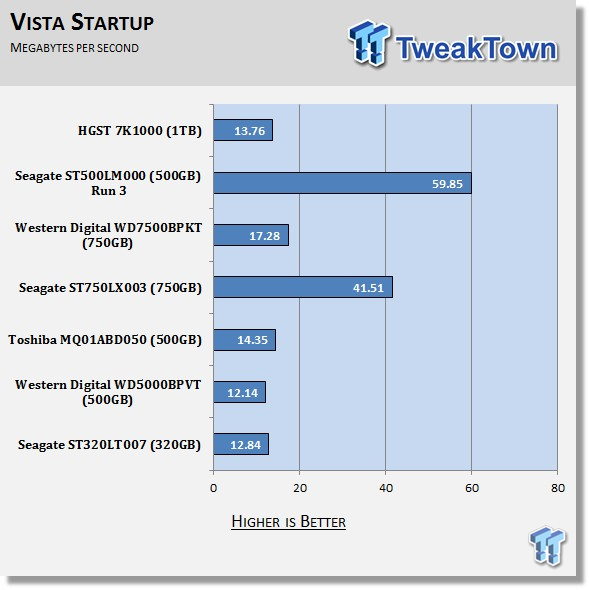 We extracted 13.76MB/s out of the HGST during Vista Startup testing.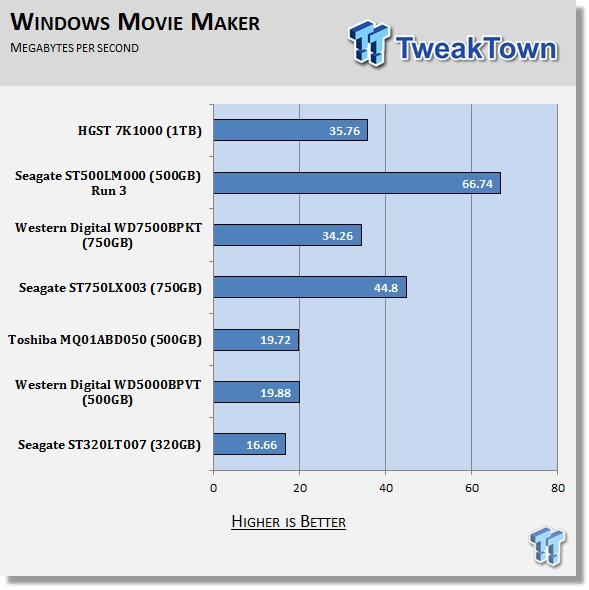 Windows Movie Maker brought a bit of performance from the HGST drive. Here we see the drive at the top of the charts, the only drives that are able keep up are Hybrid models.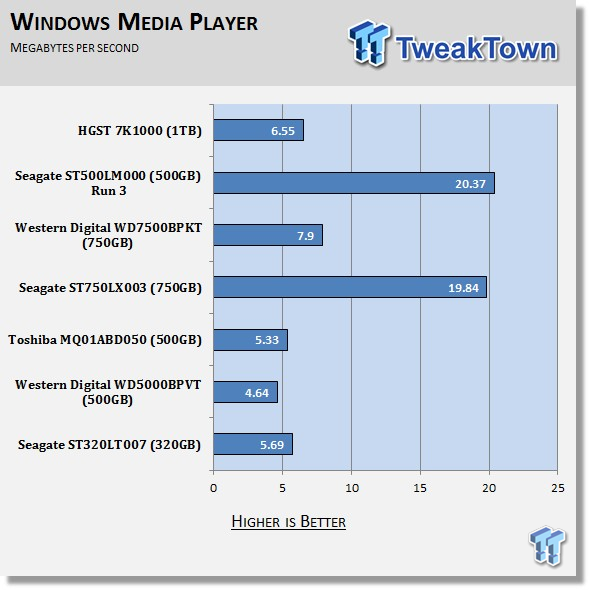 In Media Player we found the 7K1000 on par with the 750GB Black from WD.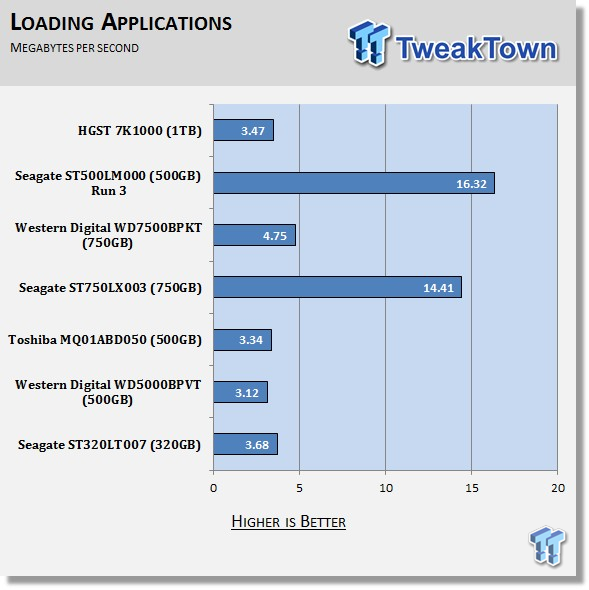 Loading applications we found the HGST second on our charts, if we remove the Hybrid caching drives.
Benchmarks - BootRacer
BootRacer - System Boot Time
Version and / or Patch Used: 4.0
Developer Homepage: Greatis
Product Homepage: BootRacer
Download here: http://www.greatis.com/bootracer/download.htm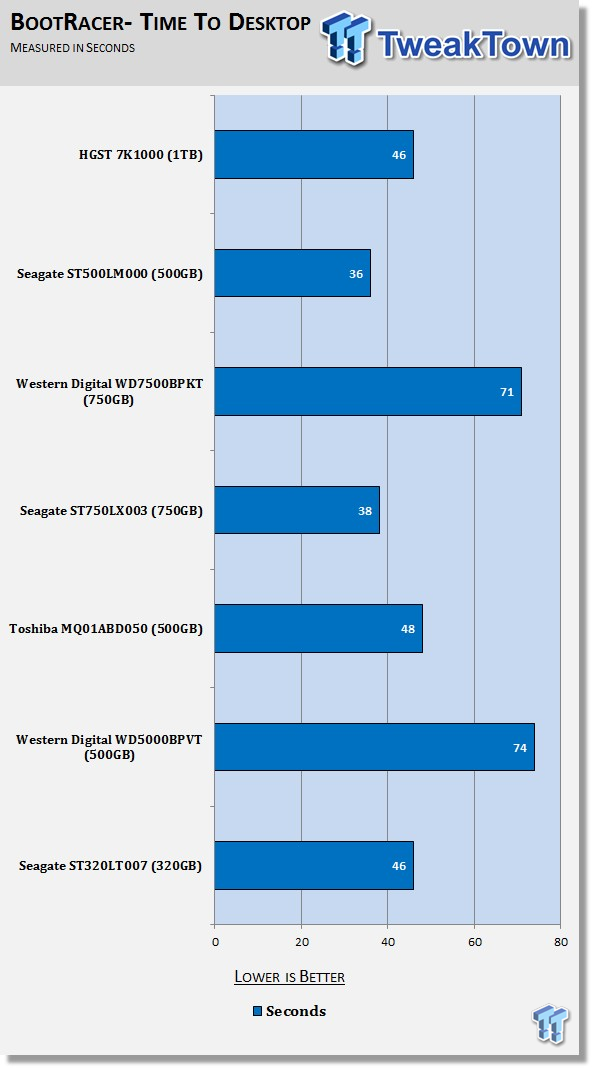 Coming in at 46 seconds, we find the HGST Travelstar in performance mode. Again, removing the Hybrid models, this is the quickest drive in our charts.
Benchmarks - Resume from S4 Hibernation
Resume from S4 Hibernation
Hibernation or S4 is part of the Advanced Configuration and Power Interface specification. In our custom "Resume from S4" testing, we allow the drive to enter hibernation for a period of ten minutes, from there we use our trusted stopwatch and time how long it take for the drive to resume to working desktop environment.
To meet Gen. 2 Ultrabook Certifications a drive must resume within seven seconds.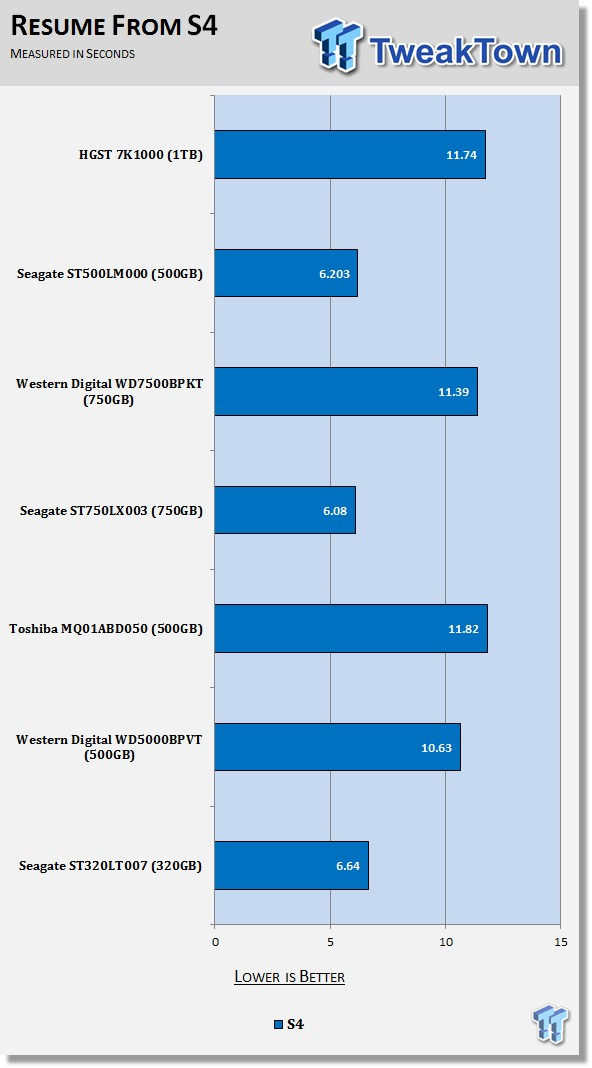 Obviously I know this drive isn't meant for Ultrabook laptops, mainly because of its Z-Height of 9.5mm. We must however test all drives equally.
Above we found the HGST to be rather impressive with a resume from S4 time of just over 11 seconds.
Final Thoughts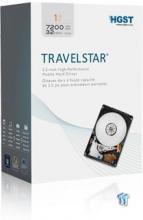 The Travelstar 7K1000 fits into the market, just as storage technology is about to make a big change switching to Hybrid NAND caching drives. Though we must not forget that not every drive is intended to be stuffed into a space restricted Ultrabook. Drives like the Hitachi Travelstar will find a home in standard notebooks, HTPC systems and even full desktop PC's, just for its space saving and low power design. If I'm honest, why would you want a full size 3.5" drive when the HGST 7K1000 offers the same capacity and comparable performance in a small form factor?
The Travelstar is packed with technology, some of which we touched on in the introduction, such as Advanced Format and the SATA 6Gb/s interface. Another technology hidden inside the 7K1000 is TrueTrack Servo technology, this allows HGST to offer greater robustness against errors caused by vibrations or even disk shifting. The end result of a technology like this allows for greater integrity of users data whether it be in a single or multiple drive environment.
The HGST 7K1000 is the last of a dying breed. It encompasses innovations of the last 50 years in hard drive technology, all rolled up into one complete drive.
So, if you are in the market for good capacity for that next HTPC build, or maybe you just want to upgrade the drive in your notebook, at $89.99 the HGST Travelstar 7K1000 is one for the shortlist.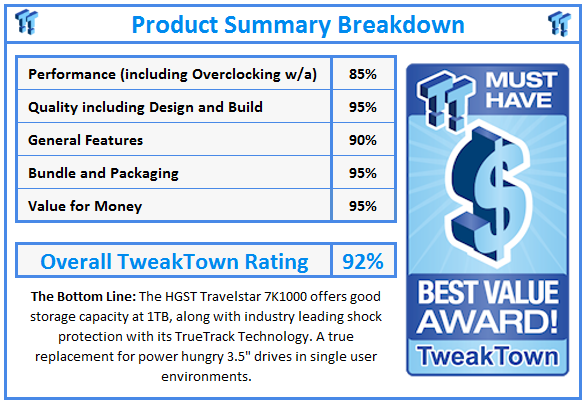 PRICING: You can find products similar to this one for sale below.

United States: Find other tech and computer products like this over at Amazon.com

United Kingdom: Find other tech and computer products like this over at Amazon.co.uk

Australia: Find other tech and computer products like this over at Amazon.com.au

Canada: Find other tech and computer products like this over at Amazon.ca

Deutschland: Finde andere Technik- und Computerprodukte wie dieses auf Amazon.de
We openly invite the companies who provide us with review samples / who are mentioned or discussed to express their opinion. If any company representative wishes to respond, we will publish the response here. Please contact us if you wish to respond.