Introduction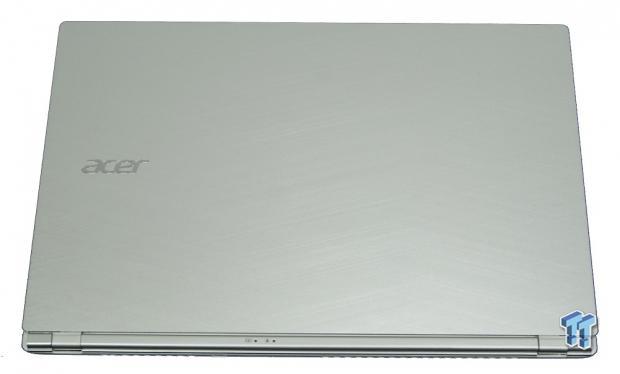 Welcome to our first review of an Acer laptop. This, along with its larger 13.3-inch brother, represent what a premium Ultrabook should feel like. The 11.6-inch S7-191 that we will be reviewing today definitely carries the premium experience better than the larger S7-391, which we'll have a review online of soon.
As stated in our previous review, some benchmarks have been updated to their latest version. Notably, PCMark 7 and Powermark have been updated to their latest versions. Previous PCMark 7 scores are not comparable to the new version so all old results have been archived. We've gone ahead and archived Powermark's results at the same time to be sure that results in our charts are all comparable.
Is the Acer Aspire S7-191 worth its premium price tag, or should you be looking elsewhere for your ultrabook needs? Keep reading to find out!
Specifications, Configurations, Pricing and Packaging
Specifications, Configurations and Pricing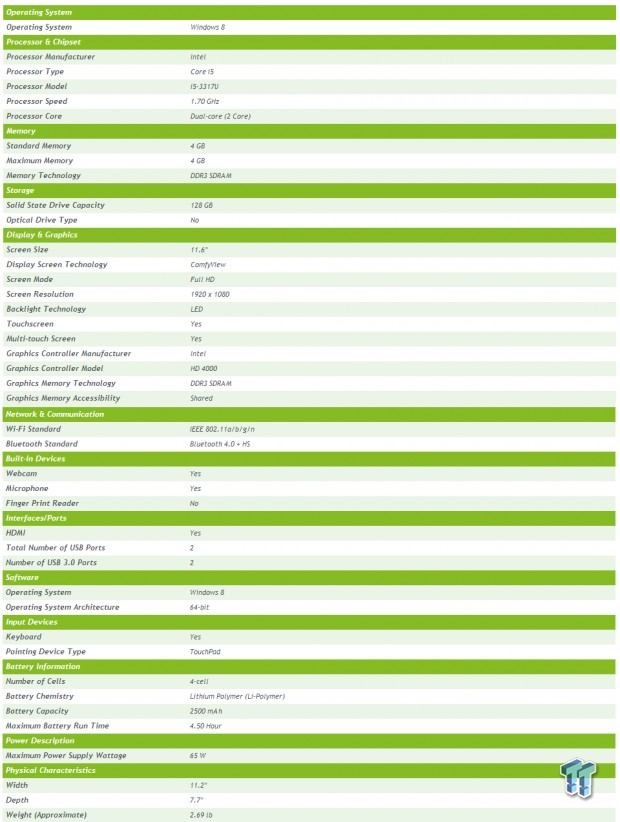 The Acer Aspire S7-191 that we have in the lab today is specifically the S7-191-6640. It comes equipped with one of Intel's low-power Core i5-3317U processors. This is a dual-core part that runs at 1.7GHz with Turbo Boost up to 2.6GHz. It features HyperThreading technology, giving the OS four threads to work with.
Coupled with the 3317U is 4GB of DDR3-1600 RAM. 4GB of RAM follows my general rule-of-thumb of 1GB per thread available. Graphics are provided via Intel's somewhat capable HD4000 integrated graphics processor.
The screen features a resolution of 1920x1080, which makes touchscreen use of the desktop interface nearly impossible to do. It also makes seeing text in desktop mode quite hard and some settings will need to be adjusted for most users.
The system features a 128GB solid state drive that provides quick boots and shut downs, as well as fast application load times. Windows 8 64-bit is loaded onto the SSD as Windows 8 provides the best touchscreen compatibilities.
Packaging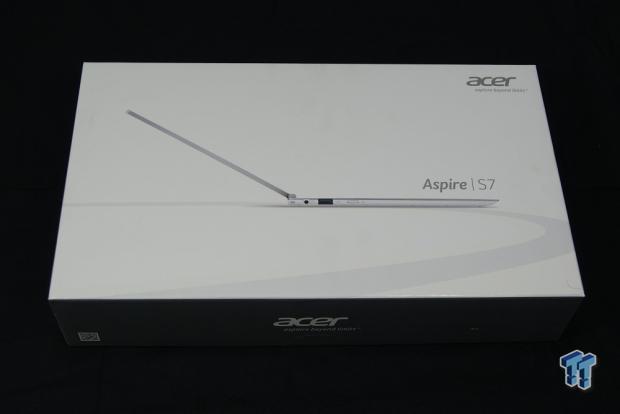 The system was packaged inside a sturdy box.
The outside of the box showed a side profile of the system along with the various specifications. This box, I imagine, would normally be shipped inside of another box for protection.
Temperatures, Cooling and Noise
The Acer Aspire S7-191 is quite thin, meaning it has very little room for cooling fans or heat sinks. We'd expect the system to run a bit on the hot side simply because it has very little ability to remove heat from the small chassis.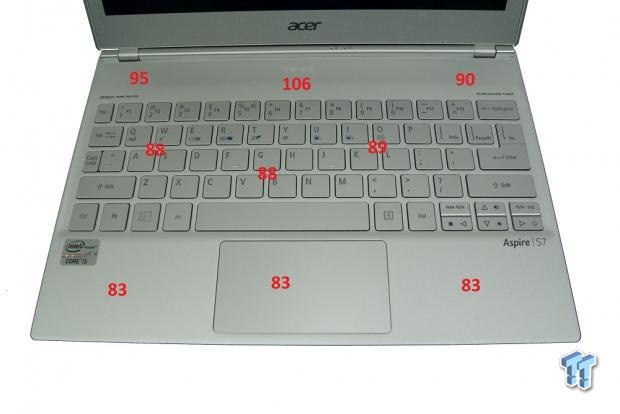 As you can see, on the front of the system, we logged a maximum temperature of 106 degrees Fahrenheit. This high temperature was located above the keyboard and somewhere you are unlikely to touch during normal use. The keyboard stayed below 90 degrees and the palm rests stayed a cool 83 degrees.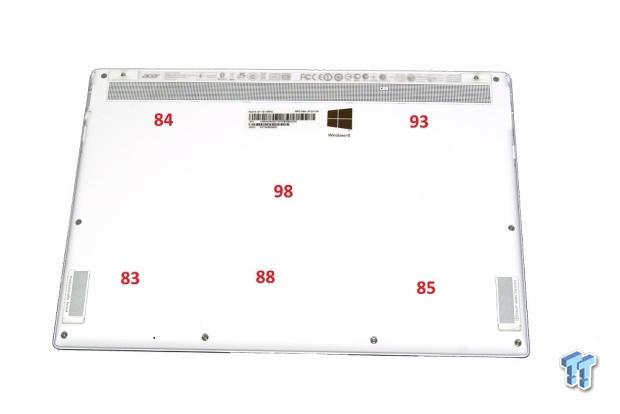 Moving around to the back side, temperatures were slightly better. The maximum observed temperature was 98 degrees Fahrenheit. The rest of the system ranged from 83 degrees to 93 degrees Fahrenheit. Temperatures shouldn't prove to be too troublesome for users who like to set their laptops on their lap occasionally.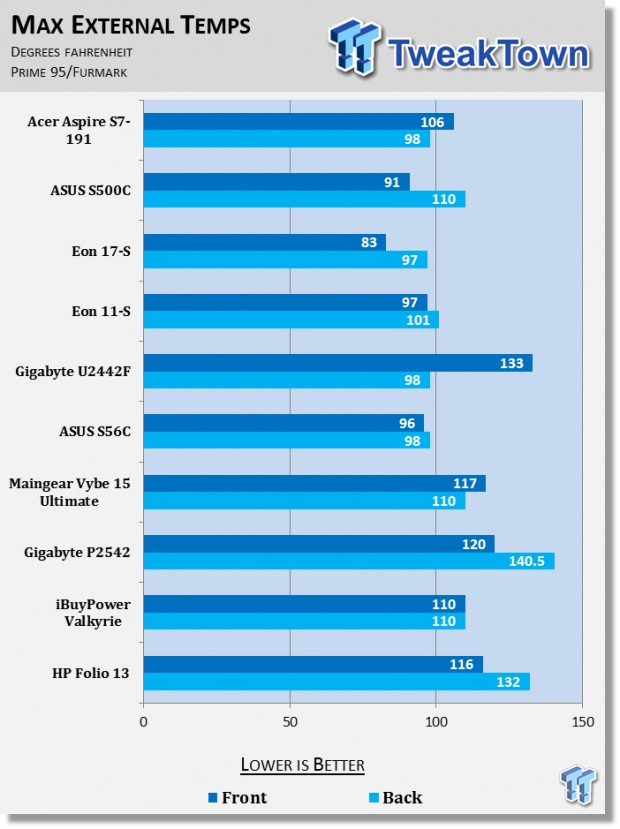 The maximum observed GPU temperature was 77 degrees Celsius, which is the same as the CPU because they are on the same die. The CPU reached a maximum of 77 degrees Celsius, a temperature that is quite a bit better than I was expecting going into this test. It's well within the limits of the CPU / GPU and should cause no long-term damage to the system.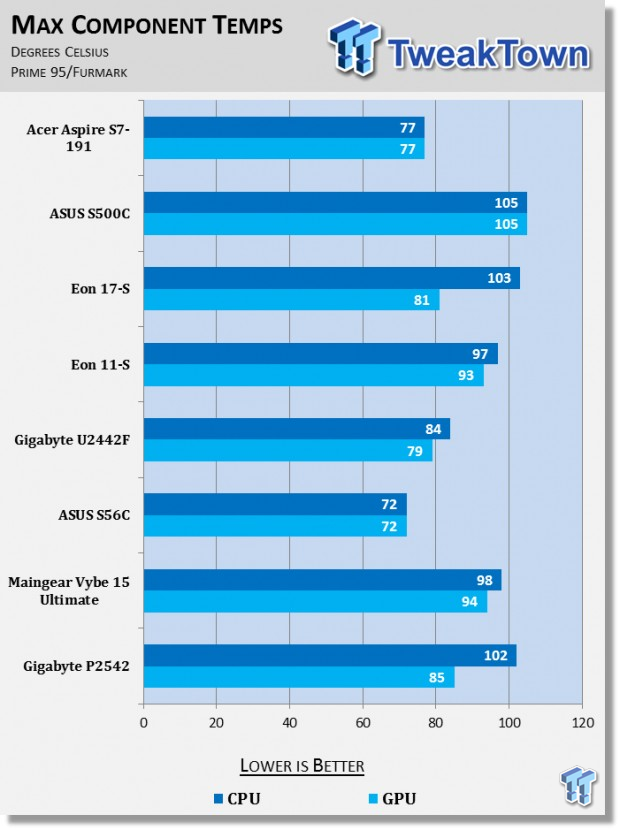 The Acer Aspire S7-191 produced a sound level of 50 decibels in our measurement. Due to its small size, the fans had to work extra hard to move enough air to keep the system cool.
Our measurement is taken in front of the laptop at roughly head level. For comparison, 30dB is a totally quiet night time in the desert, 40dB is whispering and 60dB is a normal conversation.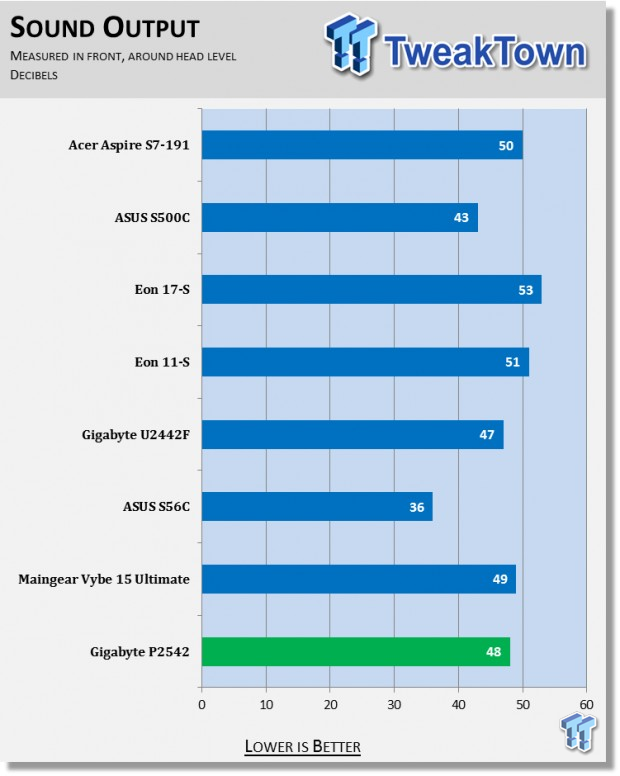 Keyboard, TouchPad, Screen and other User Interfaces
Keyboard and TouchPad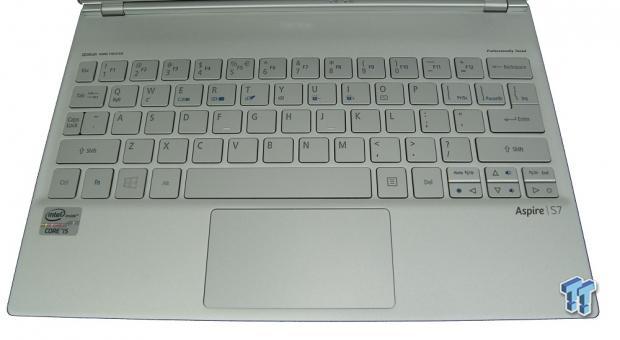 The Acer Aspire S7-191 features an island-style keyboard that has become popular of late. It's one of the worst keyboards that my fingers have used during my reviewing career, hardly passing as a keyboard. The typing experience provides nearly no feedback due to there being almost no throw in the keystroke.
There does not seem to be any keyboard flex present, likely due to there being no extra room inside the chassis for the keyboard to flex into. It also helps that the keyboard is cut from a piece of aluminum, providing extra rigidity.
As noted above, the throw of the keys is atrocious. Because of the thinness of the system, the keyboard has nearly zero room to allow the keys to be pressed. This lack of throw removes much of the tactile feedback that quick typists rely on.
The keys have a matte texture on the surface and appear to be perfectly flat. The surfaces of the keys appear to have the same texture and color as the rest of the aluminum body, resulting in a nice look and feel.
The backlight present on this system is that of a premium system. It has a very soft glow that can change in brightness to match the user's environment. This means it can be a soft backlight when typing in bed at night, or a slightly brighter one for use while watching TV in a darkened room.
The touchpad is made from a single piece of material, with all sections touch sensitive and able to be pushed down for a left click. There is no visible delineation for left or right click, meaning you have to take a guess as to where left click ends and right click begins.
The touchpad is recessed down into the palm rest of the machine just slightly. The surface is smoother than the surrounding aluminum and provides an excellent experience.
Screen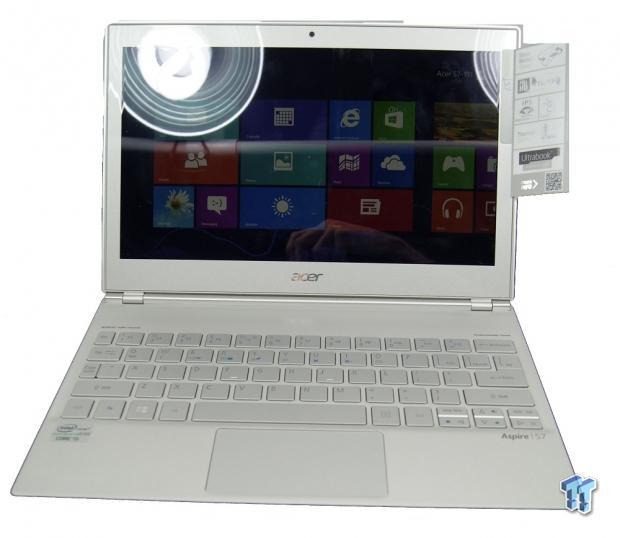 Acer has equipped the Aspire S7-191 with an 11.6-inch IPS screen pushing out a resolution of 1920x1080. Because the screen is touch-enabled, it comes with the drawbacks associated with having a touchscreen. This means it will have a slight glare problem, along with fingerprints ending up everywhere.
The screen features a giant edge-to-edge piece of glass to enable touchscreen functions. One drawback to having a touch-enabled system is that the screen is often smudged with fingerprints, causing reading to be a pain.
Color reproduction is excellent, due to the use of an IPS panel. Also as a result of using the more expensive IPS panel, viewing angles are much improved. This means you can move left or right and up or down without much change in color representation. With most systems, this would present issues with colors becoming distorted and text becoming unreadable.
Testing Methodology
View our full testing methodology article.
- Accessory Port Testing
Ports to which an external storage device can be connected to are tested using HD Tune Pro to obtain their maximum, minimum and average read and write speeds. USB 2.0, USB 3.0 and eSATA ports are tested using a Corsair Neutron GTX 240GB SSD that is capable of saturating the theoretical bandwidth available.
The Corsair Neutron GTX is housed inside an Icy Dock external enclosure which features a SATA I/II/III to USB 3.0 and eSATA converter.
- Gaming Tests
3DMark Vantage is ran on the Performance preset to get a feel for how the computer would manage gaming. The CPU, GPU and combined scores are reported. A higher overall score is the best and a high GPU or CPU score shows particular prowess with tasks that use that part of the computer.
3DMark 11 is run on the Performance preset and the Physics, GPU and combined scores are reported. This test is only run if the system supports DirectX 11. A higher overall score is the target, though a high individual result shows prowess in a particular area.
3DMark is the latest benchmark by Futuremark. The Cloud Gate test is ran with all of the default settings and the score, GPU score, and physics score are all recorded in the chart. The Cloud Gate test is intended to be run on home desktops and notebooks.
- System Tests
PCMark 7 is run to get an overall idea of how the system performs as a whole. It tests all aspects of the PC and puts a score on how well it performs overall. In this test, a low scoring area can affect the overall score, so it's important to read the analysis. A higher score is better.
MobileMark 2012 is another test run to get a feeling for the system performance taken as a whole. MobileMark 2012 uses real-world applications as part of the benchmark. We use the Office Productivity suite which includes applications like Adobe Acrobat and Microsoft Word. The test also reports battery life as all tests are run on battery. Higher is better for both results.
CrystalDiskMark is run to put a number on how well the system hard disk drive / SSD runs. It measures five different metrics, of which higher is better for all. The higher the numbers, the snappier the operating system will feel, especially if the "4K" number is high, as most operating system files are small files.
- Battery Life
PowerMark is used to measure battery life of the system when set to the "Balanced" power plan. This test simulates several different activities, but uses custom built applications.
Accessory Port Layout and Performance

The left side, from back to front, features the power port, one USB 3.0 port and the power button.

The right side, from back to front, features one USB 3.0 port, headphone jack and microSD card reader. A mini HDMI port is present on the back of the system (not pictured).
The Acer Aspire S7-191 does not feature any USB 2.0 ports, thus testing was unable to be run.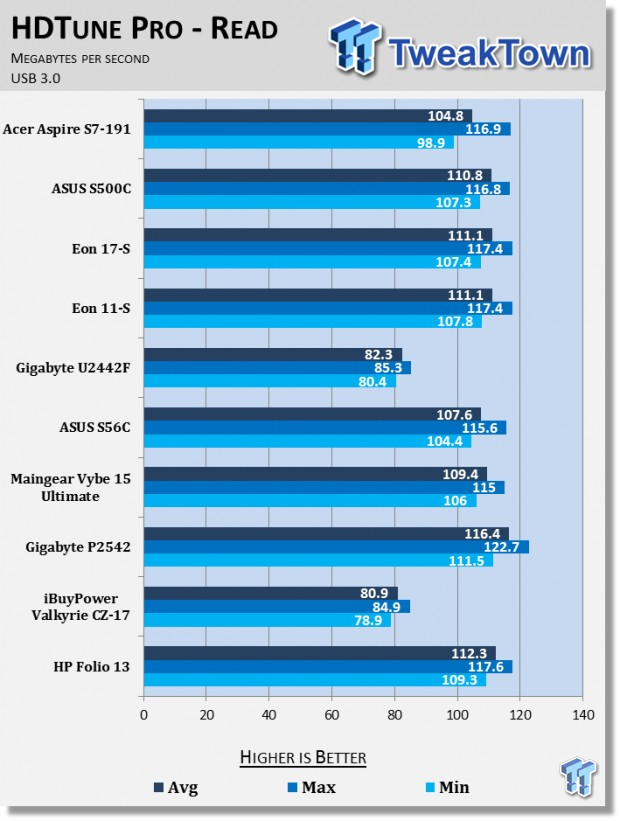 In terms of USB 3.0 read performance, the Aspire S7-191 is towards the bottom of the stack. It turns out a decent 104.8MB/s, which is 12MB/s slower than the top system.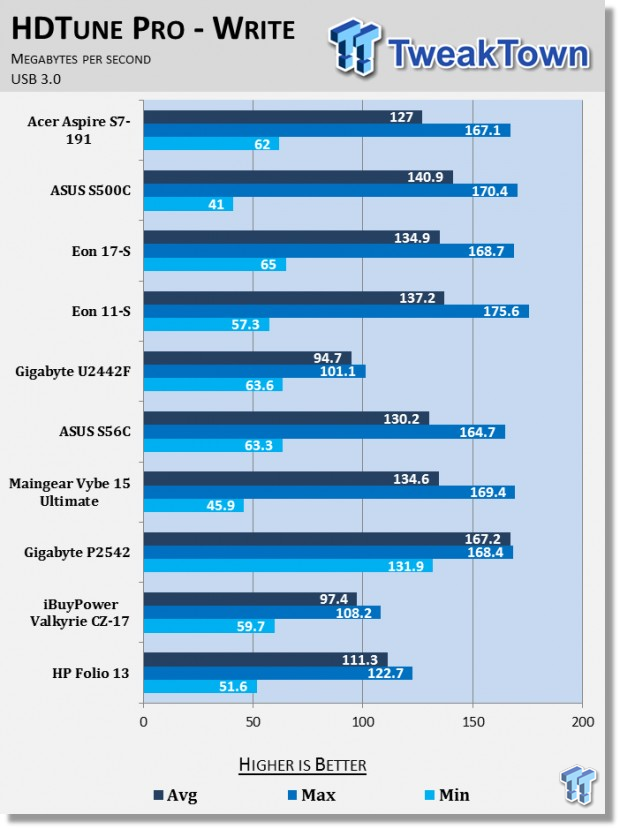 In terms of USB 3.0 write performance, the Aspire S7-191 continues to be towards the back of the pack, managing a write speed of 127MB/s. This puts it ahead of two systems that didn't even break into the 100MB/s category.
Gaming Performance
3DMark Vantage
Version and / or Patch Used: 1.1.0
Developer Homepage: http://www.futuremark.com
Product Homepage: http://www.3dmark.com/3dmarkvantage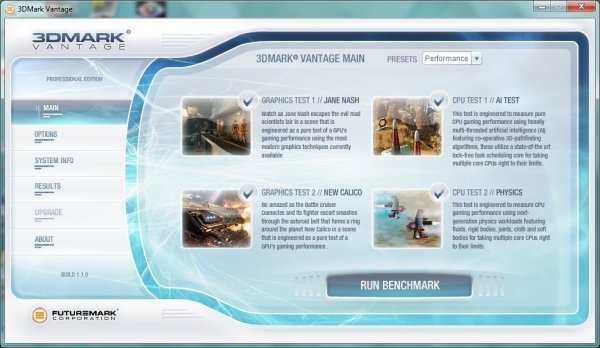 3DMark Vantage tests both processor and graphics performance and is a good indication of how systems compare. The results are generally more repeatable and consistent than other forms of benchmarking. Vantage uses DirectX 10 and can handle multi-core CPUs.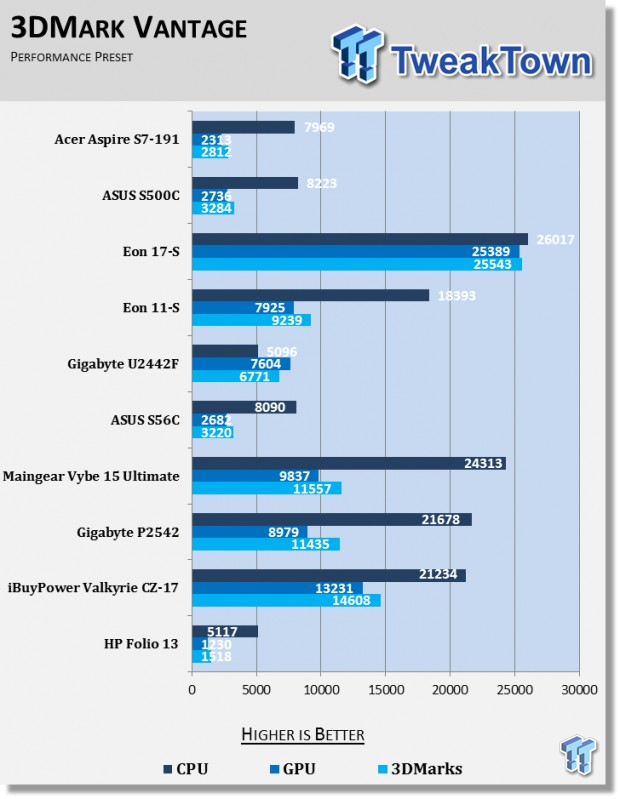 The Acer Aspire S7-191 is an Ultrabook and falls in line about where you would expect it to. It manages an overall score of 2812, which is slightly behind the other Ultrabooks that have had come through our lab. Individual scores are also in line, with the S7-191 managing a GPU score of 2313 and a CPU score of 7969.
3DMark - Cloud Gate Test
Version and / or Patch Used: 1.0.0
Developer Homepage: http://www.futuremark.com
Product Homepage: http://www.futuremark.com/benchmarks/3dmark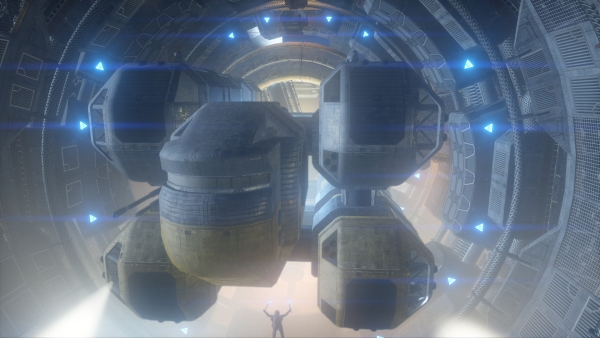 Cloud Gate is a new test that is designed for Windows notebooks and typical home PCs. Cloud Gate includes two graphics tests and a physics test. Cloud Gate uses a DirectX 11 engine limited to Direct3D feature level 10 making it suitable for testing DirectX 10 compatible hardware. Cloud Gate will only be available in the Windows editions of 3DMark initially.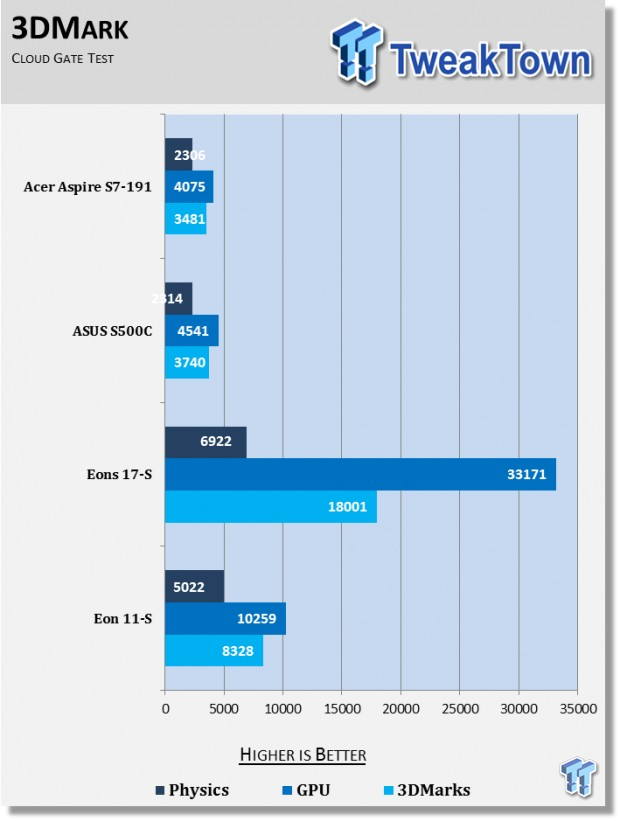 You can see in the chart that Ultrabooks just aren't designed for gaming. The S7-191 only manages to put up a score of 3481, which is bested by the Eon 11-S' 650M quite easily.
System Performance
PCMark 7
Version and / or Patch Used: 1.0.4.0
Developer Homepage: http://www.futuremark.com
Product Homepage: http://www.pcmark.com/benchmarks/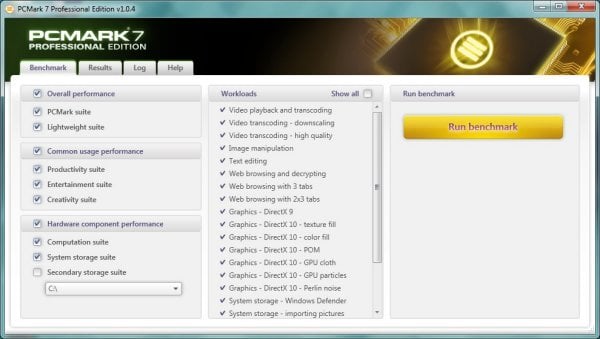 PCMark 7 is a great utility for testing a PC's all-around capabilities. It tests all aspects of the computer, from graphics performance to hard disk performance and attempts to put a score on it, which is not an easy task.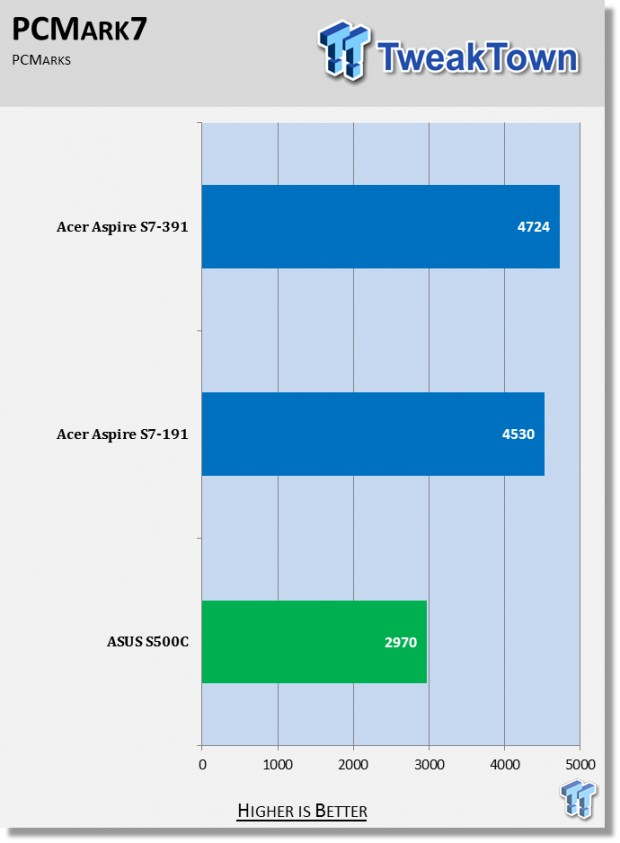 You'll notice that our results have been cleared out due to us updating the test to the latest version. The Acer Aspire S7-191 manages a score of 4530, a decent score for a notebook to achieve. Comparing to our archived systems (not fully comparable), the S7-191 is towards the top of the heap.
Mobile Mark 2012
Version and / or Patch Used: 1.0.0.118
Developer Homepage: http://www.bapco.com
Product Homepage: http://bapco.com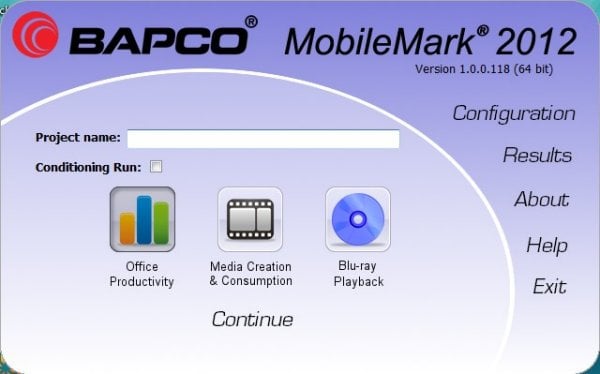 MobileMark 2012 is a premier benchmarking tool produced by BAPCo. It has several different scenarios built-in and allows you to choose which to run. It runs the test on battery life so that it produces both a score for the performance aspect and a run time for battery life.
For our testing, we chose the Office Productivity line of testing. The "Performance Qualification Rating" and battery life (in minutes) is reported below in the charts.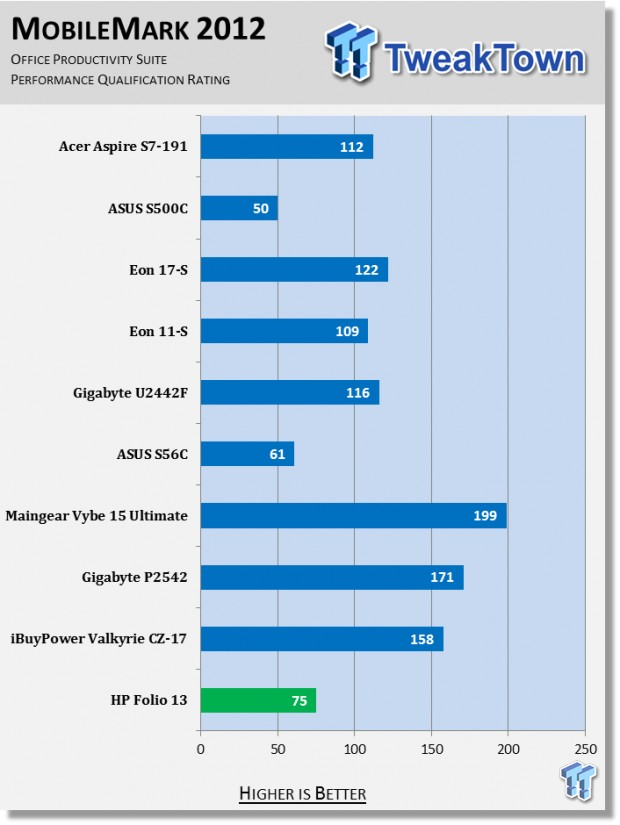 The Acer Aspire S7-191 performed decently for an Ultrabook in our MobileMark benchmark. It managed a score of 112 from an 11.6-inch machine. Other Ultrabooks have come in slightly higher, but they are larger machines and can house more powerful components.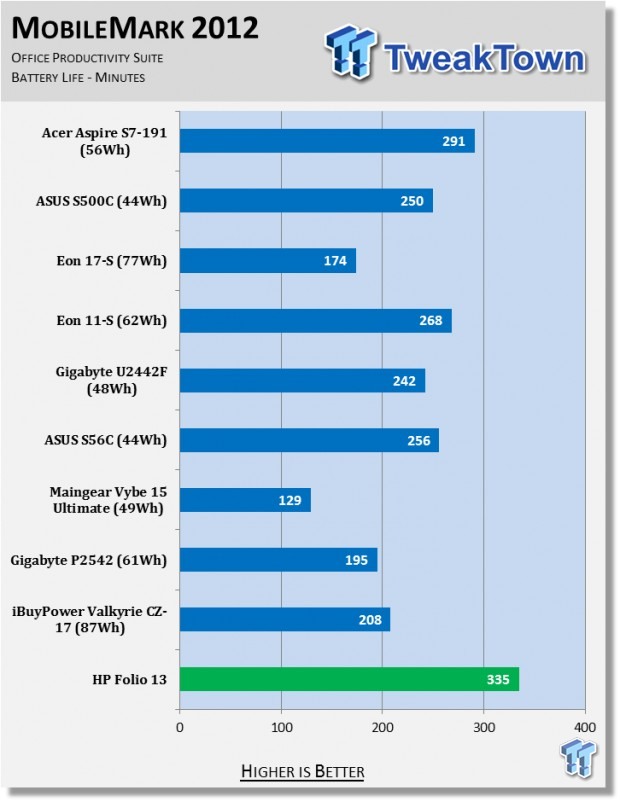 Battery life comes in at a whopping 291 minutes, or 4 hours and 51 minutes. It's important to note that the Aspire S7-191 comes with a second battery that can be attached to the system. These tests were run with that battery attached, resulting in a combined capacity of 56Wh. Without the extra battery, battery life would be about half as the external battery is roughly the same size as the internal one.
CrystalDiskMark
Version and / or Patch Used: 3.0 Technical Preview
Developer Homepage: http://www.crystalmark.info
Product Homepage: http://crystalmark.info/software/CrystalDiskMark/index-e.html
Download here: http://crystaldew.info/category/software/crystaldiskmark
CrystalDiskMark is a disk benchmark software that allows us to benchmark 4K and 4K queue depths with accuracy.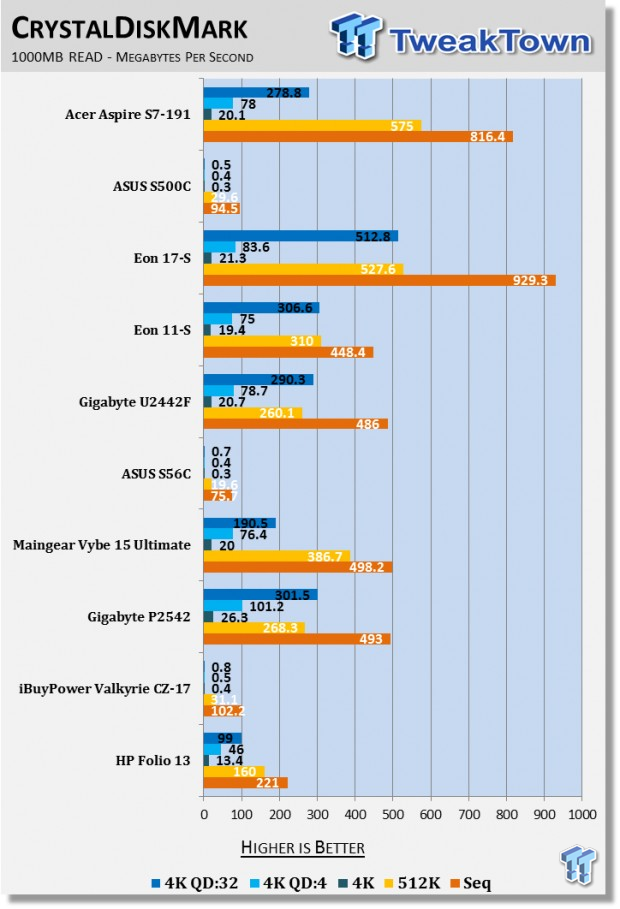 The Acer Aspire S7-191 turns out some absolutely astounding hard disk read speeds with the sequential read coming in at a massive 816.4MB/s, blowing away all systems save for the Eon 17-S that features dual SSDs in RAID 0.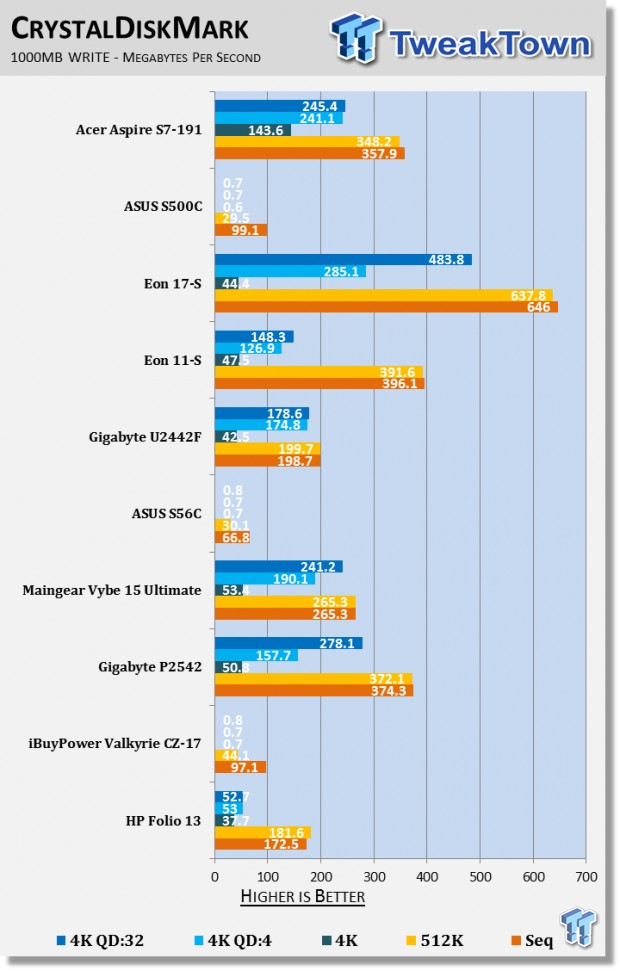 Write speeds are equally impressive, with sequential speeds coming in at 357.9MB/s.
Battery Life Performance
PowerMark
Version and / or Patch Used: 1.1.1
Developer Homepage: http://www.futuremark.com
Product Homepage: http://www.futuremark.com/benchmarks/powermark/
Download here: http://www.futuremark.com/benchmarks/powermark/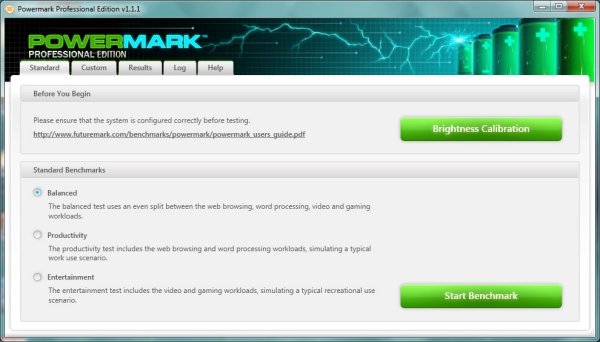 PowerMark is a benchmark produced by Futuremark that simulates different usage scenarios in order to determine battery life. It loops these different scenarios infinitely until the battery hits 15% and then gives us an estimated battery life time. For our testing, we use all four different scenarios. These are video playback, gaming, web browsing and word processing.
The test is ran once with the computer's Power Options set to Balanced. You'll notice our graph has been cleared. PowerMark was updated to the latest version for testing, so we removed the test results created with a past version.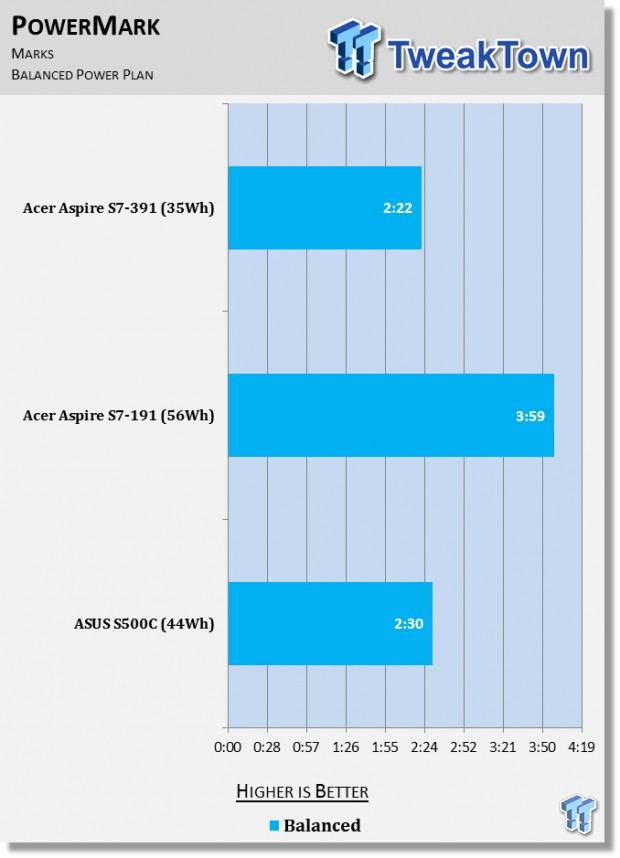 The Acer Aspire S7-191 managed to post the highest battery life score out of any of the systems, past or present, that we have tested. With the extended battery equipped, the S7-191 managed to run for 3:59, an impressive time considering the other systems were just over half of that.
Final Thoughts
I'm just going to come out and say it straight away: I love this computer. I love everything about it, save for one massive flaw that would cause me not to buy it. The performance? Nope, it's everything you would expect from an Ultrabook.
The size or weight? Nope, this system is nearly as thin as the MacBook Air or ASUS Zenbook. The screen? Nope, the 1080p IPS screen is fabulous and even comes with touch. So, just what is it that I can't stand? The keyboard.
The keyboard equipped on this otherwise amazing system is abysmal. I can't recall using a worse keyboard on any other system, past or present, which was as bad as the one on the Aspire S7-191. It's absolutely atrocious.
Don't get me wrong, the keyboard does work as described. You hit keys and text displays on the system's gorgeous screen. But the act of actually pushing the keys is horrendous. They lack any sort of feedback. They're mushy and have almost zero throw. I do understand that there are engineering constraints when making a system this slim. To enable more throw, the system most likely would have to be thicker. In this instance, I'd be willing to make the trade.
By not having a keyboard that's capable of providing a decent typing experience, the system basically forces its user to bring along an external keyboard, basically reducing its portability below that of even the largest 17-inch gaming system.
If you rarely type on your notebook, I can think of no better system than the Aspire S7-191 for this class of laptops. However, if you even type a few e-mails a day, you're better off looking elsewhere in the computing world, especially when you factor in the price.
The system will set you back a costly $1,199.99 from Newegg at the time of writing. That's the cost of a premium machine. As I have been saying throughout this review, everything about this system is incredibly premium, save for the keyboard.
That's why I would never buy this system. As a writer, I use my keyboard heavily every day. I also use it to take notes during meetings and program applications. I would rather use a cramped 10-inch netbook keyboard than use the one equipped on the Aspire S7-191.
And that's the sad part. I absolutely love this system. It's simply gorgeous. The brushed aluminum, the IPS 1080p screen, and the form factor... wow! But without a decent keyboard, it's just not a useful system. It's like buying a car that has loads of horsepower and looks sleek, but has a mushy gearbox and steering.
If you are insistent that this is the system for you-don't get me wrong, I would buy it in a heartbeat if the keyboard was halfway decent-I would implore you to locate one in a store before purchasing it so that you can try the keyboard out for yourself. Unfortunately, I think you'll find the keyboard quite disappointing.