Every few years, Hollywood offers up dueling motion pictures in the same year, as the studios in question, desperate to capitalize on the new idea rush to be first. We've had Antz v.s. A Bugs Life, Dante's Peak v.s. Volcano, Deep Impact v.s. Armageddon. This year we have Olympus Has Fallen v.s. White House Down. History has shown the latter film is generally the superior product. And so it will be likely be with Olympus Has Fallen.
Following a fateful drive from Camp David, Secret Service agent Mike Banning (Gerard Butler) is racked by guilt following the death of First Lady Margaret Asher (Ashley Judd) in a car accident and subsequently demoted to detail at the Treasury office. Fast forward 18 months and President Asher (Aaron Eckhart) is hosting a delegation from South Korea when the White House is attacked by air and land, with insurgents managing to gain access into the building. When Asher and Korean entourage are ushered to a secure room within the White House against guidelines, Kang (Rick Yune), a turncoat North Korean agent holds Asher and key members of the executive hostage with a plan to arm the United States arsenal of nuclear weapons.
Despite his previous failure, Banning might be the only thing between not only the murder of the President of the United States, but the destruction of the country.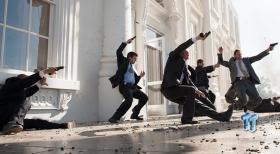 Releasing at a seemingly fortuitous time, as North Korea flexes its muscle (or lack thereof) on the world stage, Olympus Has Fallen represents a country still scarred 11 years on from the events of September 11.
Written by newcomers Creighton Rothenberger and Katrin Benedikt, the plot moves along at such a snappy pace, aiming to avoid the possibility that the audience might stop to analyze its unlikely nature. I mean, North Korea is a country that can't afford to fuel their defense planes, let alone make it to the continental United States. Still, there has to be a bad guy and studios can no longer afford to demonize China - now even tailoring films for the country (see Iron Man 3 and Looper), in a sign that the Eastern world is warming to Western entertainment.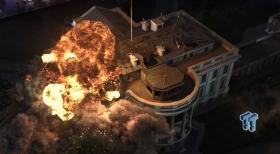 Director Antoine Fuqua has had his fair share of career highlights and lowlights, helming Training Day and King Arthur in recent years. Olympus Has Fallen sits somewhere in between, neither reinvigorating the genre, nor registering on the Hollywood blockbuster season radar with anything more than a weak blip. Even bolstering by a reliable cast, including the likes Aaron Eckhart and Morgan Freeman, can do much to elevate it. However, perhaps the films greatest flaw is the rather unimpressive nature of its digital effects, undoubtedly some of the least convincing in recent memory, unsurprising due to their scope on such a tight budget of just $70 million.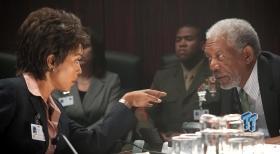 Overall, Olympus Has Fallen is a typical modern action adventure, a breezy two hours of entertainment that serves as much nourishment as anything from the cinemas candy bar. Still, the nicest thing I can say about it is that it's now more Die Hard, than, well, Die Hard.