Introduction and Specifications, Pricing and Availability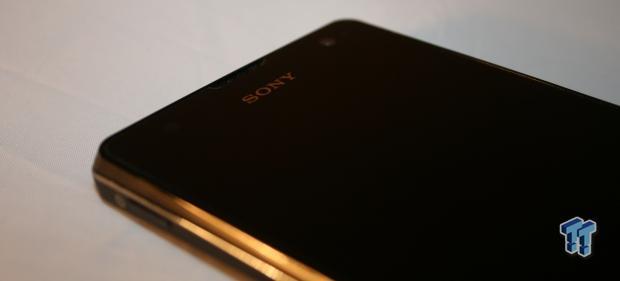 Sony are an interesting company to me, as before the Chinese dominated electronics, then Korea began their rampage with Samsung and LG, the Japanese made some of the best electronics in the world. Sony were once the pinnacle (to most) of electronics in the 80s and 90s. The Walkman. Trinitron. PlayStation. Countless other products, and they had multiple names that most households would not only remember, but they would own their products - usually more than one - or they at least, like myself, dreamt of owning one.
Sony dominated the electronics industry, but have fell by the wayside in the last decade or so with the rise of Google, Apple and Samsung. These three companies alone have poked holes in many of Sony's once dominant products, but Sony are slowly trying to make a comeback. Apple crushed, and reinvigorated the sagging smartphone market, Google came along and released a clunky mobile OS known as Android and have now refined it into one of the most powerful mobile operating systems known to human kind.
Sony have jumped on the Android bandwagon, and have slowly - but surely - been releasing quality products. Today we take a look at their Xperia TX smartphone.
Specifications, Pricing and Availability
Sony have packed the Xperia TX quite well, providing a 4.55-inch touchscreen with what Sony call their Mobile BRAVIA Engine. We also have a 1.5GHz dual-core processor from Qualcomm (the MSM8260A Snapdragon), 1GB of RAM, 16GB of internal storage expandable by microSD, a beautiful 13-megapixel rear-facing camera backed up by a 1.3-megapixel front-facing snapper.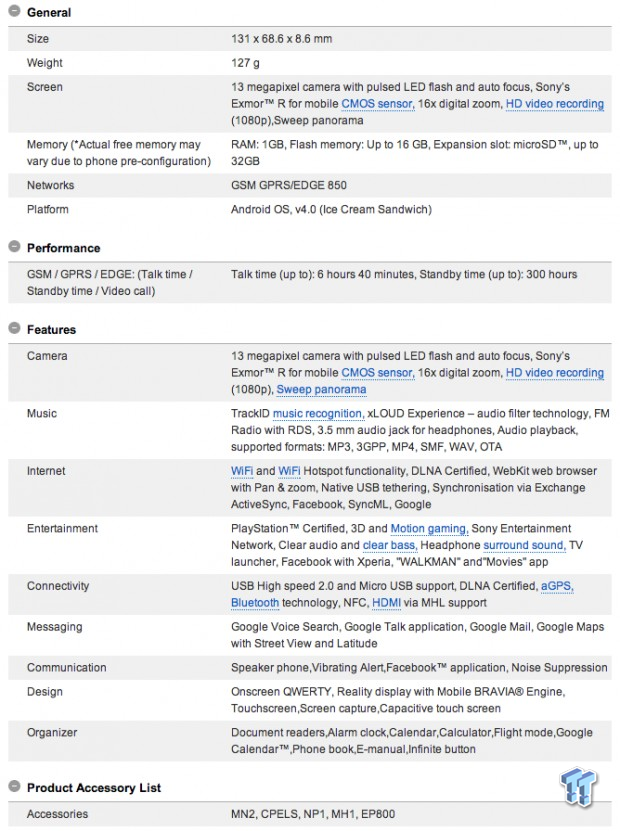 This is backed up by the usual connectivity options such as NFC, Bluetooth 3.1, Wi-Fi 802.11 a/b/g/n, Wi-Fi Direct and DLNA. Sony is touting around 6 hours and 40 minutes of talk time, and standby time of up to 300 hours.
As for pricing, Newegg sell the Xperia TX for $419.99 - which puts it at a price above the stellar Nexus 4 from LG and Google. This is a big losing point for Sony, but I understand their position - they aren't Google.
Availability seems to be fine from everything I've looked at, with Newegg offering free shipping on the Xperia TX, which you can't complain about, can you?
Look and Feel
Sony's Xperia TX at first touch is super light weighing in at just 127g, it is definitely a light phone. It almost feels too light. The size of the phone is 131x 68.6 x 8.6mm - so it's not huge, but it sits in the hand well and with that 127g of weight - it's one of the lightest smartphones I've ever used.
The Xperia TX is definitely a great looking smartphone, with its curved back giving it a beautiful look. Starting at the front of the device, we'll begin with our photos.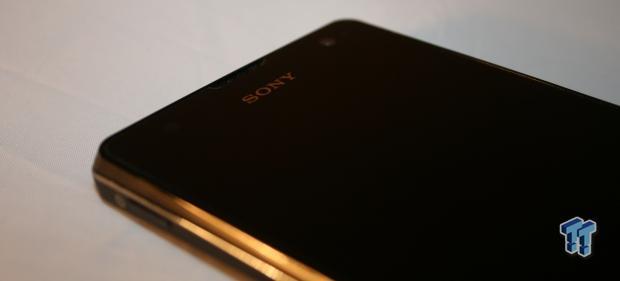 The front of the Sony Xperia TX features the Sony logo at the top, to the right of which we have the front-facing 1.3-megapixel camera and to the right of that (which you can't see as it's not lit up) is an activity light. This will turn different colors depending on the activity - charging displays green, blue flashing means you have a message/e-mail/notification waiting. Down the bottom of the Xperia TX we have the XPERIA branding logo.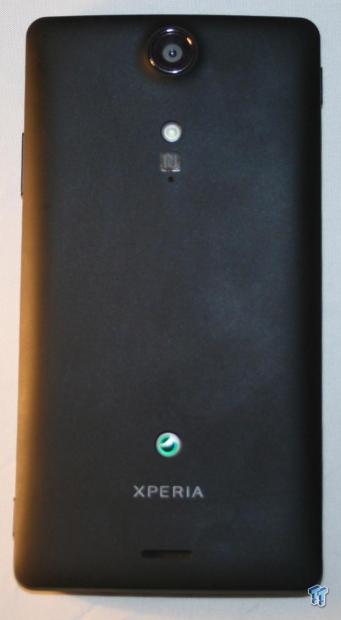 Flipping Xperia TX on its back we have the 13-megapixel rear-facing camera centered at the top of the device with the LED flash featured underneath. Down the bottom we have a nice XPERIA logo branding again. Under the branding, is the rear speaker.

On the right side of the phone we have the microUSB charging/syncing port, volume rocker and something we don't see often; a dedicated camera button. This button can be pressed to snap pictures, or begin the start of a video recording.

On the other side, we have the power button and opposite that, we have a little slit that you can use to open the phone up to get to the battery/SIM/microSD portion of the phone.

On the very top of the phone we have the usual 3.5mm headphone/speaker jack.

And with the Xperia TX, the bottom is spared - thanks to the microUSB port being on the right hand side of the handset.
Display and Speaker Quality
Moving onto the display we have Sony giving the Xperia TX a nicely sized 4.55-inch display. The 4.55-inch display has a 1280x720 resolution, providing us with a pixel density of around 323ppi. The display is shatter-proof, and scratch-resistant to boot.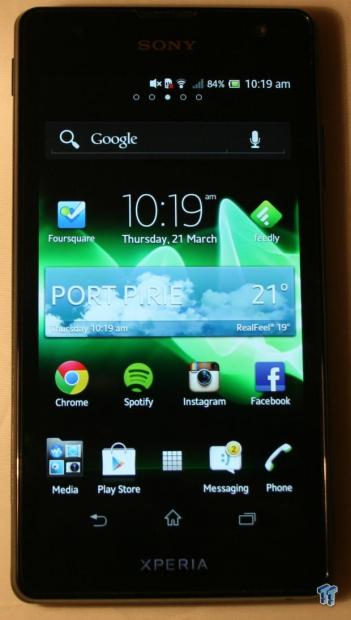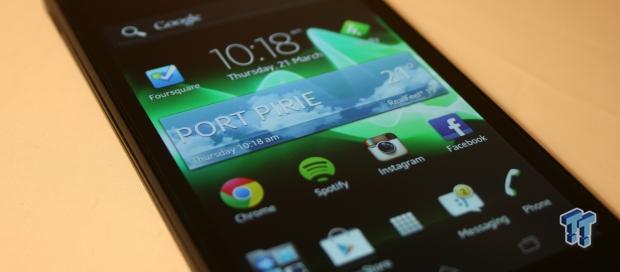 Sure, it's not Full HD, but it does the job. The Xperia TX's display does a great job at giving you a beautiful display to look at, and while it won't break records, it does its job pretty well.
The rear speaker on the Xperia TX is well sized, but it doesn't pack a powerful punch. This isn't a tablet, so I don't expect it to have the best quality speaker, but it would be nice for a company known for their audio products to have put a bit more effort into this section of the Xperia TX.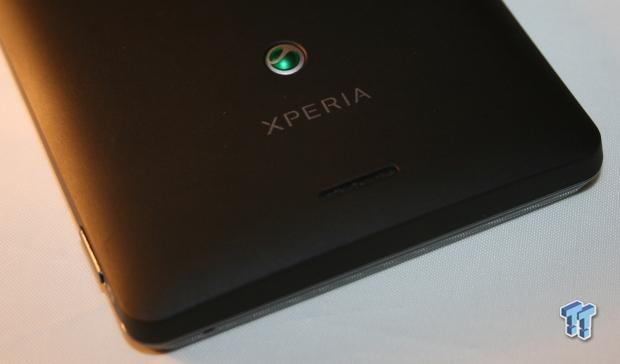 I'm not someone who has their music on speaker all of the time, but from time to time I'll take a phone call and have my hands busy so I'll go hands-free and turn the speaker on. The speech can sound quite atrocious at times, and speaking of bad audio, the earpiece on the Xperia TX can put out some shocking quality.
I was actually quite impressed with a mid-range handset from a company struggling in the market up until I started making phone calls. I do all of my testing on Telstra, who is Australia's best telco, and even then, it was bad.
Features
Sony have given their Xperia TX a nice feature set to play with, which is actually a long list of included goodies.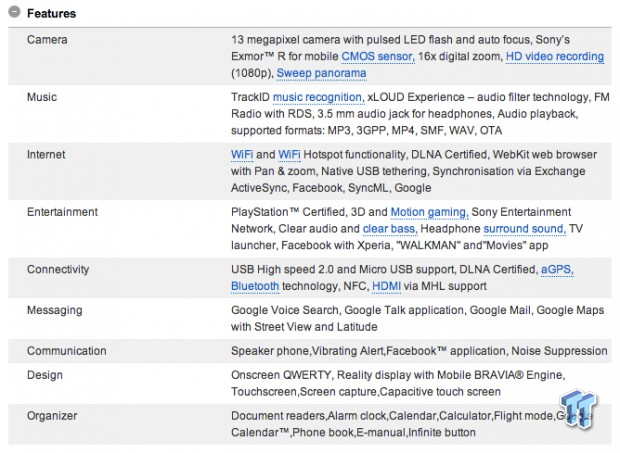 There's a lot to use, but for the Google-centric user like myself, most of this stuff is useless. But, if you were a Sony fan and used other Sony products like the PlayStation or a Sony-branded TV, this feature set is actually quite stellar.
Sony have used the now-aged "Timescape UI", which has been around since 2009, but it does an okay job at splashing some customization to the Android UI. The phone UI isn't changed too much, but it has a subtle change in play, which makes it look nice. I didn't like being the fact that the previous calls section is crammed up the top - with the keypad smack bang in the way.
Multi-tasking receives a little edit on the Timescape UI, being placed on the right and giving you options for some accessories to be opened up. The usual swipe-to-dismiss is still at play here, but you can pull up some cool hovering apps, too.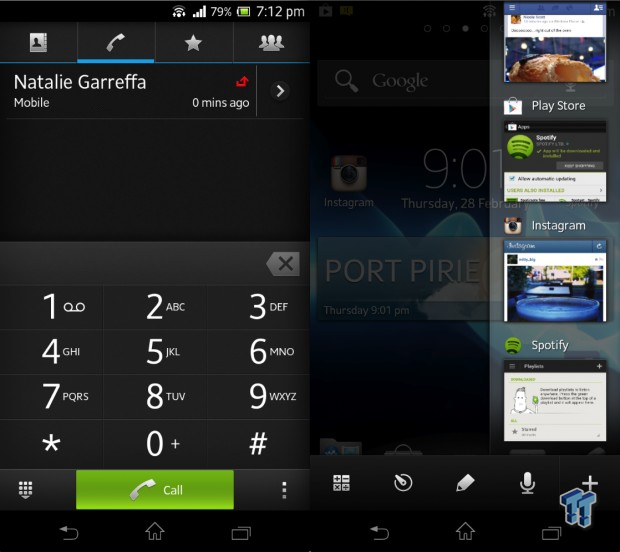 There's the calculator on the left, a timer, "Doodle", and the sound recorder.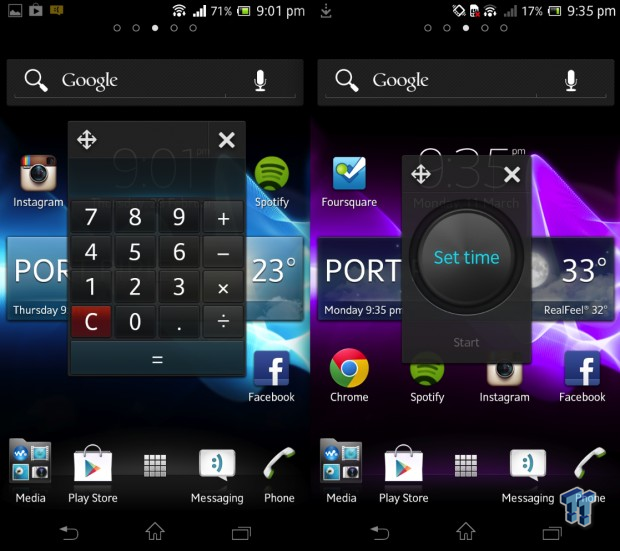 Removing apps gets a nice change with Timescape UI, where there's little red x's next to the apps you can remove. This isn't a game-changer, but it's a nice addition.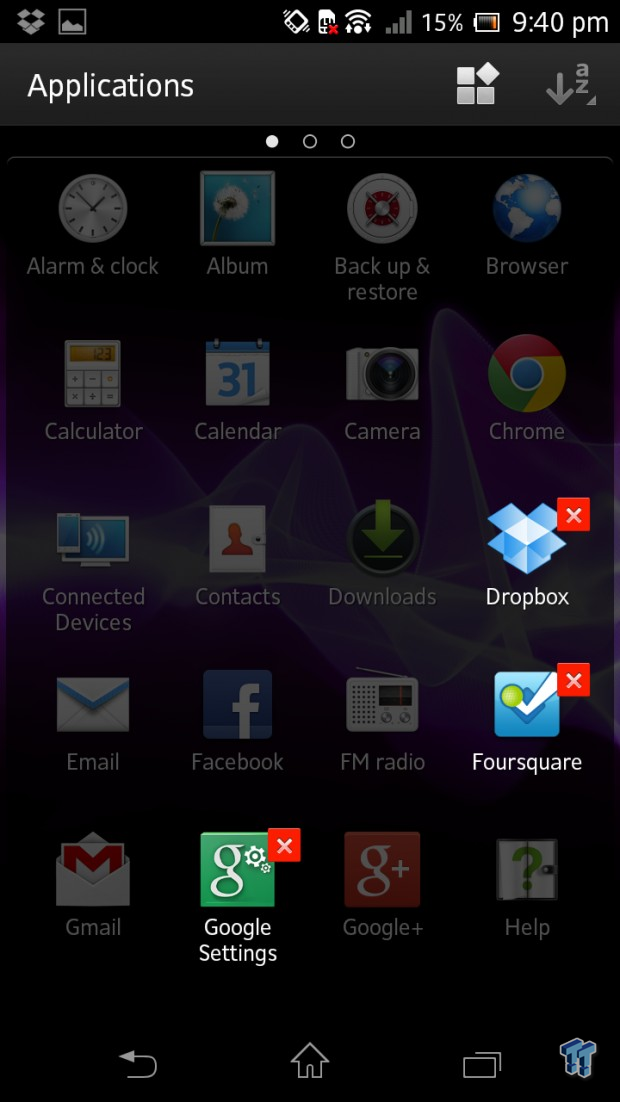 Plugging in the microUSB cable provides you a pop-up with LiveWare manager, which can give your phone the option to set a task. This can be used for when charging your phone at night next to your bed, so that there's a recommended application to start when the accessory is connected, such as the alarm clock.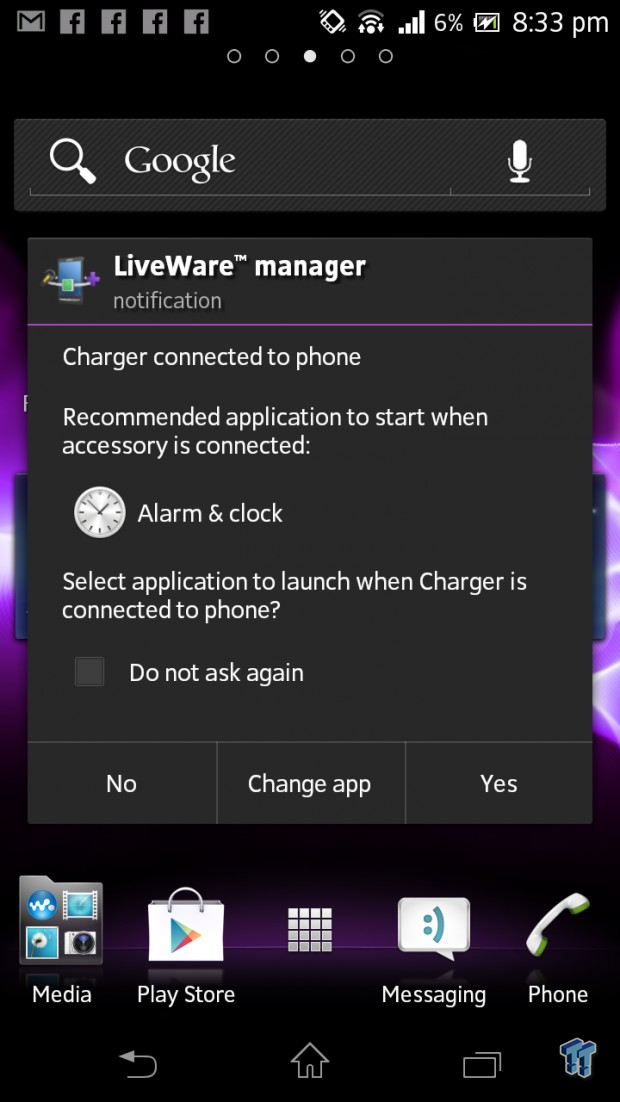 Another thing that Timescape UI does nicely is the pull-down of tabs you can do to features on your phone such as turning on and off Wi-Fi, GPS, auto-sync and more. It's nice to have nearly every useful feature on the phone accessed from here instead of just Wi-Fi, Bluetooth, GPS and syncing that is standard on most Android-based smartphones.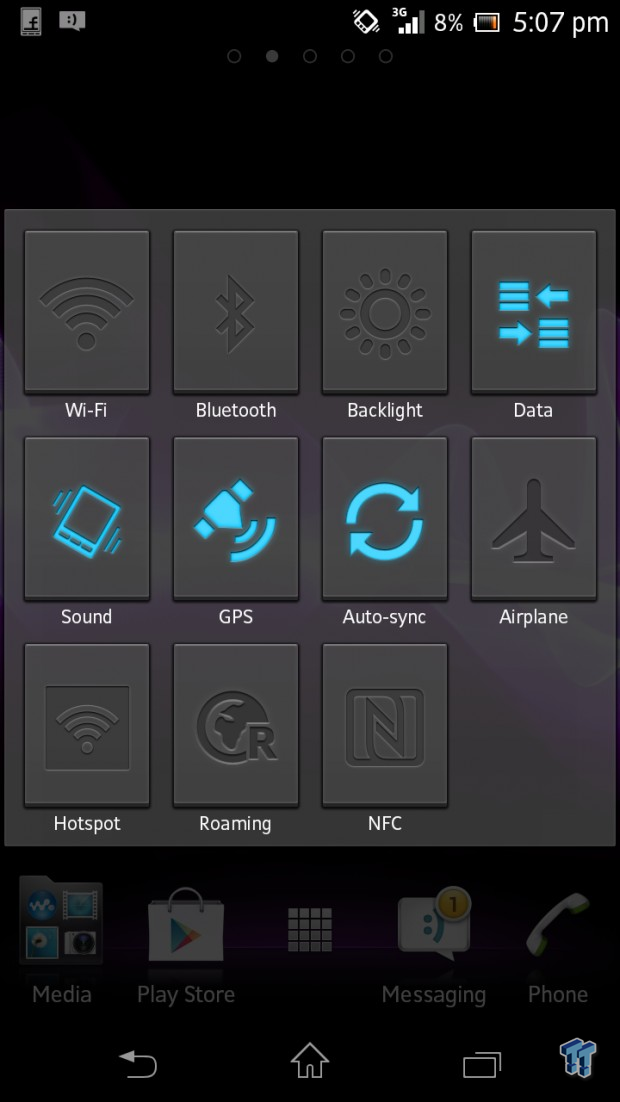 Performance and Camera Tests
The overall performance of the Xperia TX was quite pleasant. I didn't have much slowdown thanks to the dual-core processor and 1GB of RAM. I read some other reviews and consumers' thoughts on it, with Sony taking quite the beating over the Xperia TX.
I don't know why, as I didn't have many problems with the device. Usually the modified UI gives a lagging issue (I'm looking at you, Samsung), but I experienced no such lag with the Xperia TX. I actually quite liked the UI they've splashed on top - something of a rarity for me to like a manufacturer's modified UI.
Let's move onto some images from the camera. Here are some examples of the quality of the camera: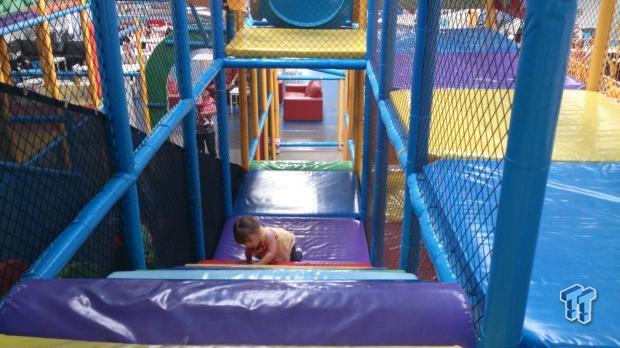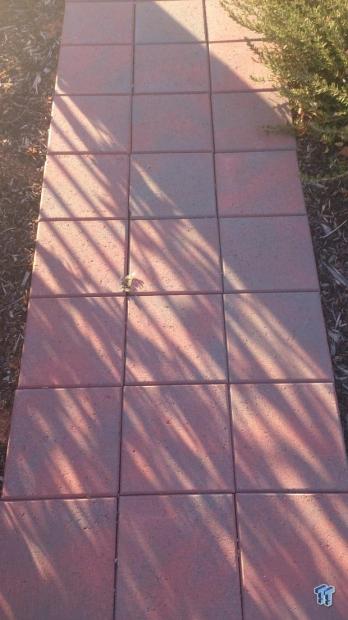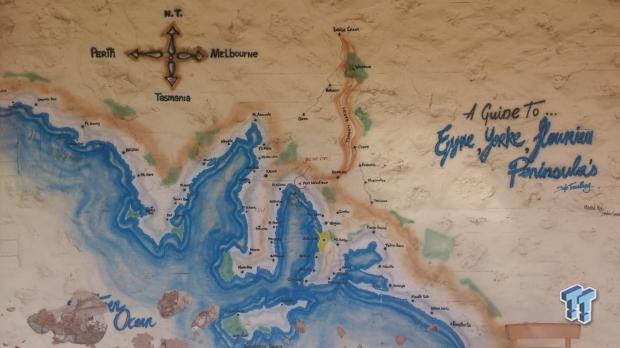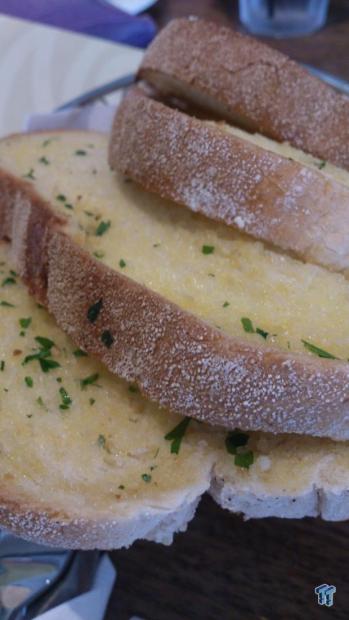 You want some garlic bread now, don't you? And a few panoramic shots:


And now for some video samples:
Now let's get into some of those benchmark graphs!
Benchmarks
The Sony Xperia TX was a bit hit and miss with benchmarks, so let's get right into it. First off we have GLBenchmark 2.5.1, and the 2.1 Egypt Classic Offscreen running in 1080p.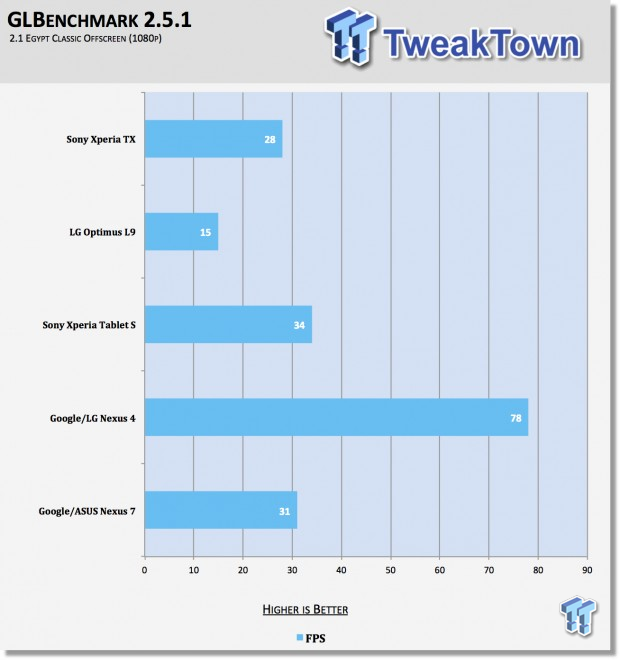 The Xperia TX beats the mid-range Optimus L9, which isn't surprising, isn't much worse than the Xperia Tablet S, and nips on the heels of the Nexus 7. When it comes to the Nexus 4, it simply gets its ass handed to it, even though it is a more expensive handset.
Next up we have the Fill Rate Offscreen, again at 1080p.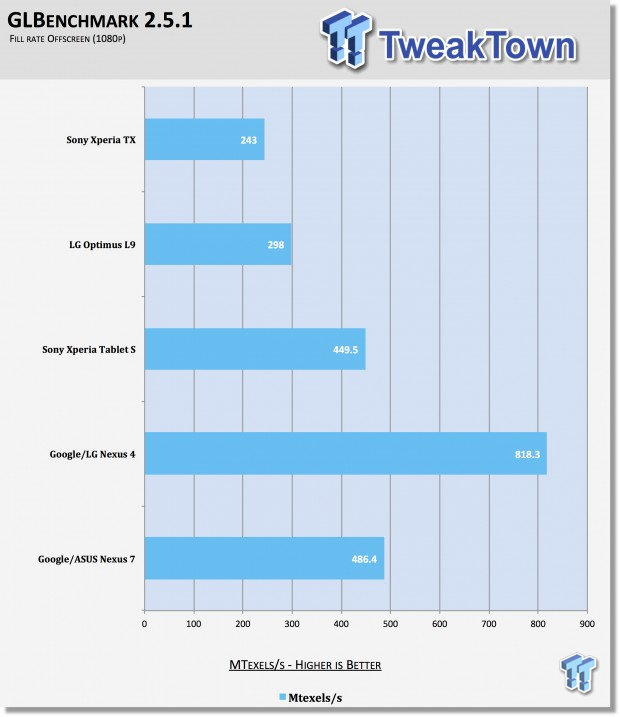 Surprisingly, the Xperia TX gets completely trounced by the competition here, every single other device we've benchmarked thus far beats the Xperia TX.
Second to last, we have Quadrant 2.1.1 Pro with the Full Benchmark Total Score.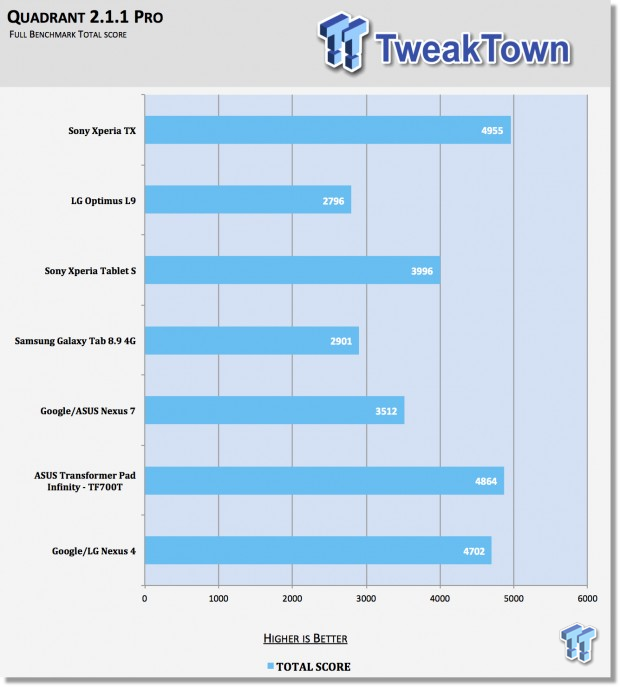 The Xperia TX makes a come back here, coming out on top of the Quadrant 2.1.1 Pro benchmark, edging even the Transformer Pad Infinity and Nexus 4.
And finally, some battery tests using GLBenchmark's built-in battery test, running 2.5 Egypt HD 60fps.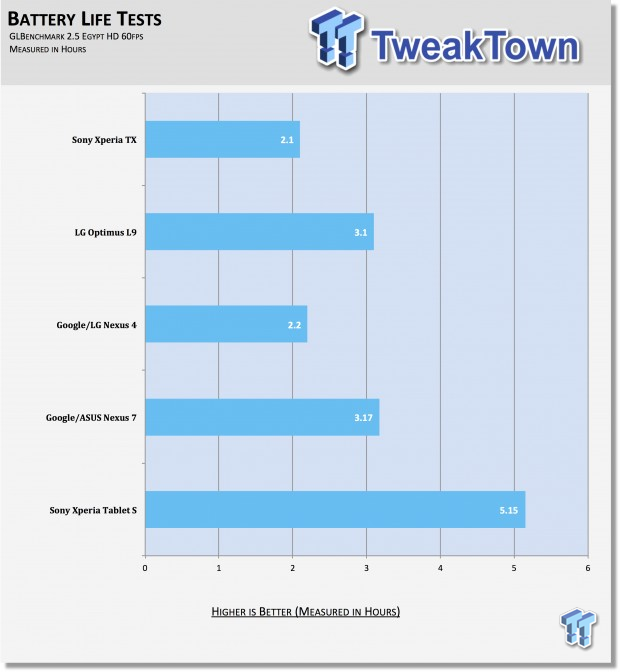 Battery life wasn't actually too bad on the Xperia TX, equaling my everyday phone, the Nexus 4. I found this surprising, considering the Nexus 4 is a powerhouse, but keeps its battery life under control.
Final Thoughts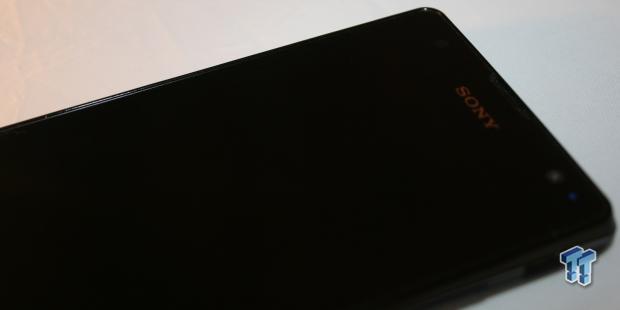 As with any device I review, I like to use it for a two week period or so. This gives me a much more 'real-world' perspective on it, instead of a sterile lab review. Sure, I could glisten over every fact, but the point is more consumers are buying these devices, not tech junkies.
I'm currently juggling a Nexus 4, Galaxy Note II (our next review) and the Xperia TX. The Xperia TX is a fine handset, and somewhat of a surprise for me being a decent Sony device. I haven't even looked at a Sony phone since the Sony Ericsson days (were they that long ago now?) when flip phones were all the rage - before the Motorola RAZR became 'the' phone to own.
Sony have done a fine job with the Xperia TX, now the question you have to ask yourself - should you buy it? If I had to answer it for you, then I'll fall back to my usual point of - we're in a world of Android dominance right now. Google is at an all time high with their mobile OS, and I just don't know how any other companies are going to be able to compete in the cut-throat market that is the smartphone world.
Google can partner up with whomever they choose - Samsung, LG, ASUS - and tell them a price they'd like to hit for a certain device. At $349, the Nexus 4 is just too cheap to pass up. The Xperia TX is more than this, and even though it might be just $70 more, you're not getting $70 more of smartphone with the Xperia TX.
The next point will come with what devices you have at home, are you running more Sony-branded devices at home? Then the Xperia TX is something you'd look into, with this being an actual selling point for Sony.
I enjoyed my time with the Xperia TX, and was surprised with its lightweight, good battery life and Timescape UI skin. If you're in the market for a Sony device specifically, take the time to check out Sony's Xperia TX. If not, there may be better options out there to buy.