Introduction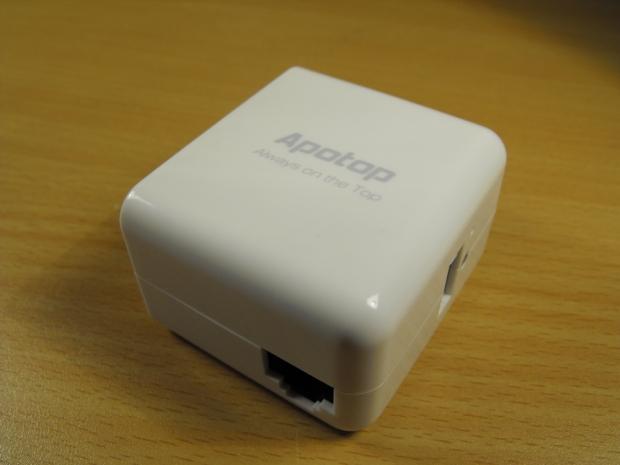 Apotop aren't a familiar company to me, I've seen them around the place, at Computex and such, but I've never dealt with them until now. I received this sample nearly two months ago and haven't had the opportunity to properly test it until now.
A little back story into Apotop - it is a Taiwanese company that has a full Chinese website that had to be translated before I could write anything here. They offer a bunch of different products, stepping outside of the usual things we see on the market. They offer products from RAM, ExpressCard Adapters, USB hubs, card readers, flash drives and SSDs. They do a fair bit, which is good to see from a relatively small company.
The product we have in the lab today is their Travel Wi-Router. By name only, it doesn't sound too interesting, but this little product is actually quite helpful and I'm sure by the end of the review you'll be surprised, too.
You can pick up the Apotop Travel Wi-Router for $34.99 from Newegg, so it won't be breaking your bank to get this device. We have some specs below, and as you can see this is designed specifically for Apple's iPad.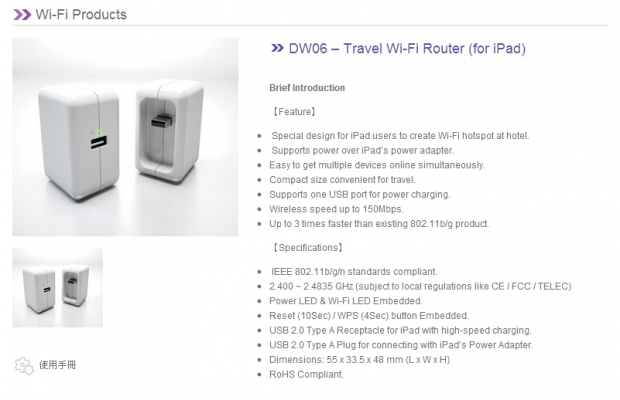 Unboxing
Taking a look at the front of the box, we find a picture of the device itself and there's a cool QC Code you can scan with your phone for more information, too.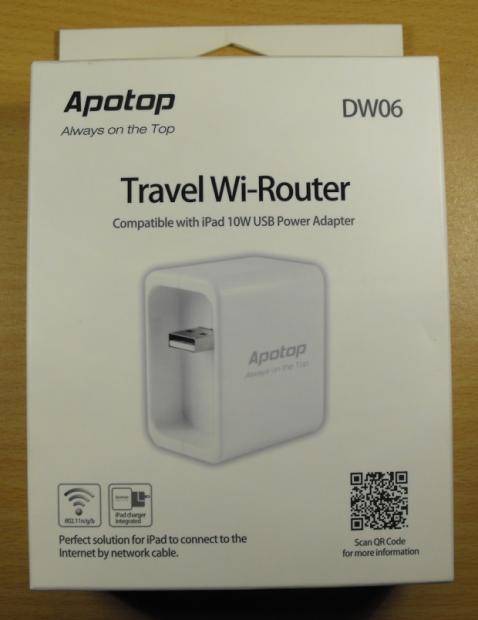 Flipping the box over onto its back, we have everything you need to know - features, compatibility (iPad, iPad 2 and the new iPad) and more.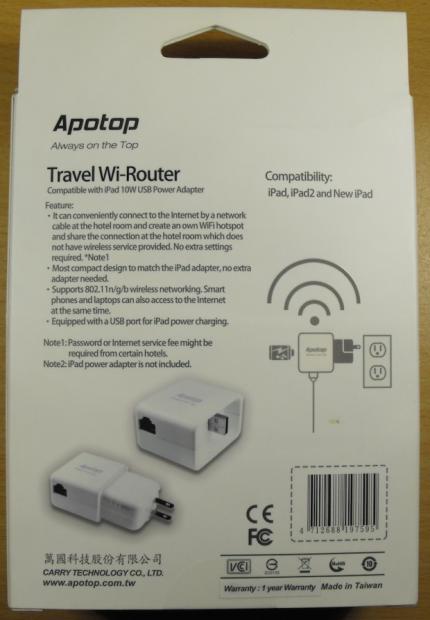 Taking the Apotop Travel Wi-Router out of the box, we find it is sitting snuggly in some cardboard.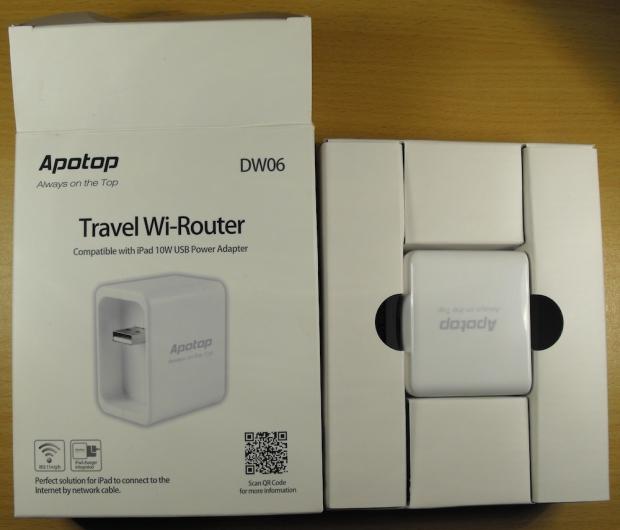 Taking the actual device out of the box, there's a Quick Guide to the Travel Wi-Router.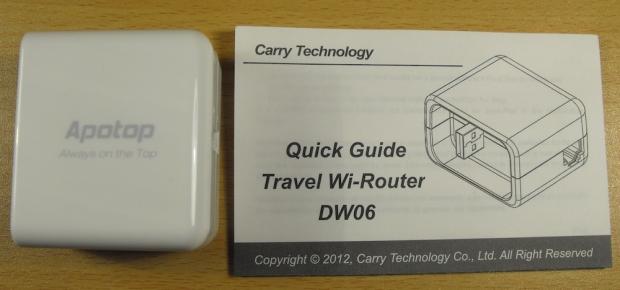 Let's move onto the actual Wi-Router now, shall we? First up, we have the USB port on the back of the Wi-Router, which you can use to charge your USB-powered devices.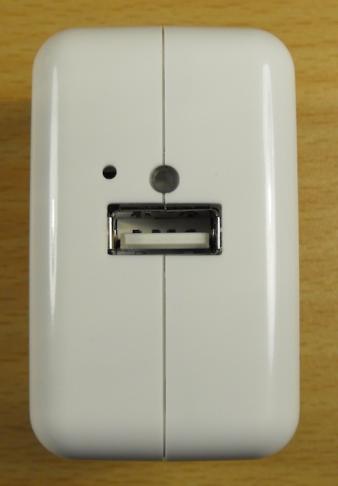 Flipping the Wi-Router over, we have the USB port that you slot your iPad charger into.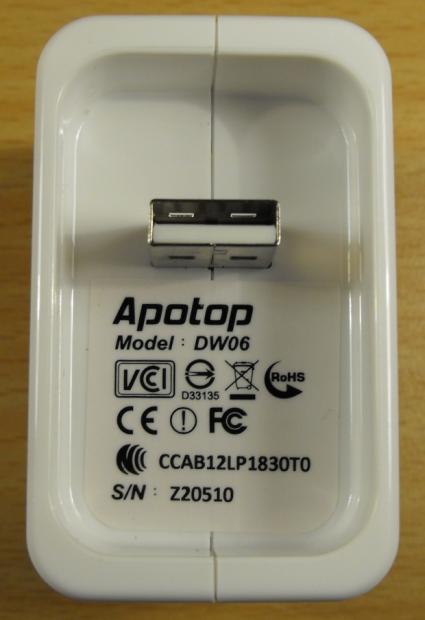 Flipping it onto its side, we have the Ethernet port that you would plug your hotel room's Internet connection into.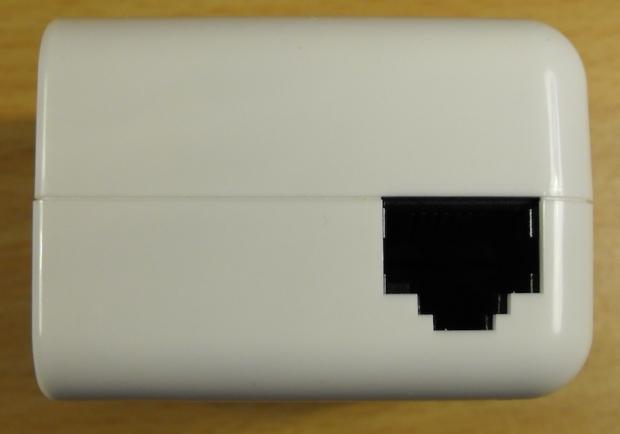 Next up we have some shots of the Wi-Router with the iPad power connector plugged in - I'm based in Australia, so this is the AU power plug used.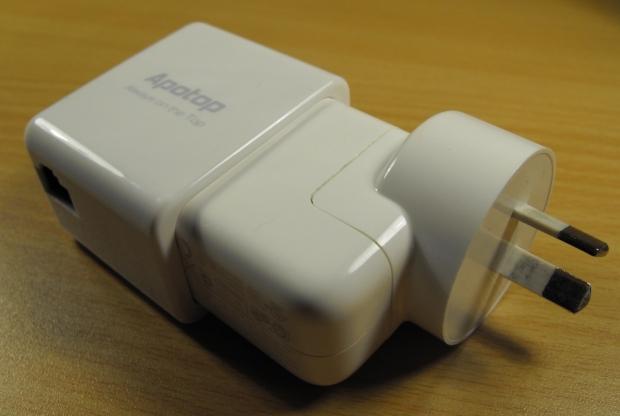 And another shot on its side.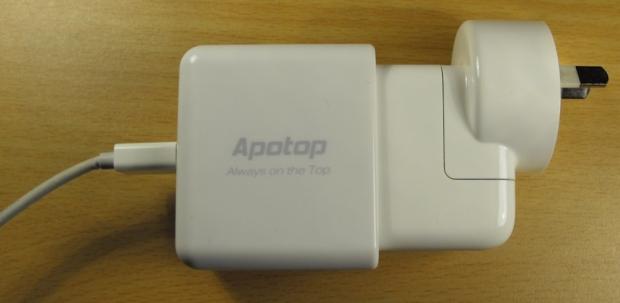 Setup, Features and Performance
When it comes to the devices that work with the Travel Wi-Router, it may say iPad on the box, but it will blast out Wi-Fi to any device that is Wi-Fi capable, and that is of course a big long list. I tested it with my Nexus 7 tablet, Nexus 4 smartphone, my wife's Galaxy S II, and my Apple MacBook Air.
Setting up the Apotop Travel Wi-Router is incredibly easy. You plug your iPad's power brick into the back of the Travel Wi-Router, and into the wall. An Ethernet cord gets plugged into the Travel Wi-Router and you're virtually there. If you're staying in a hotel like I was, you'll need your appropriate room password for Internet access, and the Apotop Travel Wi-Router has a username and password provided in the box - tap this in and you're off. This has to be a foot put down by me right now - Apotop have made it incredibly simple to set it up, which is something that should be standard by now, but it's not.
Once you've got it plugged in and you're connected to the Travel Wi-Router, you might hit the hotel room's web-based log-in. If you do, you'll need to get your hotel room's username and password, and enter it in as if you were connecting to any private network. Once connected, it's like a tethered mobile phone - you're on. You'll only be disconnected if you were to disable Wi-Fi, or were to unplug the Travel Wi-Router.
The one super power that the Travel Wi-Router has is it can allow the user to create a Wi-Fi hotspot, mainly for when staying at a hotel. I specifically held back my testing and review for when I was staying in a hotel, so I could provide a real-world test for the Travel Wi-Router. The box is very small, allowing for easy transport - with the device itself obviously being small and easy enough to throw in your bag when traveling.
Apotop's Travel Wi-Router supports power of the iPads power adapter - how you do this is by plugging the Travel Wi-Router into the iPads power brick and then into the power socket. On the back of the Wi-Router is a USB port, so you can even continue to charge your iPad, or any other USB-powered device - through the back of the Wi-Router.
I found this incredibly handy, as the morning I was testing this I needed to charge my phone and just had it plugged into the back of the Wi-Router while it was sharing my hotel rooms Internet connection.
Performance was nothing short of impressive; the hotel I stayed in overnight had some decent Internet access, so when I woke in the morning I began my testing. I hadn't synced my Dropbox folder to my MacBook Air yet, so I synced that and it took just minutes thanks to the high-speed upload I had in the room.
I thought I'd test multiple devices to see if I could get the Apotop Travel Wi-Router to fall over, but it handled it like a champion. I had my Nexus 4, a first-generation iPad and my MBA accessing the Wi-Router and it didn't flinch. As I'm typing up this part of the review, I have my Nexus 4 syncing my Camera Upload folder on Dropbox, while jumping in and out of this review doing Speed Test runs, watching YouTube videos and it just works. This is what you want from a product, and the Apotop Travel Wi-Router delivers.
I tested the Internet connection in our hotel room, and was impressed. For performance, I took a speed test with the results below.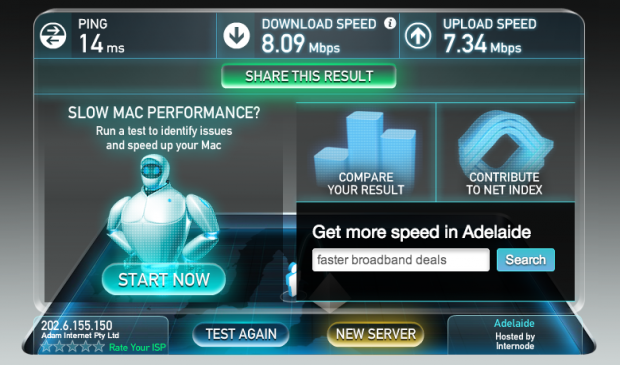 Final Thoughts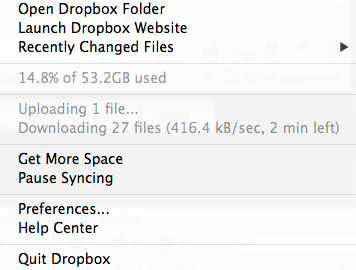 Apotop's Travel Wi-Router is a great device, and at $34.99, it's a no-brainer if you're after a device that would share a hotel Internet connection to devices you might have. I'll be using this device on my travels around the world whenever I'm in a hotel to share the Internet connection to my devices if the hotel doesn't already have Wi-Fi.
I didn't have much faith in the device, but after using it I came to be pleasantly surprised. Apotop have, for me at least, come out of nowhere and slapped me in the face with surprise - and I do not mind that at all.
Another benefit of the Travel Wi-Router is that it's so small it'll fit in your pocket, or in your bag without a problem. This goes a long way in how it's branded as a 'travel' device, as you don't want it taking up room in your bag, especially when travelling overseas.
For $34.99, I definitely recommend the Apotop Travel Wi-Router, it's simple to use and great features and 'just works' with the iPad, which is always a good thing. If you're looking for a product that would share your hotel room's Internet access, look no further.