Creative Labs have been a dominant force in the gaming audio scene for some time now starting out with sound cards and speakers. Now they're moving into headsets and wireless devices. In fact, we have not seen a new sound card from Creative Labs for some time, and to think of it, the same goes for speakers. We are seeing the company making a shift into a different facet of audio it would seem.
When it comes to entering the headset market, Creative Labs although experienced and carrying the Sound Blaster badge, will still find it tough to be noticed amongst the sheer number of options out there at the moment. If any company can pull off something special, based on its history, we know Creative Labs will give it a really good try.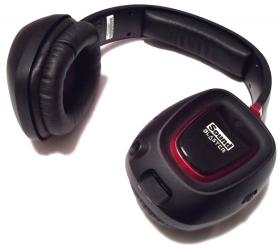 The ear cups featured on the Tactic3D Rage are pretty interesting featuring 16 million colors and are being referred to by Creative as the SB Prism RGB LED illumination system. It adds a fashion statement to the product that allows the user to select what color out of 16 million they want the sides of the cups to be.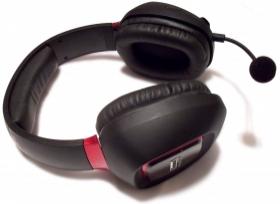 The Tactic3D Rage comes with something called SBX Surround which is basically the Creative Labs in-house algorithm set for providing virtual surround sound in games. It's always nice to have to option of having virtual surround for the times when it's needed. Also included is the SBX Crystallizer which helps audio be heard as it should be by restoring the "highs" and "lows" that are sometimes affected by audio compression.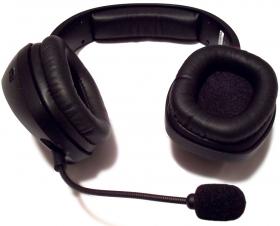 Also featured is SBX Bass which as with the above uses software to enhance a signal or to make an already decent low-end even beefier. This can be a useful tool when used sparingly, but when overdone does not usually sound great.
This headset also features SpringSteel which is a new technology used for the steel core of the head band construction. Also featured are sponge ear cups encased in leather for long gaming sessions, these felt good during our testing. The built-in microphone can be removed which we like because not every user is going to need to use it every time they pick up the headset. We are happy to report that large 50mm drivers have being chosen for use in this headset which is a big plus because it means that full range audio is possible.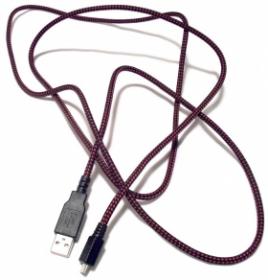 This is a USB based headset that will work with both PC and Mac which makes life easy and allows for more users to be able to access the headset. Creative Labs confirms that the SBX Pro Studio and SB Prism customization capabilities will work under both PC and Mac.
From a technical perspective the Tactic3D Rage offers the famous Sound Blaster logo which always ensures a certain level of quality in our experience, but in terms of the raw specifications, there isn't anything really outstanding to mention. What is handy is the included software control panel which acts as a sort of hub for all of the various elements of the headset that can be adjusted. This is the place to go for finding an EQ and turning off and on virtual surround FX and so forth. For those interested in adjusting various elements of the light show that can be seen in the ear cups on the sides, this facility can also be found here.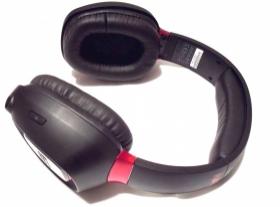 Overall the Tactic3D Rage is a well built and very comfortable headset that really feels nice to wear for decent periods of time and is made from well-chosen materials. The various options for tuning the sound via the software control panel works well and really brings life to the headset as we see it, allowing for enough variation in key sound components to keep things interesting. In terms of sound quality overall we were happy after testing with a variety of different material, the added FX in the control panel boost the sound in the right areas and the driver choice was good.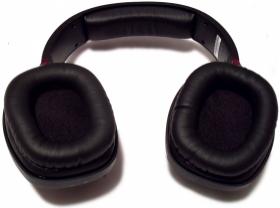 Listening to music was a good experience for the most part with some pretty impressive audio being heard from our music collection. The low-end is strong on this headset thanks to the large 50mm drivers chosen and with the added option of adding further boost to the low-end through the software control panel, it only makes things better. Just be aware that any audio source can become quickly distorted by adding too much bass boost. We found the mid-range to be both balanced and full much of the time with a good amount of detail. The sound of various instruments came through clearly and with a good overall tone and not too many of those all-important mid-range frequencies are lost. The high-end was quite good for the most part, however, out of the three, we would say it was the weakest due to the unit not providing a separate tweeter.
We would probably say that if you did some music listening and quite a bit gaming this would be a good choice, but perhaps not the other way around. Volume wise we feel that for most music listeners there should be plenty of it and certainly enough to tire your ears if turned up too loud for too long. Due to the built-in surround function there should be plenty of scope for a good amount of movie viewing using this headset.
This is not a Dolby Digital supported unit and in the case of this product the in-house Creative Labs algorithms are used for surround immersion. During testing we were impressed by how involving the surround sound was and also how good it was to have when playing games that can take advantage of what the headset can do. Various FX were handled well with a strong overall low-end being useful during gaming and compelling during movie viewing.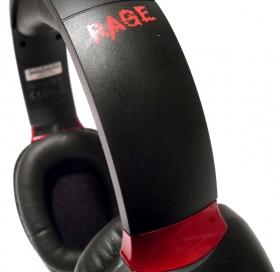 The Sound Blaster Tactic3D Rage has one huge name that must follow up with equally overstated performance and happily we can say that for the sub $90 dollar asking price, it does back the name up. The headset itself feels good to wear with good quality materials being used to make it feel good on the head for long periods of time. Performance is aided a lot by the software that can be downloaded from the company website and also adds a feeling of overall purpose to the whole package.