The Dark Knight Rises (2012) Blu-ray Movie Review
"When Gotham is ashes, you have my permission to die." (2012) Blu-ray Movie Review.

Published Sun, Dec 2 2012 9:43 AM CST
|
Updated Tue, Nov 3 2020 7:01 PM CST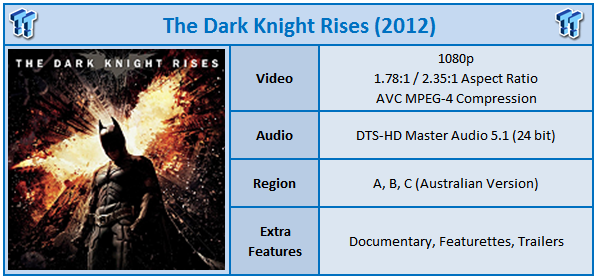 When director Christopher Nolan re-launched the stagnant Batman franchise in 2005 with Batman Begins, fans still pouting from the disaster of Batman and Robin were taken by surprise with the gritty and dark portrayal of the caped crusader. It was a critical success, but one that disappointingly limped over the line with $200 million in domestic US box office takings.
Still, Warner was emboldened by the signs of life and chose to move forward with the 2008 sequel The Dark Knight. The tragic passing of star Heath Ledger lent the film a new air of importance, and his take on the Joker was a masterstroke of brilliance which earned him a posthumous Academy Award. The film was a smash success, nearly tripling the gross for its predecessor.
Four years later, we have what's been billed as the final entry in Nolan's reimaging - The Dark Knight Rises. By the end of the film, you'll understand why this is an amazing film to hang up the bat cowl with.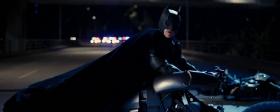 It's been some years since the events of The Dark Knight. Batman (Christian Bale) hasn't been seen since, but following the belief that he murdered Harvey Dent, he's still wanted by the police and labeled a persona non grata. Bruce Wayne has shunned public life and has become a recluse. Wayne Enterprises has become virtually bankrupt after the cessation of an energy project when it was discovered its elements could be constructed to become a nuclear weapon.
A period of peace has befallen Gotham City.
But evil is rising. There's rumor of activity in the cities sewers and the name Bane (Tom Hardy) has become enough to instill the fear in the heart of the police. Bane doesn't simply want to destroy the city - he wants to crush its spirit, along with any hope for survival. The police are outgunned and outnumbered, and the only hope for survival rests with Batman. But the aging hero has seen better days, both physically and mentally and may or may not have what it takes to come up against his most fearsome and powerful adversary yet.
The Dark Knight Rises truly feels like an overwhelmingly satisfying end to the Dark Knight saga. Warner Brothers will inevitably want to continue with the franchise, but I'd urge restraint. Whereas the franchise was rested following the disappointment of Batman and Robin, I'd suggest that Warner waited it out for the very opposite reason. As a portrayal of the comic world's most complex character, I'm damned sure that it won't and can never be topped.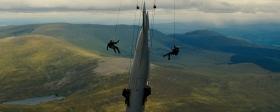 Video
The Dark Knight Rises is presented in the alternating original aspect ratio of 1.781 and 2.35:1, encoded with AVC MPEG-4 compression.
Unlike the 35mm film issues that befell the Blu-ray release The Dark Knight, that is over cooked contrast, nasty edge enhancement and digital noise, both the IMAX and 35 mm footage that make up The Dark Knight Rises both look exquisite, and will please even the most anal of Blu-ray fans.
This is an incredibly sharp and detailed transfer. I can't stress this point enough. Further, the IMAX scenes practically jump off the screen with a gloriously crisp and entirely three dimensional image. Colors are bright and bold, but with a film that plays so significantly in darkness and shadow, there are many gradations of black and grey, with no hint of black crush.
Warner's encoding methods have become more sophisticated since 2008's The Dark Knight, having shaken the HD-DVD mentality and more generously encode titles to take advantage of the available 50GB. As such, the film features no macro blocking, banding or aliasing.
Even though the Blu-ray debut of The Dark Knight Rises comes with incredibly high expectations, Warner has stepped up to the plate with an impressive and pleasing transfer.
Audio
The Dark Knight Rises is presented in DTS-HD Master Audio 5.1, at 24 bits.
Again, expectations for a stellar demonstration disc are high with Warner Brothers, and they don't disappoint, featuring an aggressive mix that sounds every bit as enveloping as the theatrical mix that I heard a few months back.
It doesn't matter what's on screen; introspective dialogue, or a stadium explosion, at all times there's something happening which will tax the limits of whatever sound gear you have. The surround channels are always active - be it to provide some natural ambiance, or exploding with the ricochet of bullets and explosions. There is certainly nothing conservative in this mix. Unsurprisingly, LFE use is deep and forceful, providing a floor for almost every sound.
I'm somewhat disappointed that Warner over reacted to early criticisms regarding Bane's voice, exponentially bumping up the audio levels such that it overpowers an otherwise balanced mix. This has the effect of making his voice sound somewhat disembodied and bizarrely overbearing. This isn't a criticism of the Blu-ray release per se; it accurately recreates the mix as heard in the theatrical release, but I do believe it worthy of mention.
Hans Zimmer returns to score the final entry of the Dark Knight saga, embellishing his previously established cues and introducing a few new ones. His score is mixed aggressively and are generally leveled appropriately in the wider mix, although occasionally flirting with hijacking it at times.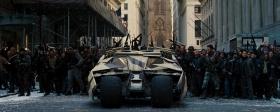 Extras
I've never been terribly impressed with the extra features produced for the previous two films. I suspect they'd benefit great from more immersive full length documentaries, and I'd certainly be interested in hearing Christopher Nolan audio commentaries, but alas he hasn't contributed any (or anyone else for that matter). Still, let's take a look at what's here.
Multiple smaller featurettes (with a handy 'play all' function) cumulate in Three Documentaries, under the headings of 'Production', 'Characters' and 'Reflections', and add up to a totality of 111 minutes. Whilst this may seem quite generous, and there is a lot of information from these, I generally dislike this micro view mentality, that is, investigating smaller parts of the film's production, rather than the whole.
However, I thoroughly enjoyed some of them, especially Shadows and Light in Large Format, which discusses the technical breakthroughs in camera technology and techniques which allowed significantly more (around 60 minutes) of the film to be lensed with IMAX cameras. Fans of live action destruction should definitely give Demolishing a City Street a look, too. You'll be quite surprised how much effort and time goes into a tricky special effects shot, no matter how brief.
Next up is the nearly one hour The Batmobile Documentary, which gathers together all five of the various incarnations of the Dark Knight's signature vehicle, from the 1960's Adam West, to the 1990 Burton and Schumacher films and the tumbler from the Nolan films. Major figures from all of these productions are gathered up with this informative and fun feature which is a great trip down nostalgia lane. Still, my favourite Batmobile remains the 1989 Burton vehicle.
Finally we have four Theatrical Trailers, all presented in 1080p HD.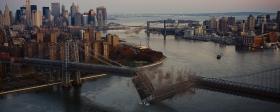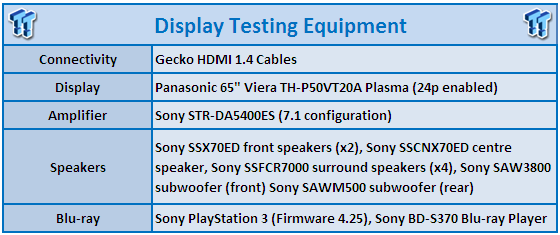 PRICING: You can find products similar to this one for sale below.

United States: Find other tech and computer products like this over at Amazon.com

United Kingdom: Find other tech and computer products like this over at Amazon.co.uk

Australia: Find other tech and computer products like this over at Amazon.com.au

Canada: Find other tech and computer products like this over at Amazon.ca

Deutschland: Finde andere Technik- und Computerprodukte wie dieses auf Amazon.de
We openly invite the companies who provide us with review samples / who are mentioned or discussed to express their opinion. If any company representative wishes to respond, we will publish the response here. Please contact us if you wish to respond.