Introduction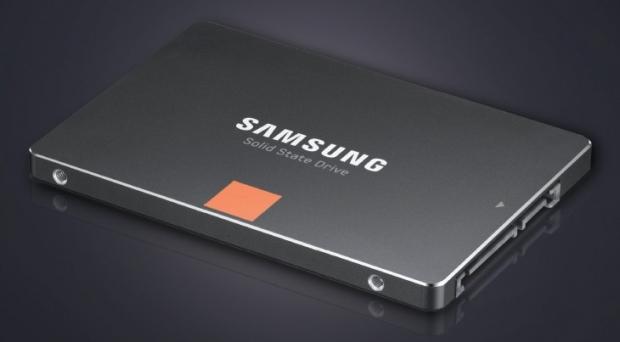 It shouldn't be any surprise that Samsung was the first to release Triple-Level Cell (TLC) flash in a consumer SSD. Samsung has a large market share lead with system builders and system builders want lower priced SSDs. Samsung has full control of its SSDs. They make the flash, the controller, the DRAM and given its size, most likely make their own cases and PCBs as well.
This level of control means Samsung has a greater control of costs with less outside interference. On the outside, this may not seem like as big of an advantage as Samsung makes it out to be, but looking at OCZ's troubles in Q2 and Q3 with NAND flash supply, we can say Samsung's advantage is real.
I don't want to get into too much detail here about triple-level cell (TLC) flash today. We're setting up a Q&A with a leading industry engineer and that session goes live on TweakTown soon. We've seen a lot of contradicting information about TLC online and we're rather get it right the first time.
Samsung uses TLC flash in the 840 SSD we're reviewing today and the obvious concern is the 1,000 P/E cycle. Samsung once again has an advantage since they are using its own flash and controller combination. Who better to tame Samsung TLC flash than Samsung with its own DSP controller?

Samsung took its new MDX controller to school and taught it reading, writing and arithmetic. The triple core ARM Cortex - R4 controller dedicates one core to reading data, one for writing data and the other for background tasks like flash management. Compared to the 830 controller, the new 840 increases the clock speed by 80MHz per core. The new 840 drives also see an increase in DRAM for faster page mapping.
However, you didn't come here to read me blabbering on about architecture - let's wrap up the specs and get down to business.
Specifications, Pricing and Availability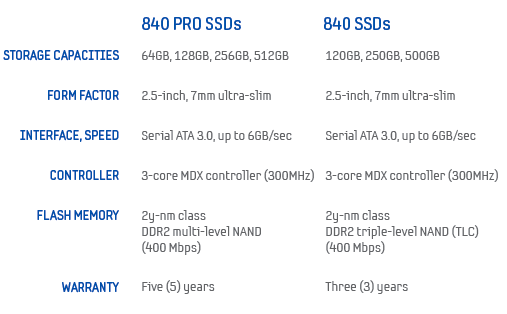 We can't really understand the 840 without pulling the 840 Pro into the story. The Samsung 840 is the lower priced option with TLC flash and lower specifications. The 840 Pro is Samsung's new flagship with MLC flash, higher performance and an additional two years added to the warranty.
The Samsung 840 comes in three capacity sizes - 120GB, 250GB and 500GB. The standard flash capacity is physically on the drive, but more reserve space was reserved for background tasks. The 840 Pro ships without the extra spare area and a 64GB model made the final cut.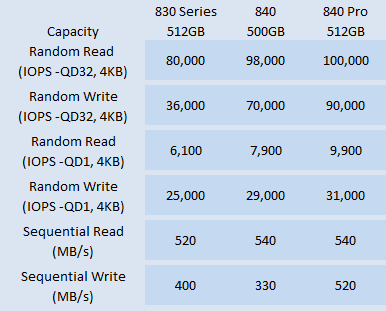 Samsung released a couple of different specifications for the 840 and 840 Pro. These are the initial numbers released; the numbers below are the final, published to web numbers. There isn't much of a difference so we're going to keep our original chart that is good enough to see a comparison between models.
Let's get the Samsung 830 512GB model in to see how Samsung progressed. The Samsung 830 was highly talked about publicly in the review world, but we never found a reason for the high praise. We only looked at the 128GB model and found high write latency and low performance in when the drive held data. Personally I think the high praise of the 830 Series had more to do with reviewers working to get marketing dollars from Samsung's massive budget than it had to do with the SSD.
When users started emailing their own experiences with write latency, our concerns were validated. The 830 is a good budget offering, but not the SandForce killer most made it out to be. Issues with firmware updates on drives sold by major OEMs, i.e. not being able to update OEM drives with retail firmware was a big complaint as well. We can tell you the write latency issue was taken care of on the 840 even though TLC flash has even higher latency at the flash level. We still don't know anything about the OEM firmware issues since we've yet to hear from OEM customers.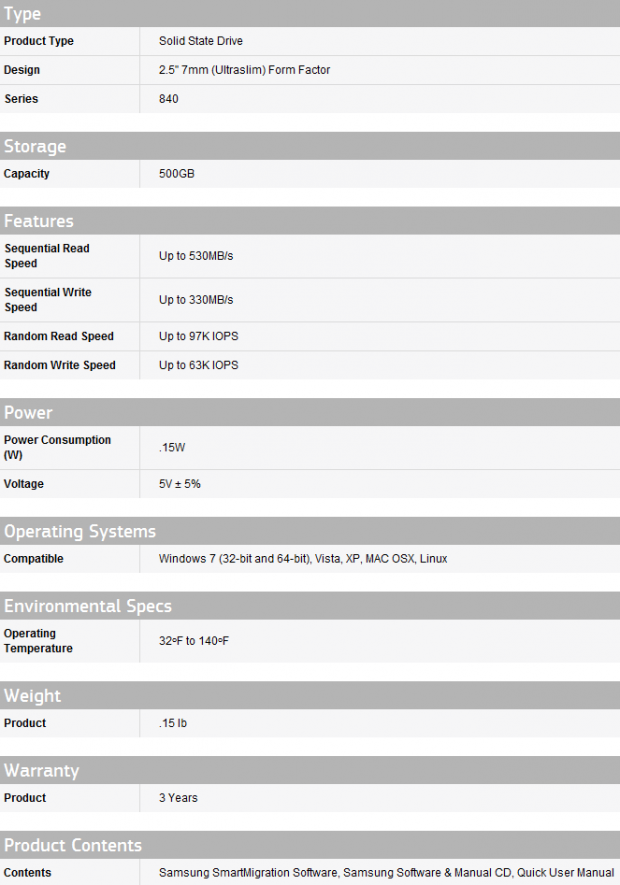 Here we see the final published specs for the 840 512GB as found on Samsung's website just before writing. Samsung claims a sequential read speed of 530MB/s and a write speed of up to 330MB/s. The final read IOPS spec is 87K and the write IOPS is 63K. Samsung didn't specify how they achieved these numbers and that played a part in publishing two sets of numbers in this review. We'll get to the bottom of the performance ourselves so there isn't a reason to split hairs on published performance data.
The Samsung 840 ships with two accessory packages. Today we're looking at the base package that Newegg currently lists for $379.99. The Full Kit or as others call it Upgrade Bundle ships with a desktop adapter bracket, screws, SATA power and data cable, mounting spacer and SATA to USB adapter cable. Newegg lists the full kit price at $419.99.
Both 840 kits include a three year warranty and newly redesigned Magician Software. We'll take a look at the new software in the review today. Inside the Magician Software is a link to Samsung's website where Norton Ghost resides. You can download the software, but the key code only ships with the full kit and not the base 840 drive.
Packaging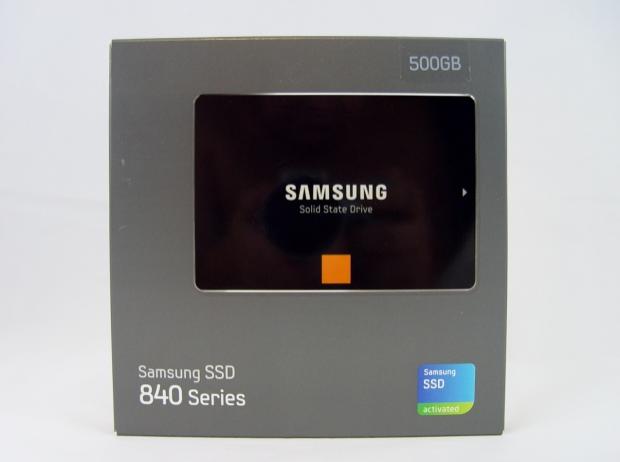 Samsung put together an attractive package for the 840, but the package lacks any real data on the front of the box. If anyone is going to get their drives in at retail stores like Best Buy or Fry's it's going to be Samsung. Without any performance data on the front shoppers might overlook the 840.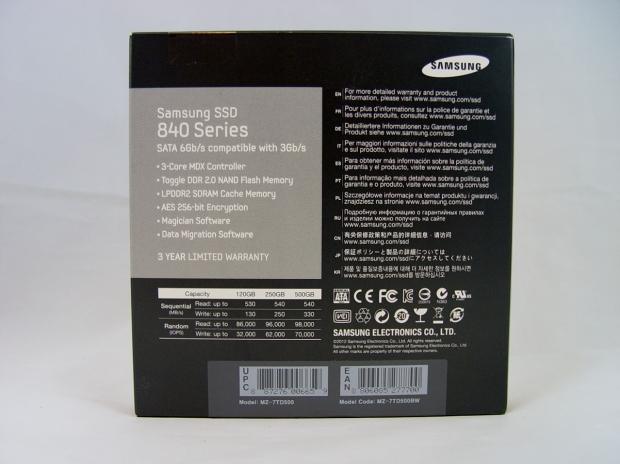 Samsung does list performance data as well as the web address to find more information on the back of the package. Also note that Samsung lists Data Migration Software on the back just above the three year warranty. We'll talk about the software package in a bit.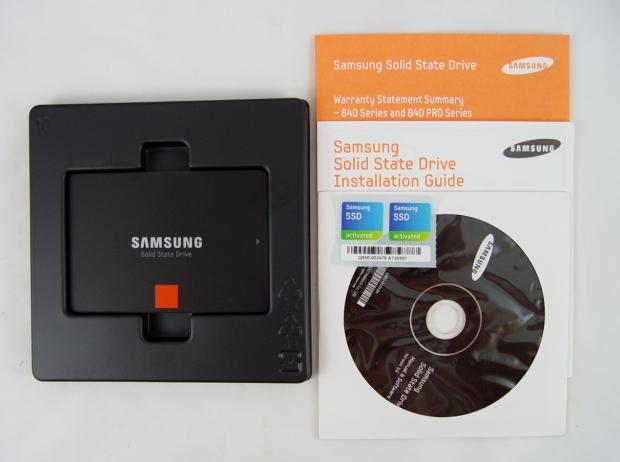 Samsung put together a nice package even for this 'bare kit'. We really can't call it drive only like some of the other packages because you get a really well put together Quick Installation Guide, Warranty Statement, software disk and a couple of Samsung SSD Activated Stickers.
I think Samsung could have done without the stickers. They were kind of cool when the first company gave away stickers, but now with every SSD is Better than Your HDD, Infused and Driven, the magic is gone when it comes to stickers.
The sticker backing has another sticker on it with a bar code. The CD containing the Magician software also has a bar code, but neither work with Norton Ghost 15.
Samsung 840 500GB SSD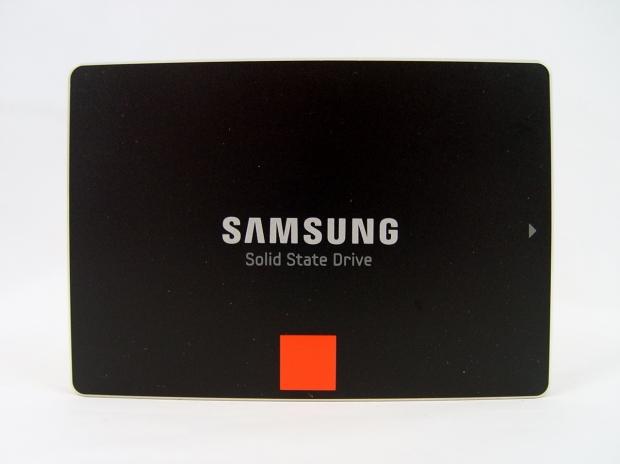 Here we get our first look at the Samsung 840 500GB SSD. In a couple of days we'll publish the 250GB model so stay tuned for that performance review. Samsung hasn't changed much on the surface when compared to the 830, at least in the way it looks. The 840 moves the orange square block to the middle of the lower edge, the 830 had it in the corner. The case is a new design and all metal, a throwback to the old Samsung SSDs before the 830 that was housed in plastic.
We'll talk about them at the end of this page, but do you notice all of the little silver specs all over the drive? They show up really well since the 840 is in a black case. We found these little specs all over the inner package. They aren't dust or lint, which would also show up through the lens just like this.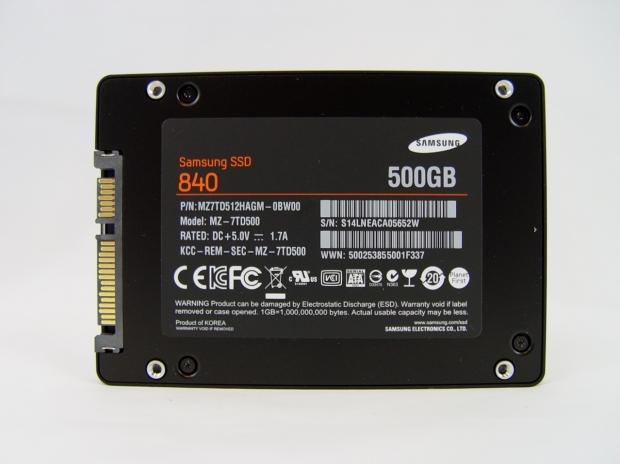 The sticker on the back of the drive shows your serial number, drive capacity and other data. Samsung lists 1.7 Amps as the maximum which is a really high rating compared to what we ran into during testing. The 840 has a really low power draw, something we'll look at today as well.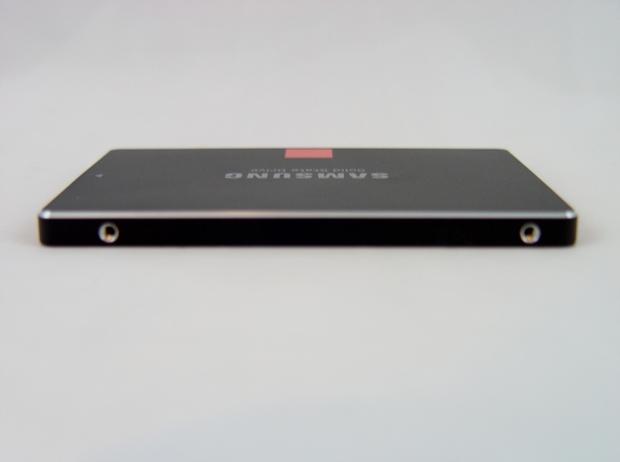 The 840 and 840 Pro are both 7mm Z-height drives, Samsung calls them Ultra Slim. The side mounting points are in the same location as 9.5 and 15mm Z-height drives so you won't have an issue installing the 840 in your regular notebook or desktop with an adapter bracket.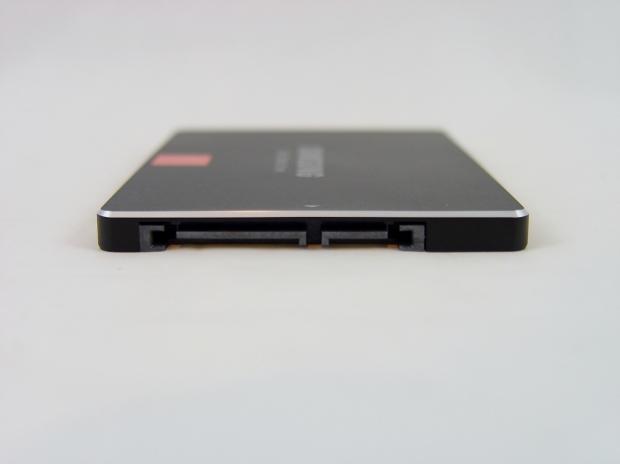 The SATA power and data connectors are offset and where they should be.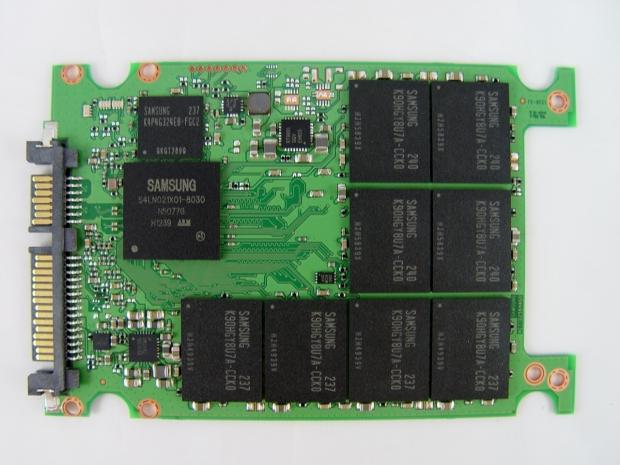 Inside we found Samsung's new MDX controller, 512MB DRAM very close to the controller and eight TLC NAND flash chips, also from Samsung.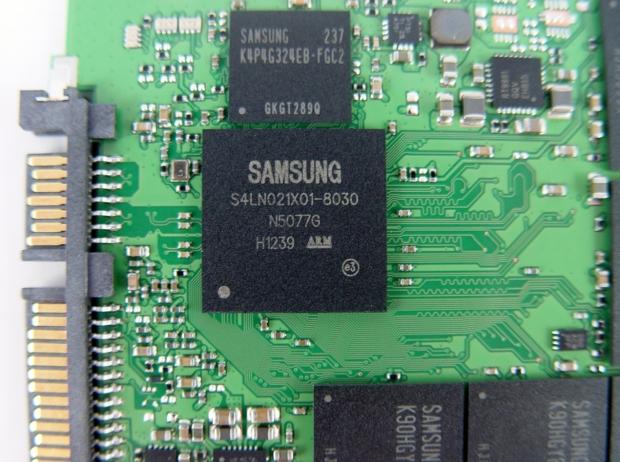 All hands on deck, the 840 controller named MDX uses three cores, one for reading, one for writing and one for background and flash management. The DRAM buffer is very close to the controller and that should reduce latency.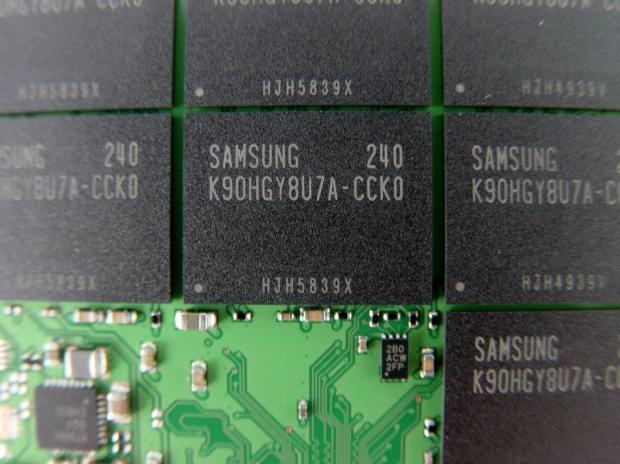 Samsung's TLC NAND flash, eight chips on the 500GB model with 512GB total.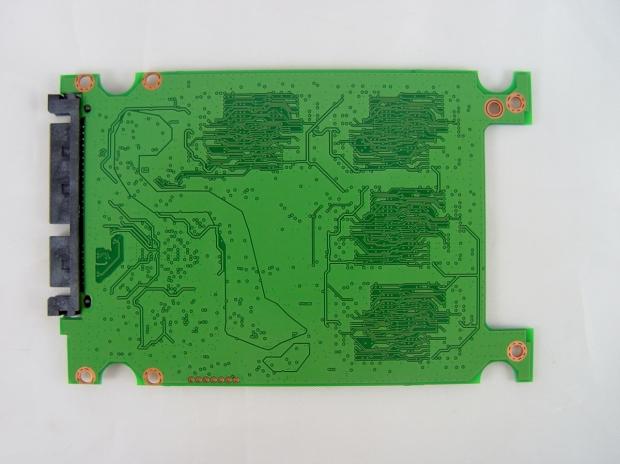 All of the surface mount components are on the opposite side.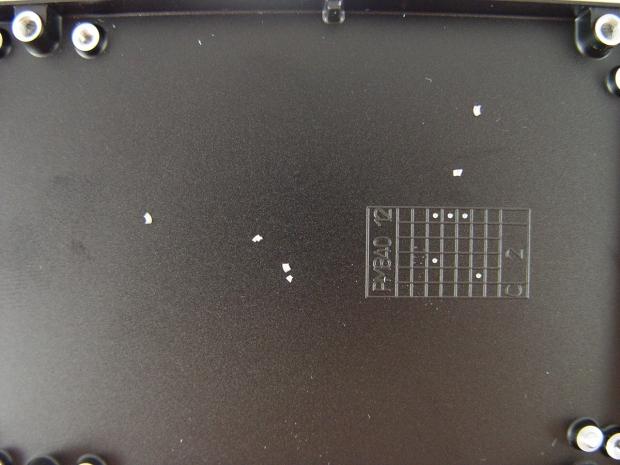 OK, back to the specs on the front of the drive, inside the box and inside the SSD case. When we opened the case we found several small pieces of solder. Here we see the largest pieces from inside the case. We took a computer keyboard duster brush to the PCB and case to make sure the drive didn't short out while testing.
I haven't seen any other reports of metal flakes in retail Samsung 840 or 840 Pro boxes, but if you open your drive and find them it might be a good idea to return it or take the drive apart to get them out. To do that you'll need a Penelope #5 screwdriver. They're on EBay and cost a few dollars.
Benchmarks - Test System Setup and ATTO Baseline Performance
Desktop Test System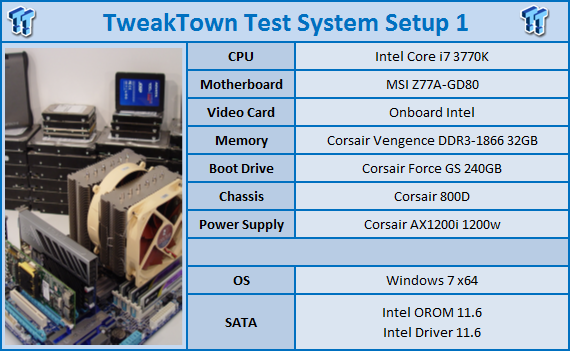 Lenovo W530 - Mobile Workstation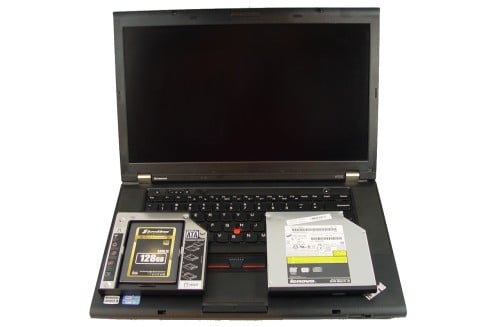 We use two systems for SSD testing. The desktop runs a majority of the tests and the Lenovo W530 runs the notebook power tests as well as the real-world file transfer benchmark.
ATTO Baseline Performance
Version and / or Patch Used: 2.34
ATTO is used by many disk manufacturers to determine the read and write speeds that will be presented to customers.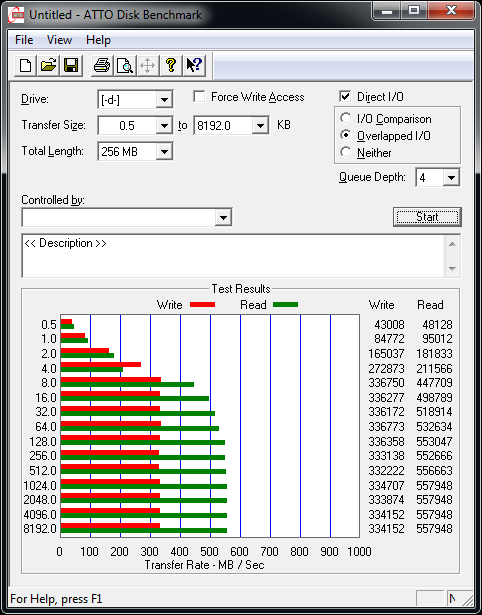 Before we get deep into the performance let's point out again that the Samsung 840 is Samsung's budget offering. In our testing we achieved nearly 560MB/s read performance. The big 5 6 0 isn't normally associated with budget offerings since it's pretty much the peak of SATA III. Then we get to the write performance. The 4K write speed as measured in ATTO with a queue depth of 4 was 211MB/s, a solid offering.
The maximum write performance though was only 335MB/s. This is like getting SandForce incompressible performance without the compressible performance to go with it.

We rarely see such staggered performance in SSDs. The read speed is very high and the write speed is very low. Samsung's marketing is very clear, this drive is designed to take your old beaten down Cadillac and make it feel like a speedy Porsche GT. If you're someone buying your first SSD then most SSDs will do that especially coming from any mechanical drive ever made. Let's see if the 840 lives up to the hype.
Benchmarks - Sequential Performance
HD Tune Pro
Version and / or Patch Used: 4.00
Developer Homepage: http://www.efdsoftware.com
Product Homepage: http://www.hdtune.com
HD Tune is a Hard Disk utility which has the following functions:
Benchmark: measures the performance
Info: shows detailed information
Health: checks the health status by using SMART
Error Scan: scans the surface for errors
Temperature display
HD Tune Pro gives us accurate read, write and access time results and for the last couple of years has been gaining popularity amongst reviewers. It is now considered a must have application for storage device testing.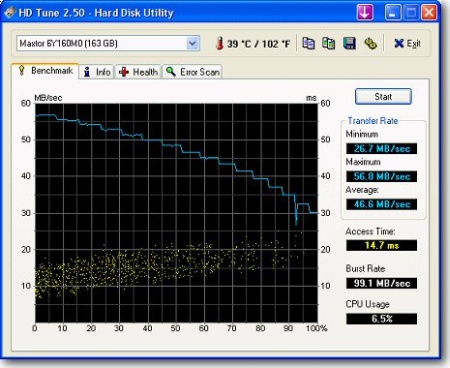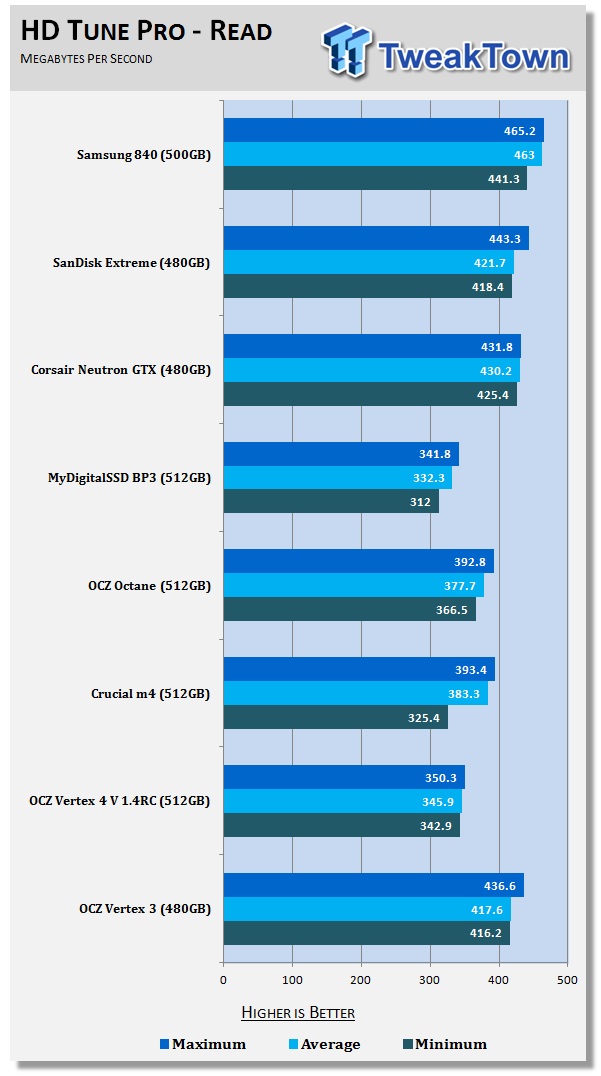 The Samsung 840 delivers a big dose of low queue depth sequential read performance. It's not just out there; it's way out there - over 30 MB/s faster than the Neutron GTX.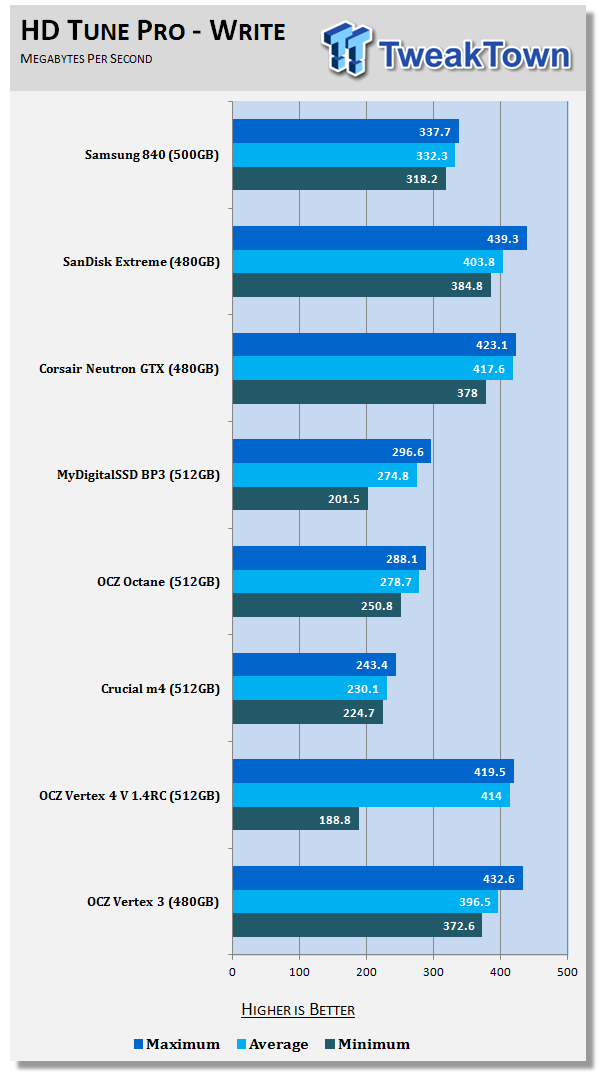 Then we get to the sequential write performance and it isn't as impressive. Just yesterday we saw the new OCZ Vector SSD deliver just 350MB/s average sequential write speed at QD1, but it managed to make up for the low performance by having exceptionally low access time.
The Samsung 840 is handicapped by TLC flash that has higher latency than MLC flash, a recovery from access times is unlikely, but let's take a look and find out.
Benchmarks - AIDA64 Random Access Time
AIDA64 Random Access Time
Version and / or Patch Used: 1.60
Developer Homepage: http://www.aida64.com
Product Homepage: http://www.aida64.com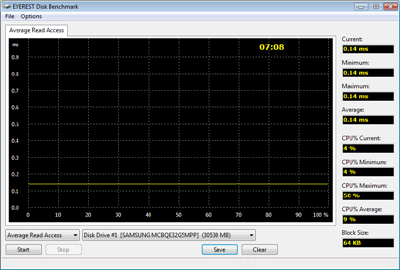 AIDA64 offers several different benchmarks for testing and optimizing your system or network. The Random Access test is one of very few if not only that will measure hard drives random access times in hundredths of milliseconds as oppose to tens of milliseconds.
Drives with only one or two tests displayed in the write test mean that they have failed the test and their Maximum and possibly their Average Scores were very high after the cache fills. This usually happens only with controllers manufactured by JMicron and Toshiba.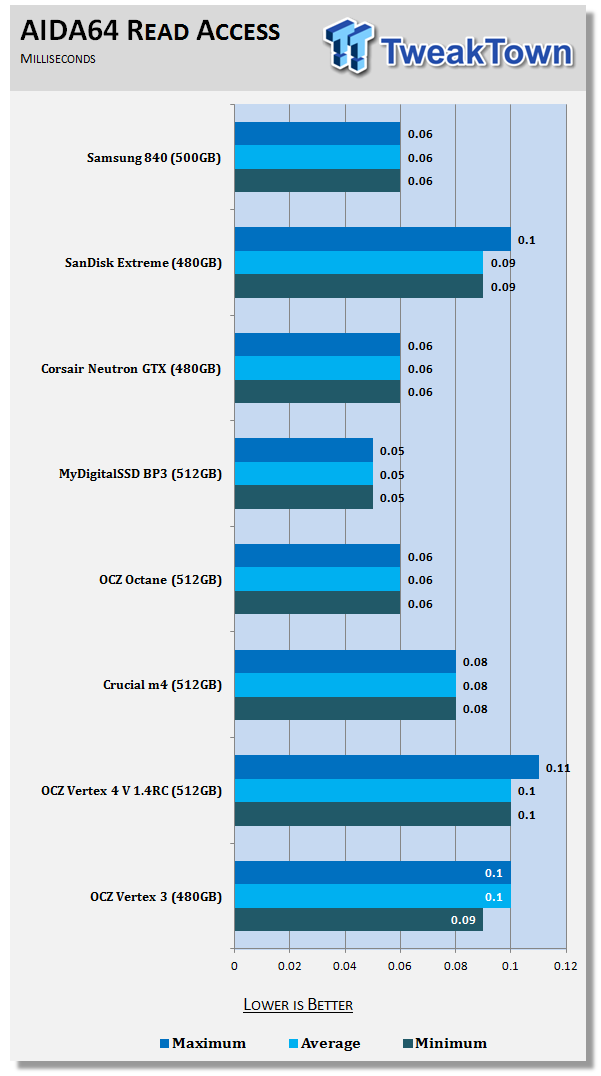 The Samsung 840 read access time at 64KB is .06 across the board. This is a very good rating, but we already know the read performance of the 840 is very good.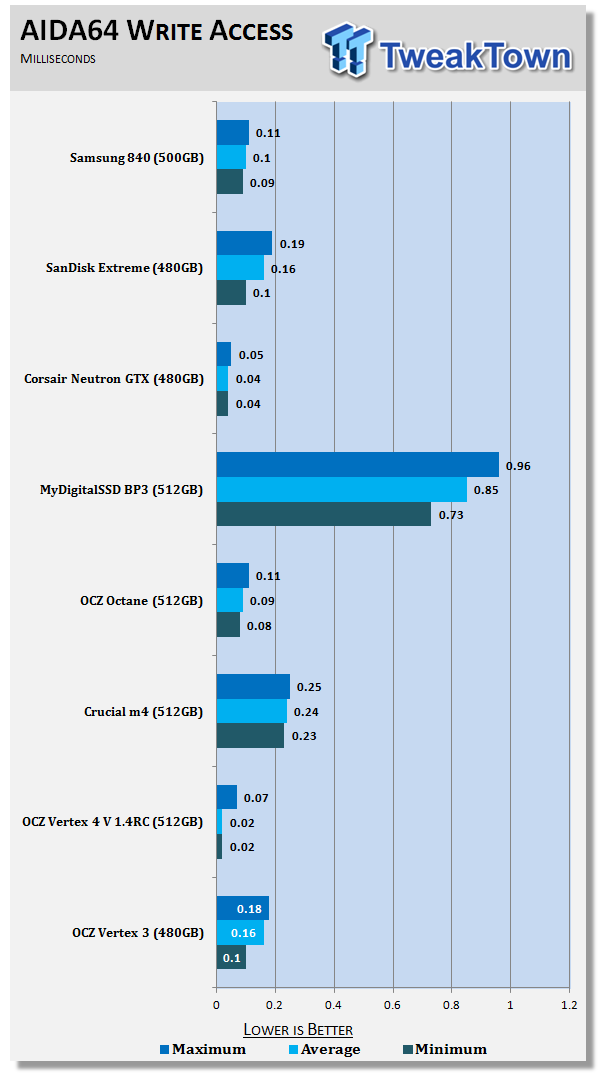 Write access time is where the 830 stumbled in our testing. We only tested the 128GB model, not by choice, but that's how the cards fell. Samsung reeled the write latency in on the 840. We've tested the 250GB and here is the 500GB capacity size write latency and both do very well in this test. We're working on getting in the smallest capacity size for a review as well.
Benchmarks - CrystalDiskMark
CrystalDiskMark
Version and / or Patch Used: 3.0 Technical Preview
Developer Homepage: http://crystalmark.info
Product Homepage: http://crystalmark.info/software/CrystalDiskMark/index-e.html
Download here: http://crystaldew.info/category/software/crystaldiskmark
CrystalDiskMark is a disk benchmark software that allows us to benchmark 4K and 4K queue depths with accuracy.
Key Features:-
* Sequential reads/writes
* Random 4KB/512KB reads/writes
* Text copy
* Change dialog design
* internationalization (i18n)
Note: Crystal Disk Mark 3.0 Technical Preview was used for these tests since it offers the ability to measure native command queuing at 4 and 32.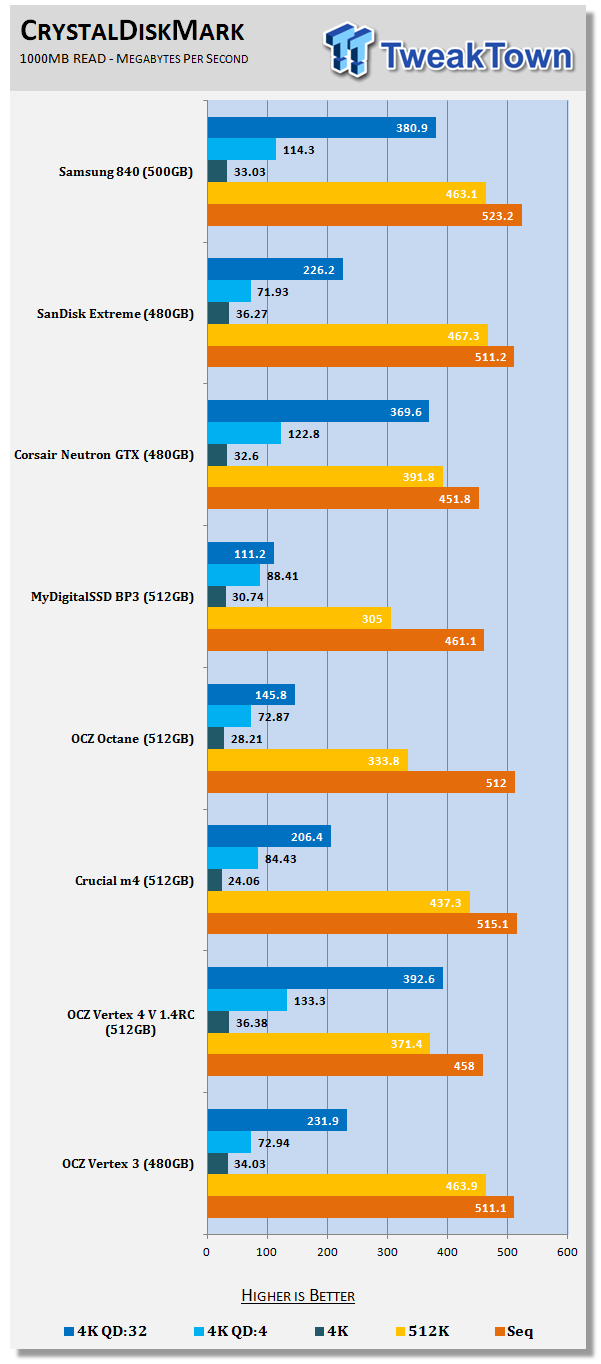 4K QD1 read performance is 33MB/s on the 840 500GB. The drive scales well to QD4 at 114MB/s. At QD32 the 840 delivers 381MB/s, a rating only rivaled by the OCZ Vertex 4 and Vector (not charted).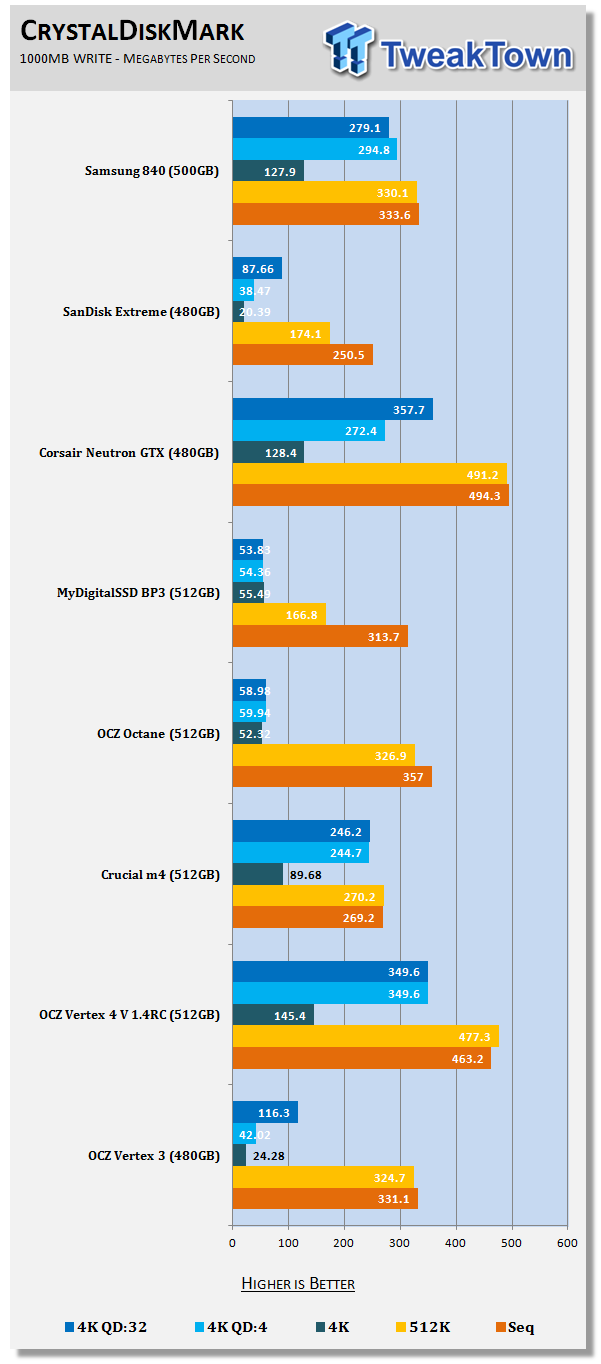 The 4K write performance at QD1 was 127MB/s. That scaled to nearly 255MB/s at QD4, but somewhere between QD4 and QD32 the Samsung 840 lost some performance.
Benchmarks - PCMark Vantage Hard Disk Tests
PCMark Vantage - Hard Disk Tests
Version and / or Patch Used: 1.0.0
Developer Homepage: http://www.futuremark.com
Product Homepage: http://www.futuremark.com/benchmarks/pcmark-vantage/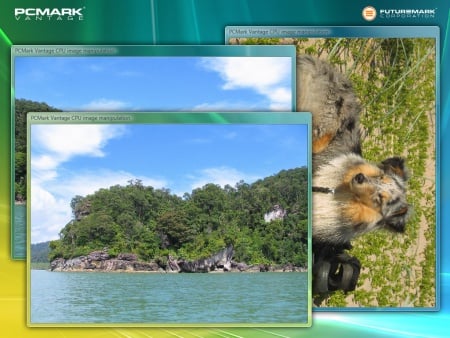 PCMark Vantage is the first objective hardware performance benchmark for PCs running 32 and 64 bit versions of Microsoft Windows Vista. PCMark Vantage is perfectly suited for benchmarking any type of Microsoft Windows Vista PC from multimedia home entertainment systems and laptops to dedicated workstations and high-end gaming rigs. Regardless of whether the benchmarker is an artist or an IT Professional, PCMark Vantage shows the user where their system soars or falls flat, and how to get the most performance possible out of their hardware. PCMark Vantage is easy enough for even the most casual enthusiast to use yet supports in-depth, professional industry grade testing.
FutureMark has developed a good set of hard disk tests for their PCMark Vantage Suite. Windows users can count on Vantage to show them how a drive will perform in normal day to day usage scenarios. For most users these are the tests that matter since many of the old hat ways to measure performance have become ineffective to measure true Windows performance.

HDD1 - Windows Defender
HDD2 - Gaming
HDD3 - Windows Photo Gallery
HDD4 - Vista Startup
HDD5 - Windows Movie Maker
HDD6 - Windows Media Center
HDD7 - Windows Media Player
HDD8 - Application Loading
This is where things get very interesting, in the real-world tests. Let's just look at the Samsung 840 and SanDisk Extreme since the SanDisk is currently the price vs. performance 512/500/480GB leader. In every test but two the SanDisk Extreme outperforms the 840. In many of those tests the Extreme just totally beats up on the 840.
In two of the tests the Samsung 840 outperforms the Extreme, but not by the same margins we saw in the other six tests where the Extreme was on top.
Benchmarks - PCMark Vantage - Drives with Data Testing
For a complete breakdown on the Drives with Data Testing please read this article. You will be able to perform this test at home with the files provided in the article - full instructions are included.
- Brief Methodology
SSDs perform differently when used for a period of time and when data is already present on the drive. The purpose of the Drives with Data testing is to show how a drive performs in these 'dirty' states. SSDs also need time to recover, either with TRIM or onboard garbage collection methods.
Drives with Data Testing - 25%, 50%, 75% Full States and Dirty / Empty Test
Files needed for 60 (64GB), 120 (128GB), 240 (256GB)
60GB Fill - 15GB, 30GB, 45GB
120GB Fill - 30GB, 60GB, 90GB
240GB Fill - 60GB, 120GB, 160GB
Empty but Dirty - a test run just after the fill tests and shows if a drive needs time to recover or if performance is instantly restored.

The Data on Disk Tests were another area the Samsung 830 had a difficult time. The 500GB 840 does much better than the 830, but it's still slower than the Team SandForce drives and the Crucial m4 512GB.
Benchmarks - Anvil Storage Utilities
Anvil Storage Utilities
Version and / or Patch Used: RC5
So what is Anvil Storage Utilities? First of all, it's a storage benchmark for SSDs and HDDs where you can check and monitor your performance. The Standard Storage Benchmark performs a series of tests, you can run a full test or just the read or the write test or you can run a single test, i.e. 4K DQ16.
Anvil Storage Utilities is not officially available yet but we've been playing with the beta for several months now. The author, Anvil on several international forums has been updating the software steadily and is adding new features every couple of months.
The software is used several different ways and to show different aspects for each drive. We've chosen to use this software to show the performance of a drive with two different data sets. The first is with compressible data and the second data set is incompressible data. Several users have requested this data in our SSD reviews.
Fill Compressible Data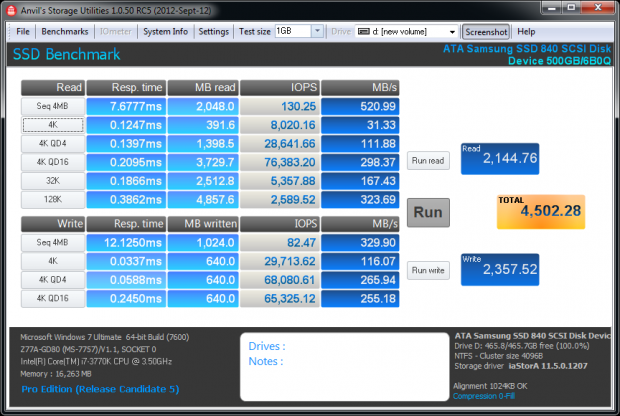 Incompressible Data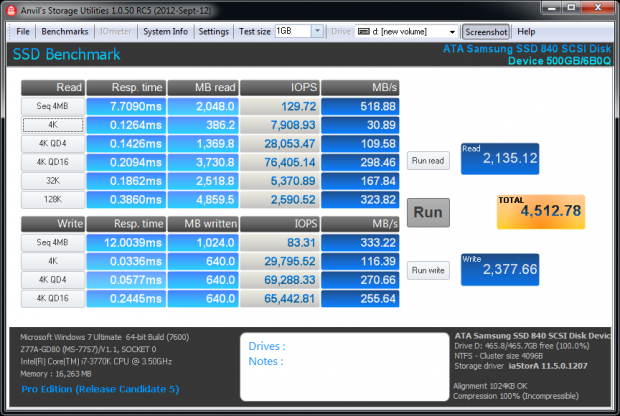 Samsung's 840 doesn't slow when working with incompressible data.
QD32 Random Read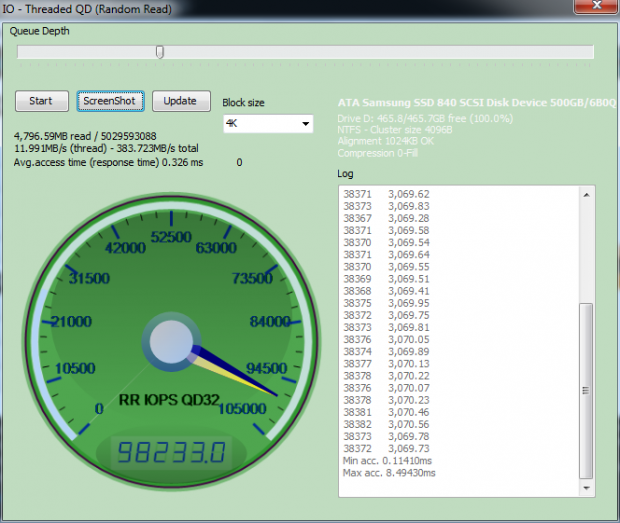 We recorded 98K random read IOPS at 4K QD32.
QD32 Random Write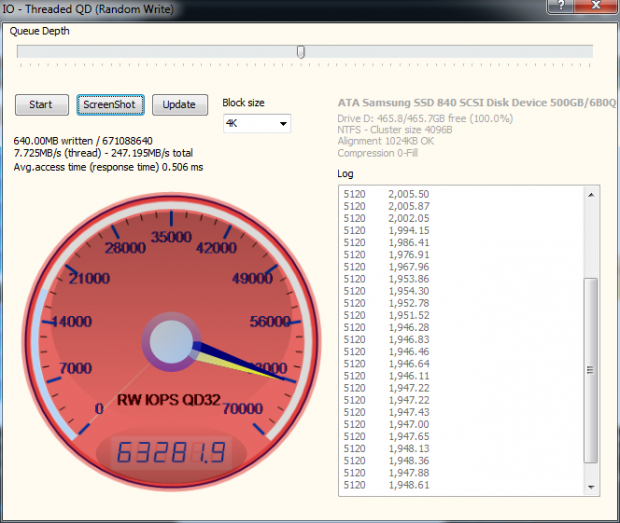 The random write IOPS at 4K QD32 was 63K. This matches Samsung's new performance quote on its website.
Benchmarks - BootRacer
BootRacer - System Boot Time
Version and / or Patch Used: 4.0
Developer Homepage: Greatis
Product Homepage: BootRacer
Download here: http://www.greatis.com/bootracer/download.htm
Note: In this test we use the Lenovo W530 Mobile Workstation loaded with an operating system and several program files. The data on the drive at the time of the test is 45GB. The second test, 50GB Free, was run with the drives filled with block data until only 50GB of free capacity remained.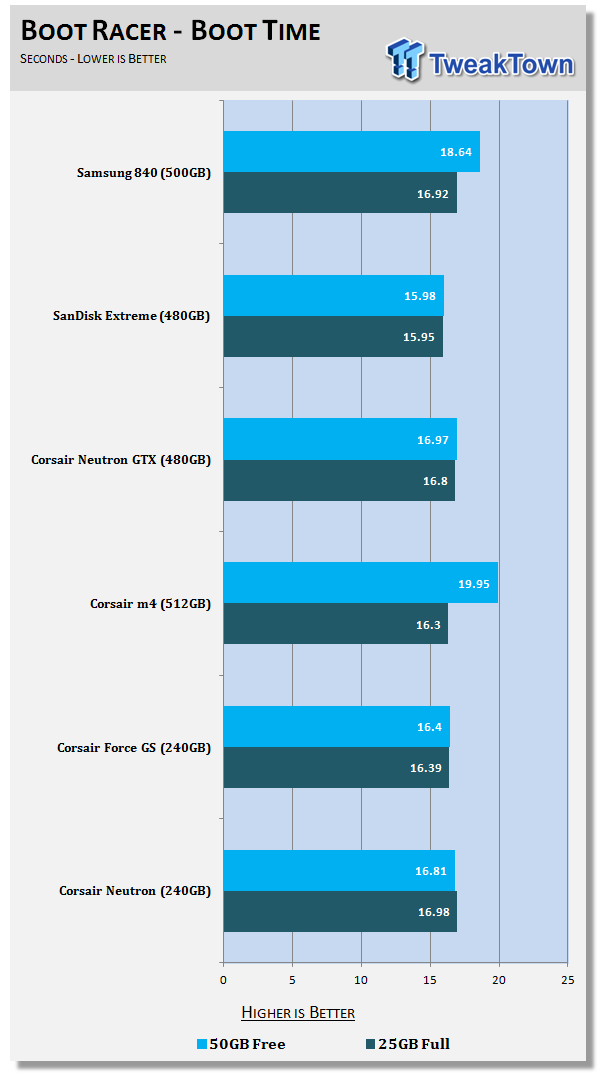 The Samsung 840 500GB boots slower with more data on the drive. Here we test the boot speed with the OS, Office and a few benchmarks on the drive, taking up 25GB of space. Then we fill the drive with Data on Disk data until only 50GB is unused. At that point we run the test again. Surprisingly not all SSDs slow in these tests.
Benchmarks - DiskBench
DiskBench - Directory Copy
Version and / or Patch Used: 2.6.2.0
Developer Homepage: Nodesoft
Product Homepage: DiskBench
Download here: http://www.nodesoft.com/diskbench/download
Note: In this test we use the Lenovo W530 Mobile Workstation and a SuperSSpeed S301 SLC 128GB SSD to move a 15GB block of data to and from the target drive. This is part of our real world test regiment. Roughly 45GB of data resides on the target drive before the '15GB Block' is transfer. The 15GB Block is the same data we built for the Data on Disk Testing and is a mix of compressible and incompressible data.
Directory Copy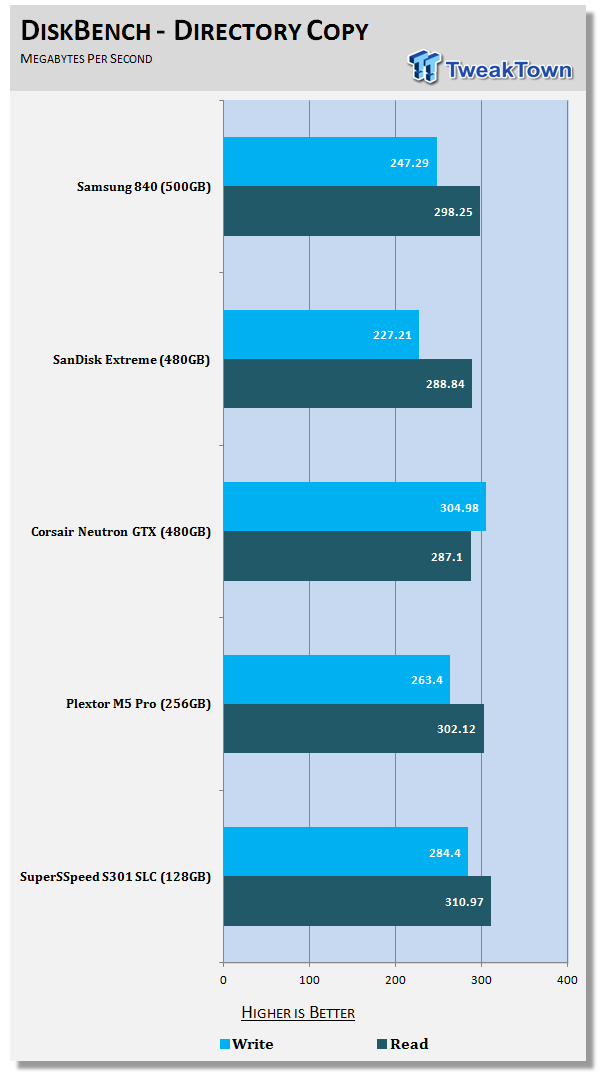 When transferring mixed data (compressible and incompressible) to and from the drive the Samsung 840 does well. It even manages to outperform the SanDisk Extreme.
Benchmarks - Power Testing
Bapco MobileMark 2012 1.5
Version and / or Patch Used: 2012 1.5
Developer Homepage: http://www.bapco.com
Test Homepage: http://www.bapco.com
MobileMark 2012 1.5 is an application-based benchmark that reflects usage patterns of business users in the areas of office productivity, media creation and media consumption. Unlike benchmarks that only measure battery life, MobileMark 2012 measures battery life and performance simultaneously, showing how well a system design addresses the inherent tradeoffs between performance and power management.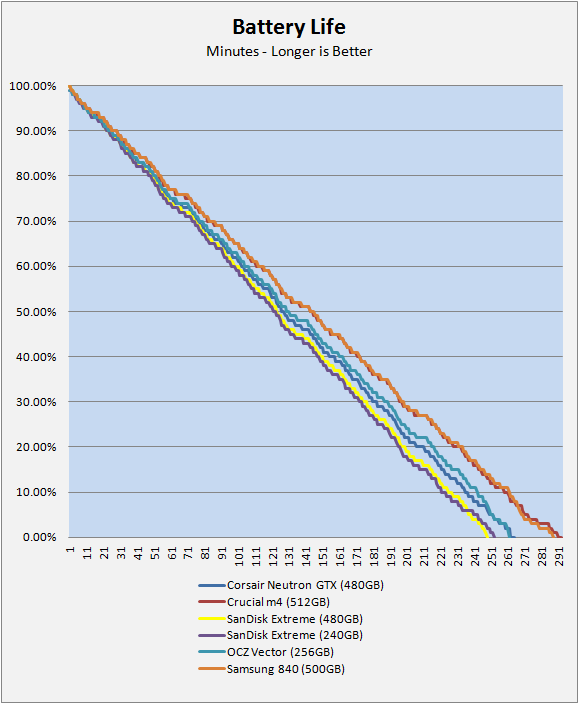 Samsung says the 840 uses very little power and they are correct. In our battery life test the 840 comes very close to the Crucial m4. It's so close, but no cigar, in this capacity. Let's take a look at how Samsung gets there.
PCMark Vantage HDD Test - Power Draw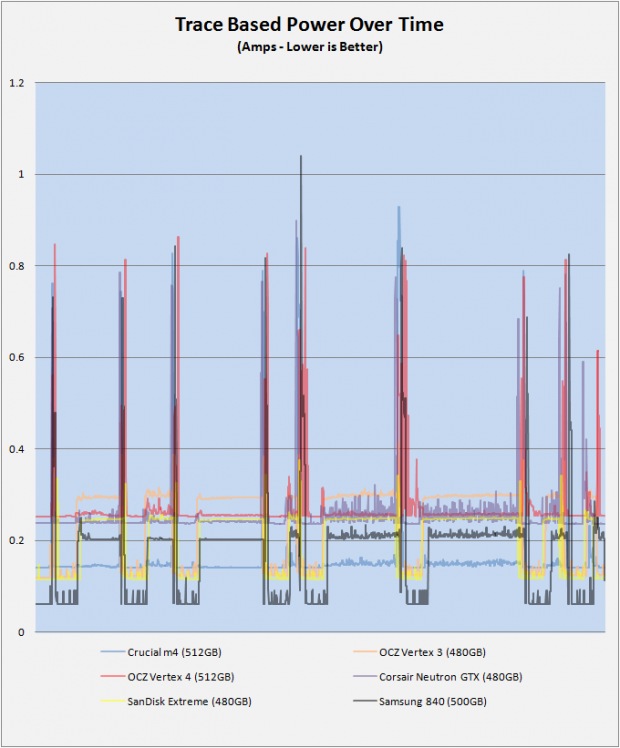 The Samsung 840 is the black line on the graph and you can easily find it at the very bottom. Samsung uses less power at idle and while reading data. The high spikes are random writes at higher queue depths. The Samsung 840 registers the highest spike on the chart, too.
As you can see the blips are small so under real-world conditions they rarely affect battery power. The low idle power though, that is where you see real savings.
Samsung SSD Magician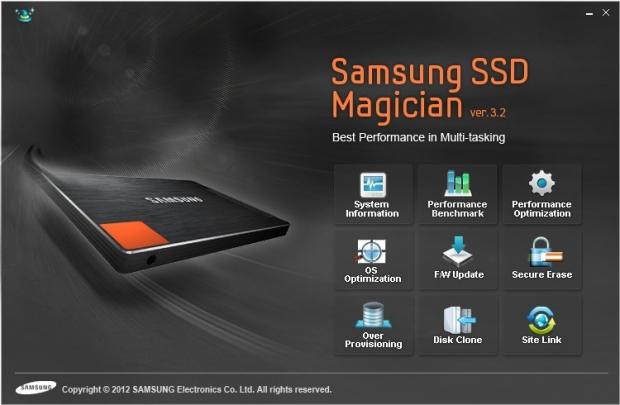 Samsung has a very nice software package called SSD Magician. Recently they released a redesigned version, now up to 3.2. Let's take a brief look at each page and see the features.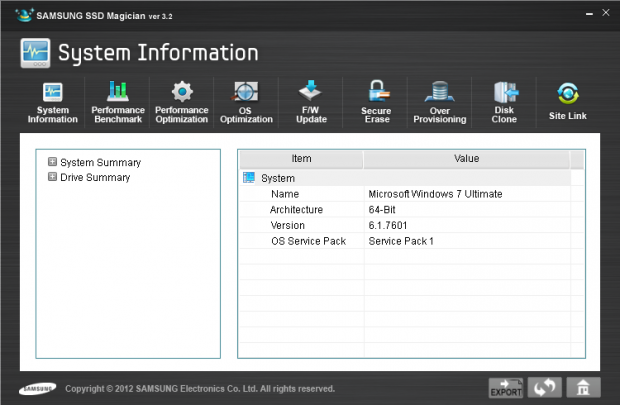 System Information.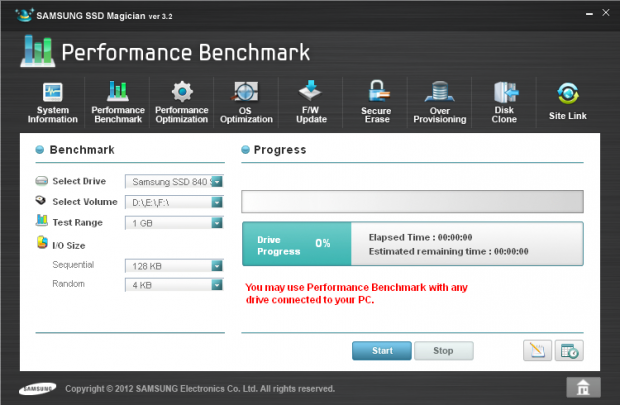 A built in benchmark.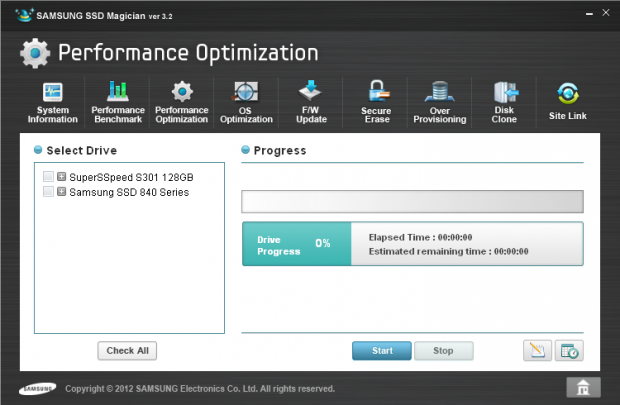 You can even test other drives with the built in benchmark.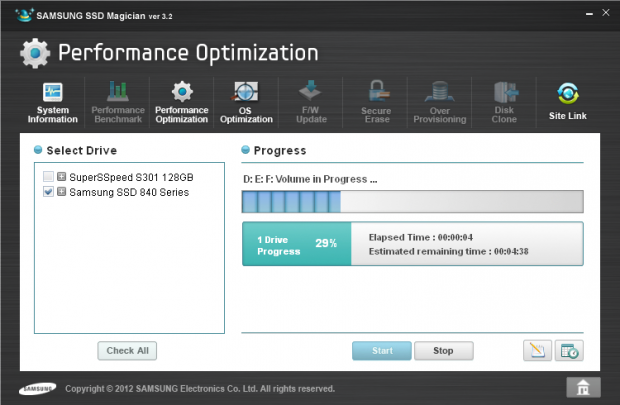 I like benchmarks so we had to show this. The test takes a few minutes, but wait for it.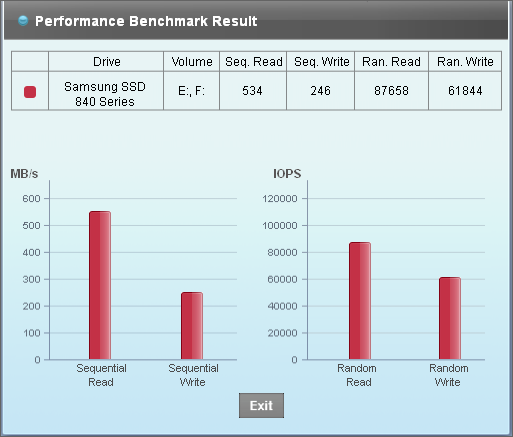 Benchmark results show up in a nice graph.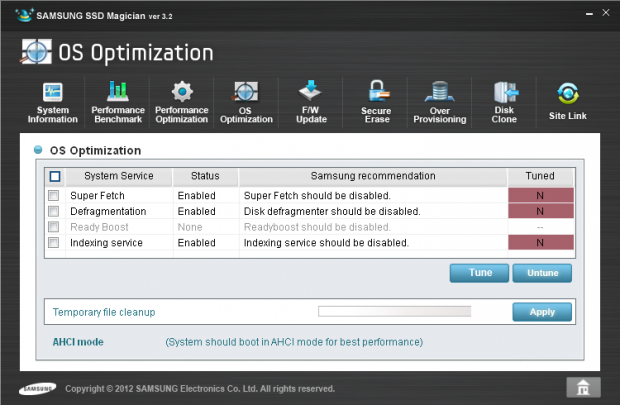 The optimizer helps you quickly optimize your system. We just cloned a mechanical drive to see what it would pick up in Windows 7. The software does a good job detecting some of the more obvious tricks to increase performance.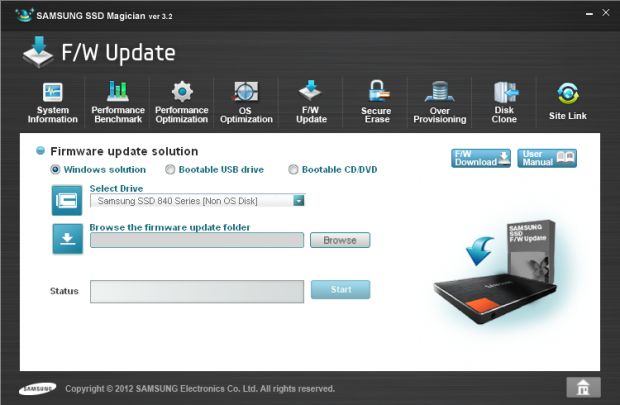 The firmware update tool is built into the Magician software.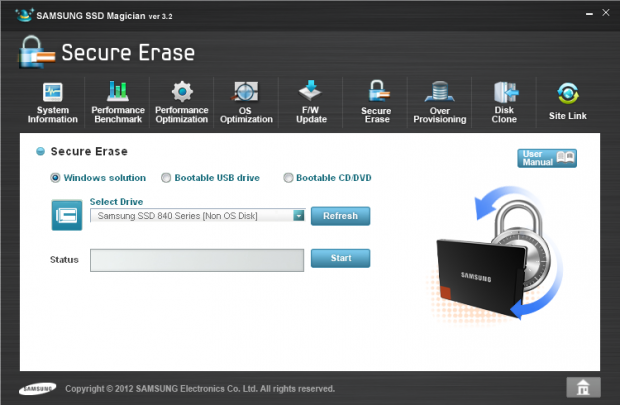 Secure erase, but don't SE your boot drive.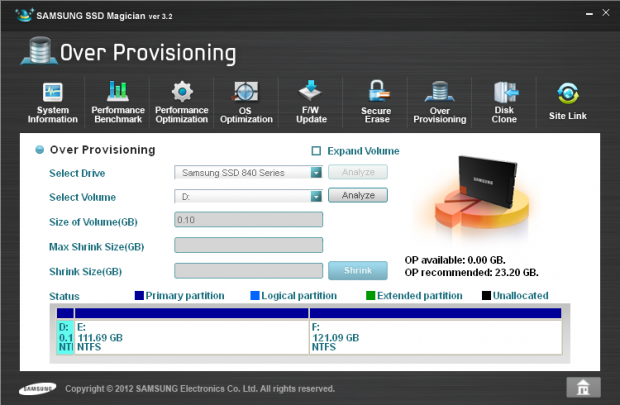 This is where things get pretty cool. You can do the same thing when building your partition, but Magician gives you a nice graphical interface for setting more spare area. Additional spare area increases performance and the life of the flash.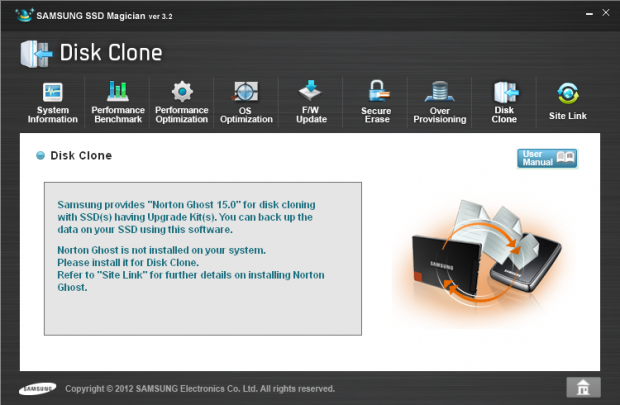 Disk Cloning, this has come up a couple of time in the review as Data Migration. When you have Norton Ghost installed on your computer the Disk Cloning tab opens the software for you.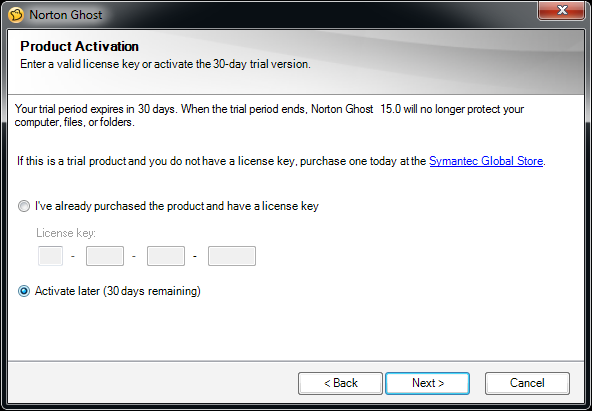 When the software opens you get the product activation menu and this is a problem if you are past 30 days of installing the software. We tore through the Samsung package and didn't find a code for Norton Ghost anywhere. This really isn't much of an issue unless you read the retail box that says the Samsung 840 comes with Data Migration Software. Maybe they should have put a star next to it and explained the 30 trail version a little better.
EDIT: After this article was posted we heard from Samsung and they informed us we did get it wrong in the article. Samsung has Data Migration Software, but it's a bit difficult to find unless you are looking for it. You can find the software on this page in the Downloads and Manuals section.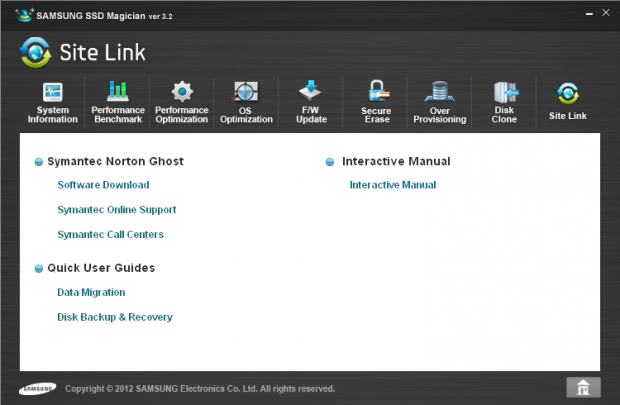 At least Samsung provided a link to Symantec tech support in the site link section.
Final Thoughts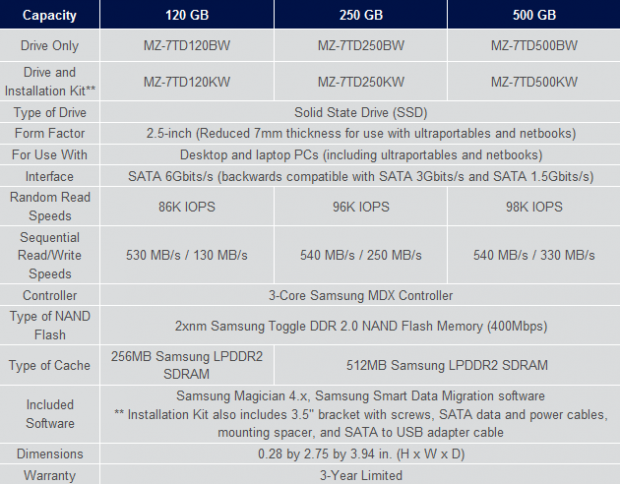 Samsung's 840 comes in three capacity sizes with six product SKUs. Let's focus on the 500GB today and later look at the 250GB model. We're working on acquiring a 120GB and expect it to arrive before CES.
Rarely do I need to go back and look at the benchmark data to come to terms with the user experience. When we test new architecture, I run the drives in a system for a couple of days. The OCZ Vertex 4 was another drive I had to go back and ask myself is the data presented in the review matched what I felt while using the drive. In both cases the user experience was better than what the benchmarks showed.
Anyone that says all SSDs are the same doesn't own more than one SSD with different architectures or they use them with performance reduction states enabled (C-States, EIST, PCIe Link Management). Little things like high write latency become annoying when you run into slow performance several times when doing daily tasks. Going into this review we expected the 840 to have worse write latency than the 830 we tested, but that wasn't the case even though TLC NAND has higher latency than MLC flash. Samsung managed to beat the issue back with the new controller and programming/firmware.
The read performance from the 500GB 840 is class leading. It sets a new standard for budget SSDs and the lead carries over into enthusiast, prosumer and power user territory. So much of what we do with our computers daily relies on low queue depth read speed and the 840 is a beast in this area.
The write performance is in line with what we expect from a drive designed for the budget category. The only real problem is very good Team SandForce drives with Toggle and synchronous flash have dipped into the budget category. Several companies have tried to make a specific SSD for the budget market, but the low prices of otherwise enthusiast SSDs have been a brick wall to success at low price points.
The Samsung 840 500GB with TLC flash costs $379.99 at Newegg with the basic bundle, a great price point for 512GB of NAND flash. The SanDisk Extreme 480GB costs $314.99 at Newegg at the time of writing and now that SandForce has TRIM working again, well... that closes the door on the 840.
Not all is lost though for the 840. The drive does a really good job in the power tests and delivered solid battery performance in our Lenovo W530. If you need an additional 60 minutes of battery life from your notebook with a typical 500GB, 5,400 RPM mechanical drive, the 840 will give you around 40 minutes more than the Extreme, as long as your notebook is configured like ours.
With SSDs you can pick and choose the specific features you want based on what you're looking to use the drive for. If notebook battery life is what you're after than the 840 is a good choice. If you want the absolute lowest price or the best general use performance, it's not.