Introduction and Package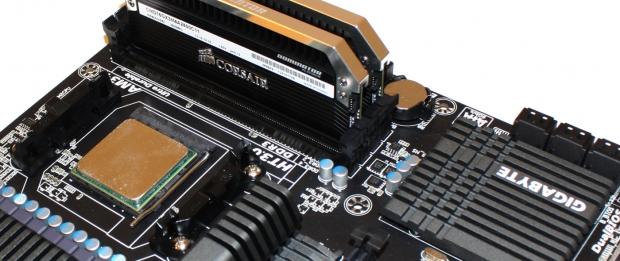 I really struggle to get excited about AMD CPUs these days. It's not that they're bad or anything like that, but it just feels like there's no excitement coming from AMD's end and that transfers over to us. I found myself excited when we saw Llano come out last year, but after the initial launch of the new APU from AMD, we really didn't hear much else, and that was disappointing.
Not long after that we got word that the next-generation APU was coming in the form of Trinity. Alongside Trinity we also got word of the next generation Bulldozer chips coming in the form of Piledriver or Vishera. Bulldozer was a horrible launch that we feel AMD handled extremely poorly. Along with our original review on the FX-8150 I also did an editorial about how I felt the launch was handled in the form of Shi**y Marketing Killed the Bulldozer Star.
Jump forward to today and we're looking at replacements for both platforms in the form of the A10-5800K and FX-8350. Before even testing you already have this feeling of how the whole process is going to play out. You're going to end up with both an APU and CPU that hit at a really strong price point against the competition. From a technical standpoint they're going to look really strong, but because of traditional benchmark numbers, the platform isn't going to look as attractive against the competition (Intel). When you look at gaming numbers, though, you'll see that the platform manages to perform well as games focus more on the video card than the CPU itself. In the end you're ultimately going to end up with what is a good product that won't penetrate the market as well as it should. It'll be due to both a combination of a certain "stigma" that sits around AMD, along with the fact that it just won't be promoted in the right way.
The whole process feels so pessimistic, especially since I really have a large amount of respect for so many people at AMD. When it comes to the CPU side of things, though, it feels like AMD are fighting a constant uphill battle that has no end in sight.
Still, saying all of that, let's just quickly go over how we'll be looking at our processors today. We'll start off by taking a look at both the A10-5800K and FX-8350 chips. Once we've done that we'll quickly look at the two motherboards we're using today. For the A10 it's the GIGABYTE F2A85X-UP4 while the FX is sitting on the GIGABYTE 990FXA-UD3.
Once we've done that we'll then quickly cover what's in our testbed today along with the other setups that we'll be using before we get stuck into the benchmarking side of things. The first thing we need to do, though, is see just what's going on with the A10-5800K.
AMD A10-5800K (Trinity) APU and the A85X Chipset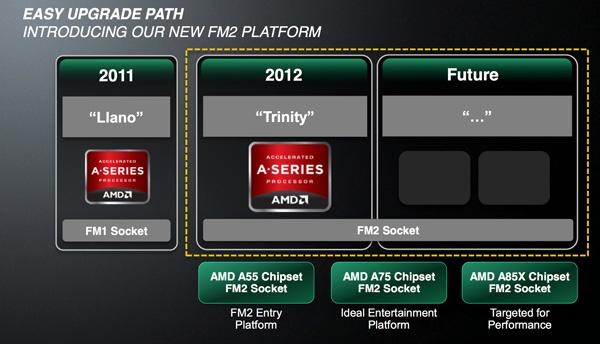 The first thing to note about the new Trinity platform is that it brings with it a new socket in the form of FM2.While similar to the original Llano FM1 socket, we do have some slight changes that make it impossible to install a Llano based FM1 CPU into an Trinity based FM2 board and vice versa.
While we're dealing with a new socket, out of the three chipsets that are available, two are based on the previous generation A55 and A75 chipset which AMD says is targeted at "Entry level" and "Entertainment level". Along with these two known chipsets, though, we've got the new A85X chipset which is targeted at the "Performance level".
While annoying that Llano users can't make the upgrade to Trinity without moving to a new motherboard, looking at the above image you can see that AMD intend to use the FM2 socket for its next generation APU which is yet to be announced.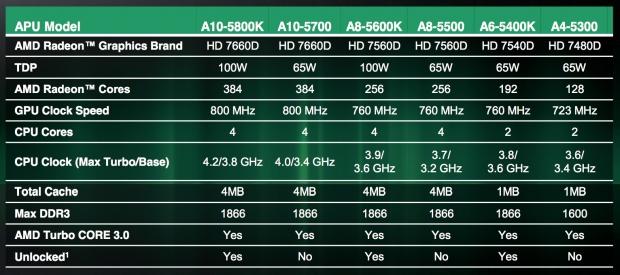 The biggest change the A85X chipset brings to the table is CrossFire support which of course puts it in that "Performance" category. Along with that the new chipset also sees an extra two SATA III ports bringing that number up to eight. On the USB front we see the same four / ten / two setup in terms of USB 3.0 / 2.0 / 1.1.
My feeling on the new chipset is a little weird. It's cool that AMD brought CrossFire support to the table here, but if you're going to start looking at building a CrossFire rig and want to go down the path of AMD, we'd probably suggest the move to the higher end FX platform which we'll be looking at in just a moment.
Moving away from the socket and chipset and onto the APU side of things the new Trinity platform brings with it a host of new chips to play with which can be seen below. We've got four series in the form of the A4, A6, A8 and top of the line A10 chips. The main differences between the different models come in the form of the on chip graphics, amount of cores for both the GPU and CPU, speed, cache, and the ability of being unlocked or not.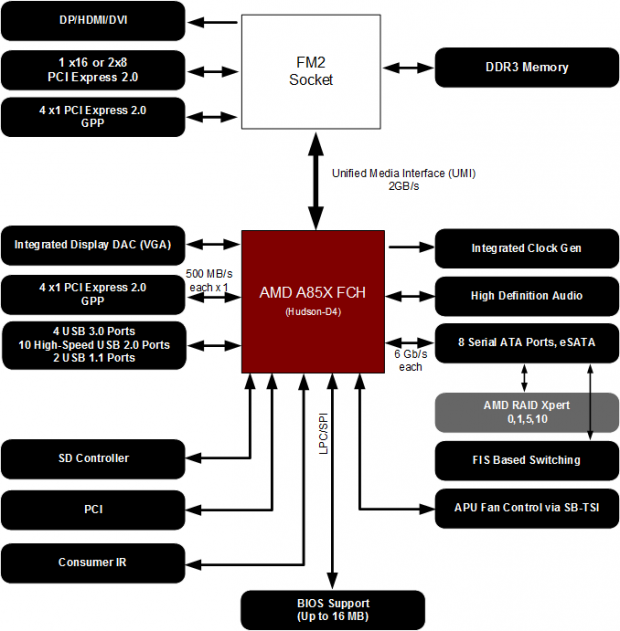 Today we've got on hand the top of the line A10-5800K which brings with it a 3.8GHz / 4.2GHz clock speed with the latter number being used when Turbo Core is used. Being a "K" based chip means like the Intel ones it's also unlocked. Along with that we see it supports 1866MHz DDR memory like the A6 series and above while we've got 4MB of cache like the A8 series and above.
Compared to the Llano platform there's not a lot of changes. We've got the same 32nm manufacturing process being used. The die size has been increased from 228mm to 246mm along with a larger transistor count which sees 1.303B instead of 1.178B.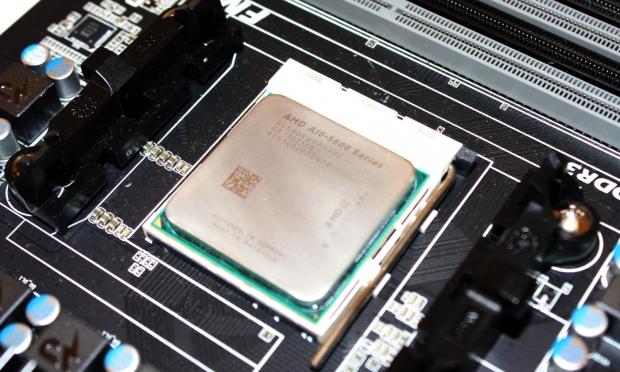 Trinity doesn't really bring with it any huge surprises. It's a progressive step up from the previous generation Llano APU. We've got improvements in all the areas you'd expect and a new socket brought into the mix. The biggest detail probably comes in the form of the A85X chipset which brings a more performance focused chipset to the market thanks to its included CrossFire support.
AMD FX-8350 (Vishera) CPU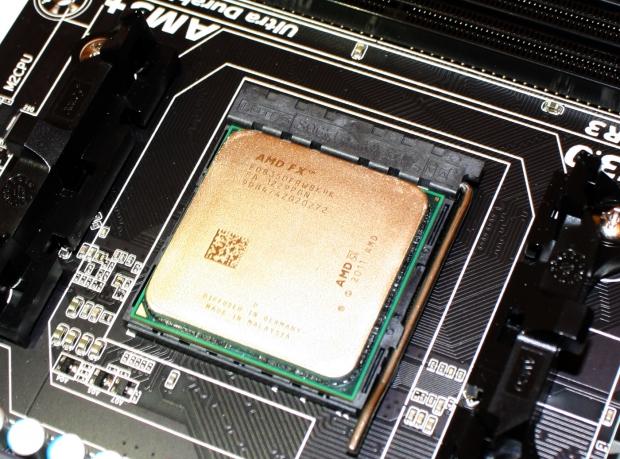 The first thing to note with the new Vishera FX line of CPUs from AMD is that unlike the Trinity based APU, these new CPUs are based on the already released AM3+ socket that we've seen for a while now. That means that on the performance based 990FX chipset you should need nothing more than a BIOS update to get up and running. This makes the move from Zambezi cheaper and easier thanks to a new motherboard not being needed.
With no new chipset being thrown into the mix there's not as much to cover when it comes to the new Vishera platform. Saying that, though, we've of course got a bunch of new CPU models that are being brought to the table.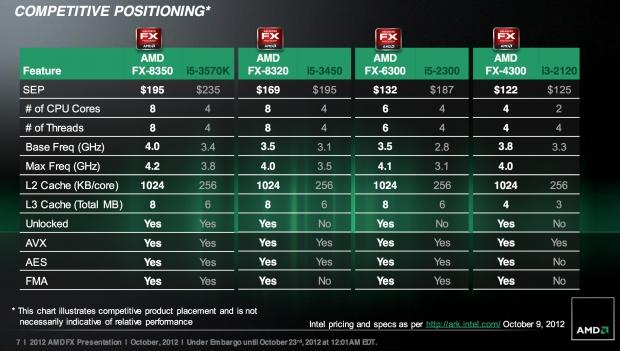 Alongside the 8 Core FX-8350 we've got today we're also seeing another 8 Core chip in the form of the FX-8320. Below that we've got 6 core and 4 core chips respectively in the form of the FX-6300 and FX-4300. Chips start from $122 and go as high as $195 depending on how many cores you want along with the amount of speed.
Vishera brings little new to the table when it comes to being compared to its previous generation Zambezi brother. While we've got a speed bump across the board and slightly better power efficiency, the similarities between the two CPUs is extremely small.
Comparing the new FX-8350 and older FX-8150, both have 8 cores, both are built on 32nm technology, and both offer 1.2B transistors on a 315mm die. We've got the same 125w TDP and 8MB / 8MB L2 / L3 setup. The only real change comes in terms of the clock speed which sees a base clock of 4GHz instead of 3.6GHz - the max turbo clock remains the same coming in at 4.2GHz.
The upgrade process from a Zambezi based FX chip is easy thanks to the same socket being used. The chances are you'll probably only want to make the move if you're interested in upgrading from a 4 or 6 core based FX chip to an 8 core one. The move from an FX-8150 to the new FX-8350 is going to bring little to the table. Of course we'll take a closer look and see just what happens.
GIGABYTE F2A85X-UP4 and GIGABYTE 990FXA-UD3
GIGABYTE F2A85X-UP4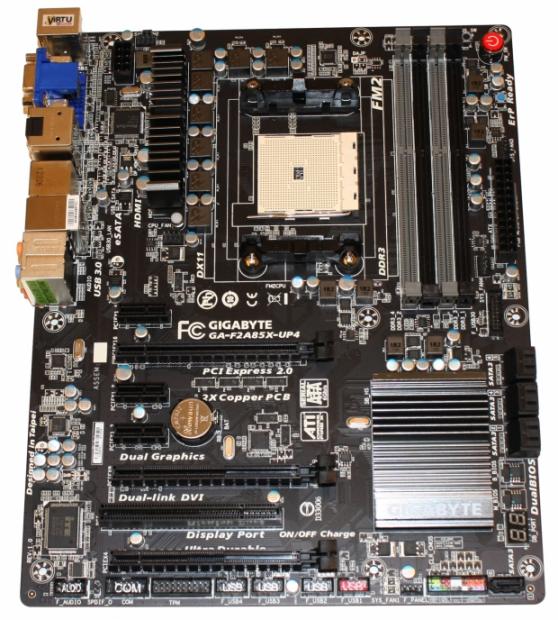 Just because you're moving to a more budget orientated setup doesn't mean you have to have an ugly and / or feature-lacking motherboard. The first thing we notice about the $130 motherboard is just how great it looks thanks to that matte black PCB that GIGABYTE has opted for here.
Looking above you can see the setup is fairly standard. We've got three PCIe x16 slots, three PCIe x1 slots and an older legacy PCI slot. Across the bottom we've got the standard line up of headers and a SATA III connector is also present. Turning the corner and heading north you can see we've got the LED DEBUG reader and six more SATA III ports.
Continuing up we've got a USB 3.0 header, main 24-pin ATX power connector, a built-in power button and four DDR3 RAM slots supporting up to 64GB of memory at 1866MHz DDR.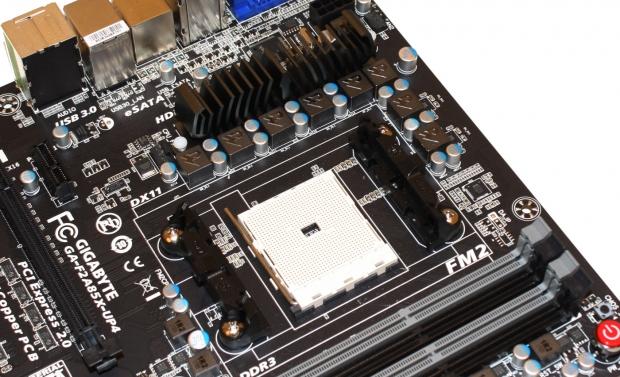 Looking at the CPU area the FM2 socket is extremely similar to the FM1 with just a slight change in the pin layout as we mentioned earlier. This means that you can't install an FM1 CPU into a FM2 board and vice versa. So, don't try it.

Finally we finish with the I/O side of things. Here we've got a combo PS2 port, four USB 3.0, two USB 2.0, eSATA, Gigabit LAN, VGA, DVI, HDMI and DisplayPort for video connectivity along with an optical port and six auxiliary ports.
GIGABYTE 990FXA-UD3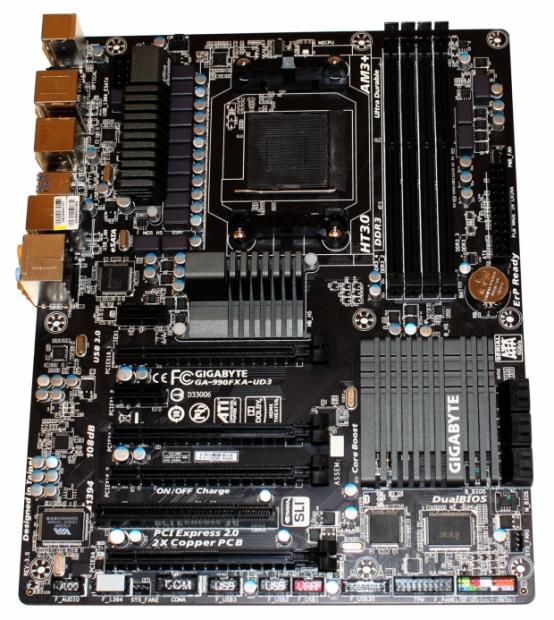 Looking at the 990FX based 990FXA-UD3 we can see at first glance it's very similar to the F2A85X-UP4 with that matte black design that impressed me. Of course there are some key differences throughout the board when it comes to the overall layout. Expansion slots come in the form of four PCIe x16 slots, two PCIe x1 and a single PCI legacy slot.
Across the bottom of the board we've got the typical line up of headers which sees a USB 3.0 one present towards the right hand side. Turning the corner we've got six SATA III connectors and as we move towards the top of the board you can see the main 24-pin ATX power connector.
On the RAM side of things we've got four DIMM slots supporting up to 32GB of DDR3 at speeds up to 2000MHz DDR. The main thing we're missing here would be the onboard power button that was present on the F2A85X-UP4.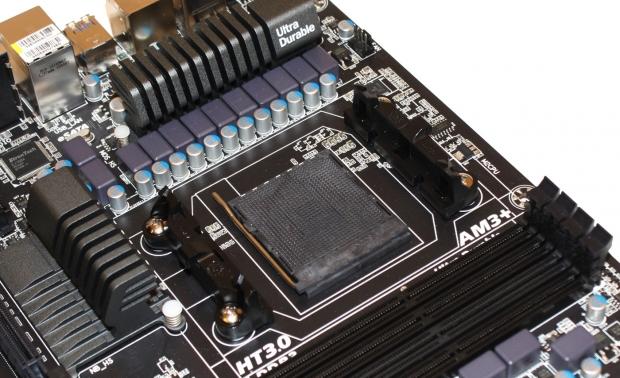 The socket area doesn't hold any surprises at all since it's of course based on the AM3+ socket that we saw launch last year. Like we mentioned earlier, the fact we're dealing with the same socket means that people using Zambezi based FX CPUs can make the jump for cheap to a Vishera based platform. Check first, but you'll probably only need a BIOS upgrade.

Quickly finishing off with the I/O side we've got a combo PS/2 port, eight USB 2.0 connectors, Firewire, eSATA, two USB 3.0, Gigabit networking, along with optical and six auxiliary ports to round off the audio side.
Benchmarks - Test System Setup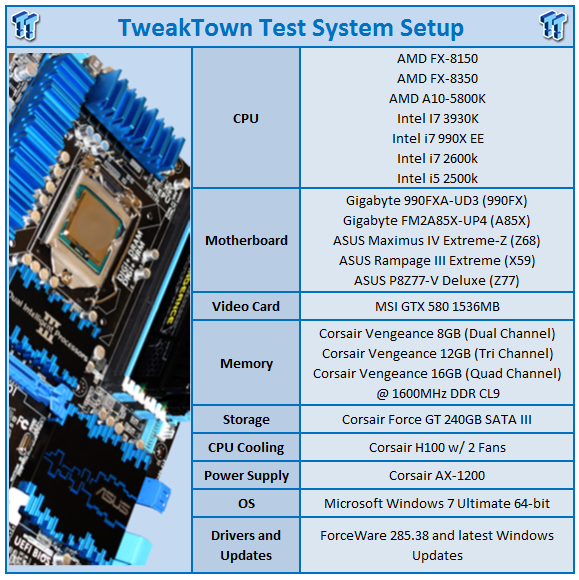 We would like to thank the following companies for supplying and supporting us with our test system hardware and equipment: Intel, ASUS, MSI, Western Digital, MemoRight and Corsair.
We've got a host of CPUs in our graphs here today.
We won't go into too much detail as everything is really covered in the above image, but alongside the new A10-5800K and FX-8350 chips we've also got the older FX-8150 from AMD and even older Phenom II X6 1100T. These chips are used on the GIGABYTE FM2A85X-UP4 and GIGABYTE 990FXA-UD3 respectively.
On the Intel side of things we've got the older Core i5 2500k alongside the newer Core i5 3570k which both sit on an ASUS P8Z77-V Deluxe motherboard. As usual when it comes to testing CPUs and APUs we're using a slightly different benchmark line up when compared to our motherboard testing.
Let's get started!
PCMark 7 and HyperPi
PCMark 7
Version and / or Patch Used: 1.04
Developer Homepage: http://www.pcmark.com
Product Homepage: http://www.pcmark.com
PCMark 7 includes a range of tests that give different views of your system's performance. In the Advanced Edition you can choose which tests to run. The common use and hardware component tests are unavailable in the Basic Edition.
Overall system performance is measured by the PCMark test. This is the only test that returns an official PCMark score. The Lightweight test measures the system capabilities of entry-level systems and mobility platforms unable to run the PCMark test, but it does not generate a PCMark score. Common use performance is measured by the scenario tests - Entertainment, Creativity and Production - each of which results in a scenario score. Hardware component performance is measured by the hardware tests - Computation and Storage - each of which results in a hardware score.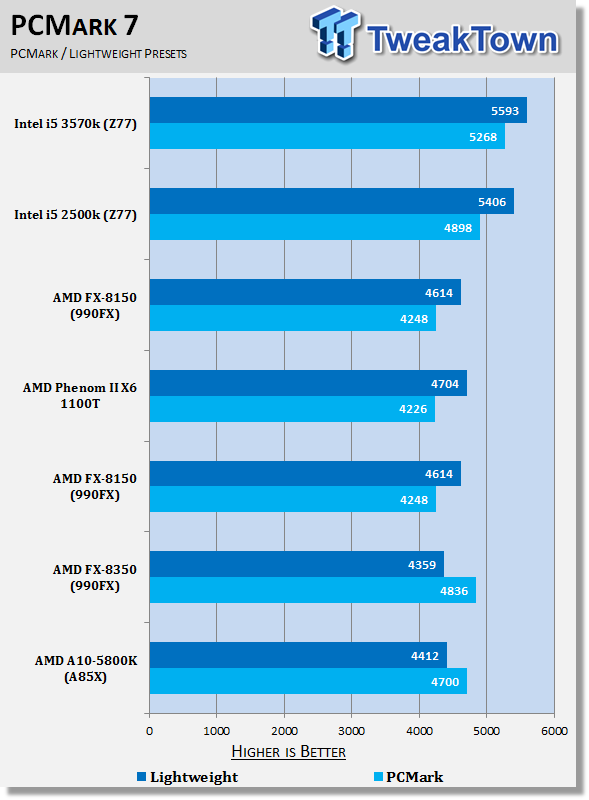 PCMark 7 has a bad habit of spitting out some weird results when it comes to testing newer CPUs. We saw this with the launch of the Ivy Bridge line earlier in the year. While we see stronger performance in the overall "PC Mark" score we can see that our "Lightweight" number is slightly down.
HyperPi 0.99
Version and / or Patch Used: 0.99
Developer Homepage: www.virgilioborges.com.br
Product Homepage: www.virgilioborges.com.br
HyperPi is a front end for SuperPi that allows for multiple concurrent instances of SuperPi to be run on each core recognized by the system. It is very dependent on CPU to memory to HDD speed. The faster these components, the faster it is able to figure out the number Pi to the selected length.
For our testing we use the 32M run. This means that each of the four physical and four logical cores for the i7 and the four physical cores of the i5 is trying to calculate the number Pi out to 32 million decimal places. Each "run" is a comparative to ensure accuracy and any stability or performance issues in the loop mentioned above will cause errors in calculation.
HyperPi performance is a little all over the place for our AMD CPUs. There's about a minute separating them all. Overall the time is pretty high, though, coming in at over 20 minutes while the Intel line CPUs we have here are doing it in less than half that time.
AIDA64
Version and / or Patch Used: 1.00.1035BETA
Developer Homepage: http://www.aida64.com
Product Homepage: http://www.aida64.com
Replacing Everest in our labs is AIDA64. This new testing suite is from the core development team from Lavalys and continues that tradition. The guys have thrown in better support for multithreaded CPUs as well as full 64 bit support. We use this to test memory and HDDs for now, but may find ourselves opening this up to other areas of the motherboard.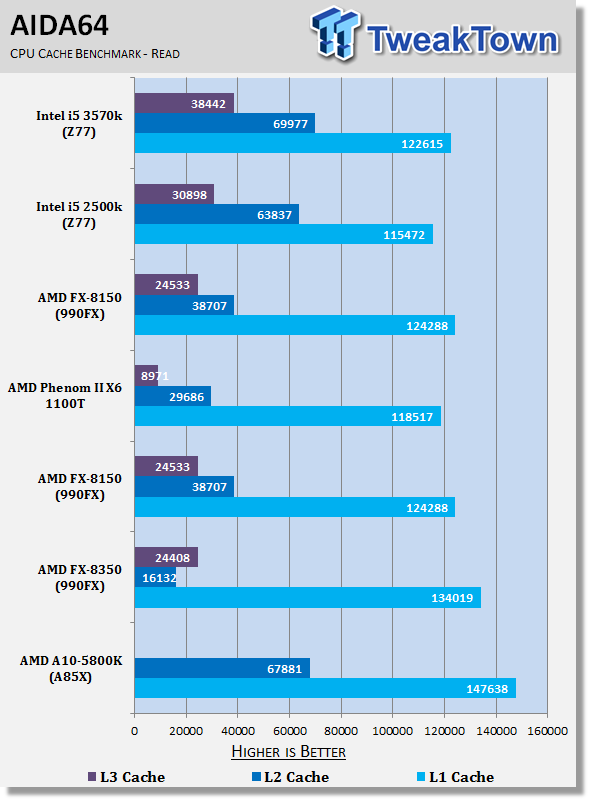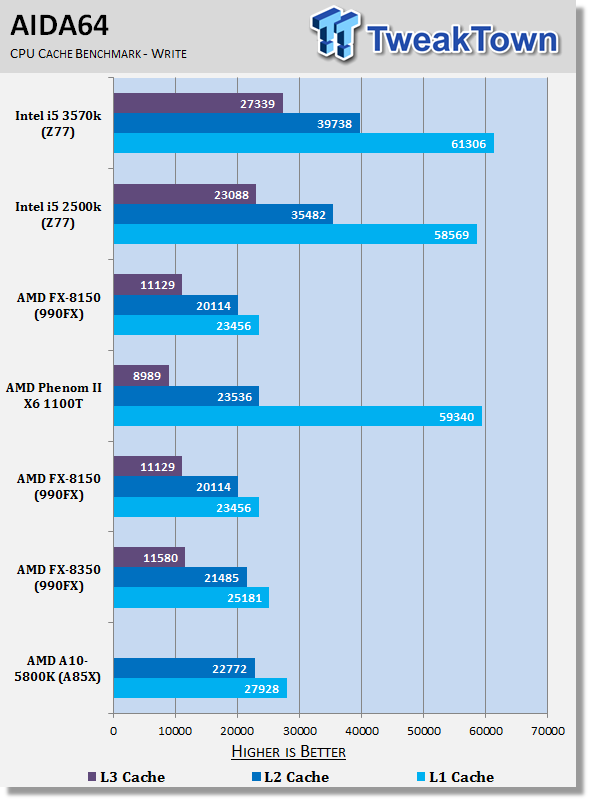 When it comes to read performance we can see a nice boost in L1 performance while across the board under write performance we're seeing a bump against the older FX-8150. The A10-5800K sees some strong performance in both areas, but we'll see what happens when it comes to some of our other benchmarks.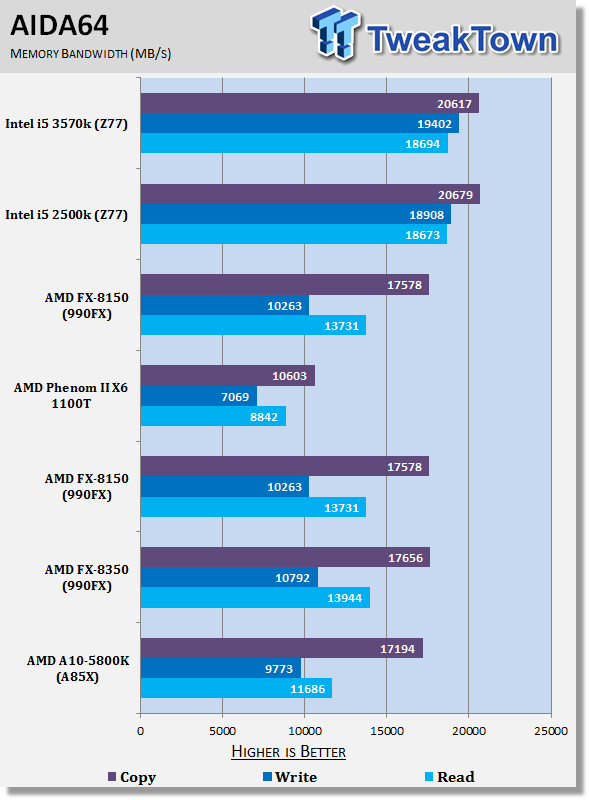 Memory performance among the newer AMD CPUs is quite similar as you can see above. The A10 sits a little lower in read and write performance while the new FX-8350 manages to sneak just slightly ahead for the most part.
PassMark PerformanceTest
Version and / or Patch Used: 7.0.1021
Developer Homepage: http://www.passmark.com/products/pt.htm
Product Homepage: http://www.passmark.com/products/pt.htm
Fast, easy to use, PC speed testing and benchmarking. PassMark PerformanceTest allows you to objectively benchmark a PC using a variety of different speed tests and compare the results to other computers. Twenty-eight standard benchmark tests are available in six test suites plus there are seven advanced testing windows for custom benchmarking.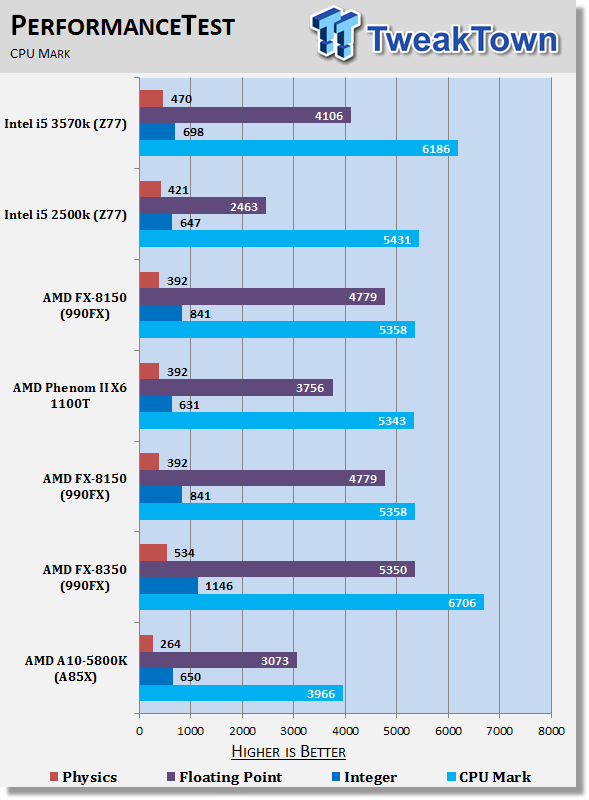 PerformanceTest shows some great numbers for the new FX-8350 CPU coming out quite strongly against the other CPUs here in most areas. Of course the A10 sits a little further back as you'd expect due to the lower end nature of the APU.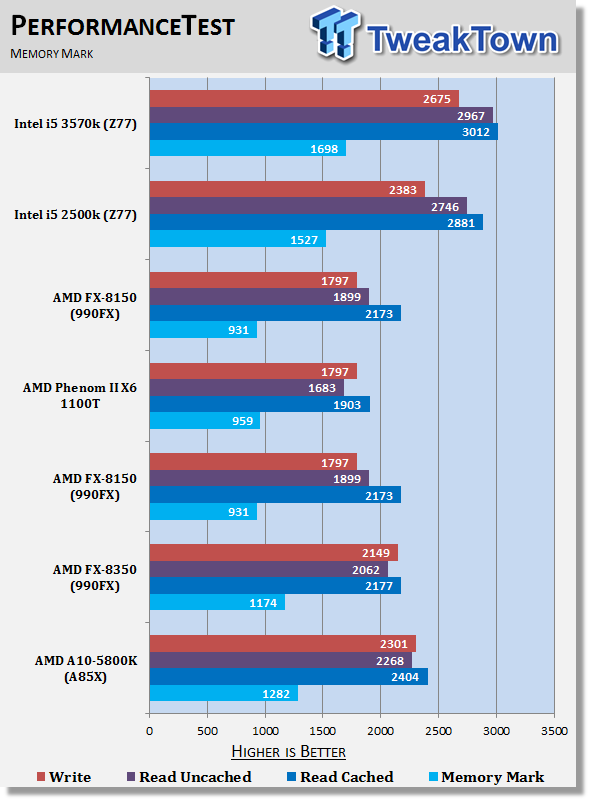 Looking at the memory performance you can see we're quite strong on both chips here compared to the other AMD offerings. In no surprise, though, we do see some impressive numbers come out of the Intel chips.
CINEBENCH, Adobe Lightroom and MediaEspresso
CINEBENCH R11.5
Version and / or Patch Used: R11.5
Developer Homepage: http://www.maxon.net/
Product Homepage: http://www.maxon.net/downloads/cinebench/cinebench-115.html
CINEBENCH is a real-world cross platform test suite that evaluates your computer's performance capabilities. CINEBENCH is based on MAXON's award-winning animation software CINEMA 4D, which is used extensively by studios and production houses worldwide for 3D content creation. MAXON software has been used in blockbuster movies such as Spider-Man, Star Wars, The Chronicles of Narnia and many more.
CINEBENCH is the perfect tool to compare CPU and graphics performance across various systems and platforms (Windows and Mac OS X). And best of all: It's completely free.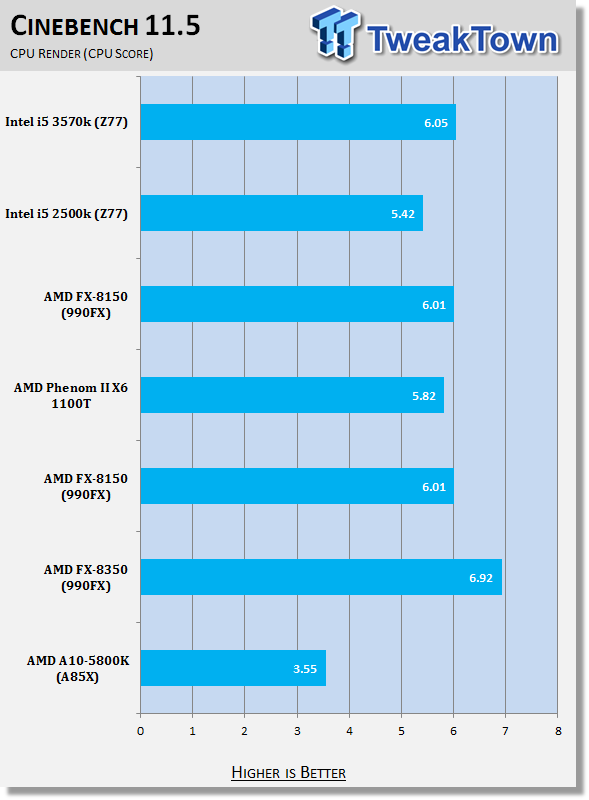 Looking at CINEBENCH you can see that while the A10 is quite slow the FX-8350 manages to put out a very strong number here that sees it ahead of all our other setups including a marked improvement over the older FX-8150.
Adobe Lightroom
Version and / or Patch Used: v3.4
Developer Homepage: http://www.adobe.com/
Product Homepage: http://www.adobe.com/products/photoshoplightroom/
Adobe Photoshop Lightroom 3 software helps you bring out the best in your photographs, whether you're perfecting one image, searching for ten, processing hundreds, or organizing thousands.
Create incredible images that move your audience. Experiment fearlessly with state-of-the-art nondestructive editing tools. Easily manage all your images. And showcase your work in elegant print layouts, slide shows, and web galleries, as well as on popular photo-sharing sites. All from within one fast, intuitive application.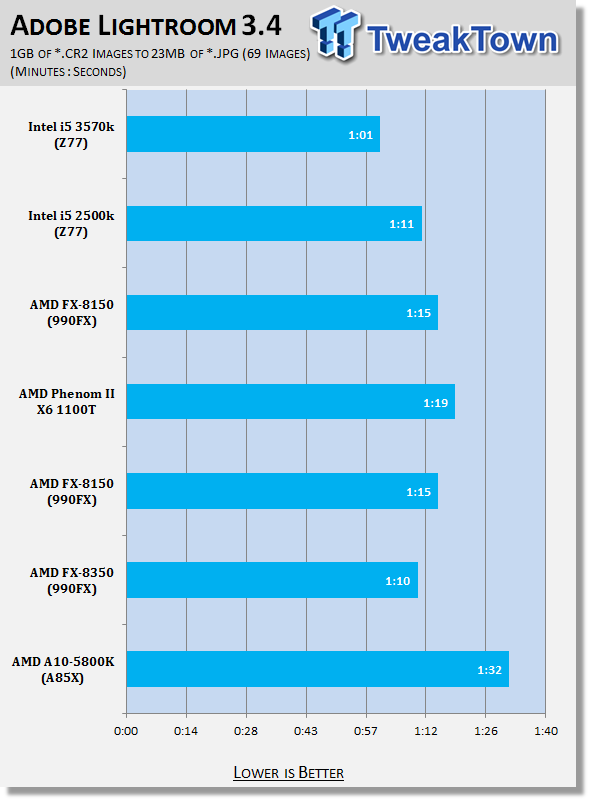 Checking out Lightroom we can see that we've got a slight improvement over the older FX-8150. We continue to lag behind the Intel options, though, in this real-world benchmark.
As for the A10 it's again as you'd expect towards the back of the pack.
MediaEspresso
Version and / or Patch Used: v6.5
Developer Homepage: http://www.cyberlink.com/
Product Homepage: http://www.cyberlink.com/products/mediaespresso/overview_en_AU.html?fileName=overview&r=1
MediaEspresso is a blazingly fast media universal converter that can transcode your videos, photos and music files and out put them to a huge range of portable devices including mobile phones, portable media players and even game consoles. With technologies like Smart Detect, Direct Sync and CyberLink's TrueTheaterâ"¢ video enhancements, you can not only forget about complicated format, resolution and output settings, but your converted file will come out the other side looking better than when it went in!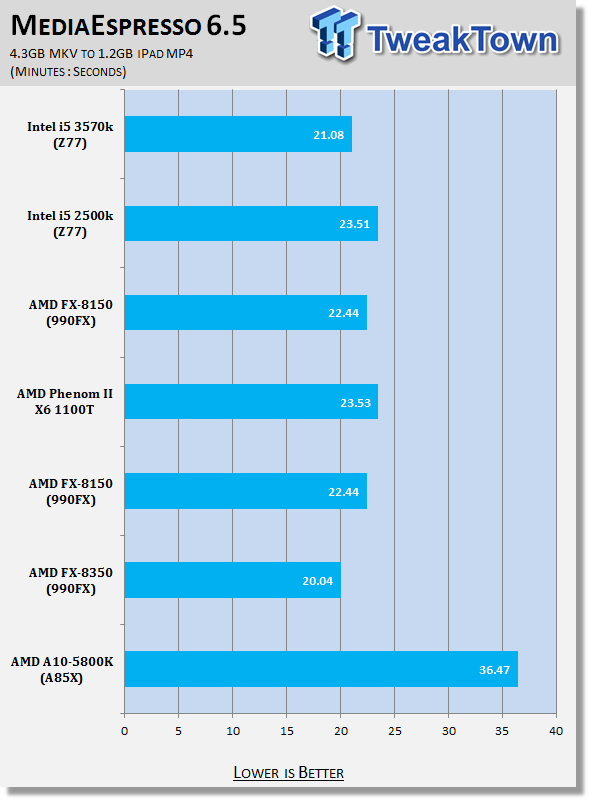 MediaEspresso sees about a 10% improvement over the older FX-8150 and manages to sneak ahead of all the other CPUs here. You can see a huge real-world difference here between the A10 based APU and the more performance orientated CPUs.
3DMark 11 and Aliens vs. Predator
3DMark 11
Version and / or Patch Used: 1.0
Developer Homepage: http://www.futuremark.com
Product Homepage: http://www.3dmark.com/3dmark11/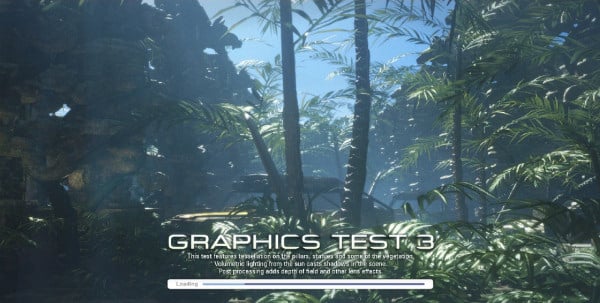 3DMark 11 is the latest version of the world's most popular benchmark. Designed to measure your PC's gaming performance 3DMark 11 makes extensive use of all the new features in DirectX 11 including tessellation, compute shaders and multi-threading. Trusted by gamers worldwide to give accurate and unbiased results, 3DMark 11 is the best way to consistently and reliably test DirectX 11 under game-like loads.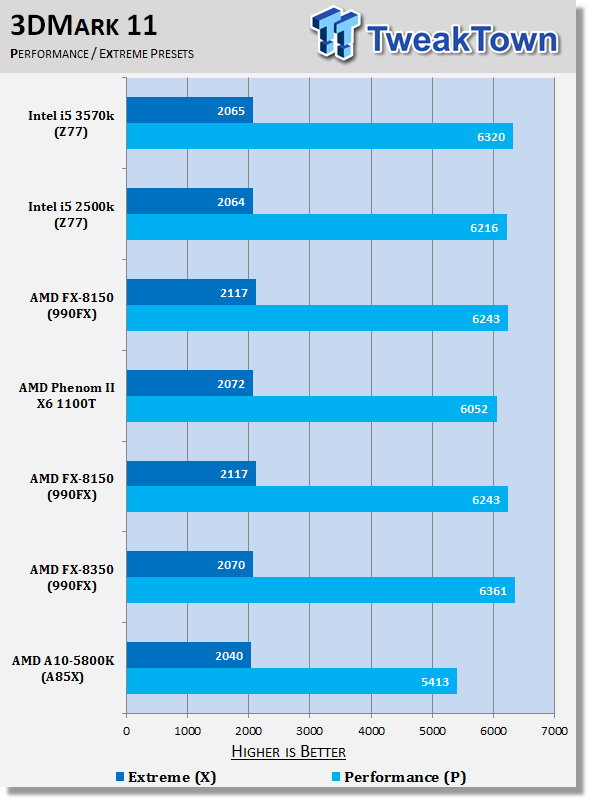 Aliens vs. Predator
Version and / or Patch Used: Standalone Benchmark
Timedemo or Level Used: Built in Benchmark
Developer Homepage: http://www.rebellion.co.uk/
Product Homepage: http://www.sega.com/games/aliens-vs-predator/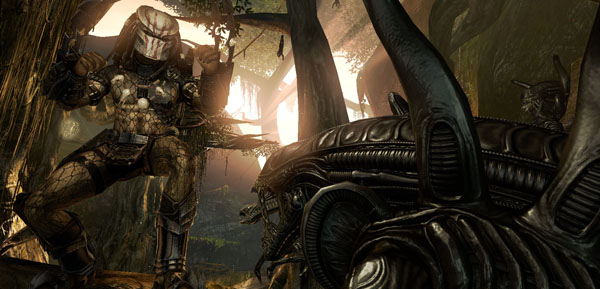 Aliens vs. Predator is a science fiction first-person shooter video game, developed by Rebellion Developments, the team behind the 1999 original PC game, and published by Sega for Microsoft Windows, the PlayStation 3 and the Xbox 360. The game is based on the Alien vs. Predator franchise, a combination of the characters and creatures of the Alien franchise and the Predator franchise. There are three campaigns in the game, one for each race/faction (the Predators, the Aliens and the Colonial Marines), that, while separate in terms of individual plot and gameplay, form one overarching storyline.
Following the storyline of the campaign modes comes the multiplayer aspect of the game. In this Multiplayer section of the game, players face off in various different gametypes in various different ways.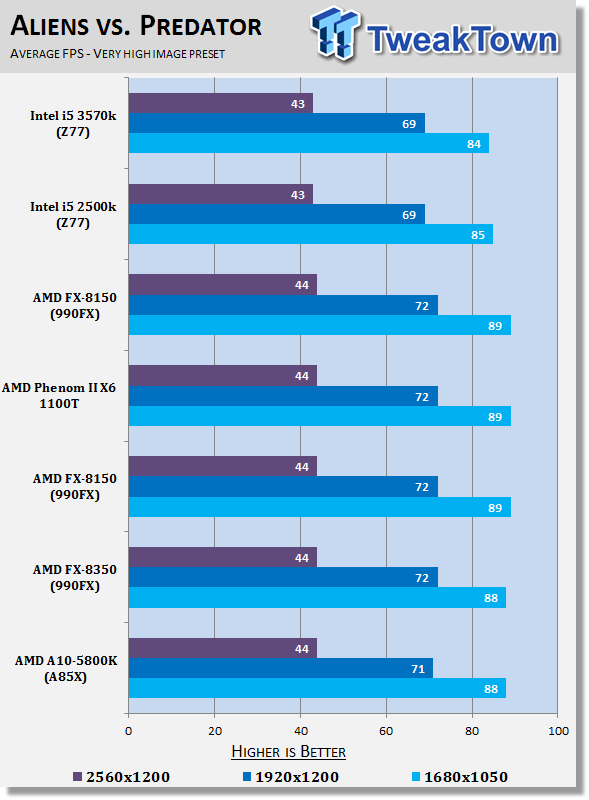 While our 3DMark 11 performance is down on the A10 due to the Performance preset focusing more on the CPU / APU, you can see when we move our focus mainly over to the video card that all our setups perform extremely close to each other.
Power Draw Tests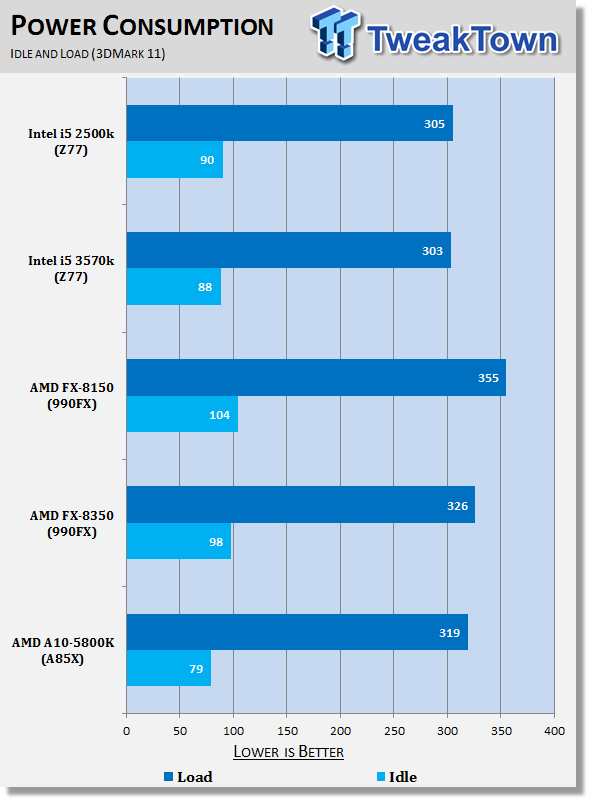 Looking at power draw numbers you can see that the FX-8350 is a little lower than the older FX-8150.
The A10 idles lowest, but at load still manages to draw more power than the Intel Core i5 offerings, which draw the lowest load numbers.
Final Thoughts
*sigh* AMD really are so predictable, and not in the good way. The "Fusion" platform is great; Llano and now Trinity really help bring some decent video performance to the table without the need of having a separate video card. No matter what, Intel CPUs continue to be a pitiful excuse for onboard graphics. The problem for AMD is that "everything" else about Intel processors is fantastic.
The FX-8350 is a little bit of a bore. For the most part it's really just a speed bump that helps boost performance slightly in real-world tests, but overall doesn't do anything truly amazing. As always, though, it hits at a good price and we know from previous experience that between most CPUs we see little difference when it comes to gaming performance. It all comes down to the video card.
By going down the path of an AMD setup you can get more video card for your buck and in turn have a system that will play games faster because of that. It really feels like AMD need to promote what you can get for $1,000 for example instead of the CPU for $200. Gaming is still one of the biggest areas when it comes to the DIY market. If you can let consumers know that they could get a HD 7950 instead of a HD 7870 by going down the path of an AMD CPU setup then people can see the true benefits.
I think few people could say that AMD create a bad CPU. They really do a good job of creating a well-rounded product. You can't deny that there's a certain "stigma" that surrounds AMD CPUs, though. While most would feel that you've gone down the path of an AMD CPU because you can't afford an Intel one, the bottom line is that often an AMD CPU is going to provide better gaming performance for the same budget as an Intel setup because of the cheaper AMD motherboard and CPU.
Long term I'm not sure what's going to happen with AMD. As long as the corporate culture at AMD stays the way it is, nothing will probably change. Considering the large amount of layoffs and the large amount of higher up executives that have left recently, AMD really could go through a bit of a refresh. Instead, though, it's fairly safe to assume they'll continue to hire people with some certain degree who really are interested in getting a pay check instead of people who actually have the passion to make the company better.
Execution is key for AMD. They continue to fail at it in so many ways. It's harsh to say, but in my opinion it's the harsh reality of what's going on with AMD. AMD can fix the problems they have. Weather they choose to do it before it's too late, though, is going to determine the company's future.